To get these issues free by email each week, just subscribe using the form on this page — your privacy is Randy's policy. (Or cruise around the web site to see more samples, archive, and info on our terrific book collections of thousands of past stories.)

---
Since 1994, this is the 1313th issue of Randy Cassingham's...

---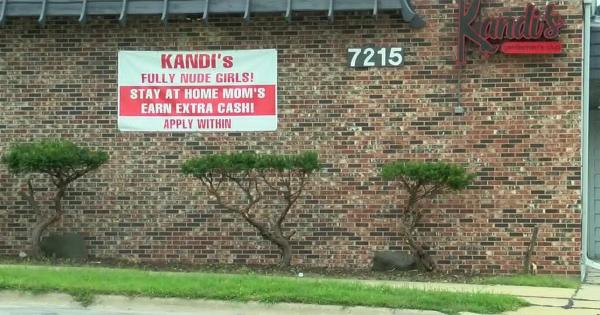 Help Wanted: The sign is "distasteful," says Omaha, Neb., City Councilman Pete Festersen, but notes the business has "free speech." Thehelp wanted sign at Kandi's "gentleman's" club invites "STAY AT HOME MOM'S" [sic] to "EARN EXTRA CASH!" as strippers at the joint. "APPLY WITHIN". (RC/KMTV Omaha) ...Huh: I thought for sure they'd want them to apply without.
That Thundering Isn't the Herd: Billy Tatum says residents in his Huntington, W.Va., neighborhood had worked for a long time to get the city to remove a tree by Central City Elementary School. While on his porch playing cards, he watched a crew finally remove the tree. It came down on a college student's car. "It sounded like a beer can getting flattened," Tatum said. "I hate to say it, but it was kind of cool, you know? What guy doesn't like destruction? That's why we go to demolitionderbies." On the other hand, "that's that girl's new car, and she can't get to school now." A city spokesperson said the employees were negligent, and didn't follow protocol. They've provided the student with a rental car, and opened an insurance claim. (MS/WSAZ Huntington) ...The car, meanwhile, will be repurposed for a demolition derby.
Surely Not the Blue Bags: "Behaviors don't just help us accomplish something concrete," says Pennsylvania State University psychologist Janet Swim, "they also signal something about who we are." Like what? Her recent study, published in the journal Sex Roles, finds that some men "fear" that if they bring their own reusable shopping bags into a store, others might think they are gay. (RC/Newsweek) ...It takes an awfully ...small... man to be that worried.
This Issue's Exclusive Sponsor:
Drone Pilots: Get Your Wings!

Beautiful custom solid metal Drone Pilot Wings dress up your jacket and/or equipment box, showing your pride and professionalism in your hobby. Makes a great gift, and are much more durable than that T-shirt you liked.
Get Yours Here, with discounts for extras.
Man Finds His Wife listed in a dating app (but then, how does he explain why he was looking at a dating app?) Montana Highway Patrol issues a very unusual public advisory. Bus driver locks passenger in cargo hold, and drives off. Woman tries to frame her neighbor in a crime, but is caught for hilarious reasons. City complains about the noise from another city ...from the other side of the state border. Woman really, really shouldn't have come up with a bizarre way to win a photocontest. Man helps brother get a major sports contract with a single tweet. Obliviot picks the wrong woman to rob. You missed eight stories this week, but you can read them all: just ask for your upgrade to start with the 11 August issue. The Premium edition starts at just $9!
How to Impress a Judge: Why did attorney Adam Wirtz get a trespassing charge for going to the Will County, Ill., Courthouse? Perhaps because he left at about 1:00 a.m. Perhaps because the building was still under construction. Or maybe his manner of departure was the problem: he jumped from the top with a parachute. It can't have helped that he landed in the parking lot of the institution across the street from the courthouse: the Joliet, Ill., Police Department. "When I first readabout this in the paper," said county Judge Cory Lund, who sentenced Wirtz on the latter's guilty plea, "I thought to myself that has to be the stupidest person I've ever met." Along with a $600 fine and a year of supervision, Wirtz's sentence includes 50 hours of community service at an animal shelter, and another 50 hours helping people without the resources to pay lawyers. (AC/Daily Southtown) ...Because the poor deserve the counsel of "the stupidest person [the judge has] evermet."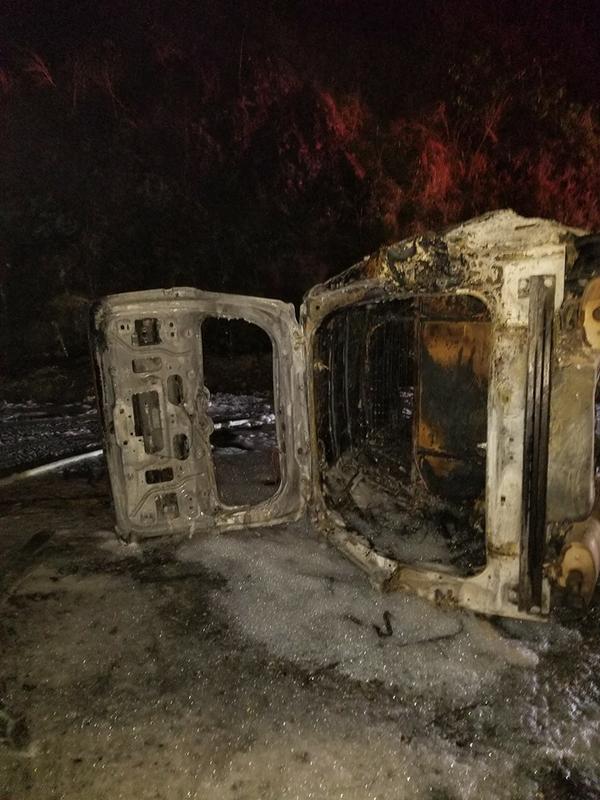 Unbearable: At around 11:00 p.m., a Humboldt County, Calif., sheriff's deputy was responding to an emergency in the rural town of Orleans when something slammed onto the hood ofhis patrol car, sending the vehicle out of control, off the road to an embankment, which flipped the vehicle over. The SUV burst into flames, but the deputy was able to crawl out without suffering any serious injuries. What the heck hit him? Something had fallen off the embankment: a bear. "No word," the story concludes, "on the condition of the bear." (RC/KRCR Redding) ...It ran into the woods to do something important.
---
Was Fire Involved?
Fire Truck Catches Fire While Battling a Fire and Then Explodes, Adding More Fire to the Fire That the Firetruck Was Firefighting
Global News Canada headline
---
Did You Find an Error? Check the Errata Page for updates.
This Week's Contributors: MS-Mike Straw, AC-Alexander Cohen, RC-Randy Cassingham.
---
I Found I Had More to Say about this week's lead story (Help Wanted). It turned into a little rant about the media, and a much bigger rant over a detail I couldn't include in the newsletter since it would trip filters. See 'Distasteful' Help Wanted.
When the Story Writing and Editing is done, I read everything to Kit. That helps me catch typos or things that aren't explained well, and allows her to say the tagline sucks, something needs work, or of course point out what she really likes. Those of us in the humor business usually don't actually laugh out loud at really clever concepts; we certainly appreciate them, but it's typically in an analytical way. Now and then, though, we get asurprise and that's what leads to the most genuine laughs.
When I got to the last story, "Unbearable" (about the sheriff's deputy being hit by a bear), she laughed out loud at the tag. If you need a hint, here.
The story certainly got my attention: I've mentioned from time to time that I was a sheriff's deputy in California for awhile. That's the agency where I worked. It was long enough ago that certainly no one I worked with is likely to still be there, but I can't help but still feel a little kinship. I was also an
ALS
medic in the county, but while we covered a lot of rural towns, sometimes rolling for a
full hour
with lights and (mostly turned off) sirens (the sound gets really, really old after awhile), stabilizing the patient and then bringing them all the way back to town, Orleans wasn't one of them: they were covered by another district.
As Previously Announced, the podcast is on an every-other-week schedule for a bit while I catch up: Kit and I have been doing a lot of travel as part of getting back on the speaking circuit; we got back last night after a grueling 12-day, 2,800-mile trip. That said, I did record Monday's episode last night so I can keep on the new schedule!
Meanwhile, you might enjoy a classic blog post, Not Just Dumb, But Hella Dumb. It's the story of the dumbest lawyer "I" ever conversed with.
There was another one Monday — a reader unsubscribing for dumb reasons, or maybe a dumb reader unsubscribing for no good reason. Jeff in Minnesota subscribed in 2012 with this comment: "subscribed for a number of years, then just got dropped and didn't notice until the [True Stella Awards] email" — which perhaps was a clue of things to come.
Monday he wrote to lecture me about "grammar" — over a phrase that was clearly meant to be that way. I replied with a link to the dictionary: colloquialism. He took great exception to my "sarcasm" because he was "only trying to help" by ...well... trying to show he was somehow superior, yet can't understand something clever. As he unsubscribed, he wrote in the comments area "Randy knows why. He just doesn't care." Indeed, Iam unlikely to care about inane comments from readers who do nothing to support the publication for over a decade, and still don't quite grasp what it's about!
---
Ten Years Ago in True: It took a court to rule this guy didn't really have a Religious Experience.
Last Week's Issue on Medium (please do share the link).
Today on Randy's Random: In the Ikea Era, there is Some Assembly Required.
This Week's Honorary Unsubscribe goes to Nikolai Kardashev. An astrophysicist, Kardashev is best known for his contribution to SETI — the Search for Extraterrestrial Intelligence. Read his story in 2 minutes: Nikolai Kardashev (OK to share link).
And So Long to British musician Ian Gibbons, best known as a keyboardist with The Kinks, dead August 1 from bladder cancer at 67.
---
Basic Subscriptions to This is True are Free athttps://thisistrue.com. All stories are completely rewritten using facts from the noted sources. This is True® is a registered trademark. Published weekly by ThisisTrue.Inc, PO Box 666, Ridgway CO 81432 USA (ISSN 1521-1932).
Copyright ©2019 by Randy Cassingham, All RightsReserved. All broadcast, publication, retransmission to email lists, WWW, or any other copying or storage, in any medium, online or not, is strictly prohibited without prior written permission from the author. Manual forwarding by email to friends is allowed if 1) the text is forwarded in its entirety from the "Since 1994" line on top through the end of this paragraph and 2) No fee is charged. We request that you forward no more than three copiesto any one person — after that, they should get their own free subscription. We always appreciate people who report violations of our copyright to us.
---
To get this delivered to you every week, click here to open a subscribe form.
Last Week's Issue