Another story that isn't really complete without the photos mentioned. Even before I posted them, a couple of readers thought I was too hard on the guy; I'll let you decide on that point. Let's start with the story, from True's 19 July 2009 issue.

Another Career Trashed
A man called police in Jeffersonville, Ind., to say that there was a man sleeping on his property — inside his overturned trash can. It was no street bum: it was his next-door neighbor, Larry Wilder, police say. Wilder was apparently intoxicated, they say, but said no crime had been committed, and officers walked him home. Wilder is a private attorney on contract to represent the city and the local school district at $100 an hour; he has resigned both positions. "I can't tell you what happened. I wish I could," Wilder said later — the last thing he remembered was celebrating with a client. He thinks he only had "three or four" drinks, and "I take responsibility for my conduct." He is upset that photos of him in the trash can were leaked to the media, and accuses the police of doing it. "I think the police officer who leaked the photos should only apologize to my kids," Wilder said, but "I would defend that police officer if any effort is taken to discipline him." (Jeffersonville News and Tribune) …For $100 an hour.
The Photos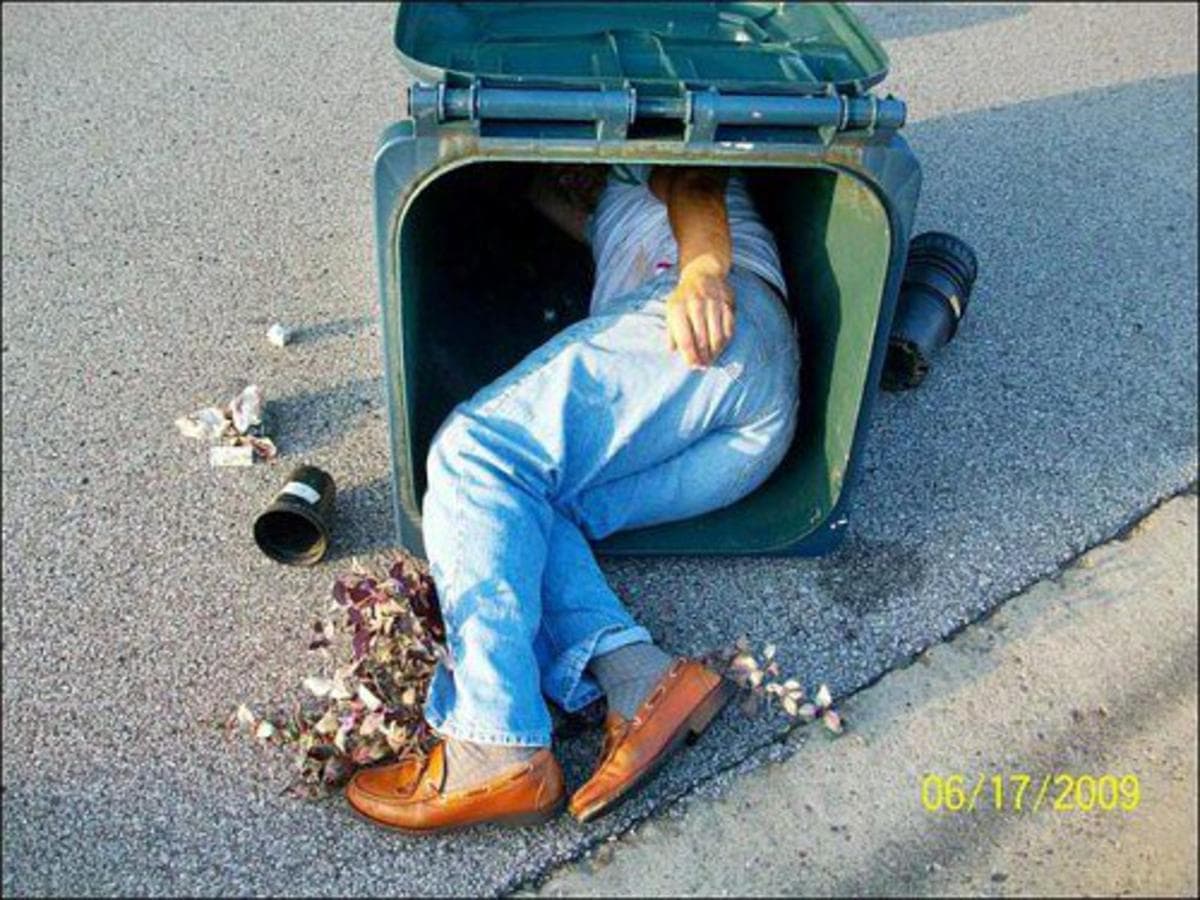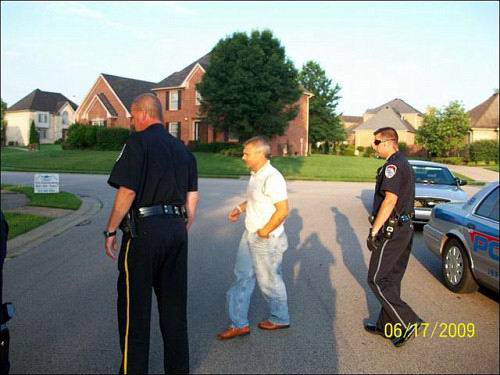 Reader Reaction
John in Rhode Island writes:
Based on your story, I think you were hard on Mr. Wilder. He made a mistake and paid the price. And took responsibility for his actions.
Yes, I do have some sympathy for the guy. He's made a statement to the local paper to say he takes responsibility for his actions, and also resigned his positions with the local governments (though will remain on cases that are already being litigated).
And it was quite the lucrative contract, too: in 2008 the city paid him $107,000 for services rendered, four times more than the next highest-paid city attorney, the source article notes (link removed: no longer online). And that apparently doesn't include fees from the school district, nor any retainers paid.
In taking responsibility, Wilder said "I've made a mistake. I've embarrassed myself. I've embarrassed my family, and I've embarrassed my clients." He apparently didn't drive drunk, either: "Wilder said he was picked up and dropped off in a limousine, but says he does not remember having more than three or four drinks," the story said.
On the other hand, he whines, "I think that those individuals who have chosen to revel in my embarrassment are certainly satisfied with what they've achieved, so they should be pleased." (Source link removed: no longer online)
"Take Responsibility"
Wilder is indeed fairly angry, another follow-up story made clear (link removed: no longer online), over the leaked photos. He demands the officer(s) who leaked them to "stand up and take credit for what they did," Wilder said. "They're hiding behind the [Fraternal Order of Police union] like cowards because they think they did something wrong," he said. "Be a man and take responsibility for your conduct."
Thus my sympathy only goes so far. As a public figure — not only as a prominent citizen, but one who made a significant portion of his living from tax dollars — Wilder certainly knows that his public actions are subject to public comment. And he's certainly seeing that! The story made national headlines, the Jeffersonville News and Tribune reported.
My sympathy is muted because his anger over the photos is misplaced. It's smart for police to take evidence photos; now there's no dispute that Wilder was in fact inside the trash can. So why shouldn't the police release evidence of trespass by public figures in the town? Seems to me it's public record, just like a mug shot would be.
And had his neighbor taken the photos and put them on his own web site, would Wilder have a fit over it? I doubt it.
There's only one person to blame here: Wilder. Someone who has "three or four drinks" over the course of an evening doesn't black out and do stupid things like dump out a neighbor's trash can to take a nap. This is a case of "I take responsibility, but…!" — which is hardly true acceptance of responsibility for one's actions.
So, Mr. Wilder: "Be a man and take responsibility for your conduct" — without equivocation. You did wrong, and it's costing you plenty — probably more than it should, though on the other hand you didn't get arrested, too, as most normal citizens probably would have been. But if you have a drinking problem, get help with it before it costs you everything else.
The blame here doesn't lie with the police even if there was political motivation. You gave your opponents the opportunity, so who can blame them for simply showing your public actions to the public? And while I'm not an opponent, I want to make something clear: I don't "revel" in your embarrassment, but I'm happy to use it as yet another example for others of what not to do.
Story Update
As of 2018, Wilder is still practicing law in Jefferson. In 2015, when his past came up relating to another case, Wilder commented to USA Today:
I have a very successful law practice, and it's continued to be very successful in spite of what occurred in 2009. And much of that I think is because people understand there's a value to being truthful and honest about things that happen, accepting the good with the bad, going forward and working hard and being the damned best you can be and better than everybody else.
Now that's a better way to take responsibility.
– – –
Bad link? Broken image? Other problem on this page? Use the Help button lower right, and thanks.
This page is an example of my style of "Thought-Provoking Entertainment". This is True is an email newsletter that uses "weird news" as a vehicle to explore the human condition in an entertaining way. If that sounds good, click here to open a subscribe form.
To really support This is True, you're invited to sign up for a subscription to the much-expanded "Premium" edition:
Q: Why would I want to pay more than the minimum rate?
A: To support the publication to help it thrive and stay online: this kind of support means less future need for price increases (and smaller increases when they do happen), which enables more people to upgrade. This option was requested by existing Premium subscribers.