To get these issues free by email each week, just subscribe using the form on this page — your privacy is Randy's policy. (Or cruise around the web site to see more samples, archive, and info on our terrific book collections of thousands of past stories.)

---
Since 1994, this is the 1265th issue of Randy Cassingham's...

---
Karma Happens: After an investigation of a road rage incident, the California Highway Patrol pieced together what happened. The two men's cars hit each other on Interstate 5 in Sacramento, and they pulled over to fight. Witnesses say Jose Rodriguez-Carrasco, 37, chased after Jason Dykes, 39, with a baseball bat. Before officers could get there, Rodriguez-Carrasco had killed Dykes. But he won't be arrested: before officers could get there, Rodriguez-Carrasco, whowas apparently walking on the freeway, was hit by a car and killed. Dykes had his driver's license suspended 10 years ago, and apparently couldn't get it back because he kept being cited for driving with a suspended license, as well as other infractions such as speeding. Rodriguez-Carrasco had applied for a driver's license, but hadn't completed the process. (RC/Sacramento Bee) ...Death: the maximum sentence for road rage.
Getting it Right: Lt. Jerry Brewer says the New Hanover County, N.C., Sheriff's Office's technician did not make a mistake in testing 13 pounds of something white and powdery that deputies had seized — the test was run on multiple samples. Sheriff Ed McMahon announced the haul was "one of the largest seizures in the state," and his team sent the material for more sophisticated testing. That revealed that they had seized, as Brewer put it,"a combination of simple and complex carbohydrates." Those are also known by the street name sugar. "Under certain circumstances, sugar substances can mimic a false positive result," said Ian Scott, of Scott Company Drug Testing, which invented the test McMahon's office used. "This is something we discovered after this case." The company recommends using other tests to confirm results; it says its test is quick, cheap, and "presumptive."(AC/WECT Wilmington) ...Quick and cheap result: 13 pounds of opiates. Accurate result: "Heeeeeere's nothing!"
Always Lock Your Door: Dallas, Texas, police officer Amber Guyger arrived home after working a 12-hour shift. She was still in uniform when she went in her door — and discovered a man inside her apartment. She shot him to death. The only problem: Guyger, 30, was on the wrong floor of the apartment building; it wasn't her apartment. Botham Shem Jean, 26, who worked in risk assurance for accounting firm PriceWaterhouseCoopers, was in his own home. It is unclear howGuyger got into Jean's apartment, or why she didn't immediately realize the decorations there were not her own. Dallas Police Chief Renee Hall says Guyger will likely face manslaughter charges, and said she turned the investigation over to the Texas Rangers, the state's investigative agency. "We're going to make sure justice is served," promised Dallas Mayor Mike Rawlings. Any other shooter would be in jail, so when will Guyger be arrested? "The TexasRangers are now in charge," Rawlings said. "Chief Hall is not calling the shots." (RC/Dallas Morning News, Ft. Worth Star-Telegram) ...You know, that's probably the worst choice of words he could have come up with.
This Issue's Exclusive Sponsor: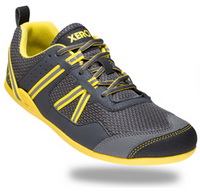 Your New Favorite Running And Fitness Shoe.
Xero Prio is our 'barefoot' running shoe, for men and women. It still has our famous protective minimalist sole, but with comfortable and super-lightweight uppers that look good, too. Check the reviews:
Ironman Triathlon — Obliviot Division: At 4:30 a.m., a Monroe County, Fla., sheriff's deputy saw a pickup truck leaving a fast-food restaurant "at a high rate of speed." He attempted a traffic stop, but the driver led a high-speed chase. The man crashed into the Duck Key island sign, but that wasn't the end of the chase. He crawled out of his truck, ran toward a seawall, and jumped into the water, where "he continued to swim away south,towards Tom's Harbor Channel," the pursuing deputy said. After a half-hour search, officers aboard a Florida Fish and Wildlife Conservation Commission boat located Nicholas Tralka, 31, and pulled him out of the water. He refused a field sobriety test: "I'm already going to jail, so why?" Still, a breath test revealed Tralka's blood alcohol level was .214 percent. He was arrested and charged with a long list of offenses. (MS/Miami Herald) ...His nexttriathlon will involve pacing in his cell, working out in the exercise yard, and running from the gangs.
School Cop Summoned to Wake up Student: she deploys her Taser (and is suspended). "Paranormal investigator" opens fire at a ghost (and is arrested). Man pretends to be a ghost to win back former fiancée (and is arrested). Principal brings in special entertainment for the young kids coming back to school: a "strip pole dance" (and is fired). Shoplifter caught because he returned to the scene of the crime ...to retrieve his Bible. Germanpolitician wants to know the government's plan if contacted by space aliens. Man summons his daughter to help him dispose of the body of the man he killed. Police dog suspended from duty for being a 'Bad Dog!' ...again. You can still read all of these stories: just ask for your upgrade to start with the 9 September issue. Upgrades start at just $9! See your options here and stop missing most of the stories.
Stung: A sting by the Vice Squad in Houston, Texas, resulted in 69 suspects arrested on "sex trade" charges over a two month period. "We hope by publishing these suspects' photos," said HPD Vice Division Captain James Dale, "we will raise awareness of the issue that is human trafficking and put the community on notice that we will no longer tolerate these crimes in our neighborhoods." One featured arrestee was Arnold Eledge, 77, anadjunct math professor at Lone Star College. Eledge is also listed as a director at Helmers Street Baptist Church. He is reported to have been soliciting prostitution. (RC/Houston Chronicle) ...Well, Eledgedly.
---
Oh, That Never Works
South Florida Man Hangs Dead Ducks from Stop Sign to Slow down Reckless Drivers
WPTV West Palm Beach headline
---
Did You Find an Error? Check the Errata Page for updates.
This Week's Contributors: MS-Mike Straw, AC-Alexander Cohen, RC-Randy Cassingham.
---
Sunday Evening, Hours After I wrote the story about the cop who went into the wrong apartment and shot an innocent man to death, the officer was arrested, charged with manslaughter. It was also reported that after the incident, a blood sample was taken from Ofc. Guyger to test for alcohol and drugs.
Why manslaughter? According to Texas law, criminal homicide is charged as manslaughter when someone "recklessly causes the death of another individual." It's a second-degree felony punishable by 2-20 years in prison, and up to a $10,000 fine. Prosecutors do not have to prove intent or premeditation, and in Texas there is no formal distinguishing of "voluntary" vs. "involuntary" manslaughter.
The charge is contrasted with murder, which is when someone "intentionally or knowingly causes the death of an individual," or "intends to cause serious bodily injury and commits and act clearly dangerous to human life that causes the death of an individual." That's a first-degree felony which is punishable by up to life in prison, or the death penalty, and does require a finding of intent or premeditation.
The victim's family attorneys also said Sunday evening that they provided the Dallas County District Attorney with "new evidence that we believe will change the course of this investigation." It is possible for charges to be upgraded should evidence warrant that, but so far it is thought that Guyger and Jean had not met before she went into the wrong apartment.
If you wondered, yes: Guyger is white, and Jean was black, but it's unclear whether that's a factor. The Dallas police chief, by the way, is a black woman.
As I Continue to Clean Up my blog after installing new software, it's fun to revisit some of the great stories of the past. If they make it to the blog, it's because there is either some great photos, or there's just so much more to say about a story.
This week, Animals Love Him, Too (Nom Nom Nom) from the 10/10/10 issue is a great example of the latter. It's hard to believe someone that stupid lived through two obliviotic adventures. You'll be amazed.
---
Ten Years Ago in True: A Politician Voters Deserve.
Today on Randy's Random: She Has a Bone to Pick.
This Week's Honorary Unsubscribe goes to Erik Hauri. A geologist, Hauri had one of the best jobs possible in the field — his discoveries will help humanity leave the planet.
Read his story in the Archive: Erik Hauri (OK to share link)
And So Long to actor Bill Daily, best known as astronaut "Maj. Roger Healey" in I Dream of Jeannie (1965-1970), and neighbor/airline pilot "Howard Borden" on The Bob Newhart Show (1972-1978), dead September 4 at 91.
---
Basic Subscriptions to This is True are Free at https://thisistrue.com. All stories are completely rewritten using facts from the noted sources. This is True® is a registered trademark. Published weekly by ThisisTrue.Inc, PO Box 666, Ridgway CO 81432 USA (ISSN 1521-1932).
Copyright ©2018 by Randy Cassingham, All Rights Reserved. All broadcast, publication, retransmission to e-mail lists, WWW, or any other copying or storage, in any medium, online or not, is strictly prohibited without prior written permission from the author. Manual forwarding by e-mail to friends is allowed IF 1) the text is forwarded in its entirety from the "Since 1994"line on top through the end of this paragraph and 2) No fee is charged. We request that you forward no more than three copies to any one person — after that, they should get their own free subscription. We always appreciate people who report violations of our copyright to us.
---
You can subscribe free by email and get this delivered to you every week.
This Week's Issue