To get these issues free by email each week, just subscribe using the form on this page — your privacy is Randy's policy. (Or cruise around the web site to see more samples, archive, and info on our terrific book collections of thousands of past stories.)

---
Since 1994, this is the 1277th issue of Randy Cassingham's...

---
Playing Doctor: A federal court has ruled that a lawsuit filed by Fior Pichardo de Veloz, 55, against Florida's Miami-Dade County Corrections Department may proceed. Pichardo, an attorney, was arrested on an old warrant she didn't know existed, and was not only strip-searched before she was jailed, a cavity search was done on her — which found no contraband. Jail doctor Fredesvindo Rodriguez-Garcia classified Pichardo as a man because she was on hormone replacement therapy to help withmenopause. When a jailer was told the obviously female Pichardo was a man, she asked jail nurse Fatu Harris several times to confirm that. "Nurse Harris simply replied, 'She's a man' and walked away." Before Pichardo was put into a men's jail cell with multiple men, she tried one last time to convince that jailer she was a woman. "You are a woman," he replied. "Good luck if you're alive tomorrow." (RC/Miami Herald) ...Imagine how bad it would be if not for us all being "presumed innocentuntil proved guilty according to law." —Universal Declaration of Human Rights
Statehood for New Mexico: When Gavin Clarkson and his fiancée tried to get a marriage license in his country's capital, a clerk asked for his passport — his "New Mexico passport." He'd presented his state driver's license, but the clerk refused to accept it on the grounds that it was "foreign." Her supervisor initially confirmed: a passport was required. The clerk even complimented Clarkson's English, which, he said, his fiancée didn't believe: she's the naturalized citizen.Eventually, matters were straightened out: New Mexico has been a U.S. state since 1912. But, Clarkson says, the 20-minute incident might have been avoided if he'd shown his Choctaw Nation I.D. to the clerk at the Washington D.C. Courts Marriage Bureau. (AC/USA Today) ...District of Columbia? That sounds foreign.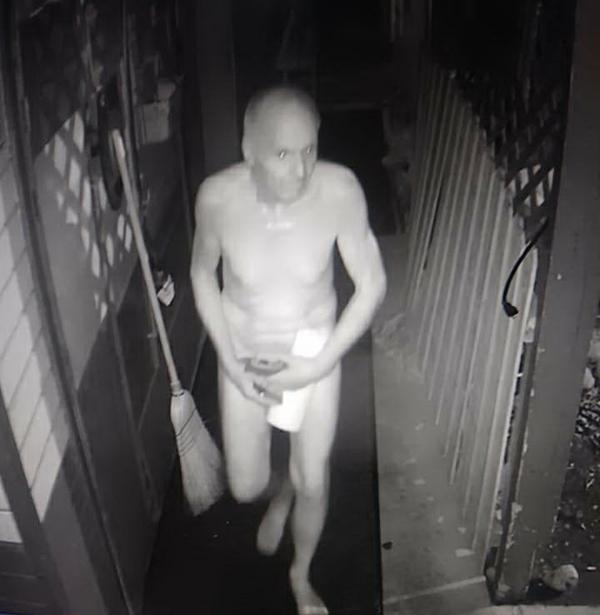 No Shirt, No Shoes, No Service: A police officer was called to a restaurant in St. Petersburg, Fla., to investigate a burglary. They cued up securitycamera footage of the incident, and the officer happened to also look at the footage from the previous night. There, he found another, apparently unrelated break-in. Video shows a different man riding up on a bicycle, going into the restaurant's restroom, and exiting without any clothes on. The officer recognized the man as a homeless person, and the restaurant refused to press charges against him. "He came in with pants on but he rode off on the bike without pants," says a waiter. "I'm not sureif he took his pants with him but we didn't find them. We still don't know where his pants are." (RC/Tampa Bay Times) ...That's OK: by morning he was wondering too.
This Issue's Exclusive Sponsor:
Giving a Drone This Christmas?

Don't forget to add these beautiful custom solid metal Drone Pilot Wings too! Makes a great gift, and they're much less expensive (and longer-lasting!) than just about any other Drone accessory.
Get Yours Here, with discounts for extras.
You Were Steered Wrong: Photos of "Knickers" have gone viral online: he's a "giant" 6-foot-4-inch steer from Australia. But Kismet Creek Farm in Steinbach, Man., Canada, has a bigger one: a 6-foot-6-inch tall steer. "Everybody is pretty much smaller than Dozer," owner Karl Schoenrock said. "Even our horses and everything else, nothing compares." Dozer's previous owner, a vegan, had dealt with Dozer breaking out to spend time at a nearby beef farm. "So she found us and wanted to bringhim here so he could live out the rest of his days with his friends that wouldn't go for food," Schoenrock said. Dozer now shares a pasture with — and towers over — two other steers, and a horse. Schoenrock said visitors can see Dozer and the other animals on weekends when the farm hosts a petting zoo, where the admission fee goes toward taking care of the rescued animals. (MS/CTV) ...We hope Australians don't get their Knickers in a twist.
Florida Man on the Way to Jail asks the deputy a hilarious (and completely clueless) question. School has no problem with principal who has a side job ...as a drag queen. School staff serves preschoolers "juice" ...from a cleaning cart (hint: it wasn't juice, which should have been really, really obvious to anyone with a brain). ATM found sitting beside a road — a dirt road, deep in the woods. Woman attacks drive-thru restaurant manager because they ...what?!Hunter saves the life of a buck because.... Woman tries to "rescue" fish from a market, frees them in lake ...which may destroy the lake's ecosystem. You can still read these stories: just ask for your upgrade to start with the 2 December issue. Upgrades start at just $9! Learn more here.
Time for a Change: A man trying to check out at a market in New Orleans, La., was 15 cents short, and asked the customer behind him to front him the coins. No, the other customer said, so the man pulled a gun on him. The other customer quickly handed over a quarter, and the robber fled — without taking his groceries. (RC/New Orleans Times-Picayune) ...Just another two-bit crook.
---
The Endless Cycle
Woman Convicted of Embezzlement Charged with Embezzling to Pay Restitution
KSL Salt Lake City (Utah) headline
---
Did You Find an Error? Check the Errata Page for updates.
This Week's Contributors: MS-Mike Straw, AC-Alexander Cohen, RC-Randy Cassingham.
---
Some Comments on the Giant Steer — and True's next auctions — are below.
If You Haven't Listened to the Uncommon Sense Podcast since it relaunched 10 weeks ago, you haven't listened to the Uncommon Sense Podcast. I decided the "first season" wasn't quite what I wanted, so I yanked it down and thought about what would be its best focus. The newsletter has stories about people who have anything but Uncommon Sense; I wanted the podcast to go more in depth on people who do. The result: shorter, tighter, generally verypositive explorations of what it means to have or practice "Uncommon Sense".
Long-time Premium subscriber Reed in Oregon sent a note about the new effort last week: "Your 'Uncommon Sense' podcasts are terrific, thanks for the 'new angle'! I initially only read your transcripts, probably thinking I could digest the material better at my own pace, or more quickly, or who-knows-what. But then I listened to one and, not only do you have a great 'stage voice' IMO, but your spoken word imparts far more depth and nuance than just the written word. Needless to say, I've goneback and listened to all of them. As always, thank you for all you do to promote critical thinking."
And that, of course, is the point: True's audience skews older since, as we gain more experience and wisdom, we really see the glaring contrast between the thoughtful and the obliviot, and enjoy being provoked to think about these things. Podcasts in general appeal to a younger audience, and I want to reach them and — just maybe — turn on a light bulb at an earlier point in their lives. But I'm confident the stories will resonate with the wiser listener too. So if you haven't triedlistening to it in the past 10 weeks, try one or two and see what you think. Also, sharing it with your recommendation really does help get it out there. Reviewing it (especially on iTunes) helps too.
You don't have to have a "podcast app" to listen to them: you can stream them right from each episodes "Show Page" — or, as Reed notes, there's also a transcript on those pages. I humbly think they're all pretty darned good, thanks to the previous year of practice and such, but I'm particularly proud of #2, Reverberating for Decades (which ties in an EMS Story I hadn't told before); #4, Full Circle (which tells the much more complete story of my "favorite" Honorary Unsubscribe honoree); #6, The X Factor (about how a couple of men separated by 70 years figured out how to inspire others to change the world); and #8, The Man with the Golden Arm (a medical mystery, unraveled —and, in the meantime, saving the lives of millions of babies).
This Week's Episode explores the modern mantra, "I just don't have time." That's total B.S., because if you apply Uncommon Sense to the problem, it turns out to not be such a problem. It's all packed into 12 minutes:
Podcast 010: "I Just Don't Have Time".
---
You Were Steered Wrong indeed! I was amused by the story of "Knickers" — I saw it online, decided the "giant cow" story wasn't really worthy of True ...and then saw it again and again and again and again! Because of that, when Mike pitched it for True, I said no. Then I saw the follow-up out of Canada and told Mike, "Do THIS one instead."
Because that sparks a worthy discussion ...which is covered in my blog, with photos and "consolation" if you "fell for" the viral silliness: You Were Steered Wrong.
Update on My Wife's Class: she's a High Performance Coach who specializes in entrepreneurs with AD(H)D, though not exclusively. Kit's new online course on the learning platform Udemy helps ADDers "to manage their ADD better, create a structure for their day that supports productivity, and control their money more wisely." It's work she's been doing for decades now.
In October I asked her if she was willing to give True readers a discount, even though the course price is already quite reasonable. She not only said yes, but made it a generous half off! That expired at the end of November, but since so many are distracted during the holidays, she extended that through December, giving you another chance. See the course details here, which has the coupon code already embedded. This offeris very unlikely to be extended again.
And Auctions, Continued — this time on eBay, since they're such general-interest items. Two categories at the moment: Christmas ornaments (my wife is culling from her boxes full), and cartoon character rubber stamps (short version of long story: bought from a neighbor who needed quick cash), including Bugs Bunny, Daffy Duck, and my own favorite, Rocky & Bullwinkle. All are New Old Stock/never used/perfect condition. See everything available on eBay.
There's a Nice Update on my blog post about how Colorado really screwed over small businesses in the state (like This is True!) with their new sales tax rules. I had announced I had to shut down the sales of "tangible goods" (shipped items like True books and GetOut of Hell Free cards and such).
Yesterday, I'm hoping thanks in part to my letter published in the Denver Post (copy in my blog), the state announced they were postponing implementation until "at least" May 31. "The Department of Revenue agrees it is important for the state to take the time to get this right." Gee: ya think?! There's more in an update on my blog post, Colorado Screws Over Small Businesses like This is True. As discussedthere, we can only let's hope other states will learn from Colorado's misstep.
This doesn't have anything to do with the coming postal increase, of course, so Get Out of Hell Free cards (and certainly most other shipped items) will still get a price bump in January, so stock up soon to avoid that, as many(!) of your fellow readers have already done....
Some Premium Edition Subscribers have been complaining they haven't been getting their Premium issues — and then complaining that I "don't reply" to their complaints. If you take a moment to think about it, you'll probably be able to guess: the issues are being spam-filtered — and so are my replies to their emails about it.
There's a special page on the web site for Premium subscribers who are missing issues (it's even linked in every Premium issue!), and I put a Big Yellow Box on that page describing the problem: it's Yahoo doing the filtering, even if their webmail doesn't have a yahoo.com address: Yahoo handles the mail for many, many other companies, such as Bellsouth, Verizon, Pacbell, Ameritech, Flash, NVbell, Prodigy, SWbell ...and others. They say they're getting this free edition, so whatthe heck? This the heck: the two editions come from different addresses and different servers, so of course they're filtered differently.
Pretty much all they need to do is go into their "spam" folder in their web mail, click "Not Spam" on every issue they find there, to not only get their missing issues, but also to "train" the filters to stop putting mail they paid for in there.
---
Ten Years Ago in True: Meet the new patron saint of common sense: The Long, Uphill Battle.
Today on Randy's Random: Facebook (no surprise) gives some Lousy Advice.
This Week's Honorary Unsubscribe goes to Gloria Katz. A screenwriter, Katz shaped one of the most iconic female characters in modern film — a character that most guys loved too.
Read her story in the Archive: Gloria Katz (OK to share link)
And so long to actor Ken Berry, best known as "Capt. Wilton Parmenter" in F Troop (just 65 episodes from 1965 to 1967), as well as Mayberry RFD and The Carol Burnett Show, dead December 1 at 85.
---
Basic Subscriptions to This is True are Free athttps://thisistrue.com. All stories are completely rewritten using facts from the noted sources. This is True® is a registered trademark. Published weekly by ThisisTrue.Inc, PO Box 666, Ridgway CO 81432 USA (ISSN 1521-1932).
Copyright ©2018 by Randy Cassingham, All RightsReserved. All broadcast, publication, retransmission to e-mail lists, WWW, or any other copying or storage, in any medium, online or not, is strictly prohibited without prior written permission from the author. Manual forwarding by e-mail to friends is allowed IF 1) the text is forwarded in its entirety from the "Since 1994" line on top through the end of this paragraph and 2) No fee is charged. We request that you forward no more than three copies toany one person — after that, they should get their own free subscription. We always appreciate people who report violations of our copyright to us.
---
You can subscribe free by email and get this delivered to you every week.
This Week's Issue