To get these issues free by email each week, just subscribe using the form on this page — your privacy is Randy's policy. (Or cruise around the web site to see more samples, archive, and info on our terrific book collections of thousands of past stories.)

---
Since 1994, this is the 1304th issue of Randy Cassingham's...

---
Clean Sweep: Investigators in Broome County, N.Y., say that John S. Mehne of Florida had quite a spree. First, they say, Mehne, 25, crashed a car stolen in Florida on the Interstate near the Pennsylvania border, and tried to flee the scene by jumping on the back of a van that had slowed to go by the wreck. He fell off, so he jumped into the back of a pickup truck. When that surprised driver pulled to the side of the road, Mehne ran into the woods. Police combed the area but didn't finda sign of him until a homeowner called 911 to say he found a man in his chicken coop, and after confronting him the man chased the homeowner with a hatchet, and then stole an ATV to escape. Police intensified their search, but that was interrupted by another homeowner calling 911 who said he found a man in his chicken coop — who was not wearing any clothes. It was Mehne, who was subdued by a police dog and taken into custody on multiple charges. (RC/WCTV Tallahassee) ...Florida Man's conceptof "the best vacation EVER!"
Hold The Phone: "Axel" is a vendor in a Mexico City, Mexico, market. He won't reveal his real name because he doesn't want the police to accuse him of selling fake merchandise. His product: fake cell phones. But, he says, his customers know they're fake. "It's useful for robberies, the large number of muggings happening in Mexico City," Axel said. "They say 'hand over your cellphone, give me everything', and people know now they have to hand over the phone quick, in a matter ofseconds, so they hand over these phones and often the thieves don't realize it." The dummy phone market has grown in Mexico City as violent muggings rose to an average of 70 per day. The fake phones cost 300 to 500 pesos (US$15-25) and are a much lower-cost alternative to turning over your actual phone — not to mention the personal data stored in them. "Obviously there are problems," Axel said, "because if the criminals search it or find out ... there is going to be a problem." (MS/AP)...Hopefully, the robber is a bigger dummy than the phone.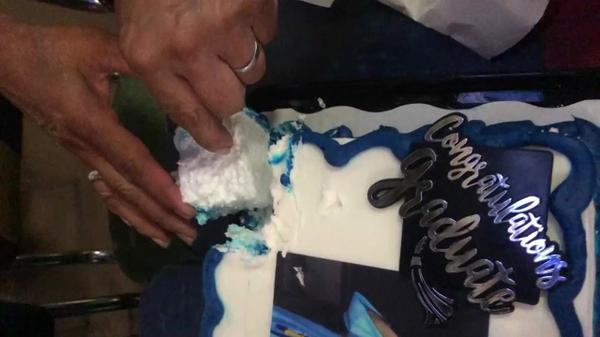 That Takes the Cake: Marsy Flores of Pasadena, Texas, had everything ready to go for her daughter's high schoolgraduation party, and headed to Walmart to pick up the cake she had ordered. "They didn't have our order," Flores found when she got there. "They didn't have anything ready." Employees were apologetic and offered to decorate any of their other cakes in stock and give it to her for free. She chose one, they did the decorations, and she took it home. But the alternative wasn't quite what Flores expected: the replacement cake was a frosted block of Styrofoam. "Not only did they mess up one time,"she complained, "they did it twice!" She again complained to Walmart, which gave her a gift certificate, but when a reporter followed up a store spokesman shrugged it off with a terse statement: "Incident was a result of a misunderstanding. The matter has been resolved." (RC/KPRC Houston) ...Or, "we figured the family wanted a decorated Styrofoam cake."
This Issue's Exclusive Sponsor:
Drone Pilots: Get Your Wings!

Beautiful custom solid metal Drone Pilot Wings dress up your jacket and/or equipment box, showing your pride and professionalism in your hobby. Makes a great gift, and are much more durable than that T-shirt you liked.
Get Yours Here, with discounts for extras.
Signing Rights Away: When Berlin Gabriel was arrested on a charge of driving with a suspended license, he gave police his cousin Donald Colas's Miami Gardens, Fla., address, where Gabriel hadn't lived in decades. And when Gabriel failed to turn up in court, that apparently gave bounty hunters a license to break into Colas's house to apprehend the fugitive. They broke down two doors, snooped under beds, and nevertheless failed to find the man who wasn't there. "By that person signingthat surety contract," explained Prof. Brian Johnson of Michigan, who has written about the bail-bond industry, "they have in essence waived that Fourth Amendment right." And Mike Nefzger, an official with a bail-bond agents' trade group, said, "If he used his cousin's address on his arrest record, you can make an assumption that that's his address." (AC/Miami Herald) ...And if he had used your address, Mr. Nefzger?
Why We Need a Taco Truck on Every Corner: Police receive 911 report that Taco Bell ran out of taco shells. Parent tells players to elbow the opposition in the face (and tries to trip a basketball player) ...at a 10-and-under league game. School principal resigns after being arrested drunk and "refusing to pay his bill" ...at a strip club — when he was supposed to be a chaperone for students on a field trip. How a gunman was caught makes it a made-for-True story. Employeepreparing a car for auction finds something disturbing in the trunk. Shoplifter hides from police in the trunk of her car, but it's so hot in there she started dumping soft drinks over herself ...and was arrested anyway. University library evacuated for a gas leak — but it was a non-lethal kind of gas.... You missed more than half the stories, but you can still read them: just ask for your upgrade to start with the 9 June issue. Upgrades start at just $9!
Bastard Stepchildren Too: "On my son's last two runs, the second-to-last run a little girl died in my son's arms, and he struggled very bad with that," says Catherine Murphy Hardin of her paramedic son during testimony to the Ohio House of Representatives. The call after that was a car crash, and a severely injured driver was hanging from his seat belt. When Trever Murphy "was able to finally release this gentlemen from his seat belt," she continued, "he fell dead in his arms, and thatdevastated my son. It completely broke him." Shortly after, her son committed suicide; he was 28. The state House has amended the Ohio Bureau of Workers' Compensation budget to allow police officers, firefighters, and medics to get coverage for post-traumatic stress disorder without having a physical injury — complying with the diagnostic criteria for PTSD — but the Ohio Chamber of Commerce, the Ohio Manufacturers' Association, the Ohio Township Association, and other business groups oppose theproposed change in the law, which currently requires a physical injury to accompany a PTSD claim. "The potential inroads into the program are endless," complains Rob Brundrett, the Director of Policy Services at the Ohio Manufacturers' Association, which, he says, will increase business costs. The risk for PTSD for paramedics is higher than for soldiers who have seen combat. (RC/Columbus Dispatch) ...Business associations don't care about medics ...until they need to call 911 for a criticallyill or injured family member.
---
Plenty of Experts in Florida
Minnesota Department of Natural Resources Looking for Volunteers to Count Loons
KMSP Minneapolis headline
---
Did You Find an Error? Check the Errata Page for updates.
This Week's Contributors: MS-Mike Straw, AC-Alexander Cohen, RC-Randy Cassingham.
---
Again There's an Extra Story that I just can't put in the newsletter, due to filtering issues. It's safe for work, but you'll still understand the why after you read it in my blog: Older Than You Think.
And I feel a blog post coming on soon about medics being shafted when they suffer PTSD due to some of the horrendous things we're called on to do (last story). There's too much "Pay 'em crap and just get another one if they break down" in emergency services ...and the military services, for that matter. Yet we all want someone to answer the call when things happen. Maybe next week as another in my EMS Story series....
This Newsletter Was Named one of "15 Newsletters That Will Enrich Your Life" by Lifehack.org (written by Giovanni Lepori). And it got a nice plug in Bob Rankin's Geekly Update on Wednesday, too, about this week's "Hold the Phone" story. Thanks, guys! And welcome to the new subscribers that came in from those sources, oranywhere else I missed.
You've Likely Seen the Drone Pilot Wings ad in this publication: it's my site, and I plug that in when there isn't a paying spot. I'm selling the business: if I'm going to get back onto the speaking circuit, I need to reduce the load in other places, and that's an easy one to start with.
This Week's Uncommon Sense Podcast: A reader tells how she was inspired to change her life. And that leads to a powerful thinking tool: running scenarios can save your life. I'll show you how, and tell the story of how they probably saved my life. There is also, as always, a transcript if you prefer that: I Have a Scenario For You.
---
Ten Years Ago in True: A man called police because his little boy threw a Tantrum.
Last Week's Issue on Medium (please do share the link).
Today on Randy's Random: Seek But Ye May Not Find.
This Week's Honorary Unsubscribe goes to Bill Wittliff. A Screenwriter Bill Wittliff was behind some of the biggest blockbusters from the 70s into the 21st century. His story in 2 minutes: Bill Wittliff (OK to share link).
---
Basic Subscriptions to This is True are Free athttps://thisistrue.com. All stories are completely rewritten using facts from the noted sources. This is True® is a registered trademark. Published weekly by ThisisTrue.Inc, PO Box 666, Ridgway CO 81432 USA (ISSN 1521-1932).
Copyright ©2019 by Randy Cassingham, All RightsReserved. All broadcast, publication, retransmission to e-mail lists, WWW, or any other copying or storage, in any medium, online or not, is strictly prohibited without prior written permission from the author. Manual forwarding by e-mail to friends is allowed if 1) the text is forwarded in its entirety from the "Since 1994" line on top through the end of this paragraph and 2) No fee is charged. We request that you forward no more than threecopies to any one person — after that, they should get their own free subscription. We always appreciate people who report violations of our copyright to us.
---
To get True delivered to you every week, click here to open a subscribe form.
This Week's Issue