To get these issues free by email each week, just subscribe using the form on this page — your privacy is Randy's policy. (Or cruise around the web site to see more samples, archive, and info on our terrific book collections of thousands of past stories.)

---
Since 1994, this is the 1352nd issue of Randy Cassingham's...

---
Bunker Mentality: When the novel coronavirus swept through the United States, architect Joseph Badame had cause to say "I told you so!" He didn't know what calamity was coming, but Badame prepared for nearly everything: he designed and built an 8,500 square-foot, partly-underground house on 3 acres in Medford, N.J., surrounded by an electric fence, plus enough outbuildings and food to accommodate 120 friends and family for a full year. He even thought to stock 4,200 rolls of toiletpaper, and buried tanks to hold gasoline, kerosene, diesel fuel, and heating oil. He installed a coal-fired furnace supplied by "tons" of coal stacked outside. What does he think now, with COVID-19 killing thousands per day? "This is much more severe than I even planned for," says Badame, now 77, "when you combine the trigger of the coronavirus and then the reaction to it." But his decades of preparation and million-dollar stockpile of supplies aren't helping: he lost the house to foreclosure in2017, and now lives with a friend. (RC/NJ.com) ...Along with 118 others.
Unneighborly: To celebrate the 75th anniversary of V.E. Day, Nicole and Mark Slater decorated their Telford, England, home with the flag of the United Kingdom, along with a flag featuring a poppy — a popular symbol of remembrance in Britain. The next morning, Mark found an anonymous note on their doorstep. "Several residents have raised concerns with the offensive nature of the flags which you have put up in a well respected area," the letter claimed. "We have made a formal complaintto Telford and Wreckin Council [sic] and we will escalate and take this further." The letter said the flags were "useless, oversized, [and] disgusting." The couple contacted the Telford and Wrekin Council — which encouraged them to carry on — and Nicole posted a copy of the letter to social media. They received overwhelming support from neighbors, many of which are military veterans. (MS/Shropshire Star) ..."The safety of our homes and the Freedom of mankind alike depend upon theconduct of each one of us at this critical moment." —Field Marshal Sir Douglas Haig (1861–1928), commander of the British Expeditionary Force on the Western Front, WWI.
Covert Operation: Fingernail technician Cynthia Renee Covert, 57, made a house call to do nails for Barbara Howell at her Kiawah Island, S.C., home. As Covert worked on Howell's nails on the outdoor porch, she was "fascinated" by a large alligator in a nearby pond, so after the session she went to get a closer look. Howell warned her that the gator had recently grabbed a deer on the shore. "I don't look like a deer," Covert replied — and reached down to pet the beast. Howell and herhusband William started screaming at her to get away as William ran to pull her back. Before he arrived the animal grabbed her by the leg and dragged her into the water. When Covert got waist-deep, William says, "she stated in a very calm voice, 'I guess I won't do this again'." And with that, the gator rolled over, pulling her underwater. The pond was still by the time Charleston County Sheriff's deputies arrived. A short time later the gator surfaced, and a deputy shot it in the head severaltimes with his sidearm, causing it to release Covert's body. The coroner listed the cause of her death as accidental drowning. (RC/Columbia State) ...You have to admit Covert was right: she won't do that again.
This Issue's Exclusive Sponsor: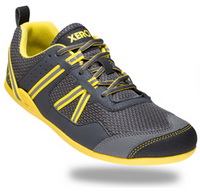 Your New Favorite Running And Fitness Shoe.
Xero Prio is our 'barefoot' running shoe, for men and women. It still has our famous protective minimalist sole, but with comfortable and super-lightweight uppers that look good, too. Check the reviews:
Golden Boxes: Marie Moermans wanted McDonald's. But even though there was one just 500 meters (about 0.3 miles) fromtheir La Louviere, Belgium, home, her mother, Nathalie, said they couldn't go during the lockdown: they didn't have a car to use the drive-thru, which is the only public access available. But Nathalie had an idea: build a car. The "vehicle" they built from cardboard furniture boxes had a "license plate" reading "COVID-19", and once they got it out the front door (it was too wide to fit easily), people in more conventional cars honked and encouraged them. After mother and teenager reached theirdestination, a police officer questioned their presence in the drive-thru and "burst out laughing" when she "realized that we were inside a cardboard car," Nathalie Moermans said. McDonald's employees took pictures — and sold them food. (AC/Brussels Times, Newsweek) ...They'd never served a happier meal.
So Much More Wackiness: Citizens of Beverly Hills, Calif., prevailed on the city council to classify a specific type of business as "essential." Skateboard park keeps skaters out by piling sand in the park. You won't believe where Chinese citizens want to travel when restrictions ease (and where they don't). Florida homeowner thinks he has a foolproof way to keep the cops out, but he was fooled. Canada's National Capital Commission announces the annual Tulip Festival will continue, butpeople can't travel to see it, and anyone who does is ...not allowed to take any photos (but angry responses made them backpedal). Man jumps on back of moving truck on the highway because he really wanted some of the cargo inside. Why the 5-year-old boy stole the family car to drive to the next state is only the start. You can still read all of these stories: just ask for your upgrade to start with the 10 May issue: upgrades start at just $9.00!
Does He Get the Girl? NASA Administrator Jim Bridenstine has confirmed the agency will cooperate with a plan to film a movie starring Tom Cruise on the International Space Station. Plot details are still under wraps, but private rocket maker SpaceX is also involved. SpaceX is soon to launch astronauts, bringing human launch capability back to the U.S. for the first time since the Space Shuttle was retired. The 56-year-old actor is known for doing his own stunts. (RC/CBS) ...Spoileralert: the scene where Cruise jumps onto the Falcon Heavy booster seconds before launch, manages to climb up and jump onto the Crew Dragon capsule before the boosters separate, pries open the hatch and tosses the bad guy out before sealing the hatch and taking the newly vacant seat, is the best part.
---
Beats Dealing with the Gators
Florida Man Jumps into Canal to Avoid Arrest, Gets Arrested on Other Side of Canal
WBBH Fort Myers
---
Did You Find an Error? Check the Errata Page for updates.
This Week's Contributors: MS-Mike Straw, AC-Alexander Cohen, RC-Randy Cassingham.
---
To Contribute to the Effort to bring the full Premium edition with all the stories to this mailing list, see True's Ko-Fi page. In recent weeks that's what brought Premium to you four times, and as I write this it's a third of the way to the next one.
The Covert Story (petting the alligator with, uh, poor results) was by far the most-suggested story this week. What? I take story suggestions? Only since 1994! See this page for how to submit a story.
Mike Had Some Extra Commentary about his story "Unneighborly" (ignorant neighbors calling her patriotic flags "useless, oversized, [and] disgusting.") Thinking those comments deserved a wide audience as well as a place to comment, I put them in my blog as a guest post: A Just War, which page also has a photo of the homeowner and her "disgusting" flags.
Two Weeks Ago, I announced a special on a set of all five printed editions of the Honorary Unsubscribe books, with the "catch" being that I only had 5 sets in stock until more came in. Premium subscribers bought them out by the next morning, and free readers bought more. More copies have arrived, and I caught up with shipping Tuesday. The ebook version comes with the paper books, so you could at least read them while waiting, but I knowmany of you prefer paper. You can again order here. The special pricing ends May 31.
In Related News, I Spent Several Days last week revamping True's shopping cart. It previously used estimated shipping rates, which was mostly fine except when I didn't notice rates jumped (in particular) for Canada. It was "easy," but the problem with that method was, if you (say) ordered a couple of books and a set of GOOHF cards, you ended up paying full shipping on both of them, even when I could combinethem into one package and maybe save some postage. I'd usually compensate for that by throwing in something extra, but what a pain.
So I finally bit the bullet and bought a module that will do real-time lookups on the actual postage rates, which in turn meant I had to weigh every shipped product so that would work. While I was at it, I reduced many of the prices since I'm not trying to build in the shipping costs anymore. For example, there are quite significant reductions in the prices for the plastic GOOHF cards, as well as the pin-backGOOHF and Does Not Play Well With Obliviots buttons.
If you have any trouble with the cart, please let me know: there's a new "Order Help" button in the cart's navbar to send me a quick direct note. Thanks!
This Week's Podcast tells an interesting story. When you really look into something that's "obvious" and "common sense," sometimes you'll find that ...the "experts" are wrong! This is the story of a man who was pretty sure the industry experts were wrong about something, and boy did it take him a lot of effort to turn that industry around. But he did, because his Uncommon Sense beat their common sense. It's just over 14 minutes, and as alwaysthere's also a transcript: A Link to the Future.
---
Ten Years Ago in True: a simple lesson in statistics: What Are the Odds?
Previous Issues on Medium — yes, there is one this week (please do share the link).
This Week's Randy's Random: Quantity or Quality?
This Week's Honorary Unsubscribe goes to Motoko Fujishiro Huthwaite. You may have heard of the "Monuments Men" in World War II thanks to the 2014 film. There were also Monuments Women, and Huthwaite was the last one. Her story in 2 minutes: Motoko Fujishiro Huthwaite (OK to share link).
Plus, Goodbye to comic actor Jerry Stiller. Older folks (such as me — sob!) remember him as half of a comic team with his wife, Anne Meara; "Stiller and Meara" ruled TV of the 1960s and 70s. Younger folks will remember Jerry as George Costanza's father on Seinfeld from 1993-1998. And the kids will remember him either as "Arthur Spooner" on The King of Queens (1998-2007), or as comic actor Ben Stiller's father. Meara died in 2015 at 85; Stiller died May 11, at 92.
And So Long to Paul "Bear" Vasquez, whose video of a double rainbow went viral due to his "OH, WOW! All the way!" (etc.) reactions. He went to the emergency room feeling ill, and died there on May 9 at 57. (The video is here, on Youtube.)
---
Basic Subscriptions to This is True are Free athttps://thisistrue.com. All stories are completely rewritten using facts from the noted sources. This is True® is a registered trademark. Published weekly by ThisisTrue.Inc, PO Box 666, Ridgway CO 81432 USA (ISSN 1521-1932).
Copyright ©2020 by Randy Cassingham, All Rights Reserved. All broadcast, publication, retransmission to email lists, web site or social media posting, or any other copying or storage,in any medium, online or not, is strictly prohibited without prior written permission from the author. Manual forwarding by email to friends is allowed if 1) the text is forwarded in its entirety from the "Since 1994" line on top through the end of this paragraph and 2) No fee is charged. I request that you forward no more than three copies to any oneperson — after that, they should get their own free subscription. I appreciate people who report violations of my copyright.
---
To get True delivered to you every week, click here to open a subscribe form.
This Week's Issue