To get these issues free by email each week, just subscribe using the form on this page — your privacy is Randy's policy. (Or cruise around the web site to see more samples, archive, and info on our terrific book collections of thousands of past stories.)

---
Since 1994, this is the 1312th issue of Randy Cassingham's...

---
Musty: An unnamed woman in Jacksonville, Fla., called 911 for help after experiencing nausea and a shooting pain in her lungs after smelling a strange odor from a package she had picked up. Jacksonville Fire and Rescue Department responders called in hazmat crews and the bomb squad to inspect the suspicious package, and closed a nearby bridge to afternoon traffic while the contents were investigated. The "all clear" was given after 3 hours, even though they couldn't decide what hadcaused the woman's medical distress. And what was in the package? A "300-year-old Bible" she had purchased on the Internet. (RC/WJXX Jacksonville) ...Ah, then the distress was caused by the chemicals used to make a brand new Bible look 300 years old.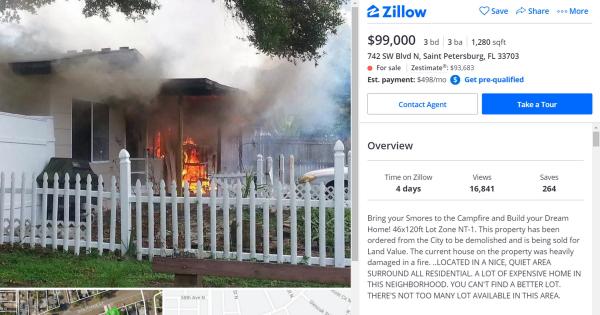 Get it While It's Hot: "When it comes to real estate, marketing is the priority," says real estate agent Dylan Jaeck. "You want to grab as muchattention as possible." Which may explain what he did with the listing for a three-bedroom, three-bath home in St. Petersburg, Fla. "LOCATED IN A NICE, QUIET AREA SURROUND ALL RESIDENTIAL (sic)," it reads. "A LOT OF EXPENSIVE HOME (sic) IN THIS NEIGHBORHOOD." But it's the picture that really draws attention: the house in the photo is on fire. Jaeck says the photo is a way to be up-front about the property's defects. "If I was just to post a picture of the front of a burnt down house or an aerialshot, the listing would be more stagnant," he said. (MS/Tampa Bay Times) ...There's fixer-uppers, and then there's tear-her-downers.
Taking Chances: Jennifer Armstrong was charged with public intoxication and theft — of wine, 8 euros' worth — from a supermarket in Dublin, Ireland. She pleaded guilty, but asked the judge for "one last chance." Armstrong, 44, is homeless, and she'd been released from prison with no money. "She goes out on the street," her lawyer said, "and turns down the only avenue she knows." She went quickly, too: her new arrest came a mere two days after her release. The alcoholic was deemed aproper candidate for day programs, and Judge Carol Anne Coolican gave her a suspended sentence. The conviction was Armstrong's 648th. (AC/Irish Independent) ...What number "last chance" was it?
This Issue's Exclusive Sponsor:
Drone Pilots: Get Your Wings!

Beautiful custom solid metal Drone Pilot Wings dress up your jacket and/or equipment box, showing your pride and professionalism in your hobby. Makes a great gift, and are much more durable than that T-shirt you liked.
Get Yours Here, with discounts for extras.
Some Twine Would Have Been Better: Jennifer Janus Yeager, 49, of Dixon, Ill., took a large kiddie pool to a friend's house to inflate it. Once done, the only way to getit home was on the roof of her car. To make sure it wouldn't blow off on the drive home, she put something in it to weigh it down: her two daughters. The girls' ages were not given, but police noted one was "under 8" and the other "under 16." Yeager was arrested on two counts of endangering the health or life of a child, two counts of reckless conduct, and two counts of failing to use secure seating for her passengers. (JC/WQAD Moline) ...Her definition of "carpool" is a little different frommost.
Eight More Stories Florida McDonald's refuses to serve "anyone with a badge," perplexing a paramedic. Woman faces 10 years in prison in attempted restaurant "bad food" fraud. Florida man chases underwear-clad burglar out of his man cave. When three intruders rob 87-year-old man, he laments "maybe one or two guys I could handle, but three?" Road rage ends when wife shoots at another car ...but since she's shooting through her husband's window, shoots him instead. Drive-by shooting endswhen the passenger shoots at a guy ...but since he's shooting through the getaway driver's window, shoots him too. Chaos erupts on cruise ship when a guy dressed as a clown arrives at a formal dinner. Truck driver uses GPS to route him while hauling a heavy load — over a bridge rated for one-third of his truck's weight. You can still read all of these stories: just ask for your upgrade to start with the 4 August issue. Seeyour options here.
Trusty: In 2006, Peter Alley, the custodian at Conners Emerson School in Bar Harbor, Maine, came across a serious car crash. Alley rescued the unconscious driver from the wreck just a few seconds before the crashed pickup truck burst into flames. Oddly, the driver's name was Gary Alley, but the two men were not related. Peter Alley was given a medal and a cash reward from the Carnegie Hero Fund Commission. In 2017, Peter won a $100,000 lottery prize. In 2019, he won another $500,000 inthe lottery. (RC/Bangor Daily News) ...Karma: sometimes it takes awhile.
---
Move On, Nothing to See Here
Dead Dog and AK-47 Shooting Spree That Also Killed Camel Spurs Oregon Lawsuit
Portland Oregonian headline
---
Did You Find an Error? Check the Errata Page for updates.
This Week's Contributors: MS-Mike Straw, AC-Alexander Cohen, JC-Justin Cassingham, RC-Randy Cassingham.
---
The Headline This Week is another head-scratcher. The plaintiff in the lawsuit says neighbor Joseph Sallman was known to "become violent and use firearms when he is intoxicated," but a bar served him an "excessive amount of alcohol" anyway. Sallman, the suit says, was drunk and shot at the plaintiff, wounding him and killing his dog. News reports say the bullet continued into a wild animal sanctuary across the road and wounded the camel, whichlater died, but the lawsuit doesn't mention that part. Now, aren't you glad you wondered?!
You'll Notice a New and (at least for now) one-time contributor this week: Justin Cassingham is my 15-year-old nephew, who we spent a couple of days with last weekend. When he said one thing he really enjoyed in school last year was creative writing, Kit volunteered him to write a story for this week's newsletter. He accepted the challenge. He has read True stories before, so he had an idea as to the format and intent, and I thought the kiddie pool story that was in my queuewould be a good one. His resulting work was then subject to the usual editing process (though I left his slug and tagline as submitted). Next step is to learn the lad about the value of his work. For his fee, he asked for three — that's right, three! — Get Out of Hell Free cards. Instead, I gave him 100, and advised him to use discretion when he hands them out to his friends at school. His Catholic high school. But thenagain, maybe he didn't undervalue his work: after all, the GOOHF cards are priceless!
This Week's Uncommon Sense Podcast: Humans don't like to fail. Sure, sometimes failure has catastrophic results, so surgeons work hard to ensure their operation are successful. But when we don't allow ourselves, or our children, or our employees to fail, they can't reach their full potential. Here's why you should actually embrace failure. 13-1/3 minutes, and as always there's a transcript. Failure is Not Optional.
---
Ten Years Ago in True: When the tellers are smarter than the robbers: May I Help You?
Last Week's Issue on Medium (please do share the link).
Today on Randy's Random: Just Like Children.
This Week's Honorary Unsubscribe: Phil Hymes had the right technology and know-how to make TV shows look better. His story in 2 minutes.
---
Basic Subscriptions to This is True are Free athttps://thisistrue.com. All stories are completely rewritten using facts from the noted sources. This is True® is a registered trademark. Published weekly by ThisisTrue.Inc, PO Box 666, Ridgway CO 81432 USA (ISSN 1521-1932).
Copyright ©2019 by Randy Cassingham, All RightsReserved. All broadcast, publication, retransmission to email lists, WWW, or any other copying or storage, in any medium, online or not, is strictly prohibited without prior written permission from the author. Manual forwarding by email to friends is allowed if 1) the text is forwarded in its entirety from the "Since 1994" line on top through the end of this paragraph and 2) No fee is charged. We request that you forward no more than three copiesto any one person — after that, they should get their own free subscription. We always appreciate people who report violations of our copyright to us.
---
To get True delivered to you every week, click here to open a subscribe form.
This Week's Issue