What is it with men who want to fly under balloons? I don't mean hot air balloons, I mean toy balloons. This one's a priest — he just wanted to get closer to God, I guess. From True's 27 April 2008 edition:

Paging Sister Bertrille
People in Paranagua, Parana, Brazil, watched as a Roman Catholic Priest ascended toward heaven. No, really: Fr. Adelir Antonio de Carli filled 1,000 balloons with helium and, dressed in a helmet, thermal suit and a parachute, and carrying a GPS receiver and a satellite phone, headed skyward in an attempt to break the 19-hour record for staying aloft with party balloons. He was declared missing eight hours later when he failed to check in by phone, and was judged to be off course — and 30 miles out to sea. A search found some of the balloons, but there has been no sign of the 41-year-old flying priest. "We are absolutely confident he will be found alive and well, floating somewhere in the ocean," said a spokeswoman for his parish. But the London Telegraph newspaper reported that "hopes are fading" for the priest. "The priest's death would make him an immediate contender for the annual Darwin Award," the paper said, "named honour of Charles Darwin, the father of evolution, and 'commemorate those who improve our gene pool by removing themselves from it.'" (AP, London Telegraph) …A hell of a thing to say about a guy who pledged celibacy.
We've Been Here Before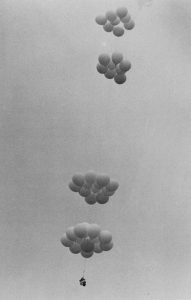 Does this story remind you of something? That would probably be Larry Walters. I used to get "submissions" of his story all the time — everyone who got it by email thought it happened "yesterday," but indeed it didn't.
The man who went flying in his lawn chair over Los Angeles is real — and I remember when it happened. Yesterday? Heck no: it was July 2, 1982. Of course, the story keeps going around on the Internet like it was recent — and most of the versions are highly …well… inflated with ridiculous, false details.
Details Matter
He did not, for instance, take a six-pack (or case) of beer on his flight, but rather a bottle of soda pop — as well as a portable CB radio, a parachute, and a pellet gun. His launch of "Inspiration I" — an aluminum patio chair with 42 helium-filled weather balloons attached — was assisted by two friends, one of whom presumably snapped this photo. His resulting 16,000-foot altitude was confirmed by two airline pilots, who reported him to the FAA (the agency fined him $1,500).
Most versions of the story say he was "rescued" after he drifted out to sea by a helicopter — a detail which is pretty dang unlikely, when you think about it. (And you did think about it before buying into the full urban legend, right? Right?!) In real life, the ending was amazing enough without embellishment: he shot out a few of his balloons with the pellet gun and landed softly — though the balloons draped over a power line in Long Beach, blacking out the neighborhood for 20 minutes. Amazingly, he wasn't killed.
Fame: 15 Minutes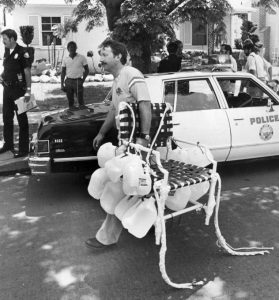 Walters went on to appear on The Tonight Show and Late Night With David Letterman, which he said was "the most fun I've ever had."
But Walters committed suicide on October 6, 1993, by shooting himself in the heart — he was unable to cope with the all-too-brief interest in his story. He was 44.
Of course, others have followed in Larry's …uh… airy footsteps and pulled similar stunts. But Larry is the most famous — for a while, there was was even a movie about him in development. We'll see if the priest beats him on the fame front.
Story Update
The Brazilian Navy called off the ocean search for Father di Carli nine days after the launch, saying the chances of finding him alive in the ocean were "very remote."
Nearly three months later, a portion of a body was found floating in the water. DNA tests confirmed the body was the priest's.
- - -
This page is an example of Randy Cassingham's style of "Thought-Provoking Entertainment". His This is True is an email newsletter that uses "weird news" as a vehicle to explore the human condition in an entertaining way. If that sounds good, click here to open a subscribe form.
To really support This is True, you're invited to sign up for a subscription to the much-expanded "Premium" edition:
Q: Why would I want to pay more than the regular rate?
A: To support the publication to help it thrive and stay online: this kind of support means less future need for price increases (and smaller increases when they do happen), which enables more people to upgrade. This option was requested by existing Premium subscribers.