You — Yes, You — Can "Do Something" about Mass Killings. A good friend of mine posted this yesterday, after he heard about the 49 murders at a "gay night club" in Orlando, Florida, overnight. The gunman was killed in a shoot-out with police.
My buddy posted:
Orlando…. Don't pray. Don't "think good thoughts". Don't post things like "our thoughts are with you". Words today are cheap and meaningless. Instead: DO SOMETHING. This kind of hatred must stop. Lip service doesn't count.

Particularly if you're in a position of leadership or authority, stop pandering and instead take clear and decisive action and take a stand that says this type of hatred and intolerance is unacceptable in a modern society.

No, I don't know what I will do, but do something I will. Certainly something more than a pithy post on social media. This has to stop.
What to
Do

?

Most are at a loss about what they can "do" — what something can help?

But I think you can help: you can make a difference, and you don't have to be "in a position of leadership or authority" to make an impact. But first, we have to know what the actual issue is. As usual, some are pointing at guns, but that's not the real issue, as I've argued in the past (so I'm not going to cover it again). It's a symptom, not the problem. So what is?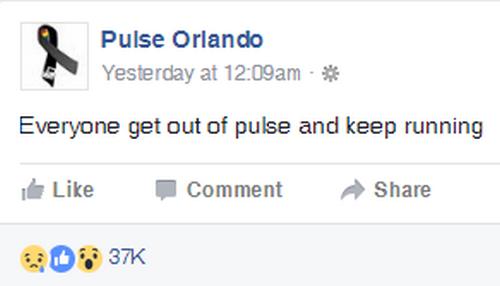 In past terrorist actions, I've seen calls for "moderate Muslims" to condemn the attacks — as if they haven't been doing so. Indeed yesterday, within hours of the news breaking from Orlando, the American Islamic Forum for Democracy issued a statement strongly condemning the Orlando massacre, calling the gunman and others like him "Islamist savages."
Not just savages, but Islamist savages, tackling the issue head-on. "The LGBTQ community has always been at the forefront of so many fights for human rights — including the fight against anti-Muslim bigotry," they wrote. "Every human being deserves to live safely, as they are, and without fear for their safety. Tragically, the LGBTQ community has long been a primary target of radical Islamist networks and governments across the planet."
I've noticed recently that there aren't many calls for such condemnation by "moderate Muslims" because, I think, of two reasons: 1) it can be shown that indeed such condemnations are quick and clear, like this one — and 2) those calling for them really don't want to hear them: they hate all Muslims, whether they're peaceful "moderates" or not.
It Comes down to One Thing
And that, I think, is the underlying problem just about every time: hate.
There's hatred of Muslims. There's hatred of gays. There's hatred of blacks, Latinos, the transgendered, and pretty much everyone that's not exactly like the hater. It's not just shootings, it's not just bombings: consider the screams of "MURDERER!" at women going into Planned Parenthood to get …a pap smear. No matter who the target, no matter what the weapon used against that target, the common denominator is hate.
If you're one of the haters, you need to know that you are aiding and abetting violence. If you've agreed with someone saying queers should die, you've given terrorists power. If you seethe in anger over other people's lifestyles, you're part of the problem.
Because you know what? It's none of your damned business, so stop pretending it is. You personally think homosexuality is "bad"? Fine: don't do it. But it's none of your business if someone else chooses to. It's none of your business if others use birth control. It's none of your business if someone is an atheist. It's none of your business, so put your energy toward something positive, building others up, rather than tearing them down and creating more hatred in the world.
And if you're one of the majority who is nodding and saying "Right!" — that's still not enough. In the past eight years, I've seen a growing tolerance for racism and, by extension, other hatreds, which I tie directly to a petulant reaction to Obama's election and, especially, his decisive re-election. It's one thing to disagree with his policies and ideas; it's another thing entirely to rail against him because he's black: that just means the whiners can't come up with anything real to argue about.
Us vs Them?
The "Us vs Them" of America against foreign terrorists has become the "Us" of one side of just about every issue and the "Them" of the other side — American vs. American ugliness that is fueled by hatred of your own neighbors. Hatred feeds violence and creates divisions that is tearing this country apart.
So what can you do about it? We all have to say Stop! — out loud.
When you hear or see racism, you need to take a stand: "I see that as racist, and I don't like it." If they don't stop, break your connection with them and, if you can, tell them why. When you hear or see gay bashing, take a stand: "I have friends who are gay, and they're good people. I don't want to hear that again." If they don't stop, break your connection with them and, if you can, tell them why. If you hear or see someone bashing a religion — or the lack of religion — take a stand: "I know atheists/Jews/Muslims/Christians who are not like that, and lumping them all together as evil is wrong. Stop it." If they don't stop, break your connection with them and, if you can, tell them why.
Haters are increasingly coming out into the open because they're not being condemned by their friends and family, and sure enough, the murderous attacks are getting worse. It's up to us to say it's not right. Maybe you can change their minds, and maybe you can't, but all of us need to stand up and say "That's wrong. Stop it." Yes, that's a job for every one of us, because that's the only thing that can turn the tide against more victims of that growing hatred. Their victims are not just "gay" or "queer" or "Muslim" or "Mexican" or whatever other label we put on them: they're people with families and friends, parents and children. The cop-out of "Love the sinner, but hate the sin" is still hate, and that's fueling murder. Stand up against it, and help stop it.
You Didn't Think of This Part
There's One Other Thing I want to bring out about these horrible mass murder scenes. You probably know I'm a volunteer medic; I sometimes write EMS Stories here to educate the public about the real inside stories of EMS, vs the tripe of most TV shows. So I want to acknowledge the first responders who society pays peanuts to go help clean up after the hatred, particularly the police and medics. Even with years of street experience, I can hardly imagine the horror of having to sort through a hundred bodies trying to find those who are still alive to get them out. But consider: medics have a higher incidence of PTSD than soldiers, in large part because medics serve longer.
If you're a long-time reader, you might know that I first got into EMS in the 1970s, thanks in large part to the TV show Emergency! But I quit the business in the 80s, before answering a plea 20 years later to return to help out again in my rural area. I've never said why I left in the first place: I burned out after a particular call left me with PTSD. It took me a long time to get past it.
Consider This
I can't imagine having to be present in a mass murder scene — worse if children are involved. I returned knowing that there's a risk that I could be called to such a scene. Imagine being a cop or medic in Orlando: the sights, the smells, the emotions.
And then add this 21st century twist: there's certainly not an eerie silence. Pretty much every body has a cell phone on it, ringing incessantly as loved ones call and text to ask, "Are you OK?"
Such a scene takes hours and hours to gather evidence, and "process" everything. Those happy-sounding noises will ring in the heads of the cops, firemen, medics, deputy coroners, and other emergency workers for months — and in many cases, years. So, to my brothers and sisters who have been there and have those flashbacks: may you find peace soon. You are not alone, so please ask for help if you need it.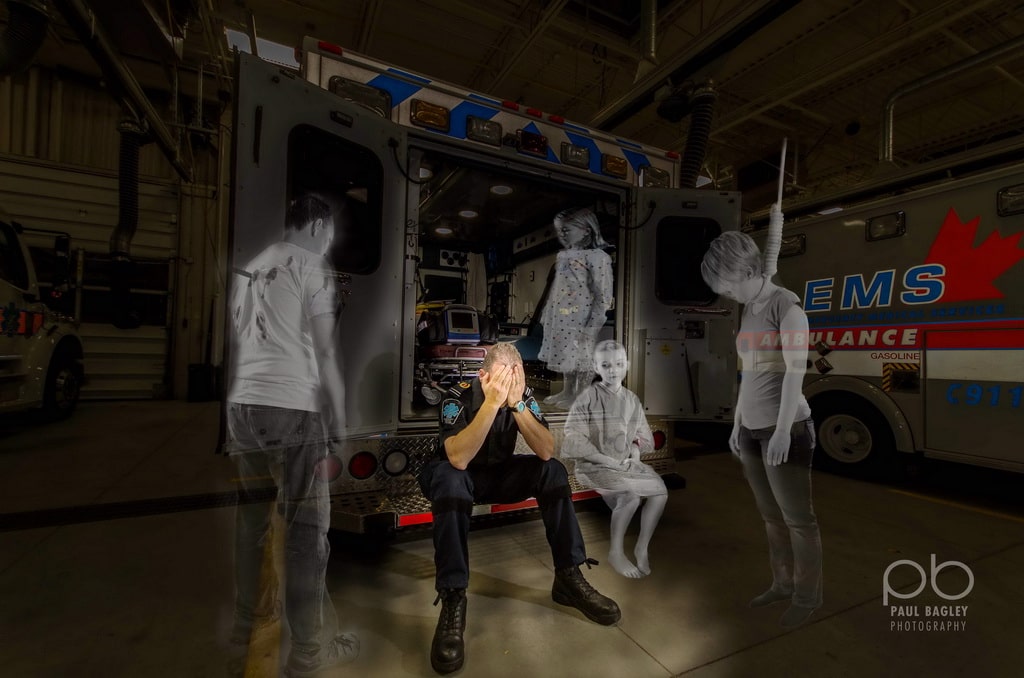 June 14 (Flag Day) Update: I Rescind this Addendum:
P.S.: There's One Addendum to my previously published thoughts on guns: The Terrorist Screening Center, a division of the FBI, maintains what's colloquially known as the "terrorist watch list." The Orlando gunman was on that list on two different occasions. The FBI dropped him off both times. But even when he was on the list, he could still legally buy guns! That's ludicrous: when anyone is being investigated as a potential terrorist, they should not be able to buy guns in the United States! The same goes for the mentally ill. We need a "do not buy list" more than we need a "do not fly list."
What Changed My Mind? Tiffany in Tennessee's very brief argument (in the comments, below). It was actually just two words: Due Process. She's right: I let emotion get in the way of the brilliance of our Constitution. Yes there are people who abuse the rights guaranteed in the Constitution, but we punish them after they are proved to have done it, not before. I plead being human, but I'm not going to dig in when I've been proven wrong. It was an ill-thought-out last-minute addendum, and further reflection shows it was wrong.
– – –
Bad link? Broken image? Other problem on this page? Let Me Know, and thanks.
This page is an example of Randy Cassingham's style of "Thought-Provoking Entertainment". His This is True is an email newsletter that uses "weird news" as a vehicle to explore the human condition in an entertaining way. If that sounds good, click here to open a subscribe form.
To really support This is True, you're invited to sign up for a subscription to the much-expanded "Premium" edition:
Q: Why would I want to pay more than the regular rate?
A: To support the publication to help it thrive and stay online: this kind of support means less future need for price increases (and smaller increases when they do happen), which enables more people to upgrade. This option was requested by existing Premium subscribers.