Since 1994, this is the 1247th issue of Randy Cassingham's…


| | |
| --- | --- |
| 6 May 2018: Great Reading, New Auctions, May Tagline Challenge | Copyright ©2018, Forwarding Prohibited |
---
What I'm Reading Lately: In March, I told you about the upcoming publication of Dr. Alan Stern's book about the mission to Pluto, Chasing New Horizons: Inside the Epic First Mission to Pluto. (You may remember I worked on the Pluto mission pre-project when I was still at JPL.) I got my copy on publication day May 1. "Spellbinding" doesn't even begin to describe this book. It's beautifully written, and they keep non-science people in mind: everything is nicely explained. The result is thrilling. See my full review on my blog: The Race to Pluto.
---
Meet the Pooperintendent: The football field at the high school in Holmdel Township, N.J., was put under surveillance — human poop was being found on the field or track "on a daily basis," police said. They finally caught the apparent culprit: Thomas Tramaglini, 42, lives about 3 miles away, and ran on the field's track each morning before dawn. Tramaglini is the Superintendent of the Kenilworth school district, a half-hour north. He has been put on leave (and still able to draw his $147,504 salary) after he was arrested and charged with lewdness, public defecation, and "discarding and dumping of litter." (RC/Trenton Times) …This case raises so many questions it's hard to hold them in.
Back Door II: Called to the scene of a disturbance, police in Newton, Kansas, found an unclothed man lying under the back of a parked car, attempting to …uh… copulate with its tailpipe. The unidentified 24-year-old "would not listen to commands or anything," says Lt. Scott Powell. "They ended up tasing him." Once he sobers up, he will probably be charged with lewd and lascivious behavior, officers say. Concerned by his "odd behavior," officers took him to a hospital rather than jail; his blood alcohol was measured at .35 percent. "They wanted him checked out by medical professionals," Powell said. (RC/Newton Kansan) …And, later, one hopes, by psychiatric professionals.
Negative Ghost Rider: Speculation abounded online about a possible coup attempt when security forces in Riyadh, Saudi Arabia, started shooting near the royal palace. Amateur video of the incident recorded loud gunfire lasting over 30 seconds. A senior Saudi official said King Salman was not at his palace at the time of the incident, and nobody was injured. What was up? Police said they shot down a recreational drone that had no connection to any rebels or anyone else who wanted to overthrow the government. The official said the government would introduce regulations on the use of recreational drones. (MS/Reuters) …If there's one thing the government knows, it's how to drone.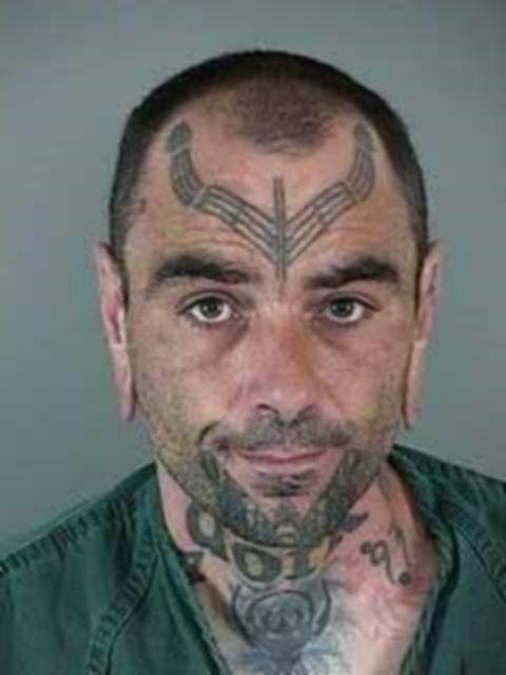 Can You Describe the Man? Shawn Frederick Weatherhead, 46, was a fugitive, and the FBI sent out an alert to ask the public for assistance in locating him. The unemployed tattoo artist from western Oregon was thought to be in California, and could be identified from numerous tattoos on his face and neck — including a large one that reads "dork". A California Highway Patrol officer pulled a car over for expired tags, spotted Weatherhead in the passenger seat, and took him into custody. His crime: he made about a thousand phone calls to various FBI field offices, occasionally threatening to kill people. He previously pleaded guilty to making 100 harassing calls to a western Oregon sheriff's office, and served 10 days in jail. (RC/San Jose Mercury News, Eugene Register-Guard, Coos Bay World) …So that one tattoo, at least, really was earned.
The $500 Free Apple: If Crystal Tadlock had been hungrier, the apple that Delta Airlines gave her on her way back to Arvada, Colo., from Paris, France, might not have gotten her a $500 ticket. But instead of eating it on her international flight, she tucked it — still in its Delta-branded plastic bag — into her carry-on. That's where a U.S. Customs and Border Patrol agent found it. "He had asked me if my trip to France was expensive and I said, 'Yeah.' I didn't really get why he was asking that question," said Tadlock, "and then he said, 'It's about to get a lot more expensive after I charge you $500'." Now Tadlock, who says she'll fight the citation, is concerned that she may lose Global Entry status. She says the airline should have warned passengers to eat or discard fruit before deplaning. In a statement, the agency said it couldn't discuss specifics, but "all agriculture items must be declared." (AC/KDVR Denver) …And all individuals must be held accountable, but not airlines.
Who Said It Wouldn't Last? Liliana Manante, 41, and George Hernandez, 53, got married — and then annulled the marriage a few days later. The next month, Hernandez was charged with attempted murder after allegedly attacking Manante in a Babies 'R' Us parking lot in Lauderhill, Fla. According to investigators, Hernandez had asked her to meet him to talk about their relationship, and then allegedly attacked her with a box cutter. Hernandez was arrested at the scene and, according to the arrest report, "stated several times in a taped interview that he wanted to and intended to kill the victim." Police say he also gave his reasoning for the attack, saying it was for Manante "putting voodoo on him and having evil spirits." (MS/South Florida Sun Sentinel) …If so, she obviously used the wrong potion.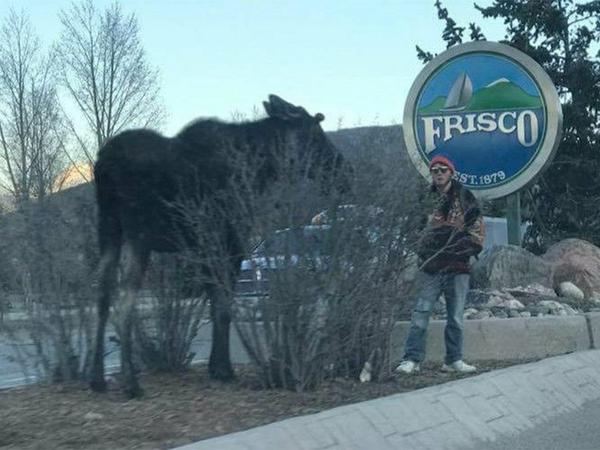 Wild Moose Chase: A driver in Frisco, Colo., saw a man chasing a moose in the middle of the street, and his passenger snapped a photo. The state's wildlife agency wants to speak to the man, and released the photo in case someone recognizes him. While "harassing wildlife" is illegal, "We hope a conversation with this individual can help him understand the danger involved," said District Wildlife Manager Elissa Slezak, noting an adult moose can weigh over 1,000 pounds and can still easily outrun a human. The animal is clearly angry, she said, as evidenced by its ears being back and hackles raised, and moose will "defend themselves aggressively" when threatened. "It is likely this person does not realize how much danger he put himself in," Slezak said, "or maybe he does not care." (RC/Denver Post) …You don't need to tell him: Darwin will take care of it.
Darwin Taking Care of It: Several men were on their way home after attending a wedding in Papadahandi, Odisha, India, and stopped near a forest for a restroom break. One of the men, Prabhu Bhatara, spotted a wild bear and, against strong advice from his friends, headed over to get a "selfie" with the animal. Bhatara's friends, watching from a safe distance, captured what happened next on video: the bear attacked him. "Bhatara died on the spot," said forest ranger Dhanurjaya Mohapatra. A recent study found that 60 percent of all selfie-related deaths occur in India. Rather than kill the animal for doing what came naturally, "The bear is being treated for its injuries," Mohapatra said. On the other hand, "angry locals" demanded compensation be paid to Bhatara's family, and forestry officials agreed to cough up 30,000 rupees (US$450). (RC/Hindustan Times, London Independent) …As long as it provides for their families, we can count on India continuing to account for most selfie deaths.
Yelp Indeed: A friendly food-delivery person asked Yesha Callahan to leave a review on Yelp, and she obliged. The restaurant's manager wasn't entirely pleased, however: Callahan found fault with the food (example: "The zeppoles barely had any powdered sugar on them & were soggy."), and gave the place three stars. Then, at about 10:00 p.m., there was a knock on her door. "I was scared," said Callahan. "I was scared. I've seen horror movies." She didn't answer. Then her phone rang — twice. She didn't answer that, either. "When I finally listened to the message, he was saying he was outside my door to talk about the Yelp review," Callahan said. She changed her rating to one star, with an explanation. The manager of the Sterling, Va., restaurant accepted the blame, but offered an explanation of his own: "I went to her house to give her a replacement order." (AC/WNYW New York) …He wouldn't be the first man to scare a woman by trying to be nice to her, but it doesn't usually involve soggy zeppoles.
Vote Early, Vote Often: "It's really an interesting case in how we were able to find him," police public information officer Evelyn Estevez said, referring to a voter fraud case in Altamonte Springs, Fla. Several residents reported not receiving their absentee ballots for the 2016 general election. Later, election officials noticed that the signatures on five submitted ballots didn't match the signatures on file. The ballots were turned over to law enforcement, who now have matched the DNA from saliva on the seals — and fingerprints on the envelopes — to Bret Warren, 36. Seminole County Supervisor of Elections Michael Ertel said the affected residents were able to cast provisional ballots in time for the election. Ertel didn't know who the fraudulent ballots were cast for because they were still sealed when they were turned over to law enforcement. Warren, who has been arrested, did not register to vote. (MS/Orlando Sentinel) …Why does your voice need to be heard when you're using all those other voices?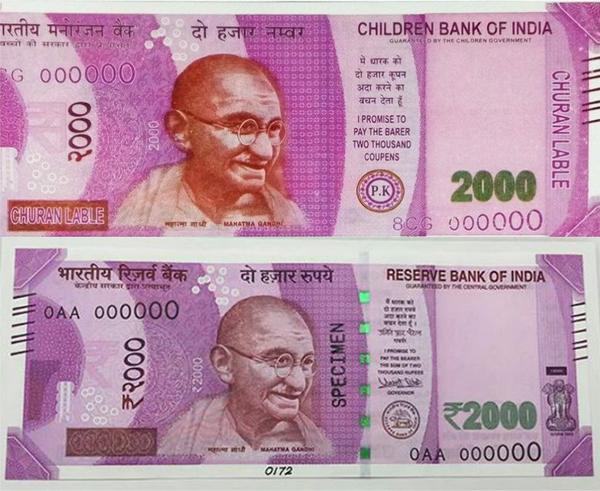 Funny Money: Ashok Kumar Pathak went to an ATM in Bareilly, Uttar Pradesh, India and withdrew 4,500 rupees (US$67.34). At least, he tried to. What the United Bank of India machine actually dispensed were bills that said things like "Children Bank of India". (Other than that, they looked pretty realistic.) Pathak was one of three customers to receive the counterfeit currency. Cash management companies load ATMs in India, and the custodian of such a firm was arrested last year after a New Delhi ATM dispensed "Children Bank" notes readily available in toy stores. (AC/News 18 India, Chennai Hindu) …Passing counterfeit money is cheating. Getting it from the toy store instead of printing it yourself is cheating at cheating.
Cheating II: John Bradley Kane, 55, sued the Hooters restaurant in Madeira Beach, Fla., because, he says, the "O" fell off the company's sign in November 2017 and hit his foot, causing injury. He asked for insurance benefits to the tune of $225,000 for medical expenses, and pain and suffering. It's not likely he'll collect: surveillance video shows that the "O" was blown down by Hurricane Irma the month before, and was still laying on the ground when Kane found it — the video even shows him picking it up and carrying it to the door. Kane was arrested and charged with insurance fraud. (RC/Miami Herald) …Told there was video evidence against him, all Kane could say is "O."
This is No Game: State investigators in Florida jumped on the case: someone stole four hard drives from computers at the Florida Department of Revenue in Tallahassee containing "secret information" about taxpayers. A sophisticated identity theft ring, maybe? Maybe not: the trail led to Andru Reed, 21, an employee at a janitorial service the state contracts with. "Reed indicated that he had connected the hard drives to his Xbox to download video games without knowing what was on the hard drives," the Florida Department of Law Enforcement said. "We are confident that the information on the drives was not accessed." Reed has been charged with "offenses against intellectual property" and "offenses against users of computer systems," both felonies. (RC/Tampa Bay Times) …Does the "intellectual property" refer to bootlegged Microsoft games, or the "secret information" about taxpayers? Asking for a friend.
---
His and Hers
University of British Columbia Prof: the Sex Robots Are Coming to Save Your Marriage. No, Really
Global News Canada headline
---
Did You Find an Error? Check the Errata Page for updates.
This Week's Contributors: MS-Mike Straw, AC-Alexander Cohen, RC-Randy Cassingham.
---
The May Tagline Challenge is below. But first, a note and then, as promised last week, a special sale, and a couple of neat new auctions, the proceeds from which help support True.
You Hate Hearing It. And trust me, I hate repeating it! But if you encounter an error, please check the errata page linked under the stories every week first. And then, once there, check to see if what you saw is already reported. Seems obvious, but well over a hundred of you sent me notes without looking there — or, worse, went to the errata page and took the time to report a one-letter-off typo even though it was already listed on the errata page. Even after I bolded the minor typo notice they kept coming in. The errata page is there to make things quicker and easier for you …and me. I already have a hard time keeping up with mail, so please slow down just a little and check the page there first. Thanks!
Next, the Special: Now and then, I've been offering a special "blow out" price on the older versions of True printed books as we are moving to newly revised editions. I've been trying to clean out my storage unit, where there are still cases of the original books. To get them out and help you to "spread the word" about how fun the stories are, the deal is that I send you a small box of books — all the same title — for less than my cost, with the idea that you'll give them away to people you think would enjoy them. I have a bunch of extra shipping boxes that nicely fit 8 copies, and that box is only $30 including shipping. You'll also get 8 bookmarks with info about the newsletter.
The bad news for non-U.S. readers: I'll only ship them to USA. To ship a small box like this to, say, Canada's capital Ottawa, my shipping cost is $47.25. For Australia, it's $78.95(!). (UK shipping is similar to Australia.) I just can't see anyone paying such costs, so I'm not even going to offer it: you'd be better off ordering the new versions via Amazon. Sorry.
For the rest of you, the deal ends May 26: see details and order here. Yes, you can order more than one box: the idea is to get them out there!
Gearing Up the Auctions Again: Now that I'm back from my travels, let's get back to fun auction items. I've been mostly auctioning off various bits of my "NASA Collection" — goodies that I accumulated during my tenure at the Jet Propulsion Laboratory.
The first is (I think!*) the last of my Space Station "logo" pins. I was hired at JPL in 1986 specifically to work on the Space Station project. On a trip to NASA Headquarters in Washington D.C. for meetings with my project sponsor in 1988 or 1989, he mentioned that there were new Space Station "logo" lapel pins made, but said they had not been officially approved yet, nor were they available for distribution. But he had a box of them right there, and he let me grab a handful of them. I found what I had left several years ago, and auctioned off two of them, most recently in 2013; I kept the last one for myself. Well, now that one is going too.
But wait, there's more. 🙂 When I was still working at JPL, I gave one of the pins to a co-worker, and told him the story. And he told me a similar story back! Except his wasn't about pins, it was about an embroidered patch with the same logo! He gave me a couple; as I recall, I auctioned one off years ago, and have one of those left, too. Now, I'm offering both as a set to the highest bidder.
That auction is here: Space Station "logo" pin and patch.
*What do I mean "I think" this is all I have left? There's another one that I actually wore. It's probably in a box with other pins …that I can't currently find. The one on auction is at least the last "new" one — still in its original presentation box. See photos on the auction page. That's one reason. The second reason is related to the next items on auction….
Next, An Earlier Auction was for two beautiful Space-themed neckties — "new old stock" (never worn, or even been off their hang tags). I had three, and kept one that I had been wearing that has a Hubble Space Telescope theme. Well after that auction was over I mentioned it to Kit, and she said, "Did you sell the other ones, too?" Um… what "other ones"?! She took me into the closet and showed me there were four more. Including two with the Hubble Space Telescope theme. D'oh!
I had thought I had another Hubble tie, and another design or two, but hadn't seen them in years and thought they were gone. Kit probably unpacked them when we moved here, saw they were "new," and put them in a safe place, rather on my tie rack. So I'm a bit sheepish that there were more than I originally thought, but she is sure these are all. I'm still keeping my one Hubble tie, but the four "brand new" ones are listed in three separate auctions now: the Hubble Telescope-theme ties, the Planet-theme tie, and the Space probe-theme tie.
All auctions close May 24.
---
No Uncommon Sense Podcast this week as I'm catching up on things, but I did co-host this week's Tech Enthusiast Podcast last week, and will be there again tonight. Last week has an interesting mix of topics: Blue Origin successfully test-launches — and lands — their New Shepherd rocket and human-capable capsule. The latest Breach of the Week should have Bezop cryptocurrency investors on guard (and any site using the Mongo data base). Millions of hotel doors may be easily opened by hackers. T-Mobile buys Sprint. As with my podcast, you can stream TEH directly from the show page:
TEH 022: Mongo Only Pawn in Game of Life
OK, Finally! The May Tagline Challenge. Your turn to try to end a story. Reply with your best tagline for this one:
A Uniquely American Accomplishment: Reporters surrounded Don Gorske as he sat down at a McDonald's in Fond du Lac, Wisc., and ate a burger. It was Gorske's 30,000th Big Mac since he first had one at the same outlet on May 17, 1972, which comes out to not quite two a day, every day, since then. Indeed, he has only missed eating at least one eight days in the past 46 years, including after trudging there in a blizzard, only to find the restaurant was closed. He guards against that now by keeping extras in his freezer; he says they microwave well. Gorske, 64, a retired prison guard, is now listed in the Guinness Book of World Records for the feat; 30,000 Big Macs — which would weigh just over 7 tons — represent about 6,000 pounds of beef, and (at 540 each) 16.2 million calories. Admitting he has OCD, Gorske has kept meticulous records of each burger, which helped when Guinness looked in. He's not obese: the newspaper describes him as "tall and lanky," and, Gorske says, "At my last medical check-up I had low cholesterol and my blood pressure was perfect." As he left the event, he stopped by the counter to grab something for dinner: his 30,001st Big Mac. (RC/Fond du Lac Reporter) …
…and I'll report next week on the "best" entries. As the "rules" note, you're encouraged to send more than one entry in, but please put them all in the same email. That page also has tips and a sample Challenge. Have fun!
---
Ten Years Ago in True: Does Hallmark Have a Card to Soothe the Easily Offended?
Today on Randy's Random: Got a headache? Follow the Directions.
This Week's Honorary Unsubscribe goes to James Thorp. "I really didn't make an informed decision" about what to study, Thorp said. "I was told since I was good at math and physics I should be an engineer." So at 17 years old, he chose the best scholarship offer — from Cornell University — and studied electrical engineering there, earning his bachelor's, master's, and doctorate degrees all in a row, finishing in 1962 at age 25. He stayed at Cornell: he was offered a teaching job there. "The first Dean I worked with was opposed to young faculty with no industry experience," he said later, so he took side jobs in industry to get that experience, most notably with American Electric Power, where he met Arun Phadke, another electrical engineer, in the mid-70s. AEP was working on a problem: the electrical power grid in the U.S. was increasingly important, but a problem in one spot could spread over the grid, causing widespread blackouts. In addition, small generation facilities such as microhydro plants, windmills, and PV power systems made it all more complex. To keep up, AEP researchers wanted to switch from protection and control of the grid using mechanical relays to computers, but found it expensive and difficult to synchronize it all, which was key to making it work. They were a good team: Thorp was a brilliant theoretician, and Phadke was especially adept at conceptualizing and knowing what hardware would work, so they tackled the problem together.
To synchronize everything, Thorp first looked into the radio time signal transmitted from Ft. Collins, Colorado, from the atomic clock in Boulder. Not good enough: since it was transmitted from the ground in the middle of the country, the time for the signal to arrive at different parts of the grid varied by as much as 20 milliseconds; they'd need a better time reference. In 1978, the U.S. military launched the Global Positioning System, which required highly accurate timing itself. Thorp was able to use the time signals from the GPS satellites to make the grid monitoring system work. What they came up with "could do more than just monitor and record," said the Franklin Institute. Having such exacting measurements and information tied into computers provided "a wide-area snapshot of the grid, a key tool to protect against blackouts when the power grid is under stress." The grid-tied devices Phadke and Thorp invented in 1988 are called "phasor measurement units," and they not only reduce the chance of blackouts, but when they do happen, helps to keep from spreading from system to system over the grid, as well as help power systems get back online faster. The first step in creating the so-called "smart grid." In 2008, the Franklin Institute awarded Thorp and Phadke the Benjamin Franklin Medal in Electrical Engineering "for pioneering contributions to the development and application of microprocessor controllers in electric power systems … playing a key role in diminishing the frequency and impact of blackouts." Thorp retired from Cornell in 2004 after 42 years — and then accepted a job as a professor and department head of Electrical and Computer Engineering at Virginia Tech, where Phadke had been teaching since 1982. He was later awarded Emeritus Professor status, and never really retired. He died on May 2, at 81.
This Entry in the Archive: James Thorp (OK to share link)
---
This is the Premium Edition of This is True. All stories are completely rewritten using facts from the noted sources. "This is True" is a registered trademark of ThisisTrue.Inc, PO Box 666, Ridgway CO 81432 USA, https://thisistrue.com.
Copyright ©2018 by Randy Cassingham, All Rights Reserved. All forwarding, broadcast, publication, retransmission or copying, in any medium, online or not, is strictly prohibited without prior written permission, with exceptions shown in the Premium FAQ. Get details on how to send a copy of this issue to a friend.