In This Episode: A home-town story has a notable parallel to a national story, and they both hinge on men in power taking advantage of the young — while other supposedly responsible adults failed to do their legal, and "mandatory", duty. It was a tough one to record, and it'll be tough to listen to, but it's an important, and thought-provoking, issue: what would YOU do?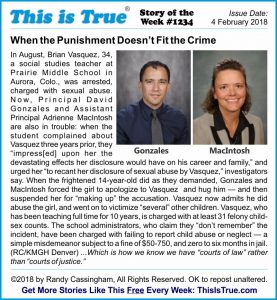 Jump To…
Show Notes
How to Subscribe
Search for Uncommon Sense in your podcast app or on iTunes, or manually enter this feed URL into your app: https://thisistrue.com/feed/podcast
Also available via Google Play, PlayerFM, TuneIn, Podfanatic, ListenNotes, Overcast, Stitcher, Podbean, Listen Notes — and more to come?

Comments and Questions?
Your comments on this episode are welcome below. Questions can be added there, sent via this site's Contact Page, or tweeted to @ThisIsTrue.
Transcript
Randy: Welcome to Uncommon Sense, the Podcast companion to the ThisIsTrue.com newsletter with the mission to promote more thinking in the world. I'm Randy Cassingham.
Kit: And I'm Kit Cassingham.
Randy: This week we're discussing a story from issue 1234 of the newsletter, which will be included on the Show Page at thisistrue.com/podcast30. Wow, Kit, did you know this is the 30th episode already?
Kit: No! I had no idea. Oh I knew we were getting close, but I didn't stop to think about it before I came in to record.
Randy: It's pretty amazing. The story we're discussing this week makes me pretty angry, and I'll warn listeners up front that it's not entertaining, but it sure is thought-provoking. It involves the sexual exploitation of children, and how adults failed those children, so listeners are probably going to get pretty angry too.
When Kit asked about the updates on this story, I told her, "Let's save it for the podcast," so we don't know what each other's going to talk about here. I expect we'll pretty much see eye to eye on this, I'm guessing we'll be surprising each other a little about some of the points we raise: her, from the perspective of being female, and me, from the factual research. And yes, I have some surprising updates to the story, and a much bigger lesson to draw from it all.
Kit: You've got me on the edge of my seat. I can't wait to get going here.
Randy: All right, let's start with the story as it was published in Issue 1234. My title is, "When the Punishment Doesn't Fit the Crime":
In August, Brian Vasquez, 34, a social studies teacher at Prairie Middle School in Aurora, Colo., was arrested, charged with sexual abuse. Now, Principal David Gonzales and Assistant Principal Adrienne MacIntosh are also in trouble: when the student complained about Vasquez three years prior, they "impress[ed] upon her the devastating effects her disclosure would have on his career and family," and urged her "to recant her disclosure of sexual abuse by Vasquez," investigators say. When the frightened 14-year-old did as they demanded, Gonzales and MacIntosh forced the girl to apologize to Vasquez and hug him — and then suspended her for "making up" the accusation. Vasquez now admits he did abuse the girl, and went on to victimize "several" other children. Vasquez, who has been teaching full time for 10 years, is charged with at least 31 felony child-sex counts. The school administrators, who claim they "don't remember" the incident, have been charged with failing to report child abuse or neglect — a simple misdemeanor subject to a fine of $50-750, and zero to six months in jail.
My tagline makes it clear where I stand on the whole thing: "Which is how we know we have 'courts of law' rather than 'courts of justice.'"
Kit: I have so many reactions. Where were the parents? Why didn't they back this child?
Randy: She may not have told them.
Kit: Wow: she would tell the principal before she told her own parents?
Randy: She told the principal, and then she gets slapped down? Would you then go to your mom? I don't know: it depends on the kid.
Kit: Well, with my upbringing, I unfortunately wouldn't have told the principal, and I don't know if I would have been clever enough to — or smart enough — to tell my parents.
Randy: And I think that that's probably true of a lot of kids.
Kit: Yeah, I'm afraid it is. But I also am angry that the principal and vice principal aren't being charged as accomplices.
Randy: Well let's talk about the law that the school officials allegedly broke in this case. Teachers and school administrators are covered by the "mandatory reporters" law, and, by the way, there are 37 professions covered under the Colorado law, and some of those are pretty broad. Let me give you just some examples of who is covered: doctors, coroners and medical examiners, dentists, chiropractors, nurses, public or private school officials and any other school employees, police officers, film/video and photographic print processors, so if they see something that customers bring in to print….
Kit: Right.
Randy: …firefighters, therapists and counselors, clergy, and — and this really is the last one listed in the Colorado law — emergency medical service providers, which means you and me: we have had training about this.
Kit: We have, and I know that our team is very proactive in reporting anything amiss with kids we do calls on. Actually, it doesn't even have to be that we're doing calls on—
Randy: Right.
Kit: It's within the household, or in the situation we're in.
Randy: Right. And in all the years that I've been doing this, maybe a third of it was full time, and two thirds now as a volunteer part time, I actually haven't seen something that caused me to say "Whoa, do I need to report this?" So I've never had to make the decision, but you know, if I had any kind of real evidence, or—
Kit: Or suspicion!
Randy: …even just suspicion — yeah, that's what I was about to say—
Kit: Yeah.
Randy: Even actual suspicion, I would report it, and, you know, if it turns out to be nothing, great! I'd be relieved. But you know what? I'd do it.
Kit: And I do respect the principal and vice principal for advising this young girl that a false claim could endanger the teachers career, etc. But not to make her recant. Just to say, "Are you sure? All right, you're sure, let's move forward in protection of you." It's how it should have played out.
Randy: OK. Well that law, which as mentioned in the story the three school officials have been indicted under, says it's mandatory that if anyone covered under the law becomes aware of, or has any suspicion of, any sort of child abuse or neglect, and that certainly would include sexual abuse, we must make an official report to an on-duty law enforcement official by calling 911, or the 24-hour Colorado Child Abuse and Neglect Hotline, about that suspicion or evidence.
Kit: With that law in place, would that sentence you told me about — it covers it? I mean, I didn't ask that well.
Randy: Then start over.
Kit: That's seriously the worst they're going to get, even with that law in place. They broke a lot of laws, it seems to me.
Randy: Well, we'll get to that. So as mentioned in the story, the penalties for breaking that law aren't all that severe: the maximum fine, $750, and the maximum jail term, six months. That's nothing compared to the lifetime of torment the victims have to suffer.
Kit: True.
Randy: But here's the first update to the story, something I actually hadn't thought of when I first wrote it: there's a statute of limitations on the law: 18 months.
Kit: Oh no.
Randy: As the story notes, the school officials allegedly failed to report Vasquez's crimes three years before he was arrested, which is decidedly longer than 18 months. So my bet is, when they have their court hearing in March, their lawyers will immediately move to have their charges dismissed — and the judge will probably have no leeway and will have to grant that motion. So as I understand it, there will be no trial, and no possibility of a conviction, let alone the slap on the hand the law dictates for violations.
Kit: As you said, it's a court of law, not a court of justice.
Randy: Exactly. And by the way, the statute of limitations for the actual sexual abuse of a child in Colorado is 10 years.
Kit: The worst that they're suffering now is the embarrassment of having their names in the paper connected with this.
Randy: And, I kind of hope, pretty much the end of their careers. So here's the second update: in response to this specific case at Prairie Middle School, Colorado state legislators have introduced a bill calling for a change in the law: State Sen. Rhonda Fields first proposed that rather than the 18 months statute of limitations starting at the commission of the crime, the proposed law would set it to start upon the discovery of the crime by police, which is not at all an unheard-of concept when it comes to statutes of limitations.
Kit: Well that would be encouraging, but it doesn't help this young woman or any of the other people, but….
Randy: Correct. From here on out, if the law's passed, then beyond.
Kit: Right.
Randy: But there were objections to this proposal, since it would effectively nullify the concept of a statute of limitations, which may or may not be a good idea depending on your point of view. But anyway, faced with that opposition, Sen. Fields amended the bill to instead propose to extend the statute to a flat 5 years, rather than 18 months.
Kit: That's not bad. I'd be more aggressive: I'd make it 10 years, but I tend to be a little vigilante about this. So hold on, Randy: who is objecting to this? Who would object?
Randy: So far, the Colorado Education Association, otherwise known as the state's teacher's union, which I think is a reprehensible position for them in particular to take, and the Colorado Catholic Conference.
Kit: [laughs] Sorry!
Randy: I knew that would get you!
Kit: That's no surprise, I'm sorry to say.
Randy: Well, the first sentence of their mission statement says, "The Colorado Catholic Conference [is] a united voice of the three Catholic dioceses," in Colorado, I assume and "speaks on public policy issues."
So with that, they spoke. I'll read their statement:
The sexual abuse of a child is a despicable crime, regardless of whether the offender is a member of the clergy, a teacher, counselor, or family member. Children must be protected from abuse in all cases, and survivors need to be helped on their journey toward healing. The Catholic Church has a zero-tolerance policy for sexual abuse. [And I'll interject here to say that is an appropriate place for zero tolerance! -rc] The concern with Senate Bill 18-058, as written, is that it creates an indefinite statute of limitations regarding mandatory reporters of child abuse and neglect. The principle of statutes of limitation acknowledges that as time elapses, evidence goes stale, memories fade, witnesses die or disappear. In cases of child abuse, we should do everything possible to encourage victims to come forward as soon as possible and for those aware of the abuse to report it as soon as possible. Our state law should reflect this policy as a matter of basic fairness to those involved and not go down a slippery slope that potentially creates unfair and unjust situations. There are over 30 mandatory reporters of child abuse and neglect in Colorado; the Catholic Church is not alone in its concern regarding Senate Bill 18-058.
Kit: That's a reasonable rebuttal, or concern on their part. But the "fair and just" …?
Randy: Yeah: fair to who? Just for who? So again: courts of law, not of justice. And that statement was apparently released before the bill was amended to the flat 5-year statute of limitation, rather than start the clock when the police learn of a crime — or what the CCC calls "indefinite" — so I certainly hope they consider the new proposal completely satisfactory.
Kit: You haven't heard about that yet?
Randy: No I haven't. And while they're correct, there is someone else objecting — the teacher's union — the other side of the coin is, there are plenty of people in favor of it, too. That would notably include District Attorney George Brauchler, who is the prosecutor in the district where Prairie Middle School is located. He says: "The way that law is written right now, people can get together and keep a secret from those who may be able to lend help to a sex assault victim. And if you can keep that secret for 18 months and a day, you can avoid all criminal responsibility." Also, he says, "If we're not fighting for our kids and protecting our kids, then we're protecting institutions."
Well I have a suggestion for Mr. Brauchler: when people "get together" to keep a secret about committing a crime, or covering one up as an accessory to that crime, I'm pretty sure that's called conspiracy, which in Colorado is a felony, and I certainly hope that the statute of limitations for that crime is longer than 18 months!
Kit: Yeah, this whole concept of adults colluding to be quite to protect some other adult who's despicable, they don't get statutes of limitations in my book.
Randy: Yeah, well, there's another remedy in this case too: even if the school officials are off the hook for the criminal charges, that doesn't mean they can't be sued. In the case of a harmed juvenile, the clock typically stops until they reach majority, or 18 years old, and then there is some period of time after that where they can sue, like maybe a year. And if the girl in this case does sue, I hope that suit targets the school officials individually, and not just leave taxpayers on the hook.
Kit: I like that.
Randy: So to me, the elephant in the room is when the school officials didn't follow through on their mandatory reporting requirement, they not only let Vasquez get away with the crime they became aware of, and that he admitted to later, but also that he went on to molest at least four other girls. That's four we know of; there could be others who haven't come forward.
Kit: How can they sleep at night? How can they live with themselves?
Randy: Stopping someone early on can save a lot of grief and heartache to a lot of families, which is part of why the mandatory reporting law is there in the first place. This case is ramping up as Larry Nassar's case is ramping down. Nassar would be the sports doctor from Michigan State University who, since 1996, was the team physician for USA Gymnastics, the national governing body for gymnastics, which selects and trains the girls who compete in the World Championships and the Olympics. Nassar has been convicted of sexual abuse after molesting a lot of athletes.
Kit: All right Randy, I'm going to ask again.
Randy: Yes?
Kit: How many girls are we talking?
Randy: I know you don't read the news, and haven't been following this—
Kit: I avoid it at all costs, because it's filled with stories like this.
Randy: Yeah, so the number is, at least that we know of…
Kit: Right.
Randy: 265.
Kit: [long pause] Ugh…. In what period of time?
Randy: At least this side of 1996, when he started in that position.
Kit: Whohhhhhh.
Randy: So of those 256, 156 of them chose to address the court during his sentencing phase.
Kit: Good for them.
Randy: And here are the results: In July 2017, he was sentenced to 60 years in federal prison after pleading guilty to child pornography charges. If he lives long enough to get out of prison — and he's 54 years old now — he must be on supervision for the rest of his life. The earliest he could get out is March 2069, 51 years from now, when he's 105.
But even getting out in 2069 is unlikely, because on January 24, he was sentenced to 40 to 175 more years in a Michigan state prison after pleading guilty to just seven counts of sexual assault of minors. And then this week, on February 5, he was sentenced to an additional 40 to 125 years in prison after pleading guilty to an additional three counts of sexual assault. That's right: in total, we're talking about just 10 counts. I can't believe he'll ever walk free again.
Kit: Well, I'm glad— well, I'm horrified that he could even get out. But it sounds like he would move from the federal pen to the state pen.
Randy: Yeah, should the feds let him go, should he live that long, then I'm sure he'll be picked up by the state.
Kit: So he has plenty of time to think about his crime. So Randy, with that many abuses, that many people standing up and addressing him, how come he only is hit with 10 counts?
Randy: Because really, that's all you really need to get him put away for the rest of his life. They could, you know, dig up and investigate and prove more and more and more and more, but—
Kit: And that's expensive.
Randy: That's not only expensive, but it puts the girls through a lot of trauma to dig up all of it, and then—
Kit: And it slows it down.
Randy: …and come up with proof, and yeah, it slows the process down, so—
Kit: But it would also be gratifying maybe, if you were one of his victims, to be counted — "I stand in his count of punishment."
Randy: Well, and I think that's what the sentencing hearing is all about: allowing the victims to address the court, so he had to actually sit there and listen to all 156 of these girls and women as they described not only what happened to them, but how they've suffered in the meantime, since they got away from him. So I think that's a really neat function of the courts, to allow the victims — even if they're not specifically the victims he's been convicted over, or pled guilty over — that they're allowed to address the court, sometimes the jury, depending on whether it's a jury trial and I think because he pled guilty, there wasn't a jury and the judge decided the sentence.
Kit: OK. So do they get to, or did any of them express, their desire for what kind of penalty he'd suffer?
Randy: That I don't know, except I think at least one did, and I'll get to that.
Kit: OK.
Randy: So here's the thing that really bothers me about this particular case, and it's a real echo to the Colorado case. In 1997, gymnast Larissa Boyce, then 16 years old, and another unnamed 14-year-old gymnast, went to their coach, Kathie Klages (I guess is how you say that), they told the coach that they were — and this is hard to say — uncomfortable with how Dr. Nassar put his hands inside them.
Kit: Ooh.
Randy: [pause for composure] They say Klages "interrogated" them, told them they misunderstood what Nassar had done to them, told Nassar about the complaint, and made the girls apologize to him. Sound familiar?
Kit: It does. I'm dumfounded that a woman would take that stance with young girls. Of course, there was a woman involved in the previous case too.
Randy: Yeah. So Boyce said recently, "I told somebody. Instead of being protected, I was humiliated and told that I was the problem." So many young girls — and boys — can tell that same story.
Kit: Yes, and I'm glad you said "and boys" — the "MeToo" movement …I guess the guys need to have a MeToo movement.
Randy: Yeah, it happens to boys and men too.
Kit: Well, and we've seen cases where false accusations have ruined somebody's life.
Randy: Absolutely. And that needs to be punished just as harshly.
Kit: Yes. Yes.
Randy: But wait—
Kit: Oh, no! No! There's not more!
Randy: That's not the only missed opportunity: there were a lot of them. In 1999, a Michigan State University runner was referred to Dr. Nassar and says he penetrated her with his fingers. She says her coach told her he was a respected doctor and she needed to trust him. In 2000, a Michigan State softball player saw Nassar for an injury. She got the same treatment, and reported Nassar to her trainer. The trainer told her, "He's a world-renowned doctor. He treats elite athletes." The young lady said later, "She made me feel like I was crazy."
At about the same time, and again, this was 17 years ago, a [pause for composure] a Michigan volleyball player said her entire team referred to Nassar as "the crotch doc" — his reputation was well established. That player says she decided not to pursue a formal complaint because she was too embarrassed by the whole thing.
In 2004, a 12-year-old girl told her psychologist, who was also employed by Michigan State, that Nassar was a family friend, and he had been molesting her since she was six. No wonder she needed a psychologist! Yet rather than relay the allegation to the police, Dr. Gary Stollak instead had a meeting with Nassar and the girl's parents, and of course, Nassar denied the allegation. At the hearing to watch Nassar be sentenced to prison, that girl, who is now 25, told the court…. [pause for composure] That girl, who is now 25, told the court, "My parents chose to believe Larry Nassar over me." [pause for composure]
Kit: When you can't rely on your parents, who can you rely on?
Randy: And she thinks the later realization that they were wrong drove her father to commit suicide in 2016.
Kit: Ohhhhh….
Randy: Like I said, this is tough stuff.
Kit: Yeah.
Randy: [pause for composure] Also in 2004, yet another teen went to the police in Meridien Township, Michigan. Finally! The police are involved! Except they didn't investigate: they simply set up a meeting between Nassar and the girl's parents, and of course he denied everything, and no charges were filed. That young lady says, "Nassar's abuse went on for too long because nobody was listening."
I could go on: there are several other such examples after that, but nothing really happened to Dr. Nassar, and he kept on molesting young girls and young women until, finally, one gymnast, tired of nothing happening, who had been molested by Dr. Nassar starting when she was 15 years old, tipped the scales when she went public, outlining the details for a reporter. That was Rachael Denhollander, now 33, who not only grew up, but became an attorney, and knew she what it would take to really get the ball rolling against him.
"I knew it was going to be a fight," she said. "I had to present the absolutely strongest case possible because it was a medically and legally complex case because a doctor and alleged medical treatment was involved. My biggest fear was I would file a report, he would win and would know he was unstoppable."
Kit: That's a pretty huge fear and burden on her, and I hope you're going to tell me that she done good.
Randy: She did. She did. Yet Dr. Nassar was far from the only person at USA Gymnastics who had been molesting the girls: the organization actually started a list of "permanently banned coaches" in 1990, and they were banned for various reasons, including sexually abusing the young athletes. Yet it wasn't until 2007 that they even started getting background checks on coaches.
Kit: The surprises just keep revealing themselves. This is astounding. Again, we're not protecting our kids!
Randy: Yet I'm not done.
Kit: Oh! Please, be done!
Randy: USA Gymnastics fired Dr. Nassar in 2015 when they became aware of his repeated molestations, yet they didn't even tell Michigan State University about what was going on, and didn't challenge Nassar when he explained the separation by saying he was simply retiring as the team doctor. The organization didn't warn anyone because, they say, they had called in the FBI, and the FBI told them they shouldn't do anything to interfere with their investigation. So more girls and young women were molested.
As Rachael Denhollander said after the Nassar case was finally all over, "I am greatly disappointed that we have finished the criminal proceedings without seeing any responsibility taken by the institutions that let this happen." But now the lawsuits start, and a lot of them have already been filed.
Meanwhile, in Colorado, teacher Brian Vasquez also could have been stopped, in 2014. It's time we start believing girls and women when they finally muster up the courage to say something has happened to them, especially when the line of accusers stretches down the block. While the school administrators who apparently let him continue his molestations won't see any criminal liability, I expect to see lawsuits in that case too.
Kit: And I will also chime in that any person who has claims of sexual abuse, girls or boys, [should be believed].
Randy: Absolutely. And by the way: Michigan does also have a mandatory reporting law, which first went into effect in 1975, but when I looked at the state's page on the topic, I found "teacher" and "psychologist" among the professions that it covers, but not "coach". Step up, Michigan. Colorado includes coaches, assistant coaches, athletic directors, and other athletic program personnel in their law. I'll link to the list of both state laws on the Show Page.
Kit: Randy, I hope we're about to wrap this up: it's been pretty heavy. And now I'd like to find out, how does all this fit into your mission of getting people to think?
Randy: You would think that it would be pretty obvious, a matter of ethics, of humanity, of personal responsibility, for adults to step up and do something when they find out that another adult is apparently sexually molesting a child. But so many do nothing: they don't want to get involved, they don't want to think about it, they don't want to have to testify in court, they don't want to confront these ugly realities. But when they turn their backs, they're not thinking about what they're condemning that child to endure — and then more children, one after another, for 10, 20, 40 years. It can add up to dozens, or as we've seen here, even hundreds of children. And they could have stopped it had they only stepped up.
Now, I think that if most adults were sure, they really would step up and report it. The thing is, they usually can't be sure so they don't. That's why every state has such a mandatory reporting law. They can't apply it to everyone, but they can to professionals who work with children. Yet even then, those professionals sometimes don't do it, as we saw with Larry Nassar, and as we are seeing now in Colorado. It's not up to us to instead "investigate," like the Colorado school decided to do, or to interrogate children, as one of the gymnasts said happened to her. Leave the investigation to the professionals: if there is any reasonable suspicion, you have a choice: ignore it, and maybe condemn a lot of children, or to follow the dictates of decency and maybe put a stop to the horror. That really is something to think about. The victims shouldn't have to grow up, become a lawyer, and do it themselves. But they will if they have to.
As Rachael Denhollander put it: "A monster was stopped last year, after decades of being allowed to prey on women and little girls, and he wasn't stopped by a single person who could have, and should have stopped him at least 20 years ago. He was stopped by the victims, who had to fight through being silenced, being threatened, being mocked, by the officials at MSU who they appealed to for help."
So last, I'll just say that most stories in This is True aren't this heavy: usually they're pretty lighthearted. But now and then, when I see something that just makes me mad, like supposedly responsible adults sacrificing children to monsters, well, I'm going to stand up even if they don't.
Kit: Bravo, Randy.
Randy: If you'd like to comment on this episode, you can do so on the Show Page, at thisistrue.com/podcast30. I'm Randy Cassingham.
Kit: And I'm Kit Cassingham.
Randy: And we'll talk at you later.
[Easter Egg]