There Was a Protest Unsubscribe after I ran the plug (below) for Get Out of Hell Free cards in Friday's edition.

Didn't Like the Answer
First came an inquiry from "KJV" in Pennsylvania, from the town of Corry ("Name origin: misspelling of founder Hiram Cory's name," notes Wikipedia), which "became famous in the late-19th and early-20th centuries for being the manufacturer of Climax locomotives." Heh heh heh… they said Climax!
Ahem. KJV demanded to know "do u [sic] belong to a Church?" And also informed me that "Have been Free subscriber for years holding back from premium only because of GOOHF cards misunderstanding." What sort of misunderstanding? "What is on the back?" he asked.
What, in all those years of curiosity and being provoked to think, he never clicked to look for himself when they were mentioned and/or illustrated in True time after time? OK, fine: I pointed him to the web site where the back is illustrated, and that led to the unsubscribe with the complaint, "cards are antiscriptural." Hey, at least for once I'm not "anti-Christian" (a charge that goes wayyyyy back)!
Really, "antiscriptural"?! KJV should alert the media! He needs to inform the scores of pastors who are Catholic, Baptist, Presbyterian, Methodist, Jewish, Lutheran, and countless other denominations who have ordered and carried and given the cards out to thousands and thousands of the faithful in their flocks.
Driving People Away
But hey! If I was willing to answer the "do u belong to a Church?" question to his satisfaction, then the cards would have been A-OK with him, right? After all, isn't that why he asked?
So With That, I Proudly Present what I posted Friday: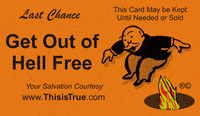 What Do You Do With the Get Out of Hell Free cards? (readers sometimes ask). Have you ever been in line at a store behind a jerk? The customer isn't "always right," but the clerk is being as nice as she can.
Or have you seen a waiter struggling with an obliviot at another table? Or a postal clerk being the target of someone venting their spleen about postage prices — which the clerk certainly didn't set.
Those are all perfect recipients of a GOOHF card. It's the "I understand" gesture that reminds them that not everyone is a jerk. It makes their day to get that kind of acknowledgment: they smile and laugh right after having to deal with a day-destroying obliviot. It's a great feeling to do that, too: I give away dozens every week.
We're coming up on two million cards sold — not counting the thousands I give away (or the stickers or other GOOHF products). And they're a nice way to tell someone about True, too. The result: a win-win-win: you make someone's day, you get a great feeling, and the recipient learns about a fun, thought-provoking newsletter. Grab some here, and keep a few in your pocket when out to join the fun!
But Don't Give "KJV" One if you see him: he doesn't believe in making others smile when they've been berated by the irrational customer in front of you.
What a sad, sad man he must be — and exactly the sort of person who is chasing more and more Americans away from churches, especially the young: only 77 percent of Americans now "identify with some religious faith," and the number who is "absolutely certain" God exists is down to 63 percent, from 71 percent in 2007 (Americans Becoming less Religious, Especially Young Adults: Poll — Reuters, November 3, 2015).
With examples like KJV (and yes, I understand the message he's sending with those initials), the trend will certainly continue.
- - -
This page is an example of Randy Cassingham's style of "Thought-Provoking Entertainment". His This is True is an email newsletter that uses "weird news" as a vehicle to explore the human condition in an entertaining way. If that sounds good, click here to open a subscribe form.
To really support This is True, you're invited to sign up for a subscription to the much-expanded "Premium" edition:
Q: Why would I want to pay more than the regular rate?
A: To support the publication to help it thrive and stay online: this kind of support means less future need for price increases (and smaller increases when they do happen), which enables more people to upgrade. This option was requested by existing Premium subscribers.