To get these issues free by email each week, click here to open a subscribe form. (Or cruise around the web site to see more samples, archive, and info on our terrific book collections of thousands of past stories.)

---
Since 1994, this is the 2457th issue of Randy Cassingham's...

---
There They Go, Digging Up Dirt on the Guy: The Edgefield County (S.C.) Sheriff's Office responded to a report of a body in the backyard of a house. They found the homeowner, Joseph McKinnon, 60, was indeed lying dead in his yard. Deputies tried to contact McKinnon's live-in girlfriend, but her employer said Patricia Dent, 65, had not shown up for work that day, and was not answering phone calls or text messages. Careful probing of a freshly dug pit in the backyard revealed Dent's body,wrapped in trash bags. Autopsies showed Dent had died from strangulation, and McKinnon had died from a heart attack, apparently from the exertion of strangling her and then digging the hole to hide her body. (RC/WRDW Augusta) ...The only problem with instant karma is it doesn't happen anywhere near often enough.
X, Y, Boom: The handwritten sign in the window of the Bremen, Ind., Dollar Tree store said it all: "I apologize for us closing AGAIN. My 2 new cashiers quit because I said their boyfriends couldn't stand here for their entire shift." The sign concluded with, "NOW HIRING! *Baby Boomers ONLY, thanks!" The sign — which violates federal discrimination laws — was later removed by Dollar Tree. "We are aware that an unauthorized sign was posted at our store for a brief period of time," aspokesperson said. "The handwritten message was absolutely not approved by or condoned by our Company." The manager who allegedly wrote the sign is no longer a Dollar Tree employee. (MS/WNDU South Bend) ...Age is just a number, and so is I.Q.
Be Prepared: A kayaker whose craft capsized in Sebago Lake wasn't wearing a life jacket. That was a bad decision, the sheriff of Cumberland County, Maine, said. But fortunately, Tyler Leonard was close enough to hear when Kevin Joyce was dumped into the water and began yelling for help. Leonard canoed to the rescue, urged Joyce — the sheriff — to focus on breathing, and brought him to shore. Joyce was treated for hypothermia, and released from the hospital. (AC/WGME Portland) ...Ifyou rescue a hypothermic sheriff, does that mean you think blue lives matter?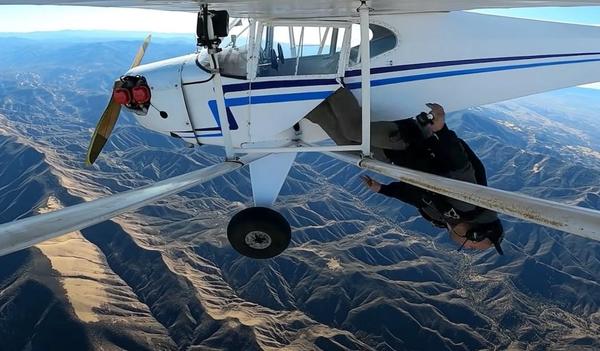 Roger, Roger; What's Our Vector, Victor? "I did not purposely crash my plane for views on YouTube," insists YouTuber Trevor Jacob,who has more than 100,000 subscribers on the platform. Yet his video, "I Crashed My Plane", posted in December, has more than 2.5 million views. Flying a 1940 Taylorcraft over the Southern California desert, Jacob said on camera that his engine quit, and he immediately jumped out — he was conveniently wearing a parachute and had cameras everywhere, including on the wingtip and on a selfie stick in his hand — without even attempting to find a lonely road or level place to land the plane. Iteventually crashed. The FAA isn't buying that it was an accident, and has ordered Jacob to return his flight certificate or face a $1,644 penalty, per day, until he does so, due to his "careless or reckless manner so as to endanger the life or property of another." The agency noted he "opened the left side pilot door before you claimed the engine had failed," didn't notify air traffic control of any emergency, or try to restart the engine, and his "egregious and intentional actions" show he isnot qualified to hold a flight certificate. "I can't talk about it, per my attorney," Jacob told a reporter. "But the truth of that situation will come out with time." (RC/New York Times) ...It sounds like it already has.
No Upgrade Pitch in this spot this week. Just read the letter below from a reader about how she connected with her teen son.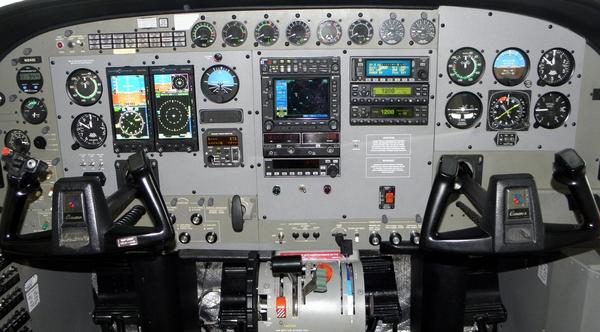 I Am Serious, and Don't Call Me Shirley: "I've got a serious situation here," an air trafficcontroller in Fort Pierce, Fla., heard on the radio. "My pilot has gone incoherent. I have no idea how to fly the airplane." The pilot had slumped onto the controls of the Cessna Caravan — big enough for 9 seats, the $2.5 million plane is pretty large for a "small" aircraft — which put it into a nosedive. The passenger was able to get the plane level despite having no flying experience, and then called for help. "What's your position?" Controller Chip Flores asked. "I have no idea," came theresponse, but near the coast. Flores told him to follow the coast — it didn't matter which direction — and finally figured out which radar blip was the troubled plane: it was near Boca Raton. Flores handed the situation off to Controller Robert Morgan, because he has a side job as a flight instructor. Morgan had never flown a Caravan either, but quickly Googled a photo of the cockpit so he could describe to the passenger where to look and what to do. Sure enough, Morgan talked passenger DarrenHarrison into a smooth landing at Palm Beach International Airport. The ill pilot, who was not identified, was hospitalized. Morgan ran down to the tarmac and got a big hug from Harrison. (RC/WPBF West Palm Beach) ...Then Morgan was well paid for his efforts.
---
I Didn't Even Know It was Loaded!
Phoenix Police Release Video of Officer Shooting Man with Machete
KPNX Phoenix (Ariz.) headline
---
Did You Find an Error? Check the Errata Page for updates.
This Week's Contributors: MS-Mike Straw, AC-Alexander Cohen, RC-Randy Cassingham.
---
The Last Story this week (guy dies of heart attack digging hole to hide the body of his girlfriend, who police say he strangled) is the Story of the Week for easy sharing on CounterSocial, Twitter, Facebook, and/or Instagram.
But It was the First Story that caught some specific intention. Long-time reader Giselle in Illinois explains:
"I have used your stories to connect with my Husband regularly (like our little mini book club). Sometimes I read my kids dumb crooks stories and so on. Well today, my particularly sullen 17 year old in his last days of school, who can barely manage a smile on most days, gave me the biggest smile I've seen in days. He's had a rough year, to be fair. I read the 'Digging in the dirt' story out loud to him this morning after an especially quiet breakfast. He paused, asked me to read it againand then smiled so huge. 'That's amazing,' he said. 'Not for her, obviously, but that's amazing!' Then he asked me to read it a third time so he could remember all the details. He wants to tell the story at lunch today. It was so good to see him relaxed and laughing that I wanted to indulge this moment. I know I don't have much time with him before he's off to college, so I cherish every single moment of sincere connection. Thank you for providing me this opportunity, and for every singleissue!"
I looked up Giselle's subscription and saw she is about to hit her 18th anniversary on Premium. In other words, I replied, she was pregnant with that son when she first upgraded. "It's fun to think that I was pregnant with him when I upgraded," she replied. "I like it! I was a free subscriber before 2004. I believe I subscribed when a friend of mine sent me your primer on junk email. I started reading stories to the both of them (daughter is almost twoyears older than he is) way back when there was a story about some dumb crooks that fell through a roof, or got stuck in a chimney, or something. They thought it was funny to hear the ones about the bad guys getting caught because they were just not being smart. Then I started reading them zero tolerance stories in earnest when those were (sadly) happening all the time. I liked to challenge them to think about whether it was moreimportant to blindly follow the rules, or to look at a particular situation and make a call. They are fans of yours, too."
Well that's awfully nice to hear! The thing about
True
's stories is that you can
learn
a lot by reading (or hearing) real-life stories of people
not
thinking so there can be a short moment for thinking about ...how thinking really can help us through life. Like, maybe, entrances through chimneys is for mythological sprites, not humans, as countless stories of chimney rescues (or, worse, chimney body recoveries) makes supremely clear. Kids can't learn a lot of this at theright time without parental help. Giselle grasped that, and used
True
as a tool to assist with the job. Kids — even in their sullen teenage years (which we all remember if we're honest) — can have their attention grabbed because the stories really are true.
They think the stories are fun and instructive? Well, that's why I call it "Thought-Provoking Entertainment"! And Giselle helps make it all happen with her paid subscription. I call that a win-win. I hope you'll join the effort to make it happen with your own upgrade. It's OK: it's for your kids (or grandkids, as the case may be!)
FAQ: Yes, I take story submissions. This page discusses what I need for a suggestion to be viable. Due to the volume of submissions, I only reply to them when you are the first to suggest a story, so you'll know yours was The One to bring it to my attention. Thanks!
---
Ten Years Ago in True: There's no truer tagline than the one on What a Lousy Shot.
This Week's True Stella Awards case re-post: The Fruitcake Lady.
No Honorary Unsubscribe this week. I didn't find anyone who met my criteria.
---
Basic Subscriptions to This is True are Free athttps://thisistrue.com. All stories are completely rewritten using factsfrom the noted sources. This is True® (and Get Out of Hell Free® and StellaAwards®) are registered trademarks of ThisisTrue.Inc. Published weekly by ThisisTrue.Inc, PO Box 666,Ridgway CO 81432 USA (ISSN 1521-1932).
Copyright ©2022 by Randy Cassingham, All Rights Reserved.All broadcast, publication, retransmission to email lists, web site or social media posting, or any other copying or storage,in any medium, online or not, is strictly prohibited without prior written permission from the author. Manual forwardingby email to friends is allowed if 1) the text is forwarded in its entirety from the "Since 1994" line on topthrough the end of this paragraph and 2) No fee is charged. I request that you forward no more than three copies to any oneperson — after that, they should get their own free subscription. I appreciate people who report violations of my copyright.
---
To get this delivered to you every week, click here to open a subscribe form.
Last Week's Issue