To get these issues free by email each week, click here to open a subscribe form. (Or cruise around the web site to see more samples, archive, and info on our terrific book collections of thousands of past stories.)

---
Since 1994, this is the 1494th issue of Randy Cassingham's...

---
Other Good Reading: Gurwinder, a "Writer exploring the ways we are fooled in the Digital Age," is superb at boiling down ideas into just a few sentences. Such as, from the linked item, 7. Epistemic Humility: "Instead of trying to be right, try to be less wrong. Avoiding idiocy is easier than achieving genius, and by beginning from the position that you don't know enough (which you don't), you'll gain more awareness of your blindspots andbecome harder to fool." Boy, ain't that the truth, and so many of these "concepts" are brilliant, and each is linked to a page that explains it more, if needed.
It's from 40 Useful Concepts You Should Know from The Prism on Substack. (If it pops up a subscribe screen covering the list, just click "No Thanks" — or, heck, like me you may even want to subscribe; there are free and paid options. (Via 7 Takeaways #111.)
(As always you're welcome to copy out that paragraph and forward/post it as desired; credit True if you care to — not required.)
---
The Nerve! The Associated Press's Stylebook Twitter account posted it to news writers: "We recommend avoiding general and often dehumanizing 'the' labels such as the poor, the mentally ill, the French, the disabled, the college educated." The news agency was immediately set upon by the Twitterati, who said the company was going too far with the French (e.g., maybe the writers should use "people experiencing Frenchness"). "We just wondered what the alternative to 'the French' would be,"said Pascal Confavreux, the spokesman for the French Embassy. "I mean, really." The AP, the BBC reported, deleted the tweet. (RC/BBC) ...The-the-the that's all, folks!
Sofa, So Bad: Luke Ansell had a new house, and he wanted a new sofa to go with it. Designersofas4u sold him one and delivered it, bringing it into his house and rightup the stairs to the second floor. Well, partway up the stairs. Even though they said it would fit, "They got jammed and tried to get it back out but got stuck," he said. "They said, 'There's nothing more we can do, we haven't got time, we have to go.'" Not only did he have to bring in some of his Bournemouth, Dorset, U.K., neighbors to get it out, he said, the house, which had been newly built, was damaged. The company suggested there's blame to share: "You also tried to help and betweenyourself and the two delivery persons managed to get the sofa wedged and also damage the walls," it told him. And it said he had told customer service the delivery people should give the stairs "a go." Still, the company said it would pay for repairs and provide a new sofa. But this time, the sofa would be dropped off outside the house. (AC/BBC) ...They're sure it won't get stuck between the truck and the curb.
This Issue's Exclusive Sponsor:
Losing Sleep Trying To Decide On A New Mattress?

Memory foam or latex mattresses/toppers, airbeds or waterbeds, innerspring coil or futon mattresses, all without sales hype:not affiliated with any store or manufacturer. Just personal non-biased perspective on your options.Explore The Mattress Lady's Fully Rebuilt Site.
Blizzorific: Ohio announced the results of their "name a plow" contest in early December (see "What, no Plowy McPlowface?" in This is True #1487). Minnesota? They only announced on January 25 that residents can now vote for an oh-so-clever name from 60 approved choices from 10,000 submitted names for the state's snowplows. The (yawn... excuse me!) approved nominees include Mary Tyler More Snow, Queen El-ice-a-beth, and Bobsled Dylan. (RC/MPR) ...Final results areexpected by summer.
The Whole Enchilada: True is like a 7-course meal ...but this version is just the appetizer and sometimes dessert. For the five-star experience, you need the whole thing. A full chef's choice meal that doesn't leave you overstuffed. The best part: you get to choose how much to pay (with a minimum prix fixe). Your table is waiting: full service is here. Enjoy!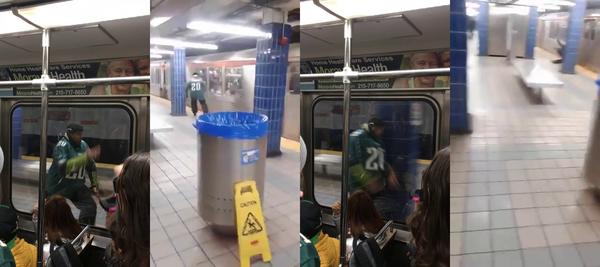 Yeah, You Knew Drugs Were Involved Somehow: Jigar Desai is a big fan of the Philadelphia (Pa.) Eagles football team. He became Internet famous when,before their 38–7 win over the Minnesota Vikings in the NFC Championship, which led to them winning Superbowl LII, he was celebrating his team on a subway platform on his way to the game when a train pulled out. Desai ran alongside — until he slammed face-first into a pillar, and then fell onto the moving train. He was uninjured: "It was a clean hit," he said, and admitted he had been drinking. The Eagles are in the playoffs again this year, so Desai, 47, who works for a pharmaceuticalcompany, says he "must" run face-first into a pillar before every Eagles playoff game — the same pillar, if he's near the station. "It's working," he said, "Let's not mess with a good thing." (RC/Philadelphia Inquirer) ...Classic NFL: winning depends on embracing multiple concussions.
---
Rode Rage
Hollywood Man Pulls Gun on Fellow Boaters Who Asked Him to Slow Down, Police Say
WPLG Miami (Fla.) headline
---
Did You Find an Error? Check the Errata Page for updates.
This Week's Contributors: AC-Alexander Cohen, RC-Randy Cassingham; Mike Straw is off this week..
---
After Posting the Honorary Unsubscribe on the website, I noticed the automated line at the top: "(Reading Time: 2 minutes)". Sheesh: that took at least two hours to research and write! It was particularly hard to find details about this week's honoree (e.g., no Wikipedia page that gives background), so some details before her "fame" remain sketchy. But what an impact BarbaraStanley made.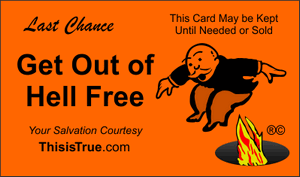 Ah Hell! At the same time that orders for my infamous Get Out of Hell Free cards are spiking, I find that I can no longer ship them— or, really, anything — outside the U.S. anymore. A few years ago I had to stop shipping goods to my own state, Colorado, due to ridiculous new sales tax laws. That idea has spread to many other countries: I simply cannot collect and file GST remittances for a couple of dollars to multiple jurisdictions around the globe, and to pay a company to do it would cost many times the tax owed, wiping out every cent ofprofit and more. I give up.
Yes, I can (say) sell through eBay and let them do it, since they can afford it at volume. But then I have to give them 30-40 percent of the gross to do it? Well, the GOOHF cards have always been priced approximately at cost, so I'd lose a quarter+ of each sale ...but make it up in volume? Hm.
With that and huge price increases in shipping to cross a border, I sadly just threw in the towel after shipping cards (and other GOOHF goodies) to around 100 countries over the past 22 years. You can, at least, get True and Honorary Unsubscribe books through Amazon, even in paperback, and (over time) from other book retailers too. They're the majority of my "tangible goods" sales anyway. Sorry about that, but gubmints increasingly make it impossible for truly small businessesto keep their doors open anymore.
---
Ten Years Ago in True: I particularly like the tagline on But Will He Get It Back After the Divorce?
The Story of the Week (you're welcome to share it) about the guy who ran into a pillar (it worked! The Phillies are in the Super Bowl again this year), is posted on Telegram, Mastodon, Instagram(poorly cut off top and bottom), and/or Facebook, or grab from any of those to post elsewhere.
A New Randy's Random this week: Role Model — and be sure to read the posting comment on this one: it was tough to get AI to create the girl.
The Latest Sunday Reading: An absolutely hilarious complaint by a clueless youth pastor, and my response: The Missionary's Position (one cartoony image is mildly NSFW).
This Week's Honorary Unsubscribe goes to Barbara Stanley. A psychologist, Stanley figured out a simply way to cut suicides by almost half, but you probably have never heard of her. Spend two minutes finding out more: Barbara Stanley (OK to share link).
And So Long to actress Lisa Loring, best known as "Wednesday" in the original Addams Family series (1964–66). She died Saturday in Burbank, Calif., after a stroke. She was 64. Ken Weatherwax, who played her older brother, "Pugsley", died from a heart attack in 2014 at 59; "Morticia" (Carolyn Jones) died in 1983 from colon cancer at just 53. "Lurch" (Ted Cassidy) died in 1979 at 46, after surgery to remove a tumor from his heart. "Gomez" (John Astin) is now the last survivingoriginal cast member, still kicking at 92.
---
Basic Subscriptions to This is True are Free at https://thisistrue.com. All stories are completely rewritten using facts from the noted sources. This is True® (and Get Out of Hell Free® and Stella Awards®) are registered trademarks of ThisisTrue.Inc. Published weekly by ThisisTrue.Inc, PO Box 666, Ridgway CO 81432 USA (ISSN 1521-1932).
Copyright ©2023 by Randy Cassingham, All Rights Reserved. All broadcast, publication, retransmission to email lists, web site or social media posting, or any other copying or storage, in any medium, online or not, is strictly prohibited without prior written permission from the author. Manual forwarding by email to friends is allowed if 1) the text is forwarded in its entirety from the "Since 1994" line on top through the end of this paragraph and 2) No fee is charged. I request that you forward no more than three copies to any one person — after that, they should get their own free subscription. I appreciate people who report violations of my copyright.
---
To get this delivered to you every week, click here to open a subscribe form.
Last Week's Issue