To get these issues free by email each week, click here to open a subscribe form. (Or cruise around the web site to see more samples, archive, and info on our terrific book collections of thousands of past stories.)

---
Since 1994, this is the 1456th issue of Randy Cassingham's...

---
Other Good Reading: An excellent analysis by William Park, a senior journalist at BBC Future: How companies blame you for climate change. The famous "crying Indian" ad spot discussed there can be viewed on Youtube.
(As always you're welcome to copy out that paragraph and forward/post it as desired; credit True if you care to — not required.)
---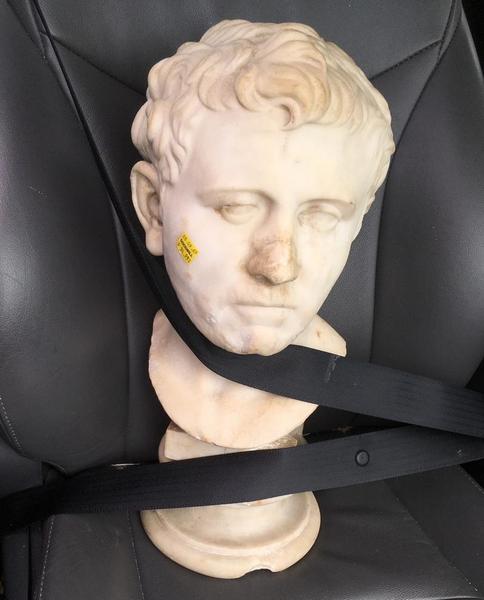 Busted: Laura Young found a marble bust for a good price at a Goodwill store in Austin, Texas. "Clearly antique — clearly old," she said. She paid the $35 and seatbelted it into her car for the ride home. After some research, she hired a lawyer: it was clearly a real Roman sculpture from the late 1st century BCE or early 1st century AD. It was apparently looted by an American serviceman in World War II from the heavily bomb-damaged Pompejanum museum in Aschaffenburg, Bavaria, Germany, founded by King Ludwig the First in the 1800s. She couldn't keep it: "art theft, looting during a war, is a war crime," she said. "I can't be a party to it." It's being returned to Bavaria. (RC/KUT Austin, New York Times) ...Because they looted it first.
A Little Justice: In 2013, Ronald Watts pleaded guilty. He had been a Chicago, Ill., cop — and he had been an extortionist, squeezing cash out of drug dealers and residents. Since then, 212 convictions connected to him have been tossed out, and he's gotten a 22-month sentence; the people convicted in those cases had gotten sentences totaling more than 440 years. And 44 of those 212 convictions were overturned one day in April, nearly a decade after Watts's crimes. Tyrone Fenton, whom Watts framed and sent to prison for two years, says officers tied to Watts remain on the Chicago police force. "I would like them to be brought to justice," he said. "I feel they should be incarcerated as well, and do time just like we did time." (AC/Chicago Sun-Times) ...Equal justice? Where do you think you are, America?
Beady-Eyed: Sheriff's deputies in Buncombe County, N.C., were stymied in an apparent murder of a woman in her 90s: they couldn't find the body. They did have suspects: the woman's granddaughter, Angela Wamsley, and her husband, Mark Barnes, had been collecting the dead woman's Social Security and retirement benefits — and filling her prescriptions. They've been in custody since December 2020. "It became pretty apparent almost immediately that Miss Sullivan had disappeared under what can be said suspicious circumstances," said Sheriff's Sgt. Mark Walker with the Major Case Unit. The break came when a pet duck ran under a trailer — located on Beady Eyed Lane — "and as [its owners] were chasing after their pet duck," Walker said. "They ran across the container that Nellie Sullivan was located in." Wamsley and Barnes have now been charged with murder. Previously, "Mark [Barnes] actually sent us on a wild goose chase which resulted in us digging for several days," Walker said. (RC/WLOS Ashville) ...One way or another, he knew there was fowl play involved.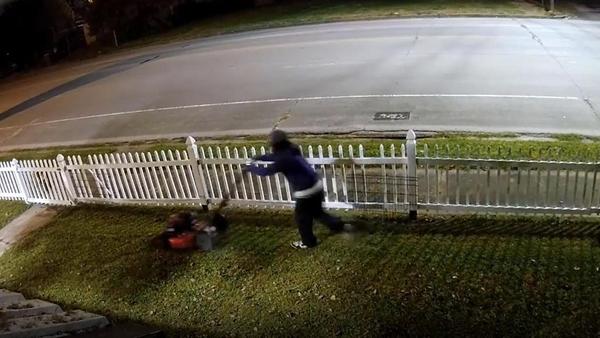 The Grass Is Greener: Police in Port Arthur, Texas, are looking for Marcus Hubbard after he allegedly burgled a home. The department released security footage showing a suspect investigators identify as Hubbard entering the property and pulling out a lawnmower. He could then be seen filling the mower with gas — and mowing the home's front and back yards, in the dark. When officers responded, they say they saw Hubbard running away with the mower in tow. They found it abandoned in an alley, but Hubbard got away. Port Arthur police are asking for tips on his whereabouts, and anyone with information may be eligible for a cash reward. (MS/KFDM Beaumont) ...Here's the deal: keep the mower as long as you keep mowing the lawn.
I'll Take it Black: In 2019, Nestle's Nespresso coffee company announced it was working to convince South American farmers to grow coffee rather than coca, which is processed into cocaine, to fight international drug trafficking. A recent shipment of coffee arrived at Nespresso's factory in Romont, Switzerland, but employees called police: instead of coffee, multiple burlap sacks contained more than 500 kg (1,100 lbs) of white powder. Police say it's cocaine worth more than 50 million Swiss francs (US$50.65 million). "The substance in question did not come into contact with any of our products or production equipment," Nestle said in a press release. "We want to reassure consumers that all our products are safe to consume." (RC/Reuters) ...Either way, you're going to perk up.
---
One Step Backwards, Two Steps Forward
Nantucket Residents Vote to Make All Beaches Topless
WPRI Providence (R.I.) headline
---
Did You Find an Error? Check the Errata Page for updates.
This Week's Contributors: MS-Mike Straw, AC-Alexander Cohen, RC-Randy Cassingham.
---
So Many Newsletters are about business (hint: so they can attract big-dollar advertisers, not that there's necessarily anything wrong with that). This is True is different: it's about life. The stupid (and cool!) things we do as humans, using real stories to delve into our humanity, or sometimes the lack thereof. Since that doesn't bring in the Big Bucks from advertisers, what pays the bills and makes it all happen is you. Premium upgrades bring in 90 percent of True's operating budget.
Can't actually afford the "pay what you want" (with a minimum) price? Then you're welcome to stay on this free distribution as long as you'd like, but maybe you can help by spreading the word by sharing True's social media posts, or putting a link on your blog. It all helps. But if you can, please do upgrade, because word of mouth doesn't pay the bills. You get a lot more stories each week, discounts on books and other goodies, and the warm feeling that you did something good today. Thanks!
Hey, There's a New Randy's Random meme this week: Take a Walk.
FAQ: Yes, I take story submissions. This page discusses what I need for a suggestion to be viable. Due to the volume of submissions, I only reply to them when you are the first to suggest a story, so you'll know yours was The One to bring it to my attention. Thanks!
A Reminder Also that you don't have to unsubscribe and re-subscribe to change your address. Next to the Unsubscribe link that's in every issue, there is also a "Change Subscriber Options" link. There, click on "edit contact information" and add or update your name, and email address. Easy ...though completely non-obvious....
---
Ten Years Ago in True: This one still irks me to the hilt (not the lighthearted first one, the second one, which has plenty of updates): No, Really — It's the 21st Century (Part 935).
This Week's True Stella Awards case re-post: Hey Rocky! Watch While I Pull a Lawsuit out of this Hat.
This Week's Honorary Unsubscribe goes to David Walden. He was part of a big team, but Walden's part was crucial for you being able to read this. The story in about 3 minutes:
David Walden (OK to share link).
---
Basic Subscriptions to This is True are Free at https://thisistrue.com. All stories are completely rewritten using facts from the noted sources. This is True® (and Get Out of Hell Free® and Stella Awards®) are registered trademarks of ThisisTrue.Inc. Published weekly by ThisisTrue.Inc, PO Box 666, Ridgway CO 81432 USA (ISSN 1521-1932).
Copyright ©2022 by Randy Cassingham, All Rights Reserved. All broadcast, publication, retransmission to email lists, web site or social media posting, or any other copying or storage, in any medium, online or not, is strictly prohibited without prior written permission from the author. Manual forwarding by email to friends is allowed if 1) the text is forwarded in its entirety from the "Since 1994" line on top through the end of this paragraph and 2) No fee is charged. I request that you forward no more than three copies to any one person — after that, they should get their own free subscription. I appreciate people who report violations of my copyright.
---
To get this delivered to you every week, click here to open a subscribe form.
Last Week's Issue