To get these issues free by email each week, click here to open a subscribe form. (Or cruise around the web site to see more samples, archive, and info on our terrific book collections of thousands of past stories.)

---
Since 1994, this is the 1365th issue of Randy Cassingham's...

---
This is the Eighth Premium edition with all the stories (and the full Honorary Unsubscribe) courtesy of your fellow readers who contributed via True's Ko-Fi page. You can help get us to the next one by contributing on that page: none of your contribution is skimmed by Ko-Fi. Even $5 really helps to keep True going in these tough times. Thanks!
(The other way to get all the stories, of course, is to upgrade and get them every week.)
---
Schindler's List: After her father, Francis Perreault, died at 78, Stephanie Schindler was heartened by how many people showed up for his funeral in Lake Park, Minn. "During the service, almost everybody wore a mask, and we all were kind of separated from each other," said Kathleen Keene, one of Schindler's oldest friends. But after the service, everyone mingled and took off their masks for "doughnut hour." A few days later, Schindler heard one attendee was ill. Then another, andanother: so far, about 30 of the 50 attendees have Covid-19, and five of her close family members were hospitalized, including one in intensive care. Schindler herself has Covid, as does her husband, mother, daughters, and Keene. "We're having such guilt and heaviness about everything," she said. "We feel like, 'what if they had just Skyped?' This might not have happened." (RC/St. Paul Pioneer Press) ..."Might"?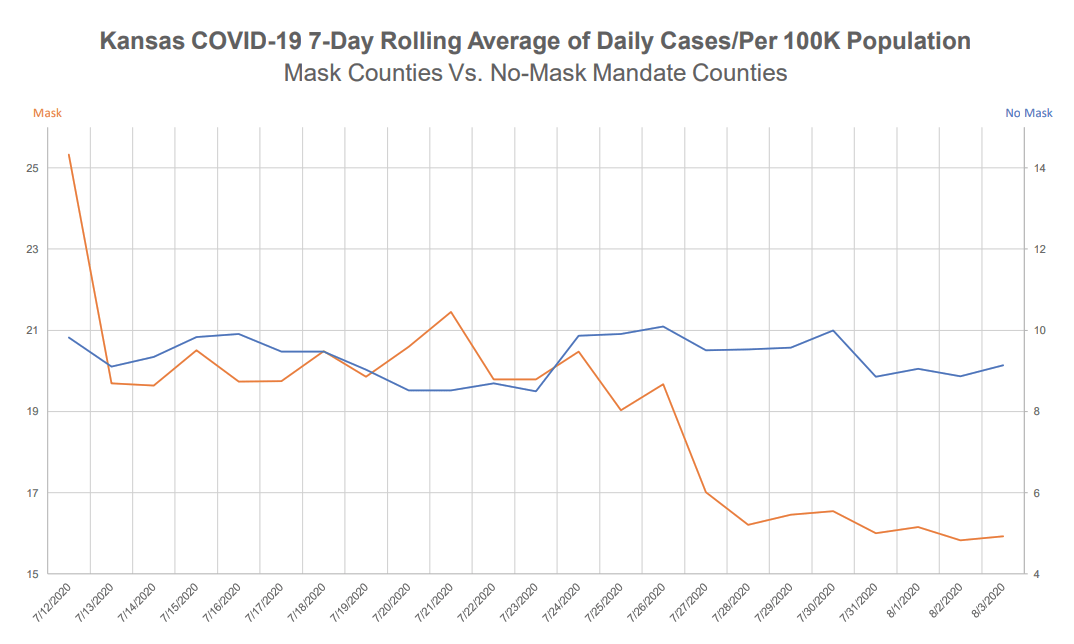 Covidiots for Science: Kansas Governor Laura Kelly ordered masks worn statewide to fight the coronavirus starting July 3 — but counties are allowed to opt out. Only 15counties, representing about two-thirds of Kansas's population, adopted the mandate; the other 90 counties didn't. Kansas Department of Health and Environment Secretary Lee Norman says that has turned the state into a "natural experiment," with the counties lacking mask mandates acting as a control group. "The experimental group is winning the battle," said Dr. Norman, a former U.S. Air Force flight surgeon. "All of the improvement in the case development comes from those counties wearingmasks." A chart comparing the seven-day rolling average of daily COVID-19 cases shows the stark difference masks are making, with a clear decrease in cases starting on July 12 in counties requiring masks. He says that the 90 counties could see dramatic improvement if they required masks. "The no mask counties are flat," he said. (MS/McPherson Sentinel) ...Flattening the curve isn't enough anymore; it's time to sink this.
Second Opinion: The "send kids to school or not" debate has intensified in the arid zone: the Arizona School Risk Retention Trust, which insures 247 school districts in the state, has notified its districts that it will not cover any claim related to Covid-19, and has provided a waiver for parents to sign promising they won't sue if their child becomes ill or dies, even if they can trace the infection to their school. "In order to create insurance, you have to have a stability,frequency and, you know, some ability to understand the risks that are involved," said the Trust Board's president, Scott Little. The goal of the waiver, he said, is to "eliminate the frivolous lawsuits." He also came forward to clear up "misinformation" being spread by school districts "making statements such as, 'Well, we have insurance for that'." (RC/KJZZ Phoenix) ...Parents should now have assurance they don't.
Hand to Mouth: Hand sanitizer made with ethanol can help keep you healthy if you apply it to your hands. But hand sanitizer made from methanol can make its way through your skin and poison you. It's even worse if you swallow it. A report from the U.S. Centers for Disease Control and Prevention noted that 15 people have gotten themselves hospitalized that way; four died, and three suffered at least some loss of vision. The report does not say why people consumed hand sanitizer, but theCDC speculates that "young children might unintentionally swallow these products, whereas adolescents or adults with history of alcohol use disorder might intentionally" consume hand sanitizer to substitute for drinking alcohol. None of the 15 patients, however, were under 21. (AC/CNN) ...I guess you have to reach the legal drinking age to be dumb enough to drink methanol.
Dress For Success: The Springfield (Ill.) School District remote learning handbook includes a dress code, and some parents are upset about one rule in particular: students are not allowed to wear pajamas during their online classes. "They get good grades so worry about teaching not clothes," one parent's online comment read. "As long as they are covered up who cares?" "In truth, the whole pajama thing is really at the bottom of our priority scale when it comes to public education,"Springfield Education Association president Aaron Graves said. "Raising the bar for all kids and helping them get there, whether they're in their pajamas or tuxedo is really what's important." The school district released a statement, saying the remote learning expectations just refer back to the regular dress code. "There is no distinct dress code for remote learning," the statement says. "It is understandable that during remote learning our dress code will be flexible." (MS/WCIA Champaign)...The smart students will wear a tuxedo shirt — and pajama pants.
High Strung: Adam Michael Zaborowski of Slatington, Pa., is "not handling the pandemic well," admits his attorney, John Waldron. Zaborowski allegedly lost it in a Bethlehem Township cigar store when the clerk said that he had to wear a mask. Even though the clerk offered to deliver his purchases to the sidewalk, Zaborowski allegedly grabbed two cigars and headed for the door, and the clerk followed because he hadn't paid for them. Zaborowski pulled a pistol and started shooting. Hedidn't hit the clerk or other customers, and fled. Police got a warrant for his arrest, staked out his house, and were waiting for the Municipal Emergency Response Team to arrive before attempting arrest. But before the team could arrive, Zaborowski, 35, got into his truck and drove away. Officers pulled him over, but he jumped out with a pistol and a high-capacity AK-47 and started shooting. Police shot back, hitting Zaborowski twice, and arrested him. He is charged with seven counts ofattempted homicide, seven counts of attempted first-degree murder of a police officer, seven counts of aggravated assault with a deadly weapon, and being a felon in possession of guns. Waldron didn't fault the police at all for shooting at his client. "It's kill or be killed," he said. "So the fact that he got shot twice with non-life-threatening injures when he had an AK-47 and another handgun, Adam is very fortunate he ended up the way he did." (RC/Easton Express-Times) ...More fortunate:the residents of the Lehigh Valley.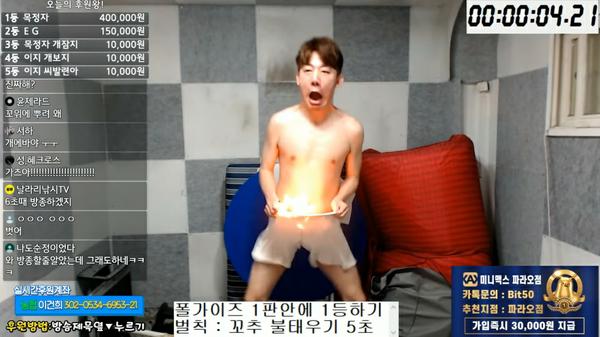 Burning Sensation: Shin Tae Il is a popular online gamer. The South Korean, known as the "angry Korean gamer," was livestreaming a competition playing "FallGuys" when a fan suggested that if he didn't win the current round, Tae Il should light his manhood on fire. For some reason, he agreed to do so — for 5 seconds. When he lost, he disappeared off camera for a bit, then came back only in his underwear. He squirted some lighter fluid down his pants and lit it, but in a panic slapped the flames out in just 3 seconds. He added more lighter fluid and tried again to meet the 5-second obligation, but the combination was too much: he put the flames outagain, but not before suffering second-degree burns, which sent him to the hospital. (RC/Philippine Daily Inquirer) ...If you thought he was "angry" before....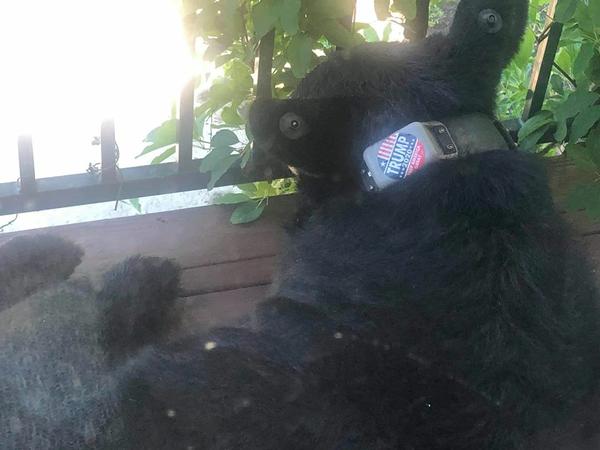 Make Bears Apolitical Again: "Bears are NOT Billboards," said a post on the Help Asheville Bears Facebook page. The North Carolina group was sharing photos ofa bear with a Trump 2020 campaign sticker on its tracking collar — the second political sticker found on a bear in this year, the post said. "Our wildlife is just so beautiful around here, and I just can't imagine somebody doing harm to it like that," said HAB founder Jody Williams. The person who placed the stickers apologized, promised to have no further contact with bears, and said the stickers were a protest against the tagging and collaring of the bears. (AC/WYFF Greenville) ...Perhapsthe bears can't see why brightly colored stickers are bad for them, but hunters can.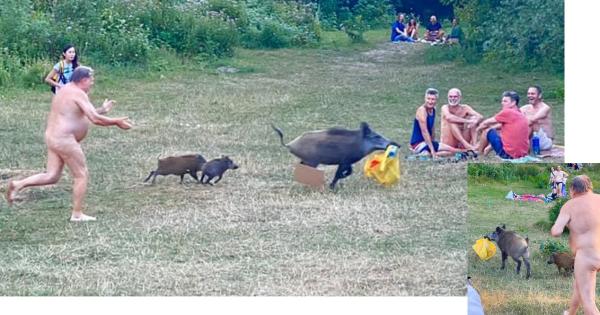 Bare vs. Boar: First the rummaging wild boars found some pizza, said Adele Landauer, who photographed them at Devil's Lake in Berlin, Germany. Then, the sowgrabbed a bag to go, with her two piglets following. Soon a man was chasing them as Landauer snapped more photos. He "gave his all," said Landauer, who photographed the man in his altogether chasing the animal. "When he came back with his yellow bag in the hand we all clapped and congratulated him for his success," she said. And why was the man so committed to recovering his bag, even if he wore no clothing? His laptop was in it. (AC/AP) ...If you thought spam was bad, wait till you see whata live pig can do to a computer.
A Capella: Police in Universal City, Texas, arrested a man on a Saturday on warrants, and released him after booking. "He told one of the officers that this wasn't over," says Det. Anthony Travis. On Monday, officers were summoned to city hall on a burglary report. Security camera videos show the man, Andres Madrigal, 29, had hidden in a restroom until closing time, then crawled through the ceiling from there to the courtroom, logged into the court's computer system with the help ofthe password hidden under the keyboard, and then left, Travis says. The detective didn't say what Madrigal did in the computer system, but he was arrested again, charged with burglary, and breaking in to a secured computer system. He was then released again. (RC/KSAT San Antonio) ...So it's probably still not over.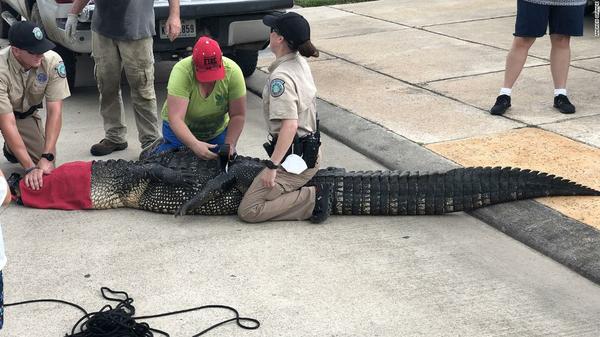 Wally Would Be Horrified: Andrew Grande, 40, was watching his two children and theirbabysitter fishing and crabbing in a canal behind his League City, Texas, home. Then he spotted the 11-1/2 foot, nearly 600-pound, alligator moving toward his 4-year-old daughter. "When I first saw him, the only thing I was thinking of was just getting my daughter, just getting her out of the way," he recalled. "I had a gut feeling it wanted my daughter as a snack." Springing into action, he ran to the canal. His son and the babysitter moved to safety while Grande grabbed his daughter, tossingher over the fence as the alligator closed in. Within a couple hours alligator hunter Thomas Reynolds arrived. "It was three hours to get the gator out of the water because it was so big and powerful," but the beast was hauled off to a theme park in Beaumont. "They were happy to have the alligator because they lost all of theirs during Hurricane Harvey," Grande said. "I was happy to have it out of my backyard." (MS/Houston Chronicle, CNN) ...More adventures coming in the new reality show,"Gator King".
Pale(face) Ale: The Hell's Basement Brewery in Medicine Hat, Alta., Canada, released its "Huruhuru New Zealand Hopped Pale Ale" two years ago. Founder Mike Patriquin explained "huruhuru" translates as "feather" in the language of the Māori, the indigenous people of New Zealand — at least, according to an online dictionary — and he chose that to convey the "meaning the beer itself is light as a feather." The name has finally caught the attention of Māori Te Hamua Nikora, who speaks thelanguage, who gave the brewery a clue-by-four as to what it really means to them. "It's that entitlement disease they've got," Nikora said. "Stop it. Use your own language." Patriquin apologized and will rename the brew. "We acknowledge that we did not consider the commonplace use of the term huruhuru as a reference to pubic hair," he said, "and that consultation with a Māori representative would have been a better reference than online dictionaries." (RC/CBC) ...Popular in pubs, popular inpubes — what a difference!
They Know Us Well: With more Americans vacationing in the great outdoors this summer, encounters with bears have increased, so the National Park Service has issued some tips for anyone who encounters a bear in the wild. "Don't run" is most important, because that will engage its predatory response to chase you down. "Move away slowly and sideways," they suggest, and "Do NOT climb a tree" as bears can climb trees easily. Plus, they suggest, "Do NOT push down a slower friend (even if youthink the friendship has run its course)." As for any "friends who were brought on a hike" as bait, "You will be missed." (RC/Kootenai Valley Times (Idaho)) ...Last, if unable to escape the bear, be sure to get a selfie with it to be run with your obituary.
---
Huh
Paulding County School Reports Multiple Covid-19 Cases after Photo of Packed Hallways Goes Viral
WAGA Atlanta (Ga.) headline
---
Did You Find an Error? Check the Errata Page for updates.
This Week's Contributors: MS-Mike Straw, AC-Alexander Cohen, RC-Randy Cassingham.
---
The Headline of the Week is the all-too-predictable development in a story that ...True didn't cover. In a blog post I show and discuss those photos, and what happened next: Kill the Messenger.
There's an Update on "Second Opinion": the Arizona School Risk Retention Trust met and decided to offer some level of coverage to schools for Covid ...for an extra cost. It remains true that the coverage is not provided in the policies they've had all along, just as the Board president said.
I Went on a Trip Down Memory Lane with Mike's alligator story ("Wally Would Be Horrified"). "In case you don't know the reference..." he began, and pointed to the Wally Gator cartoon show, which I had totally forgotten about until I saw it was one of three shows rotated in a block with Lippy the Lion and Hardy Har Har and Touché Turtle and Dum Dum, all from Hanna-Barbera (1962-1963), which I don't think I'veseen (or thought of) since I was a kid watching them in reruns. So yeah: I needed the reference! Then there was the exploration of the main voice talent behind all three of those series, Daws Butler, who was also the voice behind Yogi Bear, Elroy Jetson, Huckleberry Hound, and many more.
Next, how did Andres Madrigal, who broke into the courtroom, know the court's computer system password was under the keyboard? My bet: while sitting in court, he saw the clerk look under the keyboard while logging in. Odds are he was trying to alter the evidence or charges against him. Which makes it a real forehead-slapper: guess who is in courtroom a lot? Criminals!
So think about it: when a criminal breaks into your home and finds your computer, they're not just going to steal it, they'll check around for your Post-It note with all your passwords — not just the one for your computer, but the passwords for your bank and retirement accounts, too. Those are probably worth a lot more than your computer. Is it under your keyboard? In one of the drawers of the same desk your computer is on? Stuck on your monitor?! This is why you need a password vault:software that holds your password — encrypted — so you only have to remember one password: the password vault's. Tip: don't make the password for that too nonsensical; longer is better than complex. So "Mission2Saturn-Cassini" is a much better password than "#xthB&2", and a lot easier to remember. Just don't write it on a Post-It note and stick it on your monitor, and make sure every account has a different password so if one is compromised, "they" can't get into all theothers.
I Got a Note Monday from a 20-year Premium reader — I've always noticed him because of his name: Mr. J.D. True. Really. If you thought I was Mr. True, nope! It's him. I had noticed he let his Premium lapse this summer, and with his note I found out why.
"My Premium subscription recently lapsed," he wrote, "but has now been renewed. I am just out of the hospital after spending weeks there with Covid-19. It was during my hospital stay that the subscription lapsed, as at my sickest I really had no interest in anything at all. But I look forward to getting back to reading your newsletter. I still have a long recovery ahead of me, and it will be a great comfort to look forward to each and every week."
Well, the first thing I did after wishing him well was to send him the seven issues he missed so he could catch up. I also asked J.D. if it was OK for me to both run his note and mention his last name because, well, it makes it all so much more on point! I also asked if he had anything he wanted to add, knowing his note would be in this issue.
"I don't really have any details to add," he replied with the thumbs up to use his full name, "other than a plea to everyone to PLEASE practice social distancing and wear a mask in public. Too many people think this virus is no worse than the flu, and while that may be so for a lot of people, there are also a lot of people for whom this virus can be devastating. The mask is not to protect you, it is to protect anyone you might come in contact with. It is truly worth 30 minutes of thediscomfort of wearing a mask in a store to get the virus under control."
Boy, is he gonna love the seven issues he missed! 🙂
The First Story is this week's Story of the Week, and as such is easily shareable from True's social media postings on Twitter, Facebook, Instagram, and/or Pinterest (or feel free to grab any of those to post elsewhere).
This Week's Uncommon Sense Podcast episode: Want a happier, more-fulfilled, and less-stressed life? Here are seven things to stop doing immediately — and what to do instead — that are pretty easy to do right away. 7 Things to Stop Doing.
Last, while I've removed the URL from the collection below, most free edition issues are still being posted on Medium at This is True, though I'm behind on posting text versions of my podcast there too, at True Uncommon Sense.
---
Ten Years Ago in True: 3... 2... 1... Zero Intelligence.
The Latest True Stella Awards case re-post: crime pays! At least when lawsuits are involved: Dead Burglar Gets to Keep the Loot. And make sure you've seen the previous case, "Barbie": I had fun with that one!
This Week's Randy's Random: How They Sound.
This Week's Honorary Unsubscribe goes to Frances Allen. After growing up on a farm in Peru, N.Y., Allen went to college to be a teacher. With a bachelor's in mathematics in hand, she returned to her home town to teach. But she yearned for more, and went to the University of Michigan for a master's in math, but was left in such debt she needed a better-paying job, and joined IBM Research in Poughkeepsie as a computer programmer.
Her bosses were impressed with her contributions to the Harvest Project — a code-breaking program at the U.S. National Security Agency using a custom-built IBM 7950 "Stretch" computer. Allen specialized in compilers, which translate high-level programming languages into machine code. NSA itself found that the Harvest machine was more powerful than any other computer at the time by a factor of 50-200, depending on what it was doing. So impressed that they transferred her to the Thomas J.Watson Research Center, where she worked with IBM researcher John Cocke (the "Father of RISC Architecture") on improving compilers even more, co-authoring a number of seminal papers with him. That left Allen in high demand, teaching for a year at New York University, and then another at Stanford. She later led IBM's work to develop parallel computing, and was elevated to IBM Fellow in 1989 — the first woman to be so honored — and named an IEEE Fellow in 1994. While Allen planned to work at IBMonly long enough to pay off her student loans, Allen stayed at the company for 45 years, retiring in 2002. In 2006 she was the first woman to receive the Turing Award, recognizing her "enormous impact on compiler research and practice" which "introduced many of the abstractions, algorithms, and implementations that laid the groundwork for automatic program optimization technology," and "laid the conceptual basis for systematic analysis and transformation of computer programs." (And that's justthe first quarter of the Turing citation!) She died August 4, her 88th birthday, from Alzheimer's disease.
---
Basic Subscriptions to This is True are Free athttps://thisistrue.com. All stories are completely rewritten using facts from the noted sources. This is True® is a registered trademark. Published weekly by ThisisTrue.Inc, PO Box 666, Ridgway CO 81432 USA (ISSN 1521-1932).
Copyright ©2020 by Randy Cassingham, All Rights Reserved. All broadcast, publication, retransmission to email lists, web site or social media posting, or any other copying or storage, in any medium,online or not, is strictly prohibited without prior written permission from the author. Manual forwarding by emailto friends is allowed if 1) the text is forwarded in its entirety from the "Since 1994" line on top throughthe end of this paragraph and 2) No fee is charged. I request that you forward no more than three copies to any oneperson — after that, they should get their own free subscription. I appreciate people who report violations of my copyright.
---
To get this delivered to you every week, click here to open a subscribe form.
Last Week's Issue