To get these issues free by email each week, just subscribe using the form on this page — your privacy is Randy's policy. (Or cruise around the web site to see more samples, archive, and info on our terrific book collections of thousands of past stories.)

---
Since 1994, this is the 1308th issue of Randy Cassingham's...

---
Before the Stories: Last Week's Issue marked the end of True's 25th(!) year. My comments about this milestone are in my blog: 25 Years — which includes my thoughts on how long True will continue.
---
Malpractice: Wilvince Kemmy Bazil, of Miami, Fla., likes to call himself "Dr. Bazil" in his Facebook posts, sometimes on photos of him wearing a Jackson Health/University of Miami white lab coat. He is not a doctor, the medical center and university say, nor an employee at the hospital. But according to another of Bazil's online posts, "I did it M.D OB/GYB Dr. Wilvince k Bazil." When he was again spotted at a Jackson Health hospital wearing his lab coat, hospital staff called thepolice and served him with papers notifying he will be arrested for trespassing if he does it again. "I was there," Bazil admitted to a reporter, "and they did give me a restraining order." But, he says, "I'm not deceiving nobody of anything." Also, he said, "Whatever doesn't kill you makes you stronger." (RC/WPLG Miami, WFOR Miami, Newsweek) ...At least, that's what he's going to tell his patients who survive.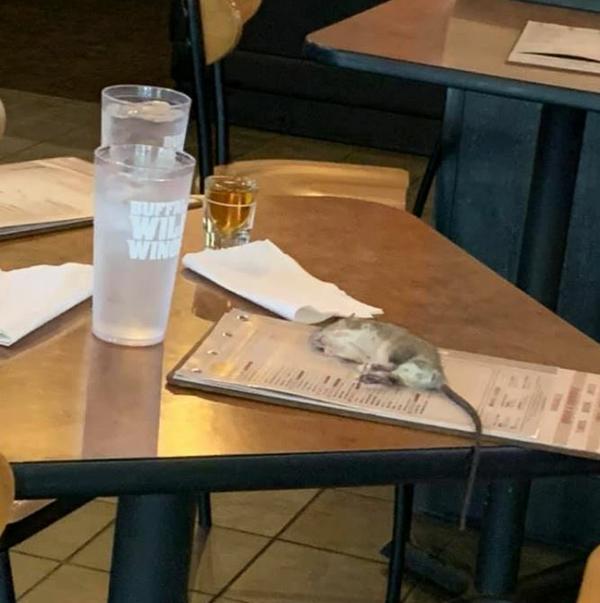 Buffalo Wild Birthday: When meat arrived at Alisha Norman's table at Buffalo Wild Wings, it was so unusual she took a picture. For onething, the birthday girl and her friends hadn't ordered any meat; they were only drinking alcohol. For another, the animal wasn't cooked — or even quite dead. Stranger still, it had arrived vertically, from the ceiling, no waiter involved. And worst of all, it was a rat. Norman never did order any food at BWW that night, but some at her table who did got it free. The chain blamed construction and said it had closed that Los Angeles, Calif., location for "cleaning and sanitization." But as aselfie Norman took shows, the restaurant already had a health grade of "A." (AC/KCBS Los Angeles) ...The rat didn't fall on the health inspector's table.
More Than Twice the Stories: The full edition has seven more stories this week: Dairy farmer adds something unusual to his cows' feed. Woman given citation for letting her cat(!) outside, even though it stayed in her yard. Bear breaks into home and does what?! Man basically dares her, so she does (and now he's in the hospital). A dead body in the back doesn't qualify a driver for the carpool lane, but the weird part is what a funeral industry professional said about it.Woman's train station antics recorded by security camera, and now the police are looking for her. In a publicity stunt, a Norwegian tourist area proposes something rather different. The Good News: you can still read all of these stories! Just ask for your upgrade to start with the 7 July issue, and get all the stories every week. Details here.
This Issue's Exclusive Sponsor:

When You Prefer Barefoot, but Want Protection
The "Barefoot" Sandal that's less than half the weight of stiff Keene/Chaco/Tevas. Comfortable, flexible, and secure enough to wear even while swimming without something between your toes. They look a lot nicer, too. As seen on Shark Tank.
It May Be a Scam If: Officer Angela Sands of the Lincoln, Neb., Police Dept. says an unnamed man from Stinnet, Texas, reported that he was suspicious of a woman he had met on social media when she started pushing for him to buy her an Amazon gift card. "He grew concerned it might be a scam," Sands said. "So he decided he was going to drive to Lincoln, Nebraska, to see the women in person first." After spending hours driving 530 miles using "a ton of gas," the man arrived in town, andthe woman online provided an address. Once he arrived, she agreed to have sex with him, but he had to send her the gift card first. He bought a $65 card for her via his phone while in front of the house and sent it to her — and then discovered that the woman did not live at the address where he was parked. To add insult to the injury, the woman blocked him on the social media site. (RC/KLIN Lincoln) ...Well yeah: he's too stupid for a smart gal like her to want to go out with him.
2 for 1 Special: Police in Slidell, La., responded to a report of a shoplifting in progress at Walmart. When they arrived they spotted the suspect, Robert Myers, 51, attempting to leave the scene. Officers asked Myers to step out of his vehicle, but he instead drove off, dragging an officer until he could release himself from the truck. Other officers pursued Myers onto the highway — and into his home state of Mississippi, where he lost control of his truck and Mississippi HighwayPatrol officers, who'd joined the pursuit, were able to arrest him. According to the Slidell Police, Myers told them he didn't think they could chase him into a different state. He was booked by the Mississippi Highway Patrol on charges of driving with a suspended license, reckless driving, and no insurance. Once those charges are satisfied, he'll be extradited to Louisiana to face multiple felony charges related to the crimes he committed there. (MS/WGNO New Orleans) ...Smokey and the Banditis a good movie, but bad legal advice.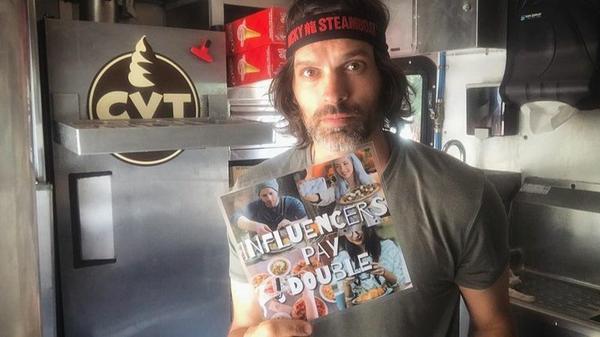 Word of Mouth: Joe Nicchi has a successful ice cream truck in Los Angeles, Calif., and was surprised that online "influencers" kept calling him toask for free ice cream in exchange for them "promoting" him on social media. It started shortly after he opened a few years ago, and now it's to the point where he gets multiple such calls every week. "Our business is doing just fine without their exposure," Nicchi says. Customers say they're surprised "you only have 5,000 followers" on Instagram, he says. "Why does it matter what that number says? I have a line down the street!" To slow down the calls, he posted a photo of himself on his ownInstagram page holding a sign — "Influencers Pay Double" — and it went viral. (RC/KNBC Los Angeles) ...May real people out-influence "influencers" forever.
---
He Was Sweet on Her, But Then Things Soured
Florida Man from Zephyrhills Arrested after Striking Woman with Sweet 'n' Sour Sauce Packets
Tampa Bay Times headline
---
Did You Find an Error? Check the Errata Page for updates.
This Week's Contributors: MS-Mike Straw, AC-Alexander Cohen, RC-Randy Cassingham.
---
Speaking of Weird Bear Stories: Before we left for our speaking engagements, I called Kit to say we had a 911 call out of normal response area to go to. (For new readers: we're volunteer medics in our rural county.) "What's up?" she asked. A report of a crash on the highway with 3-4 vehicles involved. There's a lot of potential for injuries in a situation like that, where cars often go faster than the 60 mph speed limit despite the road beingjust two lanes, and curvy most of the way.
We jumped in my car, I flipped on the lightbar, and before we even got to the county road, the update: "Car vs. deer, and no injuries." I turned around and parked it, and we both went back to work. Apparently, the other 2-3 cars were not involved in the crash, but they had stopped to witness and photograph the amazing scene of what came next: an opportunistic bear cub came running onto the roadway to grab the deer and drag it into the bushes! And yes, the video ended up online. Sadly, KOAA in Colorado Springs doesn't know how to spell "Ridgway" (there's no E in it), and I think it's unlikely the bear was "chasing the deer" before it was hit, as they theorize.
And No: I have no idea what the medical "OB/GYB" specialty might be. Why do you ask? 😉
Still No Uncommon Sense Podcast this week: we just got home from travel late this afternoon (which is why this issue is a bit behind schedule). I have a good idea for next week, though!
---
Ten Years Ago in True: 500 Channels, Nothing's On.
Last Week's Issue on Medium (please do share the link).
Today on Randy's Random: Infinite Diversity in Infinite Combinations.
This Week's Honorary Unsubscribe goes to Bob Gilliland. A test pilot, Gilliland got an assignment that will probably never be matched in aviation history. Read his story in the Archive: Bob Gilliland (OK to share link).
---
Basic Subscriptions to This is True are Free athttps://thisistrue.com. All stories are completely rewritten using facts from thenoted sources. This is True® is a registered trademark. Published weekly by ThisisTrue.Inc, PO Box 666, Ridgway CO81432 USA (ISSN 1521-1932).
Copyright ©2019 by Randy Cassingham, All RightsReserved. All broadcast, publication, retransmission to email lists, WWW, or any other copying or storage, in any medium, online or not, is strictly prohibited without prior written permission from the author. Manual forwarding by email to friends is allowed if 1) the text is forwarded in its entirety from the "Since 1994" line on top through the end of this paragraph and 2) No fee is charged. We request that you forward no more than three copiesto any one person — after that, they should get their own free subscription. We always appreciate people who report violations of our copyright to us.
---
To get this delivered to you every week, click here to open a subscribe form.
Last Week's Issue