To get these issues free by email each week, click here to open a subscribe form. (Or cruise around the web site to see more samples, archive, and info on our terrific book collections of thousands of past stories.)

---
Since 1994, this is the 1463rd issue of Randy Cassingham's...

---
Other Good Reading: Some billionaires are building their own private rocket companies. But Google co-founder Sergey Brin, worth roughly $97.5B, is building something more down to earth. Blimps. The interesting article with some cool photos is at the BBC: The giant hangar poised for an aviation revolution.
(As always you're welcome to copy out that paragraph and forward/post it as desired; credit True if you care to — not required.)
---

A Family Affair: Two Vermont State Troopers were trying to take Brandon Tallman, 24, into custody outside his parents'house in Hardwick for a violent assault. His parents were present, and objected: his mother, Amy Tallman, 48, allegedly jumped on the deputies to stop the arrest, while his father allegedly moved his excavator toward the deputies and menaced them with the bucket. One of the troopers had to break off from the arrest to put the father, Wayne Tallman, 52, at gunpoint to stop his actions. That worked, as can be seen in dashcam video from one of the trooper's patrol cars. Brandon was charged withfelony aggravated assault and burglary of an occupied dwelling, and faces up to 41 years in prison. He was released to his mother, who was charged with impeding an officer and released. Wayne was charged with felony aggravated assault on a law enforcement officer by threats with a deadly weapon, impeding a public officer, resisting arrest, and reckless endangerment. He was held without bail and faces up to 11 years in prison. All have pleaded not guilty. (RC/Barre Times Argus) ...The familythat crimes together does time together.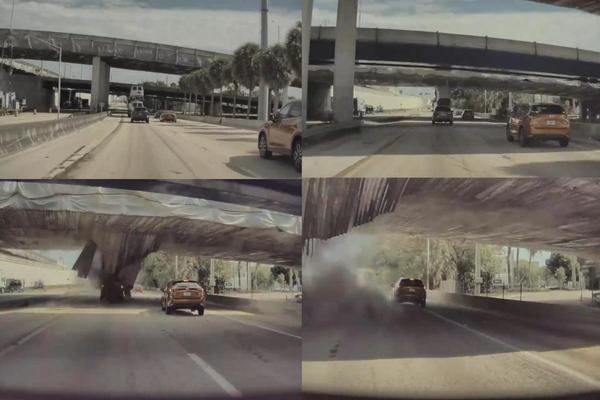 Make it a Convertible: A dashcam video shows it all: a truck hauling vehicles through Broward County, Fla. But one van on the trailer wasup too high — when the truck went under an overpass. "Boom," recalled witness Brian McConnell. "There was a cloud of dust, it looked like the whole thing exploded." The van hit the overpass, fell off the truck right in front of an SUV. "My gosh, if we had not been a little further behind keeping a safe distance, we could have hit that," McConnell said. He stopped to check on everyone involved in the crash. Incredibly, nobody was injured. "We thanked our lucky stars everything had turned outwithout anything more serious than scaring the bejesus out of people." (MS/WPLG Miami) ...Despite the driver's best attempt, flying cars still aren't a thing.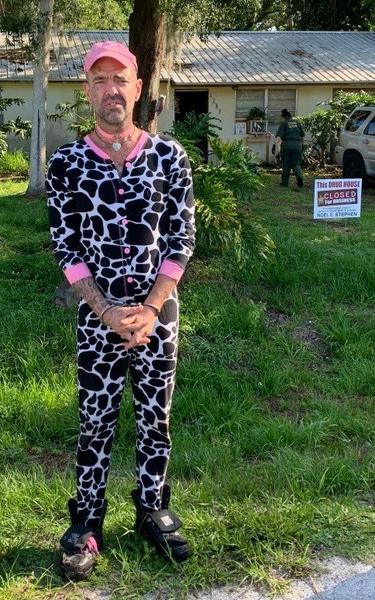 The Divine Bovine: The Okeechobee County (Fla.) Sheriff's Office raided a "drug house" with a search warrant and made ten arrests. Oneof those was dressed so remarkably that a deputy stood him handcuffed on the front lawn for a full-length photo. Richard Anthony Bonnell was wearing a one-piece cow suit with a pink hat, collar, and cuffs, and was, deputies said, "udder-ly confused." (RC/WSVN Miami) ...Sure he's confused: there is no udder.
Wait, There's More: The kind of story you see around Independence Day (with a twist). Canada setting up a whole new hoop for some companies to jump through. Woman gets greedy and is gonna be doing a lot of time in prison. Woman gets nasty, and may spend some time in prison. School food service company does something really stupid. Caller gives cops a tip, mentions the wanted man tends to "run and hide" ...and the dummy did, in a most amusing way. Library board goes overboard on...a new logo?! Canadian janitor really cleans up. Yep, there are a lot of stories you miss every week, but it doesn't have to be that way: you can get all the stories every week. See your upgrade options and help make True possible. Win-win!
The Story: Clothing brand Marc Jacobs filed an application in 2019 to trademark the word "THE". Ohio State University, which is also in the clothing business in its own way — it makes $12.5 million a year on trademarks and licensing, according to a spokesman — put in its own application. OSU alumni say they went to "THE Ohio State University," and, the spokesman said, "THE has been a rallying cry in the Ohio State community for many years." Now OSU, in Columbus, has won the trademark.(AC/NBC News) ...OK, "THE" is in Columbus. But "the University" is still in Charlottesville, Va.
Wag the Dog: Leonard Linton's dachshund, Ivy, was pregnant. He was out when he got word that Ivy was "not feeling well," so he rushed back to his Pinetta, Fla., home, even taking a shortcut to get there faster. Except he made a quick stop to purchase ...a $10 scratch-off lottery ticket. It turned out to be one of the eight $2 million top-prize-winning tickets for the game, though he chose the $1.645 million lump sum. "This is life-changing," Linton said. "I'm definitely getting Ivy anew kennel!" (RC/WFLA Tampa) ...Changes are not always for the better.
---
Yaknow, Fer Shir!
Is There a California Accent?
KRON San Francisco headline
---
Did You Find an Error? Check the Errata Page for updates.
This Week's Contributors: MS-Mike Straw, AC-Alexander Cohen, RC-Randy Cassingham.
---
True's 28th Year: Completed. This is the final issue from year 28; next week marks the first issue of True's 29th year. Wow. I absolutely couldn't have done it without you! Thank you so much for helping to make it happen.
The Video of the Vermont troopers being interrupted by a the man in an excavator is scary to watch, which you can do on Youtube. The full video of the van that was on the car hauler (until very suddenly, it wasn't) is pretty amazing too. Here's the TV news station's full report on it, of course including the video, also on Youtube.
People Arrested While Dressed in cow suits goes way back in True — to 2008, and I've added this week's to the delightful page on the site documenting them. See Udderly Ridiculous Photos for the three stories, all with photos.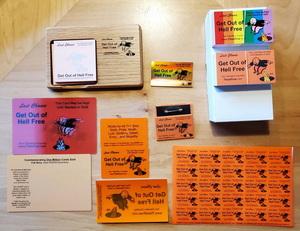 As Promised Last Week, I've put together a new GOOHFpack — an assortment of Get Out of Hell Freeitems. While free subscribers get 25 percent off, Premium subscribers get 50 percent off, and of course there is an option to upgrade to get the discount. There is also an option to add some extra goodies for half price, including the newest item, the "holographic" stickers (make your own GOOHF mug!) But jump right on it: This special ends July 8, 2022 –or– once 50 packages are sold, whichever comes first, and Premium subscribers got first dibs.
As usual (sigh), I can't ship to Colorado thanks to onerous legislation — or, now, to the U.K. for the exact same reason. Worse, international shipping costs are so high now (even to Canada) that it's not really cost effective, but I'll leave it up to you. See the whole package here.
Last, I Got a great chuckle from reader Shmuel in Israel. On Saturday I posted (on Facebook) a memory of actress June Lockhart, who turned 91 that day. I said she was "best known for her roles as the mother of Timmy in Lassie (1958-1964) and Dr. Maureen Robinson on Lost in Space (1965-1968)." The postwas illustrated with a LiS publicity shot taken when she was 40.
With that, Shmuel commented, "OMG was 'Lost in Space' really that long ago? [wrinkles explode across face]".
We can all relate, my friend.
---
Ten Years Ago in True: a story that's decidedly Nonpartisan.
This Week's True Stella Awards case re-post is wildly unexpected: Closure and Conciliation.
This Week's Honorary Unsubscribe goes to Ken Knowlton. It's fascinating to learn who wrote the first software for computer animation, and where he worked. The story in about 3 minutes: Ken Knowlton (OK to share link).
---
Basic Subscriptions to This is True are Free at https://thisistrue.com. All stories are completely rewritten using facts from the noted sources. This is True® (and Get Out of Hell Free® and Stella Awards®) are registered trademarks of ThisisTrue.Inc. Published weekly by ThisisTrue.Inc, PO Box 666, Ridgway CO 81432 USA (ISSN 1521-1932).
Copyright ©2022 by Randy Cassingham, All Rights Reserved. All broadcast, publication, retransmission to email lists, web site or social media posting, or any other copying or storage, in any medium, online or not, is strictly prohibited without prior written permission from the author. Manual forwarding by email to friends is allowed if 1) the text is forwarded in its entirety from the "Since 1994" line on top through the end of this paragraph and 2) No fee is charged. I request that you forward no more than three copies to any one person — after that, they should get their own free subscription. I appreciate people who report violations of my copyright.
---
To get this delivered to you every week, click here to open a subscribe form.
Last Week's Issue