To get these issues free by email each week, just subscribe using the form on this page — your privacy is Randy's policy. (Or cruise around the web site to see more samples, archive, and info on our terrific book collections of thousands of past stories.)

---
Since 1994, this is the 1346th issue of Randy Cassingham's...

---
Alcohol Kills Germs: Alacer Corp., the makers of the Emergen-C vitamin C drink mix, says they "do not recommend taking any of our products with alcohol" after Marilyn Starkloff, a social media "influencer" who promotes Aviation Gin, tweeted the idea of a "quarantini" — a mix of the gin and the "Super Orange" Emergen-C — to help people through the COVID-19 pandemic. "We're sorry about this @emergenc," the booze company tweeted back without disavowing the suggestion, "but also big fans."The distiller later suggested it's best to not drink alcohol when ill, but still says "a little extra Vitamin C consumption doesn't hurt." (RC/KOMO Seattle) ...The clearest example of "sorry not sorry" of the pandemic to date.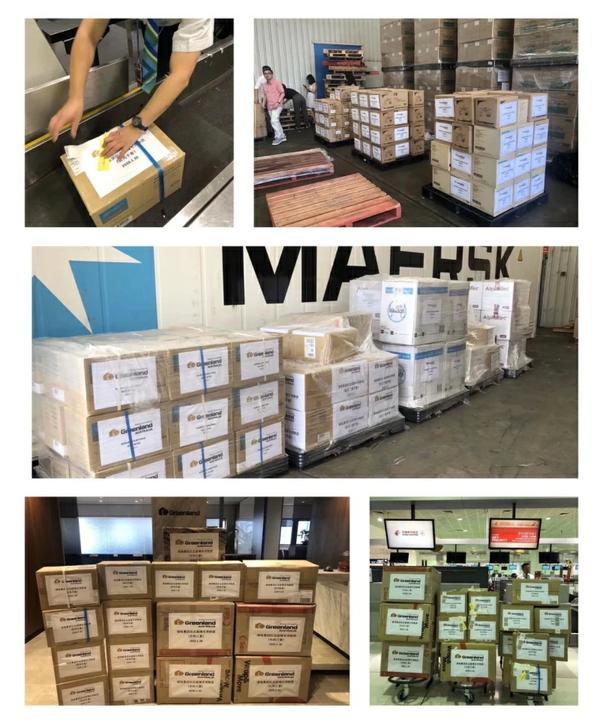 The Needs of the Many? Before they publiclyacknowledged the severity of the novel coronavirus outbreak, the Chinese government sent instructions to two Chinese real estate development companies in Australia. The order: buy up all of the medical "personal protective equipment" they can and immediately ship them to China. Greenland Group bragged in their newsletter about shipping over 3 million masks, 700,000 protective gowns, and 500,000 pairs of gloves. Risland Australia bragged on LinkedIn that a "chartered plane with 90 tons of medicalsupplies, including 100,000 most needed protective coveralls and 900,000 pairs of medical gloves, has successfully departed from Sydney and arrived in Wuhan." Greenland said it also sourced bulk supplies of thermometers, antibacterial wipes, and Panadol (acetaminophen), and also loaded up on PPEs in Canada, Turkey, and other countries — all of which now have a critical shortage. China analyst Richard McGregor says it's not surprising the companies would "publicize their patriotism," becauseChinese "real estate companies are particularly exposed to government whims, as all land is owned by the state." (MS/Sydney Morning Herald) ...Most needed = most hoarded — even at the government level.
The Hope Was on the Side: "I supported him 100 percent. He truly had me fooled from the beginning," says Diane Scott, the wife of Michael T. Linkenauger, the pastor behind a Jacksonville, Fla., faith-based ministry. But "He hid behind the Lord, you know, he used these things to get his name out there and to build his name up so everyone would think he's an amazing guy." Linkenauger, 41, has been charged with at least 15 felony counts of forcing at least one boy from his church to havesex with him multiple times over a two-year period. Linkenauger allegedly admitted to the boy's mother he "had fantasies about being with boys" and "had done worse things to others." He is being held on $1.255 million bail. Scott said that previously there was "no sign" that her husband was sexually abusing children, but "The moment he confessed to me," she said, "that's when I knew it was true." The name of Linkenauger's ministry: Hot Dogs for Hope. (RC/WTEV Jacksonville) ...There's yoursign.
This Issue's Exclusive Sponsor:
Drone Pilots: Get Your Wings!

Beautiful custom solid metal Drone Pilot Wings dress up your jacket and/or equipment box, showing your pride and professionalism in your hobby. Makes a great gift, and are much more durable than that T-shirt you liked.
Get Yours Here, with discounts for extras.
Another Plague: Like the Nile in the story of the Exodus, the Etobicoke Creek in Mississauga, Ont., Canada, was running red — and just before Passover, the holiday that commemorates the Exodus, too. But it wasn't blood, and it wasn't a miracle. An accident had occurred in a North Mississauga factory, spilling red ink into the creek. "The creek was checked and there were no dead fish or other wildlife seen," said Peel Public Works. The regional agency said cleanup had begun. (AC/CP24Toronto) ...If the world's governments can survive without red ink, that will be a miracle.
British Vicar doing online services suddenly realizes his sweater is on fire. Church pastor defies social distancing with big church service, but by Monday realizes how stupid it was and promises to switch to online services. The Miami Herald says the governor isn't doing enough regarding COVID, but is doing too much to make Florida look stupid. Another governor slaps his forehead about how stupid some of his constituents are. Police dispatcher notices criminal activity on asecurity camera ...pointed at the department's parking lot. An 8-year-old boy rates his mother's performance as his home-schooling teacher ("I'm telling you it is not going good.") College orders students to return to their dorms ...to clean up their rooms (and then leave). Woman arrested after she claimed to "have the virus," and then coughed and spat on food at a grocery store. Florida politician touts an obviously fake urban legend "cure" for COVID. That's nine more stories you missed. Youdon't have to miss most of the stories every week: upgrades start at just $9!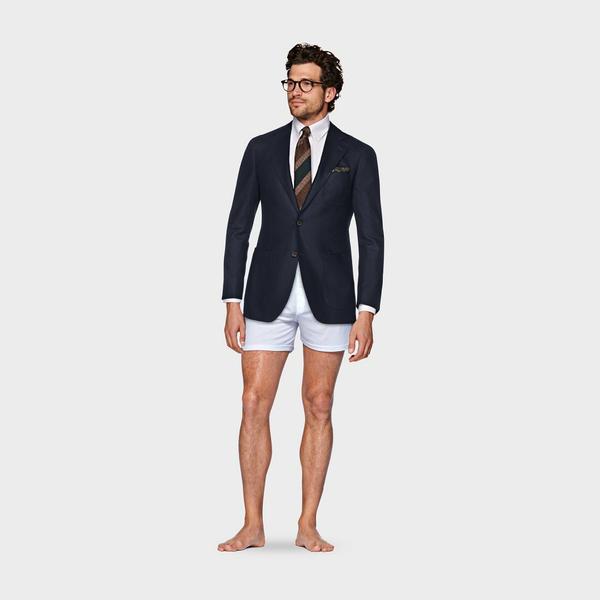 Dressed for Success: With the majority of people who still have a job working from home, Walmart reports a big upsurge in tops foremployees wanting to look good during video meetings. Pants and skirts? Not so much. "So, people who are concerned, obviously, from the waist up," observed Walmart's executive vice president of corporate affairs, Dan Bartlett. Other retailers are noting a similar trend, and Suitsupply, which provides fine suits for men, quickly jumped on the bandwagon: it posted a photo on Instagram of a man dressed for success ...but only from the waist up. Below: just underwear. (RC/CBS) ...Otherwise knownas the standard uniform of TV news anchors for generations.
---
C'mon, It's an Emergency!
Baltimore Mayor Begs Residents to Stop Shooting Each Other So Hospital Beds Can Be Used for Coronavirus Patients
WJZ Baltimore (Md.) headline
---
Did You Find an Error? Check the Errata Page for updates.
This Week's Contributors: MS-Mike Straw, AC-Alexander Cohen, RC-Randy Cassingham.
---
Kup-pa Ko-fi: True has had a presence on Patreon for a few years now. Patreon is one of several sites that helps "creators" get support from patrons. In late 2017, Patreon made a bone-headed decision that resulted in well over half of True's patrons bailing, mostly for my own home-rolled alternative. Thedownside of both: having to create yet another "account" on yet another site. At least using my shopping cart, there's no 5 percent fee scraped off the top for Patreon.
I've found another such site, which ironically is older than Patreon; I wasn't aware of it until recently. The metaphor for "Ko-fi" is that patrons can tip creators by buying them "a cup of coffee." The best part (as far as I'm concerned) is that they don't take a cut of the contributions. They "can't": it operates as a front end for both Paypal and Stripe, the latter being the credit card processor I already use, and payments go directly to True's existing accounts, not theirs. It wasa cinch to set it up yesterday during a break from writing this week's stories. The best part (as far as you might be concerned) is you don't have to create an account there to use it, but you can create one to access supporter-only posts and such, which I don't have there yet. I call that a win-win.
Why You Might Care: Two reasons. 1) You, or a family member or friend, might be a creative type that's really hurting with the current economy. In which case read the rest of this on my blog: Kup-pa Ko-fi. And 2) It's a quick and easy way to support This is True — and you'll get something in return: Every time contributions hit $250, this distribution gets the full Premium edition. Then I'll reset it and we can do it again, assoon as the next week.
Rather than "coffee," I set mine up for server support. True uses a multitude of servers: one for the various web sites, another for email lists, another for podcast hosting, two Zoom accounts for hosting online meetings (one for me, one for Kit), and probably one or two more that's not coming to mind right now. The costs add up fast, so the default "Buy a coffee" is instead Buy a gig of bandwidth forTrue.
Other things I like: you can post a comment when you contribute, with your choice of the comment being public on my page there or private to me (I prefer public). And: the donor chooses "how many gigs" of bandwidth to sponsor, in $5 increments. You'll see the support button on most pages of most of True's web sites.
"Business Owners Pressured Government Officials to let them open back up.... Theater owners even descended on Mayor Mills' office to demand he ease up on restrictions that were costing them $50,000 per week.
"The mayor relented. On Nov. 11, Denver residents poured into the streets to celebrate Armistice Day — the end of World War I. Two weeks later, the city recorded 605 cases of Spanish flu and 22 deaths on a single day.
"Restrictions had to be reimposed as public life once again ground to a halt. It wouldn't be until January 1919 that the Spanish flu would finally run its course in Denver, though it lingered into the spring in outlying parts of the state."
That's a bit from an article in last Sunday's Denver Post, which noted the "Spanish flu" is thought to have actually originated just over the state line in Kansas. The 1918 flu was the worst pandemic of the modern era; let's hope it continues to hold the record for a long time: as many as 100 million people died from it. About 27 percent of the world population (aroundhalf a billion of the about 1.9 billion at the time) got the virus; 100 million is 20 percent of the infected. Of course, those sobering numbers were from an era well before air travel.
Continues in on my blog, with a number of photos: Stay Put.
This Week's Uncommon Sense Podcast: The rise of COVID-19, the illness caused by the novel coronavirus, is exceeded only by the fear it engenders. Yet Uncommon Sense tells us that fear is getting in the way of what we should be focusing on, not just in the face of the pandemic but always. It's 11-1/2 minutes, or read the transcript on the Show Page: Beating the Fear overCovid
---
Ten Years Ago in True: A congressman worries that Guam is at a Tipping Point.
Previous Issues on Medium (please do share the link).
The Latest Randy's Random: Why April Fool's was canceled this year: More Bad News.
This Week's Honorary Unsubscribe goes to Harriet Glickman. A school teacher, Glickman had an idea to help change the world ...and did it. Her interesting story in just 2 minutes (plus optional video): Harriet Glickman (OK to share link).
And So Long to singer-songwriter Bill Withers ("Just The Two Of Us", "Lovely Day", "Ain't No Sunshine", "Lean On Me", and many more). He died March 30 in Los Angeles from heart problems at 81.
---
Basic Subscriptions to This is True are Free athttps://thisistrue.com. All stories are completely rewritten using facts from the noted sources. This is True® is a registered trademark. Published weekly by ThisisTrue.Inc, PO Box 666, Ridgway CO 81432 USA (ISSN 1521-1932).
Copyright ©2020 by Randy Cassingham, All RightsReserved. All broadcast, publication, retransmission to email lists, WWW, or any other copying or storage, in any medium,online or not, is strictly prohibited without prior written permission from the author. Manual forwarding by emailto friends is allowed if 1) the text is forwarded in its entirety from the "Since 1994" line on top throughthe end of this paragraph and 2) No fee is charged. I request that you forward no more than three copies to any oneperson — after that, they should get their own free subscription. I appreciate people who report violations of my copyright.
---
To get this delivered to you every week, click here to open a subscribe form.
Last Week's Issue