To get these issues free by email each week, just subscribe using the form on this page — your privacy is Randy's policy. (Or cruise around the web site to see more samples, archive, and info on our terrific book collections of thousands of past stories.)

---
Since 1994, this is the 1270th issue of Randy Cassingham's...

---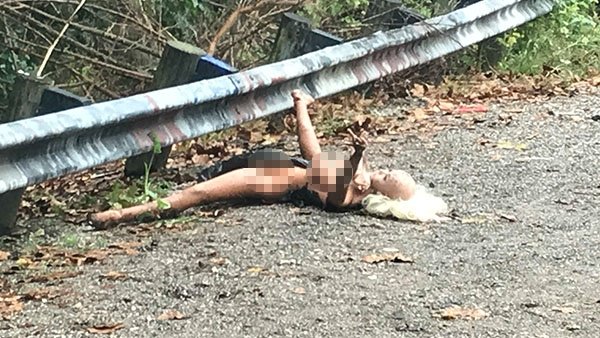 Yeah, I Know What He Metaphor: "Multiple emergency crews" from Colerain Township, Ohio, rushed to the Richardson Forest Preserve on a report of a deadbody lying at the bottom of an embankment, partly covered by a body bag. But when the first crew finally reached the blond woman, the response was called off: it was a "recreational mannequin," police said. A what? "A sex doll in a garbage bag," explained police chief Mark Denney. Police released a photo of the "body" — with the plastic doll's naughty bits blurred out. (RC/WLWT Cincinnati, WCPO Cincinnati) ...The perfect allegory for our times: use her then cast her aside, and the only shameis over someone maybe seeing her ladyparts. [Link|Share]
In for a Good Paddling: Paul LaMarche, 67, of Seattle, Wash., owned and operated the sailing company Emerald City Charters. The company's promotional videos showed him sailing boats, and doing yoga on paddle boards. The problem: LaMarche was on disability when he made the videos. According to the Justice Department, LaMarche claimed he couldn't "lift, pull or carry heavy items" and was "unable to run or jump." He pleaded guilty to theft of government property and wire fraud, and wasordered to pay back $177,369 in benefits, plus $177,369 in penalties. And he was sentenced to nine months in prison, followed by two years of supervised release. (MS/CNN) ...Yoga will help make that time go faster.
Higher Education: Hartford (Mich.) High School got a tip that a student had brought pot-laced brownies to school. The adulterated brownies were alleged to have been distributed to the football team in homecoming week "goodie bags" put together by a 17-year-old cheerleader. Her apparent motive: she wanted the team to vote for her as Homecoming Queen. In a letter to parents, school administrators are asking them "to talk with their children about the dangers of drugs." (RC/WXMI GrandRapids) ...Which they'll be happy do during their evening cocktail hour.
This Issue's Exclusive Sponsor:
Drone Pilots: Do You Have Your Wings?

Beautiful custom metal Drone Pilot Wings dress up your shirt, jacket, and/or equipment box, showing your pride and professionalism in your hobby. Makes a great gift, and is less expensive than most message t-shirts (lasts longer, too).
Order Yours Here, with discounts for extras.
This is a ...: It must have been an alarming sight: bank employees hiding under tables. A duly alarmed bystander called the West Midlands, England, police. But when armed officers arrived at the scene in Birmingham, they found NatWest employees playing hide and seek. Nevertheless, both bank and police representatives thanked the caller. "We can confirm that it was a false alarm, following a team building exercise," said a bank spokesman, "and will be speaking to the members of staffinvolved to ensure that they all learn from this incident." (AC/London Telegraph) ...Ready or not, here comes management.
Seven More Stories: Police chief arrested after going to Florida multiple times to commit a crime. Couple sets up a tent to smoke drugs ...in a New York City subway car. Florida cop fired after apparently planting drugs on people to arrest them (how he was caught is the wild part). Woman complains to police that people won't let her drive her kids home simply because she was drunk. Man posting on Facebook as he drove gets instant karma. Woman busted for trying to pass fake money at aWalmart — and it's not at all surprising she was caught because.... Woman removed from airplane after airline objects to her "emotional support animal." You can still read all of these stories: just ask for your upgrade to start with the 14 October issue. Upgrades start at just $9!
Darn You, Autocorrect! "Lavalette, Keep Left." says a sign erected by New Jersey's Department of Transportation outside Lavallette. It's not their only recent typo: they've put up signs for "Mount Ephriam" outside Mount Ephraim, "Parispanny" near Parsippany, and "Pattenbug" on the way to Pattenburg. (RC/WNBC New York) ...Still, the state fully supports the DOT's Hire the Dyslexic job program.
---
Concealed Weapon
Man Accused of Pulling Gun from Bible and Hitting Another in Face, Private Parts
Vero Beach (Fla.) Press Journal headline
---
Did You Find an Error? Check the Errata Page for updates.
This Week's Contributors: MS-Mike Straw, AC-Alexander Cohen, RC-Randy Cassingham.
---
You Might Have Noticed something on the first story: a share link. Last week my mastermind group for online entrepreneurs met for several days, and one of the ideas that came out of brainstorming was to have links to individual stories so readers can share them. The idea is for you to be able to share specific stories you like, or think your friends would like. When they go to the page, they get a brief note, the story, and a subscribeform ...and that's all (other than regular template items — the header, navbar, sidebar, and footer). This one's a test to see how it works.
How to Use It: Clicking Link takes you to the story page, while clicking Share "should" open your email program's New Message form with a brief subject line set, and a line with the link. You add the To address, and any comments you wish, and hit Send. Very easy. (Your computer has to "know" what your default mail program is. If it doesn't work or brings up the wrong program, see this articleon Ask Leo!, which he graciously updated this morning for you.) The regular link is to make it easy for you to go to the page, grab the URL, and email it to your friend(s) if the "mailto" doesn't work for you.
If implemented, it's likely that every story would have such links. They would be coded in such a way that given a link, it's "impossible" to figure out the links to other stories — I don't want anyone to be able to page through the stories, but rather just see what you share with a reasonable number of people. The links will probably expire after some amount of time (30 days?), and at that point would "fail" to a specific default story to ensure there's always somethingthere.
These are specifically for you to share to individuals by email. The links start to show up on social media or web sites? That's the way to get the program shut down.
Should I go ahead with this, it would take several weeks to code up the system to create the links and properly display the correct story — this isn't going to happen next week. 🙂
Two Stories from Last Week — which didn't make it into the free edition — have such a weird update that I put it in my blog. I'm not even sure how to describe it here, except to say it has to do with power-mad celebrities like Bill Cosby, 1960s novelty music, and the #MeToo movement. See it at Erasing the Past — which is actually a question, not a statement.
---
Ten Years Ago in True: Listen to Disco, Save a Life (and yes, this really is used in CPR training!)
Today on Randy's Random: That's One Way to Look at It.
This Week's Honorary Unsubscribe goes to Natan Wekselbaum. A New York City retailer, Wekselbaum turned a personal insult into an empire.
This Entry in the Archive: Natan Wekselbaum (OK to share link)
And So Long to Microsoft co-founder Paul Allen, dead October 15 from non-Hodgkins lymphoma at 65.
---
Basic Subscriptions to This is True are Free athttps://thisistrue.com. All stories are completely rewritten using facts from the noted sources. This is True® is a registered trademark. Published weekly by ThisisTrue.Inc, PO Box 666, Ridgway CO 81432 USA (ISSN 1521-1932).
Copyright ©2018 by Randy Cassingham, All RightsReserved. All broadcast, publication, retransmission to e-mail lists, WWW, or any other copying or storage, in any medium, online or not, is strictly prohibited without prior written permission from the author. Manual forwarding by e-mail to friends is allowed IF 1) the text is forwarded in its entirety from the "Since 1994" line on top through the end of this paragraph and 2) No fee is charged. We request that you forward no more than three copies toany one person — after that, they should get their own free subscription. We always appreciate people who report violations of our copyright to us.
---
You can subscribe free by email and get this delivered to you every week.
Last Week's Issue