To get these issues free by email each week, just subscribe using the form on this page — your privacy is Randy's policy. (Or cruise around the web site to see more samples, archive, and info on our terrific book collections of thousands of past stories.)

---
Since 1994, this is the 1283rd issue of Randy Cassingham's...

---
Jeepers Creepers He's Got Some Peepers: Pharmacist Johnny Chan, 34, was charged with 71 counts of invasion of privacy, including one involving a minor, after allegedly planting a hidden camera in an employee restroom in a laboratory operated by Kaiser Permanente in Portland, Ore. The healthcare organization fired him. While out on bail, Chan was arrested again on 27 more counts after investigators say Chan also used a camera on his shoe to record "upskirt" images of women who sat atdesks near him; his bail was raised to $2 million. While out on bail, Chan got a job at a Banana Republic clothing store. A police officer investigating the previous cases visited the store — and found a hidden camera in an employee restroom. Chan, who still lives with his parents, was arrested yet again, fired again, and faces another 27 counts in that case, including one involving a minor. Chan's bail was raised to $4 million. When investigators asked Chan if he viewed commercial adult movies,he said no — "because that would be weird." (RC/KATU Portland) ...Because the people in those videos know they're being recorded.
Looks Are Everything: "I got this notice on my car saying that they were gonna tow my car tomorrow," said Sontlux Sukhavachana. The notice is from the Biltmore Apartments in Dallas, Texas, where he lives. Ohio-based Fath Properties, which owns the apartment complex, explained that their policy is to remove tenants' cars that have any dents or flaws in them. "We understand that your automobile is a personal item," the policy says, "however, we believe that a car that is not wellmaintained detracts from the overall appearance of our customer's [sic] home." Sukhavachana says the cost of repairing the single dent in his car would make it so he couldn't afford rent the next month. Several online reviews of the property claim the company doesn't do proper maintenance, and are illustrated with photos of mold, water damage, and other issues. "They seem to hold tenants to a much higher standard than they hold themselves," said Sandy Rollins, executive director of theTexas Tenants' Union. (MS/KTVT Dallas) ...So if the tenants lived in their cars, it would be a step up.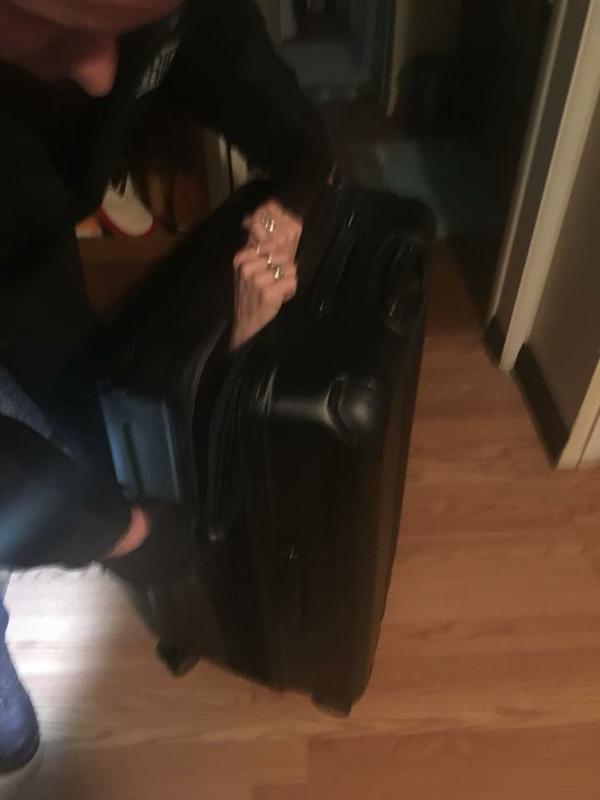 Going on a Trip: When Terri L. Downs-Hayes, 43, didn't show up in court to answer felony weapons and drug charges, warrants were issued for her arrest. The WestmorelandCounty (Pa.) Sheriff's Department got a tip that she was hiding in a house in Rostraver. The people inside refused to open the door, which "had been fortified with 2-by-4 [wooden] beams," the department said, so they forced the door and went in. Three people inside gave "conflicting accounts" of Downs-Hayes' whereabouts, so the deputies searched the home. "The search of the residence eventually focused on a rear bedroom closet that was being guarded by two pitbulls," the department said. Aftersafely "removing" the dogs, they found a suitcase in the closet. When they unzipped it, two hands popped out: Downs-Hayes was inside, but surrendered. Investigators are "considering" charges against the three other people in the home for "hindering apprehension of a fugitive." (RC/Pittsburgh Tribune-Review) ...Alert the pitbulls!
This Issue's Exclusive Sponsor:
Regain Control of Your Inbox

You don't have to wade through junk just to get to the good mail in your inbox. Take 15 minutes to read Randy Cassingham's Spam Primer web site — and grab his highly rated ebook (just $3.99!) with proven techniques to Stop most spam from even showing up in your inbox.Read Randy's Spam Primer
More than Double the Stories: This week, you missed eight, including the woman whose car was towed after city workers up up "no parking" signs by her car. Florida woman drove 225 to beat up the man she didn't approve of for her adult daughter (and then it gets weird). Woman accidentally confesses to being a poacher ...to a game warden. A crazy she-said, she-said fight. University says students are enthusiastic about a new class ...about marijuana. Illegal gaming operation bustedeven though part of their front was a church(?!) Lighting a match is "a very tried and true method of finding [leaking] gas [but] it is not a very good method." The weird part of a Florida jail story isn't that guards were giving an inmate "special treatment," but why. You can still read all of these stories: just ask for your upgrade to start with the 13 January edition — and you can upgrade for as little as$9.
Office Food a la Florida: A smashed window alerted employees that someone had broken into their workplace, near its kitchen. This did not go uninvestigated: the workplace, after all, is a Boynton Beach, Fla., police substation. It appeared that two meals had been taken from the fridge, and one had been microwaved and eaten at the scene. An investigator found a wallet with Yvelande Jean-Pierre's state-issued security officer card. Jean-Pierre said she'd lost her wallet and had not goneto Boynton Beach. But she did have her cell phone, and she agreed to let officers examine it. Data showed the device had been near the substation shortly before the break-in. Jean-Pierre was charged. (AC/WPTV West Palm Beach) ...Unfortunately for her, so was her cell phone, but her brain was not.
Mmmm... Cake! A multi-alarm fire at a Conagra plant in Centralia, Ill., that makes Duncan Hines cake mixes was sparked by a shorted-out fan, says Centralia Fire Capt. Michael Calabrese. The heavy response apparently kept the place from burning down. "Cocoa residue" had been ignited by the fan, Calabrese said. "Cocoa ignites so quickly. It's just like powder." No one was injured, he said, and it's not the first time they've responded to the plant for such a fire. "They are dirty, nastyfires," he said. (RC/Bellevue News-Democrat) ...Fire hoses: the secret to "Moistfully Good."
---
Mobius Crime
Charges: Man Poses as Ex-fiancee to Hire Hit Man to Kill Himself
KSL Salt Lake City (Utah) headline
---
Did You Find an Error? Check the Errata Page for updates.
This Week's Contributors: MS-Mike Straw, AC-Alexander Cohen, RC-Randy Cassingham.
---
Have You Ever Noticed that True's web site doesn't have ads? No auto-play videos. No "Hey, can we send you 'notifications' in your browser to interrupt your reading?" Not even a mostly-dignified plain-text pitch for something you searched for on Google ...and Google knows who you are so it can "remarket" to you.
There's a Great Reason Why there's none of that: this publication, and its web site, is entirely supported by the readers. Some of it with the "Contribute" button in the sidebar, and some via True's Patreon page (and more via our shopping cart's alternative to Patreon that has more flexibility, and no Patreon fees), both of which offer extra littlebenefits as the contribution rises. Such as? One such spiff is a single story from True's archive emailed each day — the Best of True that I've personally chosen to be in that line-up to represent, well, the best of the stories from the archive.
But most of the support comes in the form of upgrades to the Premium edition of this newsletter — all the stories (at least 10 each week, but typically a dozen).
"But wait," some will say. "Isn't there an ad in this free newsletter?" There is: and most companies don't even consider buying ads in a general-interest newsletter like this — the space hasn't actually sold in a very long time. So indeed, this publication is entirely supported by the readers.
So If You Appreciate the publication, the ad-free web site, or the ad-free podcast, consider throwing some support its way. An upgrade, a few bucks each month or quarter, or a one-time contribution using the big button in the sidebar. Yeah: just a few bucks really does help. If you truly can't afford it, you're welcome to stay — and help with ways that don't cost a thing. No matter how you help, I thank you.
---
This Week's Uncommon Sense Podcast: a story about a dog. Dogs may or may not have Uncommon Sense, but how its owner reacts to a dog might be an interesting indicator of their thinking ability. You'll get what I mean pretty quickly.
Podcast 016: Barking Up the Right Tree
Also, the Tech Enthusiast Hour is back after a holiday hiatus; I'm a co-host on that show, where 3-4 nerds get together to chat about what we find interesting in Tech that week. We were often getting together to talk anyway, so why not record it and let others listen in? On my agenda this week: the Earth's magnetic field is so "erratic" recently, there has to be an "emergency update" to GPS systems to compensate. (But...!) As with Uncommon Sense,that show can be streamed from its Show Page if you don't want to deal with a podcast app.
---
Ten Years Ago in True: Britain's National Health Service is "deeply sorry" for the Bad News, Good News, And....
Today on Randy's Random: Knowing Your Left from Your Right when it comes to politics.
This Week's Honorary Unsubscribe goes to Lester Wunderman. After working for other people for awhile, Wunderman decided he had a different (and better!) way to do things in his line of business — and it affects you.
Read his story in the Archive: Lester Wunderman (OK to share link)
Plus a Tip of the Cup to Carlos Sánchez, who played "Juan Valdez" to promote Colombian coffee in TV commercials and print ads for nearly 40 years, dead in Colombia December 29 at 83.
And So Long to writer John Falsey Jr, who co-created (with Joshua Brand) St. Elsewhere (1982-1988) and Northern Exposure (1990-1995), among others, dead January 3 after a fall, hitting his head. He was 67.
---
Basic Subscriptions to This is True are Free athttps://thisistrue.com. All stories are completely rewritten using facts from the noted sources. This is True® is a registered trademark. Published weekly by ThisisTrue.Inc, PO Box 666, Ridgway CO 81432 USA (ISSN 1521-1932).
Copyright ©2019 by Randy Cassingham, All RightsReserved. All broadcast, publication, retransmission to e-mail lists, WWW, or any other copying or storage, in any medium, online or not, is strictly prohibited without prior written permission from the author. Manual forwarding by e-mail to friends is allowed IF 1) the text is forwarded in its entirety from the "Since 1994" line on top through the end of this paragraph and 2) No fee is charged. We request that you forward no more than three copies toany one person — after that, they should get their own free subscription. We always appreciate people who report violations of our copyright to us.
---
You can subscribe free by email and get this delivered to you every week.
Last Week's Issue