To get these issues free by e-mail each week, just subscribe using the form on this page — your privacy is Randy's policy. (Or cruise around the web site to see more samples, archive, and info on our terrific book collections of thousands of past stories.)

---
Since 1994, this is the 1223rd issue of Randy Cassingham's...

---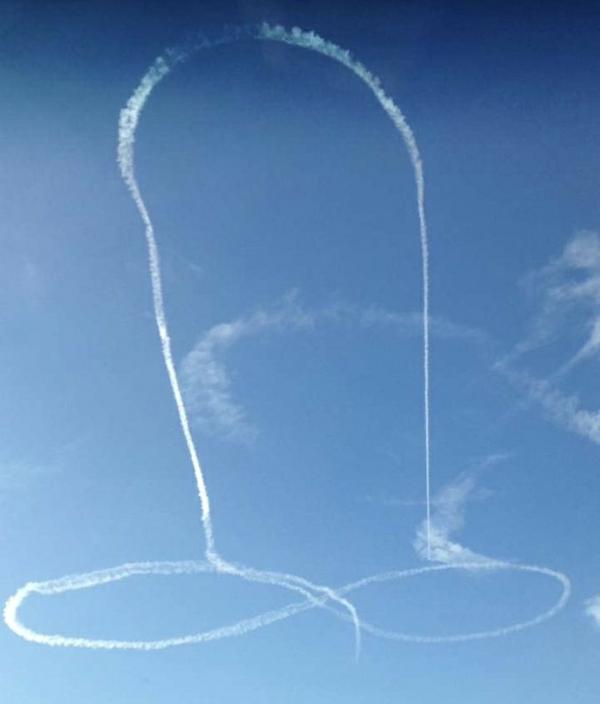 This Kind of Exhibition Too: The U.S. Navy has grounded the two-man crew of a jet which traced out a design in the sky over Okanogan in central Washington, about 125 miles from the Naval Air Station on Whidbey Island. The giant outline of a phallus was so obvious in the clear daytime sky that social media instantly lit up with photos posted by people on the ground. "The Navy holds its aircrew to the highest standards and we find this absolutely unacceptable," a NAS spokesman said. "We are holding the crew accountable." Vice Adm. Mike Shoemaker promised an investigation. "Sophomoric and immature antics of a sexual nature have no place in Naval aviation today," he declared. The jet was identified as an EA-18G Growler, a carrier-based electronic warfare aircraft used to thwart enemy radar and communications. (RC/Spokane Spokesman-Review, Washington Post, AP) ...And the Navy was mighty embarrassed to learn it could easily be thwarted by social media.
Paying the Bills: According to the notice she received, a woman named only as "Annie" received more food stamps than she was entitled to, and thus owes the Illinois Department of Human Services $741. If she doesn't pay, the state will submit her debt to the U.S. Department of the Treasury so the money can be deducted from any federal payments she receives, such as Social Security. Annie received the food stamps when she was single and raising a teenage daughter — in the mid-1980s. While she acknowledges receiving the food stamps for that period in her life, she doesn't agree that she was overpaid. "I don't remember them giving me no over-issuance," says Annie, who is now 70 years old. "All I got was what they said I would get." According to Meghan Powers, an Illinois Department of Human Services spokeswoman, there is no time limit on when such debts can be collected, and the department doesn't have the legal discretion to forgive old debts. (MS/Chicago Sun-Times) …Can she take as long to repay them as they did to bill her?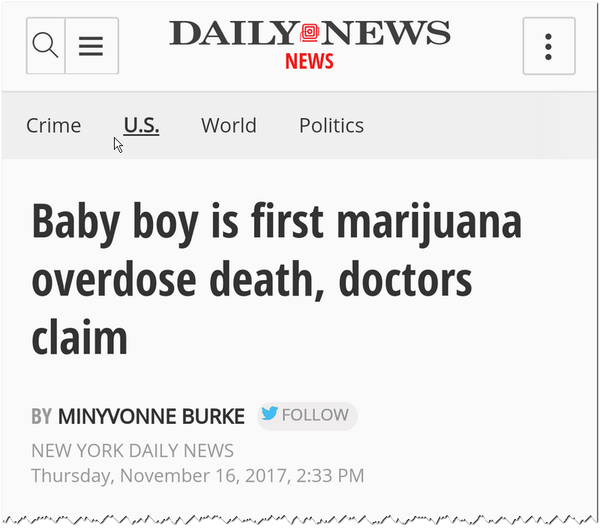 Second Hand Smokescreen: One of the facts that marijuana legalization proponents like to point out is that even the federal Drug Enforcement Administration admits there's never been a single documented death from a marijuana overdose. So when a medical case report published in the journal Clinical Practice and Cases in Emergency Medicine noted that a child had died in a case "associated" with cannabis in Colorado, where marijuana is legal, headlines blared that the "first marijuana overdose death" had been recorded. Nope. First, the boy was not any sort of pot "user" — he was just 11 months old, and lived in a hotel room with his parents, who admitted they had marijuana when a blood test on the boy found THC, presumably from second-hand smoke. To make things clear after the headlines went viral, Thomas Nappe, one of the two doctors who wrote the report, said it categorically: "We are absolutely not saying that marijuana killed that child." Nappe has the credentials to know: he's the director of medical toxicology at St. Luke's University Health Network in Bethlehem, Pa. The infant was apparently already in poor health; the actual cause of death was myocarditis, or inflammation of the heart muscle, and the doctors just wanted to suggest that other doctors consider what relationship, if any, marijuana had in any unusual deaths, Nappe said. (RC/KUSA Denver, Washington Post) ...But hey, let's keep repeating this faulty conclusion so we can ignore the documentation that fully legal alcohol kills 88,000 people in the U.S. alone — per year.
This Issue's Exclusive Sponsor:
Regain Control of Your Inbox

You don't have to wade through junk just to get to the good mail in your inbox. Take 15 minutes to read Randy Cassingham's Spam Primer web site — and grab his highly rated ebook (just $3.99!) with proven techniques to Stop most spam from even showing up in your inbox. Read Randy's Spam Primer
Unhappy Ending: Josh Burbage, 23, of Tonbridge, Kent, England, went for a massage. He initially stripped to the waist, but the masseuse had him go the rest of the way. "She did about 30 minutes or so on my back, and then she asked me to turn over," he said. She directed her attentions to his chest and began working her way down, "all the way down to my groin area. She said: 'Here now?'" Then, he said, she stripped and "started playing with my genitals" until he stopped her. She thought she had been providing an added service, and he was asked to pay accordingly. But the police are investigating, because Burbage thinks what happened to him was sexual assault. (AC/Kent Live) ...And without blaming the victim, can anyone say it wasn't?
The Whole Enchilada: There were seven more stories in the full edition. Baby born on exactly the right day — perfect for his very unusual name. Cops on drug raid have a problem with their targets: cops from another precinct trying to do a drug sting. The backlash against men who are sexually inappropriate catches up with another executive. Judge gets creative with man who wouldn't stop calling and texting his ex-girlfriend. Woman faces 10 years in prison for how she secured a plastic swimming pool atop her minivan for transport. Florida school offers bulletproof backpack inserts to help kids survive school shootings. Obliviot's "crime spree" nets him $1 ...and 7+ years in prison. You can still read all of these stories: just ask for your Premium upgrade to start with the 19 November issue. See your upgrade options here — including a way to pay quarterly.
Test Drive: A rental car insurance company contacted detectives in Stamford, Conn., saying that they had information that a rental car stolen from Hertz was reported to be in the city. Sure enough, investigator Richard Vetter found the car — and spotted a man getting in it to drive away. Vetter stopped the driver for questioning: Jacques Allouf, 70, still had the rental contract in the glove compartment. It showed the car, a 2013 Nissan Altima valued at about $15,000, was rented at the airport in Warwick, R.I., nearly three years ago, at the rate of $792 per month. Allouf was charged with second-degree larceny, but may be able to avoid conviction by paying the contract's rate times the number of months he had the car, which totals $25,344. Police released Allouf after he signed a promise to appear in court. (RC/Stamford Advocate) ...Yeah, but did the promise specify when?
---
If It Gets Really Bad, They Krill Themselves
Fish Depression Is No Laughing Matter
Brisbane (Qld. Australia) Times headline
---
Did You Find an Error? Check the Errata Page for updates.
This Week's Contributors: MS-Mike Straw, AC-Alexander Cohen, RC-Randy Cassingham.
---
Why Is Anyone interested in looking at depression in fish (the headline)? Researchers are apparently studying sad fish to better understand depression to bring better treatments to humans. So there you go. (Source)
I Let True's Contributors Pitch stories they find in the news for inclusion in the newsletter. When Alexander found the "Unhappy Ending" story and asked if it was OK for him to write it up, he commented, "This is the story of the most naive man in the world." Yeah, maybe. But I really like that when I gave him the go-ahead, he didn't just make fun of the guy: he made a real, thought-provoking, point. I asked him about it, saying I'd discuss it here. "I was originally going to crack a joke about his naivete," he replied, "but I realized: The man did suffer a sexual violation. And I don't want to ridicule someone for being violated. So instead I tried to get the reader thinking about some of the issues in this case and how they relate to broader debates, both about sex crimes themselves and about how we discuss them. My views on those questions? Let's just say that if you think you guessed them, you're probably wrong."
There's another point that most won't realize either: actual massage therapists will like how the issue was treated too, I think. I've been to many, and every one of them has been professional, and haven't even suggested such a "service," let alone tried to push it on me. I'm sure actual therapists are sick and tired of men assuming they're sex workers, rather than the kind of professionals they actually are.
---
I Ran the Following in last week's newsletter. Below, I'll tell you the results:
-----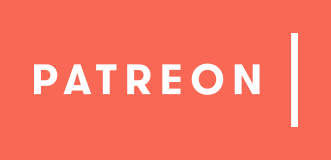 WOO HOO! We Are Now More than Half-Way to True's next Patreon goal! Patreon, the "crowd-funding" platform for creative endeavors, allows you to choose how much you want to support this publication, and get some nifty benefits in return. Through Patreon support, I've already been able to remove the advertising from True's web site. Nothing flashing at you, or getting in your way as you read the content (such as the blog post mentioned below). Reaching the Next Goal brings the full text of the Honorary Unsubscribe right into this edition of the newsletter, rather than your having to click a link to the web site to read it, since (sigh) the ads there pay part of the freight here. In fact, let me raise the stakes: once we hit the next goal, I'll remove the ads on that site too.
That's why even just $1 really helps. Just 220 people have pledged enough to get us past the 50 percent mark — yet that's just 220 out of the tens of thousands reading this publication. It looks like the smallest amount you can pledge is $2, but you can actually edit your pledge to be any amount you want (though I think there's a $1 minimum — below that, fees eat it all up): you can enter $1, $2.50, $6.66, or whatever works for you. Remember, anything $4 and up gets you the Premium edition each week in addition to helping to get the Honorary Unsubscribe into this edition of the newsletter. And really, the main idea is to make True sustainable in the first place, and we're not there yet. See True's Patreon page here to help, and thanks so much for keeping True going into the future!
P.S.: Oh, and the next goal after that? Reaching that dumps the ad out of the middle of the stories in this free newsletter! Getting more and more ads out of our lives is a Wonderful Thing. 😀
-----
So, the Result? Just five new pledges — and all of them were already Premium subscribers digging even deeper than they already have been, which really shows how much they value This is True. What are they seeing that you don't? The full newsletter! It's not just about more stories (though that's a nice benefit): you get a much more complete picture.
In fact, more than 1 in 5 Premium subscribers voluntarily pay extra for their subscriptions. That's how much they value True, and want to be sure it continues. Why isn't that enough? Because the total number of subscribers is down — the publication is no longer sustainable. True is nearly 24 years old now, and some of its biggest fans have literally died.
Now, I know that a lot of you can't contribute financially, but that's not all True needs: again, we need more readers! If True is helping the world think more (and I believe it is), we need more people doing it, and modeling the value of thinking over whatever it is most of the people in the stories do instead. Do you have friends and family you email with, or interact with on social media? Can you recommend True to them? Do you have a blog, a podcast, a web site, a bulletin board at work where you can post about True? You can help, without it costing you a cent.
Meanwhile, I'm not just sitting here: I'm working on "getting out there" more. Right now, the best bet seems to be podcasts. That's partly why I've started a podcast of my own: not just to get True out on a different medium, but to help me get onto other shows, too. I'm booked on a couple of different ones, and that activity attracted some like-minded folks I network with, and we're starting a new show with several rotating hosts who are splitting up the work: I'm the publisher, someone else is the producer, and everyone brings the topics to the table that we all discuss. We've recorded the first episode last night, and I'll be able to tell you more about it next week.
I'm also gearing up to do more stage speaking again, after dropping off the circuit some years ago because I was getting way too busy. That has obviously ebbed a bit again, so that has given me the time to develop some new talks.
So, just planting the seed: if you run a podcast that has guests, and I'd be a fit, drop me a line. And if you run events with speakers where I'd be a fit, let's talk. (Yeah: I think corporations would like their employees to hear about the importance of thinking!)
Meanwhile, I'm booked at an Ignite event next week; if you're not familiar with those, they're "lightning talks" (5 minutes, exactly), sort-of a mini TED talk. The local one is probably too small to have a camera crew, but I'm going to try to get a video anyway, which will be a nice addition to the Speaker Page coming soon to True's web site.
Speaking of My Podcast, this week's episode, recorded after yesterday's Thanksgiving dinner, starts with another segment of No Longer Weird. And then the meat (with gravy): the lying "Marijuana Overdose Death!" headlines from this week's story — agenda-driven clickbait shockers that many other media outlets ("mainstream, legitimate" and otherwise) jumped on with without checking the facts first. It's not only stupid and wrong, but completely misses the real problem that really does cause a shocking number of deaths. Yeah, I go on a little bit of a rant. Again. Plus: an Easter Egg at the end that shows what Kit is like when she doesn't know the recorder is rolling!
It all fits into just 19-1/2 minutes:
Podcast 019: The Headlines Lied
Enjoy, and brace yourself: with Thanksgiving over, Christmas craziness begins....
I'm pleased with how the show is going, by the way. I used to be able to say that it would get about 500 listens (downloads, which can be listened to more than once!) in the first week, and 1,000 in the first month. But it's growing nicely: Episode 18 came out Thursday (I'm generally getting them out a day early), and in those four days, it already has 550 listens. The previous week's has well over a thousand. Considering how many shows struggle to get 100 listens, I'm just fine with how it's growing already.
---
Ten Years Ago in True: Some illumination if you ever doubted that lottery players are bad a math: Baby It's Cold Outside.
Today on Randy's Random: Look Higher.
This Week's Honorary Unsubscribe goes to Lilli Hornig, one of the few female scientists on The Manhattan Project, which developed the atomic bomb to end World War II. Read her story in the Archive: Lilli Hornig (OK to share link).
And So Long to singer (and Touched by an Angel actress) Della Reese, dead November 19 at 86.
And Goodbye to singer Mel Tillis, dead November 19 at 85.
And a Mondrian-styled tour bus hearse for singer David Cassidy, best known as the lead kid in the fictional family TV band The Partridge Family (1970-1974), dead from liver failure on November 21, at 67.
Plus One Last Banana to Little Mama, a chimpanzee at Lion Country Safari in Loxahatchee, Florida. Her age was estimated at between 30 and 35 by primatologist Jane Goodall — in 1972; the Safari settled on February 14, 1938, as her "official" birthday. At about 79, that makes Mama the longest-living chimp ever recorded. She died November 14 from kidney failure.
---
Basic Subscriptions to This is True are Free at https://thisistrue.com. All stories are completely rewritten using facts from the noted sources. This is True® is a registered trademark. Published weekly by ThisisTrue.Inc, PO Box 666, Ridgway CO 81432 USA (ISSN 1521-1932).
Copyright ©2017 by Randy Cassingham, All Rights Reserved. All broadcast, publication, retransmission to e-mail lists, WWW, or any other copying or storage, in any medium, online or not, is strictly prohibited without prior written permission from the author. Manual forwarding by e-mail to friends is allowed IF 1) the text is forwarded in its entirety from the "Since 1994" line on top through the end of this paragraph and 2) No fee is charged. We request that you forward no more than three copies to any one person — after that, they should get their own free subscription. We always appreciate people who report violations of our copyright to us.
---
You can subscribe free by e-mail and get this delivered to you every week.
Last Week's Issue