To get these issues free by email each week, just subscribe using the form on this page — your privacy is Randy's policy. (Or cruise around the web site to see more samples, archive, and info on our terrific book collections of thousands of past stories.)

---
Since 1994, this is the 1336th issue of Randy Cassingham's...

---
Face It: A would-be robber didn't get anything when he tried to hit a Pizza Hut in Las Cruces, N.M., right around closing time. When the armed man ran, he chose a door that had already been locked for the night — and "face-planted" into it. He still escaped, but police said they were able to collect the robber's DNA from the door. It matched an entry in a federal crime data base, and Markell D. Barnes, 19, was arrested, charged with attempted armed robbery, and aggravated assault witha deadly weapon. He was held without bond. (RC/Las Cruces Sun-News) ...Barnes will have to get used to locked doors.
Too Kind: Marc Eugenio had just earned $1,000, but he had no money to buy Christmas gifts for his children: U.S. Bank had a hold on his paycheck. He called the bank, and call center's senior banker Emily James told him to go to his branch. No one there could or would help, even after Eugenio's boss told a bank employee his job was real. Eugenio left the branch and called James again: he was stuck at a gas station in Clackamas, Ore. "I wish I had just $20 to get home," he rememberstelling her. "Wait, hold on," was her reply. The call center is in Portland, a short drive away, and James — with her boss's permission — zipped over and gave Eugenio $20 of her own cash. A few days later she was fired for "unauthorized interaction with a customer"; she said the boss who authorized the interaction was fired too. Until then, James said, she had no disciplinary history at the bank, but does have awards for living out the company's values: "We put people first." (AC/PortlandOregonian) ...As long as it doesn't require actually, you know, helping them.
Wouldn't You Like to Be a Pepper Too? A 9-year-old boy in West Monroe, La., called for help after his drunk father put a loaded .32 caliber pistol to his head, and threatened him. Ouachita Parish sheriff's deputies arrested Chad Kinnaird, 39, who does not live at the residence and has a restraining order against him. He is charged with violating a protective order, domestic abuse with battery, and child endangerment. Why was Kinnaird so angry? He says the boy had drunk his last DrPepper — three days before. (RC/KALB Alexandria) ...Officials at Dr Pepper have offered to pay for Kinnaird's prosecution.
This Issue's Exclusive Sponsor:
Drone Pilots: Get Your Wings!

Beautiful custom solid metal Drone Pilot Wings dress up your jacket and/or equipment box, showing your pride and professionalism in your hobby. Makes a great gift, and are much more durable than that T-shirt you liked.
Get Yours Here, with discounts for extras.
Midnight at the Oasis: After working out, Dan Hill found himself locked inside a Sandy, Utah, gym. After calling the police, Hill took to Facebook to explain his predicament. "I am literally locked inside 24 Hour Fitness right now," he posted. "They closed the doors and went home while I was swimming my laps in the pool. Doesn't the name suggest that they stay open 24 hours?" According to the manager, some locations started closing from midnight to 4:00 a.m. due to low usage. Policearrived over an hour later and let Hill out. He posted a picture of himself with the officers who released him, captioned: "Free at last! Free at last! Thanks to three nice cops I am free at last." (MS/KTVX Salt Lake City) ...He's also planning a competing gym: 20 Hour Fitness.
Not All the Stories are From Florida (but it's close!) You missed: a six-month vandalism spree at a Florida airport traced to ...a pilot. Florida man steals a newly built house ...and is sentenced to the Big House. Kind man tries to give a New York City homeless person $5 ...but it turns out the homeless guy is actor Daniel Radcliffe. Man wants to settle his divorce by combat, with swords ...and then it gets weird. State Park agency has an amusing way to warn people abouthow to stay safe on iced-over lakes. Florida man decides to be a total jerk to his neighbors ...and is taken to jail. Minneapolis neighborhood tries to rename itself, but after spending a year and a lot of money.... Florida man escapes death by jumping out of his car "stuck" on train tracks, but his feeble excuse is so bad he's jailed. You can still read all of these stories when you ask for your upgrade to start with the 19 January issue, and continue to get all of the stories each week. Bestpart: it starts at only $9! See your options here.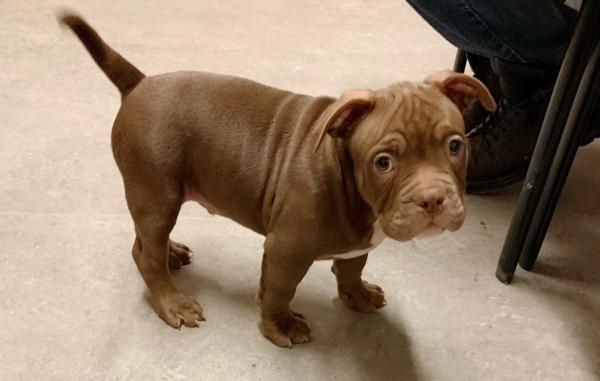 Heel: The owner of a purebred American Bulldog puppy named "Tarzan" offered the dog for sale online, and a man showed interest. Theowner met the man in Peel, Ont., Canada. Rather than pay, however, the would-be buyer pulled a Colt .45 pistol and pointed it at the seller, grabbed Tarzan, and ran. He didn't get far: the man accidentally shot himself in the leg. Police got the unnamed robber medical attention, and charged him with robbery and firearm offenses. The 9-week-old puppy was uninjured, and returned to its owner. (RC/CBC) ...Next up: the search for Jane.
---
The Thief Really Got Her Goat
Stolen Northland Therapy Goat Found, Reunited with Depressed Cow
Newshub New Zealand headline
---
Did You Find an Error? Check the Errata Page for updates.
This Week's Contributors: MS-Mike Straw, AC-Alexander Cohen, RC-Randy Cassingham.
---
The New Honorary Unsubscribe printed books (Volumes 4 and 5) are in and ready to ship! Nicely printed paperback books collecting the Honorary Unsubscribe write-ups about a lot of amazing people. And for those of you who don't want to beholden to Amazon, you can now get them in ebook format (mobi and/or epub, for most any phone, tablet, or ebook reader) direct from True.
The links: Volume 4 and Volume 5. Other volumes coming soon!
2019's Weirdest: Each year (since 2016), I've chosen a "best story" from each month of the year, and then selected one as "the" best. (For complicated reasons, I don't use contributor stories in this mix.)
The results are published in an about-100K PDF document that's available for free download. And you're welcome (well, encouraged!) to share it with others. It's set up as a "reward" for anyone signing up for the free newsletter, but I don't make current subscribers go through that again. Each of the PDFs can be downloaded from this page: Annual Weirdest Stories. Enjoy!
This Week's Uncommon Sense Podcast We know our ancient cultural history because of stone tablets and paper scrolls. We know more recent history because it was printed in books. But with the Internet, where is our history? There are millions of web sites, but if the owner dies and stops paying the bills for their server, it's shut down, the domain name expires, and all of its knowledge can instantly be lost forever. Someone is trying to dosomething about that. Solving Cultural Amnesia is 14-1/2 minutes, or you can read the transcript.
---
Ten Years Ago in True: Remember the "underwear bomber"? Here's how TSA handled things in the days after that incident: Nuttin' Honey.
Previous Issues on Medium (please do share the link).
Today on Randy's Random: A "friend" didn't repay a loan? It may have been Worth It.
No Honorary Unsubscribe this week: I didn't yet find anyone who met all the criteria. But Goodbye to...
Gary Starkweather, who got the idea for, invented, and built the first laser printer ...even though his boss told him not to. He died December 26 from leukemia, at 81.
Lan O'Kun, who collaborated with sister-in-law and entertainer Shari Lewis on "Lamb Chop" and other characters, dead January 9 from heart failure, at 87.
Guitarist Chris Darrow (Nitty Gritty Dirt Band, Kaleidoscope, others) dead January 15 after a stroke, at 75.
Singer-songwriter David Olney. He was performing Saturday (January 18) at the annual 30A Songwriters Festival in Florida when, mid-song, he stopped, said "I'm sorry," and died of an apparent heart attack. He was 71.
---
Basic Subscriptions to This is True are Free athttps://thisistrue.com. All stories are completely rewritten using facts from the noted sources. This is True® is a registered trademark. Published weekly by ThisisTrue.Inc, PO Box 666, Ridgway CO 81432 USA (ISSN 1521-1932).
Copyright ©2020 by Randy Cassingham, All RightsReserved. All broadcast, publication, retransmission to email lists, WWW, or any other copying or storage, in any medium, online or not, is strictly prohibited without prior written permission from the author. Manual forwarding by email to friends is allowed if 1) the text is forwarded in its entirety from the "Since 1994" line on top through the end of this paragraph and 2) No fee is charged. We request that you forward no more than three copiesto any one person — after that, they should get their own free subscription. We always appreciate people who report violations of our copyright to us.
---
To get this delivered to you every week, click here to open a subscribe form.
Last Week's Issue