To get these issues free by e-mail each week, just subscribe using the form on this page — your privacy is Randy's policy. (Or cruise around the web site to see more samples, archive, and info on our terrific book collections of thousands of past stories.)

---
Since 1994, this is the 1209th issue of Randy Cassingham's...

---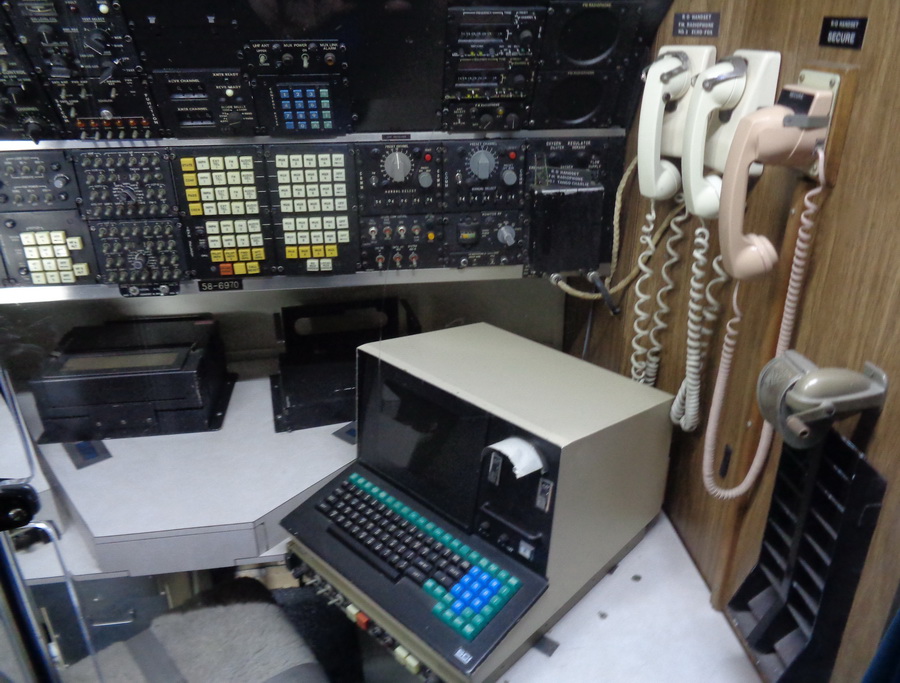 Before the Stories: When we were in Seattle recently, our host took us to the Museum of Flight at Boeing Field. In addition to other awesome displays, it was really cool to be able to walk through a retired Concorde super-sonic passenger plane — I hadn't even seen one before — and the first Air Force One (presidential) jet, a Boeing 707-120 (actually the VC-127 military version) built for President Dwight Eisenhower in 1959, and also used by Kennedy, Johnson, and Nixon, before it was retired in favor of the current 747-200B — or, really, two VC-25s, the military version of that airliner, and the only two VC-25s in existence. (Pictured: the Eisenhower plane's communications section — keep that pencil sharp! Click to see larger.)
After Our Tour, we stopped at the museum's gift shop, and I spotted something really interesting in a display case. I flagged down an employee: "There's a neat stainless steel rocket out front," I said. "Actually," she replied, before I could finish my question, "that's a cocktail shaker." I smiled: "That's what I was hoping you'd say. Where are they?" She escorted me to a shelf in the back, and I immediately bought one. Before this, my guests never remarked about my humdrum shaker when I made them a martini, but just about everyone loves my "rocktail shaker"! If you're not in the Seattle area, you can see it on Amazon. If you get one, you now have an excuse to tell all of your guests about the "Thought-Provoking Entertainment" newsletter where you heard about it as they enjoy your adult beverage creation. ūüôā
---
Kids These Days: Alvin Mann of Cuddebackville, N.Y., was working out in the local gym when "A mutual friend said to me, 'I'd like you to meet a very nice young lady'," he says. Mann, who graduated college last year, was smitten with Gertrude Mokotoff, even though she's five years older than he is. "I kept getting teased about dating a cougar," Mann laughed, "but the age difference never really bothered me because we just hit it off, and I wasn't about to let her go." The feeling was mutual: "I asked him to marry me," she said. "I was tired of chasing after him." Her oldest daughter was her maid of honor; his son was his best man. Both children are 71 years old; Alvin is 94, and Gertrude will turn 99 next week. They attribute their long life to "medical science" and lack of worry. (RC/New York Times) ...He didn't necessarily want to get married, it was more that he "had to" marry her.
Just Don't Forget Your Paperwork: Sidney Fahrenbruch, 4, of Longmont, Colo., has wanted to be a police officer for at least a year. According to her mom, Megan, the girl has a specially sized police uniform, and often brings officers gifts, like cookies. When she went to a barbecue, they met Officer David Bonday. "She brought her police outfit with the hat," her mom said, "And he let her play with the sirens and it was all over." Sidney asked Bonday to come help her search her new house — for monsters. Bonday agreed, and searched the house with the girl. "Definitely no monsters in the house," Bonday declared at the end. Megan Fahrenbruch admitted her daughter doesn't really believe in monsters — but she did smell an opportunity to hang out with an officer. (MS/KMGH Denver, AP) ...Someday she may help search for real monsters — and that's a good thing.
Freak of Nomenclature, Destiny Division: Police in Vancouver, Wash., received a report of a possible assault in progress in a moving vehicle. They caught up with the car, and saw a woman passenger was apparently trying to get out of the vehicle, but the male driver wouldn't let her. The driver also wouldn't pull over for police, so a pursuit began. Because the woman was clearly in danger, officers didn't break off their pursuit when the driver crossed the state line into Oregon. The car had been reported stolen (a felony), and the level of "eluding" the police was also a felony, and the apparent kidnap would also obviously be a felony. Police in Oregon set out spike strips to pop the fleeing vehicle's tires, ending the pursuit. The 22-year-old driver, who has a rap sheet of four felony convictions, was arrested on multiple felony and misdemeanor charges. His name: Fellony Hudson. (RC/KOIN Portland) ...Which ought to be enough for his parents to be charged with a misdemeanor.
This Issue's Exclusive Sponsor:
Losing Sleep Trying To Decide On A New Mattress?

Memory foam or latex mattresses/toppers, airbeds or waterbeds, innerspring coil or futon mattresses, all without sales hype: not affiliated with any store or manufacturer. Just personal non-biased perspective on your options. Explore The Mattress Lady
You Can't Always Get What You Want: In 2001, Norma Parnell went to a city auction. One item listed: a "vacant lot" in her neighborhood of Far Rockaway in the New York City borough of Queens. She bought it for $30,000. Then she found out what it really was: William Court, a street maintained by the city. She's trying to sell it back; the city says it has "made numerous attempts to offer her a full refund." But she doesn't want $30,000. On her tax bill, William Court is listed as "vacant property, zoned residential," with an assessed value of $257,000. And that's what she says the city should pay. That, the city says, is "not an appropriate use of taxpayer money." Meanwhile, it's taxing the property roughly $1,000 a year. Still, Parnell says she "didn't want a street" in the first place. "I wanted a lot," she says. (AC/WCBS New York) ...She still does.
Florida Police Department Asks sheriff to investigate one of its officers ...and the crooked cop fell for their trap. Drug evidence disappears from jury room. Robbery suspect said his twin brother did it (wanna bet he doesn't have one?) Florida man's driver's license is expired (for more than 10 years) — and that's just the start of his troubles. Jail inmates escape thanks to clever use of peanut butter (and knowing they have a dumb jailer). Man finds intruder asleep in his bed. And: you will hardly believe why a rape went unsolved for 16 years — especially when you read what evidence the cops had all along. It's not too late to read it all: just ask for your upgrade to start with the 13 August issue, and get all the stories every week! Full details here.
Well, We Certainly Don't Want Anyone to Think: The American Civil Liberties Union is suing WMATA — the Washington (D.C.) Metropolitan Area Transit Authority, which is a government agency — for violating the First Amendment of the U.S. Constitution by improperly refusing advertising on Metro trains and buses. That includes an ACLU ad that simply prints the words of the First Amendment, and an ad for "alt-right" commentator Milo Yiannopoulos advertising his latest book. WMATA claims that the ads are "intended to influence members of the public regarding an issue on which there are varying opinions," which is against its advertising policy. "In its zeal to avoid hosting offensive and hateful speech," says ACLU attorney Lee Rowland, "the government has eliminated speech that makes us think, including the text of the First Amendment itself." While the "ACLU could not more strongly disagree with the values that Milo Yiannopoulos espouses," Rowland said, "we can't allow the government to pick and choose which viewpoints are acceptable" — which is the very point of the First Amendment. (RC/Washington Post) ...And if you don't like that, you have the right to say something about it.
---
Wurst Case Scenario
15 Pounds of Frozen Italian Sausage Crashes down on Family's Roof
WPLG Miami (Fla.) headline
---
Did You Find an Error? Check the Errata Page for updates.
This Week's Contributors: MS-Mike Straw, AC-Alexander Cohen, RC-Randy Cassingham.
---
That Last Story (about the ACLU) reminds me of two previous stories: An Independence Day story from 2001 that finds that 40 percent of U.S. adults think the First Amendment of the Constitution "goes too far," No, You Really Do Have the Right to Remain Silent!, and a 2005 story where readers couldn't quite believe the ACLU would ever defend a right-leaning idea: Civil Rights: Justice for All, or...?
After My Discussion Last Week that said True is suffering tough times due to a reduction in Premium subscribers since the election, and really needs about 1 percent of you to upgrade to just get up to the "minimum sustainable" target to make the publication fully viable, Joe in California wrote to say he didn't like my approach.
"Telling me that if I pay will help keep the free version going doesn't do anything at all to make me want to become a paid subscriber. We freeloaders are just that — freeloaders — and telling me that if I pay will help keep us (those if I pay) freeloaders reading This is True is, in reality, a turn-off. Rather than use that ploy why not tell me all the great benefits — are there great benefits or just a few benefits — of paying you $32 a year to be a paid subscriber? What does it pay for? Surely you [can't] be making a living off of it at $32. Even 2,000 subscribers would only get you a gross of 64k per year. So, tell us — be up front — what does the subscription fee pay for — and leave out the bit about keeping it free for others." Also, he wondered, if he'd just be getting another "news story or two." In closing, he noted, "I'm not some young kid — I've been around the block dozens of times (years) and I've run businesses — still do — but I wouldn't use the same ploys as you to get paid subscribers."
Actually, Joe, it's pretty clear in every issue that there's not just "one or two" more stories in the full edition: I list them, and you can count them if you don't remember that there are always a minimum of ten stories, and usually around a dozen, and sometimes more (the average, last time I looked at a full year, was 12.8 stories/week). Still, sheer numbers aren't helpful: you can subscribe to other services if you want that: Fark (arguably the best) allows you to pay $60/year to get access to their hundreds of links to "weird" stories ...per day. Hell, even I don't to wade through all that, and these stories are my business!
No, True's Readers Generally Want two things much more than just masses of stories: curation (in the sense of "To gather and present to the public: a blog that curates news stories." —American Heritage) and perspective — what we have to say about the stories. And the majority of those readers — especially those who do upgrade — are doing so to support True's mission: to promote thinking in the world. This publication isn't just about entertainment: that's why two other words come first in its description: "Thought-Provoking Entertainment".
While I'm sure appealing to "support the mission" isn't the way you'd pitch one of your businesses, Joe, it is the number-one thing that appeals to those who understand that the vast majority of the micro messes (the problems individuals face) are due to not thinking, but also the vast majority of the macro messes (the problems the world as a whole faces) are too. They like that there's someone who understands the connection, and promotes thinking in a way that is both thought-provoking and entertaining.
Your point is still taken: I could do more to point out the benefits ...that are listed on the page I link to every week. Indeed, it's a business reality that people are busy or lazy, and a business needs to carefully outline the great benefits one gets for their annual "investment" that is generally way less than what they pay for a month of online access without having to bother to click through. I get it.
I indeed could say that (in addition to more than double the stories), you get them all days sooner in the Premium edition, and that there are no outside ads mixed in either. That there is a nice discount on the True books, and there are exclusive extras. Yep: that's what a normal business would do. What they wouldn't do is be very open about the business and finances ...like I am, because this has to do with the mission. You put your finger right on it: yes, True runs on extremely tight margins, and the subscription fees pay 85 percent of the publication's budget. That's why it's vital that I have reader financial support. Because again, we're working on a mission together. And at least some of those who really want to support that mission sometimes have to stretch to come up with that $32 every year, but they do it because they believe in that mission and want to get behind it. They want to ensure that someone is consistently pointing out the importance of thinking, is noticing the (fairly predictable) results of the ridiculous educational system in this country that's teaching kids to pass tests and learn helplessness (e.g., zero tolerance) rather than to think, and then continually challenge society to do better.
One other thing they'll do? Read this terribly long response to your letter, because that's part of it too: our soundbite culture is rotting our brains, and kids need to learn to follow longer, more involved, arguments, because problems aren't simple and easy to solve: it takes more than 140 characters to explain complexities in life.
So yes: I said last week that just one percent of you — 300 readers — need to step up and help keep things going. In the first week, 10 percent of that number did — 30 of you (either upgrading for the first time, or reactivating lapsed subscriptions: both definitely count). That means 270 others need to get in line too: to do more than just give lip service to the idea "the world needs more thinking." I know that reading this publication works to promote that mission, thanks to amazing letters from readers (which I publish from time to time).
Yep, I know some really can't afford it, and those who can do, in fact, make it possible for them to get this free edition. That's a good thing, not a bad thing. So what do you say, Joe — and all the readers like you? Are you ready to upgrade? The options (and benefits!) are, as always, outlined here. Because it really isn't just about business: True's real mission is pushing humanity toward the next level of evolution as thinking beings. That, I hope, is a mission worth supporting.
Comments on This? This is on my blog: The Ongoing Struggle
---
In This Week's Podcast, Clare and I get pretty in-depth on a couple of True stories from last week. What are your thoughts on distracted driving (does Washington's new law go far enough?), and the amazingly lenient sentence against a sexual predator teacher (would a male teacher have been treated so leniently?!)
I'd love to hear your comments, which you can post right on the show page:
The podcast is now also available on the Stitcher app, making it still easier to subscribe. So now that's iTunes, Google Play, PlayerFM, TuneIn, Podfanatic, ListenNotes, Overcast, and now Stitcher, in addition to the manual URL that "should" work in pretty much any app, https://thisistrue.com/feed/podcast
That said, are there any others you use that I should see if I can get it listed? Just let me know.
Thanks, as always, for listening!
---
Ten Years Ago in True: A little problem with anger control: Burning Mad. (And the Archive software is mostly fixed. The Previous/Next navigation doesn't always show what's "really" the Previous or Next story, but at least the links now work, and they're better at showing the right thing.)
Today on Randy's Random: Down With the Losers.
No Honorary Unsubscribe (yet) this week: I'm still looking for just the right honoree.
---
Basic Subscriptions to This is True are Free at https://thisistrue.com. All stories are completely rewritten using facts from the noted sources. This is True® is a registered trademark. Published weekly by ThisisTrue.Inc, PO Box 666, Ridgway CO 81432 USA (ISSN 1521-1932).
Copyright ©2017 by Randy Cassingham, All Rights Reserved. All broadcast, publication, retransmission to e-mail lists, WWW, or any other copying or storage, in any medium, online or not, is strictly prohibited without prior written permission from the author. Manual forwarding by e-mail to friends is allowed IF 1) the text is forwarded in its entirety from the "Since 1994" line on top through the end of this paragraph and 2) No fee is charged. We request that you forward no more than three copies to any one person — after that, they should get their own free subscription. We always appreciate people who report violations of our copyright to us.
---
You can subscribe free by e-mail and get this delivered to you every week.
Last Week's Issue