To get these issues free by email each week, click here to open a subscribe form. (Or cruise around the web site to see more samples, archive, and info on our terrific book collections of thousands of past stories.)

---
Since 1994, this is the 1485th issue of Randy Cassingham's...

---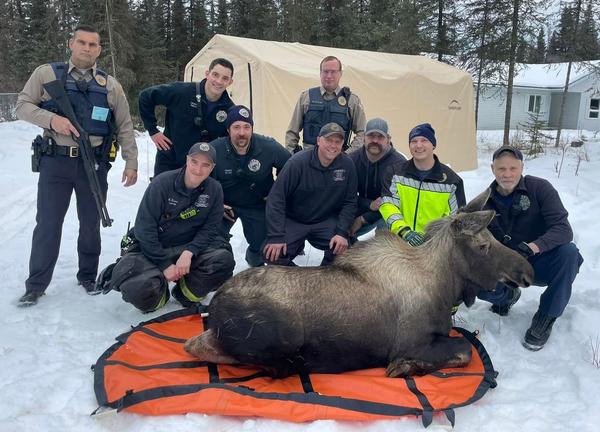 Watch Your Step: "I was like, 'Oh my gosh, I really want to be there for this because there's no way anybody's gonna believe this'," said KenaiPeninsula (Alaska) firefighter Gunnar Romatz when he heard a rescue call dispatched to Soldotna. An animal had fallen into a home's window well, smashed through the window, and ended up dazed in the basement. Not just any animal: a moose. Seven firefighters, three Fish and Game biologists, and two wildlife troopers responded. A biologist sedated the animal, and then the dozen humans rolled it onto a "people mover" tarp and hauled it upstairs and outside — "Luckily, it wasn't a full-grown moose,"Romatz said. A biologist treated the moose's minor mangling from the fall, finishing with an antidote to the sedative so it could amble off. But not before they got a photo, of course. "It's not as rare as you think that the moose makes it inside of a home," said Wildlife Trooper Joseph Morris. In fact, it's the second time that a moose fell into that very home's window well. (RC/Anchorage Daily News) ...It's a great time for a grate.
Spread the Word: In the lead-up to Taiwan's local elections, the Fenglin Precinct police are broadcasting anti-bribery messages to the public. According to the precinct, as one officer was broadcasting in a local neighborhood, he drove by a cemetery and improvised an updated message to the "mothers, uncles, fathers, elders, and grandmothers" buried there. "Tell your children and grandchildren, don't bribe, don't buy ballots, [don't engage in] illegal activities," the officerbroadcasted. "If you have time, appear in your children's dream [and tell them] not to break laws!" (MS/Taiwan News) ...As if political discussions at family dinners weren't awkward enough.
This Issue's Exclusive Sponsor:
Xero's Warmest Boot, Now in Leather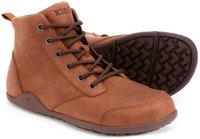 Xero has a full line of boots for men and women, including our best-selling boot, the Denver, now in Leather. Just 12 ounces each for a men's size 9, it feels like no winter boot you've ever worn.
Xero Shoes: Lightweight casual comfort.
Florida Woman Sues Kraft because her microwave Velveeta meal isn't actually "Ready in 3-1/2 minutes." Arizona gets a big Surprise (that should have been no surprise). Middle Eastern TV preacher follows in American preachers' footsteps, right down to the scandals. Man is really, really upset with his father. School district and students exchange lawsuits. Why Kraft Heinz is dumping actual food for junk food. Students on bus commit several crimes, school vows "working closely"with the bus company "to strengthen safety protocols and ensure this does not happen again" (that should do it!) Feds slaps state for getting good attention paid to its safety signs. Wrong number turns into lifetime friendship. There are always a lot more stories in the full edition than this one, and your support helps keep True running. See your upgrade options and thanks!
Automated Injustice: Mary McIntyre had tweeted six seconds of "intimate content" without consent from the party depicted, Twitter softwaredetermined, thus suspending her account. The clip depicted a meteor; McIntyre is an astronomer in Oxfordshire, England. Nevertheless, her appeals were unsuccessful. That meant McIntyre was off Twitter for three months. It could have been a 12-hour suspension, but the price of returning would have been to admit her guilt, which she would not do lest it be held against her in a background check. Locking her Twitter account made her "feel a bit cut off from the astronomy world," she said.Eventually the BBC covered the story, and Twitter relented, reversing the suspension. (AC/BBC) ...The algorithm can't tell a meteor from something meatier, but it gets to exile actual people from their communities.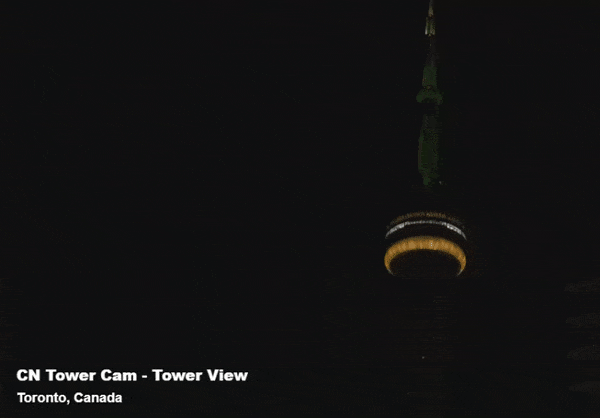 Look Out Below! For only the sixth time in history, researchers funded by NASA discovered an object in space that they predicted would hit the Earth —and did. This one was the smallest of the six, showing detection efforts are improving. The 3-1/2 hour warning allowed multiple observatories to get pictures, establish the small asteroid's exact path, and predict when and where it would hit. "2022WJ1" was first spotted by the Mt. Lemmon Survey, at an observatory in Arizona's Catalina Mountains. "The observations triggered a warning of an imminent impact," said the Minor Planet Center. "Seven observatories were able to observe the sub-meterobject before it impacted the Earth's atmosphere on Nov. 19 at approximately 08:27 UTC (3:27 a.m. Eastern Standard Time) over Brantford, Ont., Canada." The entry was at a shallow angle, providing anyone up at that hour a spectacular view of a relatively slow-moving fireball, punctuated by a sharp sonic boom. It was caught by many video cameras, including one aimed at the CN Tower in Toronto. (RC/New York Times) ...But don't post it on Twitter or you'll be suspended for months.
---
Well There's Yer Problem, Miss
3 George County [Miss.] Schools Staff Promoted after Being Named in State Cheating Investigation
WKRG Mobile headline
---
Did You Find an Error? Check the Errata Page for updates.
This Week's Contributors: MS-Mike Straw, AC-Alexander Cohen, RC-Randy Cassingham.
---
The Subject Line (which is usually a movie, sometimes song, title that strike me as appropriate) made total sense for the Premium edition, but the section that it referred to isn't in this edition, so the obvious connection is gone. Oh the complexities of having multiple editions! To get everything requires an upgrade, which is on a "pay what you want" model(with a minimum).
The Best Thing All Week: I put this in my blog under "EMS Stories" but it isn't a story about me. Rather it's about something awesome that I witnessed while working at a big fire last weekend. It was an interaction that made my night, even my week, but first I have to set the scene: The Best Thing All Week. The moose makes an appearance too, since it sort-of relates.
---
Ten Years Ago in True: Piedmont Policeman Peeved, which follows directly upon the events of last week's Maybe They Should Rename the Town Peedmont.
This Week's Story of the Week (you're welcome to share it) is the moose, and is posted on Telegram, Mastodon, Twitter, Instagram, and/or Facebook, or grab from any of those to post elsewhere.
The Latest Sunday Reading: What is it with Men and Balloons? I mean trying to fly with them. From my blog.
No Honorary Unsubscribe this week: despite scanning carefully several times for someone who meets the criteria ("the unknown, the forgotten, and the often obscure people who had an impact on our lives"), no one came to my attention. Which, many readers have said, should be considered a good thing! I do fortunately/unfortunately have an excellent lead for next week, though.
But So Long to TV comedy writer Gene Perret (Bob Hope specials, and winner of 3 Emmy Awards for The Carol Burnett Show.) I was honored to be his escort when he spoke at the Jet Propulsion Lab years ago. He died November 15 from liver failure at 85.
---
Basic Subscriptions to This is True are Free at https://thisistrue.com. All stories are completely rewritten using facts from the noted sources. This is True® (and Get Out of Hell Free® and Stella Awards®) are registered trademarks of ThisisTrue.Inc. Published weekly by ThisisTrue.Inc, PO Box 666, Ridgway CO 81432 USA (ISSN 1521-1932).
Copyright ©2022 by Randy Cassingham, All Rights Reserved. All broadcast, publication, retransmission to email lists, web site or social media posting, or any other copying or storage, in any medium, online or not, is strictly prohibited without prior written permission from the author. Manual forwarding by email to friends is allowed if 1) the text is forwarded in its entirety from the "Since 1994" line on top through the end of this paragraph and 2) No fee is charged. I request that you forward no more than three copies to any one person — after that, they should get their own free subscription. I appreciate people who report violations of my copyright.
---
To get this delivered to you every week, click here to open a subscribe form.
Last Week's Issue