To get these issues free by email each week, click here to open a subscribe form. (Or cruise around the web site to see more samples, archive, and info on our terrific book collections of thousands of past stories.)

---
Since 1994, this is the 1363rd issue of Randy Cassingham's...

---
You Get the Premium Issue Yet Again courtesy of your fellow readers, who contributed to make it happen. You can help it happen again: see True's Ko-Fi page, which shows we're more than 20 percent along to the next one. The idea, of course, is that this helps keep True going so that it can be here every week to help keep you thinking during our isolation. Thanks!
The other way: get the full edition every week with an upgrade: they start at just $9. See your options here.
---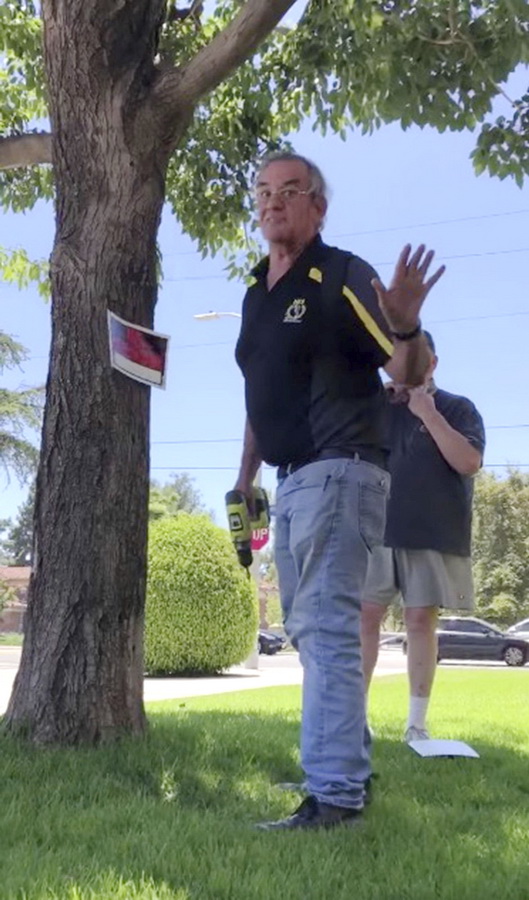 Sanctuary: "Hello," said actress and stuntwoman Alex Marshall-Brown as two men walked up to her. She was sitting on the lawn under a tree in North Hollywood, Calif. "Welcome," one replied. "Am I?" she asked. "No," he said. He attached a "No Trespassing" sign on the tree and explained that police won't evict a trespasser on open property unless there was such a sign. Police were on the way, he confirmed, and he bought the sign so it would be on the tree before officers arrived. "All lives matter," he said as Marshall-Brown recorded the incident on video with her phone. She's Black, but never said a word about the "Black Lives Matter" movement. The lawn is in front of the St. Paul's First Lutheran Church, and the man was a church volunteer; Marshall-Brown has lived in the neighborhood for years. "When people aren't nice, we're not nice," the man was recorded telling her, but the entire time "she was so gracious," said church member Bettina Winfrey, who watched the video later. "I found myself in tears," she said — and in "blind rage" at how Marshall-Brown was treated. "I truly, truly believe that God put her on our lawn for a reason," she said, and wants the church to not only teach Christian values, but to actually model them. (RC/Los Angeles Times) ..."Please let a little water be brought and wash your feet, and rest yourselves under the tree." —Genesis 18:4
Sweet Sanctuary: After Tropical Storm Fay moved through Perkasie, Pa., the Isabell family noticed dark stains on their walls. At first they thought it was storm damage — then they touched it. "My husband felt this really sticky, syrupy stuff. We were brave and smelled it," Andrea Isabell explained. "He said, 'This is honey. This is honey pouring down our walls.'" They traced the bees to the top of the house. "I have three boys and they were wondering if we could set a tap up so we could just pour honey on our yogurt and granola in the morning," Isabell said. "I wish we could." They called in a beekeeper, not an exterminator. "The bees become my girls," said Allan "The Bee Man" Lattanzi. "I will take them home and they will become a honey producer for me. I will make a colony." (MS/WPVI Philadelphia) ...A perpetual honey tap on a house could do wonders for property value.
Trying to Keep Their Business Afloat: Paul O'Dwyer, Lee West, and Oliver Davies of Swansea, Wales, had a great idea for a new hotel in the crowded marina district. "Between all of us we have experience to cover a lot of different angles," O'Dwyer said. The plan, which they announced in October 2017: to buy the 42m (138 ft) paddle steamer MV Oliver Cromwell, which most recently was a restaurant and cabaret in Gloucester, England. Big enough to sleep 49, the purchase and retrofit would be cheap enough that they could charge just 20 pounds (US$25.50) per night. They maybe shouldn't have announced the plan in public: an investor in Northern Ireland liked the idea so much he bought the ship before they could. As it was being towed to Coleraine, Northern Ireland, the ship started taking on water at about the half-way point, and sank. "We've put the plans for the floating hotel on hold," O'Dwyer said. But, "we've not put it totally to bed yet." (RC/Media Wales) ...And now the race to start the salvage operation begins.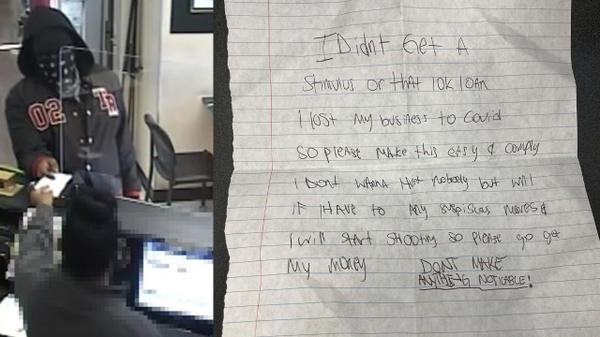 Freelance Socialism: The man wrote that he had lost his business to Covid-19. And yet, he wrote, "I didn't get a stimulus or that 10k loan." Was he writing a letter to the editor? An email to his congressman? Nope: it was a stickup note, handed over at a Houston, Texas, bank. The teller gave him money — without even having to see a weapon — and he ran. Police have issued a description of the robber. (AC/KRIV Houston) ...The people who taxed him and gave other people benefits don't usually show their weapons either, but we all know they have them.
The Least You Can Do: The Westmore Church of God in Cleveland, Tenn., had been doing drive-in services to hold down the spread of Covid-19, but couldn't help but to bring parishioners in-house to celebrate the completion of its new church building. "A crowd" attended, and videos didn't show anyone wearing masks. "Aren't you tired of Covid?" asked Lead Pastor Kelvin Page. "I'm tired of it. I'm ready for it to go in the name of Jesus and I believe by faith it will!" In the following weeks, Page posted on the church's Facebook page that a person in the congregation had been diagnosed with Covid — then 5, then 12, and then so many "we gave up on keeping a count." Later, he announced he was infected too. Looking back, "the thing that I would have done differently is really stress" wearing masks, he said. "A mask is something you've really got to take seriously," he said. "We have learned from this horrendous virus that we must do all we can do, all we can do, to protect our vulnerable." Several members who attended the service have died. "It's nobody's fault," he said in a radio interview. (RC/Chattanooga Times Free Press) ...Many would beg to differ.
Rude, Eh? People in the Atlantic Canada region are famous for being very welcoming, but coronavirus seems to be chipping away at that stereotype as people from outside the "Atlantic bubble" — or even just suspected of not being local — are being treated with suspicion. Laurie Stewart experienced this first hand in the village of Salisbury, N.B., where he was having a cup of coffee in his son's rental car. A vehicle drove by and apparently the occupants spotted the car's Ontario plates. "They also had their windows down and slowed down and started hollering at me to 'go home!'" Stewart said, "and it wasn't just 'go home,' it wasn't nice words at all, and had their fingers out the windows." Stewart was surprised by the harsh response to his license plates, and says it's not the welcoming behavior he's used to seeing in the area. And he would know: he's a councilor in the nearby village of Petitcodiac. "They didn't stop and ask why I was here," he said. (MS/CTV) ...Someone's bubble just popped.
Nothing to Stand On: Tool retailer Harbor Freight is recalling their house brand of 3- and 6-ton jack stands, which hold vehicles up so they can be worked on. A welding defect can cause them to collapse, which could "cause serious injury for people near or under a lifted vehicle," the California-based company said. The jack stands were sold to replace a previous model, which had a welding defect, which can cause them to collapse. "I assure you that the lessons learned from this will drive further improvement," said company founder and CEO Eric Smidt. (RC/KCRA Sacramento) ...If only he had said that the first time.
This Bud's from You: "Isaac Nowak paid you $3,500." The message that arrived on Trevor Harwood's phone while he was golfing at a Michigan country club puzzled him. He wasn't expecting $3,500 from Isaac Nowak. He didn't even know an Isaac Nowak. Then Isaac Nowak messaged him. It turns out Nowak, of Sandy, Utah, was buying a camper from a different Trevor Harwood. Camper-selling Harwood suggested Nowak pay him via Venmo, but the money went to golfing Harwood instead. "I told him, 'I'll send it back, but I'm pretty thirsty,'" the golfer said. Nowak agreed to let Harwood deduct $20 for a case of Budweiser if he would return the rest. "He had every right to keep the money," said Nowak. But "deep down," said Harwood, he knew sending it back "was the right thing to do." So he sent Nowak $3,480. (AC/WZZM Grand Rapids) ...Which was the right thing to do, give or take $20.
My Prediction: When an unnamed man returned to his home in Decatur, Ill., at 8:30 p.m., his wife "started yelling at him for not washing the dishes and cleaning the house," reports Ofc. Tamara Tucker. The man, who had apparently arrived home from work, told his wife he wasn't going to wash dishes, so the 47-year-old woman "hit him in the middle of his forehead with a dirty pan she grabbed out of the kitchen sink," which resulted in a "bleeding laceration to his forehead." Tucker took the woman to jail, charged with domestic battery causing bodily harm. (RC/Decatur Herald & Review) ...Copies of this story will magically appear at dinner tables nationwide.
A Bureaucrat By Any Other Name: Dan and Mandy Sheldon of Derbyshire, England, went to register the birth of their four-month-old son once government offices reopened after a coronavirus lockdown. Dan Sheldon, 37, says he was "gobsmacked" when the registrar asked the couple to leave the room so she could check if she was allowed to allow the name they'd chosen. Sheldon said the woman "looked at us in utter disgust" at their name choice: Lucifer. "She told us he would never be able to get a job, and that teachers wouldn't want to teach him," Sheldon recalls. "I tried to explain that we are not religious people, and Lucifer in Greek means 'light-bringer' and 'morning', but she wouldn't listen. She even told us that it was illegal to name a child that in New Zealand." New Zealand does have a law against the name, but England doesn't and the couple was eventually able to register their son, with his given name. They've also filed a complaint with the Derbyshire County Council. "We apologize if they were offended," the council said, "but it is the job of our registrars to advise in these matters as sometimes people are not aware of certain meanings or associations around certain names." (MS/London Evening Standard) ...What's most important is that you don't offend a stranger's religious sensibilities.
Google Search Results: Wendy Wein, 51, of South Rockwood, Mich., allegedly went to a web site "and requested a consultation to help her with an 'issue,'" said Michigan State Police Detective Sgt. Michael Peterson. "Wein specified her ex-husband as the target of her problems." The web site: RentAHitman.com. The site, which exists solely to alert police about people trying to hire a killer online, immediately forwarded Wein's request to authorities. "An undercover state trooper posing as a hitman met with Wein," Peterson said. "She offered to pay him $5,000 to murder her ex-husband, who lives in another state, and provided him with an up-front payment for travel expenses." She was arrested, charged with solicitation to commit murder, and illegal use of a computer to facilitate a crime. The anonymous site owner says that since 2005, "the website has been responsible for preventing over 130 murders," Peterson said. Wein is being held in the Monroe County Jail, with her bail set at $500,000. (RC/Monroe News) ...You can find anything on the Internet — including people accidentally begging to be arrested.
Up in the Air: "I was listening to the different doctors," David Terrell said. "They were talking about how the virus can stay airborne, and I'm like, 'Dang, so can I.'" Terrell's company, A-DAB, normally sprays agricultural land, but to fight the pandemic, he's spraying his hometown with hydrogen peroxide. Terrell hopes the chemical, which the CDC says can be used to disinfect surfaces, can also destroy the novel coronavirus in the air. But he says it'll still be useful even if it doesn't encounter any airborne virus: "What goes up comes down. You didn't use up your bullet. Your bullet is still going to react when it hits the booger down on the floor." The Wauchula, Fla., City Commission approved Terrell's plan without consulting any scientists. Contacted by the media, Professor Ira Richards of the University of South Florida College of Public Health said there wasn't enough information yet to know whether spraying peroxide in the air will help. But he didn't think it would hurt. (AC/WTVT Tampa) ...The CDC says boogers down on the floor are "not thought to be the main way the virus spreads."
Bombs Away: "When [the boat] is fully loaded, the hull sinks and water enters," says Raoul Roveratto. "Advancing with over half a tonne of meat on board is dangerous." He's not talking about fishing boats: Roveratto is the president of the Association of Substitute Gondoliers in Venice, Italy. Tourists are getting so fat that "It's like loading bombs," he said. The standard 'da nolo' gondolas are thus being limited to five passengers, rather than the previous six. (RC/London Telegraph) ...The irony: the tourists are getting fat from rich Italian food.
---
Social Commentary
Kalamazoo County [Mich.] Sheriff Directs Detectives to Investigate Message Calling Him Fat
WWMT Grand Rapids headline
---
Did You Find an Error? Check the Errata Page for updates.
This Week's Contributors: MS-Mike Straw, AC-Alexander Cohen, RC-Randy Cassingham.
---
The First Story this Week — "Sanctuary" — is easily shareable from True's social media posting: Twitter, Facebook, and/or Pinterest (or feel free to grab any of those to post elsewhere).
St. Paul's First Lutheran Church issued an apology on their Facebook page to Marshall-Brown, the Black woman who was resting on their lawn in the summer heat. They have since removed their Facebook page entirely. The Los Angeles Times reporter says she got emails claiming she was reporting racism that wasn't there, but church spokesman Santiago Botero confirmed her reporting was truthful, and made it clear: the church volunteers had been "violent and racist," and their conduct was "utterly unacceptable." That's a good start on "modeling Christian behavior."
I'm Not Sure Why the Hotel Ship story hit the news again, considering the MV Oliver Cromwell sank in May 2018, but I guess they want to telegraph their plans some more. Maybe he's trying to lure the Irishman into more expense!
It was a big surprise to see my most recent blog post — Peak Stress — jump to the most-viewed content page on the site for the entirety of 2020 (not counting the home page, of course). Lots of great reader comments on the page, too. (Tip: if you click on the little "## Comments" line under the page title, it jumps you right down to the start of the comment section.)
I Was So Fascinated by this week's Honorary Unsubscribe honoree (and had so much leftover material!), I wrote an expanded version for Medium: The Last of the Original "Astronaut Wives".
No Uncommon Sense Podcast episode this week, but I've started on one for next week. I'm doing my best to not let myself get overworked in these stressful times.
---
Ten Years Ago in True: When your kid becomes a Tyrant.
The Latest True Stella Awards case re-post: Pimp Plucked. There's a link both in the navbar and the sidebar to a list of all currently available cases; I'm getting them updated and formatted at the rate of 2/week.
This Week's Randy's Random: One that's perfect for Hamilton fans, The Art of the Compromise. Be sure to scroll down for the video.
This Week's Honorary Unsubscribe goes to Rene Carpenter. Born in Iowa, Rene's mother — who had a job, which was fairly unusual in the 1920s — had divorced when Rene was 2. Her new husband adopted the 8-year-old Rene, which she pronounced "Reen" throughout her life, and the family moved to Boulder, Colorado. After graduating from Boulder High School, she met Scott Carpenter, and they married in Boulder in 1948. Carpenter, about 3 years her senior, had grown up in Boulder, and was friends with a classmate at University Hill Elementary School: Anne Hylan — who later became my mother-in-law (see special photo in the archive). Kit, my wife, remembers the Carpenters; Rene was "a sweet lady," she said. Scott became a pilot in the U.S. Navy — Rene pinned his aviator wings on him in upon his graduation from flight school in April 1951. Scott was a good pilot: his skipper recommended him for the Navy Test Pilot school. He did well there, too: in 1959 he was selected as one of the "Original Seven" U.S. astronauts.
That meant Rene Carpenter was the member of an equally exclusive club: "Astronaut's Wife" ...with all the associated media glare: Life magazine had "exclusive rights" to the "personal stories" of the astronauts and their families, and other outlets competed to get their own photos and stories. The Washington Post described her as a "striking platinum blonde" — and she was. Rene encouraged her husband's career: when the letter from NASA came telling Scott to report for fitness testing "by Monday," he was the intelligence officer aboard the USS Hornet (which would later figure in several Apollo missions). Rene opened the letter, called NASA Manpower Director Dr. Allen Gamble, and blurted, "We volunteer!" Gamble held the spot for him. When Scott became the fourth American in space in May 1962, Rene insisted on going to the Cape to watch the launch in person, rather than on TV as wives were encouraged to do. "I don't care what NASA says," she said, according to her daughter, Kris Stoever.
Rene also followed in her mother's footsteps in having an outside job: she was a writer. Her column "A Woman, Still" was syndicated to numerous newspapers starting in 1965 — but not in the Washington Post, even though she was friends with Executive Editor Ben Bradlee. "Ben wouldn't buy it," Rene laughed years later. "He said, 'It's not good enough.'" She still was allowed to write her own story for Life: "As a bride I was assured by glowing advertisements that I would spend my hours fingering the latest sterling silverware pattern and filling linen closets to overflowing," she wrote. Instead, "I learned to give birth alone, care for sick babies alone and wait at the end of a hundred almost forgotten runways for a plane to touch down again."
Like many astronaut couples subjected to the stresses of those early years, in 1972 the Carpenters divorced. She kept her name, even when she later remarried, as she had been using it professionally for years. Rene was invited by Washington Post publisher Kay Graham, who also owned the local CBS-TV affiliate, to develop and host a TV show, Everywoman, which covered "feminist" topics like natural childbirth and sexism. It ran until 1976. "She was keenly alert to everything going on in the space program," said writer Thomas Mallon, "from its orbital mechanics to its rivalries." He said that Tom Wolfe got a lot of material from Rene for his book The Right Stuff. Mallon says when he interviewed NASA Flight Operations Director Christopher Kraft Jr. (Honorary Unsubscribe, 21 July 2019), he said he mentioned he was friends with Rene Carpenter. "He lit up with delight and admiration, exclaiming, 'She should have been picked for the [astronaut] program!'" With the death of astronaut wife Annie Glenn in May, Rene was the last survivor of the Original Seven astronauts and their wives. She died from congestive heart failure in a Denver hospital on July 24, at 92.
This Entry in the Archive: Rene Carpenter (OK to share link), and an expanded version is available on Medium: The Last of the Original "Astronaut Wives" (also OK to share).
So Long to actress Olivia de Havilland, the last living primary cast member from 1939's Gone With the Wind, and double Oscar winner (for To Each His Own (1946) and The Heiress (1949)), dead July 25 in Paris at 104.
And Goodbye to singer-songwriter Peter Green ("Black Magic Woman"), co-founder of Fleetwood Mac. "I like to play slowly and feel every note," he said. He died in his sleep July 25 at 73.
---
Basic Subscriptions to This is True are Free athttps://thisistrue.com. All stories are completely rewritten using facts from the noted sources. This is True® is a registered trademark. Published weekly by ThisisTrue.Inc, PO Box 666, Ridgway CO 81432 USA (ISSN 1521-1932).
Copyright ©2020 by Randy Cassingham, All Rights Reserved. All broadcast, publication, retransmission to email lists, web site or social media posting, or any other copying or storage, in any medium,online or not, is strictly prohibited without prior written permission from the author. Manual forwarding by emailto friends is allowed if 1) the text is forwarded in its entirety from the "Since 1994" line on top throughthe end of this paragraph and 2) No fee is charged. I request that you forward no more than three copies to any oneperson — after that, they should get their own free subscription. I appreciate people who report violations of my copyright.
---
To get this delivered to you every week, click here to open a subscribe form.
Last Week's Issue