To get these issues free by email each week, click here to open a subscribe form. (Or cruise around the web site to see more samples, archive, and info on our terrific book collections of thousands of past stories.)

---
Since 1994, this is the 1511th issue of Randy Cassingham's...

---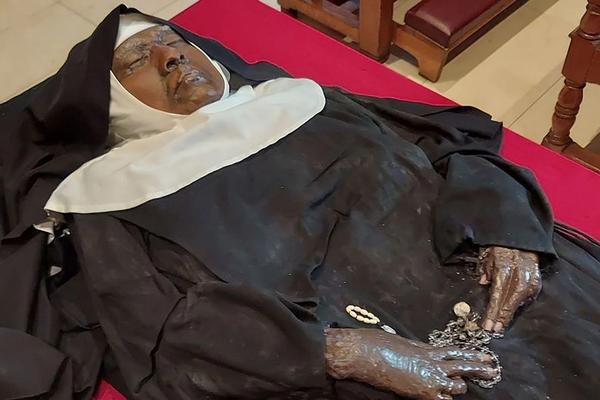 Sainthood Pending: A Benedictine monastery in Gower, Mo., had put the founder of the Benedictine Sisters of Mary, Queen of theApostles, in a temporary grave when she died four years ago. Now that there is a final resting place available in the chapel, the nuns had gravediggers exhume her unembalmed body, which was buried in an unsealed wood coffin. They told the sisters to expect to find only bones, but when the casket was opened, Sister Wilhelmina Lancaster's body didn't look much worse than the day she was buried. A miracle, some say, declaring in Catholic parlance that she is "incorrupt," and eligible for sainthood.Even her habit, made of "cheap material," looked good. The sisters merely had to clean away a little mold and put wax sealant on her face and hands. Reburial in the chapel has been canceled: now they want to put Sister Wilhelmina in a glass case for "long-term viewing." (RC/WDAF Kansas City) ...One difference between a saint and a televangelist: a televangelist wouldn't be caught dead in a cheap suit.
One Less "E" Means it Evolves Faster: The Utica, N.Y., Schools Boardpurchased multimillion-dollar weapon-scanning systems from Evolv Technology for 13 schools in the city, including Proctor High School. The scanners, according to the company's website, combine "powerful sensor technology with proven artificial intelligence" to detect actual weapons, not just metal. Evolv's CEO, Peter George, said the systems "have the signatures for all the weapons that are out there." But at Proctor High School, CCTV cameras captured someone going through the scanners — andthen stabbing student Ehni Ler Htoo with a nine-inch-long knife. "Through investigation it was determined the Evolv Weapon Detection System... was not designed to detect knives," Utica Schools Superintendent Brian Nolan said. After the incident, the company's website changed the words "Weapons-Free Zones" to "Safe Zones", and then later to "Safer Zones". "There's an epidemic of schools buying new technology based on audacious marketing claims, then finding out it has hidden flaws, often millionsof dollars later," said Conor Healy from security equipment analysis firm IPVM. "Evolv is one of the worst offenders." The scanners at Proctor High School have all been replaced with metal detectors, but Nolan says the district can't afford to replace the scanners in the other 12 schools. (MS/BBC) ...Hey ChatGPT: Define obliviocy.
Producing Research: Attorneys for Avianca said they couldn't find some cases cited by lawyers for a former passenger who was suing the airline. So Judge P. Kevin Castel of the Southern District of New York, in Manhattan, told plaintiff's counsel to produce the cases. They turned in some, including Varghese v. China Southern Airlines, which even had a docket number from a federal appellate court. Judge Castel evidently checked: the clerk of the 11th Circuit found the docket number — ona different case. It turned out that Varghese, and other cases cited in the same brief, had been invented by ChatGPT. Attorney Steven A. Schwartz said the research for that brief was the first thing he had ever used ChatGPT for. He claimed to have been "unaware of the possibility that its content could be false," but he also said he had asked whether its precedents were genuine, and the artificial intelligence had confirmed they were. Judge Castel said he would consider imposing sanctions todeal with the "unprecedented situation." (AC/New York Times) ...Ask ChatGPT, Your Honor. It'll give you precedents.
This Issue's Exclusive Sponsor:
Your New Favorite Running, Fitness, and Everyday Shoe.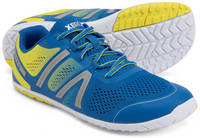 The HFS is Xero's best-selling road running shoe: come read the reviews to learn why. Many colors for men and women, and likely the most comfortable shoes you've ever worn, even if you don't run.
It's Always Tough: Tough to remove most of the stories for this version of the newsletter, I mean. So often the stories fit together really well. There were more stories about weapons in schools that went with the New York case above — one from Texas, and another from Tennessee. (Plus a non-weapon forehead-slapper from Texas). A story about a rogue "I make up the laws around here" cop. How some politicians want to fix the labor shortage problem. Another "bumpy ride" story. You don'tjust miss the stories, you miss the way they fit together; completely unrelated stories that are, well, related. So yeah, it's tough for me to pull them out, and unfortunate that you miss so much great content. Luckily there is a way to fix it: an upgrade not only gets you all the stories, but no paragraph to tell you what you missed, no outside advertising, discounts on books, first dibs on specials (one is coming soon!), and more. Plus it's a way to support True — and you get tochoose how much to pay. Please do upgrade here and get all the stories next week. Thanks
It's Gonna Be a Bumpy Ride: When a motorist in Florida saw a turtle trying to cross the highway, he quickly stopped and got out to rescue the animal. That, said the Walton County Sheriff's Office in a Facebook post, was "a decision that caused a chain reaction affecting multiple vehicles including a large semi, which SURPRISE, doesn't exactly stop on a dime." The driver had parked in the left lane, and the semi had no place to go. The Florida Man, who was standing right next to hispickup truck, watched the semi smash through it, causing a multi-car pileup. Amazingly, no one was seriously injured, not even the turtle. "Residents and visitors alike should marvel at the many species that call Florida home," the sheriff's office concluded. "Just preferably not in the middle of the road." (RC/Mobile Press-Register) ...And marvel we do at the native Florida Man.
---
Son, If You Have a Few Years, Sit down and I'll Tell You the Story
Florida Man Origins — How Florida Became the Capital for Crazy News
WZVN Fort Myers headline
---
Did You Find an Error? Check the Errata Page for updates.
This Week's Contributors: MS-Mike Straw, AC-Alexander Cohen, RC-Randy Cassingham.
---
The Sister Wilhelmina story's tagline came to me when I was lying down for a nap last week — still recovering my strength from Covid, but doing pretty well now. There's even an Honorary Unsubscribe this week, which happens to have a personal angle.
The story was getting a little long, so I excised one bit: "'She's a Saint already,' said one visitor who traveled to view her body, without saying whether they were the pope or not. 'I already have her canonized.'" Because, you know, random folks get to decide these things.
I'm Trying To publish more letters from readers just to show that not all such letters are from cranks (such as the recent one). For instance, Henning in Denmark: "I have been a free subscriber for longer than I dare to think about (except for a gift sub some years ago) living on disability and barely getting by. Now I came into some unexpected money, not much but I thought it was high time Isupported you and the publication. Thanks for bringing so much joy to me and others and for your relentless pursuit of exposing obliviots."
Glad you could come back, Henning.
Still Coming: The Get Out of Hell Free Summer Special. Expect to see it in mid-June.
---
Ten Years Ago in True: Political Endorsement Reaches a New High.
Last Week's Story of the Week (you're welcome to share it), the first story about the crazy lawsuit, is posted on Telegram, Instagram, Facebook, Mastodon, and/or (new!) Bluesky — or grab from any of those to post elsewhere.
This Week's Sunday Reading: My advice to wanna-be writers is rather opinionated. Writers Write.
This Week's Honorary Unsubscribe goes to Milt Larsen had a long and absolutely magical life. Click the link for the story — it's about a 3-minute read.
And So Long to actor Michael Norell, best known as "Capt. Stanley" on the show Emergency! (1972-1977). He also wrote four episodes of the show, and turned to screenwriting when it ended. Norell died in assisted living on May 12 at 85.
---
Basic Subscriptions to This is True are Free at https://thisistrue.com. All stories are completely rewritten using facts from the noted sources. This is True® (and Get Out of Hell Free® and Stella Awards®) are registered trademarks of ThisisTrue.Inc. Published weekly by ThisisTrue.Inc, PO Box 666, Ridgway CO 81432 USA (ISSN 1521-1932).
Copyright ©2023 by Randy Cassingham, All Rights Reserved. All broadcast, publication, retransmission to email lists, web site or social media posting, or any other copying or storage, in any medium, online or not, is strictly prohibited without prior written permission from the author. Manual forwarding by email to friends is allowed if 1) the text is forwarded in its entirety from the "Since 1994" line on top through the end of this paragraph and 2) No fee is charged. I request that you forward no more than three copies to any one person — after that, they should get their own free subscription. I appreciate people who report violations of my copyright.
---
To get this delivered to you every week, click here to open a subscribe form.
Last Week's Issue