To get these issues free by email each week, just subscribe using the form on this page — your privacy is Randy's policy. (Or cruise around the web site to see more samples, archive, and info on our terrific book collections of thousands of past stories.)

---
Since 1994, this is the 1330th issue of Randy Cassingham's...

---
Pacifier: Veronica Alvarez-Rodriguez was shopping with her husband at a Goodwill thrift store and spotted a Baby Einstein's bouncer at a bargain price. "It was like the perfect gift for the baby shower," she said, so she paid $9.99 for the unopened box and took it straight to the shower in Crestview, Fla. When the father-to-be opened the gift, he exclaimed, "You guys got me a gun!" Sure enough, that's what was in the box: an "assault" style .22 caliber rifle. The Mossberg 715Tsemi-automatic was even loaded. "Goodwill has the best treasures for $9.99," Alvarez-Rodriguez said. Police are investigating, and as long as the gun isn't stolen or evidence in a crime, the recipient can keep it. (RC/Northwest Florida Daily News) ...And remember, dad: it's not for you, it's for the baby.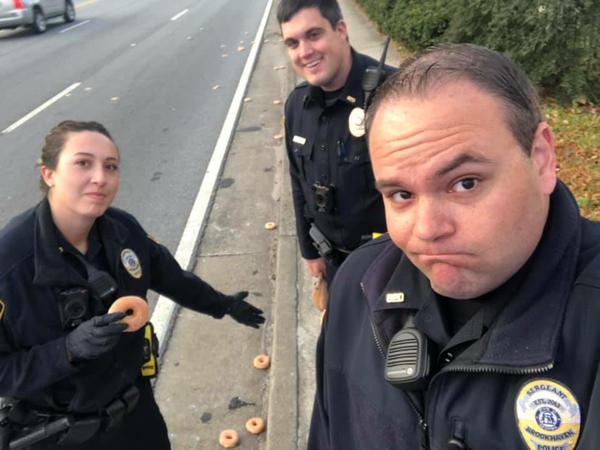 Fastest Response Ever: Officers in Brookhaven, Ga., responded to an accident where a delivery truck had overturned. According to thedepartment's Facebook post, "We found total carnage" from some sort of mishap with a truck — a Krispy Kreme doughnut truck. The treats were "scattered along the curb and into gutter- THE GUTTER, people!!!" the officers wrote, interspersed with several emoji such as "crying" and (of course) donuts. "The response time was stellar, but we couldn't beat the 5 second rule." There were no injuries, but "the donuts were a total loss," they said. "We ask that you keep our department in your thoughts andprayers as we mourn this terrible moment," they said, by several appropriate hashtags: "#OnlyHalfKidding #TheyLookedDelicious #WeKnowItsAstereotype #NoShame #DonutsMakeEveryoneHappy". (MS/WSB Atlanta) ...A memorial service will be held at Krispy Kreme on Saturday. Coffee will be served.
Hero Needed: "I told my bartender to call the police. Let them know that I'm going to be over there holding this guy for them," says Mont Hardcastle, manager of a bar and grill at the Lake of the Ozarks, Mo. Hardcastle had spotted a man in front of the store across the street, a lingerie boutique: he was "yelling and screaming and banging on the windows," Hardcastle says. It was the last straw when the man kicked in the store's window. Hardcastle ran over, grabbed the man before hecould climb into the store, pulled him to the ground, and sat on him to wait for police. At least the man explained to his captor what he was doing: he was trying to "rescue" the lingerie-clad mannequins. "He said that the mannequins were telling him that they needed to be let out." Hardcastle decided to get involved because "it's somebody's business," he explained. "I'm not the type of person to stand idly by and watch something [bad] happen." (RC/KSPR Springfield) ...Not to mention there'sa centuries-long tradition of aiding damsels in distress.
This Issue's Exclusive Sponsor:
Giving a Drone This Year? Don't Forget the Wings!

Beautiful custom solid metal Drone Pilot Wings dress up jackets and/or equipment boxes, showing the pride and professionalism in your hobby. Makes a great gift, and are much more durable than that T-shirt you liked. Get Them Here, with discounts forextras.
Printer Jam: The Irish parliament bought a printer. More precisely, the Houses of the Oireachtas advertised for "a four-colour printing press, folding machines, guillotines and the installation and maintenance of same," and it made a contract to buy an 808,000 euro (US$893,000) machine. Then Hilary Vandenberghe, of the Office of Public Works, pointed out that the relatively low-level construction work that had been planned to get the printer in the door at the parliamentary complex inDublin would be inadequate: to operate, the machine required more headroom than was available. Modifying the building, it was estimated, would cost 236,000 euros. So the machine was stored, first for free, then for 2,000 euros a month. Eventually, the work was done, but the printing still did not begin: workers demanded a pay raise to operate the machine, and the I.T. staff weren't comfortable giving it the necessary access to the parliament's servers. (AC/Irish Times) ...Meanwhile, "PlanningTechnology Purchases: Steps and the Specific Order in Which to Take Them" remains in the print queue.
The Full Edition of This is True typically has 12 stories, not just 5 like this free edition. This week, you missed the county that has to not only scrap its budget, but the budgets of every tax-funded organization in the county because of a major clerical error made them think they'd be getting millions more in taxes than they actually will. Florida robbery victim decides he's going to fight back, and boy does he. Court finds it necessary to rule that that "cows aredomesticated livestock animals and do not have the intelligence, language, or opposable digits needed to operate a Twitter account." Police Department's "certified expert" in detecting impairment in drivers also arrests lots of people who aren't actually impaired, but his supervisor doesn't care. Florida elementary school teacher arrested for sexual battery. To get more attention from women, man creates dating app where he's the only man allowed. Man finally gets his personalized license plateafter making a literal federal case out of the matter. British woman fined for not putting her recycling into a bin ...which she is too short to reach. Whew! You don't have to miss most of the stories every week: Premium upgrades start at just $9! See full details here.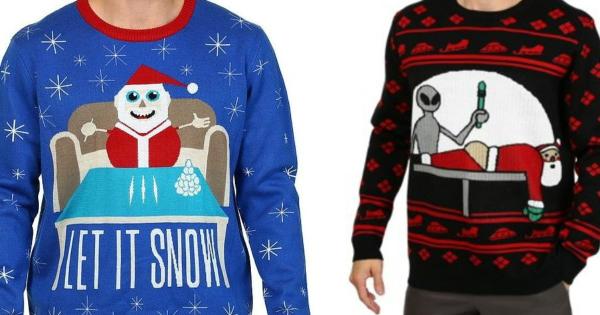 Naughty, Not Nice: Walmart Canada has apologized for a number of "ugly" Christmas sweaters "sold by a third-party seller" on its web site — and pulled them offthe market. One shows Santa Claus at a table under the words "Let It Snow" ...where the "snow" is several lines of cocaine on the table (or "grade A Columbian snow," as the description put it). Another showed an abducted Santa with his pants pulled down to bare his butt while an alien got the "probe" ready, and a third sweater showed a bare-butt Santa facing a roaring fire to roast his "chestnuts." (Bare Santa butts were a favorite theme: another sweater depicted a pantless Santa with Mrs. Clausapproaching him with a whip.) "We apologize for any unintended offence this may have caused," the company said. (RC/Global News Canada) ...Walmart: unintentionally offensive. The sellers: different motives may apply.
---
Ewww
Florida Man Stashes Meth 'Deep' in Belly Button, Police Say
WPLG Miami headline
---
Did You Find an Error? Check the Errata Page for updates.
This Week's Contributors: MS-Mike Straw, AC-Alexander Cohen, RC-Randy Cassingham.
---
The This is True Book of Kevin is now released, and the first copies ship out tomorrow. They're also available from Amazon, which is the best place to get them if you're outside the USA: see info here) Otherwise, you can order directly from us, here.
While Researching the Honorary Unsubscribe this week, I came across a bit of Star Trek trivia that caught my eye — something I, as a life-long Trek fan, never knew. It was really unrelated to the H.U., so I popped it onto my blog: Call Me Tiberius.
As Is the Case every year, you can order Premium This is True gift subscriptions, if there's someone special on your list. Order through the shopping cart as usual (note the "Gift" checkbox under "Type"), but put a note in with the name and email address of the recipient, any message you want included in the gift notice, and when you want that notice to be sent. That includes Christmas eve and Christmas day,as desired: I'll be working at least parts of both days.
You May Remember a 2014 Story about "Shooters Grill", a restaurant in the Colorado town with the delightfully apt name, Rifle, where the waitresses and customers alike are encouraged to carry a gun. After a reader seemed a bit dubious about the whole thing, Kit and I happened to be driving by the town, so we stopped in for dinner. The whole story is on my blog, at Shooters Grill, which nowhas an Update: owner Lauren Boebert, who was quoted in the 2014 story, has announced she is running for a seat in the U.S. House of Representatives, challenging fellow Republican Scott Tipton, who has held the seat for Colorado's 3rd congressional district since 2011.
There's an update:
Boebert says if elected, she will fight for "freedom, personal responsibility and the Constitution." She notes that "If AOC [Democratic U.S. Representative from New York, Alexandria Ocasio-Cortez] can be one person and direct the narrative for an entire nation, then doggone so can I." (Source: Denver Post)
This Week's Uncommon Sense Podcast episode: I go digging into the idea that the smartphone was invented in 1953. The back story is even more impressive: it nicely demonstrates that you don't need a college education to have Uncommon Sense (11 minutes), or read the transcript on the page: Pre-Silicon Valley.
Premium subscriber Marty in Texas had a question after hearing last week's episode, Leveraging Uncommon Sense: "I'm debating whether to go bracelet or necklace for Medic Alert. From an EMS perspective, is one better? Also, my husband can't wear his bracelet, and won't wear a necklace. Is a key fob worth it, or even checked?"
Between the bracelet and the necklace, what you'll wear is "best." Other than that, I'd say there's a preference for a bracelet, since that's where we would look first. A key fob almost certainly won't be checked. Go for something on his phone. (You should have that too — two sources of info are better than one!)
---
Ten Years Ago in True: It's definitely not a U.S.-only phenomenon, which Zero Tolerance in Real Life — Canadian Division aptly proves.
Previous Issues on Medium (please do share the link).
Today on Randy's Random: Priorities Straight.
This Week's Honorary Unsubscribe goes to D.C. Fontana. Growing up in New Jersey, Fontana decided at age 11 that she wanted to be a writer — and ended up helping to shape the most iconic science fiction series of all time, Star Trek. Read her story in the Archive: Dorothy Fontana (OK to share link).
Plus, So Long to a crazy number of other notables this week, including:
Engineer George Joseph Laurer, an IBM employee assigned to come up with a bar code specification and a scanner to read it, with the result being the Universal Product Code that's displayed on nearly every retail product package. He died December 5 at 94.
Actor Robert Walker Jr, best known as "Charlie X" in an episode of the original Star Trek series (yes, as written by Dorothy Fontana, above!), dead December 5 at 79.
Jazz musician Joe McQueen, the "King of O-Town", died December 7 at 100.
Puppeteer Caroll Spinney, best known for playing "Big Bird" and "Oscar the Grouch" on Sesame Street from 1969 to 2018. He died at his Connecticut home on December 8 at 85.
Actor René Auberjonois, well known for a variety of roles, such as the original "Father Mulcahy" in M*A*S*H (the 1970 film), "Clayton Endicott III" on Benson, "Odo" the shape-shifting head of security on Star Trek: Deep Space Nine, and "Paul Lewiston" on Boston Legal. He died December 8 from lung cancer at 79.
Basketball coach Pete Frates, whose battle against amyotrophic lateral sclerosis inspired the "ice bucket challenge" in 2014, which raised more than $200 million worldwide for research on the disease. That funded a breakthrough which found a gene variation. Frates died December 9 from his ALS seven years after he was diagnosed. He was 34.
Musician Gershon Kingsley, best known his 1969 synth-pop instrumental "Popcorn", dead December 10 at 97.
And actor Danny Aiello (Do the Right Thing, Moonstruck, Godfather Part II...), dead December 12 at 86.
---
Basic Subscriptions to This is True are Free athttps://thisistrue.com. All stories are completely rewritten using facts from the noted sources. This is True® is a registered trademark. Published weekly by ThisisTrue.Inc, PO Box 666, Ridgway CO 81432 USA (ISSN 1521-1932).
Copyright ©2019 by Randy Cassingham, All RightsReserved. All broadcast, publication, retransmission to email lists, WWW, or any other copying or storage, in any medium, online or not, is strictly prohibited without prior written permission from the author. Manual forwarding by email to friends is allowed if 1) the text is forwarded in its entirety from the "Since 1994" line on top through the end of this paragraph and 2) No fee is charged. We request that you forward no more than three copiesto any one person — after that, they should get their own free subscription. We always appreciate people who report violations of our copyright to us.
---
To get this delivered to you every week, click here to open a subscribe form.
Last Week's Issue