To get these issues free by e-mail each week, just subscribe using the form on this page — your privacy is Randy's policy. (Or cruise around the web site to see more samples, archive, and info on our terrific book collections of thousands of past stories.)

---
Since 1994, this is the 1214th issue of Randy Cassingham's...

---
Before the Stories: A year ago I mentioned Stur — a "flavor enhancer" for water that I liked because it got me to drink more water by improving its flavor. I've found something I like better. Or, really, my wife did! "Essential oils" are the concentrated aromatics from plants. The plant flavor I particularly like: peppermint. Essential oils are a somewhat faddy health craze, and can be ridiculously expensive. There's no need to get on a "multilevel marketing" bandwagon to get essential oils, which can run you as high $25 for a tiny 10-15 ml bottle. Just be sure to read the label and get 100% pure oil: I got this one: four ounces (118 ml) for $14, and I use literally one drop in my water bottle, and even that is pretty intense, so it's going to last "forever" (luckily, one of the buying options on Amazon is to get it with a glass eye-dropper, since otherwise it's really hard to get a single drop). Sweetener? Not needed at all.
Peppermint isn't your thing? Kit likes lemon or orange oils; she uses 2-3 drops in her 40oz water bottle. There's a wide variety of such oils, and even if you did go with an expensive one, 1 or 2 drops is awfully cheap. Is it "weird" to use essential oil to flavor water? Not at all: La Croix water (another big fad) uses essential oils as their flavorings, according to their web site. You could spend $5-7 on a 12 pack of that, or you can make your own. (Need bubbles? You can do that too, with a Sodastream, but I don't bother. Kit got one and used it for awhile ...but now she rarely bothers either.)
So there you go.
---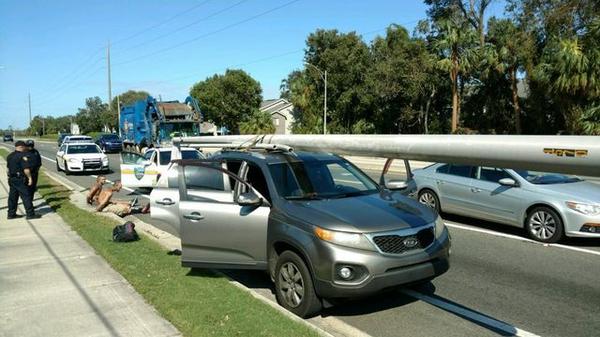 Stick to Aluminum Cans: Two days after Hurricane Irma passed through Jacksonville, Fla., a police officer was dispatched to a report of someone loading a streetlight pole onto the top of their SUV. As he headed to the area, he noticed a light pole was missing from a bridge. Then he spotted the SUV: strapped to the roof was a light pole that was significantly longer than the SUV. He stopped the men, who claimed they picked it up because it was "close" to traffic. Victor Walter Apeler, 46, and Blake Lee Waller, 42, were arrested, charged with grand theft: the pole costs $2,500. Investigators found Apeler had sold 72 "scrap" metal items to recyclers this year alone. (RC/WTEV Jacksonville) ...You know, the metal in those handcuffs is easily worth $2.
Playing the Race Card: Kimberley Paige Barnette, 53, is running for mayor in Charlotte, N.C. Several people are not pleased with her campaign. "She's using the race card," opponent Gary Dunn said. Barnette spelled out her qualifications in a Facebook post: "VOTE FOR ME! REPUBLICAN & SMART, WHITE, TRADITIONAL." During a debate, Barnette was asked for her plan to help Charlotte's lower-income residents. "I don't think we should encourage more lower-income people to [come to] Charlotte," she said. "We should attract higher-income people." After a public uproar over her Facebook post, she made a new post: "There is a group called Congressional Black Caucus. I'm sorry if I described myself as white and it offended others." (MS/Charlotte Observer, WJZY Charlotte) ...She also described herself as smart, which is offensive to smart people.
Florida Hurricane Warnings for the deaf included watching out for "pizza" and "monsters" — at least, according to the sign language interpreter. Woman fleeing Florida and hurricane Irma had a bit of an ordeal, including the police in New Jersey. Man's trombone viciously attacked (wait... what?) Video of cop confiscating hot dog vendor's money (right out of his wallet) goes viral. Car burglar doesn't remember much after he said "'Oh dude, pills!' and took them." Japanese government officials warn of the grave danger of — um, oops: I dropped it. Hospital trust refuses donation because they don't like how the money was collected from the public. Man tires of police standoff with suspect on his roof, so he goes up there and pushes the guy off the edge. Stop missing most of the stories! A full year of expanded issues is just $32. See your upgrade options here.
This Issue's Exclusive Sponsor:

When You Prefer Barefoot, but Want Protection
The "Barefoot" Sandal that's less than half the weight of stiff Keene/Chaco/Tevas. Comfortable, flexible, and secure enough to wear even while swimming without something between your toes. They look a lot nicer, too. As seen on Shark Tank.
Tone Deaf: The Sheraton Cadwell Orchestras, a 26-year-old organization that provides live musical entertainment for weddings, corporate functions, and such in Toronto, Ont., Canada, sent an email to its volunteers advising "that only singers who are physically fit and slim (or, at the very least, those who know how to dress strategically/suitably in order to not bring attention to their temporary physical/dietary indulgences) would be showcased with our boutique orchestras." Those playing instruments need not worry, however, the email continued, since they are "essentially background wallpaper." A massive uproar followed; the troup's board resigned, and the entire organization has shut down. (RC/Canadian Press) ...It's over? I guess the fat lady sang.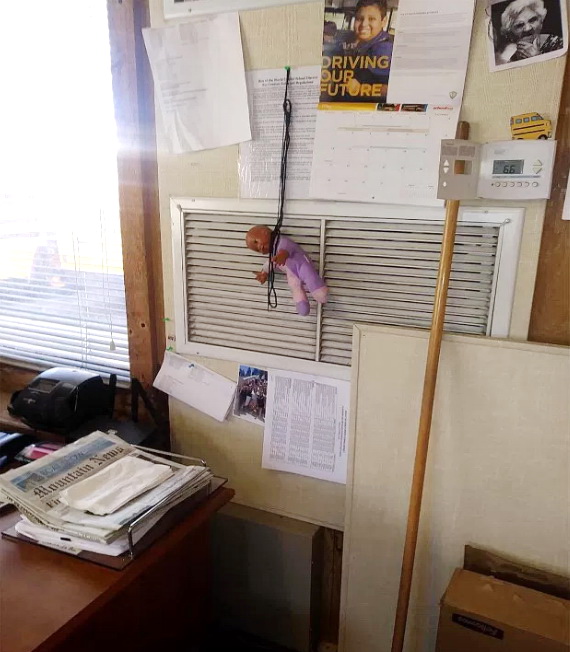 Strange Plastic Fruit: "You need to take that down. You need to take that down now," said Harry McLelland, an employee of Rim of the World Unified School District, in the rural mountains of San Bernardino County, Calif. But he was just a maintenance worker and bus driver. Another driver — and friend of transportation coordinator Jennifer Kawell — had hung the black baby doll with a cord around its neck on a bulletin board in Kawell's office. "As [the other driver] walked past me, I said, 'That's wrong in so many ways.' And she just laughed." McLelland says. When he complained to Kawell, she didn't do anything either. The lynched doll remained dangling for nearly a week until a parent went to the office for paperwork, saw the doll, and complained to district headquarters. In a statement, superintendent Michelle Murphy said "there are employees involved in the incident that are no longer employed in the district." Kawell, however, is still listed on the district's website as transportation coordinator. (AC/Inland Valley Daily Bulletin) ...Let me guess: McLelland was fired for making trouble, right?
How We're Protecting You: Online security expert Brian Krebs says he has figured out one way hackers were able to break into the Equifax consumer credit reporting bureau; hackers stole detailed personal financial information on 143 million Americans. How? Equifax's online security sucked. Even well after Equifax revealed the breach, which they delayed for six weeks while company insiders sold millions in Equifax stock before its price was whacked by the news, Krebs found that the company's Argentina operation still had significant issues: their system there "was wide open, protected by perhaps the most easy-to-guess password combination ever," Krebs said: "admin" for the user name, and "admin" for the password. Once in, he was able to see every employee's personal password in plain text, and he could see that every one of the passwords was the same as the employee's login name, which was their surname, or their first initial and surname. Equifax only took that system offline after Krebs told them about it. The issue "was not in any way connected to the cyber-security event that occurred in the United States," an Equifax spokeswoman declared, adding, "we will continue to test and improve all security measures in the region." (RC/BBC) ...By changing the password to "password".
---
Film at 11:00
Would-be Robber Was Armed with Projection Screen: Police
CBC headline
---
Did You Find an Error? Check the Errata Page for updates.
This Week's Contributors: MS-Mike Straw, AC-Alexander Cohen, RC-Randy Cassingham.
---
What's "Strange Fruit"? It's a 1937 American poem by Abel Meeropol (originally published as "Bitter Fruit"), protesting the racist lynchings of blacks, which Meeropol later put to music. The song was most famously sung by Billie Holiday. More about it on Wikipedia.
Another Little Tidbit about the Equifax security debacle: Krebs had earlier noted on his blog that the company's web site set up to help consumers learn about the breach "is completely broken at best, and little more than a stalling tactic or sham at worst." He says that big companies with a big security problem like this usually "hire outside public relations or disaster response firms to walk them through the safest ways to notify affected consumers." Equifax, he said, apparently hired Edelman PR. How did he know? Because "Until just a couple of hours ago, the copy of WordPress web site software installed at equifaxsecurity2017.com included a publicly accessible user database entry showing a user named 'Edelman' was the first (and only?) user registered on the site." (Emphasis added.) Leave it to Equifax to find the perfect company to hire to help get someone out of a ridiculous security debacle! And no wonder Krebs titled that blog entry "Equifax Breach Response Turns Dumpster Fire". Just so.
I Know, You Like to Read Stuff — not necessarily listen to podcasts. There has been such interest in my reflections on the Cassini space mission last week that I thought I'd extend its reach: it's now published as an illustrated essay on Medium.
If you have any interest in space stuff, or humanity stretching to learn more about our place in the universe, I think it's worth the read: Cassini: The Bigger Picture.
I'm still traveling, so there is no podcast this week.
There Has Been a Nice Upswing in readers signing up for the "Best Of" subscription — a daily email with a single True story from the archives, hand-picked by yours truly, that comes out in the very early morning hours so it's there to help you get your day started. There are two ways to get it: it's a separate subscription for a nominal fee, or it's available free if you support True at the $7/month level or higher on Patreon. Full details here.
---
Ten Years Ago in True: A raging forest fire turns into a Turf Battle.
Today on Randy's Random: Speed in Relative.
This Week's Honorary Unsubscribe goes to Stanislav Petrov. An "enemy" officer in the Cold War, Petrov arguably saved the entire world.
Read his amazing story in the Archive: Stanislav Petrov (OK to share link)
And Goodbye to writer/editor Len Wein, who co-created Swamp Thing for DC Comics, co-created the "X-Men" characters Nightcrawler, Storm, and Colossus, and created Wolverine (all for Marvel Comics), dead September 10, apparently from heart problems, at 69.
And So Long to actor Harry Dean Stanton (Alien, Escape From New York, Repo Man, Cool Hand Luke, Big Love, and scores of others), dead September 15 at 91.
---
Basic Subscriptions to This is True are Free at https://thisistrue.com. All stories are completely rewritten using facts from the noted sources. This is True® is a registered trademark. Published weekly by ThisisTrue.Inc, PO Box 666, Ridgway CO 81432 USA (ISSN 1521-1932).
Copyright ©2017 by Randy Cassingham, All Rights Reserved. All broadcast, publication, retransmission to e-mail lists, WWW, or any other copying or storage, in any medium, online or not, is strictly prohibited without prior written permission from the author. Manual forwarding by e-mail to friends is allowed IF 1) the text is forwarded in its entirety from the "Since 1994" line on top through the end of this paragraph and 2) No fee is charged. We request that you forward no more than three copies to any one person — after that, they should get their own free subscription. We always appreciate people who report violations of our copyright to us.
---
You can subscribe free by e-mail and get this delivered to you every week.
Last Week's Issue