To get these issues free by email each week, just subscribe using the form on this page — your privacy is Randy's policy. (Or cruise around the web site to see more samples, archive, and info on our terrific book collections of thousands of past stories.)

---
Since 1994, this is the 1252nd issue of Randy Cassingham's...

---
Before the Stories: Can you tell True news from Fake? The concept sure has been in the ...uh... news lately! And you've had plenty of practice while reading True. So take my new (posted today!) quick quiz and find out your skills: True or Fake? — and feel free to use my short code for sharing on social media: https://go.thisistrue.com/quiz
5 questions, not easy. Have fun with it! And note that you don't have to subscribe to get your results, as one obliviot on Twitter whined: you are already a subscriber. Slow down just a tiny bit at the end and read — which after all is one way to tell True from Fake!
---
Distracted Driving: After calls of a reckless driver on Interstate 75 near Punta Gorda, Fla., Charlotte County Sheriff deputies found the car — driving 40 mph in a 70 mph zone, and swerving all over the road. After pulling the car over, driver Brandon Aaron, 34, allegedly told them, "Sorry, I was rolling a joint." A search of his car found a "felony amount" of marijuana, meth, opioids, and various other drugs and paraphernalia; Aaron was arrested. (RC/WWSB Sarasota) ...Never roll ajoint while driving! Instead, text someone for assistance.
Game Over, Man: After arresting a drunk driver, Jackson County, Ore., sheriff's deputies were waiting for a tow truck to haul away the car when another man jumped in and drove away. The officers gave pursuit, chasing the car through several towns, crashing through fences, running over spike strips, and driving the wrong way down roads. Police say the driver tried to hit a patrol car, then ran from the vehicle. Police caught Anthony Clark, 23, as he was allegedly trying to steal anothercar. They say Clark told them he had taken LSD and thought he was playing a real-life version of the "Grand Theft Auto" video game. He faces a list of charges including driving under the influence of intoxicants, criminal mischief, escape, unauthorized use of a motor vehicle, attempting to elude a police officer, possession of a stolen motor vehicle, unlawful entry into a motor vehicle, interfering with a police officer, reckless endangering, reckless driving, and offensive littering.(MS/Portland Oregonian) ...He got the high score — in bail.
Drive it like You Stole it II: Police in Daytona Beach, Fla., tried to pull over a car for a minor traffic infraction. The driver didn't care to stop, and rather sped off with an officer in pursuit, going 60 mph in a 25 mph zone, and running a red light — which resulted in him broadsiding a car that had a green light. The miscreant's car caromed off a light pole and into the front of a barber shop, but that wasn't the end: he jumped out and ran. Despite his head start, officers caughtup to the driver because his loose pants fell to his ankles, tripping him. Officers charge Tobias Smith, 24, was driving with a suspended license, and the plate on his car was taken from a different car. He was jailed on a litany of charges. (RC/Palm Beach Post) ...Yet another young guy who should be belted.
This Issue's Exclusive Sponsor: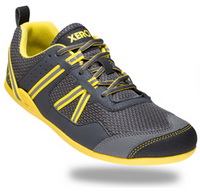 Your New Favorite Running And Fitness Shoe.
Xero Prio is our 'barefoot' running shoe, for men and women. It still has our famous protective minimalist sole, but with comfortable and super-lightweight uppers that look good, too. Check the reviews: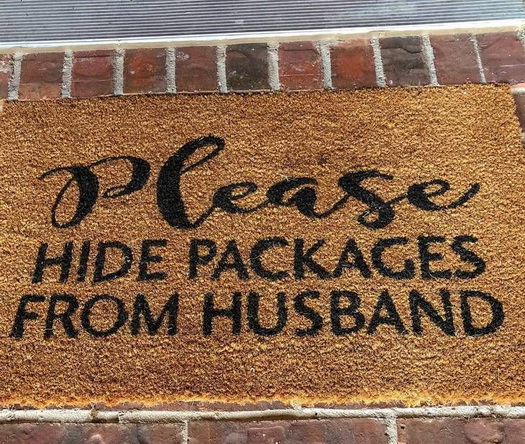 Remember What the Doormat Said: A home security camera in Haslet, Texas, caught an Amazon courier leaving a package in a less-than-obvious location. The man was only following the instructions— on the doormat. Vanessa O'Shea had picked up the mat in a store; she hadn't intended it to be literally obeyed. It says: "Please hide packages from husband." Millions saw her security camera video, which she posted on social media. One commenter wrote: "Now if only the mat was also somehow invisible to the husband." (AC/CNN) ...Too bad "No Soliciting" doormats aren't this effective.
More than Twice the Stories: The full edition each week has at least 10 stories. This week you missed: High school valedictorian slips an interesting quote into his speech in an amusing way. Bank robber does such a bad job, cops catch him without even getting his description yet. Bank robber brags how "easy" it was to pull off the job ...just before he's arrested. Off-duty FBI agent accidentally shoots an innocent bystander ...on the dance floor. Florida sheriff deputyarrested — for shoplifting ...in uniform. Posh TV commentator for Royal Wedding turns out to be an American who learned his Brit accent in a high school play. Plus the results of the June Reader Tagline Challenge. You can still read it all: just ask for your upgrade to start with the 10 June issue. Upgrades start at just $9.
Disconnected: "Care homes" in the United Kingdom need to work harder to get grandchildren to visit the elderly, says Care Home Minister Caroline Dinenage. Since there are "incredible online tools to help people and trigger memories and for therapeutic things" for those with dementia, she said, care homes should prioritize getting online. Plus, "WiFi actually can encourage your grandchildren to come and visit," she says. (RC/London Telegraph) ...Perfect: that way kids can ignoregrandma and grandpa in their presence, too.
---
Destined to Be Dressed in Stripes
Gainesville Man Arrested after Police Find Missing Zoo Animals in His Apartment
Tampa Bay (Fla.) Times headline
---
Did You Find an Error? Check the Errata Page for updates.
This Week's Contributors: MS-Mike Straw, AC-Alexander Cohen, RC-Randy Cassingham.
---
In the Headline of the Week, the animals found were three box turtles, two red-foot tortoises, a skink, and a squirrel monkey. Four more animals are still missing.
It Has Been Very Weird to see all the news coverage lately for comedian Michelle Wolf, who was thrust into the limelight after a searing routine at the White House Correspondents' Dinner, where comics commonly roast the president — although the famously thin-skinned Mr. Trump refuses to go to the dinner, unlike most. Why "weird" for me? Because Michele Wolf was my first wife.
Though there's a little hint there: neither name is misspelled. Michelle is a comedian who turns 33 later this month. Michele is definitely older than that. I have a photo of Michelle on the blog copy of this; even though she is very pretty, to protect her privacy I won't post a photo of Michele, or even say what state she lives in (she left California when we split; Michelle was 6 or 7 at that point).
Alas, I've lost touch with Michele (and have never been in contact with Michelle). Maybe Michele will see this and get in touch. Hell, maybe even Michelle will see this and get in touch! (It would be nice for both to happen!) But the funny part of this is, I've actually been collecting a list of Premium subscribers with famous names, and this seems like a good time to share it. They include:
Jon Stewart ...but not the former host of The Daily Show.
Don Adams ...but not the actor who played secret agent Maxwell Smart.
Robert Pine ...but not the actor who played Sgt. Getraer on CHiPs.
Dave Barry ...but not the humor columnist and author.
John Inman ...but not the actor from Are You Being Served?
Steve Wozniak ...yes, the Apple Computer co-founder does subscribe, but another guy with the same name has too!
George Lucas ...but not the Star Wars creator.
Rich Little ...but not the celebrity impressionist.
Charles Schultz ...but not the Peanuts cartoonist.
Craig Nelson ...but not the Coach actor.
Robert Macfarlane ...but not President Reagan's National Security Advisor.
Paul Shafer ...but not the famous Late Night With David Letterman bandleader (Paul Shaffer).
James West ...but not the Wild Wild West character.
Henry Miller ...but not the Tropic of Cancer author.
And those are just the ones I've noticed — there are likely more. I'm sure it's fun, frustrating, even scary sometimes to have a "famous name" when you're not the famous person (and even if you are). So a tip of the hat to those who put up with it, whether you're "really" famous or just sound like it.
I hope there's not another Randy Cassingham out there. But if there is, sorry!
Since This Was Short, I included the full text in the newsletter. If you'd like to add your comments to those already on the blog copy of this, you can do so there.
---
Last Week I Announced three new auctions of stuff from my NASA collection. But one reader didn't quite get why I'm doing these auctions. "It seems to me you're starting with pretty high prices on these items," wrote Gary in Idaho. "And what do you mean that selling your personal stuff 'supports True' anyway? You are typically quite open about such things, so I hope you don'tmind the question."
Concise. I like it! Yes, I'm fine with questions: if I don't want to answer a question, I won't! The items actually mean something to me so yes: to give them up requires bit of convincing. If a mug is only worth $10 to someone, no: I'll just keep it, thanks — it's awfully cool. But the last mug went for (sit down) $220, and that wasn't even one of kind, like the current one (but it was certainly spectacular and meaningful). When that one was delivered, its buyer, Matthew in Washington,wrote, "Just wanted to drop you a line to let you know the mug was received, and in great condition. My daughter was flabbergasted to see how much I had paid for it until I told her the story, at which point she was in agreement: 'Okay, yeah, that is really cool!' Thanks again." The obvious conclusion: these items mean something to the buyers, too. And their savvy daughters.
Too, a lot of readers are making very generous contributions, especially as they renew their Premium subscriptions. Others just come out of the blue — up to $1,000! — from readers who love True's mission and want to see it continue. Together, they've made the difference between keeping True going, and me getting a new Day Job. (I actually did apply for a professional position a few months ago, but they called me "too overqualified"to even interview. Sheesh. But then a thousand-dollar contribution came in — thanks Kim in NSW, Australia! — and that convinced me to stay on the path.)
So if readers are willing to keep True going with contributions, why not provide some neat bling in return? Sounds like a win-win-win to me: I get to continue with True, they get neat stuff, and other readers get to keep reading.
As for it being my personal stuff, in addition to me and True being pretty tightly linked, finance-wise, I'm guessing part of the value for at least some of the bidders is that it IS my stuff, so that's a win-win too. Fair enough? Everything currently on auction is shown here. The current batch of items close June 21.
Last, a New Episode of True's Uncommon Sense podcast went up today: Mind Over Matter, or how to defeat your rationalizations so you can make a needed change. Plus a segment of No Longer Weird that maybe hasn't even appeared in This is True
I Also Continue to co-host the Tech Enthusiast Hour most weeks. This week, Microsoft pays a boatload of money for GitHub: will that affect open source software? We bring in a guest to talk about it. Now that Net Neutrality is officially repealed, now what? And my prediction about GDPR:
---
Ten Years Ago in True: That's Not a Name, That's a Brand Identity.
Today on Randy's Random: Everyone forgets the follow-on to this popular saying! All or None.
This Week's Honorary Unsubscribe goes to Georg von Tiesenhausen. A rocket engineer, von Tiesenhausen didn't just help to get us to the moon. He helped us drive there!
Read his story in the Archive: Georg von Tiesenhausen (OK to share link)
Plus Goodbye to actor Jerry Maren, the last surviving "Munchkin" from The Wizard of Oz, and the last surviving Oz cast member that wasn't an extra. He died May 24, at 98.
And Goodbye to Clarence Fountain, co-founder and lead singer of the Blind Boys of Alabama, dead June 3 from diabetes at 88.
And So Long to actress Eunice Gayson, the first "Bond Girl" (in 1962's Dr. No when she was 34 years old), and whose character's self introduction as "Trench — Sylvia Trench" prompted Sean Connery to respond "Bond — James Bond" to initiate that now-common line. She died June 8 at 90.
---
Basic Subscriptions to This is True are Free athttps://thisistrue.com. All stories are completely rewritten using facts from the noted sources. This is True® is a registered trademark. Published weekly by ThisisTrue.Inc, PO Box 666, Ridgway CO 81432 USA (ISSN 1521-1932).
Copyright ©2018 by Randy Cassingham, All RightsReserved. All broadcast, publication, retransmission to e-mail lists, WWW, or any other copying or storage, in any medium, online or not, is strictly prohibited without prior written permission from the author. Manual forwarding by e-mail to friends is allowed IF 1) the text is forwarded in its entirety from the "Since 1994" line on top through the end of this paragraph and 2) No fee is charged. We request that you forward no more than three copies toany one person — after that, they should get their own free subscription. We always appreciate people who report violations of our copyright to us.
---
You can subscribe free by email and get this delivered to you every week.
Last Week's Issue