To get these issues free by email each week, click here to open a subscribe form. (Or cruise around the web site to see more samples, archive, and info on our terrific book collections of thousands of past stories.)

---
Since 1994, this is the 1358th issue of Randy Cassingham's...

---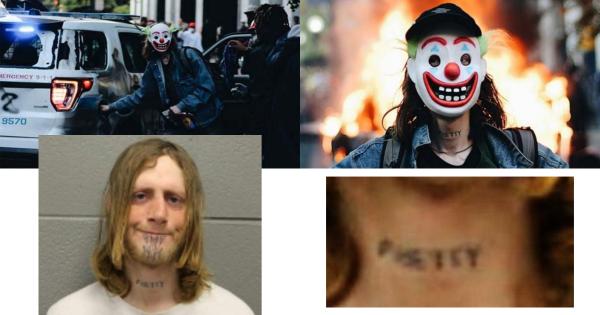 Wipe That Smile Off Your Face: A man probably figured he was safe to do some mischief during police brutality protests in Chicago, Ill., bywearing a full-face "Joker" clown mask. In a video, the man could be seen approaching a police cruiser with a lit object, opening the cap on the SUV's gas tank, and then sitting back while the car erupted in flames. The video also clearly shows something else: a distinctive tattoo on the man's neck, below the mask. Investigators tracked down Timothy O'Donnell, 31, whose tattoo reading "PRETTY" matched the photos, and a search of his home turned up an identical mask. O'Donnell allegedly admittedto the crime, and was arrested on arson charges. He faces 5–20 years in prison. (RC/WFLD Chicago) ...So the joke's on him.
Sweet 16: With Florida urging businesses to "reopen" after the COVID-19 pandemic, quarantined people are venturing out. One group headed to Lynch's Irish Pub in Jacksonville Beach to celebrate a birthday. "We knew we were pushing it," admits Kat Layton, who noticed the bar was crowded, and no one was wearing masks. But the coronavirus was "out of sight, out of mind," she said, and besides, they didn't know anyone who had the disease. Plus, they were reassured by the governor and localmayor. Within days, the 16 friends started getting sick, and got COVID tests. All of them tested positive. "We want to tell people it's really not ready" — it's not safe to congregate, Layton said. "It's too soon." (RC/WFOR Miami) ...And for some, it's too late.
Gosh Darned Parental Reprobate: An unnamed woman in the Netherlands was upset that her mother posted photos of her children on Facebook and Pinterest, and demanded she take them down. The grandmother refused multiple requests, so her daughter took her to court, citing the European Union's GDPR — the General Data Protection Regulation, an online privacy law. The judge in the case sided with the middle generation: the grandmother must take the photos down, or face a 50 euro (US$56) fine— per day — and if she posts any other photos of the children without the parents' permission, those photos would also be subject to the fine. "I think the ruling will surprise a lot of people who probably don't think too much before they tweet or post photos," said tech attorney Neil Brown of British law firm decoded.legal. And if someone wants their photo taken down, then "the reasonable thing — the human thing — to do, is to go and take them down." (RC/BBC) ...You know things have gottenbad when lawyers have to point out "the human thing to do."
This Issue's Exclusive Sponsor:
Drone Pilots: Get Your Wings!

Beautiful custom solid metal Drone Pilot Wings dress up your jacket and/or equipment box, showing your pride and professionalism in your hobby. Makes a great gift, and are much more durable than that T-shirt you liked.
Get Yours Here, with discounts for extras.
Will the Thrill: William Kelly, known on the golf course as "Will the Thrill", shot a hole in one on the 13th hole at Springtree Golf Club in Sunrise, Fla. "I hit a 7 iron," Kelly said. "It took two bounces off the fairway and one bounce off the green, and then it hit the flag, and then it went in." The skilled shot happened during a golf clinic he was attending. "It was an unbelievable moment," said his instructor, Mike Freglette. "Some people play golf their whole lives and never geta hole in one. He's playing as good as a third [or] fourth grader. He's got some natural talent." Playing "like a third or fourth grader" was meant as a compliment: Kelly is 5 years old. (MS/WPLG Miami) ...A new endorsement deal is in the works — with Playskool.
You Missed More than Half of the stories this week. The full edition including: The bizarre case of a drug smuggler. Mike's take on Lady Antebellum's name change. Prison inmate sues his victims because they somehow "injured" his "feelings" (awwww!) Another rioter also caught and charged with arson, thanks to Google. Police investigate an 8-year-old for counterfeiting over Chinese "hell money." Florida Man lets 12-year-old girl drive, and tells her to try to outrun the cops pulling herover. You don't have to miss most of the stories every week: upgrades start at just $9! See your upgrade options here for all the stories every week.
Boom Times: The "Exploding Whale" was one of the first videos to go viral on the Internet, thanks to a mention by Florida humor columnist Dave Barry in 1990. Even though the dynamiting of the dead whale, which had washed up on a Florence, Ore., beach, happened in November 1970, millions assumed the report by KATU-TV was a current event and continued to pass the video around. Fast forward to today, as the city of Florence asked for "name suggestions" and a public vote on the bestsuggestion for a new city facility. The answer was clear, and officials have dedicated Florence's newest city feature: Exploding Whale Memorial Park. The unveiling was planned to occur at the city's annual rhododendron festival (the theme: "Blast from the Past" — really), but the coronavirus "blew those plans out of the water." (RC/KATU Portland) ...And fell in chunks on nearby witnesses.
---
The City Plans an Online Meeting to Address the Matter
The Internet Is So Bad in this Community Some People Drive to Zoom Meetings
CBC (Halifax, N.S., Canada) headline
---
Did You Find an Error? Check the Errata Page for updates.
This Week's Contributors: MS-Mike Straw, RC-Randy Cassingham.
---
Note: Contributor Alexander Cohen is off for a couple of weeks.
I Can't Tell You how many readers in the early days of This is True sent me the "Exploding Whale" story, urging me to cover it. No: I only do recent stories, I'd tell them. So many times that I ended up making a "rule" about it: stories had to be from the previous month. In recent years, they tend to be from the previous week or so.
In around 1999, a reader who worked at Portland's KATU-TV, gave Kit and me a tour of their studio. She generously dubbed me a copy of the original report, which she said was very popular. These days you can see on Youtube. That will help you understand the tagline on the story!
Weirdly, that Youtube post by KATU says it is from "circa 1970." They don't know?! It was 12 November 1970 at 3:45 p.m. The explosive charge was set by Oregon Department of Transportation engineer George Thornton, who was the subject of the 10 November 2013 Honorary Unsubscribe, which page also has the video embedded.
The GDPR Story (Gosh Darned Parental Reprobate) is this week's "Story of the Week" — which means it's easily sharable from True's social media pages: Facebook, Twitter, Pinterest, and Instagram. Have atit! My favorite comment on the story is on the Facebook post, where David in Pennsylvania said, "My kids asked me once after their first baby came — my first grandchild — not to post pictures on social media. That was four years and two more children ago. I have never violated their wishes. It shouldn't be that difficult." Exactly!
Janet in Calgary writes: "Thanks much for reposting the True Stella Awards! Plus for doing the work to update them when you can. I hate to ask, but after quitting Facebook the thing I really really miss is your weekly 'Get Out of Hell Free' memes. Any chance of posting an archive of those, too? GOOHF does have a web site, so.... 🙂 "
Yes it does, and yes I will. For those who don't know, I committed to posting "A Year of Hell" — posting a hell-related quote — from Einstein to Shakespeare Virgil to Twain to the barely-known — in a GOOHF-card-like format on the GOOHF Facebook and Twitter pages. So here's what's posted so far (or click the Memes link in the navbar); scroll down pastthe share buttons for the Previous/Next Post navigation. A new one will be added there (and Twitter and Facebook) every week.
This Week's Uncommon Sense Podcast episode: The medical profession is starting to realize that its been missing a very important element of patient care. It's likely that you'll be very surprised to hear what it is, but then when you think about it, it'll make total sense — and you'll be mad that you didn't get it. It's 14-1/4 minutes, or you can read the transcript: The MissingElement.
---
Ten Years Ago in True: It was known as "Big Butter Jesus" — so I Can't Believe It's Not Butter.
After you read that archive story: when I chose that story Monday, I "had to" go looking for a photo of the statue, and found one on Pinterest. Good enough, but the Google search also revealed another one — a gag Photoshop job — that made me laugh out loud. It's also on Pinterest.
Previous Issues on Medium (please do share the link).
This Week's Randy's Random: You'll be able to relate to The Four Stages.
This Week's Honorary Unsubscribe goes to David Perlman. He loved his job so much, after a promotion Perlman begged management to demote him to his previous position. His story in 2 minutes: David Perlman (OK to share link).
Plus, Goodbye to pioneering sleep researcher William C. Dement, who triggered my interest in sleep and dreaming. "I believe that the study of sleep became a true scientific field in 1953," he wrote, "when I finally was able to make all-night, continuous recordings of brain and eye activity during sleep." He died June 17 — "in his sleep, of course," said a long-timecolleague, from heart problems. He was 91.
And So Long to costume designer-turned-director Joel Schumacher, best known for "St. Elmo's Fire", "The Lost Boys", "Falling Down", as well as "Batman Forever" and "Batman and Robin". He died this morning (June 22) from cancer, at 80.
---
Basic Subscriptions to This is True are Free athttps://thisistrue.com. All stories are completely rewritten using facts from thenoted sources. This is True® is a registered trademark. Published weekly by ThisisTrue.Inc, PO Box 666, Ridgway CO81432 USA (ISSN 1521-1932).
Copyright ©2020 by Randy Cassingham, All Rights Reserved.All broadcast, publication, retransmission to email lists, web site or social media posting, or any other copying or storage,in any medium, online or not, is strictly prohibited without prior written permission from the author. Manual forwardingby email to friends is allowed if 1) the text is forwarded in its entirety from the "Since 1994" line on topthrough the end of this paragraph and 2) No fee is charged. I request that you forward no more than three copies to any oneperson — after that, they should get their own free subscription. I appreciate people who report violations of my copyright.
---
To get this delivered to you every week, click here to open a subscribe form.
Last Week's Issue