To get these issues free by e-mail each week, just subscribe using the form on this page — your privacy is Randy's policy. (Or cruise around the web site to see more samples, archive, and info on our terrific book collections of thousands of past stories.)

---
Since 1994, this is the 1244th issue of Randy Cassingham's...

---
Busted: Police in Melbourne, Fla., ran "Operation BUSted" — a campaign to target drivers illegally passing stopped school buses loading or unloading children. Officers pulled over 129 drivers, and gave out 115 citations and 14 warnings. "Our big push is to get everybody to start paying attention," said police spokeswoman Cheryl Trainer. "I want to thank Melbourne PD for getting out and supporting bus safety week," said Brevard Public Schools Superintendent Desmond Blackburn, who wasalso appointed by the governor to the Marjory Stoneman Douglas High School Public Safety Commission. Blackburn was also one of the 129 drivers pulled over by police for illegally passing a stopped school bus loading or unloading children; he was driving his district-issued black SUV. And he was one of the 14 who got a warning instead of a citation. (RC/Florida Today) ...Since bad publicity is enough to get him to pay attention.
Oil and Water Don't Mix: BP (formerly British Petroleum) applied to drill for oil in the pristine natural zone known as the Great Australian Bight. The government authority had a number of environmental concerns, including the impact of an oil spill on the fragile marine ecosystem. In their response, BP said that would be OK. "Since there are no unresolved stakeholder concerns," the company said, "BP interprets this event to be socially acceptable." Not only that, BP said, but "in mostinstances, the increased activity associated with cleanup operations will be a welcome boost to local economies." BP eventually dropped the plans to drill there, although other companies still retain titles in the bight. "Given the project did not proceed," a BP spokeswoman said, "work on the draft environment plan ceased, so the correspondence in question doesn't represent the final views of BP or the regulator." (MS/Western Australia Today) ...Would dumping the oil in the CEO's back yard be"socially acceptable"?
Burned: The Allegheny County, Pa., Health Department issued a "consumer alert" for The Pittsburgh Popcorn Co. after finding mouse droppings "in the thousands" in a storage room, inside a popping machine, and inside bagged popcorn, it announced on its web site. Not so fast, the company said. "During the normal day course, black burnt popcorn hulls and kernels scatter throughout the store, which were misidentified and mislabeled by the department," a spokesman said. "At no time werethere mouse droppings on our poppers [or in] popcorn containers," the spokesman said. "No mice ever came into contact with our food." The Health Department declined to comment, but quickly reinspected the company — and rescinded the "alert." (RC/Pittsburgh Tribune-Review) ..."Alert" doesn't describe the inspector, either.
This Issue's Exclusive Sponsor:
Drone Pilots: Do You Have Your Wings?

Beautiful custom metal Drone Pilot Wings dress up your shirt, jacket, and/or equipment box, showing your pride and professionalism in your hobby. Makes a great gift, and is less expensive than most message t-shirts (lasts longer, too).
Order Yours Here, with discounts for extras.
Help! Police! An old German motto says the police are "your friend and helper." Perhaps that's why a man in Ludwigshafen, Germany, turned to the cops for help — with getting rid of his girlfriend. The 34-year-old man said he could no longer understand her, and "did not know how" to break up with her. So a policewoman helped — a bit. "We are willing to advise, but we can not close the deal," the police explained in a statement. (AC/Deutsche Welle, Newsweek) ...Turns out, "just go tothe fuzz, Cuz" is not one of the 50 ways.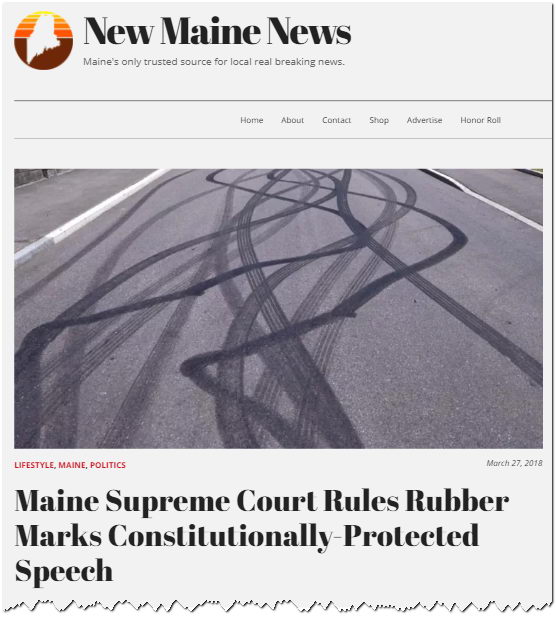 Fake News: "File this one under the 'Are you kidding me?' category," said Oakland, Maine, police department Sgt. Tracey Frost. The officer was in his marked policecruiser when he made eye contact with a high school student behind the wheel of a "souped up" pickup truck. As the boy was looking at the officer, he "burned out" — spun his wheels. Frost pulled the boy over and asked him, "Really? Have you lost your mind?!" The boy pulled up an article on his smartphone to show Frost an article that said the Maine Supreme Court had ruled that burning rubber is "now protected free speech," and he was just exercising his rights. The officer pointed out thearticle was on "New Maine News" — a satirical website — and there was no such court ruling. Frost "chewed him out a little bit, because that's what a good police officer does," but "I figured the amount of kids who are going to pick on him at the high school about it was either equal or worse to giving him a summons," and let him go. (RC/Boston Globe) ...And that's how we know Oakland schools don't teach critical thinking.
The Full Edition Had More Than Double the stories this week, including: Head of drug rehab facility crashes car ...while high on cocaine. Woman arrested for assaulting man ...by hitting him with her breasts. Florida high-schooler complains about being bullied, so she is punished for dress code violations that aren't actually mentioned in the dress code. Kid skips school to go to Opening Day baseball game ...and runs in to the principal who was doing the same thing. New York Cityresidents call 911 to report a loose tiger ...which turns out to be a raccoon. City's "traffic calming" sign to slow down speeders near school backfires: cars (and even school buses) were swerving around the sign into oncoming traffic and creating a greater hazard. You can get more stories every week and help support True with a subscription upgrade: they start at just $9. Full details here.
---
Panty Raid
New York District Judge Apologizes, Admits He's Serial Underwear Stealer
WABC New York headline
---
Did You Find an Error? Check the Errata Page for updates.
This Week's Contributors: MS-Mike Straw, AC-Alexander Cohen, RC-Randy Cassingham.
---
Harry in North Carolina writes, "I love This is True but can't you have specials for only $10/year like National Geographic or Mother Earth do? I subscribe to both for only $10 normally $35/yr." No: $10/year wouldn't even cover my costs, let alone provide an incentive for me to do all this work!
So how does $10 cover costs for NatGeo and others? Well... it doesn't! They make the bulk of their income not from subscriptions, but from advertising — you've noticed how many ads your favorite magazines have?
There's a reason that Rupert Murdoch bought the controlling interest in National Geographic magazine in 2015. His 21st Century Fox is the fourth-largest media conglomerate in the United States (after Disney, Comcast, and Time Warner — yeah, Comcast and Time Warner aren't "just" cable companies!) As with most big publications, NatGeo's ad rates are dependent on the kinds of people reading the publication (and they have detailed statistical information on "who" reads them, aka"demographics"), and — of course — how many people are reading. That multiplies out to quite a bit of money, so they offer cheap subscription rates to get more people reading so they can "sell the audience" (you!) to the advertisers.
True Doesn't Do That. Or, more accurately, as the publisher, I don't! Premium not only doesn't have any paid advertising, I don't sell your email (or snail mail) addresses to advertisers either — and believe me, that would be lucrative. Instead, I treat my readers, paid or free, the way I would want to be treated if the situation was reversed, and I sure as heck don't want my address sold to marketeers. This has been spelled out in my privacy policy since I had one, and this was my internal policy long before True existed, back when I was publishing newsletters on paper.
Only one thing keeps True going: a reasonable subscription price that's not dependent on screwing my customers over by selling them out. Yep, you can save money on cut-rate magazine subscriptions, but you're often giving away something much more valuable than money. This is also why (for instance) Facebook is free: what they're selling — and making billions from — is you: your demographic information and "eyeballs." I'm not playing that game — I don't even have adson True's web site anymore. Therefore, by not upgrading to what you want at an actually fair price (seriously: well under a buck an issue), you're sending the message that I should reconsider my business model and sell your information. As tempting as that is since I need to make a living, I'm not going to do it. So that leaves it up to you to decide whether you want to reward the way I respect you, or continue to complain about it — since I see you've sent notes on this exact themeseveral times now, Harry.
I make it as easy as possible for everyone: there are multiple ways to pay that less-than-$1/issue: Paypal, plastic, checks in the mail, and supposedly even Bitcoin (though no one has tested it in the shopping cart yet!) You can set up annual, semi-annual, quarterly, or even monthly subscriptions with highly secure automatic payment options that don't store your payment info on my server. But no matter how many times you ask for it,the one thing you can't get is a discount because I've screwed you over by selling your information to someone else. Fair enough?
---
Ten Years Ago in True: Indiana proposes a new law to set up a Brave New World.
Today on Randy's Random: Sometimes it pays to notice The Little Things in Life.
No Honorary Unsubscribe this week: I didn't find anyone who meets the criteria.
But a Sad So Long to magician/actor Harry Anderson, best known as Judge Harry Stone on Night Court (1984-1992), dead today (April 16) at his home from so-far-unknown causes at 65.
---
Basic Subscriptions to This is True are Free athttps://thisistrue.com. All stories are completely rewritten using facts from thenoted sources. This is True® is a registered trademark. Published weekly by ThisisTrue.Inc, PO Box 666, Ridgway CO81432 USA (ISSN 1521-1932).
Copyright ©2018 by Randy Cassingham, All RightsReserved. All broadcast, publication, retransmission to e-mail lists, WWW, or any other copying or storage, in any medium, online or not, is strictly prohibited without prior written permission from the author. Manual forwarding by e-mail to friends is allowed IF 1) the text is forwarded in its entirety from the "Since 1994" line on top through the end of this paragraph and 2) No fee is charged. We request that you forward no more than three copies toany one person — after that, they should get their own free subscription. We always appreciate people who report violations of our copyright t
---
You can subscribe free by e-mail and get this delivered to you every week.
Last Week's Issue