To get these issues free by email each week, just subscribe using the form on this page — your privacy is Randy's policy. (Or cruise around the web site to see more samples, archive, and info on our terrific book collections of thousands of past stories.)

---
Since 1994, this is the 1321st issue of Randy Cassingham's...

---
A Bit of the Bubbly: When Billy Bob Hall, 59, reported at the Parker County (Texas) Jail to surrender, he told deputies he had to "drink to build up the courage to turn himself in." That took seven cans of Budweiser beer, he said, and that's why he was drunk. But Hall was not summoned to turn himself in, and jailers couldn't find any sort of warrant for his arrest. He was still arrested, however: for public intoxication. (RC/KTVT Dallas) ...When he gets out, it's going to take BillyBob an awful lot of Budweiser to get over his embarrassment.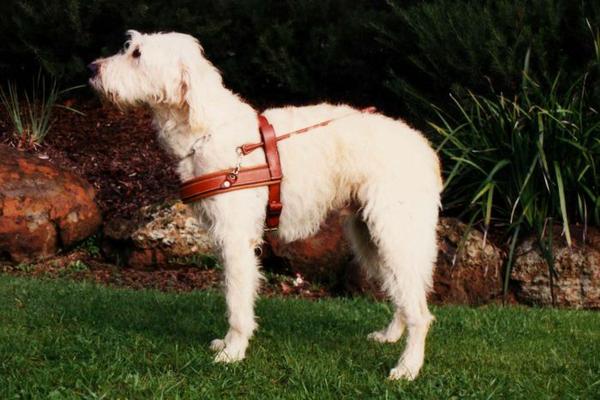 Doodle Dog: Thirty years ago Wally Conron, then breedingmanager for the Royal Guide Dogs Association of Australia, got a letter from a blind woman in Hawaii. "She wanted to know if we could come up with a dog that she could use as a guide dog and her husband wouldn't be allergic to," he remembers. He thought standard poodles would work, but found out they didn't have the right temperament to be guide dogs. He tried a new crossbreed: "a dog with the working ability of the Labrador and the coat of the poodle." The first litter was a success, and one ofthe three pups was sent to Hawaii. Now Conron had two puppies that nobody seemed to want, so he went to the organization's P.R. department. "I said 'can you get onto the media and tell them that we've bred a special breed?'" Conron says. "'A breed called the labradoodle — it's non-allergenic.'" The name overcame reluctance over the dog's looks, and it's now a very popular breed, along with later crossbreeds like cavoodle, groodle, jackpot, schnozzle, and golden doodle. But Contron regrets hiscreation. "I opened a Pandora's box and released a Frankenstein's monster," he said. (MS/ABC News Australia) ...So, a Frankendoodle?
Amazing: After being arrested three times in a month for allegedly stalking his ex-girlfriend, Ryan Kenneth Watt, 29, of Petaluma, Calif., was finally charged with that crime. As a condition of his release from jail, the judge issued a restraining order requiring him to stay away from, and not even talk to, the woman. But the woman later called police to complain Watt was calling and texting her to try to get her to drop the charges. When officers found Watt, "He runs from our officersacross the freeway," a police spokesman said. "How he didn't get hit, I don't know." Watt ran into the Petaluma Pumpkin Patch corn maze. Even with an assist from a helicopter, it took officers two hours to comb through the 4-acre maze until they finally found Watt and took him into custody. He is now charged with violating a restraining order, attempting to dissuade a victim of a crime, and resisting arrest. The judge set his bail at $250,000. (RC/Santa Rosa Press Democrat) ...And Bam! He washit after all.
This Issue's Exclusive Sponsor:
Drone Pilots: Get Your Wings!

Beautiful custom solid metal Drone Pilot Wings dress up your jacket and/or equipment box, showing your pride and professionalism in your hobby. Makes a great gift, and are much more durable than that T-shirt you liked.
Get Yours Here, with discounts for extras.
Go Fast and Win: Greg Simms is a lawyer, but even he couldn't figure out the speed limit on Interstate 71 near Indian Hills, Ky. The statute seems to say it's 65 m.p.h., and while Kentucky law allows both the transportation secretary and local lawmakers to vary the speed limit in particular places, Simms couldn't find anything that set it at 55 — except the speed limit sign. In Kentucky, speed-limit signs don't change the law. Judge Julie Kaelin tried to find a database of speed limitvariances, but she couldn't. And if she couldn't, "how could a citizen without access to legal knowledge and research" figure it out? Her conclusion: Kentucky speed limit laws are such a mess they're unconstitutional. "In many cases," the judge found, "the statute and the sign are in conflict." If the ruling saves Simms's client from having to pay his speeding ticket, however, it probably won't be because he was driving at the speed the sign was supposed to say: police determined he was going 93mph. (AC/WDRB Louisville) ...Is that faster than the Kentucky General Assembly can fix this?
Eight More Stories: Walmart shopper heads home, but she left something in her cart — her wallet ...and her two-month-old baby. Police urgently rush into house to save toddler running around on the roof, 30' off the ground ...and then it gets weird. Cop gropes young woman, then takes off his clothes to baptize her ...and then she sues. Drive-thru clerk takes cell phone pics of her debit card ...and then it gets funny. Australian beach lifeguards come up with unusual idea to keepswimmers safe. School bans boyfriends and girlfriends, but parents roll their eyes. Why not to bring your own cannon to college football games to celebrate your team's touchdowns. Florida woman tries to escape simple shoplifting charges, manages to rack up several felonies instead. It's Not Too Late to read these stories: just ask for your upgrade to start with the 6 October issue. Upgrades start at just $9!
For Once, It Wasn't the Students: Police, fire, and EMS officials in College Township, Pa., responded to a report of a strong chemical odor in town. Police put up roadblocks after residents reported difficulty breathing, burning eyes, and a general ill feeling. The emergency crews' eventual conclusion: the odor was fumes from an exercise at Rockview State Correctional Institution — more than two miles away — with "OC": oleoresin capsicum (or "pepper") spray. "It's humid out," explainedFire Chief Steve Bair, and "it just kind of wafted down the ridge." The prison was doing riot suppression training for its guards. (RC/State College Centre Daily Times, WTAJ Altoona) ...Suggested future training opportunity: "OC: How to Know When 'That's Damn Well Enough'".
---
Wishful Thinking
After 140 mph Chase, Man Tells Police He Didn't Think Their Cruisers Could Catch His 2002 Acura
WXIN Indianapolis (Ind.) headline
---
Did You Find an Error? Check the Errata Page for updates.
This Week's Contributors: MS-Mike Straw, AC-Alexander Cohen, RC-Randy Cassingham.
---
Last November I Blogged about Colorado's planned changes to its sales tax law. There was no hyperbole in the title: Colorado Screws Over Small Businesses like This is True. (Comments are still open on that page, if the below so moves you.) In June 2018, the U.S. Supreme Court ruled that each state can require sales tax to be collected on Internet sales of tangible goods — that evenif a retailer doesn't have "nexus" in a state, the state can require them to collect sales tax since "significant" sales creates that nexus. "Significant" (according to the ruling) seems to be $100,000 worth of sales to any particular state, or 200 or more sales.
Well, Colorado decided to follow that, but they're giving companies outside Colorado a gigantic advantage over small businesses like mine that are located inside Colorado: there's no $100,000 exception for us, so I have to collect sales taxes on in-state sales at the exact rate in place at the customer's house or business, and there are 683 different sales tax districts, so even knowing the Zip Code is not enough! Is there a data base that my shopping cart can querycustomer addresses in real time to get their specific rate? Probably, but one I can possibly afford — not when my sales tax collection for Colorado sales for the entirety of 2018 was $34 (good book sales last year!), and just $18 for all of 2017.
They suspended the change for several months so companies could update sales systems. When I did my quarterly review of the books last week, I remembered to check to see what the status of the rule was ...and found it was not extended again: it did go into effect July 1. So obviously the only solution for me is to refuse to sell any taxable items to residents of my state. I'm going to see if I can find someone who wants to sell my products just in Colorado, preferably from a state thathas no sales taxes (e.g., Oregon). They'll want a cut, of course. Meanwhile, True's shopping cart is programmed to not allow checkout to Colorado residents if there are any taxable items (which includes ebooks, by the way) in their cart. One saving grace for Colorado: news publications are exempt from sales tax, so Premium subscriptions are not affected. Another saving grace: I checked, and my last taxable sale in Colorado was in May. Whew!
I'm sure my little spare-bedroom company isn't the only one affected, and many others have probably shut down too. Which, of course, means the state not only will miss out on the sales taxes that would have been included in those sales, but all income taxes on the resulting profits, too, while companies outside the state benefit from increased sales, and they don't have comply with the rule if their taxable sales to Colorado is less than $100,000. The Denver Post published my commenton the situation: "That's a lose-lose-lose proposition that only a bureaucrat could come up with."
Nice job, Colorado.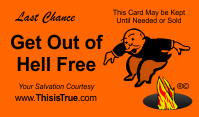 To "Celebrate" I'm Having a Special on Get Out of Hell Free cards: one free plastic GOOHF card ($5 value) for every 100 regular cards sold. If you get a"Jumbo Pack" you get 5 plastic cards ($16.25 value). Applies to classic, pride, and (of course!) politician versions. The deal ends at noon (Denver time!) on October 31. Sorry (sigh): not available in Colorado.
Long Time Reader Ian in Malaysia sent a story submission, but I can't see the story without buying a subscription to the particular news site. That's OK, though: Ian summarized it so well you'll get the entire point anyway. He says, "Due to a strange quirk of how the Malaysian legislative system works, the recent constitutional amendment in Malaysia means that for the upcoming by-election called because the member of parliament passed awaysuddenly, an 18-year-old could run to be the new member of parliament, but cannot vote in the election. The intention is for 18-year-olds to be able to vote and run. The part of the law that allows them to run as a candidate has already gone into effect, but the part that allows them vote hasn't yet."
Ah, politics. Maybe the older teens in Malaysia can straighten some of it out.
This Week's Uncommon Sense Podcast: It's a conundrum in the business world, but this idea really is about living in general. And that is, how can businesses encourage their employees to be more productive, healthier, and provide better customer service? University researchers applied some Uncommon Sense to this age-old question, and came to some surprising conclusions. It's only 7 minutes, or you can read the transcript: 'An Ethic of Compassion'
---
Ten Years Ago in True: He's Just Not Himself These Days.
Previous Issues on Medium (please do share the link).
Today on Randy's Random: Situational Awareness.
This Week's Honorary Unsubscribe goes to Wayne Fitzgerald. An artist, Fitzgerald worked in the entertainment industry, in a very specific niche — you've definitely seen his work. His story in 2 minutes: Wayne Fitzgerald (OK to share link).
Plus, Goodbye to singer and actress Diahann Carroll, best known for Julia (1968-1971), dead from breast cancer October 4 at 84.
Also, Goodbye to "rock's first superstar drummer" Peter Edward "Ginger" Baker of Cream, dead October 6 at 80.
And a Confetti-laden Curtain Call for comic Rip Taylor, dead October 6 at 84.
---
Basic Subscriptions to This is True are Free athttps://thisistrue.com. All stories are completely rewritten using facts from the noted sources. This is True® is a registered trademark. Published weekly by ThisisTrue.Inc, PO Box 666, Ridgway CO 81432 USA (ISSN 1521-1932).
Copyright ©2019 by Randy Cassingham, All RightsReserved. All broadcast, publication, retransmission to email lists, WWW, or any other copying or storage, in any medium, online or not, is strictly prohibited without prior written permission from the author. Manual forwarding by email to friends is allowed if 1) the text is forwarded in its entirety from the "Since 1994" line on top through the end of this paragraph and 2) No fee is charged. We request that you forward no more than three copiesto any one person — after that, they should get their own free subscription. We always appreciate people who report violations of our copyright to us.
---
To get this delivered to you every week, click here to open a subscribe form.
Last Week's Issue