To get these issues free by email each week, click here to open a subscribe form. (Or cruise around the web site to see more samples, archive, and info on our terrific book collections of thousands of past stories.)

---
Since 1994, this is the 1427th issue of Randy Cassingham's...

---
Other Good Reading: I found this very interesting, since it sometimes happens to me: Why do we wake around 3am and dwell on our fears and shortcomings? at The Conversation, written by a British PhD psychology researcher "with expertise in mood, sleep, and the circadian system."
(As always you're welcome to copy out that paragraph and forward/post it as desired; credit True if you care to — not required.)
---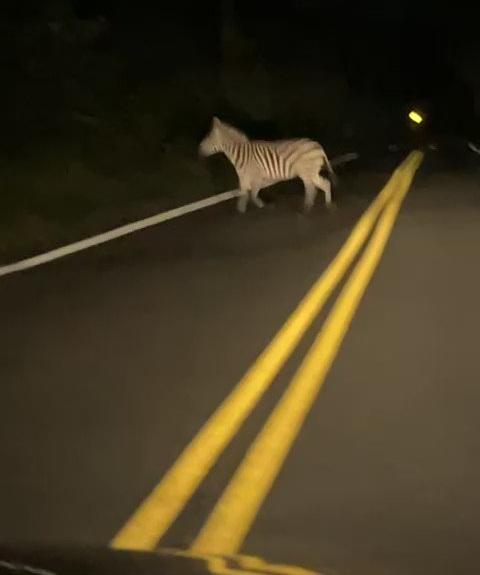 Earning Her Stripes: "Mommy, I know you're not going to believe this," 10-year-old Layla Curling told hermother, "but trust me when I tell you: I just saw some zebras behind the house." The Curlings don't live in Africa, but rather Prince George's County, Md. Five zebras escaped from a farm near their house, and they seem to be on the move; they've since been spotted in Washington D.C. (RC/Washington Post) ...Their destination: Savanna.
In Florida They Can Still Hear You Scream: "Longtime felon" Peter Berry, 60, called Hennepin County, Minn., Community Corrections to ask about his upcoming court case. He allegedly yelled he would "shoot up the place, and it will be on your hands." Feeling safe, he allegedly taunted, "What are you going to do, come down to Florida and get me?" After he failed to appear at the hearing, the court issued an arrest warrant. The next day Berry called again, and he was informed of the activewarrant. According to the indictment, he responded by saying he was going to "come down and kill everybody, all the judges, clerks and deputies." He was charged in U.S. District Court in Minneapolis with multiple counts of interstate transmission of threats. After his court appearance — in Minneapolis — he was held without bail until his trial. (MS/Minneapolis Star Tribune) ...What are you going to do, throw me in jail?
Messages of Support Coming In from All Around the World: "To those who disagree with my position," posted Rob Skiba on Facebook from a conference in August, "I'd say [in] 2 to 3 years or so, one of us will probably be dead" — and then we'll know whether the Covid vaccine was a good idea or not. Skiba, co-founder of King's Gate Media, held the "position" that vaccinations were the "mark of the beast" warned about in the Bible's Book of Revelation. The conference he was attending: "TakeOn The World" — an annual "biblical flat earth" event for those who don't think the world is a sphere. As he arrived home in Texas, he wasn't feeling well. He was hospitalized, on a ventilator for over a month, and died on October 13. The cause: Covid-19. (RC/New York Daily News) ...And now we know.
This Issue's Exclusive Sponsor:
Losing Sleep Trying To Decide On A New Mattress?

Memory foam or latex mattresses/toppers, airbeds or waterbeds, innerspring coil or futon mattresses, all without sales hype:not affiliated with any store or manufacturer. Just personal non-biased perspective on your options.Explore The Mattress Lady's Fully Rebuilt Site.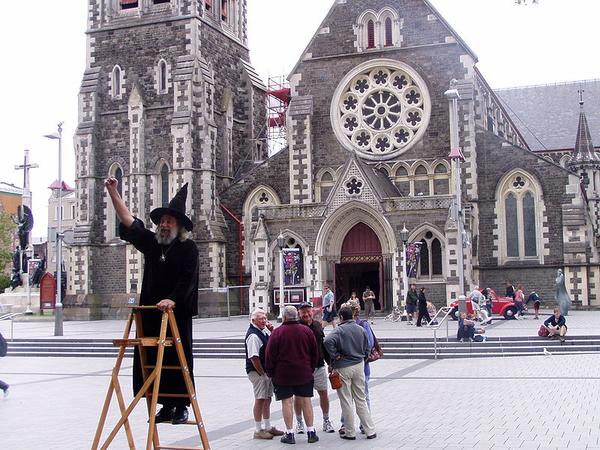 Magic, The Firing: The Wizard of New Zealand has been laid off. For 23 years, the Christchurch City Council had been payingIan Brackenbury Channell "to provide acts of wizardry ... as part of promotional work for the city," but now, a spokeswoman said, "the promotional landscape in Ōtautahi Christchurch is changing, with new and different promotional programs that will increasingly reflect our diverse communities." The 88-year-old Wizard — the subject of a new exhibit whose funding comes from the Christchurch City Council — says he'll go on with his work, appearing at the Arts Centre. Decades ago, according tothe local newspaper, the England-born Wizard was an iconic contributor to Christchurch's "more English than England" feel. (AC/Christchurch Press) ...Now wizards aren't even part of the city's diversity.
Texas Man Celebrates his team's win in the most Texas way possible. Florida Man gets in trouble for what he brought to court ...even though he Zoomed in. Florida Man blows up his house ...with him inside it. A case of an improbable "suicide" goes in front of a judge. Downtown art project goes very wrong. Woman "sees something" and "says something" ...but boy was she wrong about what she was seeing. Update on a story from January told in a whole new story. Royal Canadian Navy seamanwould be in big trouble ...if they could figure out who he is (they couldn't). Just like every week, you missed most of the stories. But you can get all the stories every week for less than $1/week and help True continue. See your upgrade options here.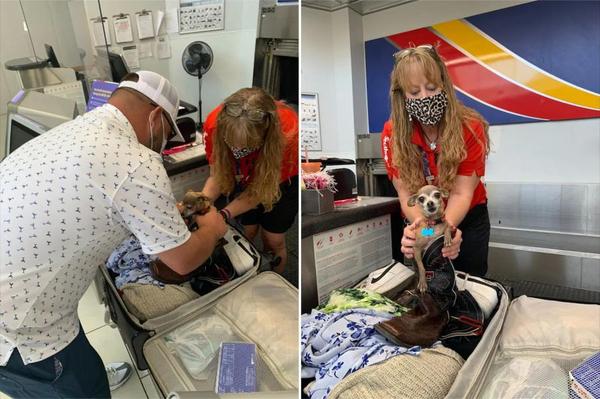 Oh, That's Just Icky! Kristi and Jared Owens had a chance to take some time off in Las Vegas, so they headed to the Lubbock (Texas) Preston Smith InternationalAirport. "We were just looking for a little romantic getaway, a little escape," Kristi said. Her mother agreed to look after the kids. But a Southwest Airlines gate agent said their suitcase was overweight — they could either pay a fee, or take some items out to put in their carry-on bags. The couple chose the latter, and found out why their bag was overweight: their Chihuahua, Icky, was stowing away in one of Jared's boots. "I wish there would have been a picture of our faces when we openedthat up and saw that!" Jared said. Kristi says she had packed the night before, and left the bag open for Jared. "And the last things I packed were those boots," he added. Gate agent Cathy Cook offered to look after the dog while they were gone, but the Owens's didn't impose: Jared's uncle drove to the airport to get Icky. "She's super spoiled now," Kristi said. "Not that she wasn't before, but it's a little extra now." (RC/Washington Post) ..."Have you been in control of your bag at alltimes?" explained.
---
You Might Want to Stand Up
Toilet Explosion Rocks Pine City Home: 'It Was Like Old Faithful'
WCCO Minneapolis (Minn.) headline
---
Did You Find an Error? Check the Errata Page for updates.
This Week's Contributors: MS-Mike Straw, AC-Alexander Cohen, RC-Randy Cassingham.
---
The Wizard of Christchurch story, which Alexander wrote Sunday, has an update in Monday's New York Times, which Alexander sent me a couple of hours ago. They report that Mr. Channell (aka The Wizard), who "is believed to be the world's only wizard to appear on a government payroll," had his contract canceled"months after some of his comments, including jokes about violence toward women, drew swift condemnation in New Zealand, according to The Guardian."
Example: "Never strike a woman because they bruise too easily is the first thing, and they'll tell the neighbors and their friends, and then you're in big trouble." Sounds to me like he knows about that first-hand.
One Other Update: Laura, one of True's volunteer editors, and who originally alerted me to the zebra story, reports that it turns out only three zebras escaped (hard to count with those stripes, I guess!), and one was killed when it got snared in a small-animal trap. 🙁
---
Ten Years Ago in True: Time for a little Potty Humor.
The Latest What It's Like to story: ...Operate a Satellite, written by a NASA engineer.
This Week's True Stella Awards case update: The Long, Sad Tale of a Gift Plate of Cookies.
This Week's Randy's Random: Am I Right?
This Week's Honorary Unsubscribe goes to Anne Saxelby. Her dad says he doesn't know how she got interested in cheese since their "classic Midwest" cheese knowledge was "Kraft Singles" ...but look what Saxelby did with it, in about 2 minutes: Anne Saxelby (OK to share link).
And So Long to actress Betty Lynn, best known as "Thelma Lou" (Barney Fife's girlfriend) on The Andy Griffith Show. She died October 16 in Mount Airy, N.C., where Andy Griffith was born, and the apparent model for Mayberry. She was 95.
---
Basic Subscriptions to This is True are Free at https://thisistrue.com. All stories are completely rewritten using facts from the noted sources. This is True® (and Get Out of Hell Free® and Stella Awards®) are registered trademarks of ThisisTrue.Inc. Published weekly by ThisisTrue.Inc, PO Box 666, Ridgway CO 81432 USA (ISSN 1521-1932).
Copyright ©2021 by Randy Cassingham, All Rights Reserved. All broadcast, publication, retransmission to email lists, web site or social media posting, or any other copying or storage, in any medium, online or not, is strictly prohibited without prior written permission from the author. Manual forwarding by email to friends is allowed if 1) the text is forwarded in its entirety from the "Since 1994" line on top through the end of this paragraph and 2) No fee is charged. I request that you forward no more than three copies to any one person — after that, they should get their own free subscription. I appreciate people who report violations of my copyright.
---
To get this delivered to you every week, click here to open a subscribe form.
Last Week's Issue