To get these issues free by email each week, click here to open a subscribe form. (Or cruise around the web site to see more samples, archive, and info on our terrific book collections of thousands of past stories.)

---
Since 1994, this is the 1393rd issue of Randy Cassingham's...

---
A Lifetime Memory: A mother in Ocean Isle Beach, N.C., grabbed her son and ran when she heard a "train" approaching her house at 11:30 p.m. It wasn't a train, it was an EF-3 tornado. Alas, Brittany Memory said, "I didn't have time to grab Penny" — the family's Yorkshire terrier, which was sucked right out of the house. "It ripped the sheets off my bed," she said. "She was just bundled up in it." She consoled her son over the loss of Penny: "Everything's going to be all right," she toldhim. "We're safe and everything can be replaced. We can't." But sure enough, the dog came trotting home a few hours later, "shivering and traumatized," but otherwise OK. (RC/WECT Wilmington) ...If only dogs could talk.
Oh, Sit! Shannon Stevens sat down in the outhouse near her yurt, nearly 20 miles away from the census-designated place called Haines, Alaska. She quickly experienced something that "felt like just a single puncture" in, well, the part you bare over the hole in an outhouse. "I jumped up and screamed," she said. Stevens called to her brother, who was also spending the weekend in the yurt. Erik Stevens went into the outhouse and looked into the hole. "Right at the level of the toiletseat," he said, "maybe an inch or two below, is a gigantic bear face looking right back up at me." The siblings fled and bandaged Shannon's wound, which she said might have been the work of the bear's teeth or claws. "I don't think we'll ever really know that part," she said. Carl Koch, a biologist with the Alaska Department of Fish and Game, concluded that the animal — which left by the morning after the encounter — was a black bear. "During February, to sit down in an outhouse and havesomething like that happen is very unusual," he said. (AC/KHNS Haines) ...No— well, you know.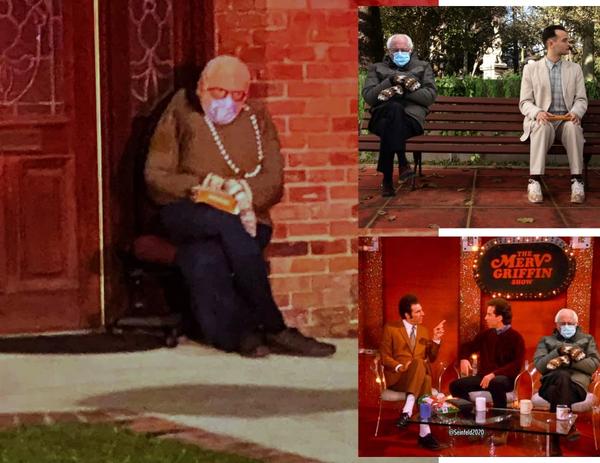 Weekend at Bernie's: Medics in NewOrleans, La., were called to a home by someone reporting a possible cardiac arrest on a neighbor's front porch. They rushed over but found their "patient" quietly sitting in a chair wearing some familiar-looking mittens. It wasn't just a manikin, but a life-sized version of the "Bernie Sanders in a chair" meme that has been going around and around (and around) online since the photo was taken of the Vermont senator at President Joe Biden's inauguration. "We can't make this stuff up," NOEMS saidin a Facebook post. (RC/New Orleans Times-Picayune) ...Wow: the neighbor is lucky enough to have never seen the Bernie meme!
This Issue's Exclusive Sponsor:
A Podcast Host that Helps Podcasters Make Money

bCast not only hosts, it has tools for automatic transcriptions, audio inserts, podcast websites and more. But ignore the $35-79/month regular price: for a limited time there's an amazing pay-once-for-lifetime-use deal on Appsumo. Get the deets and get rockin'.
With This Ring: After her engagement ended, an Orange City, Fla., woman found out her ex-fiancé was engaged again. In the photo she found on social media, his new fiancée was wearing a wedding band and engagement ring that were very similar to her own rings. So much so she checked, and discovered hers were missing, along with her grandmother's diamond ring. She confronted the man, got some of the items back, called the other woman in Orlando — and then called the police. The Orlandowoman said she was also missing a laptop and jewelry. The man was known to one woman as "Joe Brown," and "Marcus Brown" to the other. The Volusia County Sheriff's Office has put out a warrant for the suspected jilting lover — Joseph Davis, 48. They've said he can be identified by a tattoo on his left arm that says, "Only God can judge me." (MS/Orlando Sentinel, AP) ...The judge will be the judge of that.
There Are Eight Stories you missed this week: the full edition always has at least 10 stories, usually more. And discounts on True book collections, and first or exclusive access to specials, and the full text of the Honorary Unsubscribe, and, and, and.... Perhaps the best "and" for many is being part of the True community that's showing the world the different between thinking and ...not! Help us encourage more thinking, less obliviocy. Yes, $32 for ayear's subscription helps that mission: it's the source of more than 80 percent of True's budget, which has gotten very strained by the pandemic. 🙁 Can you help? See this page to be a part of making it happen, and thanks!
Uphill Both Ways: Fran Goldman really wanted a Covid-19 vaccine. The Seattle woman called the Washington Department of Health daily trying to get an appointment. "Nada. Nothing," she said. "Every day." She was finally able to land an appointment just three miles from home, at Seattle Children's hospital, the next Sunday morning. But a snow storm arrived on Saturday; by Sunday morning nearly a foot had built up, and transportation in the area had ground to a halt. Goldman didn't get tobe 90 years old by giving up: she bundled up and walked to her appointment, arriving just 5 minutes late. "I knew how far it was, I knew how long it would take me," she said. Once Goldman got her injection she walked back home. "My mother isn't going to let a little snow stop her from getting the vaccine," said her daughter, Ruth Goldman of Buffalo, N.Y. "She's someone who looks for solutions, not problems." (RC/Seattle Times) ...We'll see you back in a few weeks.
---
The Indignity of it All
San Francisco Supervisor Says Lack of Tourists Has Criminals Now Targeting Residents
KTVU Oakland (Calif.) headline
---
Did You Find an Error? Check the Errata Page for updates.
This Week's Contributors: MS-Mike Straw, AC-Alexander Cohen, RC-Randy Cassingham.
---
As I Was Writing Sunday, I saw a friend had posted a note to say it was the 64th anniversary of the "peace sign". Of course I checked the accuracy of that, and once confirmed I sent out a link to my own December 2006 story ...and resulting editorial based the reaction of an obliviotic reader to that story: Peace on Earth, which included quite a few thoughtful reader comments.
This Week's Story "Weekend at Bernies" is the Story of the Week for easy sharing on True's social media: Twitter, Facebook, and Instagram.
Periodic Reminder: Indeed I do accept story submissions for True. This page discusses what I need for a suggestion to be viable. Due to the volume of submissions I only reply to them when you are the first to suggest a story, so you'll know that yours was The One to bring it to my attention. Several stories this week (and the H.U.) came from reader suggestions. Thanks!
No Uncommon Sense Podcast episode this week: I used the time to get ahead on Stella Awards case updates.
---
Ten Years Ago in True: a lawsuit that shows it was Past Time for an Intervention.
This Week's True Stella Awards case re-post: Harry Potter and the Colossal Lawsuit.
This Week's Randy's Random: when you really hate being Challenged on Facebook.
This Week's Honorary Unsubscribe goes to Bruce Meyers. In the mid-60s, Meyers, a surfer, started a very fun revolution that continues to this day — and how Donald Duck fits in?! His story in about 3 minutes: Bruce Meyers (OK to share link).
---
Basic Subscriptions to This is True are Free athttps://thisistrue.com. All stories are completely rewritten using factsfrom the noted sources. This is True® (and Get Out of Hell Free® and StellaAwards®) are registered trademarks of ThisisTrue.Inc. Published weekly by ThisisTrue.Inc, PO Box 666,Ridgway CO 81432 USA (ISSN 1521-1932).
Copyright ©2021 by Randy Cassingham, All Rights Reserved.All broadcast, publication, retransmission to email lists, web site or social media posting, or any other copying or storage,in any medium, online or not, is strictly prohibited without prior written permission from the author. Manual forwardingby email to friends is allowed if 1) the text is forwarded in its entirety from the "Since 1994" line on topthrough the end of this paragraph and 2) No fee is charged. I request that you forward no more than three copies to any oneperson — after that, they should get their own free subscription. I appreciate people who report violations of my copyright.
---
To get this delivered to you every week, click here to open a subscribe form.
Last Week's Issue