To get these issues free by e-mail each week, just subscribe using the form on this page — your privacy is Randy's policy. (Or cruise around the web site to see more samples, archive, and info on our terrific book collections of thousands of past stories.)

---
Since 1994, this is the 1205th issue of Randy Cassingham's...

---
Worth a Revisit: My write-up (and rant) about a 2010 Zero Tolerance story shows that even if it's school policy that school administrators "must" take common sense into account, they seem to feel free to ignore policy and go in direct opposition to that policy. The kid involved is now about 16. Read about Patrick Timoney's "Gun" and fume about how a government agent (aka public school principal) forced a terrified child to sign a confession because of her own fears and biases.
---
Menace on the Highway: A caller to the 999 emergency number in West Yorkshire, England, wished to report someone riding in a car without wearing a seatbelt — an offense that under British law can result in a 500 pound (US$650) fine. The scofflaw, police confirmed, was a woman riding in the back of a car heading to the State Opening of Parliament: Queen Elizabeth II. A police spokesman had this to say about the event: "I cannot stress enough that the 999 number is for emergencies only." Under U.K. law, the queen is exempt from criminal law. (RC/BBC) ...Though she's not exempt from the laws of physics.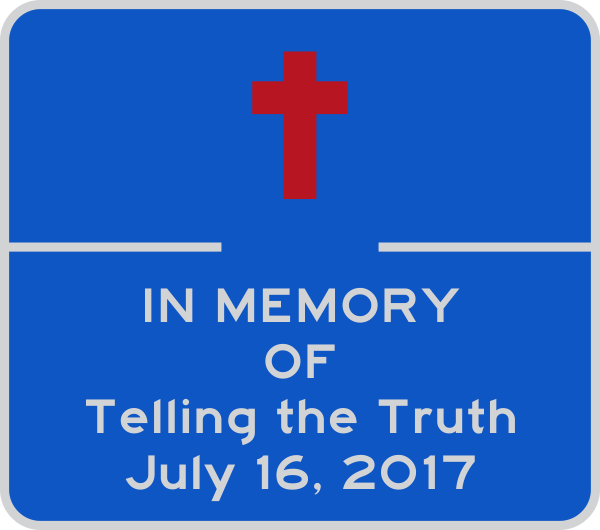 Crossing a Line: Texas legislators passed a law in 2011 to raise motorcycle safety awareness, calling for memorial signs near fatal motorcycle crash sites. According to TxDOT, the signs must have a blue background with white writing including the deceased's name, the date of the crash, the words "In memory of" and "a red cross." The red cross — in the shape of the Latin cross, not like the Red Cross organization's — is required regardless of the religious beliefs of the deceased. Christi Hall, a victim's mother-in-law, said their family wanted to put something motorcycle-related on the sign, something that could help people realize a motorcycle crash had happened there, but the law prohibits that. But isn't the government posting of a religious symbol problematic? "The design of the sign, including the use of this specific cross, was selected by TxDOT's Traffic Division," says Phil Wilson, who was the executive director of TxDOT when the rules were enacted. "The red cross design was selected by TxDOT as a nonsectarian symbol of death, and not to advance or endorse Christianity." (MS/Austin American-Statesman) ...Seems like the Grim Reaper would be a more recognizable "nonsectarian symbol of death."
Yay Team: While the basketball team was attending an out-of-town camp, the two coaches from Tishomingo (Okla.) High School decided they needed to go on a beer run. The only vehicle at hand: the school bus. They used it — and were fired. Locals are outraged, but school officials aren't doing much else about it. "Our repeated phone calls to superintendent Kevin Duncan have not been returned," says the local TV station. That's probably because Duncan is already busy with another scandal: his wife, Shelley, the school's "cheer coach" and special education teacher, was arrested at school and charged with having an "inappropriate relationship" with a 14-year-old boy. Parents are demanding the school board do something to get the school's (and the town's) reputation back, especially since Mrs. Duncan is still listed as a school employee, even though her teaching license has been revoked by the state. "We're all upset just that no one will talk about it," said one parent. "Apathy runs rampant here. No one wants to get involved, no one wants to talk. Everyone's scared of something, but I don't know what." And with that, the school board adjourned — for a month. (RC/KXII Sherman) ...I can only tell her what the politicians aren't scared of: the voters.
This Issue's Exclusive Sponsor:

Entrepreneurs: Is Your Life in Constant Chaos?
If your piles of stuff, to-do list, and forgotten deadlines are getting the best of you, it's time to change. Don't let your summer melt away without letting me help. The summer special for my Mini-custom Intense Coaching program provides the tune-up you need.
I'm a High Performance Coach specializing in entrepreneurs with ADD (or ADD-like symptoms). $200-off Special Extended to July 31.
More Stories: You missed the story of the airline passenger who did something for "luck" that could have destroyed the entire aircraft. Man sought for questioning: why is he leaving his pantyhose on women's cars? Man gets lost and dies in National Park — the same one where he was rescued after he got lost there last winter. You had better sing this country's national anthem like you're proud or face fines. Business owner tries burning out his competitors — and there were a lot of them. A crazy one-two punch of stories: man drives himself to the gym to take a shower ...after being severely burned at home doing something illegal; and, Woman sets boyfriend on fire, but when she thinks better of it, she douses the flames ...with buckets of urine. Crazy? Sure! Now stop missing most of the good stuff: ask for your upgrade to start with the 16 July issue, and get a full year of expanded issues for just $32! Details here.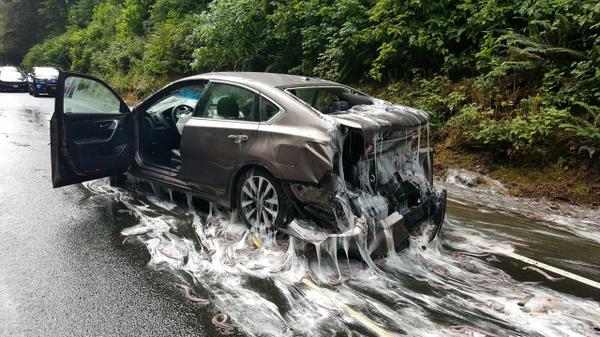 Monsters on the Highway: Hagfish have tentacles around their mouths, and they dig tunnels into the corpses of larger animals to eat them. The spineless fish produce slime — five gallons or more, when mixed with water — when disturbed. And it turns out they find being flung out onto a highway to die from lack of water disturbing. That's what happened to 7,500 pounds of hagfish — or "slime eels," as they're also known — in Oregon, and they duly slimed a stretch of U.S. Highway 101 in Lincoln County. Police say Salvatore Tragale couldn't stop his truck quickly enough when he encountered road work, and the containers of slime eels he was hauling for shipment to Korea — to be eaten — dumped onto the highway and nearby cars, causing four of them to crash. It wasn't immediately clear whether or how Tragale would be charged. (AC/Portland Oregonian, KOIN Portland) ...If they'd been electric eels, there'd already have been charges all around.
Who Do You Go To to Get a Read on the Ethics of This? Police in Stratford, Conn., arrested a man after he mistook a woman in the parking lot of a hotel for the prostitute he had ordered online. The woman sprayed him in the face with pepper spray. Her boyfriend was nearby and saw the commotion, and ran over and sprayed the man in the face again with his own can of pepper spray. The couple was helping him get the irritant out of his eyes when police arrived, and he allegedly admitted he was waiting for the "shy Latina" he had ordered, specifying he wanted a massage with a "happy ending." Shortly after, the man announced to the media "I will not resign." He is Dr. Noel Kayo, 39, a cardiovascular researcher and a commissioner on the Bridgeport Ethics Commission. After things blew up in the media, Kayo did resign from the commission. (RC/Connecticut Post) ...So Kayo didn't get a "happy ending," but voters did.
---
He Can't Walk Away from This One
Police: Man Uses Prosthetic Leg to Assault Woman
Sandusky (Ohio) Register headline
---
Did You Find an Error? Check the Errata Page for updates.
This Week's Contributors: MS-Mike Straw, AC-Alexander Cohen, RC-Randy Cassingham.
---
The Latest Episode of Uncommon Sense, the This is True Podcast, came out this morning. This week, we start delving into a topic that I've wanted to cover for a long time, and the podcast provides a nice platform for it: should parents read True to their kids? Many do:
Podcast 003: Reading TRUE to Kids
And as always, your comments and questions are welcome. You can email me, tweet to @ThisIsTrue, or comment on the episode page. Enjoy!
Speaking of Podcasts, What Are Your Favorites? You might remember The Top 11 "Hidden Gems" of the Internet that I wrote last fall (and updated last weekend; if you'd like to share that on social media, feel free to use my http://hop2.cc/gems shortcut, or you can share it from my own Facebook or Twitter posts).
I'm writing an article for Medium similar to that, about the "Gems" available in podcast form. So: what are your favorites? What are the must-hear podcasts for you? I'm looking specifically for independent content that most people don't seem to know about (the "Hidden" part), and I can think of no better place to get suggestions than from readers who like thought-provoking stuff!
---
Ten Years Ago in True: A wall between Texas and Mexico? Ain't nothin' new — but 10 years ago, Texans didn't want it because... No Wall High Enough.
Today on Randy's Random: And I Choose to Speak Out. (And Saturday's The Price of Love zoomed right onto the Most Shared list.)
This Week's Honorary Unsubscribe goes to Maryam Mirzakhani. What she did is a bit mind-bending: she was a genius mathematician.
Read her story in the Archive: Maryam Mirzakhani (OK to share link)
And So Long to actor Martin Landau (Hitchcock's North by Northwest, TV's Mission: Impossible, and more), dead July 15 at 89.
And a Snarfelling of Flesh to George Romero, whose film concept Night of the Flesh Eaters was turned into 1968's Night of the Living Dead, sparking a zombie empire, dead (and not walking around looking for brains) July 16 from lung cancer, at 77.
---
Basic Subscriptions to This is True are Free at https://thisistrue.com. All stories are completely rewritten using facts from the noted sources. This is True® is a registered trademark. Published weekly by ThisisTrue.Inc, PO Box 666, Ridgway CO 81432 USA (ISSN 1521-1932).
Copyright ©2017 by Randy Cassingham, All Rights Reserved. All broadcast, publication, retransmission to e-mail lists, WWW, or any other copying or storage, in any medium, online or not, is strictly prohibited without prior written permission from the author. Manual forwarding by e-mail to friends is allowed IF 1) the text is forwarded in its entirety from the "Since 1994" line on top through the end of this paragraph and 2) No fee is charged. We request that you forward no more than three copies to any one person — after that, they should get their own free subscription. We always appreciate people who report violations of our copyright to us.
---
You can subscribe free by e-mail and get this delivered to you every week.
Last Week's Issue