To get these issues free by email each week, click here to open a subscribe form. (Or cruise around the web site to see more samples, archive, and info on our terrific book collections of thousands of past stories.)

---
Since 1994, this is the 1510th issue of Randy Cassingham's...

---
Skewed: Karina Gasparova, an IT project manager at essDOCS in London, England, a paperless document processing company, had a problem with her boss, Aleksander Goulandris. It all came to a head when Gasparova filed a sexual harassment lawsuit. Among the deeds Gasparova pointed to: Goulandris putting "XX" on a work assignment in red, which obviously meant he was wanting to kiss her, and "????" in other spots, clearly meaning he was asking her for sex. It's unclear what she thought "YY"meant, also used in the document. Worse, she claimed, he renamed a file to "AJG", which obviously meant "A Jumbo Genital" — that she should be "ready to engage in sexual acts." Another time, an exasperated Goulandris demanded to know when she would be done with a task, shouting "I need a date, date, date!" which, of course, meant he wanted "the exact date when [she] would finally agree on sexual contact with him." He then "retaliated" for her rejections by taking work projects away from her.After hearing the evidence, a tribunal ruled that "XX", "YY", and "????" were simply places where Goulandris needed Gasparova to provide information. "AJG" are his initials; demanding the "date" when she would turn in her work is simply a reasonable question. And because she was not getting her work done, removing her from various tasks was a reasonable business decision. The judge declared Gasparova regularly "skewed perception of everyday events," leading to "extraordinary allegations withoutevidence, and she contradicted herself in a way that could not be attributable to a fallible memory." Gasparova was thus not only not awarded any money, the judge ordered her to pay the company 5,000 pounds (US$6,225) in damages. (RC/London Telegraph) ...Wait until she interprets that this "all came to a head."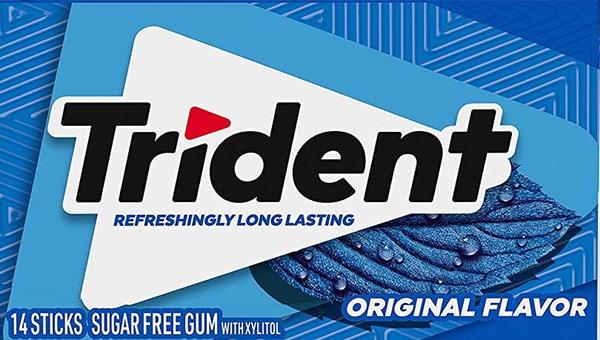 Minty Fresh: U.S. District Judge Iain Johnston dismissed with prejudice a class-action lawsuit against Mondelez International, makers of Trident gum. The suit,filed by Illinois resident Kristen Lesorgen, accused the company of falsely making consumers believe Trident's Original Flavor gum contained actual mint. "At most, Trident 'Original Flavor' packaging hints that its flavor is mint, not that its ingredients include mint or peppermint," Johnston ruled. "The packaging doesn't even use the word 'mint.' Further, mint leaves in a garden are green." The packaging does show a mint-shaped leaf, but it is, the judge pointed out, "unnaturally blue."(MS/Reuters) ...Four out of five judges agree: frivolous suits should be tossed with prejudice.
Ammo Magazine Falls Out of high school student's pistol as he was using the weapon to beat on another student in the hallway. "Former friends" invite neighbor to take them to court; neighbor does, and wins big. County government has an interesting problem with an employee. Kid uses his slingshot to save little sister from kidnap attempt. Local authorities in Canada don't seem to have a good handle on the purpose of dog parks. High school teacher's comments are so outrageous a studentrecords them, so naturally she is suspended. Obliviot Florida Man warns cop of his "black belts" and warns "You're gonna be in a world of hurt," ...which didn't keep him from being arrested quite easily. Drunk driver switches places with passenger and claims he wasn't driving — the passenger was his dog. Man comes up with fun way to get a job, employer comes up with fun way to say yes. All are great ways to teach kids how to think (though of course it's the details that make the kids sit up andlisten, and learn from). The full issue isn't just more fun from more stories, it's more educational! Work toward mastery with an upgrade: you get to decide how much to pay. Check it out here and get onboard today.
This Issue's Exclusive Sponsor:
Your New Favorite Running, Fitness, and Everyday Shoe.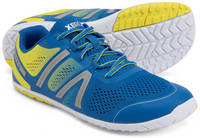 The HFS is Xero's best-selling road running shoe: come read the reviews to learn why. Many colors for men and women, and likely the most comfortable shoes you've ever worn, even if you don't run.
The Ignorance, It Hertz: Humberto Marchand was born in Puerto Rico, which makes him a U.S. citizen. Yet when he showed up at a mainland airport Hertz counter to collect the car he'd already paid to rent, an employee looked at his Puerto Rico driver's license and demanded his passport. Marchand said he'd already shown a valid I.D. The woman told him to go away; ultimately, she called the police, who sided with her. "We're not going to sit here for any longer and bicker over thisnonsense," the cop said, and told Marchand to take his complaint to the corporate office — but first to go away. Hertz has apologized and issued a refund, it said. Capt. Michael Cunningham of the Kenner, La., police said the department was looking into "the manner in which the officer spoke to those involved," but also said the officer's role was "to bring an end to the disturbance," not "to mitigate the disagreement." (AC/Washington Post) ...If an ignoramus breaks a contract and tells you toleave her office, the cop's job is to see that you do.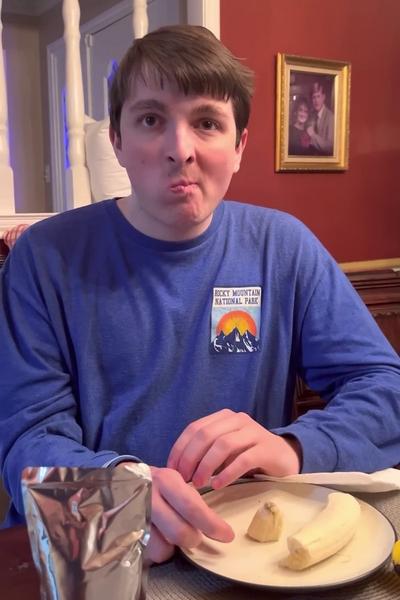 Challenging the Comfort Zone: When Jack Richardson of Arlington, Texas, was 18 months old, he started to refuse to eat most foods his parents gave him.His mother, Amy, knew "there was just something different" about him, especially compared to his twin brother: Jack has autism, and Sam, his brother, does not. Jack eventually settled into eating only waffles, sausage, bacon, microwaved scrambled eggs (which Amy finds "disgusting"), French fries, sweet potato fries, and chicken nuggets — and he just turned 22. If she tried to feed him something else, "He would not touch it," Amy said. "He didn't want to smell it. He would freak out if there wassomething foreign put in front of him." But about a year ago, Jack declared, "I think I should try new foods." He started with watermelon — and Amy recorded his reaction on video. Jack's taste tests have become an online sensation: "Jack's Snacks" on Youtube has thousands of subscribers watching short videos like "Jack tries a banana!" and "Jack tried pizza for the first time EVER!!" He doesn't always like the new foods. "He often says, 'Mmmm. Delicious!'," says his father, Blue Richardson. "Buthis face just belies the whole thing." But he's willing to try. (RC/WFAA Dallas) ...Which puts him ahead of so many.
---
Was It Her Guide Dog?
Suspected Drunk Driver with Dachshund in Her Lap Leaves Trail of Destruction in Family's Yard
WPLG Miami headline
---
Did You Find an Error? Check the Errata Page for updates.
This Week's Contributors: MS-Mike Straw, AC-Alexander Cohen, RC-Randy Cassingham.
---
On the Rebound: I finally got hit by Covid-19 several weeks ago, recovered very quickly, but then the fatigue caught up with me again. At this point I'm "on the rebound" from the rebound and am feeling much better again. Yesterday was the first day I didn't need a nap to get through the day.
So I'm stalled at putting together the usual Get Out of Hell Free Summer Special, which is OK since I was gearing up for it early. I'll continue to take it easy to ensure my body gets better and not try to rush it. For the same reason, I didn't even try to research an Honorary Unsubscribe this week, especially since energy was really low on Monday. I should be back to my regular productivity next week.
Two Weeks Ago I ran a note from Doug in Ontario, Canada, about being a bit humbled by the Honorary Unsubscribe. I replied, and last week Seth in Oregon weighed in with another point of view.
This week it's Rob in North Carolina ...so I put it all on my blog so you can not only read it, but weigh in yourself in the comments: Humbled by the H.U.?
---
Ten Years Ago in True: A most unusual example of Home Schooling.
This Week's Story of the Week (you're welcome to share it), the first story about the crazy lawsuit, is posted on Telegram, Instagram, Facebook, Mastodon, and/or (new!) Bluesky — or grab from any of those to post elsewhere.
The Latest Sunday Reading: A police department chose to regain the public trust ...by lying. The Taylor Swift Cop Video: Call Me a Contrarian.
No Honorary Unsubscribe this week. See comments above.
---
Basic Subscriptions to This is True are Free at https://thisistrue.com. All stories are completely rewritten using facts from the noted sources. This is True® (and Get Out of Hell Free® and Stella Awards®) are registered trademarks of ThisisTrue.Inc. Published weekly by ThisisTrue.Inc, PO Box 666, Ridgway CO 81432 USA (ISSN 1521-1932).
Copyright ©2023 by Randy Cassingham, All Rights Reserved. All broadcast, publication, retransmission to email lists, web site or social media posting, or any other copying or storage, in any medium, online or not, is strictly prohibited without prior written permission from the author. Manual forwarding by email to friends is allowed if 1) the text is forwarded in its entirety from the "Since 1994" line on top through the end of this paragraph and 2) No fee is charged. I request that you forward no more than three copies to any one person — after that, they should get their own free subscription. I appreciate people who report violations of my copyright.
---
To get this delivered to you every week, click here to open a subscribe form.
Last Week's Issue