To get these issues free by email each week, just subscribe using the form on this page — your privacy is Randy's policy. (Or cruise around the web site to see more samples, archive, and info on our terrific book collections of thousands of past stories.)

---
Since 1994, this is the 1261st issue of Randy Cassingham's...

---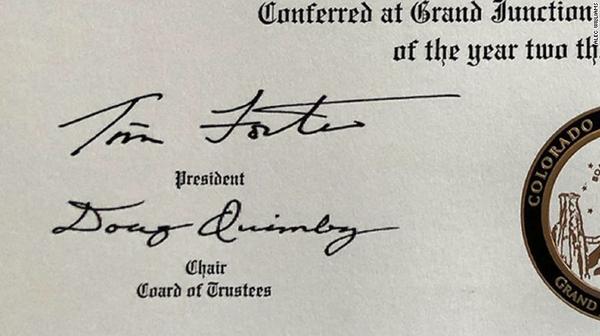 My Biploma: Alec Williams, looking at his recently earned diploma from Colorado Mesa University in GrandJunction, noticed something odd in the corner: it was signed by Doug Quimby, Chair of the "Coard of Trustees" — not the Board. CMU president Tim Foster took full responsibility, agreeing "This mistake is all ours" since they design the diplomas in-house. He pledged to replace all the diplomas issued since the former Mesa State College became a university in 2011 — 9,188 sheepskins, at about $5 each. The typo was hard to catch thanks to the Old English font face used, but the Cs in Chair andCoard are clearly identical. Williams, who is now working as a journalist in Utah, said he had a "moment of laughing at it," but "the more I thought about it the more frustrated I got, because I'm sitting on $30,000 worth of debt and they can't take the time to use spellcheck." (RC/Grand Junction Daily Sentinel) ...Next Foster will address multiple students' unexpected "C" grade average....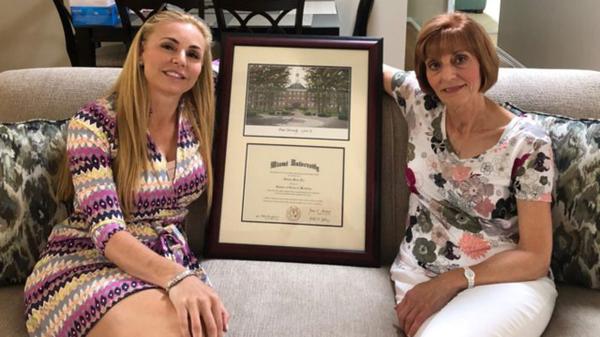 Diploma Duplicitousness: Melissa Howard is running in the Republican primary for a seat in Florida's House of Representatives for theSarasota area, pledging to "do my best to support our President and his policies to 'Make America Great Again'." A conservative political news web site questioned Howard's claimed education: she says she's a graduate of Miami University in Ohio, but FLA News Online couldn't find record of her graduating and called her out. Howard called the accusation a "lie," and her spokesman slammed it as "fake news." Howard later issued a photo of herself and her mother holding her framed diploma. The website apologized, but took it back after a university spokesman pointed out multiple problems with the pictured diploma. It shows a bachelor of science degree in marketing; the school has never offered such a degree. It's also signed by someone other than the dean of the business school, and is dated 1996; on her campaign bio, Howard said she graduated in 1994. Some prominent Florida Republicans are demanding Howard drop out of the race, but the Republican Party of Sarasota refuses to condemn heractions, adding they would support whatever nominee won the primary. (RC/WPLG Miami, Sarasota Herald-Tribune) ...Make Truth Matter Again.
The Terrible 72s: A 72-year-old wanted some free cheese, and got in line for a sample at the Greenville, S.C., Costco, waited his turn, and got his cheese — except for the waiting his turn part. He cut the line, police said. It became a police matter after a 70-year-old, angry about having been cut past, saw the 72-year-old approach the next line, for free cheeseburgers. The younger man, police said, invited the elder to "get in front of him because he knew he would just cut the lineanyway." The elder replied: "I will do it again!" Then he insulted the younger man — and hit him. "It sounded very loud, and ... the man's hat flew off his head," a witness said. The 72-year-old claimed the 70-year-old had been making a fist. Neither was arrested; police, citing inconsistent accounts, said they were still investigating. (AC/Columbia State) ...This line for cheese. That line for cheeseburgers and knuckle sandwiches.
This Issue's Exclusive Sponsor:
Drone Pilots: Do You Have Your Wings?

Beautiful custom metal Drone Pilot Wings dress up your shirt, jacket, and/or equipment box, showing your pride and professionalism in your hobby. Makes a great gift, and is less expensive than most message t-shirts (lasts longer, too).
Order Yours Here, with discounts for extras.
Choose Your Weapon: According to surveillance video, a man who had difficulty maintaining his balance approached a Whataburger store in Austin, Texas. The man loitered inside for a while, then grabbed a pair of metal tongs, went up to an employee who had opened the register, and started jabbing her with the tongs while demanding money. The man was confronted by another employee who ordered him to leave the restaurant. Police reviewed the video and arrested David Garcia-Gonzalez, 44, oncharges of robbery by threat, a second-degree felony. (MS/KEYE Austin) ...Whatabungler!
California's Lawmakers Don't Have to wait in line at the DMV: they have their own secret (until now!) DMV office. Man tries to intimidate other man with a sword — but the second man has a rifle and.... Woman has to have her leg amputated, so she donates it to a very cool cause. A head-smacking British nanny-state story. Police blow up a suspicious box ...full of university scientific equipment. Mystery novelist got inspiration for murder mysteries ...from the murders hecommitted. Woman thinks police should let her go because she's white. Man calls for help because he's being chased ...by an adorable baby squirrel (and we have the photo). You can still read these stories: just ask for your upgrade to start with the 12 August issue, and help True survive! Upgrades start at just $9.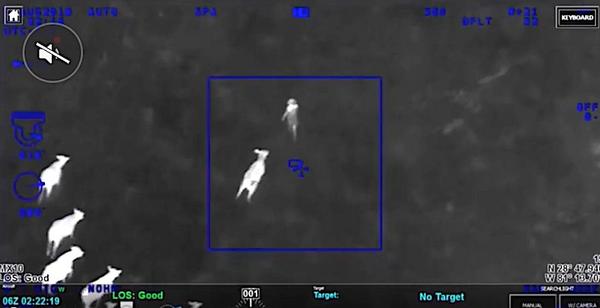 Stop Me If You've Herd This One: The Sanford (Fla.) Police Department was chasing a stolen vehicle when it crashed by acow pasture. Of the three passengers, police say, Erin Thomas, 38, stayed with the vehicle, but driver Jamie Michael Young and Jennifer Anne Kaufman, both 46, ran into the field. Young was quickly chased down with the help of a police dog, but Kaufman got away into the darkness — at least briefly. As she ran through the field, the crew of a Seminole County Sheriff's Office helicopter watched via an infrared camera as she was chased, but not by officers. "Actually, a large group of cows isfollowing her for a good visual," the chopper crew told officers on the ground by radio. "It looks like they may attack her." They didn't, but shortly after they advised, "She's pretty far into the field now. If you see the large group of cows, they're literally following her and chasing her." Kaufman finally got to a fence where she could get away from the cows — but the bovines had herded her right into the arms of the officers. She was jailed, charged with petit theft, possession of cocaineand drug paraphernalia, trespassing, resisting arrest, and violation of probation. (RC/Tampa Bay Times) ...When told what chased her down in the dark, all she could say is "Bull!"
---
All Washed Up
Teen Blasts Armed Robber in Face with Power Washer, Thief Makes Clean Getaway
South [New] Jersey Times headline
---
Did You Find an Error? Check the Errata Page for updates.
This Week's Contributors: MS-Mike Straw, AC-Alexander Cohen, RC-Randy Cassingham.
---
Cowabunga! The video from the sheriff's helicopter showing the cows chasing the fleeing woman is on the department's Facebook page. You don't need a Facebook account to watch it: if it pops up asking you to log in (or create an account), just click "Not Now" and you're set.
Also, Since These Stories Were Written, Florida's Melissa Howard came out fighting. "It was not my intent to deceive or mislead anyone," she claimed, but "I made a mistake in saying that I completed my degree. What I did was wrong and set a bad example for someone seeking public service." Despite that, she vowed "I am staying in the race and intend to win and lead by example from now on."
But Republican leaders — and the news media — weren't having any of it. See my blog for a significant update on the story: Make Truth Matter Again.
It's Likely You Enjoy This is True — that's almost certainly why you subscribe! You want it to continue so you can read it every week.
The only way we've been able to keep going is with reader support — we don't even have ads on the web site (why). The vast majority of True's budget comes from Premium upgrades.
But maybe this free edition is just the right size for you. We could still use your support: there's a button in the sidebar of every page on the site for you to send a contribution to help. Even just a couple of bucks goes a long way. Can't afford that? There are other ways to help that don't cost a cent.
Thanks Much to the many readers that make True possible.
---
Ten Years Ago in True: Airport luggage screening isn't only a problem in the U.S.: Ignore the Burning Fuse.
Today on Randy's Random: Can the new generation read real handwriting anymore? Curse Cursive.
This Week's Honorary Unsubscribe goes to Richard H. Kline. A cinematographer, Kline filmed a lot of movies you enjoyed, from Clint Eastwood's Hang 'Em High to Star Trek: The Motion Picture.
Read His Story in the Archive: Richard H. Kline (OK to share link).
And So Long to child rockabilly star Lawrencine "Lorrie" Collins (who played with her younger brother, prodigy guitarist Larry, as The Collins Kids — in the linked video they're 12 and 14), dead August 4 after a fall at 76.
And Goodbye to actress Patricia Benoit, best known for playing Nancy, the girlfriend — then wife — of Wally Cox in TV's Mister Peepers (1952-1955). She died in her sleep August 6 at 91.
Last, Our R-E-S-P-E-C-T to singer Aretha Franklin, dead August 16 from pancreatic cancer. She was 76.
---
Basic Subscriptions to This is True are Free athttps://thisistrue.com. All stories are completely rewritten using facts from the noted sources. This is True® is a registered trademark. Published weekly by ThisisTrue.Inc, PO Box 666, Ridgway CO 81432 USA (ISSN 1521-1932).
Copyright ©2018 by Randy Cassingham, All RightsReserved. All broadcast, publication, retransmission to e-mail lists, WWW, or any other copying or storage, in any medium, online or not, is strictly prohibited without prior written permission from the author. Manual forwarding by e-mail to friends is allowed IF 1) the text is forwarded in its entirety from the "Since 1994" line on top through the end of this paragraph and 2) No fee is charged. We request that you forward no more than three copies toany one person — after that, they should get their own free subscription. We always appreciate people who report violations of our copyright to us.
---
You can subscribe free by email and get this delivered to you every week.
Last Week's Issue