To get these issues free by email each week, just subscribe using the form on this page — your privacy is Randy's policy. (Or cruise around the web site to see more samples, archive, and info on our terrific book collections of thousands of past stories.)

---
Since 1994, this is the 1339th issue of Randy Cassingham's...

---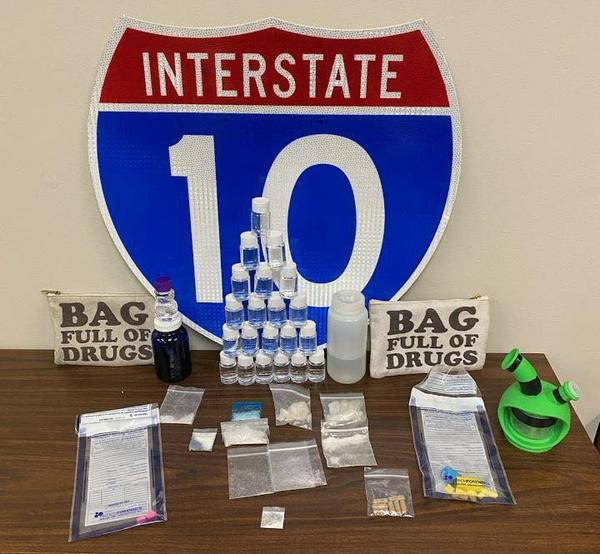 Properly Labeled: Florida Highway Patrol troopers pulled over a speeding vehicle in the panhandle. Both occupants were arrested after troopers noticed the car hadsome unusual cargo: meth, the "date rape" drug GHB, cocaine, MDMA (or "ecstasy"), a large volume of cash, and more. The Santa Rosa County Sheriff's Office assisted, and provided a clue as to what helped troopers figure out there was illegal cargo. "Note to self," the department posted on Facebook. "Do not traffic your illegal narcotics in bags labeled 'Bag Full Of Drugs'." (RC/WTSP Tampa) ...Which went well with their bumper sticker: "Car Full of Obliviots"
Check the Schedule: A man entered a Lafayette, Ind., convenience store, pulled a knife, and demanded money from the two clerks. The clerks simply closed the security enclosure they were in, and the man left without any money. Police were able to quickly identify Shawn Yoakum, 42, and arrested him on charges of attempted robbery and resisting law enforcement. The reason for the quick capture: Yoakum was readily identified by one of the clerks — his brother. (MS/Lafayette Journal &Courier) ...That may be the last time he admits Shawn's his brother.
You Know, What's-His-Name: The owner of a gas station-convenience mart combo in Hamden, Conn., logged in to the store's security cameras to check on his overnight-shift employee: it was his first night on the job. The owner rushed over when he found the store completely unattended. The employee was gone, he says, along with $17,183 worth of lottery tickets, cigarettes, and cash. But he couldn't even tell police the man's name, since as the thief fled, he took one more thing: his folderfrom the personnel file with all of his identifying information. (RC/WTIC Hartford) ...Background checks: worth their weight in gold.
This Issue's Exclusive Sponsor:
True's (In)famous Cards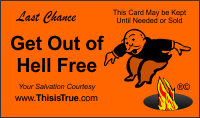 Tired of people telling you what to think or how to believe? Randy's cards are the perfect response, and are a great way to cheer up harried service workers who have to put up with obliviots. Well over 2 millionsold.
Get Yours Here. Don't Leave this Earthly Plane Without One.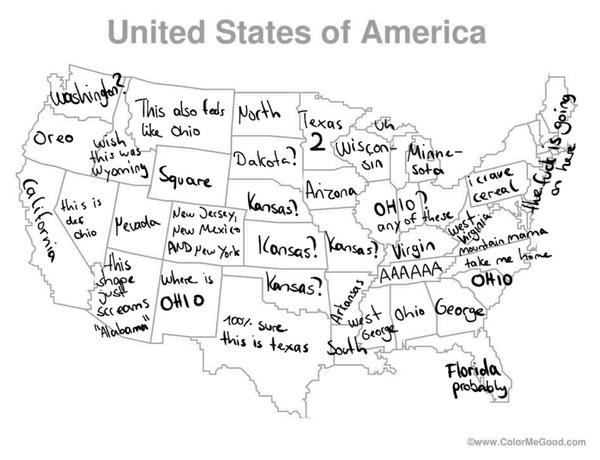 Where OH, Where OH, Where OH? "Local German gets Bored And Tries To Name All American States," tweetedsomeone calling himself "Felix." He added: "i think i did pretty well." He did, if his goal was to go viral; if he was trying to place the states correctly on a map, not so much. He spelled Oregon as "Oreo," called Michigan "Minnesota" and Minnesota "Texas 2," and wrote lyrics from "Take Me Home, Country Roads" over two of the states near what he correctly identified as West Virginia. But the state that gave him the most trouble was Ohio. He labeled South Carolina "Ohio." He labeled Alabama"Ohio." He thought Montana "also feels like Ohio" and Nevada was "def Ohio"; he even wrote "where is OHIO" on New Mexico, and that question trended on Twitter. But give him some credit: across three states he wrote, "OHIO? Any of these" — and one of them was. (AC/WTOL Toledo, Ohio) ...And where would most Americans place the state of Baden-Württemberg on a map of Germany?
You Missed More than Half of the stories, including: Florida reporters ask for volunteers at a parade to take alcohol breath tests, bringing not-unexpected results. Woman's excuse for running from the police is a doozie ...but of course she's arrested anyway. Florida day care teacher fired for the bizarre way she sent a note home to a kid's mom. Museum criticized over an eyebrow-raising job posting. Mom has a suggestion on how to keep dads awake in the hospital maternity ward. Teensrun their own "To Catch a Predator" sting. Homeowner's Association thinks they have the right to restrict residents' free speech. Police find criminal suspect in a tree; why he's up there is downright hilarious. It's not too late to read all of these stories: just ask for your upgrade to start with the 9 February issue. Upgrades start at just $9! See your options here.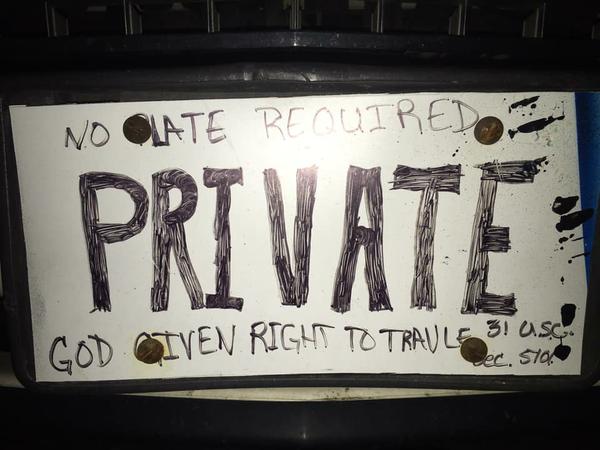 Licensed Obliviot: It was not difficult for police in Kennewick, Wash., to spot a fake license plate on a car: it was hand-drawn in black marker on a whitecard. "PRIVATE" it read where the plate number should go. "No Plate Required" was scrawled at the top, and "God Given Right to Travle" at the bottom, plus an afterthought: a squeezed-in U.S. Code section ...which actually outlines the decimal system used on money. Officers didn't cite the Cadillac's driver since the car was parked, but a passenger was taken to jail when officers found he had a warrant out for his arrest. (RC/Kennewick Tri-City Herald) ...There may be a God-given right totravle, but He didn't guarantee it would be in a Cadiclla.
---
Home Sweet Home
Aggressive Squirrels Invade Florida Condo, Drive Residents Nuts
WFTV Orlando headline
---
Did You Find an Error? Check the Errata Page for updates.
This Week's Contributors: MS-Mike Straw, AC-Alexander Cohen, RC-Randy Cassingham.
---
Premium Subscriber David writes: "I now work for a small town weekly newspaper in my hometown, Smith Center, Kansas. I am looking for innovative ways to engage our readers. I particularly enjoy the Honorary Unsubscribe entries. I also now have the task of approving the banal obits you reference. Is there a way to occasionally print [them] with appropriate editorial credit?"
You know, that's so innovative I've never been asked that before! It frankly never occurred to me, but I like the idea. I sent David a permission letter, and the first one comes out this week. It's a bit of a challenge for a newspaper: I don't always find someone, and they're of variable length when I do. That said, those of you who work for newspapers (or know editors well) have an innovative idea to consider: drop me a line if you're interested. I'm doing it for no charge for smallerpublications, but it indeed requires "appropriate editorial credit."
Have a publication yourself, or know someone who does, where this would be perfect? Point them to this page for more information, and thanks!
The Associated Press obit of Robert Conrad, noted below this week's Honorary Unsubscribe, had this note at the bottom: "Bob Thomas, a long-time and now deceased staffer of the Associated Press, was the principal writer of this obituary."
It seems like a "Wait, what?" sort of thing, but it's quite common for larger news organizations to have pre-written obits for celebrities, politicians, and other notables so that when they die, they can quick pull out the file obit, add a few details about the specific event, and get it out quickly. It's also someone's job to go through the file and update the pre-written from time to time. AP didn't go into any such detail, but now you know.
Subscriber Karl in California enjoyed last week's lead story about the confusion around the "Corona beer virus" in Google searches. Karl notes that he has a medical condition that takes him to the E.R. more than the average human, and says, "The doctor in the emergency room was amused by my [saying] I've heard coronavirus is much better with a wedge of Lyme disease." The medical director for our EMS agency gave a brief talk on the coronavirus(now officially named COVID-19) this week, so I laid the joke on him. He also got a good laugh out of it. By the way? The common cold is also a corona virus (in the family Human coronavirus 229E). It's worth keeping an eye on this new one, but it's not worth a panic.
My Answer To Alexander's question, "And where would most Americans place the state of Baden-Württemberg on a map of Germany?" is, "Probably somewhere in the vicinity of Romania." Although many wouldn't even get that close....
To be honest, while I could get Germany, France, and a number of others, I wouldn't be able to accurately label a blank map of all of Europe just with country names, in part because that was never something that was even discussed in my schooling. So label German states on a blank map? Yeah, not going to happen. I had to look it up to see there are 16 of them....
No Uncommon Sense Podcast episode this week: I was on travel for 8 days, and something had to give. A pretty energizing trip this time, rather than a tiring one. If you'd like a good episode to listen to, make sure you've heard (or read the transcript) of the early (#11) episode, We Need Better Heroes. It's a historical story wrapped in a recent one: the one-twopunch will blow you away.
Meanwhile, Rob in California sent this note: "I just renewed my subscription. I've been a subscriber since the mid-90's, and became a Premium subscriber shortly after you started the program. I simply can't imagine not getting True. I'm also adding $10/yr to support the Uncommon Sense podcast. Your podcasts have always been thought-provoking, but your last two (59 & 60) were home runs! I got chills looking at the LOIRP's re-processed Earthrise image. I purposely DON'T listen to your podcast while driving because I get too caught up in it to safely focus on the road (and I can't look at the show notes!)" Thanks for your feedback, Rob.
---
Ten Years Ago in True: She was able to Get Out of Hell, Not for Free.
Previous Issues on Medium (please do share the link).
This week on Randy's Random: You Know Me So Well.
This Week's Honorary Unsubscribe goes to Roy Walton. A magician's magician, Walton created magic tricks for other magicians. His story distilled down to 1 minute: Roy Walton (OK to share link).
And So Long To:
TV screenwriter Lila Garrett, best known for episodes of My Favorite Martian (1963–1966), Bewitched (1964–1972), and All in the Family (1971–1979), dead February 1 at 94.
Actor Kevin Conway, best known as "Roland Weary" in Slaughterhouse-Five (1972), a clone of the Klingon figure Kahless in Star Trek: The Next Generation, and the "Control Voice" for the 1995-2002 version of The Outer Limits, dead February 5 from a heart attack. He was 77.
Actor and comedian Orson Bean. While walking near his home in the Venice neighborhood of Los Angeles on February 7, Bean was "clipped" by a car and fell, and then run over by a second car, which killed him. He was 91.
Actor Robert Conrad, best known for Hawaiian Eye (1959–1963), steampunk western The Wild Wild West (1965–1969), and Baa Baa Black Sheep (aka Black Sheep Squadron (1976–1978), dead from congestive heart failure on February 8. He was 84.
---
Basic Subscriptions to This is True are Free athttps://thisistrue.com. All stories are completely rewritten using facts from the noted sources. This is True® is a registered trademark. Published weekly by ThisisTrue.Inc, PO Box 666, Ridgway CO 81432 USA (ISSN 1521-1932).
Copyright ©2020 by Randy Cassingham, All RightsReserved. All broadcast, publication, retransmission to email lists, WWW, or any other copying or storage, in any medium, online or not, is strictly prohibited without prior written permission from the author. Manual forwarding by email to friends is allowed if 1) the text is forwarded in its entirety from the "Since 1994" line on top through the end of this paragraph and 2) No fee is charged. We request that you forward no more than three copiesto any one person — after that, they should get their own free subscription. We always appreciate people who report violations of our copyright to us.
---
To get this delivered to you every week, click here to open a subscribe form.
Last Week's Issue