To get these issues free by email each week, click here to open a subscribe form. (Or cruise around the web site to see more samples, archive, and info on our terrific book collections of thousands of past stories.)

---
Since 1994, this is the 1440th issue of Randy Cassingham's...

---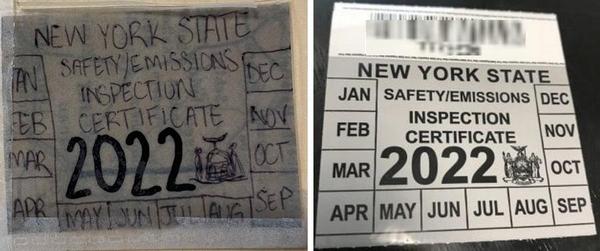 Fake News: "Can you spot the fake?" asked the Mechanicville (N.Y.) Police Department in an online post with a photo of a real New York State vehicleinspection sticker next to a crudely hand-drawn version they spotted on a car. "We thought so." Police didn't give much more detail than that, so WTEN-TV news in Albany had to come up with something to flesh out their still-very-short story. They chose "Driver tries to outwit police." (RC/WTEN Albany) ...It's hard for a half-wit to outwit.
Hot and Cold: Police released video showing two men setting fire to a Christmas tree next to the Key West, Fla., landmark marking the southernmost point in the continental U.S. The fire caused over $5,000 in damage. Bartender Cameron Briody saw the video. "I knew immediately that I had served him and that he had used a card," he said. Irish Kevin's bar has a "ton of cameras," and General Manager Daylin Starks matched time-stamped videos with credit card receipts to identify SkylarJacobson, 21, of Henrietta, Texas, and David Perkins, 22, of Leesburg, Fla. "We could follow them the whole time, in and out of the bar," he said. "We could see them getting rejected from all the girls they were trying to hit on." The reason Briody recognized Jacobson: he hadn't left a tip. Both men were charged with criminal mischief. "We've all been that age and made dumb mistakes and we just learn from them," Starks said. "So I hope that's what they do, is learn from the mistake." (MS/WTVTTampa) ...Here's a tip: tip.
Unmistakable Identity: Henderson, Nev., police arrested Shane Lee Brown, 23, on an arrest warrant out of Las Vegas. Nothing unusual there, except that Brown is Black, and 5 ft-7 in tall. The man described in the warrant is white, 5-ft.-11 in tall, and 49 years old with a "bushy white beard" and blue eyes. Brown was held in jail for 6 days before being brought before District Judge Joe Hardy, who issued the warrant. The white Brown's rap sheet shows that his first conviction dated tobefore the Black Brown was born, and Judge Hardy immediately ordered his release. The younger Brown has filed a federal lawsuit charging violation of his civil rights. The older Brown was found in California, and is being held in jail there pending extradition to Las Vegas. (RC/Las Vegas Review-Journal) ...That one's Hispanic and 67 years old.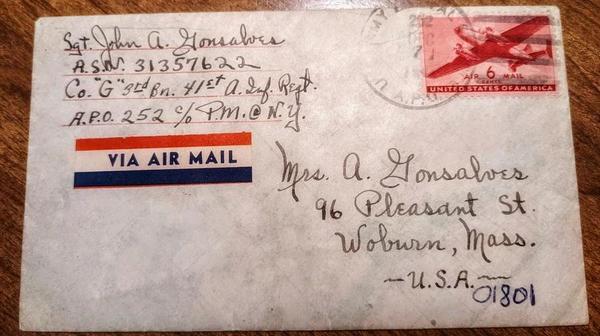 Special Delivery: John Gonsalves wrote to Angelina Gonsalves, and Angelina Gonsalves got the letter. But the Angelina to whom John wrote when he was in the Army inGermany in December 1945 was his mother; the one who got the letter in December 2021 was his 89-year-old widow, who hadn't even met him yet when he wrote the letter. When she read it, she said, "it was a weird feeling — like he was standing there, reading it to me." The U.S. Postal Service told her it didn't know where the letter had been all these years, or how it had appeared at a Pittsburgh, Pa., facility. But once it did, USPS worker Stephen D. Stowell wrote, "dedicated sleuth work by postalworkers at this facility" turned up the widow's address in Woburn, Mass., the same city where the soldier's mother had lived all those decades earlier. (AC/Washington Post) ...Sometimes it is by being lost that a thing becomes important.
Tiny Dancing Green Men Blamed: Firefighters were called out to the evidence room of the Mount Airy, Md., Police Dept. to help deal with a hazardous materials spill. Police officials say a mason jar was accidentally "knocked or dropped onto the floor," smashing it and spilling the contents across the entire room. The contents: N, N-Dimethyltryptamine, a hallucinogen. Maryland Department of the Environment advised the department to engage professional cleaners to decontaminate the area.(RC/WJZ Baltimore) ...More than one Mount Airy provided inspiration for the character of Deputy Barney Fife.
---
Road Food
Texas Law Enforcement Officials Arrest DWI Suspect Driving With Lit BBQ Pit in Truck Bed
KTVT Dallas headline
---
Did You Find an Error? Check the Errata Page for updates.
This Week's Contributors: MS-Mike Straw, AC-Alexander Cohen, RC-Randy Cassingham.
---
If You Want to Know: N, N-Dimethyltryptamine, or DMT.
Reader Marc in California sent a generous financial contribution to help keep True going, and I sent him a note of thanks. "On the whole," he replied, "I still have the better end of this deal." That's definitely my goal: no matter how much you pay or contribute, I want you to feel you get more value than that. Several readers pay as much as $750 per year (the subscription price is "pay what you want" or "pay what it's worth to you," whichever resonates) — and it's both humblingand gratifying that it is so valuable to so many.
Yet even with that, True probably lost money last year; I won't really know for sure until my tax guy finishes crunching the numbers. The pandemic has hit hard, and two years of it has definitely hurt. So if you can, join Marc in a once-in-a-while contribution or, perhaps better, in a Premium upgrade to get all the stories each week. It really helps,and thanks.
It Was the Rev. Martin Luther King Day Monday in the U.S. A quote of his resonates well with me and by extension True's mission: "A nation or civilization that continues to produce soft-minded men purchases its own spiritual death on the installment plan." Thinking firms up the sloppiness, and strengthens civilization. That's just one reason why I'm so adamant that we need more of it.
---
Ten Years Ago in True: Maternal Instincts.
This Week's True Stella Awards case re-post: Are You Sure You're Insured? Next week: Case No. 100, and it's one deserving of that milestone serial number.
This Week's Honorary Unsubscribe goes to Alexa McDonough. A Canadian, McDonough did politics the right way: actual leadership. The story distilled to 2 minutes: Alexa McDonough (OK to share link).
---
Basic Subscriptions to This is True are Free athttps://thisistrue.com. All stories are completely rewritten using factsfrom the noted sources. This is True® (and Get Out of Hell Free® and StellaAwards®) are registered trademarks of ThisisTrue.Inc. Published weekly by ThisisTrue.Inc, PO Box 666,Ridgway CO 81432 USA (ISSN 1521-1932).
Copyright ©2022 by Randy Cassingham, All Rights Reserved.All broadcast, publication, retransmission to email lists, web site or social media posting, or any other copying or storage,in any medium, online or not, is strictly prohibited without prior written permission from the author. Manual forwardingby email to friends is allowed if 1) the text is forwarded in its entirety from the "Since 1994" line on topthrough the end of this paragraph and 2) No fee is charged. I request that you forward no more than three copies to any oneperson — after that, they should get their own free subscription. I appreciate people who report violations of my copyright.
---
To get this delivered to you every week, click here to open a subscribe form.
Last Week's Issue