To get these issues free by email each week, just subscribe using the form on this page — your privacy is Randy's policy. (Or cruise around the web site to see more samples, archive, and info on our terrific book collections of thousands of past stories.)

---
Since 1994, this is the 1307th issue of Randy Cassingham's...

---
You Can't Have Your Cake and Eat it Too: A Walmart store in Wichita Falls, Texas, called police after a shopper picked up a cake from the bakery, ate half of it as she continued to shop, but then claimed at the checkstand that she got it that way, and would only pay for the half that was left. Police released the unidentified woman without a citation after she paid for the full cake, but the Greenbriar Road Walmart banned her from the store. It was not, however, the same Wichita FallsWalmart store involved with a previous infamous case: in January, a woman was banned from the Central East Walmart in town after riding around on an electric cart for disabled shoppers "for several hours" while drinking wine out of a Pringles can. (RC/Wichita Falls Times Record News) ...In all that time drinking, it's amazing she didn't have to go to the can.
That Was Fast: Police in West Vancouver, B.C., Canada, pulled over a man who, they say, was driving 161 kph (100 mph) in a 90 kph (55 mph) zone. Not only was the unnamed 39-year-old driver given a C$368 (US$280) ticket, his car, a 2019 McLaren 600LT with a base price of US$256,500, was impounded for seven days. "While the officer was conducting the investigation, the driver allegedly stated that they had just left the dealership after purchasing the vehicle," a police spokesman said —"10 minutes prior." (MS/CTV) ...Easy go, easy go.
Burger Craving: A 16-year-old girl says she has known Stacy Burger, 40, for five years, and considers him a "role model" and "father figure." He asked to meet her in an alley behind her Chickasha, Okla., home and "asked her if she wants to make some money." Well, how? He'd give her "a lot of money" to perform a sex act on him. When she refused, he asked if one of her friends might. She declined to ask any of them. When confronted by police, Burger, who is married and has four children,admitted the girl was telling the truth, but offered, "I was off duty, in my own car which wasn't tied to my job at all." Burger thought that mattered because he's the Chief of Police in Cement, Okla., about a half-hour from Chickasha. He was arrested on a charge of soliciting child prostitution and, because the girl confirmed that although he wasn't in uniform, Burger was carrying his gun "like he always does," so he was also charged with use of a firearm while committing a felony. (RC/KFOROklahoma City) ...The girl really has her head on straight, considering her poor role models.
Profitable Online Business for Sale:

You've seen the ad here many times for the wings: now this entire profitable online business is for sale. Randy just can't get everything done, and something has to give — starting with the Drone Pilot Wings site, inventory, and more. 'Buy it Now' Price Reduced by $1,000!
See this page for full details.
Incidentally: A news report ends: "The suspect ... was taken into custody without incident." Evidently, a tire coming off the suspect's vehicle and rolling into someone's front yard is not an incident: that's what stopped the suspect's attempt to avoid capture. Also not an incident: that attempt, even though it went on for roughly an hour as authorities fruitlessly deployed spike strips and cut off all ways in and out of the El Monte, Calif., mobile home park where the suspect wasdriving in circles. It's not clear what crime the suspect was wanted for. (AC/KABC Los Angeles) ...Maybe he was involved in an incident.
Holidays and Weekends: A surgeon's experiences working on the Forth of July. Man harasses his neighbor ...and her young piano students. Man breaks into sheriff's substation and waits there to be arrested because.... British police figure the solution to "knife crime" is to replace the assailant's knives with.... City rejects blame for contractor's mistake, but still wants credit for.... Elementary principal threatens "consequences for students" who are foolish enough to be the victimsof their parents' criminal behavior. Europe's heatwave brings some examples of amusing craziness. Church fights with its own parochial school. Another example of Google Maps sending someone on an ill-fated shortcut. You Don't Have to Miss most of the stories: upgrades to the full edition start at just $9.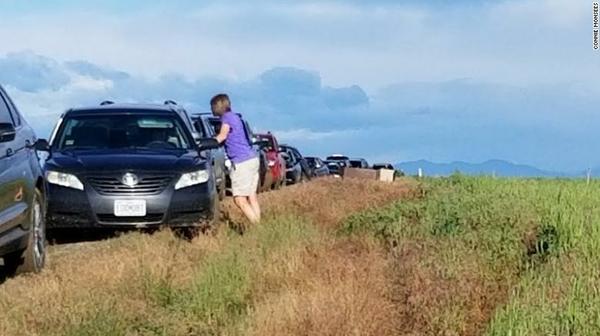 Shortcut II: A crash on the 10-mile-long approach road to Colorado's Denver International Airport had drivers struggling to find a shortcut. "GoogleMaps asked us to take the Tower exit, so I did because it was supposed to be half the time," says Connie Monsees, who was heading in to pick up her husband, who had already landed. When the road turned to dirt, "My thought was, 'Well there are all these other cars in front of me so it must be OK'," she said, "so I just continued." The road was narrow, then turned to mud — and the cars in front of her started to slide. "That's when I thought, 'Oh, this was a bad decision'." When one car gotstuck, about 100 cars were unable to continue. "There was no turning back once you were out there," Monsees said, since going off the road looked even worse. Unlike most of the others, Monsees had all-wheel drive, and was able to plow through, picking up a few others desperate to catch their flights. When contacted, a Google spokesman suggested drivers "follow local laws, stay attentive, and use their best judgment while driving." (RC/KMGH Denver, CNN) ...There's always a catch.
---
Or Was He Just Happy to Get Away?
"Man Makes off with Chub of Angus Beef in His Pants
Bothell (Wash.) Reporter headline
---
Did You Find an Error? Check the Errata Page for updates.
This Week's Contributors: MS-Mike Straw, AC-Alexander Cohen, RC-Randy Cassingham.
---
A Couple of Readers Were Upset with last week's story (or, really, its tagline) about the Boeing 737 Max debacle. My response to them has been added to my existing blog page discussing the story; there's a link at the top to jump directly to the story, the complaints, and my response: "Let the Public Decide"? Bad Idea....
There's No Uncommon Sense Podcast this week (or next) as I'm on travel, and it's really difficult to do them while on the road.
---
Ten Years Ago in True: Was Toronto Deceiving Diversity? You be the judge.
Last Week's Issue on Medium (please do share the link).
Today on Randy's Random: A very different kind of Evangelist.
This Week's Honorary Unsubscribe goes to Luis Alvarez. A first responder to the World Trade Center attacks, Alvarez kept fighting for his fellow first responders who are still suffering from their service.
This Entry in the Archive: Luis Alvarez (OK to share link)
Plus, Goodbye to one of the best: comic actor Arte Johnson lit up Laugh In in the 60s, and did so much more. He died July 3 from heart failure at 90.
---
Basic Subscriptions to This is True are Free athttps://thisistrue.com. All stories are completely rewritten using facts from the noted sources. This is True® is a registered trademark. Published weekly by ThisisTrue.Inc, PO Box 666, Ridgway CO 81432 USA (ISSN 1521-1932).
Copyright ©2019 by Randy Cassingham, All RightsReserved. All broadcast, publication, retransmission to email lists, WWW, or any other copying or storage, in any medium, online or not, is strictly prohibited without prior written permission from the author. Manual forwarding by email to friends is allowed if 1) the text is forwarded in its entirety from the "Since 1994" line on top through the end of this paragraph and 2) No fee is charged. We request that you forward no more than three copiesto any one person — after that, they should get their own free subscription. We always appreciate people who report violations of our copyright to us.
---
To get True delivered to you every week, click here to open a subscribe form.
This Week's Issue