To get these issues free by email each week, just subscribe using the form on this page — your privacy is Randy's policy. (Or cruise around the web site to see more samples, archive, and info on our terrific book collections of thousands of past stories.)

---
Since 1994, this is the 1325th issue of Randy Cassingham's...

---
Armed and Dangerous: Mark Russo witnessed a speeding car crash into a utility pole in St. Louis, Mo., and he was worried about a woman he saw walking in that area just before. He rushed over to the spot and saw the woman lying motionless; other witnesses tending to her. Then he saw the driver slowly walking away from the crashed car. "I just had a feeling he was going to run away," Russo said. "All I was thinking was if that'd been my daughter lying there, I wouldn't want someone tolet that guy walk away." When the driver got a little farther off he started to run. Russo yelled "Hey!" and the man turned around to look. Russo pulled up his hand with his fingers in a "gun" shape and yelled, "Stop, [expletive] or I'll shoot!" Amazingly enough, "He stopped and put his hands in the air and started walking back," Russo said. "Then I told him to get back by his car, and he did that, too." When police arrived Russo, 61, pointed the man out and told the officer what happened.Jeremy Stockert, 33, was arrested, charged with driving without a license, insurance, or valid license plates; careless and reckless driving; and leaving the scene of an accident. (RC/St. Louis Post-Dispatch) ...It's nice when criminals are [expletive] obliviots.
Supply Goes Dry: The bar industry in Utah is being pinched by a shortage — of licenses. State law says only one bar can be licensed for every 10,200 people, and the Utah Department of Alcoholic Beverages just awarded the last two licenses it had. There will be new population data about halfway through 2020, but between now and then, the agency is only expected to get three more, and there are five businesses on the waiting list already. Most of those businesses had planned to open thisyear. John T. Nielsen, chairman of the Alcoholic Beverage Control Commission, attributes the high demand for licenses to a strong economy and an increased population. (AC/Salt Lake Tribune) ...Could be worse. The demand could be caused by a weak economy.
Ow: "Rafael, tell me if this hurts!" yelled Daniel Dean Voight, 42, to his son outside their apartment in Scappoose, Ore. He then pointed his .22-caliber revolver at his son and pulled the trigger. Voight testified later that he thought the gun was loaded with blanks, but they were actually shot shells. The son, an adult, needed emergency room treatment to remove the pellets from his hands, abdomen, and testicles. Voight pleaded guilty to being a felon in possession of a firearm. OnceChief District Judge Michael W. Mosman heard the story, he declared he had "never heard of something that breathtakingly stupid in my life," and sentenced Voight to 15 months in prison. (RC/Portland Oregonian) ...Judge Mosman clearly needs to read This is True.
This Issue's Exclusive Sponsor:
Drone Pilots: Get Your Wings!

Beautiful custom solid metal Drone Pilot Wings dress up your jacket and/or equipment box, showing your pride and professionalism in your hobby. Makes a great gift, and are much more durable than that T-shirt you liked.
Get Yours Here, with discounts for extras.
D'oh(g)! When officials found a lost Chihuahua in Pensacola, Fla., they tried to locate the owners. "The Santa Rosa County Animal Control attempted to get in contact with the owners but were unable to do so because they were in jail," a report said. "The dog was legally seized, and the ownership was transferred to Santa Rosa Animal Control." The dog was transferred to the Pensacola Humane Society, and that's where the owners apparently tried to get their dog back, but not throughproper channels: Michelle Waldrop, 48, allegedly distracted an employee at the counter while Kyle Colshan, 38, ran past them and into the back kennel area. Colshan grabbed the dog, police say, but dropped it in a struggle with employees. The two fled to the parking lot and drove off, and were later arrested, charged with larceny, and burglary with assault and battery. (MS/Pensacola News Journal) ...The dog: doesn't belong in a cage. The owners: do.
Nine More Stories! This week you missed: Hovering mother probably didn't help her kid's job prospects. Another obliviot busted for trying to have sex with a "child" he met online, but this guy went to a lot of extra trouble! Man reports devices used to report suspicious devices as suspicious devices, using one of the "suspicious devices" to make the report. Political candidate says he won't reveal his ideas to "solve the issues" until he's elected, since "maybe they'renot the greatest ideas." Woman has a really weird fight with the municipal cemetery. Drug store won't accept a U.S. Passport as proof of U.S. citizenship. Man has a perfectly good explanation for why he shoplifted at a Walmart.... Woman is upset after a night at a casino, so naturally she tries to violently murder a random casino employee. Florida man has an interesting way to get a stray alligator out of a swimming pool. You can still read them all: just ask for your upgrade to start with the 3November issue. Upgrades start at just $9, so stop missing most of the stories!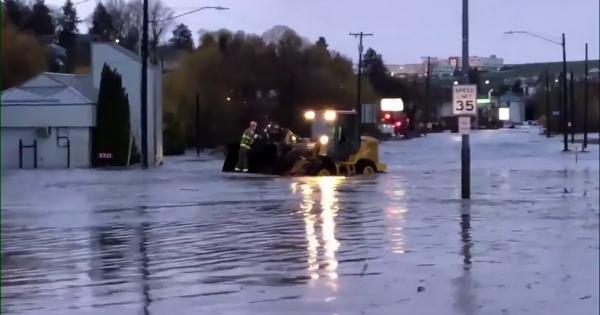 When It Rains, It Pours: After 11 straight days of rain in Pullman, Wash., this spring, the fire department got an emergency call: flash flooding hadtrapped multiple people in businesses, with water rising to 3 feet in just minutes. It was getting dark and they had to think fast. Rescue crews saw the town's public works department was in the area with a heavy-duty front-end loader placing sandbags, and commandeered the machine: firefighters rode in the bucket to pull 22 people to safety, without injury. But an anonymous complaint to the state's Department of Labor & Industries resulted in citations to the city, charging responders engaged in"swift water rescue" without being certified, didn't wear personal flotation devices or water rescue helmets, and "rode unsecured" in the loader. The city chose not to fight the $900 fine per violation, and paid the $2,700. "Our job is to solve problems, and to weigh the risks versus the benefits," said Fire Chief Mike Heston. "I hire problem solvers." (RC/Spokane Spokesman-Review) ...While Wash L&I hires zero tolerance bureaucrats.
---
Well That Certainly Explains Things
Angus Man Who Tried to Fly Drone into Perth Prison Claimed Romanian Circus Stole His Chihuahua
Perth (Scotland) Courier headline
---
Did You Find an Error? Check the Errata Page for updates.
This Week's Contributors: MS-Mike Straw, AC-Alexander Cohen, RC-Randy Cassingham.
---
The "No Longer Weird" List on the web site keeps growing: a list of (now) 29 stories that happen too often to be covered in True — unless there is something extra and pretty "special" about the story to make it unusual. I don't try to think up what topics are "no longer weird," but when I see a good example in my research (or in a reader submission), it's added to the list, usually with a link to a recent example.
People showing up in court to face drug charges who not only bring drugs with them, they accidentally drop their stash on the floor of the courtroom in front of the judge.
Fake cop makes a traffic stop ...of a real cop. You wouldn't believe how often this happens.
Someone gets a gigantic utility bill, such as "Queens Man Gets $38 million Electric Bill after Con Ed Error". Just happens too much to be weird, and it's not like the utility is trying to collect.
Someone embezzles money to pay restitution to their previous embezzlement victim(s).
Schoolteacher finds a (real) gun in a young student's backpack or lunchbox. Sadly this happens too much to be weird, unless there are other details in the story to make it particularly unusual.
I don't expect readers to scan the list before they submit a story, though the story submission page has some helpful tips.
As a Reminder, previous issues of the free edition newsletter are archived for several months on Medium — that link is included in every issue (below), and you're welcome (encouraged!) to share it.
This Week's Uncommon Sense Podcast: Another tool in what I call the Thinking Toolbox: a way to learn how to think better, unlike most of the people in This is True's stories. Or, if you're already an accomplished thinker, a way to help others learn how to think better because trust me: most people need the help. It's just 7-1/2 minutes, and there's a transcript as usual if you prefer: MindTriggers.
---
Ten Years Ago in True: A drunk driver gets a Moooving Violation.
Previous Issues on Medium (please do share the link).
Today on Randy's Random: The title is Think Again, but some are reacting instead of thinking about this one.
This Week's Honorary Unsubscribe goes to Gert Boyle. She might be someone you recognize, but you probably don't know Boyle's story. She was One Tough Mother, and here's that story in 3 minutes: Gert Boyle (OK to share link).
---
Basic Subscriptions to This is True are Free athttps://thisistrue.com. All stories are completely rewritten using facts from thenoted sources. This is True® is a registered trademark. Published weekly by ThisisTrue.Inc, PO Box 666, Ridgway CO81432 USA (ISSN 1521-1932).
Copyright ©2019 by Randy Cassingham, All RightsReserved. All broadcast, publication, retransmission to email lists, WWW, or any other copying or storage, in any medium, online or not, is strictly prohibited without prior written permission from the author. Manual forwarding by email to friends is allowed if 1) the text is forwarded in its entirety from the "Since 1994" line on top through the end of this paragraph and 2) No fee is charged. We request that you forward no more than three copiesto any one person — after that, they should get their own free subscription. We always appreciate people who report violations of our copyright to us.
---
To get True delivered to you every week, click here to open a subscribe form.
This Week's Issue