To get these issues free by email each week, just subscribe using the form on this page — your privacy is Randy's policy. (Or cruise around the web site to see more samples, archive, and info on our terrific book collections of thousands of past stories.)

---
Since 1994, this is the 1333rd issue of Randy Cassingham's...

---
Whisk Them to Safety: Thomas and Elisa Milam were watching a movie in their Forsyth County, N.C., home. It was after midnight — and they heard an intruder downstairs. Thomas grabbed a gun and sent Elisa to hide in a closet and call 911. "All my military training came back to me," Thomas said. "I was ready to do whatever I needed to do to keep my family safe." Sheriff's deputies arrived and swept the home to find who was banging around. They found the culprit, but didn't shoot. A deputycalled up the stairs to say everything was OK. "Sir, I have one question," he said as he holstered his pistol, with Thomas standing in his flashlight beam wearing only his boxers. "Is this Roomba yours?" The couple's new robot vacuum cleaner had activated as scheduled, and was cleaning the floors. "I think I put my face in my hands," Thomas said. The couple was grateful for the deputy's sense of humor, and "we decided to name our robot vacuum Harry, the sticky bandit from 'Home Alone'."(RC/Charlotte Observer, WGHP High Point) ...Though maybe they should have named it after the parents, who forgot the obvious.
A Blnt Explanation: If you saw certain street signs in Germantown, Md., you might wonder, what sort of a name is "Blnt"? That's not the street's real name. But "Blunt Road" signs kept getting stolen, so the Montgomery County sign shop dropped the vowels from often-stolen signs. Michael Paylor of the county's Department of Transportation says the change is "working really well — unfortunately for those people who liked to steal those signs." Why are Blunt Road signs so popular? Here'sone clue: Stoner Drive signs now say "St n r". (AC/WJLA Washington, DC) ...But do Blunt Road and Stoner Drive have potholes?
It's a Wrap: Jason Davis of Avondale, Ariz., says "stuff happened" with his girlfriend in their home. They started with cocktails and, he says, Kathy Elizabeth Jones, 46, "just got kind of drunk or whatever," splashed him with lighter fluid, and threw lit matches at him, allegedly trying to burn him alive. Davis pushed Jones out the front door, locked it, and called police. She was arrested, charged with aggravated assault, as well as criminal damage to the home, and held on $15,000bail. The police report tells the rest of the story: "She was upset with [the victim] because he would not celebrate with her after she got hired by Subway" to make sandwiches. (RC/KTVK Phoenix, Arizona Republic) ...Though he is now celebrating that her bail is higher than she can afford.
This Issue's Exclusive Sponsor: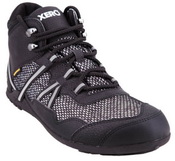 Yes, Xero Has 'Barefoot' Boots!
Xero has a full line of boots for men and women, including the new Xcursion Fully Waterproof Hiking Boot. Yes, you can comfortably walk "barefoot" in the snow!
Xero Shoes: Lightweight casual comfort.
Someone Should Get Canned: The city of Prichard, Ala., gave its residents brand new garbage cans. After distributing all 10,000, someone noticed a typo: instead of saying "Mobile County", where Prichard is, the logo on both sides read "Mobile Country". "Things like that do happen in the proofing," Prichard Mayor Jimmie Gardner said. "We just have to look at and hope that in the process of proofing that those kind of errors don't take place" — and said there are no plans to replacethem. Fernando Billsup, Director of the Public Works Department, couldn't be reached for comment. (MS/WPMI Mobile) ...The designer was trashed at the time.
A Crazy Week, Continued: Mall's Christmas promo manages to injure shoppers, some seriously, including children. Mystery solved: it wasn't Jimi Hendrix and it wasn't The African Queen (wait... what?!) Mom upset at what someone slipped into her daughter's Christmas present. Man robbs bank, throws cash in the air saying "Merry Christmas!" ...and then it gets weird. TV reporter finds out on the air that she won the lottery — then quits on the air — then finds that she didn'tget the grand prize and.... Man finds out he won big in the lottery — and shows up for work on Christmas day anyway. You'd probably consider what's "too political" to discuss in Ireland is a surprise. Man shot multiple times in altercation gets up and walks away. Yep, there were eight more stories this week, but you don't have to miss them: just ask for your upgrade to start with the 29 December issue. Upgrades startat just $9 so you can get all of the stories every week.
Can Problem II: "I've worked a 10-hour piece where I literally didn't have time to pee," complains Chris Grover, a bus driver for OC Transpo, the public transit agency in Ottawa, Ont., Canada. He wanted the public to know what drivers go through every day, writing a letter to the newspaper to say something needs to change. But John Manconi, the head of the Ottawa-Carleton Transportation Commission — OC Transpo — said while "I'd love to solve everybody's issue," the budget is too tightto provide relief drivers: "it's not a bottomless pit." (RC/CBC) ...Which, ironically, is exactly what each driver needs in their bus.
---
The Grocery Cartel is Very Powerful
California Officials Remind Public That Collecting, Eating Roadkill Will Still Be Illegal in 2020
KTLA Los Angeles headline
---
Did You Find an Error? Check the Errata Page for updates.
This Week's Contributors: MS-Mike Straw, AC-Alexander Cohen, RC-Randy Cassingham.
---
With a Title like "Tedium" it's got to be good! An online feature that delves into obscure topics: check! Well written: check! Fun and interesting: check! I had seen Ernie Smith's stuff before, and then he asked me for an interview. Sure, I said. And then he got right back to me — a mere four or five years later! Yeah, well, I can relate: I'm way behind on several projects myself. But True is a survivor, and I was ready when hewas. He distilled our hour-long chat into a fun read: The Inbox Pioneer. While you're there maybe look at some of his other articles ...and he'd be thrilled if you subscribe for his email delivery while you're at it. Tell him Randy sent you.
I Started to Write a Paragraph or two for this space on the most-read True stories of 2019. But then it was "Well, what about the Honorary Unsubscribe? Randy's Random? The podcast?" And shouldn't it be illustrated? So I put in on my blog instead: the Top 3 (x4) of 2019 so you can peruse what your fellow readers liked best.
But there's one line that I "must" copy here — the ending. It says, "True survives only because of your direct support, so thank you, thank you, thank you!"
This Week's Uncommon Sense Podcast: What if you have a business idea, but you're not sure if you want to take the risk to pursue it: should quit your day job? Well, there's an alternative to quitting your job, and it's something a lot of people with Uncommon Sense are doing instead: they're getting their employers to back their innovative ideas. It's #2 in a series of 3 on innovation, and is 10-1/2 minutes (or read the transcript): 056: Running with An Idea.
May 2020 Treat You Well, and I'll see you next week.
---
Ten Years Ago in True: Pedal Power, New Zealand style.
Previous Issues on Medium (please do share the link).
Today on Randy's Random meme looks like a response to recent news events, but it was not only made and queued up in October(!), but I thought ahead enough to put a disclaimer on it. Burning the Midnight Oil.
This Week's Honorary Unsubscribe goes to Lee Mendelson. A TV producer, Mendelson thought what he made was a disaster. The network thought so too. But the viewers? They thought it was a classic. Read the story in the Archive: Lee Mendelson (OK to share link)
Plus, So Long to composer and lyricist Jerry Herman, best known for Hello, Dolly!, Mame, and La Cage aux Folles, dead from lung disease December 26 at 88.
Then, Farewell to actress Sue Lyon, who made her film debut at 14 in the first (1962) film version of Lolita in the title role, winning her a Golden Globe. She died December 26, at 73.
And Goodbye to writer, comedian, and musician Neil Innes, best known for writing songs and sketches for Monty Python, and as one of the characters in The Rutles, a spoof on the Beatles. He died December 29 from a heart attack, at 75.
---
Basic Subscriptions to This is True are Free athttps://thisistrue.com. All stories are completely rewritten using facts from the noted sources. This is True® is a registered trademark. Published weekly by ThisisTrue.Inc, PO Box 666, Ridgway CO 81432 USA (ISSN 1521-1932).
Copyright ©2019 by Randy Cassingham, All RightsReserved. All broadcast, publication, retransmission to email lists, WWW, or any other copying or storage, in any medium, online or not, is strictly prohibited without prior written permission from the author. Manual forwarding by email to friends is allowed if 1) the text is forwarded in its entirety from the "Since 1994" line on top through the end of this paragraph and 2) No fee is charged. We request that you forward no more than three copiesto any one person — after that, they should get their own free subscription. We always appreciate people who report violations of our copyright to us.
---
To get True delivered to you every week, click here to open a subscribe form.
This Week's Issue