To get these issues free by email each week, click here to open a subscribe form. (Or cruise around the web site to see more samples, archive, and info on our terrific book collections of thousands of past stories.)

---
Since 1994, this is the 1357th issue of Randy Cassingham's...

---
Did You Sign Up for Premium? If you're not getting it, you should know ...you really are getting it every week. So if you wonder where it is (especially when you use Yahoo or a service that uses Yahoo for mail, such as a phone company), log in to web mail, check the "junk" folder, and mark every issue you find in there as not spam to train the filter — and catch up with your reading while you're at it.
Your Help is Needed to support This is True in these crazy economic times. If you have the means, even $5 helps, either via True's Ko-Fi page, or direct via my shopping cart to be sent monthly, quarterly, semi-annually, or annually! Or, of course, sign up for a Premium upgrade and get more than twice the stories each week. Thanks much for whatever you can do.
---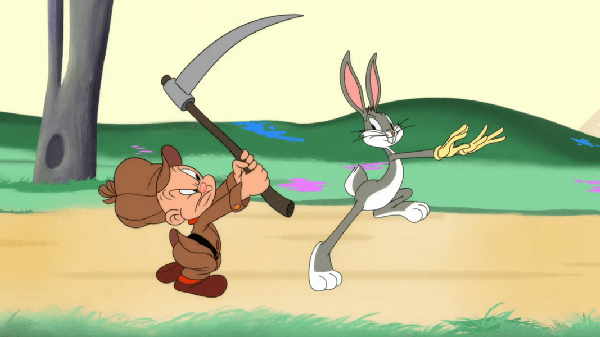 Come Back, Mel Blanc: Warner Bros.' Merrie Melodies, short cartoons produced during the "golden age" of American animation, is back, withnew shorts produced in the classic 1940s–50s "look and feel," for HBO Max. Well, except for one thing: no guns allowed, even though they are integral parts of some characters, such as Elmer Fudd's shotgun and Yosemite Sam's six-shooters. "We're not doing guns," insists executive producer Peter Browngardt, though, he says, extreme violence via dropping Acme-brand anvils and dynamite — lots and lots of dynamite — is fine. "All that was kind of grandfathered in," he says. So how willthe masculinity-challenged hunter Elmer Fudd threaten Bugs Bunny and Daffy Duck? By swinging a scythe. Really. (RC/New York Times) ...That's not how sharp wit works.
If You Want it Done Right: Like many government services, the Oregon Department of Motor Vehicles has reduced services during the pandemic, and only six offices are open statewide — by appointment only. But one North Plains driver worked out their own solution. The Washington County Sheriff's Office released a photo of the driver's new license plate after the car was pulled over. It's hand-written, made of cardboard, shows "DMVCLOSED" for the license number, plus "12" and "21" in thecorners where the month and year would go on actual plates. The sheriff's office gave points for creativity, but asked people not to do this, adding it's OK to leave expired plates on your car until the DMV reopens. (MS/KATU Portland) ...The driver's license is drawn on the back of their business card.
Drip, Drip, Drip: The Canadian Forces — the country's military branch — is sick and tired of its internal reports being leaked to the media. Leaked information that the military knew about abuse in long-term care homes well before they did anything about it seems to be the straw that broke the camel's back. "Any suspected non-compliance might be investigated," warned the Department of National Defence in a confidential internal email, "and consequences will be commensurate with thecircumstances and in line with DND/CAF's usual process for dealing with disciplinary or administrative matters." Just how do we know about the confidential internal email? Someone leaked it to the news media. In 2013, Canadian Forces' National Investigation Service probed the Ottawa Citizen newspaper for publishing "classified information" about Canada's involvement in an international military exercise. After more than a month, it said it found how that information leaked: the U.S. Navyhad distributed it in a press release — just as the newspaper said in its reporting. (RC/Ottawa Citizen) ...That combination of paranoia and incompetence shows the Canadian military is right up there with other countries' forces.
This Issue's Exclusive Sponsor: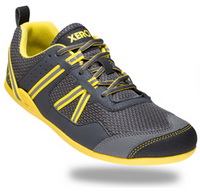 Your New Favorite Running And Fitness Shoe.
Xero Prio is our 'barefoot' running shoe, for men and women. It still has our famous protective minimalist sole, but with comfortable and super-lightweight uppers that look good, too. Check the reviews:
By Definition: Ray La Vel James was convicted of molesting two girls, but under Florida law, he's not a sex offender, two courts have ruled. To qualify as a sex offender in Florida, a convict must have been released "from the sanction imposed for any conviction." And a sanction includes "a fine, probation ... or incarceration," the court explained. Thus, when a convict has been sentenced to prison time plus a fine, he's not legally a sex offender until he gets out of prison and paysthe fine. And the Tampa man, who argued his own case, was let out of prison after 12 years of his 15-year sentence—but he never paid his $10,000 fine. Prosecutors argued that this reading of the law would enable people convicted of sex crimes to avoid registration, but the court said the statute was unambiguously written. (AC/Tampa Bay Times) ...He represented himself, but the legislators were the fools.
Seven More Stories: This week you missed Who police in Chicago, Ill., beat with clubs at a protest, even though he wasn't even protesting. Who police in San Jose, Calif., severely injured at a protest, even though he wasn't even protesting. Prosecutors theory of why a man broke into an under-construction jail might land him in prison for the rest of his life. COVID-closed hotels in a particular city refuse to reopen, even though the government wants them to (andyou'll agree with them when you see why!) Men in fraud scheme sentenced to 1,446 years in prison — but the judge kindly cuts it in half because.... Police chief arrested for stealing evidence. Police "had to" issue a warning to people to not pose for selfies with ...a bear. You can still read these stories: just ask for your upgrade to start with the 19 June issue. See your upgrade options to stop missing most ofthe stories every week.
She's Warming to the Idea: "They have been collected, bashed around on a delivery truck," said Charli Lello of Hertfordshire, England, "then rattled around on a trolley onto a shelf, picked up and put down by who knows how many people." But after buying the carton of a half-dozen duck eggs at a Waitrose supermarket, she didn't put them in the fridge when she got home, she put them into an incubator. A month later, the assistant shop manager, off work due to COVID-19, had the "cutestlittle balls of fluff" — three baby ducklings. Lello, 29, named them Beep, Peep, and Meep, and when they're old enough they'll live outside with her chickens. "Our farmers work hard to ensure ducks and drakes are separated correctly," said a spokesman for the producer, Clarence Court Farms, but "a male white-feathered duck may very occasionally be left with a group of females, although, these instances are extremely rare." (RC/London Evening Standard, BBC) ...Yet there's the origin of theidiom, "Lucky Duck".
---
They Didn't Have That Already?
Florida Offers Drive-through Botox to Quarantined Residents
Reuters headline
---
Did You Find an Error? Check the Errata Page for updates.
This Week's Contributors: MS-Mike Straw, AC-Alexander Cohen, RC-Randy Cassingham.
---
Yes, a Scythe. That's better somehow? For a new Merry Melodies preview (just try to count the sticks of "dynamite" in the frenzy!), there's a 92-second introductory short-short on Youtube. As I say in the "tooltip" that pops up when you hover over the picture with your mouse, that scythe's gonna get old fast. Still, the look is gorgeous, just like in the "golden age" of Americananimation.
Alexander's Story "By Definition" (about the utter failure of Florida legislators to rein in sex offenders) really hit a nerve when it came out in the Premium edition on Monday. I even heard from a retired Florida Assistant Attorney General who wanted to send it to her colleagues — not because she thought they hadn't heard about this case, but "that the latest absurdity from the Florida legislature has been noticed by someone outside the legal community." More tellingly, she concludedher message with, "I'm glad I no longer have the duty to try to defend ridiculous statutes."
So for her, I made a shareable version of the story and put it on all of True's social pages so it's easy for you to share it too. It's on Facebook and Twitter and Pinterest and Instagram — or simply grab thegraphic from any of those sources.
The Comments I Get to include in the newsletters are often so hilarious, they sometimes beat out the stories in entertainment value. This week that obliviot would be Joe in Birmingham, England:
"This site steals all its story's [sic] from the main stream [sic] media!" he posted. "He just rewrites other peoples [sic] work and has the cheek to charge people for it."
Why that's just shocking! A news commentary site that summarizes and comments on "legitimate, mainstream news" actually ...uh... does just that? What a legitimate complaint ...from someone who didn't pay a cent. But indeed thousands happily pay to get more of it every week. If they didn't get value, they wouldn't pay, would they, Joe?
Not to mention there are thousands of stories on the site that he can read for free. There's no paywall whatever. Hell, there aren't even ads!
But That's Not Even the Hilarious Part! Continues in my blog: Big Bad Joe. The comments from readers are most entertaining also.
I Wasn't Sure What to Expect as far as the number of subscriptions to the notifications of the True Stella Awards case reposts, but they're really streaming in from both the Premium and free edition readers. No, not looking them up, just going by when the biggest surges came in. But I am having fun re-reading the cases for the first time in years, checking for updates, and choosing the comments(readers' and mine) to include. There's a reasonable amount of good-reading ranting from both sides. The next case is coming as scheduled, Wednesday morning.
This Week's Uncommon Sense Podcast: Sure, it's cool to hear stories of famous (and completely obscure) people who exhibit Uncommon Sense. But there's one other thing you need to know about every one of them: they're definitely not perfect, and that's important to know because neither are you. Not Perfect is 11-1/2 minutes, and as always there's a transcript on the page.
---
Ten Years Ago in True: Gaffed — which, as I read through it Monday, seemed pretty humdrum ...until the tagline, and even I laughed out loud (don't peek ahead; start at the top). It was a real "Oh yeah, I guess I remember that one!" moment.
Previous Issues on Medium (please do share the link).
This Week's Randy's Random: The Real Confederate Flag. My favorite comment on it so far: "I have family members who would disown me for laughing at that. 😀 "
No Honorary Unsubscribe again this week: I never found one for last week, and am not finding one that meets the criteria so far this week, either. Let's consider that a good thing!
But So Long to artist Dan Danglo. He wanted to be a Disney cartoonist/animator, and ended up mostly storyboarding animated cartoons for other studios, including Popeye, the Tasmanian Devil, and (especially) Felix the Cat. He died June 6, at 95.
---
Basic Subscriptions to This is True are Free athttps://thisistrue.com. All stories are completely rewritten using facts from thenoted sources. This is True® is a registered trademark. Published weekly by ThisisTrue.Inc, PO Box 666, Ridgway CO81432 USA (ISSN 1521-1932).
Copyright ©2020 by Randy Cassingham, All Rights Reserved.All broadcast, publication, retransmission to email lists, web site or social media posting, or any other copying or storage,in any medium, online or not, is strictly prohibited without prior written permission from the author. Manual forwardingby email to friends is allowed if 1) the text is forwarded in its entirety from the "Since 1994" line on topthrough the end of this paragraph and 2) No fee is charged. I request that you forward no more than three copies to any oneperson — after that, they should get their own free subscription. I appreciate people who report violations of my copyright.
---
To get True delivered to you every week, click here to open a subscribe form.
This Week's Issue