To get these issues free by e-mail each week, just subscribe using the form on this page — your privacy is Randy's policy. (Or cruise around the web site to see more samples, archive, and info on our terrific book collections of thousands of past stories.)

---
Since 1994, this is the 1213th issue of Randy Cassingham's...

---
Black Humor: After a traffic stop in Cobb County, Ga., the driver was arrested for drunk driving. His passenger told Lt. Greg Abbott she was afraid to reach for her phone to make a call — "I've just seen way too many videos of cops...." she said. Abbott cut her off. "But you're not black," he told her. "Remember, we only shoot black people." Wait, what? "Yeah. We only kill black people, right? All the videos you've seen, have you seen the black people get killed?" The remarks by the officer were recorded by a police body camera, and came to light when the driver retained a lawyer to defend him in the case, and the lawyer got copies of the recordings as evidence. Police Chief Mike Register says Abbott, a 28-year police veteran, has been fired. (RC/Atlanta Journal-Constitution) ...Still, that's progress: he called them "people"!
Location is Everything: Mohiussunnath Chowdhury, 26, allegedly planned a one-man terrorist attack on Windsor Castle in England. He used his GPS to navigate to the castle, but didn't quite get the destination entered correctly: it brought him to the Windsor Castle Pub, less than a mile away from his intended target. Once he realized his mistake, Chowdhury headed instead to Buckingham Palace in London, an hour and a half away — which took him right past Windsor Castle. At Buckingham, he got out of the car and allegedly attempted to attack people with a four-foot-long samurai sword. Officers tackled him, and Chowdhury was charged with one count of "preparing to commit an act or acts of terrorism." Police were able to collect evidence of Chowdhury's travels using his dashcam and navigation unit — installed in his car because he's an Uber driver. (MS/London Telegraph) ...Got us lost; tried to kill us with a sword: one star!
Tussle: Rupert Tarsey, 28, was a rising star in Florida politics: the Broward County Republican Party elected him to their executive board. Then someone told the chairman Tarsey used to go by a different name: Rupert Ditsworth. When he was 17, Ditsworth was charged with attempted murder in Los Angeles, Calif., after hitting a prep school classmate in the head with a claw hammer "at least 40 times, splitting her skull open." He dragged the girl out of his car and choked her, police say, before fleeing. The victim, Elizabeth Barcay, survived; she attended the school prom in a wheelchair. Ditsworth's well-heeled family got him a good lawyer, and "In the end, I pleaded no contest to a misdemeanor," the 6'2" Tarsey said, claiming he was acting in self defense. "It's not the charges that matter, it's what happens in court." He took his mother's maiden name and moved to Florida. "We had no idea what his background is," says Broward GOP Chairman Bob Sutton. "We want him out but he is refusing to resign." Tarsey, meanwhile, shrugs it all off as "party politics." (RC/Miami Herald) ...Charges still count in the Court of Public Opinion.
This Issue's Exclusive Sponsor:

When You Prefer Barefoot, but Want Protection
The "Barefoot" Sandal that's less than half the weight of stiff Keene/Chaco/Tevas. Comfortable, flexible, and secure enough to wear even while swimming without something between your toes. They look a lot nicer, too. As seen on Shark Tank.
One for the Books: A Florida man who decided to burn some books has been charged in more ways than one. He intended to get rid of clutter and paperbacks at his Bryceville home, but ended up igniting a wildfire that spread across 705 acres. He was issued an invoice for $59,403.38, a precise sum itemized over five pages that lists personnel and equipment involved in controlling the fire. "We have an itemized table of rates," said Forest Service spokeswoman Annaleasa Winter. "The computer system tracks that." The state Agriculture Department's investigative report ran to 47 pages, including photos of the "illegal materials" that Brian Leon Sparks had ignited: book pages. Besides the bill, Sparks got a misdemeanor citation. (AC/Florida Times-Union) ...This was not the sort of fire books are supposed to spark.
Politician Hounded Out of Office because he's a "furry." Man accidentally shoots himself in the heart with a nail gun — and then it gets weird. Florida man fishing out of season caught by game officer — or was he? Cop has a really "bad day at the office." Two Florida men try to make a "viral" video that not only goes wrong, but sends them to jail on serious charges. Abysmally stupid woman wonders if a found gun is real, so she pulls the trigger — in public — with entirely predictable results. Nurses fired after they take extra peeks to "admire the size of the deceased patient's genitals." College students pay big bucks to be there, but to get them to put down their phones in class still takes bribery. Stop missing most of the stories and help True stay online: a Premium upgrade does both. Details here.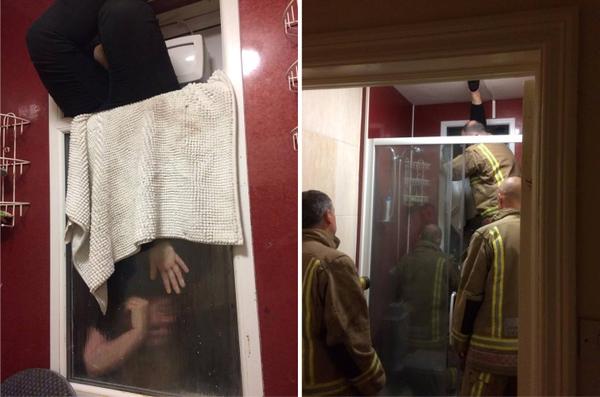 Poop Happens: Liam Smith, a postgrad student at England's University of Bristol, says his first date with a woman he met on Tinder went well. After dinner, they went to his flat "for a bottle of wine and a film." She needed to use the loo, and afterward it "would not flush," she told him. The "panicked" woman fished her poop out of the bowl, wrapped it in tissue, and threw it out the window — except that the window doesn't actually go outside, so the smelly package was in the wall. After confessing what happened to Smith, the unnamed woman — who he described as an "amateur gymnast" — "climbed in head first after her own turd," he said. After she got it, they realized she was stuck upside-down in the window. After 15 minutes of failing to get her out, Smith called Avon Fire and Rescue service to help, and documented the rescue with pictures. The fiasco came to light when Smith posted a plea on GoFundMe to fund replacing the window firefighters destroyed to get her out. "I'm not complaining," Smith said, as "they did what they had to do." The appeal went viral, bringing in 14 times his 200 pound (US$265) goal. Smith promised to split the excess funds between two charities: one that builds flush toilets in developing countries, and the firefighters' charity for "the brave men and women who risk their lives for us." (RC/BBC) ...I can hardly wait to hear about their next date.
---
Impressive Balance for an Unbalanced Guy
Man Arrested for Repeatedly Walking Past a Gas Station with His Pants Down, Police Say
Birmingham (Ala.) News headline
---
Did You Find an Error? Check the Errata Page for updates.
This Week's Contributors: MS-Mike Straw, AC-Alexander Cohen, RC-Randy Cassingham.
---
Two Misc. Items: On Monday I ran into this little video (<2 minutes), a clip of moon-walker Neil Armstrong talking about why "I am, and ever will be, a white socks, pocket-protector, nerdy engineer." It's from his speech "The Engineering Century", delivered at the National Press Club on February 22, 2000. It's not just worth your two minutes, it's probably worth listening to several times — especially if you're a nerdy engineer type, or love one. (Tangentially Related: my blog post about Armstrong's last public appearance.)
Second, over the weekend I published an essay on Medium for all the writers out there — and those who want to be one. There's No Such Thing as Writer's Block was originally a blog entry. If you'd like to share it with an aspiring writer you know, feel free to use my short link, http://hop2.cc/medium-block
Speaking of Writers, my mastermind group for successful writers (where "successful" means making most of their earned income from writing) hasn't hit critical mass yet. Which is to say, there needs to be enough members so that there can be a sustained conversation, and we're not there. That means it's not fully valuable to the members yet: more members and more discussion creates that value, so I've extended the ramp-up time, otherwise known as waving dues, through at least the end of 2018. Note that checking it out, even joining, does not obligate you to pay dues when they're instituted: you get to decide at that time whether you want to continue.
So if you make your living from writing, please get the details from The Writerati web site and click to the application if it sounds like a good fit.
It's Not Often I Have a personal connection to the Honorary Unsubscribe honoree. I've met Jerry Pournelle. As the founding vice president of the Writers Club at NASA's Jet Propulsion Laboratory, we had something geeky writers liked: the ability to invite people onto our closed geek-haven campus. That included some very interesting speakers, and not only included Pournelle, but also his primary writing partner, Science Fiction and Fantasy Writers of America Grand Master Larry Niven. They got to say they were invited speakers at JPL, and we got to soak up interesting lessons from top-notch writers.
As you probably know, I don't publicly reveal the names of well-known This is True readers unless they OK it first. Some allow it, others prefer to stay cloaked. As far as I know, Jerry wasn't a reader, but Larry is. I wrote the Honorary Unsubscribe first thing Monday morning and, since it mentions him, too, sent Larry the text to see if he had any corrections or problems with what I wrote. He had zero corrections to suggest, and commented, "I'm surprised and pleased to find you're so up to speed regarding Jerry. That's a very good writeup." And, he said, "Yes, feel free to identify me as a TRUE reader." I'm honored to have him in the audience, and to get his thumb's up on Jerry's write-up.
Which actually All Ties In to this week's Uncommon Sense Podcast, which comes to you from California, where I came to see and reflect on the End of Mission for the Cassini spacecraft. This episode isn't about the mission per se, but rather the thinking behind it, how that fits into True's mission, and how that ties into this week's Honorary Unsubscribe! In other words, The Bigger Picture. Think I pulled it off? Let me know in the comments:
Podcast 011: The Bigger Picture
...which is what made this issue come out a bit late. I spent all day working on that episode, and I needed to get out and have some dinner before I turned to getting this ready for you. Even if you Don't Do Podcasts, this one might be the exception. You can stream it right from that page. Easy!
---
Ten Years Ago in True: Meth buyers seem to suffer from Tunnel Vision.
Today on Randy's Random: Is Your Eye Twitching Yet?
This Week's Honorary Unsubscribe goes to polymath writer Jerry Pournelle. Among other things, Pournelle is acknowledged as the first writer to ever get a book published that was written on a computer.
---
Basic Subscriptions to This is True are Free at https://thisistrue.com. All stories are completely rewritten using facts from the noted sources. This is True® is a registered trademark. Published weekly by ThisisTrue.Inc, PO Box 666, Ridgway CO 81432 USA (ISSN 1521-1932).
Copyright ©2017 by Randy Cassingham, All Rights Reserved. All broadcast, publication, retransmission to e-mail lists, WWW, or any other copying or storage, in any medium, online or not, is strictly prohibited without prior written permission from the author. Manual forwarding by e-mail to friends is allowed IF 1) the text is forwarded in its entirety from the "Since 1994" line on top through the end of this paragraph and 2) No fee is charged. We request that you forward no more than three copies to any one person — after that, they should get their own free subscription. We always appreciate people who report violations of our copyright to us.
---
You can subscribe free by e-mail and get this delivered to you every week.
This Week's Issue