To get these issues free by email each week, just subscribe using the form on this page — your privacy is Randy's policy. (Or cruise around the web site to see more samples, archive, and info on our terrific book collections of thousands of past stories.)

---
Since 1994, this is the 1273rd issue of Randy Cassingham's...

---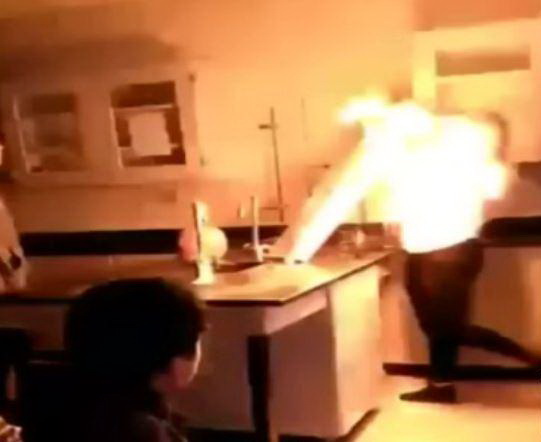 Now Watch Carefully: A pre-Halloween "science experiment" at Duluth (Ga.) High School involved a pumpkin, a ramp, and fire. It's unclear what the procedurewas supposed to demonstrate, but at least one student was ready with a camera to capture a quick video of the exciting moment. "When she lit it on fire," one student said, "what happened is the whole entire ramp lit on fire, and the ramp just exploded" — and engulfed the teacher's head in a fireball. She suffered "minor superficial injuries and no others in the classroom were hurt," a district spokesman said. The teacher's name: Morgan Cook. "We were just like confused," another student said."We didn't know what to do." (RC/Atlanta Journal-Constitution, WXIA Atlanta) ...Step One: put the fire out....
All's Well That Ends Well: A rescue crew in DeLand, Fla., pulled a man out of a well in the pre-dawn hours of Halloween, but he hadn't fallen in. "He wanted to go down the well just to say that he did it and get out of it," says Scott Smoak, battalion chief with Volusia County Fire Rescue. "Unfortunately, he didn't have the strength to get out of it." Rescuers worked for over an hour to pull the unnamed man out of the 30-foot well, but he escaped with just a few cuts and bruises.(MS/WFTV Orlando) ...His real motivation: he hoped to meet Lassie.
Crown Pointless: For six years, Krissa White of Pensacola, Fla., has had a "butterfly garden" — butterfly-friendly trees and bushes in her yard to give monarch butterflies a safe place to light. "I have been known to bring them in, help them through their life cycle and once they're adults and those wings are flapping I let them fly," says White, a retired teacher. That may come to an end, however: the Crown Pointe Property Owners Association says her garden is contrary to communitycovenants. Specifically: "animals bred or raised on a lot except for dogs, cats or other house-hold pets for non-commercial purposes." It is threatening her with a $25/day fine. (RC/WEAR Pensacola) ...But the HOA is harboring two-legged cockroaches!
This Issue's Exclusive Sponsor: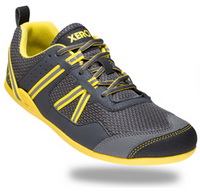 Back In Stock: Your New Favorite Shoe.
Xero Prio is our 'barefoot' running shoe, for men and women. It still has our famous protective minimalist sole, but with comfortable and super-lightweight uppers that look good, too. Check the reviews:
Department of Magical Law Enforcement: There is no law in Canada against actually being a witch. But pretending to be one is another matter — at least until a repeal proposed in June 2017 goes through. But law professor Stephen Coughlan suspects the proposal reminded the police that "fraudulently pretend[ing] to exercise or use any kind of witchcraft" is a crime. Last month, two women were charged with that crime. One is accused of convincing a man to rid himself of his home's "evilspirits" by selling it — and then getting rid of the money by putting it in her account. Her name is Samantha Stevenson. (AC/BBC) ...Without the last two letters, it would have been legal.
Eight More Stories (with no outside ads) rounded out the full newsletter this week. That included the (Florida, naturally!) mayor accused of asking a woman to "pay" for speed bumps by her house by ...uh... bumping with him. Two girls at a high school (in Florida, naturally!) who each learned the other was sleeping with a certain teacher — and got even. Woman is so angry that her husband wanted to apply for a medical marijuana card that she'll probably never get out of prison.Cop tells campaigning politician that she needs a "peddler's permit" to hand out campaign literature. Failed politician suggests that leftover campaign signs after could have a second life as ...what?! The easy way to get rid of a dead moose is weird enough to be in This is True. The "logical next step" in cigarette safety warnings. School nurse figures out who has been stealing student medications from her office. You can still read all of these stories: just ask for your upgradeto begin with the 4 November issue. Upgrades start at just $9!
Road to the Rockies: Like most states, Nebraska advertises to potential tourists, trying to get them to visit the state. The problem: the state has long ranked dead last in the list of states people want to visit. Tourism officials decided their old slogan ("Nebraska Nice" was used from 2014 to 2017) was too boring, and paid a Colorado-based advertising agency $450,000 to come up with something new. "To make people listen, you have to hook them somehow," said state Tourism DirectorJohn Ricks. "We had to shake people up." Thus their new slogan: "Honestly, it's not for everyone." (RC/Omaha World-Herald) ...The slogan the state's taxpayers prefer: "We're going to stop spending tax money on this."
---
But Could Be Welcome Back after Reeducation
China Communist Party Kicks out General Who Killed Himself
Newsweek headline
---
Did You Find an Error? Check the Errata Page for updates.
This Week's Contributors: MS-Mike Straw, AC-Alexander Cohen, RC-Randy Cassingham.
---
The "Teacher Engulfed in Fireball" already story stood out enough in that her name is Ms Cook. But the reporter for the source article I used for the story? Steve Burns. Really. You just can't make this stuff up! And then there's the fireman in the next story, Smoak. I call 'em Freaks of Nomenclature, and it's a fun part of the job.
It's Actually an Urban Legend that there was a Lassie episode about Timmy falling into a well (ref. "All's Well That Ends Well"). Sure, during the 1954-1973 series the clumsy kid's falls involved abandoned mine shafts, cliffs, rivers, lakes, and even quicksand, but never a well. Yet the idea is so ingrained in American culture that Jon Provost (who played Timmy) titled his autobiography, Timmy's in the Well! Provost, now 68, is still acting, most recently in 2013'sSusie's Hope.
Before "Nebraska Nice," over the previous 40 years the state has tried numerous tourism slogans: "Possibilities ... endless", "America's Frontier", "Genuine Nebraska", "Send a Postcard from Nebraska", "Come See What We're Up to Now", "Celebrate Nebraska", "My Choice, Nebraska", "Nebraska ... Discover the Difference", "Nebraska ... Delightfully Different", and "Vacation Nebraska". A 2014 article I found in the Omaha World-Herald announcing the new "Nebraska Nice" slogan mentionedthat the tourism commission had said they were going to register a trademark on the phrase. Yeah, because so many companies might want to use that slogan too! I checked: they did register it, and it's still "live" (as the Patent and Trademark Office puts it). At least a search there didn't find "Honestly, it's not for everyone."
The paper noted a reader called the 2014 slogan "patronizing, anodyne, lame, lazy and dumb, dumb, dumb." The reporter's response to that? "Nice." Yep, I've been there: Kit and I drove the 455 miles of I-80 across the state on our way home from Indianapolis this summer. One interesting thing about Nebraska: its legislature is officially non-partisan, so state senators are elected with no party affiliation next to their names on the ballot, and members of any party can be elected to thepositions of speaker and committee chairs. No political party-based mud-slinging during elections? Now that would be nice!
Last, I had to think about Alexander's tagline on "Department of Magical Law Enforcement" for a moment before digging wayyy back in rusty memory. Taking off the last two letters makes the name Samantha Stevens. Ohhh... I think that was the name of... [type type type] ...yep! That's the lead character's name in the sitcom Bewitched (1964-1972). I don't know how old Alexander is, but I'm pretty sure he's quite a bit younger than I am,so I'm surprised he knew the show. Reruns, I guess! The slug on the story, meanwhile, you probably knew too: it's an allusion to the Harry Potter series.
Last, "I Love This Story for the feel of history come alive, for the innovation and thinking sparked and the accomplishments. Wow! Just Wow!" said Premium subscriber Deborah in Florida — the first reaction to this week's Podcast, which was released Monday morning. The subject: How two men 70 years apart inspired others to change the world in a massive display of Uncommon Sense. It's 15-1/2 minutes: Podcast 006: The X Factor, which page also has a transcript.
---
Ten Years Ago in True: What are the odds? I'll Bet You Can't Crunch Just One.
Today on Randy's Random: I'm a Believer.
This Week's Honorary Unsubscribe goes to Bernard Bragg. The wild story of how Bragg learned he was deaf, and then how he figured out how he could be an actor.
---
Basic Subscriptions to This is True are Free athttps://thisistrue.com. All stories are completely rewritten using facts from the noted sources. This is True® is a registered trademark. Published weekly by ThisisTrue.Inc, PO Box 666, Ridgway CO 81432 USA (ISSN 1521-1932).
Copyright ©2018 by Randy Cassingham, All RightsReserved. All broadcast, publication, retransmission to e-mail lists, WWW, or any other copying or storage, in any medium, online or not, is strictly prohibited without prior written permission from the author. Manual forwarding by e-mail to friends is allowed IF 1) the text is forwarded in its entirety from the "Since 1994" line on top through the end of this paragraph and 2) No fee is charged. We request that you forward no more than three copies toany one person — after that, they should get their own free subscription. We always appreciate people who report violations of our copyright to us.
---
You can subscribe free by email and get this delivered to you every week.
This Week's Issue