To get these issues free by email each week, just subscribe using the form on this page — your privacy is Randy's policy. (Or cruise around the web site to see more samples, archive, and info on our terrific book collections of thousands of past stories.)

---
Since 1994, this is the 1300th issue of Randy Cassingham's...

---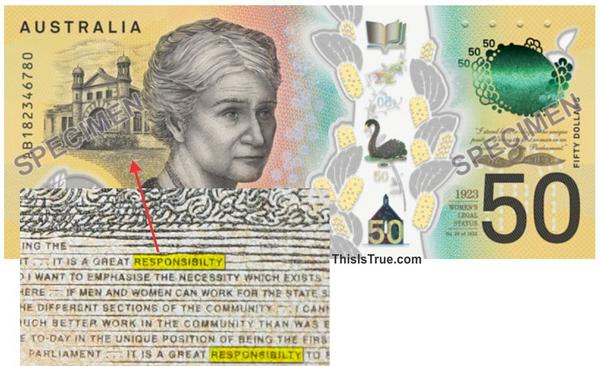 Check the Fine Print: Australia is redesigning its currency, in part to make it harder to counterfeit,which includes "microprinting" on the notes. The Reserve Bank of Australia printed 400 million of its most popular bill, the A$50 (US$35), and over six months about 46 million of them have gone into circulation — with a typo. The microprinting features a few lines from the first floor speech Member of Parliament Edith Cowan, the country's first female MP. Over and over, it says "It is a great responsibilty to be the only woman here...." The next print run will fix the gaffe. Meanwhile, "Thesebanknotes are legal tender and can continue to be used as normal," an RBA spokeswoman said. "It does not affect their validity and functionality in any way." (RC/BBC, CNN) ...Though once they figure out who is responsble, heads will roll.
Living Here Under Allentown: Construction workers at the Walnut Street Commons in Allentown, Pa., heard a man calling for help — from underneath their work trailer. They called the fire department, and firefighters were able to narrow down the man's location to a storm sewer. They opened a nearby manhole and the man was able to climb out, showing signs of dehydration and exposure. "Sounded like he was down there for some time," Capt. John Christopher said — "days." The man was taken toa local hospital for treatment, and Christopher said he was "very reluctant to tell us anything about how he got down there." (MS/Allentown Morning Call) ...Dehydration in a storm drain? He couldn't have been that desperate for water yet.
A Superb Issue This Week — the full edition had eight more stories, and the story flow is much better when you have them all. You missed: Legend says eating it is good for health, but they ate it ...and caused more than 100 people to be quarantined. Aussie judge makes ruling that you'll really scratch your head over. Wait... who was arrested for the "Internet luring of a child"?!? OK, the artificial meat craze is officially getting out of hand. Kentucky is considering acruel new law to kick people when they're down. Man crashes into police car, points out that the damage isn't that bad, and besides ...he was drunk. When a Florida Man engages in reckless driving, he does it in style (with photo). And police in Virginia are trying to fight a growing crime problem with limited results. It's not too late to read the full issue: just ask for your upgrade to start with the 12 May issue. Upgrades start at just $9.
This Issue's Exclusive Sponsor:
Regain Control of Your Inbox

You don't have to wade through junk just to get to the good mail in your inbox. Take 15 minutes to read Randy Cassingham's Spam Primer web site — and grab his highly rated ebook (just $3.99!) with proven techniques to Stop most spam from even showing up in your inbox.Read Randy's Spam Primer
Call Me the Moment You Hear: Jason Stiber of Westport, Conn., was pulled over by police when the officer saw him talking on the phone while driving. Stilber insists he was not: he had just stopped for breakfast at McDonald's. "He said he saw me on a cellphone," Stiber said. "I was thinking he had seen the hash brown," which he was eating. But he still received a $300 citation after the officer refused to look at the phone's call log. Stilber proved that he was not on the phone bybringing his cell phone bill to court, which showed no calls at the time in question, but the judge convicted him anyway. Stilber wouldn't accept that: he appealed to the state Superior Court in Norwalk. He paid a lawyer $1,000 to defend him, but that still would save him money: his car insurance went up $1,000 because of the ticket. He had to wait for a court date, and then the ruling. Almost exactly a year after the incident, the state judge declared Stilber not guilty. (RC/Westport News)...He'll celebrate with all-he-can-eat hash browns from McDonald's — but not "to go."
It's a Shame: When Warwick, R.I., school officials announced that students who hadn't paid their lunch debts would get sunflower-seed butter and jelly sandwiches instead of hot meals, restaurateur Angelica Penta was upset. "To me, a sunbutter and jelly sandwich is lunch shaming, because you're basically telling all the other kids that you can't afford lunch and you don't have any lunch money," she said. Penta offered to donate $4,000 toward students' lunch debts, but the district, shesaid, turned her away. "They basically said they couldn't take my check because people would get upset if their child's lunch was being paid for." But officials had a different explanation: they weren't willing to pick and choose which students would benefit from the donation, and Penta had refused to do the choosing. Penta invited parents to ask for her help directly, but after the issue got media attention, yogurt company Chobani said it would donate $77,000 to cover all the debts.(AC/Washington Post, WPRI Providence) ...Food or fairness: which should a school district choose?
I'm Thinking; I'm Thinking! Police in Laredo, Texas, were summoned to a residence after a woman allegedly punched her common-law husband. The victim explained to police what happened to set off Lizeth Guadalupe Ramirez, 20, while they were at the movies: she had asked him if she looked pretty. He didn't answer, he told police, because he couldn't hear the question over the loud movie. She insisted that they leave, and she punched him repeatedly as he drove home, police say. Ramirez wascharged with assault and "family violence." (RC/Laredo Morning Times) ...Let's just say she's not all that pretty when wearing orange and white stripes.
---
Because He's a Florida Man
Florida Man Explains Why He Buried His Friend in His Backyard
WFLA Tampa headline
---
Did You Find an Error? Check the Errata Page for updates.
This Week's Contributors: MS-Mike Straw, AC-Alexander Cohen, RC-Randy Cassingham.
---
Two Stories from Last Week brought complaints that True is politically partisan. The hilarious aspect to the two stories: neither had anything to do with politics, but the readers are so sensitive they thought they were political slams. There were a number of protest unsubscribes, including a Premium reader, which is very unusual.
The stories in question — and my response to the readers — are in my blog: Masterfully Baited.
Recent Subscriber Martin in Germany writes: "I'm a first time subscriber who's been made aware of your newsletter by a good friend who made his subscription a secret (to me) for many years. I wouldn't want to imagine how much I must have missed."
I'll bet you all have good friends you know would like the stories in True. Have you been depriving them of Thought-Provoking Entertainment for years? Don't just tell them about it: forward this issue to them, with your reasons on top so they understand why from someone they trust. (Tip: Remove the unsubscribe link at the bottom: if anyone you forward an issue to clicks it, YOU will be unsubscribed.)
The Headline of the Week (about why the Florida Man buried his friend) is a crazy tale. Greg Palermo says his friend stayed at his house occasionally, and "He jokingly said that morning while we were fishing that he wouldn't mind being buried in my backyard because it's so pretty." The friend died from a heroin overdose. Later, police came knocking not because they had any clue about the body, but because they suspected Palermo was cooking meth in the home. He denies that, but was sonervous he told the officers about the body. "I did it," he said. "I made a poor choice, should have called 911." As of the time of the report, Palermo had not been charged with any crime.
This Week's Uncommon Sense Podcast: There's a proven way to boost your creativity, open-mindedness, thoughtfulness, and more. The best part: it's also fun, interesting, and can even be done while working, or on vacation. You know, like the working vacation I just got home from! Stream it from the Show Page or read the transcript there: Boosting Creativity the Easy Way.
Last, a periodic reminder: Yes, I do take story submissions for True. This page discusses what I need for a suggestion to be viable. Due to the volume of submissions, I only reply to them when you are the first to suggest a story, so you'll know yours was The One to bring it to my attention. Thanks!
---
Ten Years Ago in True: A local politician hates a restaurant's name — A Name So Bad, It's Criminal.
Last Week's Issue on Medium (please do share the link).
Today on Randy's Random: News Headline that Makes Me Grumpy.
This Week's Honorary Unsubscribe goes to Fleming Begaye Sr. In 1943, Begaye dropped out of high school to join the U.S. Marine Corps for World War II, and was put to work on an interesting assignment....
Read his Story in the Archive: Fleming Begaye Sr. (OK to share link)
And So Long to naturalist Jim Fowler, co-host of Wild Kingdom, dead at his home in Connecticut on May 8 at 89.
Plus, Goodbye to Actress Peggy Lipton, best known for The Mod Squad in the 1960s and Twin Peaks in the '80s, dead May 11 from colon cancer at 72.
Then, a Sentimental Journey for singer/actress Doris Day, dead May 13 from pneumonia. She was 97.
Last, a Fnork! to comic actor Tim Conway, dead May 14 at 85.
---
Basic Subscriptions to This is True are Free athttps://thisistrue.com. All stories are completely rewritten using facts from thenoted sources. This is True® is a registered trademark. Published weekly by ThisisTrue.Inc, PO Box 666, Ridgway CO81432 USA (ISSN 1521-1932).
Copyright ©2019 by Randy Cassingham, All RightsReserved. All broadcast, publication, retransmission to e-mail lists, WWW, or any other copying or storage, in any medium, online or not, is strictly prohibited without prior written permission from the author. Manual forwarding by e-mail to friends is allowed if 1) the text is forwarded in its entirety from the "Since 1994" line on top through the end of this paragraph and 2) No fee is charged. We request that you forward no more than threecopies to any one person — after that, they should get their own free subscription. We always appreciate people who report violations of our copyright to us.
---
To get True delivered to you every week, click here to open a subscribe form.
This Week's Issue