To get these issues free by email each week, just subscribe using the form on this page — your privacy is Randy's policy. (Or cruise around the web site to see more samples, archive, and info on our terrific book collections of thousands of past stories.)

---
Since 1994, this is the 1344th issue of Randy Cassingham's...

| | |
| --- | --- |
| 15 March 2020: In For the Long Haul | Copyright ©2020, Forwarding Prohibited |
---
Yes, This is Premium: I'm choosing to send Monday's full edition out to the free edition distribution this week as a gift since (just a guess) you're probably getting a bit stir crazy with this novel emergency situation. This is what you get in Premium: a lot more stories, the full text of the Honorary Unsubscribe, and no ads.
If you'd like to get Premium every week to make passing the time at home more stimulating and interesting (since it will probably last longer than we think), you can upgrade here for as little as $9. I'm in it for the long haul: I intend to be here for you no matter how long this lasts, and could use your support to make that possible. So... let's get to the stories!
---
Flour Power: In 1993, "Manat Bophlom" of Thailand pleaded guilty to conspiracy to import heroin from Bangkok to New South Wales, Australia. He was caught with a little more than 2.3 kilos of heroin, which tested out as 74 percent pure by the Australian Government Analytical Laboratories. Manat, then 27, spent four years in prison, and was deported upon release. With a name change to Thamanat Prompao, Manat has gone straight — into politics. Thamanat, now 54, was elected as a Member ofParliament in Thailand, and is the Deputy Minister of Agriculture and Cooperatives, as well as the political "fixer" for the military junta that assumed power in 2014. What about his criminal history? "The thing the police and authorities in the state of NSW said was 3.2 kilograms of heroin? It was flour," he claims. As for his prison term, "I lived in state-sponsored accommodation." But also, he admits, "I violated Australian law, not Thai law." And actually, "I was sent to take care of someyounger detainees. After this work, I would return to sleep in the place the officials had prepared for me." He has so far kept his cabinet position despite being rebuked by 17 various government officials. (RC/Brisbane Times) ...Rebukes: as effective in Thailand as in the rest of the world.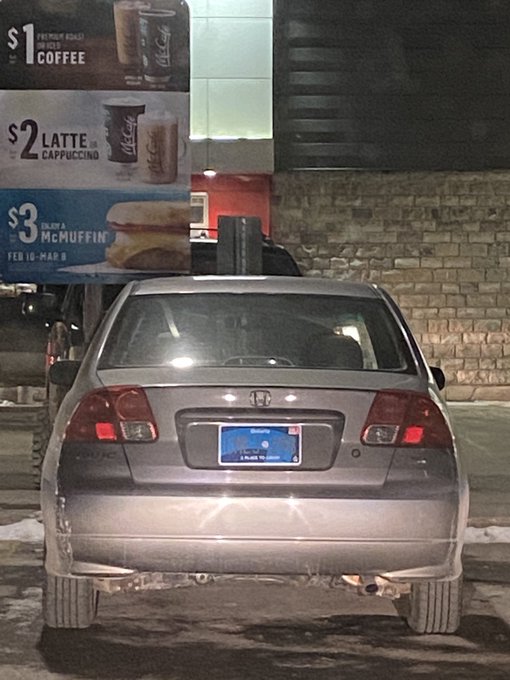 This Tag Ain't It: "Did anyone consult with police before designing and manufacturing the new Ontario license plates?" tweeted Sgt. Steve Koopman of theKingston, Ont., Canada police. "They're virtually unreadable at night" — and attached a photo. "We have gone through a rigorous testing program with our stakeholders to ensure that the new plates for Ontario are durable, are absolutely reflecting the key information that the people need to be seeing," said Lisa Thompson, a minister in the province's Progressive Conservative Party government. Critics, however, said the blue plates were reflecting too much light; "I thought Ontario was a place togrow, not a place to glow," said the New Democratic Party's Jennifer French, riffing off the slogan on the PC government's plates. Thompson, however, said, "I'm sure everyone here today would agree with me, wholeheartedly, that the status quo, the flaking and peeling Liberal plates, were not an option to stick with." Eventually, however, the Progressive Conservative government announced that a new design had been chosen — in white, like the old "Liberal" plates. But the slogan on the old plates,"yours to discover," will still be replaced. (AC/CTV, Toronto Star) ...You know what's still "yours to discover"? Whether you can read the plates.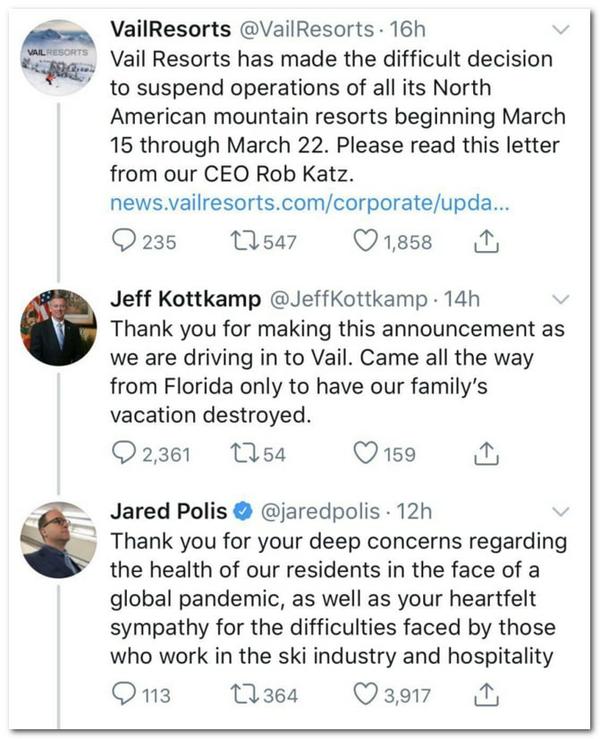 Florida Man is Florida Man No Matter Where He Is: With the COVID-19 coronavirus sweeping through Colorado, particularly in the tourist-laden mountainski resorts, Vail Resorts announced that it "made the difficult decision to suspend the operations of all our North American mountain resorts" until it's safe to reopen. "Thank you for making this announcement as we are driving in to Vail," whined Jeff Kottkamp on Twitter. "Came all the way from Florida only to have our family's vacation destroyed." Kottkamp is the former Republican Lt. Governor of Florida — where the Disney World Resort is closed, among other tourist destinations. Coloradopoliticians were quick to condemn Kottkamp, including the governor, but no one was more scathing than Sage Naumann, spokesman for the Colorado Senate Republicans, who re-wrote Kottkamp's tweet: "'Came all the way from Florida only to realize Colorado is actually stepping up to prevent the spread of a global pandemic,'" he wrote. "Fixed it for you, Lieutenant Governor." Kottkamp deleted his tweet. (RC/Denver Post) ...Next year, try the Matterhorn.
You're Darned, Tuten: Limestone County, Ala., Sheriff Mike Blakely reported to the emergency room with respiratory symptoms. He was tested for several conditions, including influenza and walking pneumonia, which were negative. E.R. physician Maria Onoya said the hospital's protocols for a potential coronavirus were followed, but he wasn't tested for COVID-19. Since it was Blakely's third visit to the emergency room, though, he was admitted, and the doctor was unsure when he would beable to be present at his trial — the doctor's testimony was part of a special hearing regarding jury selection for 11 criminal counts against the sheriff, including theft and ethical violations related to his office. Judge Pride Tompkins chastised the defense for mentioning COVID-19 in their motion to delay jury selection, noting there were no known COVID-19 cases in Alabama. "I don't know what your tactic is, but it's condemned by the court," Tompkins seethed, "and the court won't tolerateit." Defense attorney Robert Tuten wasn't deterred. "While we're talking about this," he said, "let me just say I am here under protest and against the medical advice of my surgeon, forced to be here by you." (MS/Athens News Courier) ...Avoiding testing, not saying the "COVID" word, being around others against medical advice: good to see those in charge of keeping us safe are making the best decisions.
Keep Out: "To the extent that anyone can declare spring break is over this year," said Miami Beach, Fla., Mayor Dan Gelber, "it is over this year." Which is to say, he doesn't want students to travel to the city for spring break due to the COVID-19 pandemic. "For our city, it's especially, especially difficult," he said. "I appreciate that this poses an incredible economic hardship to hospitality industry and businesses, but we are past the point where we can encourage or sponsor largecrowds." The city of 91,000 normally gets about 9 million visitors per year. (RC/WTVJ Miami) ...And all 91,000 are sick and tired of being asked, "Can I crash on your couch?"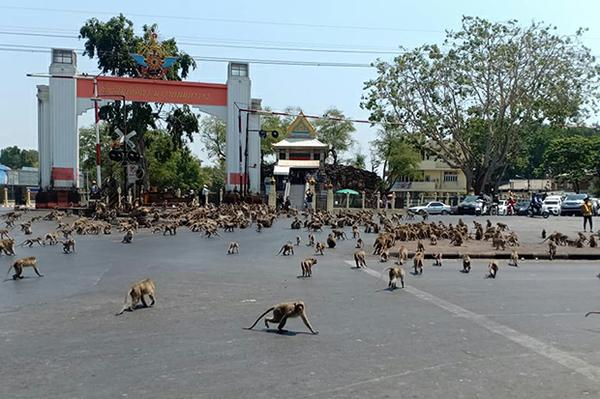 Monkey Business: Lop Buri, Thailand, has thousands of monkeys that have divided into two "gangs": the temple monkeys and thecity monkeys. Normally, they leave each other alone, but a rare incursion of the temple monkeys into the city monkeys' territory resulted in a brawl. According to Biew Um-in, who witnessed the violence, the leader of the temple monkeys led the incursion to find food, and the chief of the city monkeys led the defense, fighting off the other gang and forcing them to retreat. There are many theories being put forward as to the reason for this sudden outbreak of violence. Somchai Unakong, 75, saidhe's never seen this before and considers it a bad omen. "Did this relate to the COVID-19 virus that is spreading?" he asked. (MS/Bangkok Post) ...Well, it has a bunch of humans acting like monkeys, so why shouldn't it make monkeys act like humans?
Crack Open the Champaign: The residents of Champaign, Ill., are aghast at the powers granted to the mayor upon her declaration of an "emergency" — which Deborah Frank Feinen has issued in response to the COVID-19 virus, even though there have been no known cases in the region. "So many of those powers, I have had from the beginning," Feinen said. "All we have done is enumerate them and now the public is aware of them." Like what? "I can shut down bars yesterday, I could have shut themdown two years ago," she shrugged. She is also specifically allowed to ban the sale of firearms and ammunition, ban the sale of gasoline for emergency generators, direct the shutoff of utilities, take possession of private property "and obtain full title to same," and more — it took 31 pages to document it all. (RC/WAND Decatur) ...And if any residents complain, BANG! — she'll own their house.
Shelby Game: The first confirmed case of the COVID-19 in Shelby County, Tenn., has been confirmed. More than 70 people who were exposed to that one patient have been quarantined — and one of them works at Treadwell Elementary and Middle School. Not to worry, though: "No one in the school system is at risk," said Alisa Haushalter, director of the county health department. "No, this is a serious-a** virus," said parent Tasha Lott. She gave her children gloves, and wiped down theirbackpacks. (AC/WATN Memphis) ...Shelby County schools: the only place in the world with zero risk of COVID-19.
You Bet Your Life: While the Church of Jesus Christ of Latter Day Saints ("the Mormons") cancelled all gatherings, including Sunday worship services, to combat the COVID-19 virus, the Greek Orthodox Church of Australia says they'll carry on with services as usual. And, they announced, they refuse to change their traditional sacramental communion, where a priest with a cup of wine dips a spoon in, puts it in the mouth of a parishioner, and repeats for all who want it — with the same cupand spoon. Anyone who is ill should stay home from church, Archdiocese spokesman Rev. Steven Scoutas says, "But once we decide to go to church, we believe there is absolutely no possibility of contracting disease from the holy cup." The Australian Medical Association says that's irresponsible, especially since a large percentage of parishioners are elderly. The churches can draw thousands during the runup to Easter. "We will continue as we have during the centuries," Scoutas said. (RC/ABCAustralia) ...Just like they did during the 12th-century Black Death.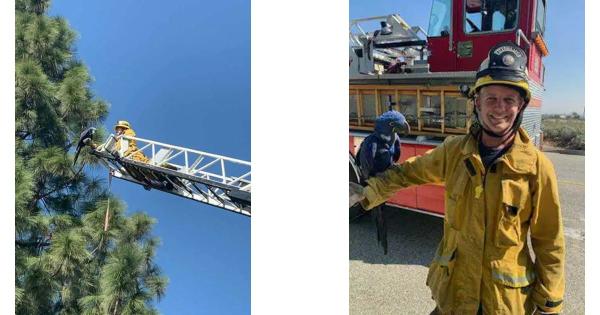 All For Love: Los Angeles County, Calif., Fire Dept. Capt. Dan Engraf and his crew were returning from a medical emergency when they were flagged down. Acitizen asked them to rescue their beloved pet, Love, from the top of a large tree, where he had been for nearly 19 hours. The pet in question is an 18-month-old macaw. "Like, seriously? A bird in a tree?" Engraf said. "But she seemed distraught — I didn't want to say 'no'." The truck's 70-foot ladder couldn't reach Love, so Engraf called in another truck with a 100-foot ladder, which was able to complete the rescue. Carolin von Petzholdt, Love's owner, is a bird trainer with "years ofexperience," has written a book on "free-flight" training for birds in captivity, and has a YouTube channel on bird training with over 142,000 followers. Love apparently took off for the tree in the middle of a training session. (MS/Los Angeles Daily News) ...Any publicity for her Youtube channel and book is good publicity, right?
Counting the Years: It's been nearly 25 years since the 1995 conference on women drew world leaders to Beijing, China. But last year, with the help of the Canadian Research Institute for the Advancement of Women, the Canadian Centre for Policy Alternatives issued a report on what Canada has done pursuant to the Beijing conference's Declaration and Platform for Action, which Ottawa signed. The report, "Unfinished Business," says gender inequality (apparently in pay) was reduced by anaverage of less than 0.25 percent per year from 2006 to 2018; if that average holds, equality will be fully achieved in 164 years. Meanwhile, men have fewer post-secondary degrees than women, according to Statistics Canada, and nearly three times as many men as women are victims of homicide. (AC/Global News Canada) ...And in 164 years, maybe there'll be a conference about that in Beijing.
A Two-Week Supply: With panic hoarding of supplies as the COVID-19 virus spreads, hand sanitizer is hard to find. The Little Darlings strip club in Las Vegas, Nev., to the rescue! They have 50,000 bottles, and they'll give one to each customer while supplies last. "Las Vegas is a tourist mecca," said manager LeAnna DaPoint, "and we have to do everything possible to stay virus-free." She noted that "an opportunity to help with the Coronavirus scare is extremely important to us."(RC/KSNV Las Vegas) ...And here everyone thought we weren't supposed to touch the dancers.
---
Though Nothing Compared to the Padded Paperwork
Jackson County [Fla.] Sheriff's Office: Marijuana in Bra Leads to Bigger Bust
WMBB Panama City headline
---
Did You Find an Error? Check the Errata Page for updates.
This Week's Contributors: MS-Mike Straw, AC-Alexander Cohen, RC-Randy Cassingham.
---
The Story Behind this week's headline: when they found a partly-smoked joint in her bra, deputies searched her car and found more drugs packaged for sale, hence the additional charges amounted to a "bigger bust" for them. Hers, of course, ended up a tiny bit smaller.
It Was 2003, and the True Stella Awards was in full swing — that was True's offshoot into crazy lawsuits, sparked by the urban legend email that had been going around and around and around for years before that. My premise was, if the goal of that viral email was to say how stupid some lawsuits were, that they were an imposition on U.S. courts, then whythe heck did they need to make up all of the cases? Every one of them never happened! Why not use real cases to illustrate the problem? Because, I said to myself, I'll bet I can find enough true cases of frivolous lawsuits to do a newsletter with at least one outrageous case writeup every week.
Well... most weeks had two cases.
It Wasn't Long Before New York book publishers came knocking. My agent gave me plenty of advice on how to shape the book proposal, which took quite several months, and then put it out on the street. Several publishers bid on it, and Penguin won: the book came out in late 2005.
"The appeal of the book derives from the combination of the wackiness of the real-world legal cases Cassingham has selected for examination and his lethal style," said one reviewer on Amazon. "He's one of those few writers who can channel Ambrose Bierce, if you see what I mean." Heh... I like that: "lethal style"!
But this discussion isn't actually to sell you on the book. Rather, this week I finally got a digital copy of the most-fun TV appearance I did for Stella, in part because I had the opportunity to tell Judge Andrew Napolitano on live national TV that he was wrong. (In general, I think he's pretty with it and makes good comments, but I was shocked that he bought in to an obviously false urban legend.) You can see it on myYoutube channel; it's not quite 6-1/2 minutes. That part with the judge is toward the end.
By the way, I should have some interesting news about the True Stella Awards by late next month.
This Week's Uncommon Sense Podcast episode: Colorado, having seen constant partisan manipulations of redistricting in the past — Gerrymandering — actually did something about it, and did something radical in the process: they exercised Uncommon Sense. It's a great story of reclaiming democracy from politicians: The Line in the Sand is 18-1/4 minutes, or you can read thetranscript on that page.
---
Tagline Challenge Results. Last week I asked for your best ending(s) to this extra story:
A Reporter Wears Many Hats: Reporter Justin Hinton from WLOS-TV in Asheville, N.C., went live on the station's Facebook page to report on a snow storm, but "someone" accidentally clicked the "Live Mask" feature, which cycled through a number of bizarre additions to his face while he spoke, all without his knowledge as he kept up his serious report. There was a cartoon space helmet, a wizard's hat (plus a long flowing mustache and beard), googly eyes, a fox face over his, andmore. The video instantly went viral, with over a million views. "I didn't realize it until I stepped off camera and saw the comments where people were talking about the faces," Hinton said, and shrugged it off. "If you can't laugh at yourself, what's the point of laughter?" (RC/Charlotte Observer) ...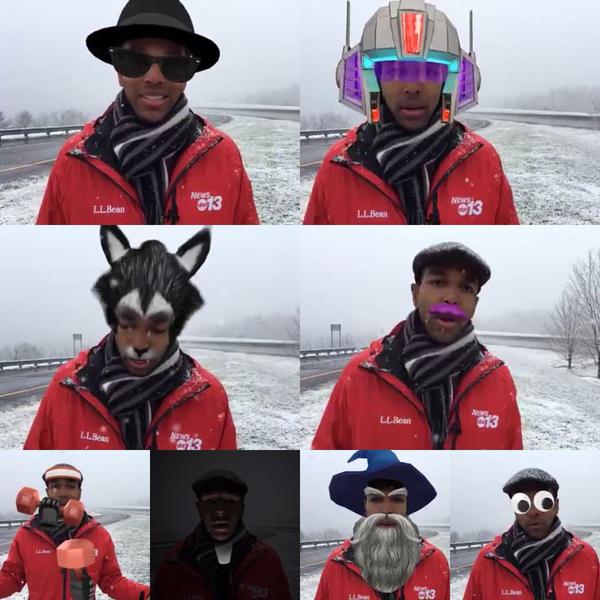 Only 25 of you sent an entry (or few), and here are the best of them. David in California was first outof the chute, suggesting the feature would be "...A great tool for the next debate." Harvey in New York had a similar idea: "...Do they have two-faced characters for political speeches?" Paul in Texas: "...Is that why it's called Facebook?" Karl in California: "...If you can't laugh at yourself, your audience can do it for you." I'm not sure if Karl meant Hinton's audience or mine, but it works either way! Patricia in Michigan: "...Will the real Justin Hinton please step forward?" Joshua inColorado: "...His parents must have told him that he 'could be whatever he wants to be' too many times." Brett in Victoria, Australia: "...Luckily, with all the disguises he used nobody will recognise him and ridicule him in the street."
And the Winner is Erwin in the Netherlands, who beautifully tied it in with the headlines: "...Disclaimer: The 'Live Mask' feature is not a medical device and offers no protection against viral infections." Well dang!
---
Ten Years Ago in True: A student on spring break in Florida records another chapter in His So-Called Life.
Previous Issues on Medium (please do share the link).
This Week on Randy's Random: a series on the Covid Craziness. Monday starts it off with a Non-Handshake Deal. Wednesday features a couple of photos I took at our local Walmart: Keep Your Priorities Straight. And Friday it's how to Live Long and Prosper.
This Week's Honorary Unsubscribe goes to Boris Yaro. A photographer, Yaro had a part-time job with the Los Angeles Times, Yaro had gone home not feeling well, but Pepto Bismol perked him up, so he grabbed his camera and headed out. Robert F. Kennedy had just won the California Primary for nomination as the Democratic candidate for President of the United States, and Yaro, still off duty, went to the Ambassador Hotel hoping to geta photo of Kennedy — for his own wall. Yaro came into the ballroom via a service entrance and ran into Kennedy, but he didn't have a flash for his camera and didn't take any photos. After the candidate made his acceptance speech, Yaro went back to the service entrance, thinking Kennedy would go back out that way. He did, but when Kennedy got about 3 feet from him, Yaro heard "firecrackers" — and was hit in the face with debris. As the crowd parted, he could see Sirhan Sirhan emptying an 8-shot.22 caliber pistol toward Kennedy, who was hit three times (five others were wounded). Several men jumped Sirhan, knocking the pistol from his hand. When he saw Sirhan trying to get the revolver, Yaro grabbed it. "I turned away from the scuffle and was thinking, 'It's warm. The gun is warm,'" Yaro remembered, "and all of a sudden it was taken from me. I didn't see who grabbed it, but I saw the back end of a sport coat and figured it might be a cop." As his mind cleared, he saw "RFK was slowlysinking to the floor, and I realized I had better make pictures. I used my Nikon FTn and a 28mm lens. At the time, a woman grabbed my coat sleeve and began tugging all the while shouting, 'Don't take pictures!" I pulled my arm back, freeing myself from her grasp and yelled, "Goddammit lady, this is history!" In all, he only took six photos.
Yaro ran for a phone, but when he couldn't get a line he ran toward his car. Spotting a payphone on the street, he called the city desk and said just three words: "I have photos." City Editor Bill Thomas "yelled 'Get 'em down here!'" — Yaro knew they'd hold the presses to get his photos in. When he arrived a tech was waiting to develop Yaro's film, and he told the tech to double the development time because "the lighting was terrible." Sure enough, "it did the job, and we had printableimages, albeit somewhat contrasty." Yaro sat down with a reporter to dictate what he had witnessed, and then "I took a quick look at the photos and the whole incident began to take over my feelings," he said. "I went back into my darkroom. And I wept." Yaro's main photo is iconic, showing Kennedy being cradled by busboy Juan Romero, who wanted to ensure Kennedy's head didn't touch the ground; he was still conscious. Kennedy asked Romero, "Is everybody safe — OK?" Romero replied, "Yes, yes,everything is going to be OK." Kennedy, 42, died the next day. Sirhan, a Palestinian born a Christian in Jerusalem, pleaded guilty in exchange for a life sentence, rather than execution; he is still alive at 75, and housed in a California prison. The assassination is considered the first major incident of political violence in the United States stemming from the Arab-Israeli conflict in the Middle East.
Yaro's photo (see archive) is in the permanent collections of the Getty Museum, and New York's Museum of Modern Art. Yaro was quickly hired full-time at the Times and worked there for more than 40 years. When the Lou Grant TV show (1977–1982) was gearing up for production, the show's news photographer, "Animal," was played by Daryl Anderson. The actor studied with Yaro so he could depict the best of the best ofnewspaper photographers. Yaro, however, was no "animal" — he always wore a blazer and a tie on the job. "You can't walk into a newsroom dressed as a damn bum," he said. After his experience in 1968, he was pretty much always on duty, keeping police scanners on in his car, and even his bedroom. "He never left home without some form of connected communication," said his daughter, Nicole Good. "He always had one, maybe two, maybe three cameras with him, film in every single pocket." Yaro died athis home in Northridge, Calif., on March 11. He was 81.
This Entry in the Archive: Boris Yaro (OK to share link)
And Goodbye to screenwriter and playwright Mart Crowley, best known for his Tony Award-winning The Boys in the Band. He died after heart surgery on March 7, at 84.
---
Basic Subscriptions to This is True are Free athttps://thisistrue.com. All stories are completely rewritten using facts from thenoted sources. This is True® is a registered trademark. Published weekly by ThisisTrue.Inc, PO Box 666, Ridgway CO81432 USA (ISSN 1521-1932).
Copyright ©2020 by Randy Cassingham, All Rights Reserved.All broadcast, publication, retransmission to email lists, WWW, or any other copying or storage, in any medium, online or not, is strictly prohibited without prior written permission from the author.Manual forwarding by email to friends is allowed if 1) the text is forwarded in its entirety from the "Since 1994" line on top through the end of this paragraph and 2) No fee is charged.I request that you forward no more than three copies to any oneperson — after that, they should get their own free subscription. I appreciate people who report violations of my copyright.
---
To get True delivered to you every week, click here to open a subscribe form.
This Week's Issue