To get these issues free by e-mail each week, just subscribe using the form on this page — your privacy is Randy's policy. (Or cruise around the web site to see more samples, archive, and info on our terrific book collections of thousands of past stories.)

---
Since 1994, this is the 1225th issue of Randy Cassingham's...

---
Incomplete Repair: Clare County, Mich., sheriff's deputies responded to a report of a suspicious vehicle at a house in Hayes Township. The deputy found the SUV had in fact crashed into the house and, worse, he alleged the driver was drunk, with a blood alcohol level measured at .24 percent. David Wesley Wright, 38, claimed he had just finished a repair on his Dodge Durango and was taking it for a "test drive" — at 1:30 a.m. Wright was arrested and charged with third offense drunken driving, and held on $10,000 bond. It's unclear when the house's owner will get a chance to clean up the mess caused by the crash: he's in jail. Wright had crashed into his own home. (RC/Alma Morning Sun) ...So, he forgot he had converted his garage to a TV room?
Mawwaige is What Bwings us Togevver Today: Nick and Sarah Jenson of Australian Capital Territory may soon be ending their 10-year marriage. The reason: in a non-binding referendum, Australians voted overwhelmingly to legalize same-sex marriage. "My wife and I," Nick promised in a letter to a local newspaper before the vote, "as a matter of conscience, refuse to recognise the government's regulation of marriage if its definition includes the solemnisation of same-sex couples." Sydney lawyer Michael Tiyce has said he will offer free legal support for the couple's divorce. "My firm does quite a bit of pro bono work in family law each year in the gay, lesbian and trans community. I thought offering assistance to Nick and Sarah would be an excellent way of reaching out across communities with my family law expertise, because quite simply they are going to need it." Because Australian law requires a marriage to have broken down irretrievably in order to have grounds for a divorce, Tiyce said the divorce will be tricky. But "after our divorce," Jenson said, "we'll continue to live together. Hopefully for another 50 years." (MS/Sydney Australian) ...And there's no better way to demonstrate the sanctity of marriage than by divorce.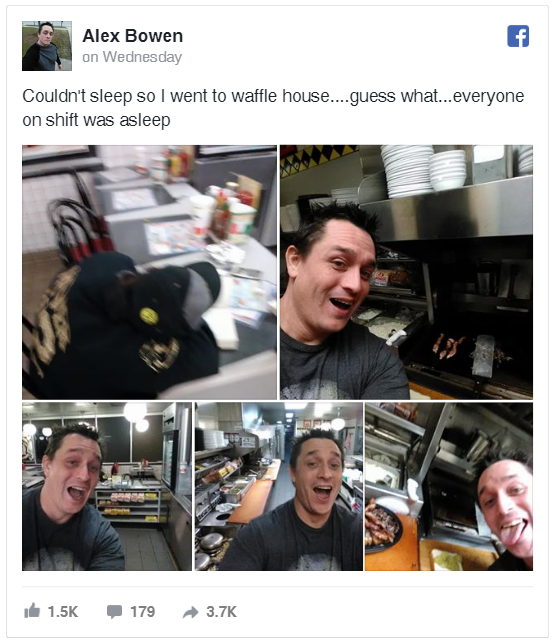 Self-Service: It was the wee hours of the morning, and Alex Bowen was hungry, drunk, and unable to sleep. So he did what many Americans would do: he went to a Waffle House, in this case, in West Columbia, S.C. He walked up to the register. No one was there. He waited 10 minutes. No one turned up. He walked out and looked around. Still, no Waffle House employees. But Bowen was hungry, he was at a Waffle House, and he was going to eat. So he made himself a sandwich, and even cleaned the grill when he was done — and took pictures to post online. "I give all the credit to my old friend vodka," he said later. At some point, he did spot a worker, who was asleep in a booth. Waffle House said the sleeper would be disciplined. And: "In a related note, obviously Alex has some cooking skills, and we'd like to talk to him about a job since we may have something for him," the chain said. (AC/WIS Columbia) ...Just so long as he doesn't have to prepare his own paycheck.
This Issue's Exclusive Sponsor:
Losing Sleep Trying To Decide On A New Mattress?

Memory foam or latex mattresses/toppers, airbeds or waterbeds, innerspring coil or futon mattresses, all without sales hype: not affiliated with any store or manufacturer. Just personal non-biased perspective on your options. Explore The Mattress Lady
It's Not Easy Being Green: While Claire Sheats and her husband were waiting for their food at a Waffle House in Tallahassee, Fla., her husband was idly sipping on the water he was served when he noticed something odd in the glass. "It's a whole frog in a water drink," Sheats told a reporter later. "You have hairs in your food sometimes or maybe a little piece of plastic from packaging. But, this is an amphibian and that's not something that— you definitely lose your appetite immediately." The manager apologized for the frog, but the couple complained to the state health department anyway. Inspectors found 11 health violations at the restaurant, including excess dust, excess grease, and food stored at an improper temperature, but no frogs. "My husband and I have always enjoyed Waffle House," Sheats said. "But, being that that happened, it kind of puts a bad taste in your mouth." (RC/WCTV Tallahassee) ...With all the hair and packaging bits, it took until now to get a bad taste in her mouth?
Thanks to Bureaucratic Weirdness: Some people in Missouri are forced to use Iowa addresses — screwing up taxes, voting, and more. School asks kids to decide which of their friends they'd "sacrifice" in a zombie apocalypse, and what weapons they'd use to kill. Donors help repair a convent's antique organ, so the government fines the nuns because.... Man misses one payment on his $3,000 student loan, so he gets bill for $4 million?! Middle school schedules Islamic and Jewish leaders to talk about the "misconceptions" about their religions, but cancel the talks when threats roll in. Woman thinks she's short-changed at the bank, so she goes back and demands the shortage at gunpoint. Man thinks he can save on his license plate renewal by faking the sticker, but a trooper immediately notices the fakery. You can still read all of these stories: ask for your upgrade to start with the 3 December issue. See your upgrade options here and stop missing most of the stories!
Definitely Interesting: A science teacher at Southland Boys' High School in Invercargill, New Zealand, has lost her license to teach. "I didn't do anything improper, but it looked improper," admits Dawn Patricia Ganaha. The main thing she did that got parents up in arms was show her Year 9 advanced science class a video on the subject, "10 things you don't know" about orgasms. Why? "Because kids get so bored with learning about the basic stuff that they do, and all I wanted to do was make it interesting," Ganaha said. Several students told the principal they were "uncomfortable" with the TED video. "I was quite shocked," one boy said. "I didn't see it coming." (RC/New Zealand Herald) ...Well did he see the video, or didn't he?
---
And You Thought Roosters Were Bad
Florida Man High on Meth Climbs onto Stranger's Roof to Howl, Police Say
Palm Beach Post headline
---
Did You Find an Error? Check the Errata Page for updates.
This Week's Contributors: MS-Mike Straw, AC-Alexander Cohen, RC-Randy Cassingham.
---
Holiday Gift Subscriptions: Every year, we take orders for gift subscriptions to True's Premium edition. The buyer gets to add a note to their order (to be passed along to the recipient), and gets to specify when that note is sent in a gift announcement email — including Christmas Eve and Christmas Day. Yep, that means I have to work those days, but I'm pretty used to that.
Note it's best to use True's shopping cart for those orders, since while I do have Paypal set to allow you to enter comments on upgrade orders, that setting fails (as far as I can tell) 100 percent of the time now. (Yay Paypal.) The shopping cart definitely lets you put instructions on upgrade orders — and even lets you pay with Paypal.
If You Didn't "Get" the "Mawwaige" slug, your cultural education is severely lacking. Get this (Amazon) and watch it several times. While waiting for delivery, this (Youtube) will help a little.
That story was the subject of this week's Uncommon Sense podcast. Kit and I recorded that episode Wednesday afternoon. I thought I might be able to get it out that night, but it took longer to get the transcript than I hoped, so I set it aside and headed for bed.
Good thing. 🙂 Overnight, there was a development in the story, so I recorded an update, slipped it in, and re-rendered the episode. Plus what's No Longer Weird this week. (And an Easter Egg of me getting completely tongue-tied, and then strangely interrupted....) All that, and it's only 22-1/2 minutes:
Podcast 021: All About Mawwaige
The Headline of the Week (the "howling" meth-head on the Florida roof) was atop a very brief story, but it had lots of interesting details. It happened at 6:00 a.m. (hence my rooster thought), and he told police he had used meth at 2:00 a.m. Why was he on the roof in the first place? Jacob Johnson Futch, 31, told police he was there to meet an agent of the federal Drug Enforcement Administration. He got the local police instead, who note Futch gave his occupation as "stock boy" (presumably at a grocery store). He may be out of stock for awhile.
And should you want to know as much as the Kiwi Year 9 advanced science class boys, the TED.com video they saw is here.
I've Decided to Declutter a Bit and get rid of several things that the business (or I) don't "need" anymore. Much of it I have no idea how to price, so those items are going to go to auction. Rather than give eBay a huge percentage of the items' value, I'm going to try auction software on my own server. I was hoping that would be up and running this week, but there was too much to do, and now I'm hoping for next week. It includes some NASA/space stuff, some never-before-seen written materials by yours truly, including two spec scripts I wrote for Star Trek: the Next Generation that were good enough to get me invited to come talk to ST:TNG showrunner Michael Piller. I went, but I so much hated the creative suck I felt at Paramount I decided to not pursue trying to write for them, and instead pulled back, came up with the idea for True, and did that instead. And I've never told that story in True before. 🙂
Anyway, there are several interesting items that I'm choosing to find new homes for. They will come up every week or three as I dig out something interesting. The pro for eBay, of course, is that it has a much bigger audience. So if there isn't enough interest here, then maybe it's worth paying to get more attention there. We'll see! Stay tuned.
I Don't Plan to "Plug" the new podcast for "tech enthusiasts" every week, but that is going well too. I share hosting duties with several other techie types to talk about what's new and interesting in tech. Episodes of the Tech Enthusiast Hour come out Mondays. This week in Episode 3, we cover the Macintosh "Root Password" problems, and the scare-tactic headlines behind that. Why Windows isn't "about to get a game-changing feature" despite a clickbait headline. Can chatbots help deter child sex exploitation? Google's new Android app helps limit mobile data usage. And saving bits of computer history: ironically, much of it isn't digitized for archive storage.
Like Uncommon Sense, you can subscribe through just about any Podcast app on your smartphone or tablet, or stream right from the episode's Show Page:
TEH 003: The Chatbot Will See You Now
Enjoy!
---
Ten Years Ago in True: There are often exceptions to "Zero Tolerance" — if you carry the right status: No Really — I'm Very Sorry.
Today on Randy's Random: The Corporate Ladder.
This Week's Honorary Unsubscribe goes to Mundell Lowe. A musician, Lowe started playing jazz guitar at age 6, and kept playing for 89 years.
Read his story in the Archive: Mundell Lowe (OK to share link)
---
Basic Subscriptions to This is True are Free at https://thisistrue.com. All stories are completely rewritten using facts from the noted sources. This is True® is a registered trademark. Published weekly by ThisisTrue.Inc, PO Box 666, Ridgway CO 81432 USA (ISSN 1521-1932).
Copyright ©2017 by Randy Cassingham, All Rights Reserved. All broadcast, publication, retransmission to e-mail lists, WWW, or any other copying or storage, in any medium, online or not, is strictly prohibited without prior written permission from the author. Manual forwarding by e-mail to friends is allowed IF 1) the text is forwarded in its entirety from the "Since 1994" line on top through the end of this paragraph and 2) No fee is charged. We request that you forward no more than three copies to any one person — after that, they should get their own free subscription. We always appreciate people who report violations of our copyright to us.
---
You can subscribe free by e-mail and get this delivered to you every week.
This Week's Issue