To get these issues free by email each week, click here to open a subscribe form. (Or cruise around the web site to see more samples, archive, and info on our terrific book collections of thousands of past stories.)

---
Since 1994, this is the 1370th issue of Randy Cassingham's...

---
Still More Making Progress on bringing all the Premium stories to this free edition for a week: True's Ko-Fi page shows at more than 75 percent. Just $5 helps keep True going during these rough times. Thanks!
(Or you can upgrade to Premium and get all the stories every week!)
---
It's Like It's Contagious or Something: In July, all 60 residents of the Three Rivers Healthcare Center, a nursing home in Norwich, Conn., were tested for Covid-19. The virus has torn through most nursing homes in the state, but all 60 at Three Rivers came back negative. The day after the test results came in, nurse Mary A. Ciezynski returned from vacation, and came to work even though she wasn't feeling well — and a supervisor said she had to remind her "repeatedly" to wear a mask, asrequired by state regulations and Three Rivers' protocols. Sure enough, she later tested positive for Covid and at least 22 residents and 6 of the staff are also infected, including Ciezynski's mother, and at least four residents have died, including Ciezynski's mother. Mairead Painter, the state's Long Term Care Ombudsman, has called for a criminal investigation, since "I do feel that this clearly rises to the level of an elderly abuse issue." (RC/Hartford Courant) ...Prison for covidiots?That's a good start.
A Bone to Pick: "We have been casually ignoring a problem that has gotten so out of control," said Ander Christensen, "that our children are casually throwing around names and words without even understanding their true meaning." So Christensen, addressing the Lincoln, Neb., City Council, urged them to make the community a national leader in fighting the conceptual plague that is the phrase "boneless chicken wings." After all, "boneless chicken wings are just chicken tenders, which arealready boneless," he continued. And "our children are raised being afraid of having bones attached to their meat." But "that's where meat comes from." Christensen made his remarks during a public comment portion of a council meeting, and reports do not mention whether the council — of which Christensen's father is a member — took any action on the proposed ban. (AC/USA Today, Lincoln Journal Star) ...They'll get to it after they deal with all the meatier issues.
No Sale: A Taco Bell in Oklahoma City, Okla., called police when a man drove up to the drive-thru window to get his order, and was clearly not wearing any clothes. After getting his food, he ordered another taco and waited at the window. Then he asked for more sauce. Then extra napkins. After leaving, he swung through again asking for still more sauce. When officers arrived, they asked Christopher Sale, 61, what he was doing there. He was hungry, he said. Why no clothes? They were all"in the wash." He was arrested, charged with indecent exposure, and booked into jail. (RC/KOKH Oklahoma City) ...Huh: you'd think he'd be so heavily sauced they could arrest him for DUI.
This Issue's Exclusive Sponsor: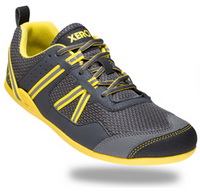 Your New Favorite Running And Fitness Shoe.
Xero Prio is our 'barefoot' running shoe, for men and women. It still has our famous protective minimalist sole, but with comfortable and super-lightweight uppers that look good, too. Check the reviews: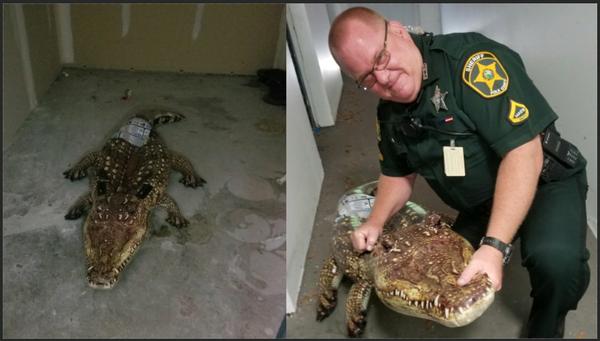 Wrangler: A woman in Winter Haven, Fla., called 911: "My husband went to the storage garage and there was an alligator locked in there,"she reported. "He says it's big, he says it's big." Polk County Sheriff's Deputy Mark Trexler responded and quickly handled the gator, taking time to get a couple pictures that the sheriff's office shared on their Twitter account. "He came...he saw...he conquered the beast. He even knocked the wind out of it. Literally. The gator turned out to be a pool floatie." (MS/WKMG Orlando) ...The sheriff also revealed how Trexler knew it was a gator, not a crocodile: "this one said 'see you later'instead of 'in a while'."
Eight More Stories: It's surprising who is getting coronavirus relief checks from the U.S. government. Murderer tries to convince judge he is a "decent guy." Florida Man converses freely with police until he realizes he'll be arrested, and then: "I don't speak English." Sheriff's deputy has to shoo a goat out of her patrol car: it was eating her paperwork. Prosecutors rule it's not criminal slander to call someone a "covidiot." National League pitcher benched for injury: he hurt thefingernail while putting on his pants. Florida Man commits home invasion robbery ...over a pair of shoes?! Would-be restaurant owner spends thousands jumping through bureaucratic hoops only to get denied for a mind-numbing reason. You don't have to miss most of the stories! Upgrades start at just $9: see your upgrade options here.
Extreme Suffrage: When a woman arrived at a polling place in Exeter, N.H., to vote in the recent primary election, an election official told her she could not come in wearing an anti-Trump T-shirt. After arguing for a bit, the woman took it off; she had nothing on underneath. Moderator Paul Scafidi let her vote topless. After casting her ballot, she put her shirt back on and left. "If she felt it was her right, more power to her," Scafidi said, adding he could have had her ejected fromthe polling place, but "I didn't want to exacerbate" the situation. (RC/Exeter News-Letter) ...Don't exacerbate: you could go blind.
---
Stop Judging Me
Americans Can't Stop Shoving Pizza into Their Faces
CNN headline
---
Did You Find an Error? Check the Errata Page for updates.
This Week's Contributors: MS-Mike Straw, AC-Alexander Cohen, RC-Randy Cassingham.
---
Kit, My Coach Wife, is "having so much fun with the people taking my course. The classes are mostly filled with entrepreneurs from across North America. Lots are in high tech jobs, some office-oriented, and those in creative endeavors. They bring a wealth of diverse experiences to draw on to make the conversations around transforming fear quite interesting. The most gratifying part is seeing how seriously they are taking the subject anddigging into their fears to learn how to transform them. And succeeding."
The course, Transform Fear Into Action, is a follow-on to the free coaching Kit did this spring, mostly for True readers, applying what she learned to her already-extensive training and research on the topic. The current class is full, and the next one starts October 7 (mornings or evenings, Colorado time). If this sounds at all like something you can use, grab a spot sooner than later — and there's a $100off coupon through September 30 on that page.
Oh, and for the record? I had this week's podcast episode picked out a long time ago, and it's a funny coincidence that its theme is along the same general subject!
The Inflatable Alligator story is the easily sharable Story of the Week. You can find it on True's social media: Instagram, Twitter, Facebook, and/or Pinterest — or grab any of those to post elsewhere.
This Week's Uncommon Sense Podcast episode: The fear of failure is central to most of our lives. We worry about failing in business ventures, in personal relationships, and in our dreams. But what happens when you apply Uncommon Sense instead and embrace failure? Because that's actually the key to success, and I'll tell you how. It's just 10 minutes, or read the transcript: The Key toSuccess.
Shortest Possible Reminder: The current GOOHFpack special ends September 25: get up to percent off!
---
Ten Years Ago in True: maybe the Florida Man should declare, I'm in Love With My Car, since that would make more sense. That one won the coin flip: I also really like the tagline on another from that week, Woo Woo!
The Latest True Stella Awards case re-post, Mobius Logic. (Monday's was one of the most classic cases of the series: If the Name Fits.)
This Week's Randy's Random: The Other Opposite Sex, which is the follow-on to last week's The Opposite Sex.
This Week's Honorary Unsubscribe goes to Lorna Cubillo, a "stolen child." Her amazing story in about 3 minutes: Lorna Cubillo (OK to share link).
---
Basic Subscriptions to This is True are Free at https://thisistrue.com. All stories are completely rewritten using facts from the noted sources. This is True® (and Get Out of Hell Free® and Stella Awards®) are registered trademarks of ThisisTrue.Inc, PO Box 666, Ridgway CO 81432 USA. Published weekly by ThisisTrue.Inc, PO Box 666, Ridgway CO 81432 USA (ISSN 1521-1932).
Copyright ©2020 by Randy Cassingham, All Rights Reserved. All broadcast, publication, retransmission to email lists, web site or social media posting, or any other copying or storage, in any medium, online or not, is strictly prohibited without prior written permission from the author. Manual forwarding by email to friends is allowed if 1) the text is forwarded in its entirety from the "Since 1994" line on top through the end of this paragraph and 2) No fee is charged. I request that you forward no more than three copies to any one person — after that, they should get their own free subscription. I appreciate people who report violations of my copyright.
---
To get True delivered to you every week, click here to open a subscribe form.
This Week's Issue