To get these issues free by email each week, just subscribe using the form on this page — your privacy is Randy's policy. (Or cruise around the web site to see more samples, archive, and info on our terrific book collections of thousands of past stories.)

---
Since 1994, this is the 1282nd issue of Randy Cassingham's...

---
Dragon Attack: A new restaurant "coming soon" in Keene, N.H., promises "Creative Vietnamese Cuisine". Pho (pronounced "fuh"), a popular noodle soup in Vietnam, is also a major American fad. Owner Isabelle Jolie put up a sign in the window with her chosen name, as noted on the lease signed last April: "Pho Keene Great". Not so fast, says City Manager Elizabeth Dragon: not only does the name sound like a profanity, Jolie didn't have city permission for a sign. "They were informed thename would be problematic" before Jolie signed the lease, Dragon said — effectively the restaurant's landlord as it's housed in the same city-owned building as city hall. Jolie, who says the name is not a problem if pho is pronounced properly, has removed the sign, but the city and owner are still at a stalemate over the name: "We plan on opening the business and not changing our name," Jolie says, but Dragon says Jolie has postponed a meeting with her. (RC/Keene Sentinel) ...Jolie's delay isdue to coming down with a pho cough.
Going to the Dog: On New Year's morning, a Waukesha, Wisc., man woke up in bed with a stranger named Benton. Benton weighs 150 pounds, and he's a mastiff: the drunken reveler had gone into the wrong home, evidently thinking it was his, and gotten into the doggie bed. Lynn Sarver spotted the man in her house at about 5:15 a.m. "We ran into the kitchen, grabbed a knife," she said. But the man "was very apologetic." No charges were pressed, and he was taken to his home nearby. (AC/WITIMilwaukee) ...With hangover cures all over his clothes.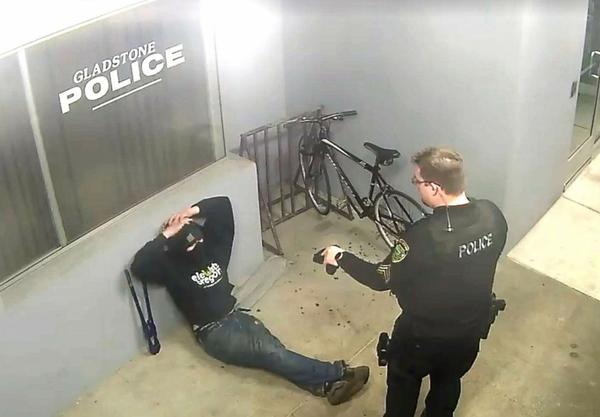 The Sergeant is the Department Spokesman: Bicycle theft is often a low-priority crime, but in Gladstone, Ore., an officer responded immediately to someone tryingto cut the lock off a bike, and arrested Adam Valle, 26, at Taser-point. Why the quick response? It's not just that the man was wearing a mask, but the bike was parked right in front of the police station, in view of a security camera that was being monitored inside, and the arresting officer just had to step out the door. Valle was charged with theft, criminal mischief, and being a felon in possession of weapons. "Kind of caught everyone off guard," Sgt. Carl Bell said. "Kind of made us chucklea little bit." (RC/KPTV Portland, ABC) ...Dumb criminals: entertainment for professional players and spectators alike.
This Issue's Exclusive Sponsor:
Regain Control of Your Inbox

You don't have to wade through junk just to get to the good mail in your inbox. Take 15 minutes to read Randy Cassingham's Spam Primer web site — and grab his highly rated ebook (just $3.99!) with proven techniques to Stop most spam from even showing up in your inbox.Read Randy's Spam Primer
There's an App for That: The Balboa Water Group in Great Britain helped create the latest in automated online apps: a control for your hot tub. That way owners could control their hot tub's temperature, pumps, and lights using a smart phone or computer. And, according to researchers, so can hackers. The researchers found publicly available information online that allows hackers to also control the customers' equipment, since it has no security measures in place. According to BWG, theapp has been available for five years and there haven't been any user-reported problems, but they are working on adding security for owners that will be out by the end of February. (MS/BBC) ...Giving just enough time for some Valentine "surprises."
Despite Getting Permission for a mural on their building, a Florida restaurant given 30 days to paint it over — and they can't get their appeal heard for months. Judge imposes a special sentence for a man who poached hundreds of deer. Mid-crime, robber realizes he forgot to put on his mask (too late!) Real estate company admits it was wrong, but still fires the employee who pointed out they did wrong. Restaurant's name turns out to be a prophecy.... Florida robbers get away with half amillion dollars worth of booze — just before New Year's Eve. Despite an "inevitable" outcome, county spends $100,000 for a consultant to tell them what they already know. Panic call reporting a murder in progress turns out to be something much more amusing. Tired of missing so many stories every week? You can get them all every week: upgrades start at just $9! See Your Options Here.
Booming Business: Two employees from Apaman, a real estate management company, were cleaning out a pub next door to their office in Sapporo, Japan. As part of that process, they deodorized the pub using a special spray can: once the button on top is pushed, the can sprays continually until it's empty. For some reason, they used "about 100" of the spray cans — with the doors and windows closed. The fumes built up and, when they reached the water heater, exploded. The building was guttedby fire and the pub, the real estate office, and a medical clinic in the building were all destroyed. No one was killed, but 42 people were injured. "We want to offer our sincere apologies to the victims of the explosion," Apaman said in a statement. The space was "scheduled to be renovated in the near future." (RC/Kyodo) ...Renovations may take a little longer than scheduled.
---
Left Behind
Man Arrested in Theft of 12 Right-foot Shoes in Redding
Sacramento (Calif.) Bee headline
---
Did You Find an Error? Check the Errata Page for updates.
This Week's Contributors: MS-Mike Straw, AC-Alexander Cohen, RC-Randy Cassingham.
---
Sometimes, I'll Look at the Comments on a news site's story that I use as a source for a True story. Not very often, since most news comments are a vast wasteland, but the comments on one of the Pho Keene stories I read caught my eye. The top comment was, "Who knew that Keene lacked a sense of humor?" And there was one response: "Anyone that lives here."
Seems Keene city officials aren't clear on New Hampshire's official state motto: Live Free or Die.
I see both sides of this, including that Keene doesn't want such a sign on the city-owned building, even if City Manager Dragon didn't "get" the play on words until the last minute. If a presumably educated professional doesn't see it for months, how offensive can it be? And....
Continues on My Blog: Pho Keene Controversy, where I also take on the local newspaper columnist, who comes up with an unworkable solution — and I counter with a workable one. The page also has a sharable version of the story, in case you'd like to post it online.
For the Past Several Years, I've been choosing the "weirdest" story from each month of the year, compiling them into a document, and choosing the top story of the year — funny, ironic, thought-provoking, or some combination of the three that does what True does: make a comment on the Human Condition. Then it's "PDFed" and made available for new free-edition subscribers.
But then, you already have a subscription. Got 'ya covered: scroll down on the blog post I just mentioned, and you'll see a download link on that page.
This Week's Uncommon Sense Podcast: Do you have a big, overriding goal in life? Most really haven't thought about it. Those who did often gave up after awhile, and maybe led a fine life, but never reached their big goal, their dream, their aspiration. But every few months, I hear of some humble person who kept their focus on their goal, and succeeded so well, their story goes viral. Don't make the mistake of thinking this episode is aboutcharity: I already covered that. No, this is the story of achieving a big goal — and how Uncommon Sense played a role. You can stream it from the Show Page, or read the transcript:
Podcast 015: Keeping Your Eyes on the Prize
---
Ten Years Ago in True: Good advice, Always Finish Reading Before Taking Action.
Today on Randy's Random: First of two: Pet Peeve.
This Week's Honorary Unsubscribe goes to Bob Einstein. A comic actor, Einstein's name wasn't necessarily a household name, but some of his characters' names were.
Read his story in the Archive: Bob Einstein (OK to share link)
And So Long to writer and film director Al Reinert. He co-wrote the screenplay for Apollo 13, but is best known for directing and producing For All Mankind, a documentary about NASA's Apollo program. He died at his Texas home from lung cancer on December 31, 2018, at 71.
Plus a tip of the Captain's hat to Daryl Dragon, better known as the first half of the pop musical duo Captain and Tennille, dead January 2 from kidney failure (with Tennille, who divorced him in 2014, by his side). He was 76.
---
Basic Subscriptions to This is True are Free athttps://thisistrue.com. All stories are completely rewritten using facts from the noted sources. This is True® is a registered trademark. Published weekly by ThisisTrue.Inc, PO Box 666, Ridgway CO 81432 USA (ISSN 1521-1932).
Copyright ©2019 by Randy Cassingham, All RightsReserved. All broadcast, publication, retransmission to e-mail lists, WWW, or any other copying or storage, in any medium, online or not, is strictly prohibited without prior written permission from the author. Manual forwarding by e-mail to friends is allowed IF 1) the text is forwarded in its entirety from the "Since 1994" line on top through the end of this paragraph and 2) No fee is charged. We request that you forward no more than three copies toany one person — after that, they should get their own free subscription. We always appreciate people who report violations of our copyright to us.
---
You can subscribe free by email and get this delivered to you every week.
This Week's Issue