To get these issues free by email each week, just subscribe using the form on this page — your privacy is Randy's policy. (Or cruise around the web site to see more samples, archive, and info on our terrific book collections of thousands of past stories.)

---
Since 1994, this is the 1291st issue of Randy Cassingham's...

---
Before the Stories: Yep, we're tired of the snow! We actually got some rain last week (at least at our home's elevation), which melted it down to a workable level. Still, Colorado is getting "record" avalanches. What does that mean? The Colorado Avalanche Information Center is still gathering data, but they've documented more "Very Large" or "Historic" avalanches ("D3" or "D4") already this monththan in the previous five years combined. And that's just near populated areas that they've been able to record! The main mountain road out of our county (Red Mountain Pass, or the so-called Million Dollar Highway) has been closed for a week after a slide. It was 30 feet deep on the roadway, and more kept coming, so it'll be closed "indefinitely."
This being the cellphone age, there are lots of videos, and locals have been sharing them. They're incredible, such as this one and this one — after the avalanche in the latter clip, keep watching for the second one, and what it does when it hits the bottom. Absolutely amazing.
---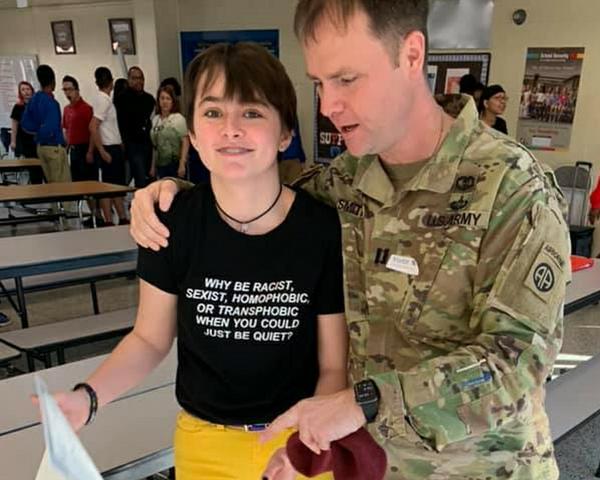 Mom Has Her Back: It was "dress down day" at Albritton Middle School, on the grounds of the Ft.Bragg, N.C., U.S. Army base. Seventh-grader Emery Smith wore her favorite T-shirt, but her father, Capt. Brad Smith, received a phone call saying "some of her teachers" had been offended by the shirt, and she must change. Her mother, Katie, headed to the school. What was wrong with a shirt that said, "Why be racist, sexist, homophobic or transphobic when you could just be quiet?" she wondered. "I don't think any of us really imagined adults would take issue with the shirt suggesting thatdiscrimination is not OK," she said. She told the assistant principal "that we were really proud of Emery because chances are there is a kid in that school that identifies with each of those marginalized categories, and she will be the one that has their backs even when those teachers and admins don't." She took the girl out of school for the day "to go celebrate her bravery and her values." The school backed down and apologized later that day. Coincidentally, Emery was "recognized for heracademics" the same day, Katie said. (RC/WTVD Raleigh) ...And the teachers are hereby recognized for their lack of academics.
Bag It: After surgery to remove cancer, Linda Rolston is unable to speak without a prosthesis, and has limited mobility in her shoulders and arms. Rolston says she had to "beg and plead" for help packing her groceries at the No Frills store in Whitecourt, Alta., Canada. When she complained to the franchise owner, Rolston said she was assured the problem would be fixed. On her next visit, she still couldn't get help, but the owner came over — and told her she needed to go somewhereelse. "I said, 'Are you telling me because I'm disabled I can't shop here?'" Rolston said. "And he said, 'Yes.'" Rolston complained to the company's headquarters, which offered her $100 if she agreed not to talk about the case or pursue further action. Rolston refused the offer and went to the media, and is filing a human rights complaint. (MS/CBC) ...No Frills? Didn't know that meant no heart.
Have a Heart: The Food Basics store in Kingston, Ont., Canada, was closed for Family Day — but employees forgot to lock the doors. Someone called police when they noticed people inside, but "Nobody took anything out of the store," says the company's district manager, Mark Woudwyk. A few customers did walk away with groceries, but they left notes saying what they took, and left payment on the counter. "We're pretty impressed with our citizens that they'd be so honorable," said a policespokesman. (RC/CTV) ...See what happens when customers are treated well?
This Issue's Exclusive Sponsor:
Drone Pilots: Get Your Wings!

Beautiful custom solid metal Drone Pilot Wings dress up your jacket and/or equipment box, showing your pride and professionalism in your hobby. Makes a great gift, and are much more durable than that T-shirt you liked.
Get Yours Here, with discounts for extras.
Wanted Criminals Park in handicapped spot ...in sheriff's office's parking lot (and then it gets funny). Maybe the customer should have taken the storage company's name more literally. Florida politician arrested for threatening a woman, but that's not the funny part. Utah finally getting rid of an old law that was declared unconstitutional 15 years ago. Men rescue dog from icy river ...but wait, that was no dog! Man accidentally shoots himself in the leg; the ironic part is where hewas. Police respond to "deranged person" who turned out to be a cardboard cutout. Bank robbers caught thanks to a pretty dumb strategic error.... It's not too late to read all of these stories: ask for your upgrade to start with the 10 March issue, and get a full year of expanded weekly issues is just $32 (still!) Upgrade here and stop missing most of the good stuff!
Bad Kitty! Michael Prasek, of the Czech village of Zdechov, owned a couple of cats he wanted to breed. Big cats. Lions, actually. He kept them in pens local planners hadn't agreed to let him build. But while fines had been imposed on Prasek for illegal breeding, there was no evidence of cruelty, and officials didn't have anywhere to put the lions if they took them. Recently, Prasek's father found his son's corpse in the lion's den, and the police, who claimed it was necessary in orderto retrieve him, shot both cats. Tomas Kocourek, the local mayor, looked on the bright side: "Today's incident will perhaps finally help to resolve this long-term problem." (AC/BBC) ...That all depends on how many lives the lions have left.
The Devil's in the Details: Combing Census data of those age 15 and up as a whole, 24/7 Wall St. found 10.9 percent of Americans are divorced and not remarried, and an additional 2 percent are separated but not divorced. The company determined the "divorce capital" of each state, defined as the city with the highest percentage of divorced people. The lowest percentage of such capitals they found was in North Dakota, at 13.3 percent. The city: Devils Lake. The highest percentage capitalwas in New Mexico. The city: Truth or Consequences. (RC/USA Today) ...The decision point for aggrieved spouses often starts with "Tell me the Truth, or face the Consequences."
---
What Could Go Wrong?
Bill Allowing Utah Drivers to Run Red Lights Passes House
KUTV Salt Lake City headline
---
Did You Find an Error? Check the Errata Page for updates.
This Week's Contributors: MS-Mike Straw, AC-Alexander Cohen, RC-Randy Cassingham.
---
I Popped into Facebook on Monday to wish a friend happy birthday, and Facebook, apparently seeing my own birthday is coming up next month, offered to set up a fundraiser for it. I've seen a lot of friends doing such fundraisers lately (my friends are a generous bunch!), and FB said they'd do it with no fees, so I thought "Why not?" I already knew what non-profit I'd want to support, so it guided the setup ...and I was surprised by a couple ofthings. First, that FB posted it immediately; I had thought it'd ask when it should start. OK, whatever: it can run until my birthday, then! And second, that friends immediately resonated with it, and started donating. By "immediately" I mean in the first several minutes that it was posted.
One of the questions in the setup was what the "goal" should be; I accepted Facebook's suggestion of $200. Ten minutes after the start, a friend sent a Skype message to say "Your target's too low." By the time I could go look, it was past half-way to the original goal, so I kicked it up — to $1,666 (appropriate for the guy who offers Get Out of Hell Free cards, eh?) Within four hours it was well past the original goal, and soon broke the thousand level.
What non-profit are they resonating with? A crew I sometimes work with — the Ouray Mountain Rescue Team. It's amazing to work emergencies with these awesome men and women who drop everything to help strangers: climbing mountains to be with them, sometimes overnight, until they can engineer a rescue from sometimes harrowing circumstances. All that, and they don't charge the victims a penny, put their own time and money into training, and then go back home and wait for the next call.
Yeah: that kind of community involvement and giving back really is something to support! I illustrated the entry with a photo from my blog, which tells the story of one of their rescues. I happened to already be there; the team captain noticed I had a camera, and asked me to photograph it for them. Happy to!
I Know Some Don't Like Email — especially the younger generation. That makes it hard to get them to subscribe to email newsletters! So in an experiment, the free edition of True is being posted on Medium every week for "awhile" to see if it'll get an audience there. Medium has no advertising: you can read several stories for free, but after that they ask you to upgrade ($5/month) to read whatever you want — and they tend to attractpretty good writers, in part because of what they do with the money: they share it with the writers who registered readers "applaud" or otherwise interact with.
I've posted there from time to time before. Examples that I've linked here before: The Top 10 "Hidden Gems" of the Internet and There's No Such Thing as Writer's Block. Last week's True is here (keeping with Medium'snon-commercial nature, without the usual ad). While I was at it I posted last week's blog post, Luke Perry and Strokes, too. You're welcome to share the URLs, and to follow me there. Maybe some of the "kids" will too!
This Week's Uncommon Sense Podcast: Thinking about thinking that might occur in machines — for the betterment of humanity. Or, my thoughts about the best use of A.I. that has already started being developed. You can listen right from the Show Page, or read the transcript:
Extending Thinking Beyond Humans
I'm Also a Co-host most weeks on the Tech Enthusiast Hour, where recently we've started to talk less about tech "news" and more about what interests us, as geeky tech types. This week, that was Who needs the Internet to send Bitcoin when you can do it via ham radio? Might twice-yearly time changes be going out ...soon? (We hope so!) Apple closing some of its stores — to fight patent trolls?! This one doesn't have a transcript, but you can stream itfrom its Show Page: TEH 062: What Time Is It?
---
Ten Years Ago in True: a story that's just Not Weird Enough to Be True.
Today on Randy's Random: The chances are relative, but What Are the Odds?
This Week's Honorary Unsubscribe goes to Jerry Merryman. A self-taught engineer, Merryman designed the logic behind something you use all the time.
---
Basic Subscriptions to This is True are Free athttps://thisistrue.com. All stories are completely rewritten using facts from thenoted sources. This is True® is a registered trademark. Published weekly by ThisisTrue.Inc, PO Box 666, Ridgway CO81432 USA (ISSN 1521-1932).
Copyright ©2019 by Randy Cassingham, All RightsReserved. All broadcast, publication, retransmission to e-mail lists, WWW, or any other copying or storage, in any medium, online or not, is strictly prohibited without prior written permission from the author. Manual forwarding by e-mail to friends is allowed if 1) the text is forwarded in its entirety from the "Since 1994" line on top through the end of this paragraph and 2) No fee is charged. We request that you forward no more than threecopies to any one person — after that, they should get their own free subscription. We always appreciate people who report violations of our copyright to us.
---
To get True delivered to you every week, click here to open a subscribe form.
This Week's Issue