To get these issues free by email each week, just subscribe using the form on this page — your privacy is Randy's policy. (Or cruise around the web site to see more samples, archive, and info on our terrific book collections of thousands of past stories.)

---
Since 1994, this is the 1316th issue of Randy Cassingham's...

---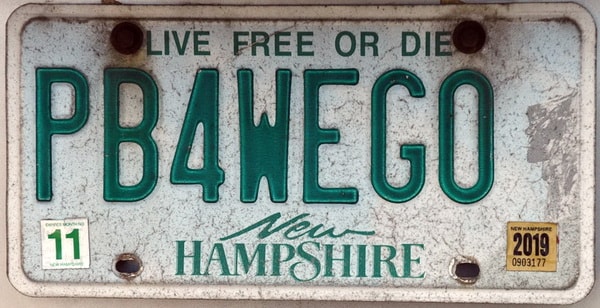 Augured In: The New Hampshire Department of Motor Vehicles has demanded that Wendy Auger of Rochester give up her personalized licenseplate — one that most parents can relate to: "PB4WEGO". Officials say messages relating to "excretory acts" are "no longer" allowed; when she got the plate, the rule was simply that the state could withhold any plate that a "reasonable person would find offensive to good taste." Auger has had the plate for 15 years. "Who has a mom or dad or parental figure who hasn't said that to kids before leaving the house?" Auger asks. "I'm not the type to sit here with a picket, but come on." Thebureaucrats wouldn't give in until Gov. Chris Sununu intervened, ordering the department to leave her plate alone. (RC/Portsmouth Herald) ...Also on New Hampshire's plates: "LIVE FREE OR DIE".
Wicked Air, Bro: Chiropractor Donald Walsh, 40, has been a surfer for 30 years. After a few hours on the water on an inlet along New Smyrna Beach, Fla., he decided to try to get airborne on a couple waves. He says he isn't very good at that, but wanted to try. He finally got airborne, and then it went all Florida on him. "I never did see the shark as I was coming down," he said. "I did see it after the bite happened." He had landed on a 6-1/2-foot shark, which took exception to theassault and bit him. Walsh, who suffered lacerations to his hand and calf, was treated by paramedics at the scene and released. His was the 11th reported shark bite on New Smyrna Beach this year. "I'll be back in the ocean as soon as the wounds close up," he said. But "I'll definitely be a little more cautious." (MS/Daytona Beach News-Journal) ...Cautious: not going into the water at a beach that's had 11 shark bites in less than a year.
Minor Leaguer Tries the Majors: The Fresno Grizzlies, a Minor League Baseball team in California, take tacos seriously. They once played a game as the "Fresno Tacos" with special uniforms, promoted the ninth annual "Taco Truck Throwdown" this year, and celebrate "Taco Tuesdays" at their games. A recent game included a taco-eating contest. Fan Dana Hutchings, 41, "was eating so fast compared to the other two [contestants]," said another fan, Matthew Boylan. "It was like he'd never eatenbefore. He was just shoving the tacos down his mouth without chewing." Several minutes into the contest, which was held during game play, Hutchings collapsed. He was rushed to a hospital, where he was pronounced dead from apparent choking. Game play never stopped. The Grizzlies said that the contest was not sanctioned by Major League Eating, and thus was not a qualifier for the World Taco Eating Championship that was scheduled during the Taco Truck Throwdown. That Championship has been canceled,but the Taco Truck Throwdown went on as scheduled, with "10,000+ beautiful taco eaters" in attendance. (RC/Fresno Bee) ...Well, 10,000–.
This Issue's Exclusive Sponsor:
Drone Pilots: Get Your Wings!

Beautiful custom solid metal Drone Pilot Wings dress up your jacket and/or equipment box, showing your pride and professionalism in your hobby. Makes a great gift, and are much more durable than that T-shirt you liked.
Get Yours Here, with discounts for extras.
Leggo, I'm Preggo: Teixeira Sharquila Kiara Williams filled her Walmart cart with 45 items totaling $800. But, authorities say, a loss prevention officer at the Bradenton, Fla., store stopped her on the way out: she hadn't paid. She left the cart behind and went on to Sam's Club, where, according to Manatee County, Fla., sheriff's deputies who confronted her there, she offered two arguments to try to convince them to let her go: one, she "never left the store so she did not stealanything." And two, "she could not be detained as she was pregnant." The arguments did not succeed. Williams, 27, was arrested, charged with theft, and released on bond. (AC/Bradenton Herald) ...Good thing she was released: no one needs a jailhouse lawyer like that.
"Most People Mean Well" says a non-profit's spokeswoman, but "voluntourism" — tourists going to developing countries to "help" — is leading to children being taken away from good homes to "orphanages" for volunteers to "help." Woman falls asleep in her car, wakes up lying in her driveway — her car was stolen out from under her. Man reports his pickup truck was stolen: police find security video showing the crime, as well as the truck's owner also committing a felony. Outdoor "cinema"company charges up to $70 to lie on a mattress to watch a movie, but mattresses fly when the wind picks up. Woman doing "extreme yoga" falls off her balcony — and she lives on the sixth floor.... Study finds having children makes people happy ...but only after the kids are grown up and moved out. Florida woman thwarted in discount store robbery: employees fled and locked her in. Florida teacher lobbies for his job back: he was caught mowing his lawn au naturel ...but that's not illegal inFlorida. Those are the eight stories you missed this week alone by not having a subscription to the full edition. To get them all every week starts at just $9 — what are you waiting for?! See upgrade options here and stop missing most of the stories.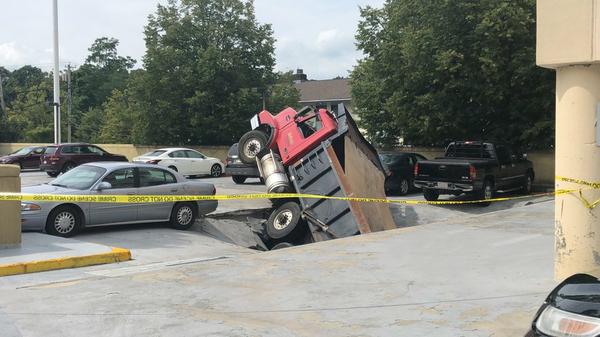 No Parking: "He told me he'd just wanted to turn around," said Craig Croteau, a witness in Quincy, Mass. The driver of a dump truck loaded with gravel decided that atwo-storey parking garage was the place to do it. The garage wasn't engineered for a load that heavy, and the truck broke a seam in the concrete and fell through to the lower level. Police say the unnamed driver was following his GPS navigator, but it had taken him on a "No Trucks Allowed" road, so he was trying to get back to the highway. Buildings attached to the garage were evacuated until a crane could lift the truck out of the hole. Croteau noted that when he checked the driver to see if hewas OK, all the driver wanted was a cigarette, which Croteau provided. (RC/Boston Globe) ...So he has more than one thing to turn around.
---
Remember, We Need Experts to Tell Us This
'What's That Noise?' Mass Shootings Can Create Culture of Fear, Anxiety, Experts Say
Ann Arbor (Mich.) News headline
---
Did You Find an Error? Check the Errata Page for updates.
This Week's Contributors: MS-Mike Straw, AC-Alexander Cohen, RC-Randy Cassingham.
---
I Noted Last Week in this space that we're getting close to removing ads from this newsletter to make This is True 100 percent reader supported. What that takes: support from readers! Even $2/month, either on Patreon or True's equivalent of that support mechanism in our shopping cart, helps.
How many readers stepped up? One — and that wasn't a monthly pledge. "I know a steady income stream is what you need," Doug in Washington commented with his $20 contribution, but I don't want another recurring monthly bill, so I will send a small contribution once in a while." That's 10 months of $2/month, so yeah: it really helps. But he's astute in his observation.
Even though such ongoing support was below the level to keep ads off the web site, I met you half-way by lowering the amount needed to do that: they're still gone. I'd love to remove them from here, too: there were two for a long time, and it was dropped to one some time ago. Ad-free is pristine reading, so I hope you'll consider helping, even if others don't.
Of course, a regular Premium subscription upgrade helps too, and there was a surge in those last week. Now those readers will get a newsletter without outside ads! That's a great option if you don't want to wait for others to step up: see your update options here. Either way you go, thanks.
This Week's Uncommon Sense Podcast: Uncommon Sense facilitates some pretty out-of-the-box thinking that not only improves the thinker's life, but sometimes improves or even saves countless other lives. Doug Lindsey's story pushed the envelope pretty far. As always you can stream the audio from the page, or read the transcript there: 042: Pushing the Uncommon Sense Envelope.
---
Ten Years Ago in True: a reader thinks a story is "False, Crude and Offensive!"
Full Selection of Recent Free Issues on Medium (please do share the link).
Today on Randy's Random: One way to stop worrying and Pull It Together.
This Week's Honorary Unsubscribe goes to Jim Leavelle. A police detective, Jim figured prominently in one of the most famous news photographs of all time. His story in 2 minutes: Jim Leavelle (OK to share link).
---
Basic Subscriptions to This is True are Free athttps://thisistrue.com. All stories are completely rewritten using facts from thenoted sources. This is True® is a registered trademark. Published weekly by ThisisTrue.Inc, PO Box 666, Ridgway CO81432 USA (ISSN 1521-1932).
Copyright ©2019 by Randy Cassingham, All RightsReserved. All broadcast, publication, retransmission to email lists, WWW, or any other copying or storage, in any medium, online or not, is strictly prohibited without prior written permission from the author. Manual forwarding by email to friends is allowed if 1) the text is forwarded in its entirety from the "Since 1994" line on top through the end of this paragraph and 2) No fee is charged. We request that you forward no more than three copiesto any one person — after that, they should get their own free subscription. We always appreciate people who report violations of our copyright to us.
---
To get True delivered to you every week, click here to open a subscribe form.
This Week's Issue