To get these issues free by e-mail each week, just subscribe using the form on this page — your privacy is Randy's policy. (Or cruise around the web site to see more samples, archive, and info on our terrific book collections of thousands of past stories.)

---
Since 1994, this is the 1216th issue of Randy Cassingham's...

---
The End of the World, Part 1,216: David Meade, who predicted the end of the world would occur on Sept. 23, 2017, when a giant, never-before-seen planet would (Meade said) crash into Earth (This is True, last week), is still in the news. David Meade says he's getting vile messages, including death threats, by phone, email, and social media. Except he's not the doomsayer: it's another guy named David Meade. This one happens to be from Ireland and is a performance mind-reader, not a pseudo-religious whackjob (who has reset the "beginning" of the end of the world to Oct. 15, 2017). "No matter what I said in response, people didn't believe me that it wasn't me," Meade the mentalist says. Why respond at all? "I have a large international business. I really worry that the online digital footprint of this is indelible. I worry that in seven or nine years, this is going to keep coming up." (RC/Washington Post) ...How you know he's not the whackjob David Meade: he believes that seven to nine years from now, we'll still be here.
Truley: "Hey I am very sorry truley. I am such a dumba**. Please forgive me." The Truley Sorry Dumba**, evidently, had scratched the bumper of Mandi Shepard's car while it was parked in Denver, Colo. So Mr. or Ms. Dumba** left a note — and compensation — on her car. In an envelope in a plastic bag, along with the note, there was $40 cash — and half a joint. The money, Shepard said, will go to try to fix the scratch. But she doesn't know what to do with the marijuana. "I'm not a smoker," she said. "I'm a runner." (AC/KUSA Denver) ...And here I thought the person who scratched the car was the runner.
Nine More Stories: This free sample edition omits most of the stories of the full edition. Like what? French chef's restaurant awarded three coveted Michelin stars ...that he wants to give up. School distract considers banning a classic book (which news comes out during Banned Book Week). Off-duty cop posts anti-DUI video online ...hours before allegedly killing three people in a DUI crash. Super-funny tagline on Florida story wasn't even mine: the police chief said it! Judge dismisses criminal charges for very odd reason. Fundraiser for shot cops held by someone you wouldn't expect. Obliviot drunk driver gets instant karma at McDonald's drive-thru. Obliviot robber gets quick karma after writing hold-up note on back of McDonald's pay stub. And readers get to write the tagline on a story about Russian election hacking. You can still read them all: just ask for your upgrade to start with the 1 October issue.
This Issue's Exclusive Non-Profit Sponsor:
Help Me Help Teen Mothers
I'm Kim, a fellow True reader, to tell you about Martha's Foundation. They're opening a home for teen mothers with no safe place to stay and needs your help. Through Oct. 31, we can get special grants from the Allstate Foundation. Whether you share this link on social media and ask your network to get involved, donate yourself, or both, you are a huge help: Info Here.
Guessing Game: Police in Leesburg, Fla., responded to a fight in progress, and indeed found five men in a parking lot, shirtless and sweating. The men refused to be detained by officers and walked away, but backup units arrived and "corralled" them. Four were given a warning, but the fifth refused to identify himself: he said his given name was "Kayden" and his last name matched the capital of Montana. When a computer search for "Kayden Helena" failed to find anyone, the man was arrested on a charge of falsely identifying himself. That's when he gave in: he is Kayden Billings, 19. "It should be noted," Officer Kyler Hobbs wrote in his arrest report, "that Billings is a major city in the state of Montana, but is not the capital." (RC/Leesburg Daily Commercial) ...Which made Kayden's ignorance a capital crime.
What a Clown II: A 6-year-old girl jumped into a stranger's car trying to hide, then ran into a stranger's apartment in Youngstown, Ohio, screaming that a clown was chasing her. A man in the apartment ran outside with a gun to confront the horror, and fired a warning shot into the ground. That, of course, brought police, who found the clown: it was the girl's father, who allegedly told officers he put on the clown mask and chased her to discipline her, instead of spanking her. The unnamed parent was charged with child endangering and inducing panic, while the man who fired the gun was charged with using weapons while intoxicated. (MS/AP) ...Jumping into the car was dangerous: there could've been a hundred clowns in there!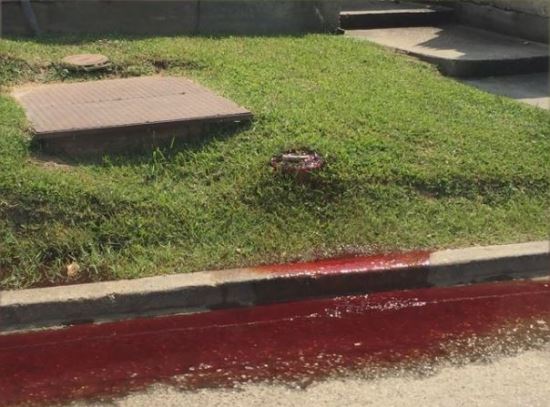 It's Rouge All Right: A passerby noticed something straight out of a horror film behind a mortuary in Baton Rouge, La.: apparent blood seeping out of the ground and flowing into the gutter. City officials said the leak at the Greenoaks Funeral Home was indeed blood, mixed with embalming fluid, and was seeping from a storage tank. A spokeswoman for the National Funeral Director's Association assured the public such a leak could not be dangerous, since the chemicals in embalming fluid "inactivate those germs and pathogens." Still, the city plans to do something about it. "We've been really concentrating on restaurants lately, so we haven't been looking into the funeral homes," admitted Baton Rouge Department of Environmental Services spokesman Adam Smith. "But we're going to go ahead and get them signed up for a permit tomorrow." (RC/WBRZ Baton Rouge) ...So much bureaucracy! Who knew a permit was necessary to store human blood in backyard tanks?
---
And If Needed, They're Happy to Whitesplain to You Why
White People Are Really Confident That Things Are Getting Better for Black People
Washington Post headline
---
Did You Find an Error? Check the Errata Page for updates.
This Week's Contributors: MS-Mike Straw, AC-Alexander Cohen, RC-Randy Cassingham.
---
Only One Reader Commented on something from last week's doomsday dude's story that I raised my own eyebrow over. It's from free reader John in Texas: "Not to get into a debate with you or your religious preference if any, in your quote from Prof. Ed Stetzer, executive director of Wheaton College's Billy Graham Center for Evangelism, [who] admits in an article in Christianity Today that Christians 'do believe some odd things,' such as that 'Jesus is coming back'.... The way I read your extracts is that Prof. Stetzer is teaching that Jesus will not return. Let me assure you that the Rev. Billy Graham believed in Jesus's return. And to teach anything other than his return someday is to call Jesus, Paul and Peter liar's! Its not odd for a Christian to believe that Christ will return."
Well, John, that's the entire point of my using that quote: I thought it was quite interesting that a Christian scholar would say that, since I read it the same way you did, which is why I copied the quote verbatim. I have no idea what he teaches or believes, I can only see what was in the source story, which I identified. My own "religious preference" is beside the point. The story is the story; my comments only come in at the end, in the tagline — and in the author's notes section of last week's issue where I editorialized on the "end times" phenomenon. In other words, I was interested in commenting on Meade's bizarre beliefs, not Stetzer's comments.
Meanwhile, Prof. Stetzer repeated the same idea to the Washington Post in a story dated Sept. 25. That paragraph reads, verbatim and in its entirety: "'We do believe some odd things,' Stetzer told The Washington Post last week. 'That Jesus is coming back, that he will set things right in the world, and no one knows the day or the hour.'"
And that's the way it is with all of the stories in True: we summarize a story, including the facts that we want to comment on, and then comment — the tagline. Sometimes I talk more about a story in this space (see?), and/or run reader letters exploring the ideas presented (yes!). True is, and always will be, social commentary, each story a building block toward its "Thought-Provoking Entertainment" mission.
---
It Was Really Surprising to me that while talking with several True readers during my recent travels, when I mentioned my podcast the response was almost universal: "Oh... you have a podcast?" Seriously: there's a lot of good content outside the stack of stories up top. Of course, most of those readers then wondered what sort of software is needed to listen to a podcast. There are apps for smartphones and tablets that make that very easy (and automatically downloading new episodes for you), but an app's not required: most podcasts have a "show page" for each episode, and usually you can stream the episode right from that page, in your regular web browser. Naturally, I'm doing that for True's podcast, which is called Uncommon Sense. If you've not tried an episode, I'll suggest it: I think the content is quite good!
And if you just hate listening to stuff, there's a transcript on my show pages too, so you can read it instead. (Not all podcasters go to that expense, since podcasts often don't pay for themselves, let alone create a profit, until they get tens of thousands of listeners. And then, of course, you have to sit through commercials. Mine doesn't have commercials for random sites and services, just as True's web site doesn't: my content is almost completely reader- and listener-supported, through Premium subscriptions, Patreon, and contributions through the "Support True's Mission" form on most every page of True's web site.)
This week's content? Society Seems to Think ADD/ADHD is some sort of curse. Yet when managed, it provides "superpowers" that are an absolute gift. I talk with a special guest — my high performance coach (who specializes in entrepreneurs with ADD/ADHD) — about why that is, and what it takes to get away from the "monsters" that are created by society dealing with our neurological types. Plus, an extra-fun segment of No Longer Weird:
Yes, those readers I was talking with were generally older, but I found them interested, not scared of, the idea of a podcast. Podcasts don't take a lot of tech savvy to understand: they're essentially a radio show that's made to be listened to at your convenience online. Another bonus is that typically they are not made to fill up a time slot, but instead are variable in length: they take the time the topic needs, rather than what they need plus padding to make it to an hour. I consider all of that a benefit.
So if you haven't tried a podcast, you might want to look into them. They cover a lot of great topics. Now that I'm finally back from that long trip, I'll go back to working on my "Gems" of podcasts article. So this is your last chance to suggest your favorite podcast, if you already listen to one (or some) that you find good. Again, I'm looking for great independent content, not the big commercial operations that already get plenty of publicity.
But then, maybe the folks I'm targeting this section to aren't reading it....
---
Ten Years Ago in True: Woman thinks she know who stole her keys, so naturally...: The Key to This Crime.
Today on Randy's Random: Very fitting, what with Halloween coming up: Planning Ahead.
This Week's Honorary Unsubscribe goes to Barbara Blaine. Blaine didn't just say "ain't it awful?", she did something — and helped thousands.
Read her story in the Archive: Barbara Blaine (OK to share link)
And Goodbye To "Let's Make a Deal" co-creator and host Monty Hall, namesake of an interesting statistical theorem, dead September 30 at 96.
And So Long rocker Tom Petty of Tom Petty and the Heartbreakers, dead October 2 from cardiac arrest at 66.
---
Basic Subscriptions to This is True are Free at https://thisistrue.com. All stories are completely rewritten using facts from the noted sources. This is True® is a registered trademark. Published weekly by ThisisTrue.Inc, PO Box 666, Ridgway CO 81432 USA (ISSN 1521-1932).
Copyright ©2017 by Randy Cassingham, All Rights Reserved. All broadcast, publication, retransmission to e-mail lists, WWW, or any other copying or storage, in any medium, online or not, is strictly prohibited without prior written permission from the author. Manual forwarding by e-mail to friends is allowed IF 1) the text is forwarded in its entirety from the "Since 1994" line on top through the end of this paragraph and 2) No fee is charged. We request that you forward no more than three copies to any one person — after that, they should get their own free subscription. We always appreciate people who report violations of our copyright to us.
---
You can subscribe free by e-mail and get this delivered to you every week.
This Week's Issue