To answer the very important question of the title, you need a little background, which is illustrated by a question from reader Steve in Texas:
Some time ago, I "Liked" the This is True Facebook page, but almost never see any posts. I figured you weren't active until I went back to the page, and saw a ton of stuff I thought was great! How come I'm not seeing it regularly? I see most posts from my friends.
Loyalty Unrewarded
Irritating, isn't it? Facebook promised companies that if we built up an audience to our "pages," we'd be able to build "community" and post stuff they could see. I spent a lot of effort driving readers to my Facebook page in 2013, and built up quite a following — and a lot of new Facebook users, by the way.
But I declined their offer to sell me Likes …for 25 cents to a dollar each. I thought it would be better to have people who actually like This is True follow the posts there, not random people Facebook paid to click a button.
The people who actually Like this publication naturally expected that they could follow the posts there when they clicked that button, except Facebook lied: they show posts to only a very tiny fraction of the audiences we built for them, and that fraction is declining.
Before getting to why, let's help Steve: who does Facebook show posts to "organically"? Those who interact with the page's posts a lot. So, a tip: if you want to actually see True's posts on Facebook, you have to either "Like" a lot of them, and/or comment on them. Pretty much on every one you see: it's a signal to Facebook you want to see more items like that. Stop clicking Like and the number of posts you'll see will quickly drop off.
You can also go to True's Facebook page, and in the upper panel where it says "Liked" note there's an arrow to pull down: Click the arrow and click on "Get Notifications" to …yep… get a notification of new posts. Few know about it, and many of them don't remember, or bother with it.
How Bad Is It?
Well, as of this writing there are 10,500 people who have clicked "Like" to say they want to see True's posts on Facebook. One recent popular graphic post (on Tuesday) has (as of this writing) 108 "shares" — people posted it on their own walls, to show it to their own friends. Pew Research says that adult Facebook users have an average (mean) of 338 friends. So of the audience of my 10,550 plus their 36,500 or so friends, 47,050 people saw my graphic, right?
Not even close; I wish it was even 10 percent of that! As of this writing, Facebook reports that 3,926 people were "reached" (had it on their screen as they scrolled by). At least some of them actually looked at it, because several dozen people subscribed via that graphic. Facebook offers to "Boost" the post to show it to more people — for money. That's the ol' bait and switch from "You can engage with the community you have built on Facebook!" to maybe — if we pay Facebook.
How much? I clicked the "Boost Post" button to see. The default is to pay for it to be seen by people who already Like my page! (You can also choose "People who like your Page and their friends" and "People you choose through targeting.") For $150, I can "reach" an estimated 3,000 to 4,700 people …who have already made it clear to Facebook they wanted to see True's posts.
That's somewhere between 3.5 and 5 cents each. Except, they warn, "Ads images [sic] with text that takes up more than 20% of the image may not be approved." And since that image was a "text image," it wouldn't be.
You can to look at the numbers yourself:
It Adds Up
Fast
That's $150 for just one posting. I post several things every day, so you can see how quickly that would add up. And for what? To give Facebook content to put next to ads. Um, no. Even though that particular graphic promoted This is True, I can't count on a $150 return on my investment …since it promotes free subscriptions. (I could, of course, choose a smaller spend, and take longer to go broke.)
So of the tiny percentage of people who "Like" True that Facebook showed that graphic to, why do they like it so much to share it? Because it's funny, and because it promotes something they love — This is True! And isn't that the kind of viral pass-around that made Facebook popular in the first place? Why yes: yes it was.
But now Facebook wants it both ways: they want content to put up against ads (an age-old publishing model), and they want creative people like me to pay them to circulate the content we post on their site, so they can put it next to their ads. That's quite the business model, if you can con enough people to do it.
The graphic from Tuesday has a Mission Impossible theme. Another that came out this morning has a Dragnet theme. (Coming next week: a Twilight Zone theme and others; links below.)
By the way, in addition to the This is True Facebook page, there is also a Google+ page [retired], a Twitter page, and a Pinterest page. None of them have a policy of demanding the users who develop content for them pay for it to be seen.
Cynical
A year ago in an earlier blog post on Facebook (Facebook: Starting to Circle the Drain?), I talked about how Facebook was planning to reduce the "organic reach" of posts to just 1-2 percent of the potential audience, so that content creators would have to pay to reach the other 98-99 percent.
"I just won't," I said then, and "I can't be the only one ready to give up." Well, they haven't cut it that much, but even with a pretty engaged audience, the This is True Facebook page is only getting 6-9 percent reach. Likely, when they tried to go lower, content producers stopped posting content. In other words, it wasn't worth the time investment, and more and more independent content producers are reaching that conclusion, as it occurred to me a year ago. At some point, I will likely also make the decision to stop playing on Facebook's turf.
So meanwhile, please do share the This is True graphics (links below) while at least some of your friends are likely to see them. Because Facebook has experimented with asking individuals to pay for their friends to see posts too! Yes, really.
Make no mistake, I'm not complaining: Facebook has a right to make money by whatever legal means works, and they certainly haven't done anything illegal (yet… though their "bait and switch" might be immoral or unethical). The point here is to explain what's going on. Because to answer the question….
So What Is Facebook Selling?
…what you need to know first is, Who is Facebook's Customer? And here's the answer: You …are not Facebook's customer — advertisers are. So what is Facebook selling them? You.
Welcome to the corporate Internet, which is why I've tried again and again over the years to promote independent voices — sites like Cathie Walker's Centre for the Easily Amused (long gone), Chris White's Top 5 (gone), and Wendy Northcutt's Darwin Awards (apparently now gone). We independents are being drowned out, because giant media companies have now realized that there are billions of dollars to be made …from you and your attention.
The only companies who can sustain pouring money into Facebook are those who make big money from getting your attention — which is measured by how much of your money they can capture. As long as they can put $150 into Facebook and get $300 out of you, they turn the handle as fast as they can to repeat the process. The smaller, independent voices you love just can't compete.
Or… "It's People! Soylent Blue is People!"
---
As Promised, and so you don't actually have to go to Facebook to see the True promo graphics I spoke of above, here they are: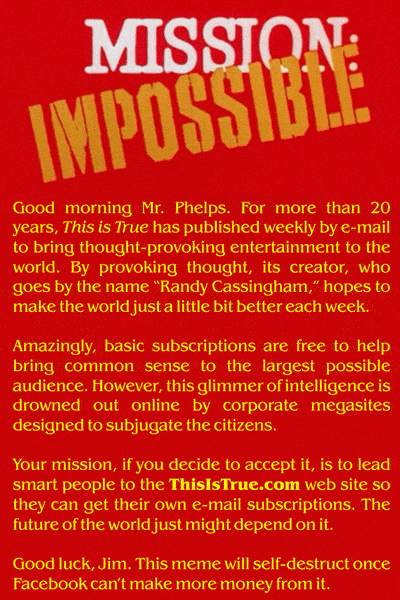 It reads:
Good morning Mr. Phelps. For more than 20 years, This is True has published weekly by email to bring thought-provoking entertainment to the world. By provoking thought, its creator, who goes by the name "Randy Cassingham," hopes to make the world just a little bit better each week.

Amazingly, basic subscriptions are free to help bring common sense to the largest possible audience. However, this glimmer of intelligence is drowned out online by corporate megasites designed to subjugate the citizens.

Your mission, if you decide to accept it, is to lead smart people to the ThisIsTrue.com web site so they can get their own email subscriptions. The future of the world just might depend on it.

Good luck, Jim. This meme will self-destruct once Facebook can't make more money from it.
Yes, to answer the confusion of one Facebooker: Randy Cassingham is indeed my real name.
See and share this image on Facebook, on Google+, or on Pinterest.
---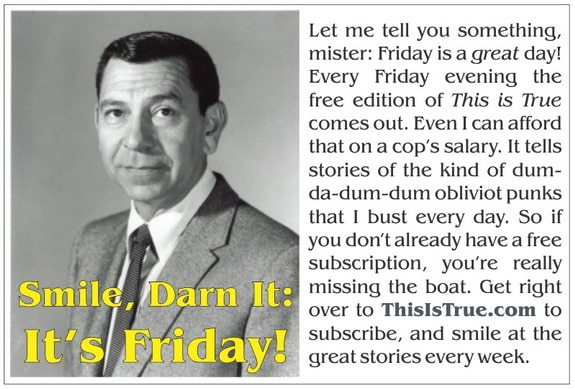 It reads:
Smile, Darn It! It's Friday!

Let me tell you something, mister: Friday is a great day! Every Friday evening the free edition of This is True comes out. Even I can afford that on a cop's salary. It tells stories of the kind of dum-da-dum-dum obliviot punks that I bust every day. So if you don't already have a free subscription, you're really missing the boat. Get right over to ThisIsTrue.com to subscribe, and smile at the great stories every week.
See and share this image on Facebook, on Google+, or on Pinterest.
---
It reads:
Imagine, If You Will, a World Run by Obliviots.

That world would not be the Twilight Zone, but rather the real world, described every week in This is True, thought-provoking entertainment online since 1994. Basic subscriptions are free: that's a world everyone can afford to sample. Visit ThisIsTrue.com and subscribe, and help make the world just a little smarter.
See and share this image on Facebook, on Google+, or on Pinterest.
– – –
Bad link? Broken image? Other problem on this page? Use the Help button lower right, and thanks.
This page is an example of my style of "Thought-Provoking Entertainment". This is True is an email newsletter that uses "weird news" as a vehicle to explore the human condition in an entertaining way. If that sounds good, click here to open a subscribe form.
To really support This is True, you're invited to sign up for a subscription to the much-expanded "Premium" edition:
Q: Why would I want to pay more than the minimum rate?
A: To support the publication to help it thrive and stay online: this kind of support means less future need for price increases (and smaller increases when they do happen), which enables more people to upgrade. This option was requested by existing Premium subscribers.