I mentioned in my post last week that being in Washington D.C. was "more surreal than usual" because it was election time. Well, imagine being inside the White House just two days before the election! Because indeed, that's where I was.

Inside Access
A little background is in order. More than five years ago, I got a Premium subscription upgrade order from a guy named Jeff, and his email domain caught my eye: eop.gov.
There wasn't, and isn't, a web server on that domain, but a little research brought the answer as to what it was: the Executive Office of the President.
The EOP provides the staff for the Office of the President — the folks who do the day-to-day running of things for the president.
My initial reaction: "Yikes!"
About a third of the 1,800 employees of the EOP (some work in the White House, others work in buildings across the street), including Jeff, are non-partisan — they stay on from Administration to Administration, which helps ensure continuity for the ongoing operations. Jeff has been there since the Clinton Administration.
If You're Ever in Town
I of course dropped Jeff a note, and he replied to say he had been a fan for some time, hoped I didn't mind if he used his official address for the mail (since all mail into and out of the White House offices is archived), and asked me to let him know if I'm ever in town as he can give me a private tour of the White House.
My wife, Kit, had to be in D.C. for a meeting this fall, so I decided to tag along — and sent Jeff a note to say we'd be in the area.
If it was OK to come during the evening or on the weekend, Jeff said, we'd get to see more.
If he was willing to come in on the weekend, that's fine with me, so he set it up — and told us (several times, in fact), that there is definitely a dress code for the White House: "Wear clothing appropriate for the nature" of the visit, the protocol he forwarded insisted: "business or business casual. This means NO JEANS, SHORTS, T-SHIRTS, TANK TOPS, FLIP-FLOPS, etc. regardless of weather conditions."
Special Access
I didn't really know what "seeing more" really meant until we got there. Jeff told us we wouldn't be going to the East Wing, which is what the public tours see, but rather the West Wing, which contains the Oval Office.
One bit of good news: unlike on the public tours, we could take a camera. The bad news: We were not allowed to take photos inside the White House, with the one exception being the Press Briefing Room.
Photos outside are fine, so we snapped away before going inside:
The ground floor entry area is pretty interesting, the walls lined with photographs of recent visitors, such as the Pope. (The White House Photo Office is down there too, so no wonder. The official photographers are the only ones allowed to take photos inside.)
We could look into the Mess Hall, which is run by the U.S. Navy (and is separate from the president's dining room on the first floor). Right down the hall I noticed a closed door: the White House Situation Room. Nope: we weren't allowed in there!
Then we moved upstairs. At the top of the stairs we could look into the Cabinet Room, where Jeff pointed out the President's chair is just a touch taller than the others.
We then passed by a closed door, and suddenly I found myself standing in the open doorway of the Oval Office. I had no idea we would be able to go near it, let alone see it. Couldn't go in, of course, but I could touch the oval rug with my foot. And I did.
Suddenly there was someone behind us. A guard aiming for my extended foot? Nope: it was Jared Weinstein, Special Assistant to the President — George W. Bush's Personal Aide. He had heard Jeff was in the building and wanted to meet him, so he swept us into his office area — the closed door we had just passed.
We were now inside the President's secretary's office, which is right next to the Oval Office. If there was any doubt, the closed door opposite where we came in was curved, so it blends in with the Oval Office's walls!
I didn't find a floor plan for the first floor on the White House Museum's web site, but I found this one on Wikipedia: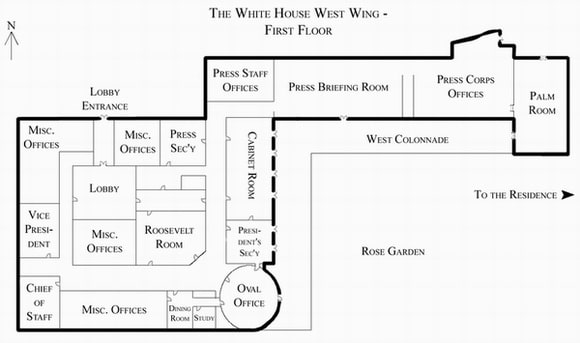 One thing I noticed when researching these images: I've seen "mistakes" on every floor plan I've looked at. No, I won't say what the mistakes are.
24×7
The first thing I noticed about Jared was he was there on a Sunday. It was definitely a quiet day, being just two days before the election. There was also a secretary there. I guess one never knows when the president needs to go to work, so at least some support staff is there at all times.
The second thing I noted about Jared was that he was a terrifically nice guy.
And the third thing I noted about Jared was that he was a terrifically young guy. When I commented on it, he instantly offered that he was 29. According to a 2006 profile by the Birmingham News (no longer online), Jared is
…always within the commander in chief's earshot or line of sight, but never in the way.

That's a narrow field of operation.

"You have to be ready on a whim and yet you have to be prepared to be a piece of furniture in a room," said Andrew Card, Bush's former chief of staff, who recommended Weinstein for the job. "It's never about Jared. It's always about the president."

Weinstein, 26, is to President Bush in the West Wing what Charlie Young was to President Jed Bartlet on the television drama "West Wing."

"You're not a camera hog. You don't assert yourself in meetings, but if the president looks for you, you make it easy," said Ed Rogers, who worked in President George H.W. Bush's White House. "The president should never have to do more than nod his head or twitch his finger and you know what he wants."

Weinstein is barely a month into the job, and he's already got a handle on the selfless angle: He declined an interview. But members of the small fraternity of former presidential aides describe the qualifications as loyalty, discretion, intelligence, honesty, good judgment, high energy and a willingness to remain anonymous. People close to Weinstein in Washington and his native Birmingham, Ala., say he's a match for all.
I found very little about Jared online, so that "willingness to remain anonymous" bit is clearly true. I don't know what his plans are after January 20, but I'm sure he has big things ahead of him. Jared: if you ever do start to do interviews, let me know. I'd love to do one.
Left Behind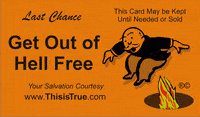 I figured anyone who can give that much was truly deserving of a Get Out of Hell Free card, so I gave Jared one. Jeff smiled, but said nothing (he has some already). I invited Jared to visit my web site sometime.
Ashley, the also-quite-young on-duty secretary who was looking on, had a quizzical look on her face, so I handed her one too.
Then Kit said, "Randy? Don't you want to leave one for the President?"
Uh oh, I thought to myself. As a matter of fact, no: I wasn't intending to. But I recovered quickly, pulled out a third card, placed it on Ashley's desk, and told her, "I'll let you decide what happens to this." The poor girl!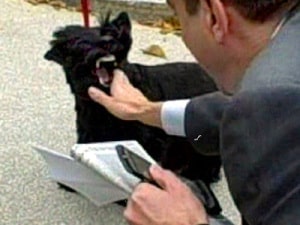 We normally would have been able to go out into the Rose Garden, but couldn't that day (we checked back several times, and finally learned "the dogs are out." That would be Bush's Scottish Terriers, Barney — who later that week in a pique of anti-liberal-media rage bit a reporter [photo, right, from aprildryan.com] — and Miss Beazley, who apparently has a more favorable opinion of the press.)
So while that was a disappointment, Jared did let me take a shot of the Rose Garden through the office window:
We all bid each other farewell and headed to our next stop, the Press Briefing Room.
Back Outside
Once we got outside (no going down the hall the President uses to get from his office to the briefing room), we could take photos again, so I asked Kit to snap one of me:
The awning in the next photo…
…is the entrance to the James S. Brady Press Briefing Room, which was recently rebuilt.
It's on top of the now-defunct presidential swimming pool (yes, really!), which was built for FDR, who had paralysis from polio, to give him a private place to exercise.
Brady was Ronald Reagan's press secretary, and was shot in the head in the attempted assassination of Reagan by John Hinkley Jr — who happens to have been one of my wife's childhood friends. (It really is a small world!)
The room is essentially a fairly large permanent TV set. It was completely renovated in 2006-2007:
There was still a reserved seat in the front row for Helen Thomas.
There were indeed reporters around, and a technician at one of the consoles in the rear — they never know when news might break. The tech on duty was watching a football game over the satellite.
The People's House
It neither excited me nor bothered me that I was in the "Bush White House".
It was, rather, exciting to to be in the White House — popularly known as "The People's House". It didn't really matter what Administration was resident: this is a place steeped in history and symbolism, and it was a privilege to get to see it, especially at a time when the world was so deeply interested in what is about to happen there.
It was a fantastic tour, and I'd like to thank Jeff publicly for setting it up.
---
A Brief Aside
Immediately after the tour, Kit and I headed for dinner with Vince Sabio, who really old-timers will recognize as the proprietor of the original (but sadly long-defunct) HumourNet mailing list and the originator of the "Unsubscription Fee" debacle.
Vince is one of my oldest online friends, and we've kept in touch for decades now. He still lives in the D.C. area.
Sadly, Vince isn't planning on bringing HumourNet back — for some reason, it seems he likes having a life. His web site (linked above) does have an archive, at least. He says hello to any fans that happen to read this, and as you can see he's just as ugly as I am: