I had a pretty full weekend — I'm writing this while sitting in the airport, waiting for my plane to get me the rest of the way home. I had a very interesting trip to Washington D.C.; election time makes the town even more surreal than usual. My report next week will get into that a little bit more.

When I worked at the Jet Propulsion Laboratory, I got to The District fairly often — meetings, status reports, getting direction, etc. from NASA headquarters.
Taking Advantage
In my off hours I'd head for the Capitol Mall nearby, working my way from one sightseeing spot to the next. (Well, sort of: I'd do the National Air & Space Museum, and then, oh, the National Portrait Gallery. Then the next trip I'd go to the National Air & Space Museum, and then the Arlington National Cemetery. Then the next trip I'd go to the National Air & Space Museum, and… well, you get the pattern.)
One place I never visited: the Library of Congress.
As a writer, I make my living in part due to copyrights. A lot of people don't quite understand the concept, so here it is in a nutshell: copyright is in place, specifically included in the U.S. Constitution*, to give the authors of creative works the exclusive right to decide who gets to make copies (publish) their work so that we'll be encouraged to create them in the first place for the good of humanity. (Yep: even tabloids. But stay with me.) So a copyright is literally a legal right to copy, and is most decidedly not a "copywrite" (as many people spell it).
*(Obviously, the U.S. isn't the only country that has a copyright law, and we didn't come up with the idea.)
Massive Collection
In the U.S., it's the Library of Congress that administers copyright: to get a copyright one not only has to fill out a form and pay a fee (ah, government!), but also send a couple of copies of the work at the same time. If it's considered "important," it's kept by the Library of Congress, which has 650+ miles of shelves for its collection.
And that doesn't include the items they digitize (or, in the past, microfilmed). Because copies of each work are required, the LOC gets around 22,000 submissions per day, of which it keeps about half.
It is the biggest library (as far as holdings) in the world — more than 138 million items. They even have the largest collection of comic books in the world (100,000+).
(NOTE: As I said, that was a "nutshell" discussion of copyright. As such, it's obviously not exhaustive! For general concepts, this article is quite good. For more on U.S.-specific law, see this article. For how countries cooperate with each other on copyrights, see this article on the Berne Convention. Yes, something is "copyrighted" immediately upon creation, but to get any legal protection, it indeed must be registered. But again, that's outside the scope of a "nutshell" description of the basics.)
Open to the Public
The public can't "check books out," but "just anyone" can go there and view items in the collection in the gorgeous reading room.
They're working on putting a lot of their holdings on the web, too, so that anyone in the world can use their materials. And, of course, the LOC is the research library for Congress, so any senator or representative can call to say "I need books and articles about X" — and supposedly get them within the hour, even though it's a myth that the LOC has a copy of "every book ever printed."
Tourists don't see much of that, though we can peek into the reading room, and it's awe-inspiring. (To get in, you have to register as a user.)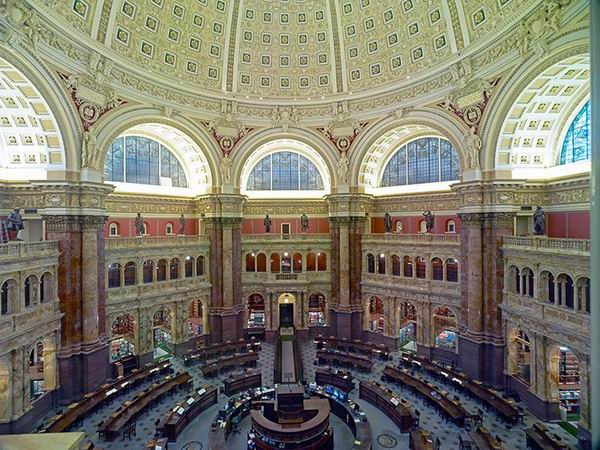 The library is housed in three huge buildings, but the main attraction is the Thomas Jefferson Building, which was completed in 1897 ($150,000 under budget, just about everyone in Washington is proud to say. Yeah, well, the total budget was more than $6 million, which in that era was quite a tidy sum!)
But indeed it does earn its reputation as "the most beautiful public building in Washington" — and yes, that includes the White House. It is spectacular from floor to ceiling.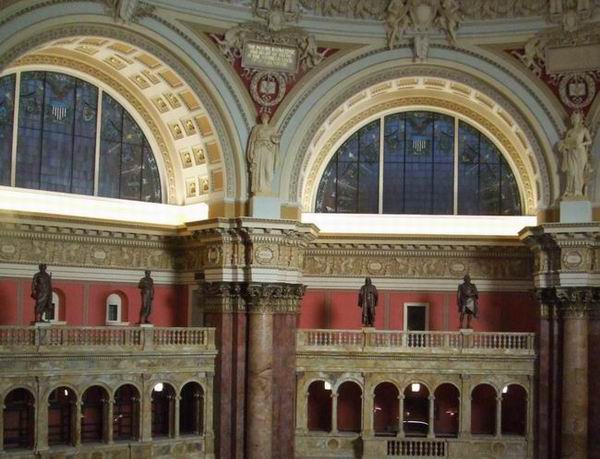 Above each doorway and window is a saying. Our politicians would be well advised to go read them carefully.
"There's only one good namely knowledge / And only one evil namely ignorance." (No, there's no punctuation; I'm putting in slashes for clarity….)
"Science is organized knowledge".
Or how about, "Wisdom is the principal thing / therefore get wisdom and with all thy getting get understanding".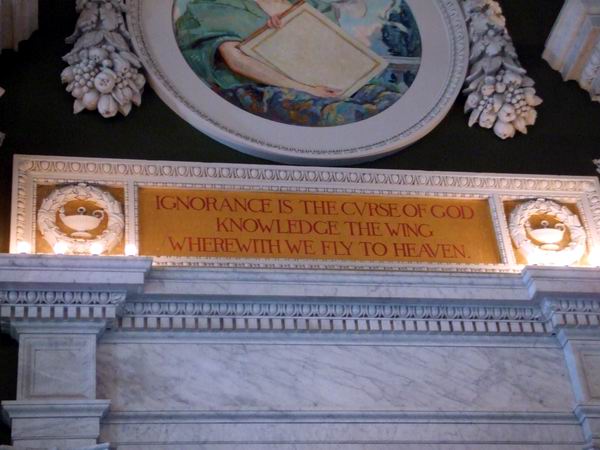 It is fitting that the "most beautiful public building" in our capital is the Library of Congress, the public institution that helps make artistic professions work. It figures that so many ignore its lessons, and it was about time that I finally visited.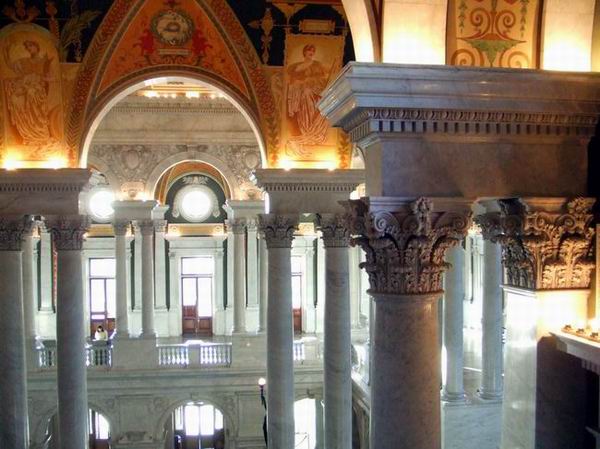 Next week: my visit to a much more famous building….
– – –
Bad link? Broken image? Other problem on this page? Use the Help button lower right, and thanks.
This page is an example of my style of "Thought-Provoking Entertainment". This is True is an email newsletter that uses "weird news" as a vehicle to explore the human condition in an entertaining way. If that sounds good, click here to open a subscribe form.
To really support This is True, you're invited to sign up for a subscription to the much-expanded "Premium" edition:
Q: Why would I want to pay more than the minimum rate?
A: To support the publication to help it thrive and stay online: this kind of support means less future need for price increases (and smaller increases when they do happen), which enables more people to upgrade. This option was requested by existing Premium subscribers.