Some weeks after terrorists turned several of our airliners into guided missiles, I flew — and got to experience our greatly "improved" security. My experiences brought a lot of response from readers.
Going through security at Denver International was interesting: because my shoes apparently have metal in them, they asked me to remove them so they could run them through the x-ray machine. I actually think that's fairly smart; if you want to smuggle razor blades onto an airliner, that'd be the place to do it. The only gotcha: do you think they provided chairs for the dozens of people they were doing this to so they could put their shoes back on? Nope.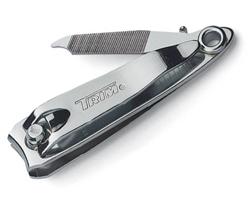 Then, on the way home, security at the Dallas-Fort Worth airport in Texas was interesting too. They weren't the least bit concerned that the metal detector beeped when they waved it over my shoes. But they were sure interested in my briefcase, since the x-ray operator spotted nail clippers inside. But wait: the government reassured us that nail clippers were OK! Yes, nail clippers are OK, I was told. But look at the included metal nail file with a (dull) point on it! That's a no-no, I was assured — the 1.25″ file is apparently enough to overpower a heavily armed air marshal, and the screener broke it off and handed me my clipper. They said nothing about the several pens I had on me, of course; the pen is "mightier than the sword" in more ways than one. It would be pretty darn hard for the tiny file (mounted on a pivot) to hurt someone, so I sure as heck wouldn't think a terrorist would choose that as a weapon over a nice long, sharp metal pen. At least Denver's worry about metal in my shoes had some logic to it, and they realized that a tiny nail file wasn't a weapon. But the opposite was true in Texas. It all comes down to the thought processes of a person who wasn't smart enough to get a better-paying job at the airport McDonald's.
Some stories from True show just how out of touch the people that supposedly watch out for the friendly skies are. So what does the government do about it? They take these underpaid, undertrained, bored operatives and make them federal employees. Giving idiots job security improves things …how, again? (If you really think making security agents federal employees is a good idea, think about it while standing in line at the post office or at the Social Security Administration sometime.)
Anyway, the stories. These several examples of the false sense of security we all live with are from the 27 January 2002 issue:
Travel Trouble
Retired Marine Corps Gen. Joseph J. Foss, 86, arrived at the airport in Phoenix, Ariz., to fly to the east coast, but was stopped by airport security because he was carrying something the security screeners apparently deemed suspicious: a Congressional Medal of Honor. "I kept explaining that it was the highest medal you can receive from the military in this country, but nobody listened", Foss, the former governor of South Dakota, says. "They just didn't know what it was but they acted like I shouldn't be carrying it." He got it in 1943 from President Franklin Roosevelt after shooting down 26 enemy planes in the Pacific. "It states all that stuff on the back of the medal." So why was he carrying the medal? "I had it with me this time to show to cadets at the U.S. Military Academy at West Point." — where he was going to make a speech. (Washington Times) …Good move, boys — that medal was for shooting down planes!
Doesn't This Make You Feel Safe?
US Airways pilot Elwood Menear, 46, trying to get through security so he could fly his airliner out of Philadelphia (Penn.) International Airport, was apparently frustrated at the delay as his luggage was searched. "Why are you worried about tweezers when I could crash the plane?" Menear allegedly asked the security screener. Menear was immediately arrested, and charged with making terroristic threats and disorderly conduct. "The pilot made some comments that the screeners thought were inappropriate," confirmed an FAA spokeswoman. (Philadelphia Inquirer, wire services) …If insightful truth is a crime, we're all in big trouble.
Something Special in the Air II
U.S. Representative John Dingell, 75, flies a lot, but came under special scrutiny when he tried to fly home from Washington, D.C., to Michigan, since he was wearing a knee brace, has surgically implanted pins in his ankles, and a metal hip. Security screeners forced the congressman to remove his shoes, socks, knee brace, and pants, and ran a metal detector over his boxer shorts. "I complied, but tried to do it with some small bit of dignity," he said. He never told the screener he was a congressman because "I don't want any special treatment." (Washington Post) …Good. Politicians need to know what people are going through every day.
However, "security" (as the feds define it) has certainly increased. Contrast those stories (and similar stories that you've no doubt heard) to pre-9/11 security. From True's 26 January 1997 issue:
Can You Identify Yourself?
Colorado governor Roy Romer realized on a business trip to California that he had left his wallet in his limousine. With no cash and no identification, he decided to walk slowly down the aisle of the airplane in hopes someone would recognize him. When at last someone did, he asked if he could borrow some money. The passenger loaned him $45. Later, the ticket agent in Los Angeles wouldn't let Romer board the flight back home since he had no ID. Romer solved that problem, too: he pulled a copy of the Denver Post from his briefcase and pointed to three pictures on the front page. "Hey, see that? That's me. There, there, there. My name's Romer. There! That's my ID," he told the agent. He was allowed to board the plane. (UPI) …Sure: anything to get rid of him.