I think a couple of stories this week will make some people's heads explode. "Confound it, Randy! Are you a heartless Glenn Beck conservative, or a bleeding heart Barney Frank liberal?!"

Yeah, well, I'm just not going to fit into one little box.
Here are the stories, from True's 6 November 2011 issue. First, the "Randy must be a conservative!" story:
The Truth Hurts
After his deputies arrested a man on attempted rape charges, Spartanburg County (S.C.) Sheriff Chuck Wright called a press conference to announce, "Our form of justice is not making it." Walter Lance, 46, he said, had been arrested more than 20 times before. "We had 20 opportunities to make sure this guy didn't rape anybody and we failed to do it," the sheriff said. "I'm tired of looking at victims saying, 'There's life after this'. I'm tired of saying, 'We're sorry, we can't keep them in jail.'" So he gave citizens some advice: "I want you to get a concealed weapons permit. Don't get Mace. Get a firearm." Wright says "It's too bad someone with a concealed weapons permit didn't walk by" when the woman was being attacked. "That would fix it." But Wright doesn't think everyone should be armed. "I don't think some people should be able to procreate," he said, "much less have a weapon." (RC/WFYY-TV) …In time, we'll have to have a permit for that, too.
Ah, but then (in the very same issue!) there's the "Randy must be a liberal!" story:
Completely Prohibited — Unless
Matt Epling was incessantly bullied at MacDonald Middle School in East Lansing, Mich. His last day of eighth grade was the final straw: he was given a "Welcome to High School" beating. School officials did little, so his parents decided to go to the police. But fearing retribution from his bullies, Epling killed himself rather than tell the police what happened. In the nine years since, the state's Republican lawmakers would not let an anti-bullying law through, saying it would create a "protected class" of citizens: gays. Michigan is one of only three states without an anti-bullying law; meanwhile, "at least 10" more bullied students have committed suicide in the state. So this year, "Matt's Safe School Law" was finally put to vote in the Michigan Senate. According to the proposed law put forth by Republicans, torment is not bullying if "a sincerely held religious belief or moral conviction" is behind the bully's actions. The law specifically addresses "cyber bullying" — but only if the bully uses "a device owned or under the control of a school district" — not a student's own cell phone. Also, Republicans would only support the bill if it didn't require schools to report bullying, didn't have provisions for enforcement or teacher training, and did not hold school officials accountable for failing to act. With that, the bill passed — 26 Republican votes in favor vs. 11 Democrats opposed. (RC/Detroit Free Press, Time) …So if it's signed by the Republican governor, Michigan will still be one of three states without an anti-bullying law.
So: Republican, Or Democrat?
I'm neither: I'm a staunch independent, which is a huge political force in the United States. According an October poll, About 34.3 percent of Americans are Republican (conservative), and 33.1 percent are Democrats (liberal). That leaves about the same percentage — 32.6 — as "neither one, thank you."
And how many are one or the other because their parents or spouse were (or were opposite)? Plenty of Democrats vote Republican "sometimes," and vice-versa, so I believe the "true independent" share to be much larger — larger than either party. We are sick of the "us vs them" mentality of politics. The "us" is the entire country, dammit!
(There are of course some minor parties mixed in that 32.6 percent, from Libertarians to Greens to whackjobs like the American Nazi Party, but the vast majority are independents. Like most independents I think for myself based on the issue at hand, not based on what some party hack thinks ought to be in their platform, sometimes only because the other party thinks the opposite — "us vs. them".)
Let's Talk About the Stories
But enough preliminaries, let's talk about the stories. Bullying first. Seriously, this is the conservative response to kids being tormented to the point of killing themselves? "Better dead than red" updated to the 21st Century equivalent, "Better dead than pink"? Really?
Hey, no matter that some of the kids are simply confused, and they're trying to understand their feelings (driven by surging hormones: surely you remember that phase!) That happens whether you're gay or straight.
I don't know if Matt Epling was straight, gay, or thought he "might be" straight or gay. And I don't care: it's none of my business. But the fact is, he's not an aberration, considering there's more than one teen suicide from bullying alone, in Michigan alone, per year. And that piece of garbage legislation is what conservatives, who like to tout how much more "moral" they are than others, think is a solution?
Really? Can anyone defend that? "Eh, so what that it will take another five or 10 years to get something through that actually addresses the problem. What's five or 10 or 20 more dead kids? Hell: they probably wouldn't vote Republican when they reach 18 anyway! Guffaw guffaw guffaw." That's not governance, that's disgusting.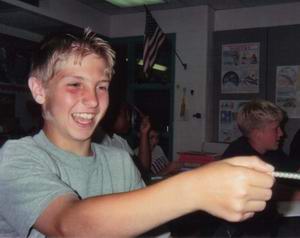 That doesn't mean that none of conservatives' concerns are valid, by the way. This is the country where "Freedom of Religion" is enshrined in our basic rights, after all. Any law that defines "hate crime" should certainly cover Christians as equally as Muslims, and cover whites as equally as blacks. If a group of white skinheads beat up someone solely because they're black, or Jewish, yeah, that's a hate crime. Same as if it's only because he's white, or Christian — or gay.
Does anyone really see it any other way? (I would, in fact, like to hear some reasonable and thoughtful contrary arguments; Comments are open below.)
So while this may be considered a "liberal issue," I don't see it that way: I see it as basic humanity. I adopt it not because Democrats are for it, but because it makes sense. Just like the gun story.
Next: Guns? Are you Crazy?
Ah, the gun story. As much as liberals liked the bullying story and right on'ed the tagline there, conservatives surely loved the gun story.
A couple of years ago, I wrote an essay attempting to explain "why" Americans "like" guns. I won't repeat that here, but I'm getting a little more firm as time goes by that the South Carolina sheriff is right. The "liberal" solution seems to be "call the police." When is the last time you did call the police? How long did it take them to arrive, even in an all-out emergency? Would you want your wife or mother or daughter to wait that long (assuming they even could call the police) if they were targeted by a rapist?
If you've been reading True for some time, you know that I'm pretty involved in what's loosely grouped into "Emergency Services." I was a sheriff's deputy in California, and an advanced life support medic there too. (And I'm a medic again, here in Colorado, as well as a volunteer for the local sheriff's office.)
With my radio communications background, I am my county's go-to guy for all police/fire/ambulance radio stuff — they can't afford to actually pay anyone to do it. And yes, I harp on the local cops that they need to learn how to use their radios correctly, because "when it comes to saving your life, your radio is more important than your gun." (Yep: I've said that to their faces. They still don't want "radio classes." They are required by law to shoot regularly, though, to "qualify" to carry a weapon.)
Listening In
Anyway, we have our local public safety radio channels going 24×7. I listen in my office, and there's a county radio in the room next to our bedroom. I know how long it takes to get cops somewhere when there's an emergency. Our county is 542 square miles. On weekdays, there are typically two sheriff deputies on duty; nights and weekends, one. Overnight: none! (They're sleeping, and "on call" if there's an emergency.)
There are limits to how fast someone can drive on mostly dirt roads. A typical run for me on an ambulance call is 10 minutes, but I've rolled for as long as 30, just to get there and start assessing what's up.
Get the picture? So… do I have a gun? You're damned right I do! I know I'm on my own in an emergency, and likely for quite awhile. For a cop to get to my house at any random time, I know for a fact that it will average more than 20 minutes.
How many people can a maniac kill in 20 minutes? Ask the two kids who went into Columbine School in 1999 (13 dead, 21 injured), or the single gunman at Luby's Cafeteria in Texas in 1991 (23 dead, 20 wounded), or the McDonald's in Southern California in 1984 (22 dead, 19 wounded), or Virginia Tech in 2007 (32 dead, 25 wounded).
And it's not just in the U.S.: one guy took out "at least" 85 people in the recent youth camp massacre in Norway according to the BBC report I read (plus 66 wounded).
A Fighting Chance
What if one of those victims could have shot back, early on? How many lives would have been saved? I can tell you this: if you were trying to protect your children in one of those situations, you'd be praying for a gun. Not Mace, not pepper spray. A firearm, and you know it.
I know the "liberal" response is two-fold: 1) let "everyone" carry guns and there will be bloodbaths as citizens shoot it out in the streets, and 2) there will be accidents and innocent children will die. (OK, some adults too.)
My response: 1) our openly-gun-carrying police officers don't engage in bloodbaths on the streets every day, do they? They're not better at it, either — they're worse: studies show civilians are much more likely to shoot actual criminal perpetrators (vs innocent bystanders) in shooting incidents than the police. Plus, crime has gone down in states with a "must-issue" (a concealed carry permit) law, not up. And 2) Have you gotten rid of your car, which kills a lot more children (and adults) every year than guns? Why not?
I'm not at all saying that "everyone" should carry a gun. There are rational reasons not to. When I told a good local buddy I was getting one, he said he never would. It's not because he's a liberal (and he is), but rather because he's bipolar, and if it was "right there" he could well be tempted to shoot himself when he was down. Pretty rational decision, isn't it? He figures the odds of him shooting himself are greater than the odds he'll need a gun to protect himself, so the decision is "don't get one." Who wouldn't respect that?!
Yet, there is plenty of disrespect for people who do choose to get one. "What, are you paranoid or something?" No, I'm realistic. The odds of our house being a target — of criminals or other predators, such as bears — is high enough that I made the decision to have one handy. Just like I have several fire extinguishers handy. I'm not "paranoid" of fires, either, but it's pretty cheap insurance to have some extinguishers around "just in case."
Enforcing the Laws We Have
In addition to my friend who rationally decided not to get a gun, there are plenty of people who should not be allowed to have one, even if they want one. The mentally ill, criminals, and more. We already have those laws in place, and I favor their use. I'm in favor of "enhanced" sentences for using guns criminally; I'm in favor of enhanced sentences for those who use knives or other weapons criminally, too.
So yeah, those folks are out. For others, why not? If you were honest enough to admit you'd want a gun to protect your children in a horrible situation like those I mentioned, can you honestly say it's OK for you, but not for other honest, law-abiding citizens like you? And let's stipulate "if properly trained," of course.
Refresher
Yes, even though I was an openly-gun-carrying peace officer in California, when I decided to buy a gun again I didn't just say "Heck: I'm already trained!" No, I went and took a class from an expert, starting over from scratch. I asked my wife to come too (and she did). Rather than take the minimum, we went for a multi-day class that included classroom and range instruction.
Sure enough, I learned (or relearned) a lot. I think it's important to get that teaching, just as it's important to be taught to drive a car: both guns and cars can be lethal weapons.
What's the bottom line here? In "Life, Liberty, and the Pursuit of Happiness" (the "unalienable Rights" proclaimed in our Declaration of Independence), "life" comes first — the first "right" that Americans claimed were "endowed by [our] Creator."
The ability to defend one's life from violence is basic to that. Guns equalize even the weak against the strong predators (human or otherwise) that would attack us. Anything else is, literally, a case of you condemning thousands of people to death each year.
What Do You Think?
Still, in the face of all of this, I'd like to hear "reasonable and thoughtful contrary arguments" to this, too. If you disagree to either of my explorations above, you have a choice: whine or scream and stomp away (which means you have no reasonable or thoughtful contrary arguments to post), or stand up for what you think, just as I just did.
Because I wrote this knowing that it would piss off both liberals and conservatives — I know that not everyone will take up my call to think about these issues, and discuss them; plenty will, indeed, whine or scream and stomp away, even though they will have to admit, at least to themselves, that they have no reasonable or thoughtful contrary arguments to post.
We can't expect our politicians to come to a consensus and compromise if we won't do so first on these basic issues. Please do read the comments posted so far; consider the arguments made, pro and con. It's time to discuss these basic issues and come to greater understanding.
---
Update: Reader Reaction
There are now more than 100 quite thoughtful comments on this entry. Time for a brief summary from that crop.
From the Right
I consider myself a conservative…. On the issue of the bullying law, it seems obvious that this is simply an attempt by otherwise seemingly reasonable legislators to institutionalize their hate of homosexuals by claiming that passing a bill to protect ALL from undue pressures or attacks somehow gives one group which they clearly are biased against personally special status. What a load of hooey. The issue is not special status, but the legalizing of the ability to discriminate, intimidate, harass, attack, injure, and kill, or drive to kill oneself, someone they hold in contempt. What they cannot do themselves as adults, they wish to see being done by teens and preteens. As "adults" they can stand behind the shield of opposing "special status" claims, but it's just an excuse to promote hatred using that claim as a pretext. They probably would promote themselves as "conservatives" when all they seem to be on that issue are unreasoning bigots. –Tom, Illinois
I'm in complete agreement with you on both.

I'm a conservative, but the Michigan legislature was dead wrong. Bullying is bullying no matter the "reason". We shouldn't need hate crime laws. If someone commits murder, I don't care why. It does not matter whether they hate the victim's race, gender, sexual orientation, hair color, or just want to kill for fun. They need to be put in jail for a very long time. The same goes for bullies. It does not matter if it is for something they hate, or if it is just to make themselves fell better by bullying. They need to be stopped or removed from the school. –Karl, New Jersey
From the Left
I am a registered Democrat. I do not recall voting other than for the Democratic candidates — often simply because I considered the other candidates inferior choices. I find your discussion of both bullying and carrying excellent, esp. the carrying!

I am unwilling to carry a weapon for several reasons. I am 81 on, and cannot recall ever being in a situation where I wished I had a weapon with me, hence I am unwilling to subject myself to such a responsibility/worry/concern. I would find life far less rewarding had I to continually make a judgment as to whether I should interfere in this or that situation.

I cannot conceive of how I would handle the problem when I am around my eight grandchildren.

However, I find your argument the best, the most persuasive, of ANY I've ever read. –Bob, Oklahoma
You have rational reasons that the equation doesn't come out to having a gun. That's fine! I'd never try to convince you otherwise. I'm just glad you had the chance to make the decision in the way you wanted; it was not dictated to you. That, of course, is the point, rather that what you decide is right for you.
I agree absolutely on the bullying issue. Nuff said.

Politically, I'm active in the Democratic Party and almost always vote on the progressive or liberal side of issues. Haven't owned a gun since I was a kid growing up in Vermont and have no plans to get one.

Since moving to Arkansas from urban California, I've come to see the gun issue as more complex than fits on a bumper sticker — but most of the conversation about guns seems to come from the two extremes. I think liberals are wrong, for example, when they fail to recognize the hunting culture that put food on the table for generations in rural America and still does. However, I have trouble fitting "sportsmen" with AK-47s shooting up the countryside into that image.

Since I have no plans to burglarize your home or rape your womenfolk, I am reasonably comfortable with you packing heat for protection, Randy. I've gotten to know you a bit over the years and feel comfortable with that. However, I worry about those people who want to protect themselves from the "Muslim hordes" or the "colored boys ogling their daughters" or the "abortion doctors" or the gay teachers "trying to convert their sons." If we could effectively keep guns out of the hands of lunatics, I'd feel a lot better.

There is a tendency for most of our political conversations to gravitate to the extremes. During the 2008 campaign, I spent time on the phone reassuring Arkansans they would still be able to worship in their regular church if Obama was elected and promising that he really did not plan to take away their guns. "He'll be the Commander-in-Chief with nuclear weapons. He won't need your guns."

I agree that we should engage in a rational discussion of the gun issue, but I worry that one side would be armed. –Earl, Arkansas
While I didn't emphasize it much, I did start with disgust in the polarization of politics, which does indeed shove each party into extreme positions. We definitely do need rational discussion — just as you've provided here — rather than extremism. Thanks for the example of how it's done.
From the Middle
Politically I have given up on being an anything-arian. I am for accountability and nothing else. Hold the government, in specific the office holders, elected or appointed, accountable for all actions taken in office. Authority must be granted grudgingly and reluctantly. When it is abused it must be snatched away at once. Be it a minimum wage screener at the TSA or the President of the United States. –Garry, Michigan
Randy, if you DO take one side or another, you conceal it very well. I would call you "an equal opportunity offender." Keep us thinking, friend. –Mike, Florida
With few exceptions (e.g., Zero Tolerance), my goal isn't to convince anyone of a particular side of a particular issue. Rather, I'm interested in getting people to think about issues rationally, rather than emotionally (e.g., "EEK! Guns KILL people!!"), to understand the implications of the issue. That makes better citizens, and better voters. Because we for damn sure deserve better politicians, and I can think of only one way to get them!
From Outside the U.S.
Regarding gun accidents, it is worth taking a look at Freakonomics. Would you send your child to a neighbor that owns a gun? would you send your child to a neighbor that has a swimming pool? –Noam, Israel
The page you link to is very short, and worth a look [link removed: no longer online]. I wouldn't send my kid to either house until I had met the parents and evaluated how responsible they are. But yes, that page is eye-opening.
Things are not too different in Spain. First issue, bullying: nothing to add to the stream of thinking that Michigan's law is idiotic and dangeorus. Then, in a general way, I always thought that branding crimes is bad. Hate crimes, terrorist, gender, family… they are crimes already, and branding them (and making a special law for it) "terrorist" had given ETA criminals a handhold to protest their "political prisoners" status in the european tribunals. And gender crimes are in the root of many false claims of violence, or worse (kid's abuse) to better a position on a divorce court.

About firearms: it is extremely diffcult to have a gun permit in Spain. You need to be a policeman, military, or have a job with special needs jeweler, for instance). Hunting permits are closely monitiored, too. But our criminals manage to have their guns somehow… just yesterday, a 76 y.o. dude killed a woman shooting her twice after a traffic discussion. His husband and three witness were also shot at, but not hit. His unlicensed gun, a 9 mm automatic, came from South Africa. Anyone with a gun could have stopped him in a second. Not the cops, they were somewhere else. So yes, I think just like you in that issue.

Great line of debate, Randy. A premium already, I plan to be for years to come. –Rafael, Spain
Randy, your views pretty much match my own. I'm one of those who in online tests generally comes out as centrist, largely because I'm on the left in some things and on the right in others. The right to self-defence is one of those where my views are absolutely firm.

In Britain, at least, there is ample case law that says the police are not responsible for defending individuals from specific attacks; they'll try if they get to know about attacks, and they'll investigate them afterwards, but — for fairly obvious practical reasons — individuals have no legal expectation for a bobby to magically appear at their side when attacked. And yet we're always told not to arm ourselves — "That's the job of the police".

In Britain, we can't carry guns. We can't carry mace. We can't even carry a knife, baton, or anything even tenuously defined as an "offensive weapon". We can't carry anything that might give us a fighting chance against an attacker — and let's remember, the attacker already has the choice of victim, time and place… not to mention a disregard for the very laws that prohibit law-abiding citizens from carrying arms.

I am all in favour of legally-armed citizens (with legally-mandated training). One of the things I like about South Africa, my wife's home country, is that the right to act in the defence of self or others is absolute — and I'm currently taking a course that (should I ever choose to settle here) qualifies me to carry a whole variety of firearms for self-defence or professional (security) use.

In an area with lots of carjackings, burglaries, and a high rate of violent crime, yes — I do want a gun in my house. I want a gun on my belt, a gun locked under my car seat, and a gun in my wife's handbag. I want to be able to take responsibility for my family's safety, without having to rely on police or our armed security contractor.

Taking responsibility for one's own protection — in whatever form that takes — should be not only a right but a duty. –Andrew, UK
On the Other Hand, the Unsubscribes
As expected, quite a few people stormed off in a huff. They're partisan; they not only hate the other side, they can't stand it that there are non-partisans in the world. A few of their parting shots:
Your political slant. –Jon, Illinois
Straight up and down isn't a "slant." You'd know this if you weren't so slanted.
Your writing is clearly not independent. Probably not liberal nor conservative either — just Democrat. We don't see commentary about Solindra, unemployment, OWS, etc., but you go out of your way to portray Republicans as the root of the bully problem. I've got news for you pal, the Republicans I know oppose bullies. Why don't you write about Chicago politicians? They're the worst bullies.

Also, the first paragraph refers to conservatives as "heartless", and liberals as "bleeding-heart" — heartless is bad, while bleeding-heart is good (in my book). Why label conservatives as heartless? And why label Glenn Beck as heartless? He is as much against bulling as you or I and he sure seems to be a good and decent human-being.

Why portray Republicans as the bullies when they weren't the bullies that rammed a so-called health-care bill through Congress without even reading it? What about the bullies that are spending lavishly on themselves and their cronies ($500,000,000 to Solyndra) and sticking our innocent grandchildren with the bill? That's the worst bulling of all — and if you have grandchildren (or children), you might want to stick up for them. There are plenty of articles you could write showing fraud, waste, and abuse today that our innocent grandchildren (and children) will have to pay for. And lets see how many times you refer to Democrats. –Andrew, Texas
What a paranoid position! And poor, poor Glenn Beck — but screw Barney Frank! Who gives a shit about the other side! Yes, because I "bash" him similarly, I must on his side, not Beck's! That's an example of thinking?
Yet, I have on hundreds of occasions bashed non-thinking on the left, because — again! — I bash stupidity regardless of party affiliation, as you've seen in more than a year of reading True.
Anti GOP. Fuck off idiot. This stuff is going to spam where it belongs. –Art, Alabama. USMC. Semper Fidelis. 1966-1974
"Anti GOP"? In your more than a year as a reader, you've seen that I'm not. I'm anti-idiot, whether the idiot is in the GOP or not.
I didn't sign on to your list to get pushed politically. I get way to much of that in the mainstream media (MSM.) –"Up", Texas
Political comments should be left out of your stories!! –Elanie, Nebraska
Politics is part of life — unfortunately. So is sex, crime, and death. And when someone does something truly stupid, it gets covered in True — though there's rarely any "pushing." And if you thought about it, you'd be forced to agree that's true.
- - -
This page is an example of Randy Cassingham's style of "Thought-Provoking Entertainment". His This is True is an email newsletter that uses "weird news" as a vehicle to explore the human condition in an entertaining way. If that sounds good, click here to open a subscribe form.
To really support This is True, you're invited to sign up for a subscription to the much-expanded "Premium" edition:
Q: Why would I want to pay more than the regular rate?
A: To support the publication to help it thrive and stay online: this kind of support means less future need for price increases (and smaller increases when they do happen), which enables more people to upgrade. This option was requested by existing Premium subscribers.