I know a story this week will raise eyebrows, so I'm posting it here so there's a place to explore it a bit in the comments. Let's start with the story, from the 9 October 2016 issue:

Risk-Taking, Florida Style
Steven Brown, 24, was home in Port Richey, Fla., when the place caught fire. Brown "and other accomplices," says the Pasco County Sheriff's Office, were making butane hash oil — extracting the oleoresin of marijuana using butane gas — when it exploded and set the house on fire. Brown had limited time to get out, and had to choose what to save. One of his accomplices grabbed a 1-year-old child, but Brown chose his drugs, which meant he left his two dogs behind — who were in a cage. "I heard them burn up alive," said neighbor Harold Cope. "They cried and then they stopped. It was sickening." (RC/WTSP St. Petersburg) …And so are Brown's priorities.
Yes, it's a bit horrifying, but I think it's important to bring such stories to light from time to time, and clearly express outrage or disgust over them — which I think the story does well. Yet one of the volunteer editors objected to the "really, really graphic description of those poor dogs dying," and another agreed it was over the top. Both suggested I pull it. Before that, I made it a point to listen to my wife's reaction when I read the story to her. As I expected, she reacted strongly to it — but didn't express any reservation about publishing it.
Context Matters
Indeed the mental picture you get is unsettling, and it has to be: that's the entire point. Make no mistake: the story isn't really about things Floridians do, it's about what people do, especially when their moral compass is overwhelmed by their choice to alter their own minds. When I get an amazing example, I'm not going to hold back on showing the repercussions of their terrible decisions.
Though I disagree that the description is "graphic" — it's even left unclear (because the source story was unclear) whether the dogs died by being burned or asphyxiated.
True has always had a mix of comedy and tragedy, and this one isn't even in the Top 10 of tragic. Indeed, one thing I was sure to do in this issue is to also include a murder story. In fact, let's bring it in on the discussion:
One for the Books
Adrian Greenwood was an author and historian in Oxford, England, but a prosecutor says it was his wealth and his dealings in rare books that led to his murder: Michael Danaher, they say, was particularly interested in Greenwood's 50,000 pound (US$62,000), first-edition copy of Kenneth Grahame's 1908 children's book, Wind in the Willows. Danaher claims self-defense, and an ex-girlfriend said Greenwood had attacked a postman and held a washing-machine installer hostage. But a prosecutor said Danaher had a list of targets whose assets he was after, which the prosecutor said exuded resentment. "It is almost as if these are people who, because of their wealth, and his lack of it, deserved to be subjected to what he has planned." Greenwood was stabbed 33 times. (AC/BBC, Oxford Mail, London Independent) …Sounds like they both needed more time with the right books.
So we have dogs left to die, and a guy trying to claim it was "self defense" to stab someone else …33 times! (Oh, and by the way, to steal something from him in the process.)
It was a clue that I positioned it immediately after the dog story. The mental picture of a brutal stabbing is much more horrifying to me, yet there was no objection to that story (though my wife gasped at that when I read it, which I had hoped she would). Color me silly, but a human slowly murdered seems a lot worse — and a lot more horrific — than dogs being killed. But hey, it happens every day, so we're numb to it: Yawn! just another murderer with a lame excuse!
So much so that there is almost never an objection to a story in True about a human being murdered.
You're horrified by the dogs? Good: you aren't as jaded as you might be.
Update
The original source story was headlined, "Man Arrested after Drug-Manufacturing Explosion Kills 2 Dogs". Yet the story itself says that "Deputies attempted to arrest Brown on multiple warrants related to this incident later during a traffic stop," but "He was able to elude authorities and is currently at large." So much for the headline.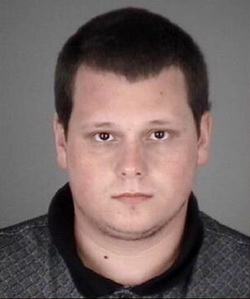 The dozen warrants they referred to are: possession of a place for purposes of manufacturing a controlled substance, first degree arson, felony possession of a firearm, cocaine possession, suboxone possession, oxycodone possession, tampering with physical evidence, manufacturing marijuana, possession of marijuana with intent to sell, possession of drug paraphernalia, and — yes — two counts of aggravated cruelty to animals.
Brown turned himself in 10 days later. Updates noted he left the baby behind, and were unclear about who rescued it. I do note, though, that the charges don't include child neglect/endangerment.