Last week, my BS-o-Meter failed, and a fake story made it into This is True. It has happened a few times over the past 18 years of weekly columns, but luckily only a few times. Let's start with the story, from True's 5 August 2012 issue:

Hokey Pokey
Larry Storch, 89, who lives on Calamity Lane in La Grange, N.C., recently received his 17th citation for "noise pollution" in the past seven years for blaring the stereo in his car at extreme volume. "They've been giving me noise tickets for years," a defiant Storch said. "I guess they thought their tickets would deter me, but every time I paid off a ticket I'd stop by the speaker place on the way home and add a little more boom to my zoom." That irritates the judge who has seen Storch in his courtroom many times for his "wanton disregard for the public," as he puts it. "In the past I've fined you, sentenced you to community service, and at one point even forced you to watch the fourth hour of the 'Today Show'," said Lenoir County District Judge Robert T. Ironside. "Since none of those punishments have done anything to curb your jackassory behavior, I've decided to get medieval on where your butt — if you had one — would be." The judge made a CD with 37 versions of "I'm a Little Teapot" on it, and ordered Storch to play it every day for 45 days. When asked to comment on the unusual sentence — which Storch said he will appeal — Ironside said that "anyone who insists their stereo rattle every mailbox open it passes is in dire need of a daily flogging with a baseball bat wrapped in barbed wire until they get better." (RC/Kinston Free Press) …B.I.N.G.O.!
F It
The story brought a lot of questions from readers. With very few exceptions, they weren't questioning the story's veracity, but rather they were wondering: is that the same Larry Storch from the 1965 ABC comedy F Troop?
I had thought so myself at first, since comic actor Storch and the antagonist in the story are both 89. The actor's Wikipedia entry was even updated reflect the criminal troubles he was supposedly having — and as of this writing, it's still there. I'm copying it here since I'm sure it will be deleted Real Soon Now:
Storch often likes to listen to music while driving, and has been cited 17 times with misdemeanor noise pollution since 2005. After his most recent citation, the Judge sentenced him to play a CD featuring 37 different variations of I'm a Little Teapot in his car for 45 days.[10]
The footnote link ("10") goes to the same story I used as a source.
The Big Clue in the original article (link removed: no longer online), published by the Kinston (N.C.) Free Press — which is a "legitimate, mainstream news source" — was not that Storch's girlfriend was quoted, but that she was identified as "Storch's girlfriend of 27 minutes."
Since I didn't use any of her quotes, preferring to concentrate on the judge's instead, I didn't catch that clue.
But What About "Ethics"?
The title of this post is what ethicist and lawyer Jack Marshall said about the Free Press's story — that it's an "Ethics Train Wreck".
Marshall is the president of ProEthics, Ltd., a legal ethics consulting firm in Alexandria, Virginia. Marshall is also the author of the Ethics Alarms blog, and his alarm went off with this story.
Marshall termed the newspaper's story as an Ethics Train Wreck In A Little Teapot in large part because the Kinston Free Press is a legitimate, mainstream news source. Marshall provided the work phone number and email address of the reporter, Jon Dawson, and suggested his readers "Tell him for me he's an unethical jerk" (emphasis from the original) because "There's nothing in the website or his column heading to indicate that he is writing humor or satire."
(Yes, I think providing the reporter's phone number and email address could be considered unethical by some, though I'm sure both are listed on the newspaper's web site.)
But What About the Clues?
Such clues are important, and are just part of what's behind my well-honed "BS-o-Meter" in the first place. But the most important clue in determining the veracity of a news story is the source. While I have said "no way!" on stories that were published by legitimate news outlets, most of the time the reporter was fooled by the source, rather than the one actively trying to fool the reader.
As Marshall says, "I read crazy stories all weak [sic] long, this is far from the nuttiest, or the funniest" — so it didn't occur to him that the story was fake. Just so: when you have men dressing as women and pumping cement into their own asses to make them huge, what's so weird about a judge named Ironside creatively sentencing a former comic actor for acting like a jerk?
Marshall actually sounds fairly angry: "Thanks, Jon, for wasting my time, and everyone else's. If the Free Press won't fire you, I then we know [sic] how much it cares about its readers."
The Bigger Issue
I'm not angry myself, just "deeply disappointed" because there's a much more serious issue here, and Marshall at least starts to pick up on it with: "The so-called new media, which already has bloggers blatantly misrepresenting facts on a regular basis, doesn't need this junk to further degrade its credibility."
But that misses the mark. If the Kinston Free Press was part of the "new media" that would be great criticism. But it's not a blog, it's a "legitimate, mainstream newspaper." It's supposed to be an objective, credible news outlet. And this has caused its veracity to be called into question not just on this story, but on every story it publishes. It's the "Fool me once, shame on you; fool me twice, shame on me" doubt that will come in every time someone who was tricked by this story lands on the site in the future. The seed of doubt has been planted, and that not only damages the Free Press but all of the "legitimate, mainstream" news media. Forget "new" media!
You might say that it's well known by the newspaper's local readers that Jon Dawson is a humor columnist and even though he's published by a newspaper, it's part of his schtick to make stuff up. And that's fine — in the pages of the printed newspaper. But once a publisher puts its stuff online, that publisher becomes a publisher to an international audience who doesn't have a long history with the paper, and doesn't have any clue who Jon Dawson is.
How to fix that? Easy: the newspaper simply needs to put a marker at the top of the page, such as "Humor", "Satire", or "News Parody". That its editor or publisher did not is what makes this an "Ethics Train Wreck" for the newspaper in particular, and the news media in general.
The Long Slide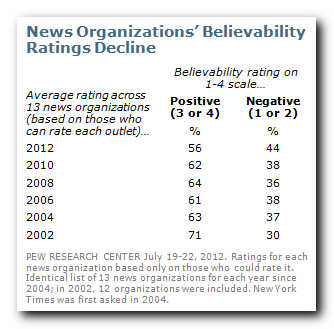 Newspapers, and the news media in general, used to be considered ethical paragons. CBS News anchor Walter Cronkite was "the most trusted man in America." But when "Uncle Walter" retired, things began to slide, to the point where now — the news media is among the least trusted institutions in America despite its vital "Fourth Estate" role in protecting democracy. And the Kinston Free Press is an example as to why that is.
Also Fooled
This is True is in good company in being fooled by this story. A local CBS News affiliate picked up on the story as if it was real. So did countless blogs (example), and of course Wikipedia.
No surprise, really: that's what happens when you use a real guy's name that sounds familiar to a lot of folks, and even match his age to the real guy.
So I won't yell "Shame!" at the Free Press, but I'm rolling my eyes for their stupidly caused real damage to the integrity of the already-heavily-embattled news media. Thanks to several readers who pointed me to the Ethics Alarms page to help debunk this story.
Note: The "Hokey Pokey" story has been pulled from True's archive.
– – –
Bad link? Broken image? Other problem on this page? Let Me Know, and thanks.
This page is an example of Randy Cassingham's style of "Thought-Provoking Entertainment". His This is True is an email newsletter that uses "weird news" as a vehicle to explore the human condition in an entertaining way. If that sounds good, click here to open a subscribe form.
To really support This is True, you're invited to sign up for a subscription to the much-expanded "Premium" edition:
Q: Why would I want to pay more than the regular rate?
A: To support the publication to help it thrive and stay online: this kind of support means less future need for price increases (and smaller increases when they do happen), which enables more people to upgrade. This option was requested by existing Premium subscribers.