From True's 9 February 2003 issue:
Ooh La La
"The city's broke, practically," says Soap Lake, Wash., Mayor Ken Lee. "We have no industry, no tax base. We need to do something." The "something" that's been approved by the city council is to build the Soap Lake version of the Eiffel Tower: a 60-foot-tall working Lava Lamp in the middle of town to attract tourists. But the town can't afford to build the monument to 1960s acid culture — cost estimates range from $1 million to $25 million. The effort is being promoted by an organization called SoLa LaLa, short for "Soap Lake Lava Lamp". The director of the Grant County Economic Development Council calls the ode to the Lava Lamp, which was invented by a British nudist, "a fun idea, but we need someone with some capital who's willing to spend it." (Los Angeles Times) …Easy: it'd make a terrific concept for a cell phone tower.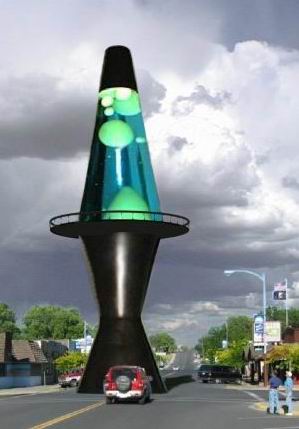 And yes, as a matter of fact, I did seriously suggested to the concept designer that they try to get a cell phone company to sponsor it — it really would make a good cell tower! But: no reply.
Ten-Year Update
In 2004, the town secured a giant Lava Lamp that had been installed in Times Square as a stunt by Target stores. It was expected to arrive in town that December, and be installed that Spring. But it appears that never happened. Even the project's official web site was offline as of early 2020.