It's 2012. There are no more adventures. Been there, done that, seen it, ho hum, right?
Wrong.
There are still adventures to be had in this world, and several of them happened this past week.

Endeavour's Final Voyage
First was the final trip taken by the Space Shuttle Endeavour, which lived up to its name. (You may not know: it was named after the British sailing ship HMS Endeavour, which took Captain James Cook on his first voyage of discovery to Australia and New Zealand from 1768 to 1771).
It was flown to Los Angeles International airport last month; here she is during that flight, off the southern California coast:
During that flight, thousands of people went outside to catch a glimpse, or take a photo, as it flew by. This past week it was taken, by road, to its final home, the California Science Center. And that part was also magic:
Thousands of Angelinos took to the streets just to watch, to be a part of the event: the retirement of a little-used spacecraft (it only had 122,883,151 miles, or 197,761,262 km, on its odometer, having flown in space for just 296 days, 3 hours, 34 minutes, 2 seconds over 25 missions — not that anyone's counting).
Involving the Public
NASA was established by the National Aeronautics and Space Act, which was signed by President D.D. Eisenhower on July 29, 1958. The Space Act's "Congressional Declaration of Policy and Purpose" notes right up front that "Congress declares that it is the policy of the United States that activities in space should be devoted to peaceful purposes for the benefit of all humankind." As for Objectives, the very first was "The expansion of human knowledge of the Earth and of phenomena in the atmosphere and space."
Expansion of human knowledge is number one. In the early days, NASA did a fantastic job of informing the public of what it was doing, the steps it was taking, to make progress.
We haven't seen much of that lately. Indeed, NASA's "educational outreach" activities have been continually squeezed. Who does a significant portion of such "outreach" now?
Volunteers. There isn't much budget for staff jobs to actually educate the public about what's going on, what's being learned. Yet the public is starving for information, yearning to be a part of the NASA Mission. So much so, the entire route Endeavour took through L.A. was packed with people wanting to be a part of it. Day, night — it didn't matter. People took time off work to go watch.
But wait: there's more.
Item 2: Felix's Jump
All of the mountains have been climbed. What adventurous thing is there left for an explorer to do anymore?
Felix Baumgartner thought of something to do, a record or three to break. On Sunday he flew in a helium balloon higher than any human had ever gone. It took him two and a half hours to get there.
And then he jumped out.
At 128,000+ feet above sea level, there's practically no atmosphere; it's truly the edge of space — more than 24 miles up. Baumgartner had to wear the equivalent of a space suit to be there. Here he is, at altitude, just after he opened the door to his capsule, dangling below a 55-storey balloon: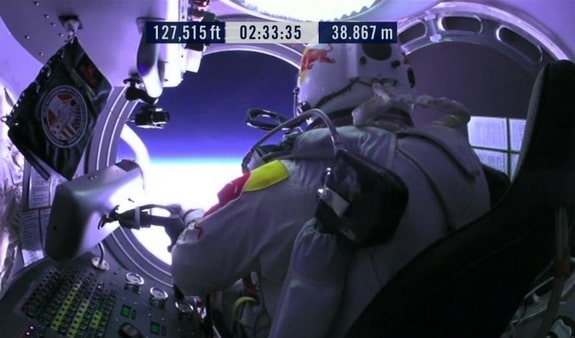 He then climbed out onto a tiny step…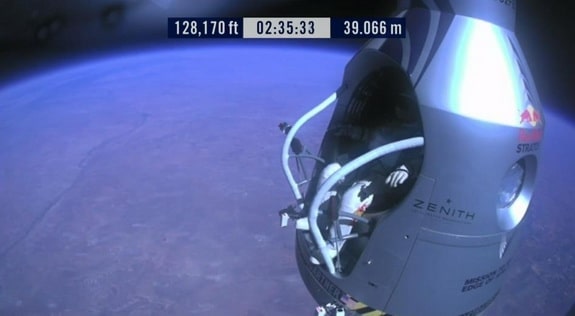 …and jumped: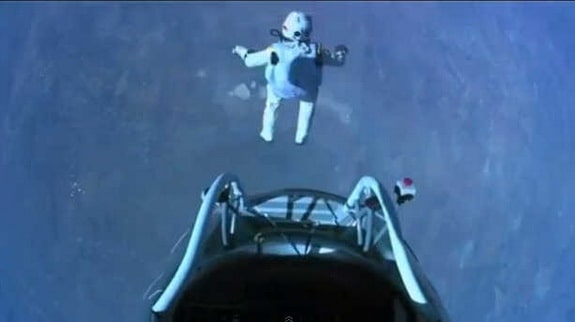 I was watching, live — and so were hundreds of thousands of others. He allowed only one voice on the radio in his ear to coordinate the event, to go through the checklist to give him the best possible odds to survive the feat: Joe Kittinger.
Who's Joe Kittinger? He's the guy who was the first to skydive from a balloon from above 100,000 ft — and he did it in 1960 (as part of a U.S. Air Force project, designed to test high-altitude parachutes).
Here's Kittinger, as he jumped on August 16, 1960, from 102,800 feet (31,300 m).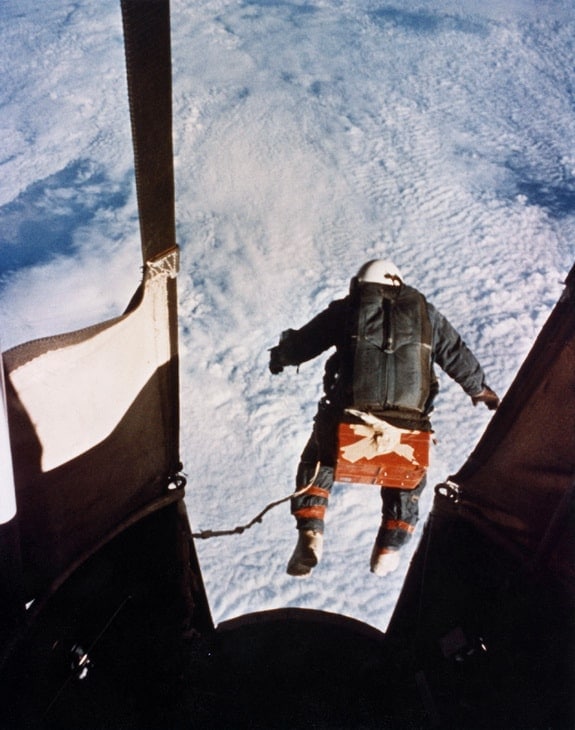 Kittinger's record stood for more than 52 years — until he helped Baumgartner break it on Sunday. (At which time Kittinger was 84 years old. Yep: even "old guys" can still significantly contribute to adventures!)
Back in 1960, Kittinger towed a small drogue parachute for stabilization, so he "only" reached a maximum speed of 614 miles per hour (988 kph). He was in freefall for 4 minutes and 36 seconds before he opened his main parachute. Baumgartner didn't use a drogue chute …and therefore went into a spin, causing him to almost black out. Just in time, he dropped low enough in the atmosphere for there to be atmosphere so he could get enough resistance to stabilize himself. But that enabled him to go faster: an estimated 834 mph (1,342 kph), making him the first human ever to break the sound barrier without the aid of a vehicle.
Now that's an adventure! (But due to that increased speed, he missed breaking Kittinger's freefall record — by just 17 seconds.)
Here's the brief video recap, released shortly after the jump:
And a much more detailed video recap, which wasn't released until January 2014 (added to this page 2 February 2014):
NASA, unfortunately, has been clueless about the accomplishment, which adds valuable new data they can benefit from. Someone at NASA tweeted congratulations (read: some low-level employee in public affairs responsible for the agency's "social media" took it upon himself to do it).
NASA's official web site? Totally silent more than 24 hours later.
That is, in part, why I so heartily support the transition from government-operated spacecraft. Transition to what?
The Transition to Commercial Space
Yep: private space vehicles. The Shuttle, magnificent as it was, was a horribly inefficient spacecraft. Each launch cost (when you included development and manufacturing costs) about $1.5 billion. President George W. Bush was right to cancel the Shuttle program, and President Barack Obama was right to affirm that cancellation and let it go out of business.
And there was a spectacular milestone on that front this past week too.
The concept of commercializing space isn't anything new: it wasn't Bush's, nor Obama's idea. It was part of the 1958 National Aeronautics and Space Act, which noted, "Congress declares that the general welfare of the United States requires that the Administration seek and encourage, to the maximum extent possible, the fullest commercial use of space."
It's about freaking time! It took more than 50 years to get there!
Private Sector Launch Platforms
Elon Musk, the guy who co-founded Paypal (and sold it to eBay for $1.5 billion) has put his estimated $2.4 billion net worth into something really visionary: he started a rocket company. In 2008, his newest company, SpaceX, was awarded a NASA contract for a dozen cargo flights to the Space Station. That didn't cost NASA $18 billion, which is about what it would cost to do that with the Shuttle. No, the contract was "only" for $1.6 billion. A billion-five for a shuttle flight vs $133 million for a commercial rocket flight? As a taxpayer I'm all for it. "The Government" isn't always known for making great decisions, but that was a great one.
SpaceX's Dragon spacecraft did a "demonstration" flight to the Space Station in December, and it was a spectacular success. This weekend, the first "real" Dragon arrived at the Space Station with cargo. Yes, the United States is in the space launch business still, even without the Shuttle.
It flew up to the station atop the Falcon 9 rocket (which SpaceX also developed, privately). When it arrived…
…Expedition 33 Commander Sunita Williams of the U.S. and flight engineer Aki Hoshide of Japan's Aerospace Exploration Agency grabbed it with the Station's robotic arm…
…and guided it to the docking port:
(Photos: NASA)
And that's an adventure. Whether you love it because capitalism triumphed or because you just like that we've saved billions of dollars, which perhaps means we can do more science in space, doesn't matter. It's a terrific success.
Is this sort of spending "worth it"? It's not just Tang, Velcro, and Teflon (none of which were actually created by, or even for, NASA!) A November 1971 study released by the Midwest Research Institute of Kansas City, Missouri, concluded that "the $25 billion in 1958 dollars spent on civilian space R&D during the 1958-1969 [Apollo moon program] period has returned $52 billion through 1971 — and will continue to produce pay offs through 1987, at which time the total pay off will have been $181 billion. The discounted rate of return for this investment will have been 33 percent."
And I'll bet that payback didn't stop in 1987.
More recently, a 1992 article in the British science journal Nature reported that "The economic benefits of NASA's programs are greater than generally realized. The main beneficiaries (the American public) may not even realize the source of their good fortune." That was based on the 1989 Chapman Research report, which examined 259 non-space applications of NASA technology during an eight year period (1976–1984) and found more than:
$21.6 billion in sales and benefits;
352,000 (mostly skilled) jobs created or saved, and;
$355 million in federal corporate income taxes.
Here's the kicker: those 259 applications, Nature noted, are "only 1% of an estimated 25,000 to 30,000 Space program spin-offs."
And all that is before the commercial space sector was allowed to play. (SpaceX isn't the only one, by the way. We'll finally have redundancy for launches as another company gets its efforts online too.)
By the way: Elon Musk: South African. Felix Baumgartner: Austrian. Space isn't just for Americans, not just for governments. Rather: "all humankind."
So yeah: I think there's a lot of adventure in our future: mind-blowing, thought-provoking, awe-inspiring achievement, and it won't just be government employees doing it. That's the best progress of all.
Been there, done that, seen it, ho hum? Not on your life. I can hardly wait for the next adventure. They're out there, if you just apply just a little attention to watch for them. All that happened in the past week.
- - -
This page is an example of Randy Cassingham's style of "Thought-Provoking Entertainment". His This is True is an email newsletter that uses "weird news" as a vehicle to explore the human condition in an entertaining way. If that sounds good, click here to open a subscribe form.
To really support This is True, you're invited to sign up for a subscription to the much-expanded "Premium" edition:
Q: Why would I want to pay more than the regular rate?
A: To support the publication to help it thrive and stay online: this kind of support means less future need for price increases (and smaller increases when they do happen), which enables more people to upgrade. This option was requested by existing Premium subscribers.