Another politician, another hypocrite — this time, the Speaker of the House of Representatives in Missouri. Let's start with the story, from the 17 May 2015 issue:

Leading by Example
"God I want you right now," John Diehl texted. "I wish you could have me right now," Katie Graham said in reply. Diehl said he "will have my way with you" and "leave you quivering." On the other hand, Diehl tells her later, "You have always been disappointed" when she asks him to "take care of me." Diehl, 49, was the Republican speaker of the Missouri state House of Representatives, and Graham, 19, is a college freshman — and was working as an intern at the state capitol. In screen shots of the texts, it can be seen that Graham changed the congressman's name in her phone from "John" to "Frank Underwood" — the name of a fictional Congressman on the TV show House of Cards who has an affair with a younger woman. When the Kansas City Star published the messages, Diehl, a "pro-family values" Republican who is married and has three children, resigned; Missouri Southern State University had already pulled all of its interns out of the capitol. (RC/Kansas City Star, KCTV Kansas City) …Why is it that so many politicians who work to legislate morals can't live up to their own edicts?
Some Samples of Diehl's Text Messages with Graham
(Click to see larger. Article continues below.)
I hadn't heard of John Diehl before he tripped over his pants (which were around his ankles). But the Missouri Family Policy Council, part of the evangelical Family Research Council, had earlier commended Diehl "for demonstrating moral leadership and true integrity in standing up for the sacred institution of marriage and the family values of the people of Missouri." The Missouri chapter of the Southern Baptist Convention similarly thanked Diehl for "fighting to defend biblical marriage." But he turned out to be Just Another Hypocrite who talked the moral talk, but didn't walk the walk.
Out the Door
At least Diehl did the honorable thing by resigning quickly, and without making his wife stand beside him, even if he did hesitate for a day (after apologizing, he laid out his plans: "I will begin immediately working to restore the trust of those closest to me, and getting back to the important work that is required in the final days of session." Only the next day did he resign as the pressure built.)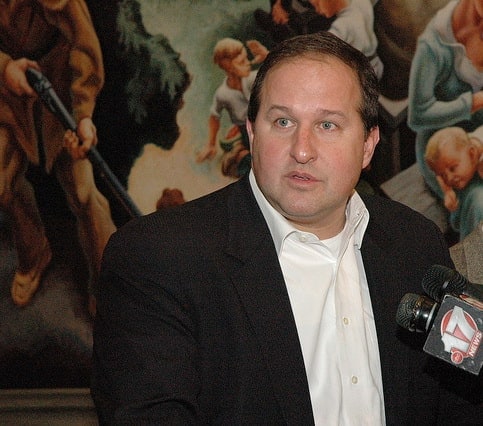 Don't Be Smug, Democrats
Don't make the mistake of thinking only Republicans have been caught making fools of themselves over young interns! Who can forget the Bill Clinton Fornigate fiasco in 1998? Where is there a greater power difference than between the President of the U.S. and a lowly, unpaid White House intern?
What bothers me about the Diehl silliness isn't so much his hypocrisy, but that he has damaged the opportunity for students to really learn as interns, since the school has canceled the program — at least for this year.
Real world experience was critical to my career path. An internship for a county "drug abuse education and awareness program" taught me loud and clear that I did …not! want to work in public relations, especially for the "drug abuse prevention" sector, since what I saw of "DARE" (Drug Abuse Resistance Education) programs convinced me that they would do little or nothing to reduce drug use in kids — by then, I had seen plenty of overdoses as a medic. Sure enough, later studies showed kids are more likely to use drugs if they've gone through DARE!
It was my other work experience, as a journalist with the campus newspaper, and more, later being selected editor of the campus magazine, that showed me that I was much more interested in publishing than P.R., and much more interested in features than original reporting. It created and focused my life path, I got a lot out of those experiences.
Other students deserve such experiences too, but Diehl couldn't keep his belt buckled and wrecked it not just for the teen he was panting at, but the rest of the interns. What an obliviot indeed.
– – –
Bad link? Broken image? Other problem on this page? Let Me Know, and thanks.
This page is an example of Randy Cassingham's style of "Thought-Provoking Entertainment". His This is True is an email newsletter that uses "weird news" as a vehicle to explore the human condition in an entertaining way. If that sounds good, click here to open a subscribe form.
To really support This is True, you're invited to sign up for a subscription to the much-expanded "Premium" edition:
Q: Why would I want to pay more than the regular rate?
A: To support the publication to help it thrive and stay online: this kind of support means less future need for price increases (and smaller increases when they do happen), which enables more people to upgrade. This option was requested by existing Premium subscribers.