I've made no secret that I'm pretty much 100 percent egalitarian. I've defended the religious, the non-religous, the "the pagans, and the abortionists, and the feminists, and the gays and the lesbians," and many others in True's stories. I'm interested in whether people walk their talk, not whether they're religious, gay, atheist, pagan, Muslim, employed, educated — whatever.

And not just in stories.
In Particular…
Let's focus on the "gay issue" (if you will). In recent months on my very popular Facebook pages, I've pointed out that retailer JC Penney "has guts" for something they did recently: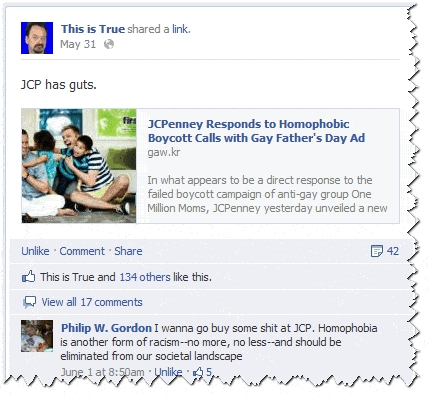 (Click the pic to see the post on Facebook, or here to see the article on Gawker about JCP being threatened by "Homophobic Boycott Calls" — and how they responded with Father's Day Ad featuring a real-life gay couple playing with their two kids. Now that's guts! And note that as of the time I grabbed a screen shot, the post had been "shared" by readers on Facebook alone 42 times, spreading the thought-provoking item to many hundreds of others.)
In May, after voters in North Carolina voted to deny civil rights to some citizens by amending the state's constitution to not recognize gay marriages, I fired up my graphics software and created the graphic shown here — putting a sentence that came to me in a dream into graphic reality.
This one was posted on my Get Out of Hell Free Facebook page (and was then shared on This is True's Facebook page (and my personal page) following that vote, to give my readers and friends something to think about:
(You can click the pic above to see the post on Facebook; as of this screen shot, this thought was "shared" by readers 160 times.)
So I'm "Gay Baiting"!?
So imagine my surprise to be told by reader Nanci in Maine that I was "gay baiting" with a story in the 3 June 2012 issue, which reveals me to be "too homophobic for my tastes" and "Not the first time, either."
The story? Here it is:
Not That There's Anything Wrong With That
Rich Dewberry exchanged his cell phone for a new one at a Best Buy store in Aurora, Colo. By the time he got home, someone had used his old phone to update his Facebook account. "I am gay. I'm coming out," the post read. "Calls started coming in immediately to my house phone," Dewberry said. "Friends, ex-spouses, they were all calling." Dewberry, 39, says he is not gay, but it has been a year now, and he's still getting questions. He has thus retained a lawyer. "My reputation has been tarnished and they're responsible for it," he says. "It just put a bad taste in my mouth." (RC/Denver Post, KMGH Denver) …Wait: I thought he said he wasn't gay?
Does the tagline "push the envelope" a bit? You bet it does! Just like many taglines. It's meant to be so unexpected that someone foolish enough to be drinking coffee while reading might spray some on their computer. It uses humor to call out a real issue: that clearly provokes thought and discussion.
Just as I do with occasional tags about heterosexuals, politicians, cops, ministers, etc. (and whether they're black, white, American, or not) — in other words, I treat gays (or in this case, someone terrified to be called gay one time over a year ago) just like anyone else.
Trying to Force a Label
Of course, anyone accused of being homophobic (or racist) is supposed to just accept it: denial supposedly just "proves" you're out of touch and don't know that you're homophobic (or racist or whatever).
I call bullshit on that.
The proof is how you treat people: do you treat one race differently? Do you treat those in the "LGBT community" differently? (For those of you not In The Know, that's the Lesbian, Gay, Bisexual and Transgendered community.)
Well, look above at just a couple of recent samples of posts I've made in public — even knowing that a considerable portion of my readership is very conservative, and I'm certainly going to get angry ranting about making such posts (and I did, as you can see if you look at the comments on Facebook).
Not the First Time, Either
And it's not just recent: I pointed Nanci to this story and the editorial about it that I wrote in HeroicStories from more than a dozen years ago, when I was that publication's publisher, after readers complained that I allowed a story to be published about "those people."
That editorial "doesn't appease me," Nanci said. Instead, she violated True's copyright and excerpted the story to her mailing list of 90 gay friends and (gasp!) got concurrence from two of those 90 — people who got the story out of context with, of course, Nanci's I'm-outraged-please-back-me-up introduction. Yet only two did.
"I stand by my original comment," Nanci concluded. "It was tasteless (no pun intended)."
Well yeah it was tasteless, even keeping out of the pun realm! This has what, exactly, to do with my supposedly being a "gay-baiting homophobe"?
I Can Get Feedback Too
Let's just say my list is a lot bigger than Nanci's — and in this case, size does matter. If it's true that LGBTs are not quite 4 percent of the population (source), the gay readership of This is True is much larger than Nanci's list. And yeah, I also got exactly two complaints too, including Nanci's.
But here's the real point: If straight opinion leaders who have the guts to make such postings in public are castigated for treating LGBTs just like everyone else, what does that say to those who would deny them their rights? That yes, "the community" demands special treatment — to be treated "more equal" than others.
That's a terribly dangerous thing to demand, because it gives bigots a compelling and defensible reason to deny others simple equal rights. I'm of the opinion that "all men (and women) are created equal." I stand up against those who would deny black people, Asian people, Latino people, and LGBT people their basic rights, such as the right to marry each other — blacks, for instance, were denied the right to marry whites in my own country, and in my own lifetime, and we finally put a stop to that crap.
But I also stand up against those who would demand to be treated better than others too, whether they're white, or black, or Asian, or Latino, or LGBT.
Equal: nothing less — and nothing more, since that puts the lie to their demands. And yes, equality includes being able to laugh at those who insist for over a year that they're not gay ("Not That There's Anything Wrong With That") — yet sue over the "damage" of one idiot making one post to their Facebook account that was quickly repudiated.
Quit Fighting Your Allies
So to Nanci (as well as to Rich Dewberry) I say this in all seriousness: grow the hell up, be equal, and choose your battles more wisely just like everyone else has to. Because otherwise, the world will make fun of you — and rightly so.
– – –
Bad link? Broken image? Other problem on this page? Let Me Know, and thanks.
This page is an example of Randy Cassingham's style of "Thought-Provoking Entertainment". His This is True is an email newsletter that uses "weird news" as a vehicle to explore the human condition in an entertaining way. If that sounds good, click here to open a subscribe form.
To really support This is True, you're invited to sign up for a subscription to the much-expanded "Premium" edition:
Q: Why would I want to pay more than the regular rate?
A: To support the publication to help it thrive and stay online: this kind of support means less future need for price increases (and smaller increases when they do happen), which enables more people to upgrade. This option was requested by existing Premium subscribers.