We've been totally swamped lately. It wasn't just the GOOHF water bottles, which were extremely popular and the huge quantity we were able to get sold out in about a month (but sorry: we really can't get any more, since the manufacturer discontinued them — figures!).

But also, during that time, my team has been moving 39 web sites from our old server to a whizzy new one (if you've noticed that the web sites seem to load faster, that's why).
Naturally some problems crept up, not the least of which was that my head tech, who was leading the new server task, not only had to go in for some unexpected surgery, but complications arose and he had to go back for more (bummer!). We also had a few site glitches after the move, most of which have been fixed.
If that wasn't plenty enough, my wife's web sites (which were included in that move) are making her more and more busy, so I needed to hire someone to replace her so she can spend time on her own stuff. Kit's good enough that it took two people to replace her.
New hires Amy and Katie* are going to job-share, since it's about a 60-hour-per-week position. That will help give us more even coverage, so if someone wants to take a vacation things won't screech to a halt (and if we have another really popular product that sells out over a few weeks, we won't get so behind in shipping).
That should help us not be swamped, right? Yes, it will — after Katie and Amy get up-to-speed on their new jobs. Meanwhile they've both just started this week, so they're pounding away at the steep learning curve.
* (Confusingly enough, Katie is not the same Katie that's featured in the new This is True video series.)
Your Support Makes it Possible
Meanwhile, I've also hired another techie nerd to help out, since my main tech is too busy with other clients for more projects from me — and I do have two big new projects in the works. Tom (the new tech) will be helping get those going. One is already online and in testing before we lay a new design on it; watch for an announcement of what that is in the next few weeks.
Tom has a full time Day Job, so can't help out a lot, but he's already making progress. Once that's up and running, then we'll start on the next one. It all will be fun, interesting, and/or thought-provoking high-quality online content. You know: the sort of good stuff you've come to expect from True. And I can bring these folks on because of your support: the more of you who contribute — usually in the form of a Premium subscription, the more resources I can offer in return.
Here's something wild about working for me: when Amy came in for her interview yesterday, she didn't find us in. Actually, she never made it to the house, since there was a huge wreck right out front; she saw us there and pulled over and asked if we needed a hand.
Kit and I live a quarter-mile from a fairly busy county road. It's fairly busy despite being packed dirt and gravel, not pavement. The "street" I live on is loose gravel; it's a half-mile long, but there are only four houses on it. A neighbor was turning onto our road to visit one of the other houses when a tow truck passed him going (a witness said) 65 mph; the speed limit is a generous 35 mph.
Uh oh: passing a car that's turning? Yep: whack. The heavy tow truck smashed the little SUV, rolling it both laterally and end-over-end. Luckily it landed right-side up.
I was in my office and heard it, but didn't realize what the "thump" sound was until my pager went off. Not surprisingly, Kit and I were the closest medics, and we got there very quickly. Kit jumped into the smashed car to stabilize the driver while I got on the radio to call in our extrication team — we'd need the "Jaws of Life" to get the guy out. And he was a neighbor — I know him.
Amy handled the disruption in stride. You can kinda see why we hired her.
Here's a photo, taken by the neighbor he was coming to visit — she didn't know who the victim was until I told her: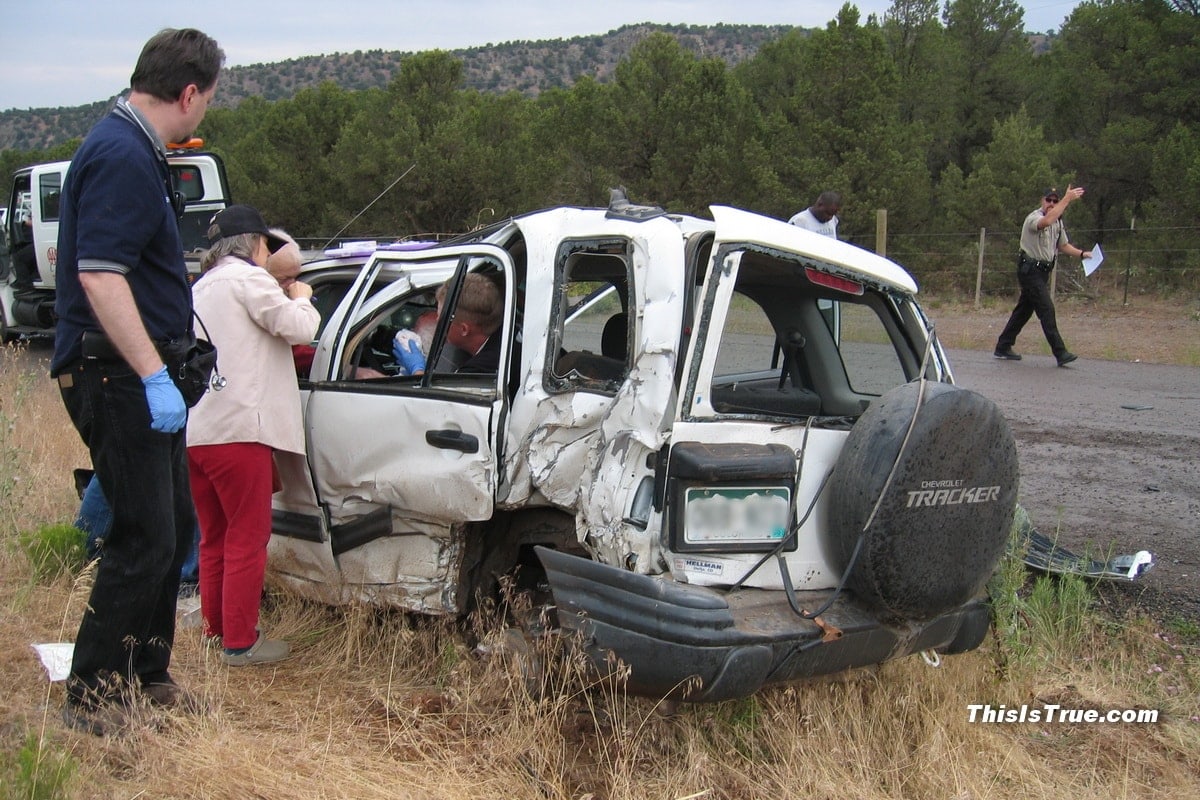 – – –
Bad link? Broken image? Other problem on this page? Use the Help button lower right, and thanks.
This page is an example of my style of "Thought-Provoking Entertainment". This is True is an email newsletter that uses "weird news" as a vehicle to explore the human condition in an entertaining way. If that sounds good, click here to open a subscribe form.
To really support This is True, you're invited to sign up for a subscription to the much-expanded "Premium" edition:
Q: Why would I want to pay more than the minimum rate?
A: To support the publication to help it thrive and stay online: this kind of support means less future need for price increases (and smaller increases when they do happen), which enables more people to upgrade. This option was requested by existing Premium subscribers.