A local ice cream parlor puts cherries on its sundaes. But not some crappy maraschino cherry *. They have their cherries flown in from Italy, and they're so fantastic I bought some, and had to find other uses for them so I don't have to eat so much ice cream! What I came up with a buddy says I should call "The Amazing Martini"! The recipe is below.
First, the Right Cherries
The Amarena cherry is a variety of prunus cerasus developed by Gennaro Fabbri (born 1869 in Bologna, Italy). His wife Rachele picked the cherries and slowly cooked and semi-candied them in copper pots. Gennaro, in turn, bought a ceramic jar from Riccardo Gatti, an artist from Faenza, to store what she made. They had to buy a lot of those white and blue ceramic jars, because the couple started commercial production of those candied cherries in 1905, naturally naming the brand Fabbri.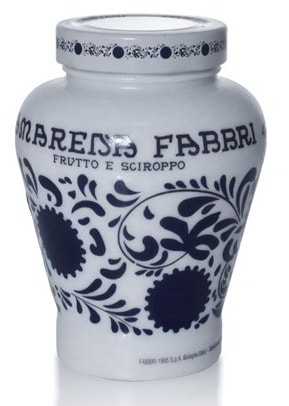 The company is still family-owned today, and the cherries still come in the beautiful blue and white ceramic jar. They're a great combination of tartness and sweetness, and slam your tastebuds with intense cherry flavor.
I was immediately hooked — but see update below!
WHERE?!
I asked Torben, the ice cream man at Cafe Ridgway a la Mode, where he gets them. He imports them from Italy, he told me: they're on auto-ship. Hm. "Can you get them from Amazon?" I asked. He stopped cold, looking at me for a long moment. He stepped over to his computer, which was already sitting on the counter, and started typing.
"I'll be damned," he said — they have them! "How's the cost?" He looked at the screen, picked up the jar from the counter to look at the size, and looked back at the screen. About the same, he said. "Even with shipping?" Yep.
I went straight home and ordered a jar — with free shipping since I have Prime. Not as cheap as the grocery store crap: about $20 for a 21-ounce jar, but 21 ounces is a lot, since they're so flavorful you'll only want a couple-few at a time. (Don't have prime? Just add more items until you get to the minimum for free shipping. I'll recommend a second jar, or maybe a couple of martini glasses….)
They arrived two days later, heavily packed to keep the jar safe. Since then, I've had some every … single … day! I'll toss some in my breakfast cereal. I'll mix them in with other cut fruit. And, yes, anytime I have ice cream, I throw a couple on that, too.
But I Wanted Another Way to Have Some!
Naturally, I quickly got the idea to put them in my favorite cocktail, a vodka martini. You'd think that would be great, but no: I didn't like it very much at all. The sweetness was washed away by the vodka, and the tartness was intensely pronounced. Not quite what I had in mind.
So I thought about it: what would compliment the sweetness? What would it "naturally" go with?
How about …a different kind of sweetness?
Then it hit me.
Rum!
The next night, I pulled out my favorite sipping rum: Zaya, an amazing blend produced in Trinidad and Tobago that's reasonably priced for what it is. Of course, other rums of high enough quality to sip straight would be fine too, like Diplomatico Reserva (from Venezuela. Dec. 21 Update: that has since become my favorite).
I poured some over ice, tossed in a few cherries with a little of their syrup, and stirred.
And it was fantastic.
I texted my buddy Bill, who loves food and drink even more than I do, to say he needed to come over and try it. It was late, and I went to bed. The next morning I had a reply text: "When?" Whenever you get here, buddy!
The Recipe, with a Refinement
Before Bill could get here, I came up with a refinement that took the drink from fantastic to amazing. When Bill tasted it, he agreed: I should call it The Amazing Martini, he said — "You could patent this!"
Well, probably not, so let me simply share it with you! Here's the recipe I came up with, which I split into two martini glasses, one for each of us:
Cherry Rumtini
2 parts fine rum, such as Diplomatico Reserva or Zaya
1 part Amaretto (I use Disaronno Originale, which also happens to be made in Italy)
Shake vigorously with ice in cocktail shaker
Pour over 3 cherries in about a teaspoon of their juice, and stir.
Not a drinker? You probably want some of these cherries anyway, for your cereal, fruit, or ice cream.
Are a drinker? Try this. Or just put these into an Old Fashioned.
Trust Me: once you've had these, you won't want a factory-made maraschino ever again.

---
December 2021 Update
First, I found that Trader Joes has a seasonal (Christmastime only) offering of amarena cherries in a one-pound jar for $3.99, which is a steal. My closest TJs is a 7-hour drive, but I was able to get some on a trip last year. They are better than the brand discussed above: larger and firmer. They also have stems.
Once those were gone, I started researching to see if I could find what company provides them to TJs, and I think I did: this Christmas I tried Rex Amarena cherries, also from Italy. They are also larger and firmer, but no stems. As of this writing they are $15 on Amazon for a 35 oz can. I popped open the can and spooned them into a jar to keep in the fridge.
Better and cheaper? That's a no-brainer for me, and I have a spare can in the pantry in case you all buy so many the price goes up. 🙂
Enjoy!
Note: I was not asked to, let alone paid to, run this "review"/recipe. I only recommend products I personally enjoy: I bought my own cherries, and have never been given any by any manufacturer. I am simply presenting this recipe to bring something tasty to the world. If you buy the cherries from Amazon using the links here, I'll get a small kickback from Amazon for sending you their way, which won't affect the price you pay.
– – –
Bad link? Broken image? Other problem on this page? Use the Help button lower right, and thanks.
This page is an example of my style of "Thought-Provoking Entertainment". This is True is an email newsletter that uses "weird news" as a vehicle to explore the human condition in an entertaining way. If that sounds good, click here to open a subscribe form.
To really support This is True, you're invited to sign up for a subscription to the much-expanded "Premium" edition:
Q: Why would I want to pay more than the minimum rate?
A: To support the publication to help it thrive and stay online: this kind of support means less future need for price increases (and smaller increases when they do happen), which enables more people to upgrade. This option was requested by existing Premium subscribers.