I got a protest unsubscribe this weekend from "EJ" in California, who complained:

Just too much coming in! Also your dim view of politics shows more ignorance than knowledge. Any nitwit can bash Washington. But only close observers realize the cause of the crisis: the Tea Party and lame GOP leadership.

But thx for some chuckles.
The funny part is, I had no idea where EJ was located when I saw the complaint, and I was anticipating that "close observers" such as EJ would pin the blame directly on "the progressive left and Obamacare" (or similar).
At least for once, he (she?) wasn't blaming me for promoting/bashing the left/right. As long-time readers know, I'm an equal opportunity basher, simply because I think it's the two party system — both parties — that are leading the country to hell (and that's the hell of your choice: literal or metaphorical).
Right vs Left
I had seen a graphic "meme" on Facebook awhile back, and it came back to me after reading EJ's whine. It shows the Democrat's symbol, the donkey, facing left, and the Republican's symbol, the elephant, facing right. There are two captions above those: "Clowns to the Left of Me" and "Jokers to the Right" and one at the bottom: "Here I Am, Stuck in the Middle With You." I couldn't find it, so I recreated it: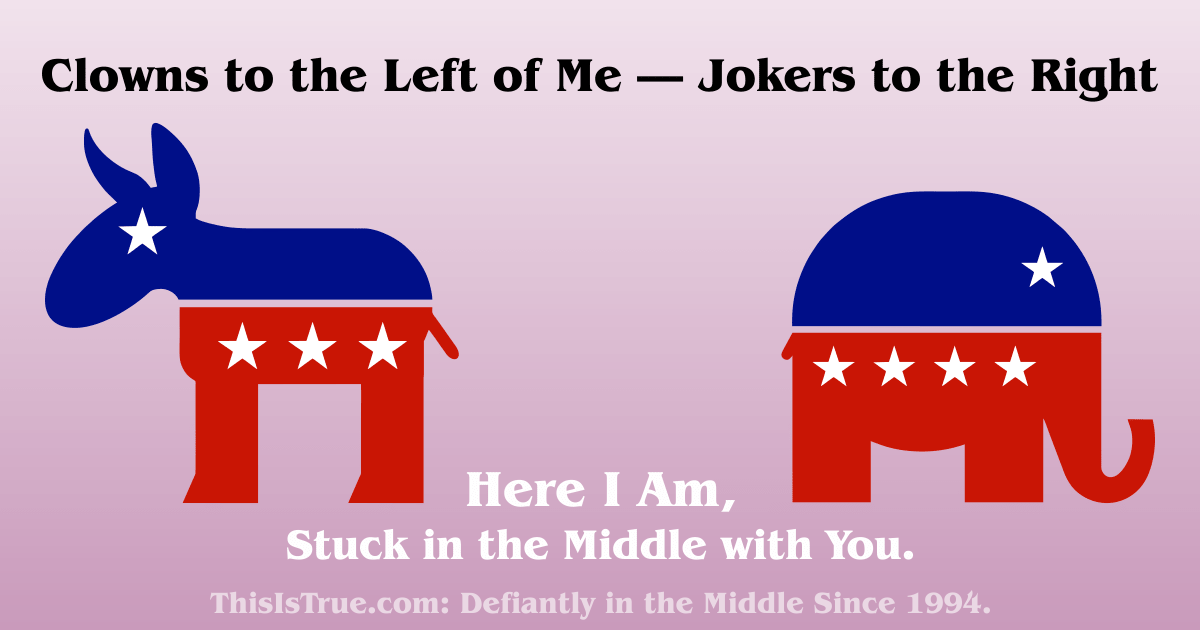 I commented, "And what do they do to us in the middle? Well, notice where their tails are, and what is emitted just below same."
In just the first 10 minutes, the graphic was "Liked" more than 40 times, and shared more 20 times. I have little doubt that both left-leaners and right-leaners are among the readers who did. I haven't met anyone on the right who fully approves of everything the Republicans do, and no one on the left who fully approves of the Democrats' actions. The majority is a lot closer to the middle than either edge.
So I refuse to take EJ's bait. I don't fall for the notion that "the other side" is solely to blame for the constant messes we're in. What one party's president/Congress starts, the other continues (even after his own party has thoroughly bashed it, whether "it" is drones, spying, overreaching TSA security, or whatever else). So no, I don't point my finger at the left or the right, I point it at Washington D.C. in its entirety. If I'm a "nitwit" for that, I'm in excellent company.
"This is True: Defiantly in the Middle Since 1994."
– – –
Bad link? Broken image? Other problem on this page? Use the Help button lower right, and thanks.
This page is an example of my style of "Thought-Provoking Entertainment". This is True is an email newsletter that uses "weird news" as a vehicle to explore the human condition in an entertaining way. If that sounds good, click here to open a subscribe form.
To really support This is True, you're invited to sign up for a subscription to the much-expanded "Premium" edition:
Q: Why would I want to pay more than the minimum rate?
A: To support the publication to help it thrive and stay online: this kind of support means less future need for price increases (and smaller increases when they do happen), which enables more people to upgrade. This option was requested by existing Premium subscribers.