Another Year Gone Already. It sure seems to have gone by in a hurry. In Future Shock, Alvin Toffler's 1970 book about the future, he thought people might want to stand out as different by wearing weird clothes and oddly colored hair. Check. He thought the pace of change would accelerate. Check!

But what really caught my eye when I read the book way back in the 70s is that time seems to go by faster the older you get. The theory: a year is a long time to a 10-year-old, since a year is a tenth of her life. But a year is a mere 2 percent of a 50-year-old's life, and that's just a flash by comparison. That intrigued me as a youngster when I read the book — that different people could perceive the same events in different ways. These days, it seems hard to find two people who perceive the same events in the same way….
What's the Shock?
Toffler's main concern — the "future shock" — was that society would reach a point of "information overload," where we would be bombarded by so much information that we'd not be able to make any decisions at all. Not many of you would disagree that's here! Here's what I think is interesting about that idea: in the past, we relied a lot on gatekeepers to decide what information to pass on to us, like TV networks, local newspapers, and large-circulation magazines. So as the information glut gets bigger and bigger, we rely on those gatekeepers more and more, right? Well, so much for that theory: they're all in decline.
So what has replaced those communications behemoths? Well, other communications behemoths, to be sure, but also a lot more smaller voices: niche commentators and analysts who can help put things in perspective in different ways.
Yet at the same time, we're freed from corporate overseers who demand that we don't touch sacred cows — like their commercial sponsors. I love that True is almost entirely funded by its readers; I don't have to shy away from the interests of any one giant funding agent. I can point out what's crazy in any economic sector, any government agency, any information behemoth, any church, any political party.
Might I anger some of you? Certainly, but none of you have a "controlling interest" that can shut my voice down because you disagree with my skewering a sacred cow. And that's very liberating.
I appreciate that you've chosen This is True as one of the filters through which you view the world, to help you sort through the information overload so that you're not bombarded by so much noise that you can't make any decision at all. And I think overall, that's healthy: it's no longer the case that everything is filtered out of New York or other "information capitol." We can still choose them as part of our mix, but we can add other voices as part of the checks and balances on what we're being told.
Yet our lack of having to kowtow to corporate interests is also a vulnerability: we have to find other funding to keep going. I am so grateful that enough of you have found True worthy of your support; you truly do keep it going. Thanks!
Where I Wrote This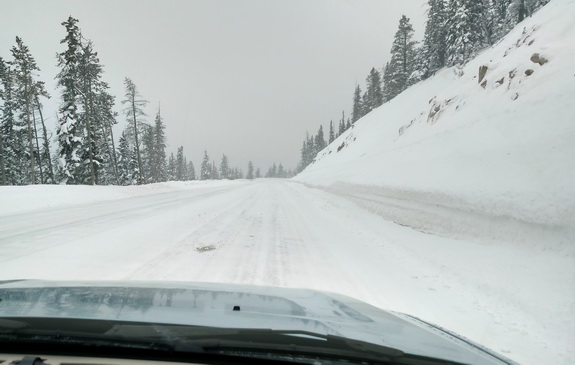 I Did My Story Writing Yesterday at a friend's house in Boulder. We popped over to visit Kit's parents for the holidays, and stayed with Amy Gahran, a fellow writer * I met shortly after moving to Colorado. She told me about her huge new writing project, which incidentally is merely a multi-year project rather than a lifelong project thanks to the technology at her disposal.
It's still too early to reveal what it is, but it could be groundbreaking — Amy is another independent voice who has the guts to explore a part of life that I don't think any corporate-funded media outlet would delve into. Heck: I'm pretty darned open-minded, and it shakes my worldview a little! But that's why we need diverse voices out here; it's healthy to disintermediate …the media!
Today, meanwhile, we're on our way back — driving through the mountains …during a snow storm. I'm sitting in the passenger seat with my laptop as Kit heads us home. So I'm also grateful for much more reliable cars and tires than we had in the 60s and 70s, that communications advances means snowplows are routed to where they're needed the most, and that we are getting past the assumption that women can't do things like drive well! All are awfully positive changes in the world.
As we drove, I was able to use my smartphone to look up what year Future Shock was published. And I'm able to do my work on a computer that's ever-more-capable, yet smaller and lighter, than the previous model.
And I'm grateful for that, too: my job is flexible enough that I can do it on the road. It makes up for those unrelenting weekly deadlines! I did my Honorary Unsubscribe research before we hit the road (there was good, fast Internet at Amy's), so I could write the H.U., and these year-end thoughts, on the go.
Always On?
Some might consider this a negative of societal change driven by technology. "Poor guy can't get away!" But I like it. I love my job, rather than resent it, so I can get away and keep up with it. So why not get away frequently: business trips or social, just grab the laptop and go!
But the transition, the change, as Toffler put it, can be uncomfortable. We've seen it: so many jobs lost. So much upheaval. Those strange looking people want to get married, fer gawd's sake! Martha! Cover the children's eyes! The one with blue hair is kissing the one with green hair! Eeek!
But they're forgetting the power of change: we can even change careers. Even though I enjoyed it, I dumped out of a great career as a "Member of the Technical Staff" at NASA's Jet Propulsion Laboratory to become a social commentary guy, frivolously using "weird news" as the conduit to explore the human condition.
My making such a huge change didn't impact your life …unless you wanted it to by becoming one of my readers. The rest of the world ignored me, as is proper: they had other information competing for their attention.
Still, tech-driven change allowed me to make that choice for myself, and that's a good thing. All I had to do was learn some new skills, which meant buying some books and seeking out a couple of teachers to enable my career change. And as I recall, Toffler predicted that, too: that younger people would embrace change, and adapt to it, and it wouldn't be such a big deal.
Maybe that's why I was OK with changing careers myself: because I read Toffler's book back in the 70s I've had plenty of time to watch the changes unfold, rather than be surprised by them.
An awful lot of you have lived through the same changes, and you probably had a completely different experience. It's hard to just "let go" and not worry about it, but there's one easy place to start: don't worry about changes in others; you can ignore them, or if it's advantageous, embrace them, such as your choice to become a reader when I changed careers. The gal I married doesn't have blue hair, but there's no reason to worry if she did: I'd be the one that had to look at it!
So here's to the new year, and whatever changes it may bring.
– – –
Bad link? Broken image? Other problem on this page? Use the Help button lower right, and thanks.
This page is an example of my style of "Thought-Provoking Entertainment". This is True is an email newsletter that uses "weird news" as a vehicle to explore the human condition in an entertaining way. If that sounds good, click here to open a subscribe form.
To really support This is True, you're invited to sign up for a subscription to the much-expanded "Premium" edition:
Q: Why would I want to pay more than the minimum rate?
A: To support the publication to help it thrive and stay online: this kind of support means less future need for price increases (and smaller increases when they do happen), which enables more people to upgrade. This option was requested by existing Premium subscribers.