The Two Lead Stories this week (the "asthma stories") were by far the most-suggested stories by readers recently. I think every one of them just suggested one or the other, and they probably didn't know about the other. The two stories, which happened about a week apart, and about 165 miles apart, are pretty amazing together. Let's start with the two stories, in True's 24 January 2016 issue:

Do the Right Thing
When a student at Gateway Middle School in Killeen, Texas, had an asthma attack during class, the teacher took quick action, per district protocol: she emailed the school nurse and waited for an email reply. Several minutes later, the girl collapsed onto the floor. Fellow student Anthony Ruelas, 15, decided to take action: he "proceeded to go over and pick her up, saying 'we ain't got time to wait for no email from the nurse'," the teacher wrote. "He walks out of the class and carries the other student to the nurse." Various sources say he saved the girl's life, but the school suspended Ruelas for two days because he "walked out of class." The next day, the school called Ruelas's mother demanding to know why he was absent. She had to remind them he had been suspended. Superintendent John Craft issued a statement noting that "Students rendering assistance and their efforts are to be applauded." (RC/Killeen Daily Herald, KCEN Temple) …The students can't hear that applause from home, sir.
Trying to Breathe in Texas II
Indiyah Rush, 12, a 7th-grade honor roll student at Schrade Middle School in Garland, Texas, is an asthmatic and dependent on her inhaler. When fellow honor roll student — and fellow asthmatic — Alexis Kyle, 13, had an asthma attack during gym class, but didn't have her inhaler with her, Rush loaned the girl hers. "They punished her twice," complained Monique Rush, Indiyah's mother. "They suspended her on top of sending her to alternative school. I mean how could you do a kid like that?" The school says according to their zero tolerance drug policy, a 30-day stint at a reform school is the "initial" and "automatic" punishment for "sharing" a "controlled substance" — and asthma inhalers qualify for that classification, along with marijuana, according to district policy. And sure enough, "sharing" goes both ways: Kyle was also suspended and ordered to the alternative school for the outrage of wanting to breathe. "The little girl saved her life," says Kyle's step-father, Michael Green. "And the reason we say that [is] because we have been [in] situations where she has been to ICU, so we know how bad her asthma is." After an outcry, the school relented and let the girls return to school after a week of suspension — but the district says they still stand by their zero tolerance policy. (RC/KDFW Dallas) …Strict adherence to the rules: still more important than students' lives.
But Let's Not Just Point at Texas
This isn't just a Texas thing: this happens all over. I'm certainly not being overly dramatic by saying this can be a life or death situation. Ryan Gibbons, 12, of Straffordville, Ont., Canada (you know ZT is international, right?) died October 9, 2012, because his school wouldn't let him carry his inhaler with him. They literally took it away from him.
After Ryan's death, his mother campaigned for a new law to force schools to allow kids to have their inhalers with them. It took three years, but Ontario passed it — and apparently Ontario is still the only Canadian province to have such a law. It's called "Ryan's Law".
Yet "There are still school boards all across this country and schools within those boards that don't allow children to carry their puffers," said Rob Oliphant, president of the Asthma Society of Canada. "It's usually part of a blanket understanding of medications, so they say medications are unsafe, they have that idea in their head, so they lock them up in the principal's office."
Gross Negligence
Bryant Elementary School in Philadelphia, Pa., did not allow Laporshia Massey, 12, to have her inhaler. Worse, students there are not allowed to take medications without a school nurse present. You guessed it: there was no nurse on duty on September 25, 2013, when Massey had an asthma attack.
Rather than call 911, the school took the girl home, where she died. Her parents sued the school.
Those are just two cases I found in a quick search: there are more.
"Certainly as a doctor we think about controlled substances like narcotics or illegal or illicit drugs like marijuana and they are nowhere near the same category," says Dr. Gary Weinstein, director of the Asthma Management Program at Texas Health Presbyterian Hospital in Dallas, commenting on the Garland case. Yet schools freak out because inhalers are "drugs" and we must "Just Say No!" to "drugs" because that's the zero tolerance way.
Meth and cocaine are not the same as albuterol inhalers, which "have little potential for abuse," Weinstein says. Yet after all these years — and death after death — schools can't seem to grasp the difference. A drug is a drug is a drug.
Florida, Of Course, Too
The nurse at Volusia County (Fla.) School watched as Michael Rudi, 17, collapsed on the floor from an asthma attack. He had made it to the office in time, but the nurse wouldn't give him his inhaler because she didn't find a medical release form signed by a parent. His inhaler was there, in its original packaging with Michael's name on it (and his doctor's!), yet without that form they wouldn't give it to him.
They called his mother, but she was not allowed to give permission over the phone; she had to come to the school and sign the form. "As soon as we opened up the door, we saw my son collapsing against the wall on the floor of the nurse's office while she was standing in the window of the locked door looking down at my son, who was in full-blown asthma attack," Sue Rudi says. She barely got there in time: her son lived.
"I believe that when I closed my eyes I wasn't going to wake up," the boy said later. He was sure he was going to die — while a medical "professional" passively watched.
Cheryl Selesky, the district's Director of Student Health Services, insisted it was Michael's parents' fault for not being sure a new signed form was on file — none of the forms they had signed for the previous school years were good enough. Following her rule was more important than Michael's life. The school couldn't even be bothered to call 911. And that's with a trained nurse present!
There's a Better Way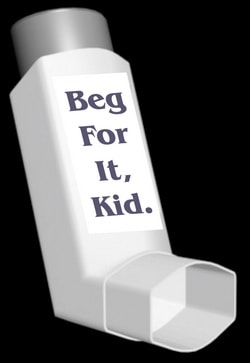 Kids need to be part of their own healthcare: they know when they need life-saving medications, and teachers and school administrators have no business butting in and taking those medications away. Having them locked up in the school office is no substitute even when there is a nurse on duty …which is increasingly rare in U.S. schools.
Kids with medical problems have enough problems with bullies among their fellow students. To institutionalize the bullying by making kids gasping for breath walk or be carried to the office to beg for life-saving medications, because they're "controlled substances" not differentiated from hard drugs like heroin or meth, is absurd, and not in the best interest of the kids, society, or the taxpayers who have to foot the bill when the schools are sued over their gross negligence, allowing — even forcing — the deaths of the pupils in their care.
It's downright sadistic.
Why Isn't There a Law?
There is. U.S. News and World Report magazine reported in 2012 that "all 50 states have laws that allow children with asthma to carry inhalers at school and 48 states have laws that let youngsters carry epinephrine pens for serious allergies," yet "experts say that some kids are still being denied access to these lifesaving medications during the school day." Obviously, in 2016 that's still the case.
When school officials get in the middle of the care between a child and their doctors, those school officials need to be personally liable for their decisions: no hiding behind "policy" or "zero tolerance" whether there's a law or not. They need to be sued and lose their jobs and homes, and local authorities should consider criminal charges — and prosecutors should press for prison time.
Hell, that happens all the time when people treat animals that way, so why don't we press charges when school administrators treat children this way? This crap needs to stop, and right now: there is no reason for these children to suffer, even die, when help is so easily available.
Sources:
- - -
This page is an example of Randy Cassingham's style of "Thought-Provoking Entertainment". His This is True is an email newsletter that uses "weird news" as a vehicle to explore the human condition in an entertaining way. If that sounds good, click here to open a subscribe form.
To really support This is True, you're invited to sign up for a subscription to the much-expanded "Premium" edition:
Q: Why would I want to pay more than the regular rate?
A: To support the publication to help it thrive and stay online: this kind of support means less future need for price increases (and smaller increases when they do happen), which enables more people to upgrade. This option was requested by existing Premium subscribers.