A previous post mentioned Hong Kong's terrible smog (a word the Chinese don't seem to know, but they understand "air pollution." Another reader says there's another term for it that's spreading like the smog: the "Asian Brown Cloud").

The next day a breeze came up and we had blue skies, which was sure nice, but over the next couple of days it got progressively worse again. But even then, it was never as bad as our next stop, a brief stay in Guangzhou (formerly known as Canton), where we could literally see haze between our bus and the buildings along the street.
The next morning we headed for the airport for our flight to Lhasa, Tibet, where we anticipated we'd see clear skies. We were definitely not disappointed.
Difficulty Breathing
In the smog, though, Kit had developed a nasty cough. She's a bit predisposed to bronchitis, and was a bit worried that it would get worse the longer she stayed in the smoggy environment.
And I was noticing it hurt to breathe, too — very reminiscent of growing up in Los Angeles. So it was a literal breath of fresh air to see the clear blue skies of Tibet. Here's our first impression of Tibet: not exactly what we were expecting!
Lhasa has its own respiratory issues, though, due to its altitude: nearly 12,000 ft (about 3,650 m), which makes the air pretty thin — altitude sickness is fairly common here.
I didn't think it'd be much of an issue for us, since we live at 7,500 feet ourselves. We're quite well versed in the subject: altitude sickness is a common problem with tourists in our county, resulting in a fair number of ambulance calls, so it's covered well in our EMT classes and continuing education. (One highlight of that was a lecture by the top western medical expert on the subject, Peter Hackett M.D., who lives near us.)
But even though we live at altitude, Kit's cough/bronchitis was already causing her respiratory distress, and getting up to 12,000 feet pretty well pushed her over the edge. By the first night she was doing quite poorly, and we checked her blood oxygen saturation: just 79% (ideally, it should be in the 90s).
House Call
The hotel we're in here in Lhasa is truly 5-star: they have a doctor on duty 24×7, and we called him in. Not surprisingly, he was Chinese. He had an interpreter, but communication was still pretty difficult. That was particularly painful for me: I really wanted to know what he thought and what he planned on doing, but I couldn't really get full information; we just had to put Kit in his hands and trust he knew what he was doing.
He came up to our room — by then, it was well after midnight — and treated her right in bed. Oxygen, an IV, and a wide variety of drugs, which appeared to be a combination of western and Chinese. He assured us that Kit would feel better in the morning.
And… she did. He didn't leave our room until about 3:15, and by then she was able to sleep pretty well. And even though I canceled our 7:00 a.m. alarm in hopes she'd get some extra sleep, she popped awake at 7:30 feeling about "95%" well, she said.
It was in marked contrast with another American guest in the hotel that we saw today, who decided not to go with the full treatment, and still felt quite ill the next day. We checked Kit's oxygen saturation the next morning too: 89% — not yet ideal, but far better than last night.
Medical School
It all very neatly tied in with one of our stops today. Our tour guide, knowing we have an interest in medicine, arranged for a stop at the institute for traditional Tibetan medicine. Our host there was an expert in both Tibetan and Chinese acupuncture, and spoke excellent English. He gave us about an hour's lecture on how traditional medicine is taught to students, using Buddhist thangka charts developed 700 years ago.
And even for someone like me who is steeped in western medicine, it made total sense: one chart (shown below, though not very clearly) showed a tree that broke into two branches, one (left) being the healthy body and the other being the sick body.
He pointed at the "healthy" side: simply, he said, physiology. The other side: pathology. In its way, this 700-year-old chart showed the basics of western medicine — what we have learned in the past couple of hundred years.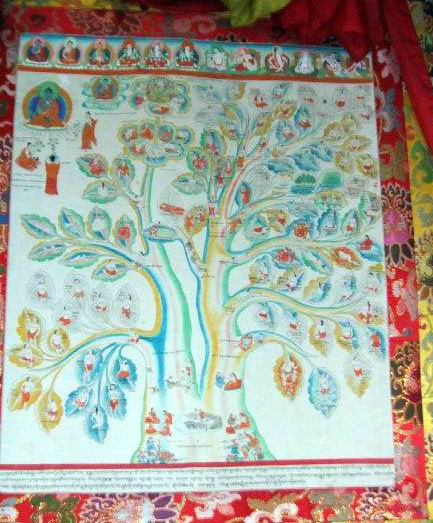 Not bad for an hour's lecture; a full course for a new student, he said, takes five years.