I've never been to Asia before. One's first trip to the other side of the world can be pretty disorienting (no pun intended), but Hong Kong is a nice way to stick your toe in the water: so many people speak English, though our local guide says the younger someone is, the less likely they speak it very well. Too bad!

But my first hint at something different enough to be a surprise came on the 14-hour plane ride across the Pacific. First, in complete contrast with my recent experience flying, the flight overseas proved that even American-based airlines (in this case, United) still know how to give good service: overseas flights are great, compared to domestic hops. There are enough flight attendants to give superb service, the food is OK (not quite good), and alcohol flows for free (well, included in the ticket cost).
But that wasn't what was surprising. Rather, it was when I went for some of that "free" alcohol and realized that while enroute Asia, I could probably get a real Tsingtao Chinese beer — "Brewed with Laoshan Spring Water".
I did, and immediately noticed something very different about it: the cans had the old-style pop top, the kind that come off the can when you pull them. I haven't seen one of those in more than 20 years, after a bunch of lawsuits in the U.S. from stupid people who pulled the tab, dropped it in the can, then gulped down their beers got chunks of metal stuck in their throats.
So, this concept that the Chinese are way behind the U.S. on product safety, thinking nothing of slapping lead-based paint on kiddie toys? Obviously it's just part of a trend. (But hey, I like it! Kind of nostalgic, really. After all, I was one of those kids that didn't wear a helmet when I rode a bike, in part because they weren't available for sale back then….)
I Saw the Problem Clearly
But on arrival in Hong Kong, there was something from my childhood that I remember well, but am decidedly not nostalgic for. I grew up in 1960s Los Angeles, and remember the air being thick with smog. Smog so pervasive and poisonous that it sometimes literally hurt to breathe.
The air in Hong Kong is like that today (it was probably pretty clear in the 60s!) Truly, truly awful. At one of Kit's meetings, we were hosted by a senior Vice President of the Langham Hotel chain, a friendly Chinese man responsible for developing the chain in Asia.
Kit asked him about whether the chain paid attention to the environment. He was passionate in his reply: how sad it is that Hong Kong is so dirty and hot this late in the fall, how terrible it was to visit Alaska this year and see how far the ice has retreated, how the hospitality industry has to work much harder to be more gentle on the earth.
At least part of Chinese hospitality industry "gets it." It's about time the rest of the truly wasteful hospitality industry starts getting it too, especially in the U.S., which used to lead the world in hotel operations strategies.
But this is the reality of the air in Hong Kong today — this was taken at high noon: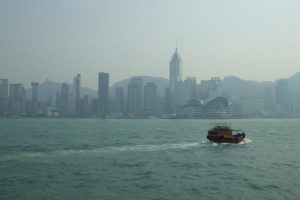 The grayed-out buildings in the distance are only about a half-mile away, on the other side of the harbor. The natives are proud of their convention center, based on the Sydney Opera House (right above the junk motoring across the foreground). Hey, if visitors can't see it, we're not going to be impressed!
And let's finish this entry with a positive note–
You know, when we really try, Kit and I can really clean up for dinner. This is us just before we supped with our delightful host from the Langham hotel chain.