Sometimes it's fun to poke at obliviots — especially when they're truly oblivious to their idiocy.

Today's example, "Jay Jay" in Ohio, is one of those: so incompetent that he's sure he's competent, just as in the True story from 2000 on the Dunning-Kruger Effect (which is a must-read if you haven't seen it already).
Jay Jay: Dumb Dumb
Anyway, it started with a Premium upgrade. Jay Jay clicked one of the Paypal buttons on the upgrade page, and I know exactly where he clicked it because that is the only place that particular button resides. Here's the clip from that page this morning, of the "Paypal" section (there's a "Credit/Debit Card" section below that, which uses True's own shopping cart):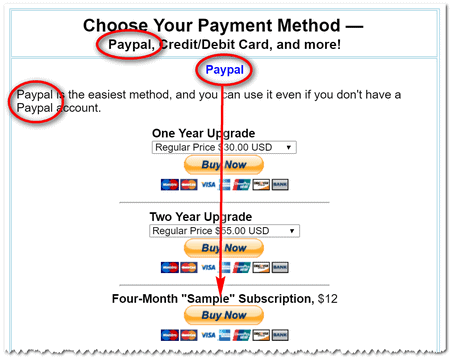 I highlighted the "Paypal" notes in that section of the page, but if someone overlooks that, well, here's the page one lands on after clicking that button:
Now, not wanting a Paypal account (that's fine: not everyone likes them), Jay Jay went to the "Don't have a Paypal account?" section and put in his personal information, and credit card information, and it was successful. When his order came through, there was this note included, which I saw when I reviewed orders this morning:
Instructions from buyer:

Please DO NOT use Pay Pal on this order. Just use my Visa Credit Card. Thank You. J
Wait… he chose the payment method on a web site, went through the automated, no-human-involved process on Paypal's web site, and put in a note like that — which can only be seen if the payment goes through?! Well, surely he knew from all those logos that he was on Paypal's site, which doesn't look anything like mine, so certainly he knew the choice he made, right?
Written Complaint
Wrong. After I finished reviewing orders, the next thing I found was an "Order Problem" complaint. You guessed it, it was from Jay Jay:
I just subscribed to the Premium Edition 'Sample' and noted I DID NOT want to use Pay Pal, but just my regular credit card. Then low and behold, your confirmation says Pay Pal will show on my credit card bill. I'm pretty pissed Randy. I DID NOT want anything to do with Pay Pal. Not a way to start off with a new customer. J
Got that? It's my fault that he chose to run his order through Paypal! Who did he think was going to process his order when he clicked a Paypal button, went to Paypal's site emblazoned with their logo and name all over it, and… well, you get the idea.
Oh, and the "Order Confirmation" he received? It wasn't from me, it was from the processor he chose to run his credit card: Paypal!
Tempted
I restrained myself from "Firing the client" right then and there — refunding his order and telling him he's too stupid to be a subscriber. I thought I'd give him the benefit of the doubt and pointed out his error. His response?
I did not knowingly use the Pay Pal area. If your going to be such an @ss, you need to take some chill pills.
So much of giving him benefit of the doubt: he's fired. Not only can he not be a Premium subscriber, someone who chooses to be abusive over his own mistake isn't even allowed to be a free subscriber. Life is too short to be abused by an obliviot. Not for 12 bucks, and certainly not for no bucks. He's been deleted and banned from re-subscribing.
Yes, I chuckled at his obliviocy. He's so clueless that the only thing you can do is laugh. He's not the first obliviot to be fired from being one of True's paying customers, but the coolest thing of all is, this type is the exception, not the norm. I get so many cool letters from awesome readers that I just can't be upset from the laughably obliviotic readers like Jay Jay. Anything else would be cray cray!
Oh, An Update!
After I informed Jay Jay that he couldn't upgrade (and refunded his payment), he had something to say about it:
But he wasn't done! One minute later, he sent an addendum: "Wouldn't want your worthless piece of crap newsletter." — you know, the one he enjoyed so much that he decided to pay for it? And get a load of Jay Jay's email "signature" in the screen grab: "Prayer: The World's Greatest Wireless Connection." Yep, a fine, fine example of Christianity indeed.
– – –
Related Reading
P.S.: I posted the "Unusual Unsubscribes" link to Facebook earlier today, and asked if anyone wanted to see "today's obliviot." Thomas in Illinois was first to reply: "Heck, yes! Always like to see just how oblivious some people can be (and, occasionally, see myself in them)." That's why I take the time to do pages like this once in awhile: not just to say "but this is the exception in a flood of cool email," but rather because we see ourselves in the stupid actions of people like Jay Jay, and can learn from the exchange. At least, the smart ones can!
- - -
This page is an example of Randy Cassingham's style of "Thought-Provoking Entertainment". His This is True is an email newsletter that uses "weird news" as a vehicle to explore the human condition in an entertaining way. If that sounds good, click here to open a subscribe form.
To really support This is True, you're invited to sign up for a subscription to the much-expanded "Premium" edition:
Q: Why would I want to pay more than the regular rate?
A: To support the publication to help it thrive and stay online: this kind of support means less future need for price increases (and smaller increases when they do happen), which enables more people to upgrade. This option was requested by existing Premium subscribers.