It's a Matter of Control.
As of today, I've turned off Google's "Adsense" service on this site.
This is True went online in the first half of 1994, so True has been in business longer than many big names in the Internet biz, including Google (1998). As a classic feature column, I received (and turned down) syndication offers from two different newspaper syndicates, including one of the biggest in the business, because I wanted full control of True's publication rights — including its online presence. I'm not about to let Google control what I write about in this context!

I'm sick and tired of Google sending me warnings that my content doesn't "comply" with their "program policies" — such as their ban on "strategically covered nudity" (um, isn't all clothing a strategic way to "cover up nudity"?!),"content that may be sensitive, tragic, or hurtful," or "descriptions of sexual acts."
Which may sound perfectly reasonable until you realize just what kind of editorial material it is that they're sending me these warnings about.
First, realize that every actual story featured in This is True is a stylized, rewritten summary of an article from a "legitimate, mainstream news outlet" plus editorial commentary — not tabloidy garbage but real news articles, mostly from daily newspapers and TV news stations reporting about real issues.
What's So Objectionable?
Google sent me a warning about a news story I reported on about Persistent Sexual Arousal Syndrome, an actual medical condition which, the story notes in this specific case, causes a woman to have as many as 200 orgasms per day, which as you might imagine was causing her real issues. (As far as I can tell, the word "orgasm" triggered their system.)
Sure, maybe that's a "sensitive" topic, but it's a real newspaper story that I felt was interesting and informative to discuss, in large part since a doctor was studying the condition to help women who couldn't have any.
(Another story Google warned about, apparently because it included the word "orgasm", is here.)
Politics, Too
The same thing happened with my hard-hitting commentary about an ongoing dispute between China and Japan. What triggered the story: China was giddy over the sexual exploitation of an 11-year-old Japanese girl.
Yes, on my page discussing this, I included the cheesecake photos of the girl, which were authorized by her parents for release. Still, Google demanded I either "comply" with their "standards" or remove their ads from the page with my rant on the case. Rather than be censored and take down what I considered an important topic to discuss, I removed their ads, which meant no income came in from the tens of thousands of people who clicked through to read about the topic.
The same happened with my story of a war protester who picketed topless (which was legal where she did it) with the sign "Breasts Not Bombs". My story page didn't even include a photo, but the very idea that a woman would protest the killing of innocent civilians by showing her boobies was just too much for Google to bear.
Not Just Here
It happened with my Jumbo Joke site, too, for instance on an item warning teens to be careful with fireworks (because, Google says, it's "sexual content" to show the results of the subject's obliviocy: his firework-burned butt). I gave up: the site is now completely offline.
As well as the entire Mugshot Museum site I used to run, because showing mugshots of criminals who got caught and arrested, Google said, was "hurtful" to those poor, poor criminals. No warning that time: they just banned the entire site from their program. Rather than fight it, I gave up there, too, deleting the site completely and selling the domain, even though the site got huge traffic.
(And let's not even discuss my page that criticizes the police that actually does have a topless photo specifically to drive home just how hypocritical the police were in one specific controversy, which Google labeled "pornography"!)
Pot Calls the Kettle Black
In the meantime, literally at the same time Google has been scolding me for such "sexual content" and "strategically covered nudity," they were showing ads on my site that I find objectionable: ads using sex or scantily clad female bodies to sell products or games. They're the example ads shown along the right side of this essay: those are actual screen shots of ads that Google has shown on this site that seem to violate their own content policies — at a level I consider much higher (read: significantly more exploitative) than my summaries of actual legitimate news stories that use proper medical terminology.
In other words, all the sexy images on this page were originally placed here by Google, not me! I suspect that if their ads were still here, they would send me "warnings" about showing examples of their ads on this page. If there's such a thing as "strategically covered nudity," these slimy ads show it!
Whack-a-Mole
I used to spend significant amounts of my time trying to block such ads in Google's publisher interface, but the advertisers would just switch their domain or account name, and they'd appear again.
Every time I've received such a "warning" from Google, I've removed their ads from the page rather than be silenced in my discussion of real-world issues. Yet the more they "warn" me, the more likely it is that they will take stronger action, such as deleting my account entirely, keeping me from using Google ads on other sites to raise money to help keep them free.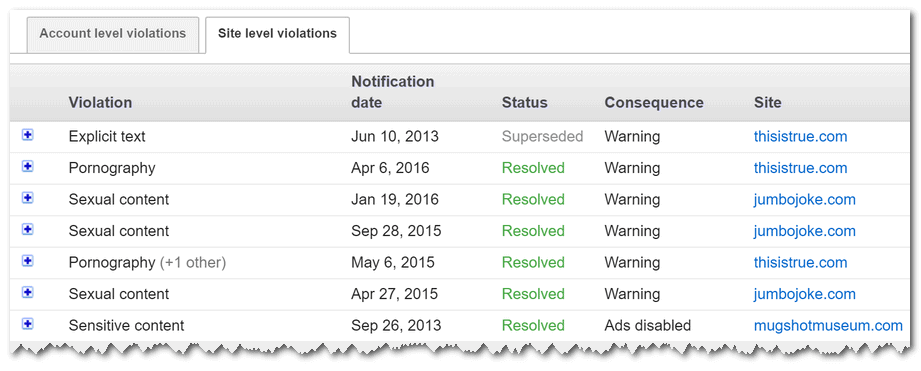 The money Google pays out for showing their ads is just not worth it to continually go through this back-and-forth hassle. I'm giving up on these battles, but I'm declaring victory in the war by the action I took today.
Declaring Victory
Well, I've had it. As of today, I've removed all of Google's ads from this site in favor of sponsorship from companies that have the guts to support True's thoughtful exploration of the human condition — even if the topic is, at rare times, "sensitive" in nature.
Note I'm not demanding that Google not have standards. It's their product, and their name, and I'm sure there are sites trying to make money with Google's ads on actual sexually exploitative content. Yet there sure are lots of sites using sexually exploitative ads — and Google is obviously very happy to take money from them.
But this sure as hell isn't one of those sites, and they don't seem capable of discerning the difference between sexual exploitation and actual editorial discussion of real-world issues, nor do they follow their own rules when they put objectionable images on my site.
So: What, Then?
Yes, True needs money to operate, but readers have stepped up to support the content they like without being bombarded with ads: via Patreon, the crowd-funding site designed specifically for independent creative endeavors. See full details here how you can be a True Patron, or here to get the same benefits without Patreon skimming fees off the top.
This is support from readers who appreciate my frank discussion of thought-provoking issues. I certainly can't run this whole operation on random contributions, but it's a vote of confidence that makes a big change possible. I have other goals as support continues, so I hope you'll consider joining them.
To support this site, you can also make a contribution here, or better yet, use the form below to upgrade to my paid newsletter, and fully enjoy True's brand of Thought-Provoking Entertainment without censorship — and without any third-party ads!
Since 1994, True has been an online pioneer, and I simply refuse to let an upstart site like Google dictate its best practices, no matter how big they are!
—Randy Cassingham
Founder, This is True
Thought-Provoking Entertainment Online Since 1994
2023 Update
Despite there being many Google employees on my distribution then and now, no one at Google has ever contacted me to respond to this issue. But then again, how could they, when crap like what's shown here adds billions to their bottom line? (But tsk-tsk! Don't those who actually create content dare consider doing the same thing! Or even do something like the same thing by actually discussing actual issues that shit like this create?) What gutless tools.
Also, although I "removed all of Google's ads from this site in favor of sponsorship from companies that have the guts to support True's thoughtful exploration of the human condition," no companies ever stepped forward. That's OK: I'd still rather let readers fund True with paid subscriptions than bow to a company that didn't even exist when True went online.
– – –
Bad link? Broken image? Other problem on this page? Use the Help button lower right, and thanks.
This page is an example of my style of "Thought-Provoking Entertainment". This is True is an email newsletter that uses "weird news" as a vehicle to explore the human condition in an entertaining way. If that sounds good, click here to open a subscribe form.
To really support This is True, you're invited to sign up for a subscription to the much-expanded "Premium" edition:
Q: Why would I want to pay more than the minimum rate?
A: To support the publication to help it thrive and stay online: this kind of support means less future need for price increases (and smaller increases when they do happen), which enables more people to upgrade. This option was requested by existing Premium subscribers.