Announcing a New True Book Series — and the first of the new titles is just coming off the press.

What is it? At my mastermind group's fall meeting, one of the members (and Premium subscriber) suggested a new This is True book series. I told him I was already way behind on books since every time I train up an assistant to get books ready, they very shortly after move out of town.
Whack!
That's when Kevin gave me a forehead-slapper. "You always liked Becky," he said — my assistant who moved away a bunch of years ago and was the best at book projects. "Maybe she'd like some remote project work." I checked, and she did …as soon as she recovers from some surgery. She'll be at it shortly to help catch up with both True and Honorary Unsubscribe books.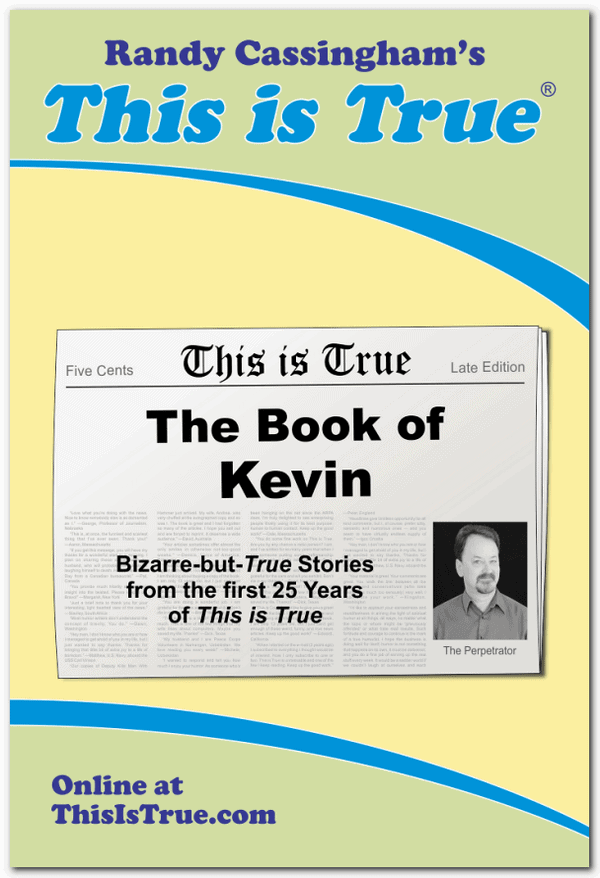 So what was Kevin's idea? A series of books, each featuring a name. You know, like "Kevin" — all (or the best of) the True stories that include someone with that name. Another member quick pulled up the U.S. Social Security Administration's lists of most popular given names of each decade (Kevin was #13 in the 1970s).
Of course, I realized the "most popular" surnames would be interesting too, or various locations. (Don't suggest Florida! I thought of that years ago, and it would be the size of a dictionary!) Someone else suggested letting readers pay to get a specific name pushed ahead in the queue if they don't want to wait. (Not sure yet if I'll do that. Addendum: see my reply to the first comment on this page.)
The First One is Out
Meanwhile, I whipped out the first such book as a proof of concept. Which name did I choose? Kevin, of course! That's the only title that will be out by Christmas. It's intended as a gift item, so it's available in paperback only. You can order it now but it won't ship until at least December 12, since I don't have my copies yet. But Amazon does: that makes it affordable to buy if you're outside the U.S. — shipping costs have gone through the roof, especially overseas, so if you're on "Amazon Prime" you "should" be able to get it without any delay or shipping charges. Perfect! Of course, other This is True titles are also available on Amazon.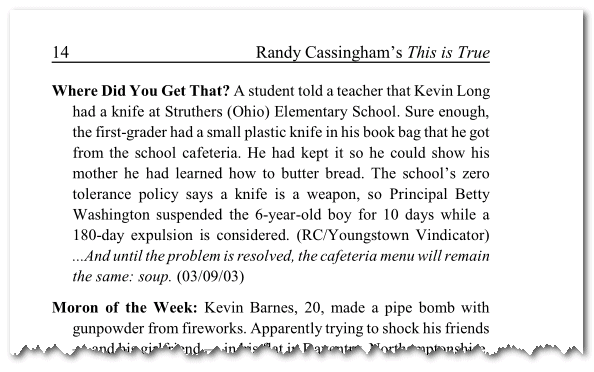 Then What?
James and Mary are almost certainly next. New titles will be announced in the newsletter. [Not already a subscriber? Click for a subscribe form.] Meanwhile, you can get more details and order Kevin here, though as of now I can't guarantee arrival by Christmas. If that's a concern, get it through Amazon. I look forward to your feedback on the idea.
- - -
This page is an example of Randy Cassingham's style of "Thought-Provoking Entertainment". His This is True is an email newsletter that uses "weird news" as a vehicle to explore the human condition in an entertaining way. If that sounds good, click here to open a subscribe form.
To really support This is True, you're invited to sign up for a subscription to the much-expanded "Premium" edition:
Q: Why would I want to pay more than the regular rate?
A: To support the publication to help it thrive and stay online: this kind of support means less future need for price increases (and smaller increases when they do happen), which enables more people to upgrade. This option was requested by existing Premium subscribers.