Actor Luke Perry Died today after suffering a "massive stroke" on February 27. I was alerted by Megan, my 39-year-old niece. She enjoys reading her local Crime Blotter (and posting funny entries she sees), and she, her dad, and I have a text group where we try to scoop each other on reporting about someone interesting who died. Now and then, I even get a good Honorary Unsubscribe out of it.

When I saw it was a stroke, and that the former teen heartthrob Perry was only 52, I commented back, "Keep tabs on your blood pressure! Even at your age." I don't know if hypertension was behind Perry's stroke, but that's by far the most common risk factor.
Her reply surprised me: "I'm already on meds for it!" We chatted about it, and she said she's been on such drugs for several years, at a very low dose. Her doctor tried taking her off the drugs and her BP popped up again, so back to it.
Yes, someone who is only 52 (or even 39) can have a stroke. In fact, even young children can and do have them too. It's tragic, and mostly preventable: stroke is the #1 preventable cause of disability.
I asked Megan if she monitored her blood pressure at home. No… and could I recommend a worthy monitor? She mentioned the kind that go around your wrist, rather than the upper arm. Yes, those actually do work, but I was a little dubious as to how accurate they are. In fact, I'm a little dubious about the accuracy of all of the automatic ones. Me, I use the tried-and-true manual cuff and my Littmann stethoscope, but yeah, they can be a hassle to use, especially on yourself. But either automatic type is probably "accurate enough" for home use. If you wonder, just take it with you next time you go to the doctor, and have the automatic one take your BP on one arm while the nurse takes it on the other, and see how close it is.
Diagnosing in the Field
Of course, this reminds me of one of my ambulance calls.
We were paged out to a house near us just after breakfast, and when I arrived I realized I knew the patient, which quickly put him at ease. "What's going on, Bob?" Well, he said, as he was getting dressed, he noticed his hand wasn't working. He couldn't move his fingers, grip anything, etc. It's almost all cleared up now, though….
He held up his hand and wiggled his fingers, and they all worked, except two were not as agile. As I checked him out, one clearly improved. It was a few years ago and I have no recollection of his blood pressure, but he was perplexed by this symptom. I wasn't: I did stroke tests on him, and everything was negative except for his hand. My intuition still said "stroke," though, so I told him I did think it was, and I strongly advised him to go to the hospital. He trusted my experience and agreed. I found out later that he had been admitted, so clearly something was wrong.
The next morning Kit and I happened to be scheduled to donate blood at that same hospital, so we went a little bit early and stopped in to visit him. Bob said I was right: scans showed it was a stroke, and by the time he got to the hospital, other stroke symptoms were starting to appear. Thanks to him getting to the hospital in the early stages, they were able to not only stop it, but completely reverse all of his symptoms. So much so that he was just finishing getting dressed because he had been discharged, and he was able to walk out, perfectly normal. He was extremely grateful for my advice.
They used tPA on him: tissue plasminogen activator. It's a natural enzyme that breaks down blood clots, and they can make it in the lab and use it as a drug for strokes. Get rid of the clot, and blood flow resumes to the oxygen-starved parts of your brain, hopefully before permanent damage sets in.
Not all strokes can benefit from tPA; giving it to someone having a hemorrhagic stroke (bleeding into the brain, vs an ischemic stroke, where a blood vessel in the brain is blocked) can kill them, so it's not likely medics will be carrying it in ambulances anytime soon. But when it does work, it works best if it's given very quickly, before the stroke has time to do permanent damage. Second best: reducing the damage, so recovery is much faster.
"Brain Attack"
In 1990 the American Stroke Association proposed renaming strokes (or CVAs — "cerebrovascular accidents") to "brain attack" to emphasize how serious they are (just like a heart attack), and that quick care can save lives and reduce disability (just like a heart attack). It hasn't caught on, but the medical profession takes them much more seriously now than when I was a young medic in the late 1970s.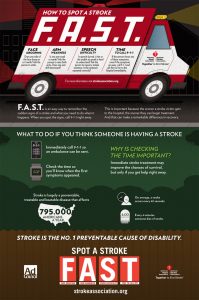 That's likely because there is now a way to treat them: tPA, but it only really helps in the first few hours after "last normal." That urgency has led to some good public education, promoting "FAST" — a mnemonic for Facial droop, Arm weakness, Speech difficulty, and, if you see any of those things, Time to call 911 for an ambulance. (For medics, we use T to mean two things: what was the last Time they were seen to be normal, to help decide if tPA can be used, and that Time is of the essence: don't screw around once you've diagnosed a CVA, get going!)
Another one tries to one-up that: FASTER changes the T to Talking (can they, as usual?), adding the E to look at the Eyes (do they look normal?), and then the R is React — call 911. Either way, read up on it before you need to use it! If in doubt, just call 911 and let us do it. We have training for more sophisticated tests if there are doubts.
Prevention is Better
Just like heart attacks, prevention is a lot better than trying to treat a stroke after the damage is done. Hence the emphasis on the primary risk factor, hypertension — high blood pressure — and keeping it down. Which, by the way, also helps prevent heart attacks.
In 2017, the American College of Cardiology, in association with the American Heart Association, put out new guidelines urging doctors to treat blood pressure higher than 130/80, rather than the previous starting point of 140/90. The higher it goes, the greater the risk of heart and brain attacks.
That's why I directly tell my patients with high blood pressure that they need to act: since they can't feel high blood pressure, they tend to ignore it. "Trust me," I tell them. "You really don't want to have a stroke." According to those new guidelines, nearly half of all Americans have hypertension. It's a big deal — and no wonder we have so many CVAs and myocardial infarctions (aka, heart attacks).
Recommendations
Which loops us back to Megan realizing that she should have a blood pressure monitor at home, so she can keep an eye on hers. I looked at Amazon to see what is highly rated.
You have to be careful when looking at ratings. One had the perfect 5 stars! That consisted of ten 5-star ratings, and every one of them looked suspicious to me, like maybe the seller had gotten a bunch of friends or employees to buy one and put in a "Verified Purchase" review gushing about how great it was. They just didn't strike me as genuine, so that one was dropped out of my search.
Amazon's best-seller, the Omron(*) (which goes around the upper arm), has as of now 8,136 customer reviews, with an average rating of 4.2 stars. That's more like it! It's $60.
For wrist-based monitoring, the leader on Amazon seems to be iProven, which I have purchased (see below). It has more than 3,000 ratings averaging 4.3 stars.
Don't Screw Around with high blood pressure. Get it checked no matter how old you are. Ask any medic, or a friend with a monitor, if you don't have one and aren't already seeing a doctor soon. If it's higher than 130/80, get an appointment and get it treated. Trust me: you really don't want to have a stroke!
24 March Update
In the comments, several (including my niece, who is the one that got me started on this topic) noted that "newer models" of the wrist-based monitors are indeed accurate. I went ahead and ordered the one I linked to, and yep, I'm convinced it's reasonably accurate.
The short link for this page: https://go.thisistrue.com/stroke — feel free to share.
– – –
Bad link? Broken image? Other problem on this page? Use the Help button lower right, and thanks.
This page is an example of my style of "Thought-Provoking Entertainment". This is True is an email newsletter that uses "weird news" as a vehicle to explore the human condition in an entertaining way. If that sounds good, click here to open a subscribe form.
To really support This is True, you're invited to sign up for a subscription to the much-expanded "Premium" edition:
Q: Why would I want to pay more than the minimum rate?
A: To support the publication to help it thrive and stay online: this kind of support means less future need for price increases (and smaller increases when they do happen), which enables more people to upgrade. This option was requested by existing Premium subscribers.