The lead story this week is mind-blowing …especially to me as a first responder and former deputy sheriff. Here, I go through the incident step by step to show just how fast the deputy had to react — and make a life-altering decision along the way.

First, the story, from True's 19 July 2020 issue:
Hold the Cream
When a shopper at Quality Dairy in Dimondale, Mich., was told by an employee he couldn't be in the store without wearing a mask, the man stabbed a 77-year-old shopper who wasn't even part of the confrontation; he was hospitalized in serious condition. The assailant ran, and store employees were able to describe him and his vehicle to police. A few miles away, an Eaton County Sheriff's deputy spotted the car and pulled him over. The suspect got out of his car, slowly walked toward the deputy, and then rushed her holding two knives in one hand, and a screwdriver in the other. The deputy backed away and ordered that he drop his weapons, but the man kept charging and she opened fire. He was still able to grab her gun, but she kept him from taking it. The deputy, who is a 22-year veteran, was able to rack the slide to get the weapon cleared, and opened fire again: it took 10 shots to stop the man — and he still wasn't killed. Sean Ernest Ruis, 43, a state employee, died in surgery later. The deputy, who has not been named, barely escaped injury. The shooting was clearly recorded both by the deputy's body camera, and a security camera at a house. "She had to use deadly force" to save her own life, said Sheriff Tom Reich. (RC/Lansing State Journal) …Let me guess: Ruis was brain damaged from having to think about breathing through a mask.
Breaking it Down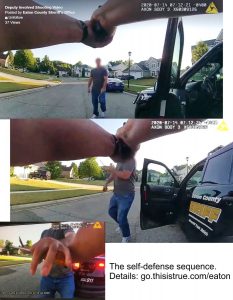 I'm not "really" satisfied with the tagline, but with a story that intense, I think the tagline ends up being irrelevant. Pretty much the same with the slug, but I thought I'd use an innocuous one for this to be sure I don't signal what's to come in any way.
Since the newsletter can include graphics (this being the 21st century and all), I illustrated it with the sequence shown here. But I wanted to go through this in more detail to point out a few things to show just how intense this situation was. This deputy had to make some extraordinarily quick decisions, and as far as I can see she did everything right.
Since I made that graphic, I have the "original" images in the largest sizes I could find, so even as large as they are, you can still click to see them larger — on a computer and maybe a tablet, at least!
In the first one:
…Ruis is still sauntering, but getting dangerously close. The car in the background is what he was driving, so clearly he has walked ever closer to the deputy even as she has ordered him to drop his weapons while she has him at gunpoint. This is taken from her body camera, so yes: those are her arms out in front of her with her pistol in a two-handed grip, just as she was trained.
Even in this still frame from a video stream, it's quite apparent even without blowing it up that Ruis has weapons: two knives in his right hand, and (as we'll see in a moment) a Phillips head screwdriver in his left. But here's a close-up anyway, still clickable to make it even larger.
Also notice she is behind her door: she got out and backed up very quickly.
Then, Ruis breaks into a run:
…while pulling his knife hand back, ready to thrust the blades at the deputy. Remember, she already knew — even before she spotted him driving — that he had stabbed an innocent bystander at the market.
Two more things to notice with this one: the deputy has backed up even more, and the time stamp (upper right) shows this is 3 seconds after the first frame. This is about where she opens fire. If it were me, I would have started shooting before this, since it's very common for a violent person to continue approaching slowly, as if they are no threat, yet still ignoring the orders to stop, drop their weapons, etc.
This next frame was harder to get: someone had to find the exact single frame that showed Ruis's hand in contact with the deputy's pistol, and then this was photographed off the screen:
It's unclear for us outsiders if this actually caused her gun to jam, but in the real-time video, embedded below, you can see her very quickly clear her pistol, just as she was trained.
Again, notice that she has backed up even more …and it's just 1 second after the frame above. Clearly, she wasn't just taking a step back now and then: she was actively backing away from Ruis as he actively kept moving toward her. That's amazing restraint on her part: she's one tough cop.
The next frame is from the security camera on the house — the one that this happened in front of, and it's just lucky (or maybe these days expected these days!) to get such a clear side view:
…he's hit, but not yet down. But this shows just how much the deputy has backed up at this point — around 20ft (6m)!
Her Goal
The goal of a good cop in a situation like this is definitely not "to kill the assailant" (the occasional criminal cops aside). Again, that's not the goal. What is? To stop the deadly assault. Since it is a deadly assault, deadly defensive force is fully justified. As you can see, there isn't time to "try" a Taser or other "less lethal" defense.
Once that assault is stopped, training is to stop firing. Absolutely the downed assailant would still be "covered" by the officer — their gun pointed at directly at them — until they are sure the assailant is not going to spring back up or otherwise be a threat to the officer or any nearby civilians.
Then What?
Once the bad guy is down, her next task is clear: get the hell on the radio and advise dispatch what's going on! Which she did: "Shots fired!" she said into her radio the very second Ruis finally went down, which speed is amazing. It's then dispatch's job to get medics rolling there — yes, without the deputy asking for them. With shots fired, the odds of injury (at the very least) are extremely high, so general protocol is to get them rolling immediately after making sure nearby officers are alerted to back her up. If an officer later says they aren't needed, fine: the responding medics can be stood down.
But meanwhile, assuming it's safe to do so, her next job is to provide first aid to the bad guy — to actually try to save his life. The video doesn't go on long enough to determine if she did, but with the guy still conscious and verbally resisting, I wouldn't have made direct contact immediately either.
The real "then what?" is the tough part: relieved of duty while investigators probe every angle of what happened, second by second. She has to tell the story again and again and again so that if she remembers a tiny little detail she didn't mention before, it can be documented while it's all still fresh in her mind.
Investigators will try to determine where every single shot she fired landed. They'll second-guess her as to whether she was aware of what was behind the assailant as she started shooting. And much, much more.
All This, for Low Pay!
It's tough being a cop, and this is a great example of a professional officer doing a great job. It's astounding, considering an armed man was actually able to make contact with her drawn weapon, that she was not injured. She gave the bad guy much more leeway than I would have! And that's an issue too: I hope she didn't have to waste brain cycles thinking whether some civilian (or, worse, "activist group") would second-guess her decision — but that's part of the job these days too.
I wasn't a deputy for all that long. I was never full-time, and never had to draw my pistol defensively. But I am happy to say that when I went to the quarterly firing range "qualification" sessions, where every armed deputy had to prove we knew how to handle our weapons, I always out-shot the full-timers. A perfect score on our range was 210 points; if we didn't get 180 or more, we had to go through the course again. Fail three times and we weren't allowed to carry until completing remedial training and re-qualifications.
I did fairly often see deputies have to go through the course a second time, but never saw one flunk out. Meanwhile, I commonly got 202 to 204 points, packed up, and headed home while some had to stay behind.
And that's deputies who think a gun is their most important piece of equipment. Not in my opinion: their two-way radio is. It's a rare deputy that formally trains with that every three months!
The Video
With that all said, here are the two videos expertly intercut so you can see, both from the deputy's viewpoint and the side view from the house's (Ring doorbell?) camera, how it unfolded. Yes, it is intense, but there is no blood or even injuries to see:
The entire video is just 1 minute and 9 seconds, and he doesn't even break into his run until the 31st second. Watch where she clears her pistol at about second 36. First, she whacks the magazine to ensure it is seated well, then she racks the slide to clear it and then immediately gets back on target. Grisly, maybe, but this is what cops might have to do on any given day with only a couple of seconds' notice.
Part-way in you can hear the sirens of the other officers coming to back her up — a sweet, sweet sound in such a situation!
Was Ruis stupid? Blind with rage? On drugs? Hopefully investigation, including an autopsy, will provide at least some answers.
The best part: that deputy got to go home that day with no physical injuries. May she recover quickly mentally, too, from what had to be the most stressful few seconds of her 22-1/2 year career.
- - -
This page is an example of Randy Cassingham's style of "Thought-Provoking Entertainment". His This is True is an email newsletter that uses "weird news" as a vehicle to explore the human condition in an entertaining way. If that sounds good, click here to open a subscribe form.
To really support This is True, you're invited to sign up for a subscription to the much-expanded "Premium" edition:
Q: Why would I want to pay more than the regular rate?
A: To support the publication to help it thrive and stay online: this kind of support means less future need for price increases (and smaller increases when they do happen), which enables more people to upgrade. This option was requested by existing Premium subscribers.