"Please stop pushing the vaccine," wrote a 16-year Premium reader (and who knows how long on the free distribution before that). That was in response to last week's issue. I just reviewed it: I'm not sure the link in "Other Good Reading" to an article titled Treating the Unvaccinated constitutes "pushing" the vaccine.
But perhaps she meant my story "Another Data Point", about a guy who "wished he had gotten the vaccine," his mother said; he is still in ICU after a double lung transplant. That's the only other reference to "the" vaccine.
But that's not "pushing" the vaccine either, any more than the lead story about a bear "stealing" a gun is "pushing" for (or against!) the right to arm bears, or observations on most any other story is "pushing" a particular point of view.
Rather, True is about thinking — and, in particular, the real-world results of not thinking. The stories and taglines are usually pretty darned neutral: it's the reader that will often add bias.
Answering Directly
That said, my answer was "Absolutely not." Not just because I refuse to let advertisers, advertising companies like Google, and even readers dictate what I write about. (Not that this one tried to "dictate": it was rather a polite request.)
There is clearly a lack of thinking with much of (not all of) vaccine hesitance. Yeah, there's "tracking devices" in them (riiiiiight). The virus "isn't real" (yet those with that claim can't explain why then President Trump got it …or why his administration did such a good job to get a safe, extremely effective vaccine developed and distributed in record time). Heck, even Fox News is in fact "pushing" the vaccine ("It will save your life," said Fox & Friends co-host Steve Doocy on that show. And "please take Covid seriously — I can't say it enough," said Sean Hannity on the air. "I believe in the science of vaccination." Example source)
The misinformation is causing staggering numbers of disease and death, I told the reader. My brand is "This is True" and the truth sometimes hurts. We have got to cut through the crap and see what the actual scientific consensus is. "I could go on" with such links, I said; those are just a few of the recent articles, from a variety of sources, that I found with a 2-second search.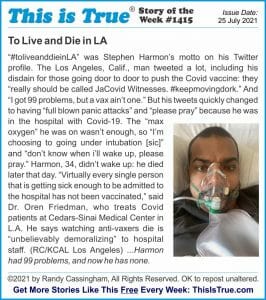 Think about where so many of the lies are starting: Russia and China, I said. Neither of them are our friends. We're in a new cold war, and they're winning so far.
Delta is going for the kids that mostly escaped from the earlier variants. This was predicted, yet so many ignored the warnings. Don't be one of them; the stakes are too high. It's not just "old people" who were so callously thrown to the lions before.
"On another related note," she asked in her message, "As a first responder, may I ask how it is that the medical establishment is determining which 'variant' a person has? Are the covid tests sophisticated enough to reveal this information? If not, how are these statistics generated?"
That question is what told me the reader wasn't seeking facts, and instead listening to propaganda. "I listen to the people who have dedicated their lives to learning and preventing deaths," I told her, "not the know-nothing pundits who got the shots themselves, yet lie to your face."
Her response: cancel her autorenewal. But at least it wasn't "Cancel my subscription." There's hope. [The answer to her question. OK, this search took me 4 seconds. Yeah, I'm a search expert, but surely most can successfully get there within a minute or so!]
Because I do agree that people "have a right" to not get the vaccine …but only if they also demand rights for those who can't (kids, those with medical conditions that prevent it, etc.) by never going into public without wearing a mask and taking other precautions to ensure they don't spread the disease when they don't know they have it. And we know few are doing that, since the "Delta" cases are spreading so fast.
There are nearly 627,000 Americans and nearly 4.2 million worldwide dead (Source) from Covid, and I think there will be a lot more.
So yes, observing "the real-world results of not thinking" — True's vehicle for more than 27 years now — does and will include stories about the "thinking" around vaccinations.
And I'd be surprised if any long-term reader who thought about it would expect my answer to be anything different.
– – –
Bad link? Broken image? Other problem on this page? Use the Help button lower right, and thanks.
This page is an example of my style of "Thought-Provoking Entertainment". This is True is an email newsletter that uses "weird news" as a vehicle to explore the human condition in an entertaining way. If that sounds good, click here to open a subscribe form.
To really support This is True, you're invited to sign up for a subscription to the much-expanded "Premium" edition:
Q: Why would I want to pay more than the minimum rate?
A: To support the publication to help it thrive and stay online: this kind of support means less future need for price increases (and smaller increases when they do happen), which enables more people to upgrade. This option was requested by existing Premium subscribers.