One of the first highly controversial stories in True, with some readers loving it, and others hating it. So let's start with the story that started it all (in the 18 July 1999 issue):

Hey, Doll! Push My Button! II
When Tamantha Brannon was shopping at an Atlanta, Ga., Toys 'R' Us store, her 11-year-old son Marvin picked up an "Austin Powers" doll and pushed its talk button. "Do I make you horny, baby? Do I?" the doll demanded. When Marvin asked her what "horny" meant, Brannon was so angry that she has filed a criminal obscenity complaint with county prosecutors. "This is not acceptable," Brannon said. "My son is not old enough to be talking about sex." Clayton County Solicitor Keith Martin is looking into the complaint, but isn't rushing to press any charges. "I don't know who we would even prosecute," he said. (AFP) …Start with Ms Brannon.
That Tagline Led To three kinds of responses:
Vile, obscene, hate-laden vitriol from, I said in the follow-up the week after, "morons who seem incapable of understanding the irony of using 'obscenities' in complaints about 'crude' language." I won't be giving any of those letters the light of day — the authors don't deserve it. They were summarily deleted from True's distribution.
Gentle, intelligent, thought-provoking debate, complaints, or praise.
Silly ranting.
Some examples of the latter two kinds (and, for the record, I think most of the quoted comments below are thoughtful):
"I think that you missed the point in your article about the Austin Powers doll at Toys R Us. Certainly our society is litigation happy. It can be humourous [sic] to learn what people will file suit over — seemingly ridiculous, common sense issues. I can't gather what steps Ms. Brannon took prior to filing criminal obcenity [sic] charges from the article and perhaps the only action she took was what the article stated. On the other hand, a toy, which is marketed in a toy store for children clearly implies that the toy is intended for and appropriate for children. Shame on Toys R Us, not Ms. Brannon." —Marjorie, no location given
"HEY, I'M WITH MS. BRANON. NOONE [sic] WOULD EXPECT TO HAVE TO DEAL WITH VULGAR SEX TALK IN A CHILDREN'S TOY STORE." —Carl, no location given
You can expect it if you actually read the package, where it was called out it big letters.
"There is nothing humorous in this situation, even if an issue of morality was not involved. Your comment is not humorous at any level. It makes neither sense nor nonsense." —Carlston, no location given
I'm still astounded by this one. I've never had anyone complain before that a comment "didn't make nonsense." Does he want me to try harder next time?
"Mrs. Brannon is right about the Asshole(whoops!) Powers doll. If the manufacturer intended to distribute to adult only retail stores, they should have ensured the doll didn't reach toy outlets. If they intended to market to children, they should be ashamed of themselves; and so should you!." —David, no location given
"I don't pay for your column, so my comments will be limited. [Five hundred words clipped out for space reasons.] Let your account be covered in the blood of Jesus Christ and your soul be saved, that you may withstand the fiery hell that will beset the world for the age-old wickedness that the media spit-shines and sells as new." —Chad, Georgia
Inventing Offense
In the next issue, I concluded my follow-up with these words:
—–
Of course 'Toys 'R' Us' was stupid to sell such a doll! If they didn't know about the thing's 'vocabulary,' they should have: some of the more intelligent, thoughtful responses noted that it was clearly spelled out on the package.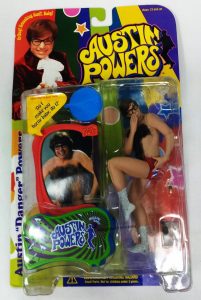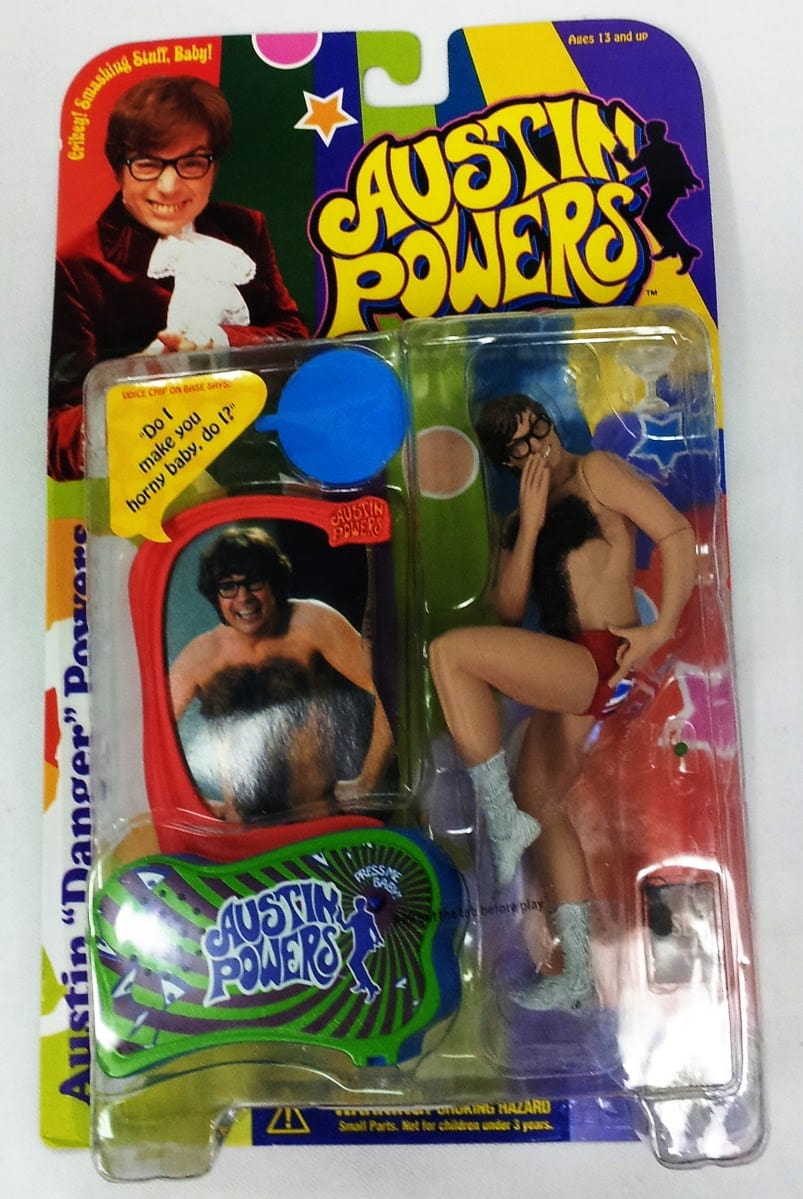 They deserve to lose significant business over this. The distributor was certainly negligent for shipping it to a children's toy store chain; how nice that I was able to add to the wave of bad publicity.
True, I think the mother is keeping her kid unnaturally shielded from sexual matters — but if that's her wish, it should be her right. But to abuse the legal system by filing criminal charges because a doll said 'horny' is wrong, stupid, and obviously took the prosecutor's time away from real crimes. That, dear readers, is what the comment was about. Shame on the sickos who read more into it than that!
I haven't lost all hope: even some of the complaints were truly very thoughtful. I also got plenty of mail from people who 'got it' — and there was a huge upswing in paid subscriptions. I thank the latter groups for reassuring me that most of my readers are indeed intelligent people!
—–
Wouldn't You Know It?! After that, several readers wrote to complain that I called them "sicko morons." It's amazing to me how many people want to be offended, since they clearly choose to take offense by assuming I'm talking about them when I say "sicko moron," but not when I say "thoughtful and intelligent"!
But They're the Minority
I take heart, however. For all the "rants," above (and there were certainly more than shown, but that was a representative sample), there were significantly more "raves," like this one — and more in the Comments below.
"I got it and chuckled for the rest of the day. Surprised… no, guess not, that there was such an outcry. Just wanted to let you know that I got it, but I'm broke which is why I don't go with the premium edition. Keep up the good work, hang in there as opinionated as ever, and remember that by being 'real' on the internet, you will undoubtedly be attacked." —Peg, Canada
This last comment was in the mix for Premium subscribers this week. Two readers there were so touched by Peg's comments that they offered to buy her a Premium subscription.
And Last…
"Here's a word of advice, just do the stories. That's the only reason ANYBODY is reading this page. Its [sic] because we're interested in the stories. Not your editorials or your self-important opinions." —Wendy, KSJY ("American Family Radio"), Louisiana
I see: only proselytizing radio stations have opinions? Guess what, cupcake: all of This is True is commentary! I write every word myself, as it clearly says in the copyright notice each week, so my opinion runs rampant through it. It must be difficult to talk on the radio with your foot in your mouth, eh?
- - -
This page is an example of Randy Cassingham's style of "Thought-Provoking Entertainment". His This is True is an email newsletter that uses "weird news" as a vehicle to explore the human condition in an entertaining way. If that sounds good, click here to open a subscribe form.
To really support This is True, you're invited to sign up for a subscription to the much-expanded "Premium" edition:
Q: Why would I want to pay more than the regular rate?
A: To support the publication to help it thrive and stay online: this kind of support means less future need for price increases (and smaller increases when they do happen), which enables more people to upgrade. This option was requested by existing Premium subscribers.