Five Years Ago Now (yikes!), I wrote in this blog about a serious "multi-casualty incident" (or MCI) in my county. That happened on a Sunday — coincidentally the day after we finished a two-day MCI training.

For such a small county, we do a lot of interesting training: ten years ago, it was how would we rescue a bunch of injured students and teachers who went over the side in a school bus on one of our steep mountain roads. My role then was to get video of it all, and cut it down to something short …which is also in this blog.
This year, we took our MCI training further, putting on a full-scale exercise on Saturday. The scenario reflects our times: a school shooting. Yes, even small towns do (or should do!) such training scenarios. Here in Colorado, the Platte Middle School incident also hit these pages, and reminded us that it can happen anywhere.
Planning for Realism
This was no "Hey, let's go down to the school tomorrow and practice this." It took a year of planning, meetings, and setting up, in large part to get the kind of participation we'd get in a real event such as this: we brought in police from all three law enforcement entities in our county, as well as state troopers, firefighters for extra hands, neighboring counties' ambulances, hospital personnel, and more. And, of course, school officials. It was all coordinated by our fairly new county emergency manager.
He even borrowed special guns that use "simunition" — special ammunition that goes into real guns (but converted so they can't shoot actual ammunition) that make the noise of shots, and actually do shoot projectiles, but at a low velocity so if someone is hit by one, it stings, rather than penetrate and cause real injuries or death. (Yep: eye protection is a must with those.)
We got teen and adult volunteers to act as victims, and those who worked to not be victims and hiding in the school. The "shot" victims were made up to have fake wounds. Some of the adults "showed up" at the school in the role of anxious parents wanting to rush in and check their kids. Every group had to be handled properly, and without putting them at risk of being shot, being "accosted" by reporters, or whatever.
We set up a "reunion" area, where we would in fact have parents go, and students, and others who were not injured. We actually took several of the "injured" victims to the hospital — a half-hour drive — to make it all more realistic and to give them practice dealing with a "surge" of patients.
The local medical helicopter team even participated in the transport portion: they actually flew one of the mock patients to the hospital. But first, they had to know where to land that was safe, and we had to coordinate finding the most-serious victim, and getting them to the chopper.
And meanwhile, our police and EMS folks had to deal with any real calls for help that came in at the same time. Sure enough, we had to cut loose an ambulance for a real medical emergency elsewhere.
Different Roles
Just because I'm a medic didn't mean I was used for triage, treatment, or transport: I wear different hats in the county, and have some skills that others don't have. Radio communications expertise, for instance, and an ability to remain "supernaturally calm" and make decisions. The idea is to assign people to the positions where they fit best.
As far as radio expertise, at the last meeting before the exercise, the emergency manager handed out the communications plan. I had bad news for him. "This channel assignment isn't right: the wrong radio system is specified. And you can't use these channels the way you're proposing, because…" — I won't go into the actual reasons why here, in public, but the bottom line is almost everything needed to be changed just a couple of days before the exercise.
The emergency manager took it in stride, just as he'd have to do in a real situation. But it demonstrates the importance of carefully choosing people for their roles based on their expertise, and thinking through the gotchas that would come up in real life.
My wife also had a special role: she was in charge of a reserve team to medically treat anyone who was actually injured as part of the exercise. She was below the safety officer, who reviews all the plans and keeps an eye on things to call a halt if he sees something go dangerously wrong. Happily, Kit was bored to tears: the worst injury was a boo boo that needed a Band-Aid.
And… Go!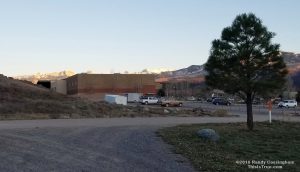 We all got into position and started the exercise, which was scheduled to last four hours.
During that time, I was assigned to the command post, working the logistics of getting ambulances coordinated — and getting them the resources they needed to "save the lives" of our mock victims.
Yeah, there were glitches — we expect them. But we handled them. For example: one radio call to me was "Medics are all tied up doing triage! We need someone to drive the ambulance to get people to the hospital!"
The local fire chief was also at the command post: I simply asked him if he could send one of his firefighters. He did; problem solved, and on to the next one. In all, I drafted three of his men to do tasks that didn't need someone who was medically trained. It's what we would do in real life.
Rumors
There are two kinds of rumors in a situation like this: first, the "what's really going on?!" reactions from civilians who see scores of emergency vehicles converging on one spot, and maybe not believing it's a training exercise. Planners can send out press releases (and they did), but we also used Social Media to remind people that it was coming up, and to please help reassure friends and neighbors who didn't get that advance word.
And second, what the responders to the incident don't know, and try to get from witnesses and victims. The responders didn't know how many shooters there were, how many victims there were, and more — just like in real life. The exercise command staff knew, for instance, that there were two shooters, but very quickly, a confused witness reported that there were three.
Hey, that happens in real life too: they just don't know. When we at the command post heard that, we knew it was bad information, but we kept it to ourselves to see how the law enforcement responders would sort it out, which is exactly what they'd have to do in a real situation. And they did.
And all the while, the two emergency managers from neighboring counties were there to watch and offer advice, to help train each other and think of details that might get lost otherwise. It was fascinating to be "behind the scenes" of something like this.
Expensive
It's hard to pay for something like this. Sure, "everyone" agrees that such training is needed. Millions could be thrown at an actual event, and such trainings can help reduce the cost of a real one. But can every jurisdiction actually budget the funds to put something like this on?
Nope, not when taxpayers are understandably intent on reducing their taxes. Simunition is close to a dollar a round, and to make it realistic you need lots of it. The volunteers needed to be fed: local restaurants stepped up to help prepare it all and serve, but I'll guess the county paid for the food. (They even thought of food bars to send with us!) Fuel for all the vehicles used. And… and… and….
But that's part of why we brought in resources from other counties: cops and medics and emergency managers and more who participated and learned a lot, and will take those lessons home with them.
Lessons Learned
And indeed we learned a lot. We took a lot of notes, and will meet in a couple of weeks to go over what went right, and what went wrong — and how to fix those problems. But all in all, this went incredibly smoothly, and we showed even small town rural folks can rise to challenges in a fully professional way.
I hope we never need to put this specific training scenario into real life use. But if we do, we're much better prepared for it, which is why we all got up very early on Saturday morning and volunteered our time.
Thus, special thanks to the Ouray County Emergency Manager who pulled this all together: Glenn Boyd did a fantastic job with it.
Note: Yes, I was intentionally vague about a lot of details. I don't want to make anything easier for the bad guys….
– – –
Bad link? Broken image? Other problem on this page? Use the Help button lower right, and thanks.
This page is an example of my style of "Thought-Provoking Entertainment". This is True is an email newsletter that uses "weird news" as a vehicle to explore the human condition in an entertaining way. If that sounds good, click here to open a subscribe form.
To really support This is True, you're invited to sign up for a subscription to the much-expanded "Premium" edition:
Q: Why would I want to pay more than the minimum rate?
A: To support the publication to help it thrive and stay online: this kind of support means less future need for price increases (and smaller increases when they do happen), which enables more people to upgrade. This option was requested by existing Premium subscribers.