One of the disadvantages of writing a text-only column is the inability to realize the potential of "a picture is worth a thousand words". But then, that's what web sites are for! It can make a cute story a hysterical story.
From the 30 April 2000 issue of This is True:
Peeeved
The landlords of an apartment complex in Radeburg, Germany, say men using the toilets in the building are splashing the radiators, which is causing them to rust. Thus, they say, from now on men must sit down while urinating. No way, say residents. "I'm not going to let anybody tell me how I take care of business," says one. "I'm going to carry on standing." (Reuters) …The headline: "Men Say They Won't Stand for Sitting Down".
And here's the lovely visual to go with the story: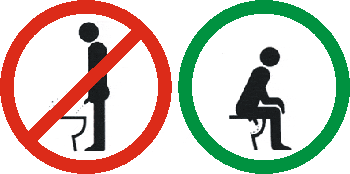 – – –
- - -
This page is an example of Randy Cassingham's style of "Thought-Provoking Entertainment". His This is True is an email newsletter that uses "weird news" as a vehicle to explore the human condition in an entertaining way. If that sounds good, click here to open a subscribe form.
To really support This is True, you're invited to sign up for a subscription to the much-expanded "Premium" edition:
Q: Why would I want to pay more than the regular rate?
A: To support the publication to help it thrive and stay online: this kind of support means less future need for price increases (and smaller increases when they do happen), which enables more people to upgrade. This option was requested by existing Premium subscribers.