I just have to tell you the story of David Winkelman. The event that first brought him to my attention occurred in the year 2000, but it was when he sued over what he did that got him featured in This is True — in the 23 June 2002 issue. Here's the story:

Do I Look Like I Have "Idiot"
Tattooed On My Forehead?
David Winkelman heard a radio station offer to pay $150,000 to anyone who had the station's logo permanently tattooed on their forehead. A station employee even paid for tattoos for Winkelman and his friend Richard Goddard Jr. Now Davenport, Iowa, station KORB and DJ Ben Stone say the offer was an obvious joke, so the two men are suing the station for breach of contract and fraud. Their lawsuit states Stone and the station "made the false promise as a practical joke, so that persons who responded to the announcement with the intention of receiving tattoos could be publicly scorned and ridiculed for their greed and lack of common good sense." (Quad-City Times) …That's strange — defense attorneys had planned to use that exact same argument.
There have been developments since then.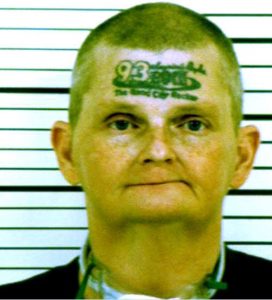 Winkelman, now 48, hit the news again — because he was arrested in Scott County, Iowa, on a misdemeanor charge of operating a motor vehicle without the owner's consent, according to The Smoking Gun. And he had his mug shot taken …without the benefit of being able to hide his forehead with a hat.
Winkelman later dropped his lawsuit against the radio station. Goddard — who is now identified as Winkelman's stepson (wow: are they sure they're not related?!) — didn't show up in court for a hearing, and so his claim was dismissed by the court.
Meanwhile, the radio station rebranded and changed its format, dropping its old callsign and slogans ("The Quad City Rocker" and "93 Rock" — as still seen on Winkelman's forehead), in favor of KQCS, with an "Adult Contemporary" format that promised "Today's Best Variety!" That didn't work out all that well either: in 2016 the station switched again, to KIIS with a "Classic Hits" format.
Isn't there a plastic surgeon in Iowa that can help this obliviot get his life back? Or, at least, (some of) his dignity?
But Wait, There's More
What of Winkelman's stepson, Richard Goddard Jr? He also made another appearance in True, in the 2 March 2003 issue:
Next Time Just Tattoo "Shut Up!"
on the Back of His Hand
Trouble hasn't abated for Richard Goddard Jr., 21. Last year, Goddard sued a radio station that didn't pay him after he took them up on a joke offer to give $150,000 to anyone who tattooed the station's logo on their forehead. He whined so much to his roommates, John and Mary Rushman of Colona, Ill., about how his life couldn't be worse that the couple allegedly tied a noose around his neck and tried to hang him. When that failed, they allegedly beat him with a hammer. He survived, and the Rushmans have been arrested. Goddard's grandmother notes that since the tattooing, "He hasn't been able to get a job." (Moline Dispatch) …Yes, the job market for guys with "Idiot Inside" billboards on their foreheads is a bit tight these days.
– – –
Bad link? Broken image? Other problem on this page? Use the Help button lower right, and thanks.
This page is an example of my style of "Thought-Provoking Entertainment". This is True is an email newsletter that uses "weird news" as a vehicle to explore the human condition in an entertaining way. If that sounds good, click here to open a subscribe form.
To really support This is True, you're invited to sign up for a subscription to the much-expanded "Premium" edition:
Q: Why would I want to pay more than the minimum rate?
A: To support the publication to help it thrive and stay online: this kind of support means less future need for price increases (and smaller increases when they do happen), which enables more people to upgrade. This option was requested by existing Premium subscribers.