This week I've been dragging after a tough weekend. "Just" two ambulance calls, but they were doozies. I was just starting to make a late breakfast Saturday morning when we got a call for a rollover just 3 miles down the road.

Three guys in their 20s, going WAY too fast on a dirt road, rolled up an embankment, through a barbed wire fence, and managed to land the pickup truck on its wheels — a good 20 feet from the road, and 5 feet above it.
With three people in the truck (one ejected half-way out the rear window, multiple witnesses, and lots of people who were driving by who stopped to help, the scene was chaos!
But We had Special Help
I was pretty sure the driver had a broken neck, so we had to handle him pretty gingerly. A neighbor who happens to be a surgeon was one who stopped to help, and he was worried about the neck too. (Luckily, the driver's dad called me that evening to say no, "just" severe whiplash.)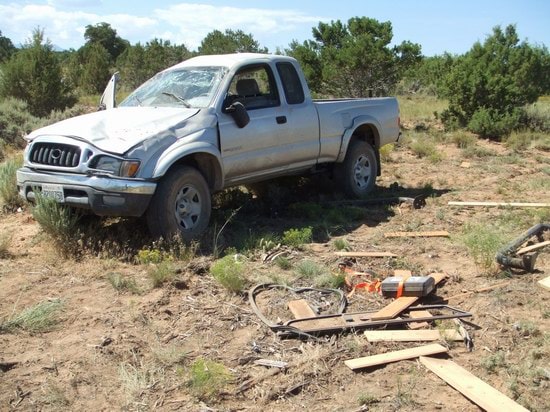 I was plenty hungry by the time we got back home, and happily I managed to get a nice breakfast before the pager went off again.
Then It Gets Worse
The second call was a bit farther out than my regular response territory, but I knew our other ambulance was out on their own rollover (that one an ATV up in the mountains), and it came out as "multiple motorcycles down, multiple injuries" on the highway.
I tend to respond farther out if it sounds like a big hairy scene where they'll need more help, and this one was it …especially when the update came out: "CPR in progress."
Pretty much, if someone's heart has stopped because of a traumatic accident, nothing ever gets it started again. But clearly there were other injured parties that needed care. The ambulance that had been on our rollover was the only other in-service unit: it was still on its way back, but was at least fairly close to the wreck by the time the call came out. We rolled, even though we were 15 minutes away.
Another Chaotic Scene
Kit and I helped the ambulance crew get two other injured bikers loaded up and on their way, and then we turned to assist our short-staffed sheriff's department with the mess on the highway — which included a body: one of the bikers, the one a bystander did CPR on, had been declared dead.
One of the first things I noticed in the "mess" — the clutter on the side of the road — was a revolver: the dead guy was a retired state trooper. The first responding trooper walked up right then, and I got his attention, pointed out the pistol, and asked him to secure it.
In this tiny county, many of the volunteers wear more than one hat; it's why I stayed around after the medical emergency was done. And one of our senior medics is also a deputy coroner. He went to his truck and put on a different vest, removing "EMS" and switching to one reading "CORONER", and went back to work.
There's More to Do
As I was kept busy being a "go-fer" for the other responders, Kit was busy too: the killed trooper's wife was sitting on the side of the road. She had been on her own bike, and had seen it all happen. She wasn't physically injured, but she still needed plenty of care.
To get her off the road, where she couldn't help but see her husband's sheet-draped body, I turned my SUV around so it wasn't facing the scene, and Kit, the wife, and a happened-to-be-passing-by mental health worker got in the back seat to get away from the chaos and help her. I'm grateful that Kit can handle such emotional stuff: I'm fine with the physical injuries, but don't feel very useful in the midst of extreme emotional injury.
It took nearly an hour for the coroner to finish his work, and then Kit and I helped him, too: we needed to get the body into a body bag. It's a tough job, let me tell you — especially after a nasty wreck. He had been wearing a helmet and such, but it was clear that indeed, there's no way he could have survived the crash, CPR and quick medical help or not.
He had been going too fast to stop when cars stopped in front of him to turn. He skidded, and then rolled his bike over in front of oncoming traffic. That traffic happened to be several other bikes; he took one out, and then a second bike ran over the guy in front of him. Ouch!
Those two bikers were the ones that ended up on the ambulance; the one who was run over was in fairly serious condition with multiple fractures in both legs.
(Note I'm not telling any secret medical info here: those details were reported in various newspapers. The most complete story is from the trooper's home town paper — but I've deleted the link since it aged off the web.)
"Icky!"
I know what a lot of you are thinking: "Ugh! I couldn't do that, and I'm glad there are people that can!" I know the feeling: I felt it when I saw what Kit was doing with the new widow. She and the mental health worker were relieved by a local minister, who volunteers to help the families of victims on nasty ambulance calls. I'm really grateful that there are people like him to help, too! He took her to the funeral home in the next town, where her husband's body went, to wait for family members to get there and be with her.
By the time we were released nearly four hours later, we were exhausted. The troopers were still there for another two hours; they had a tough weekend too. (They asked for permission to load the victim's body in the hearse, since the guy was a retired trooper; that request was granted.)
I still managed to write this week's column the next day, but I worked shorter days than usual to get some extra sleep to recuperate. Because I used to do it myself, I know two calls, even "big" calls, isn't a big deal for big city ambulance crews, but I also work 60-70 hours/week for my "day job," so it pushed me over the limit. I'm glad that happens pretty rarely.
There are no big lessons to be learned from this; I just figured some people would be interested in some of the demands on volunteers in America's rural communities.
But hey: drive carefully, will you? Trust me: wrecks are no fun.
– – –
Kit was so intrigued by the coroner's job that when the deputy retired, she took his position. And he handed her that same vest.
– – –
Bad link? Broken image? Other problem on this page? Use the Help button lower right, and thanks.
This page is an example of my style of "Thought-Provoking Entertainment". This is True is an email newsletter that uses "weird news" as a vehicle to explore the human condition in an entertaining way. If that sounds good, click here to open a subscribe form.
To really support This is True, you're invited to sign up for a subscription to the much-expanded "Premium" edition:
Q: Why would I want to pay more than the minimum rate?
A: To support the publication to help it thrive and stay online: this kind of support means less future need for price increases (and smaller increases when they do happen), which enables more people to upgrade. This option was requested by existing Premium subscribers.