"True Checks" are novelty checks awarded by me since April 2022 to This is True readers who report errors which I consider significant, especially if they are difficult to detect, require specialized knowledge or expertise, or are otherwise notable (solely as determined by me). They are physical documents which are mailed to the recipient at no charge.

When awarded, they are sent to the first person who made the report — or, in case of multiple reasonably simultaneous reports, the most cleverly reported. They are my way of saying thank you for helping True be as true as possible, and rewarding those who are especially thoughtful (and/or clever).
Because Premium (paid) subscribers are most likely to see errors first, they are most likely to be the recipients of the Checks, which of course are not actually negotiable. They are drawn on the "Bank of San Serriffe" — an allusion to a 1977 April Fools joke discussed in a 2022 post in my blog, and as homage to Don Knuth. Coincidentally, 1977 is the year I graduated from High School.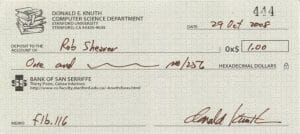 True Checks were inspired by Knuth Checks, sent by computer scientist Donald Knuth Ph.D of Caltech and (later) Stanford University. They were created as a reward to his readers who reported errors in his books. True Checks are printed in-house as needed. (That they are only printed three at a time gives you an idea as to their rarity.)
Each has the same check number — 666 — as a nod to my infamous Get Out of Hell Free cards, which are also represented by the "logo" at the top of the checks. The check border is made of microprinted sentences from my own Wikipedia entry.
The Bank of San Serriffe is backed by huge stacks of Hell money. This may or may not be reflected in the checks' negotiable value. I trust the perceived value will be significantly higher.
If and Only If You Were Sent to This Page by me as a suggestion to claim a True Check, click here for the form to ensure I have full info. Form submissions made without an invitation will be ignored.
I truly appreciate that readers take the time to report story errors to me.
Recipient Hall of Fame
Stephen Fleming*, New Mexico, Issue #1450
Art Yaffe*, Florida, Issue #1501
Sheri Marsh*, North Carolina, Issue #1503
Craig Anderson, Georgia, web site gaffe
and likely more to come….
* Premium Subscriber
– – –
Bad link? Broken image? Other problem on this page? Use the Help button lower right, and thanks.
This page is an example of my style of "Thought-Provoking Entertainment". This is True is an email newsletter that uses "weird news" as a vehicle to explore the human condition in an entertaining way. If that sounds good, click here to open a subscribe form.
To really support This is True, you're invited to sign up for a subscription to the much-expanded "Premium" edition:
Q: Why would I want to pay more than the minimum rate?
A: To support the publication to help it thrive and stay online: this kind of support means less future need for price increases (and smaller increases when they do happen), which enables more people to upgrade. This option was requested by existing Premium subscribers.