[Updated] Sometimes the photo that goes with a story is funnier than the story. Sometimes the story is pretty good all by itself. This one, from the 19 October 2008 issue, is a toss-up: I'm not sure which part is funnier. But then it happened again, and then again! We start with the first story:

Udderly Ridiculous
Police in Middletown, Ohio, responded to a disturbance and found Michelle Allen, 32, running around the street wearing a cow suit. They advised her to go home. Instead, she impeded traffic, chased children, and urinated on a resident's porch, so officers felt they had no choice but to arrest her. Allen, who police say smelled of alcohol, was given a month in jail for disorderly conduct. (RC/Oxford Press) …A cow suit? Funny, but she was acting more like a horse's ass.
Wait! Don't scroll down yet!
Put down your milk (or coffee) before scrolling to view the two photos (but go slow enough that you see one at a time. Trust me: it's worth it. Really.
.
.
.
---
Here's her mug shot, courtesy of the Middletown Police:
---
But Wait, There's More
Police mug shot cameras are generally set up to get an arrestee's face, but there was more to this case than that:
---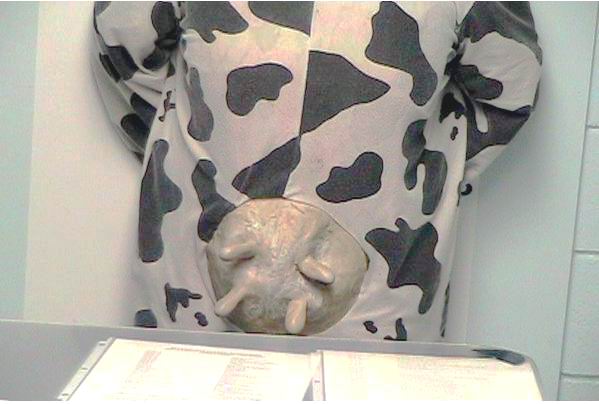 And Still More!
History repeated itself almost exactly 10 years later, this time in Arkansas (and with a different variation in the suit). From True's 28 October 2018 issue:
Udder Contempt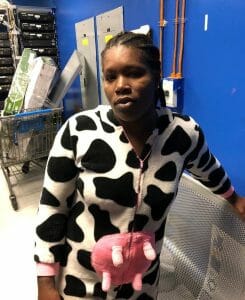 As a police officer in Pine Bluff, Ark., was searching Ashley Curry, 27, after she allegedly shoplifted nose spray at a Walmart store, she "stuck out her stomach area and told me I could 'suck a pink cow udder'," the officer noted in his report. Uh, is that a threat? A bribe? Unclear, but it was apparently related to what she was wearing: a black-and-white cow costume. Yes, it had an udder, and yes, the officer took an evidence photo. Curry was taken to jail "and given a new black-and-white outfit, this one with stripes." She was released after posting $1,520 bail. (RC/KATV Little Rock) …It was not reported whether she left wearing stripes or spots.
And Still Another
The trend is picking up: the next one wasn't even four years later, though it's about time a Florida Man got into the mix! From the 26 June 2022 issue:
The Divine Bovine
The Okeechobee County (Fla.) Sheriff's Office raided a "drug house" with a search warrant and made ten arrests. One suspect was dressed so remarkably that a deputy stood him handcuffed on the front lawn for a full-length photo. Richard Anthony Bonnell was wearing a one-piece cow suit with a pink hat, collar, and cuffs, and was, deputies said, "udder-ly confused." (RC/WSVN Miami) …Sure he's confused: there is no udder.
Except for the first one, you can click the photos to see them larger.

– – –
Bad link? Broken image? Other problem on this page? Use the Help button lower right, and thanks.
This page is an example of my style of "Thought-Provoking Entertainment". This is True is an email newsletter that uses "weird news" as a vehicle to explore the human condition in an entertaining way. If that sounds good, click here to open a subscribe form.
To really support This is True, you're invited to sign up for a subscription to the much-expanded "Premium" edition:
Q: Why would I want to pay more than the minimum rate?
A: To support the publication to help it thrive and stay online: this kind of support means less future need for price increases (and smaller increases when they do happen), which enables more people to upgrade. This option was requested by existing Premium subscribers.