This week on Facebook, I've posted several provocative graphics — funny visual puns that lead up to …what? Today was the Big Reveal: the point.
Let's start with the visual puns.

The whole series was spurred by this meme, which I found on social media:
---
I loved it, and it got a great response when I posted it to Facebook. I made several more on the theme:
---
---
---
---
The Theme
They are all, of course, winter festivals (click on any festival name for details if you don't know what it is).
The capper? It was (as you may have predicted from the title of this entry) all simply to make this point about the most commercially successful winter festival of them all:
If you can't read the graphic, here's what it says:
The Xmas Whine:
"I am sick and tired of every year when Christmas comes around, there are people who want to take Christ out of Christmas. Really: xmas? XMAS?! If you aren't celebrating Christ then why are you celebrating? Leave my holiday alone!! It's spelled Christmas, not xmas! Repost if your [sic] not ashamed."
The Xmas Truth:
The X in "Xmas" isn't the English letter X, it is the Greek letter X (Chi), the first letter of the word "Christos", the Greek word for Messiah ("the anointed one"). Thus by no means does Xmas "leave Christ out of Christmas," and to argue it does shows gross ignorance of one's own purported faith.
Christians chose December 25th to celebrate because that was already a Pagan holiday (Christ was not born in the dead of Winter), so it's not "your" holiday. People happily celebrate the day, Christian or not, because we love our friends and families, and appreciate the tradition whether it's sacred or secular. (Repost if the truth is more important to you than ignorant hysteria.)
Keep the X in Xmas!
The Starting Quote in that one, by the way, is a verbatim post I saw last year on Facebook (though I switched the various ALL CAPS bits to bold.)
Share This
So if you are also tired of sanctimonious people lecturing you — and getting it all wrong in their ignorant self-righteousness — feel free to link to this page. The shortcut is https://go.ThisIsTrue.com/xmas
And hey: Merry Christmas — or whatever festival you like to celebrate!
---
Added by Request
---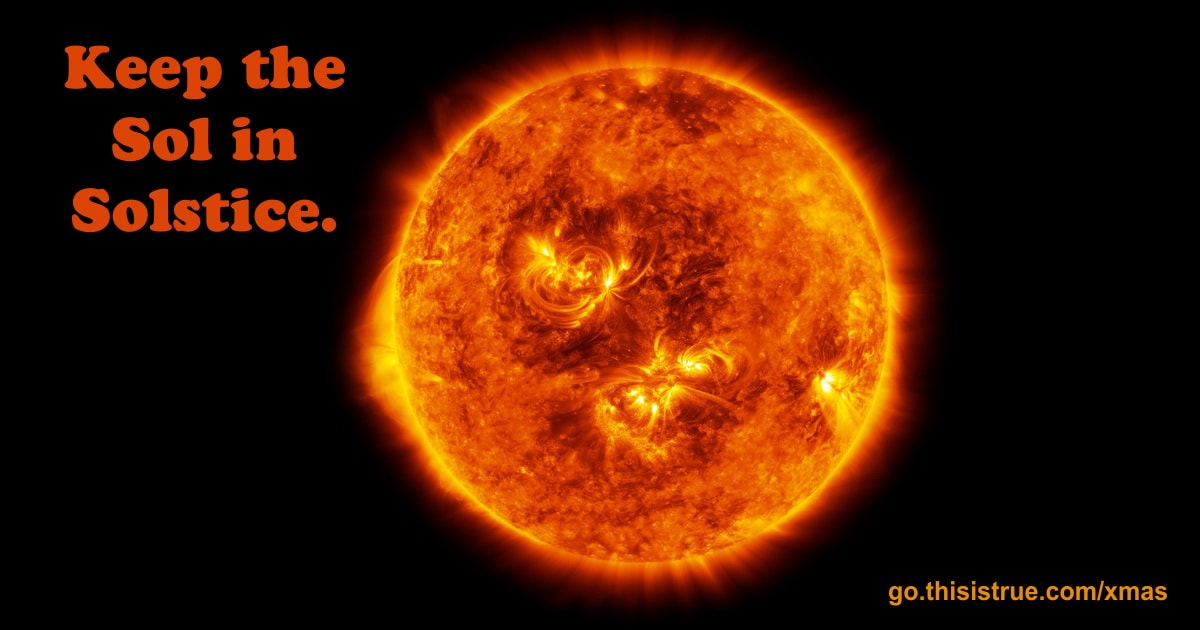 ---
---
and, last,
– – –
Bad link? Broken image? Other problem on this page? Use the Help button lower right, and thanks.
This page is an example of my style of "Thought-Provoking Entertainment". This is True is an email newsletter that uses "weird news" as a vehicle to explore the human condition in an entertaining way. If that sounds good, click here to open a subscribe form.
To really support This is True, you're invited to sign up for a subscription to the much-expanded "Premium" edition:
Q: Why would I want to pay more than the minimum rate?
A: To support the publication to help it thrive and stay online: this kind of support means less future need for price increases (and smaller increases when they do happen), which enables more people to upgrade. This option was requested by existing Premium subscribers.