Last week, This is True wrapped up its 25th year of weekly issues. What a great ride it's been — it went by in a flash.

It was Wednesday, June 22, 1994 that the "ah hah!" moment hit in a flash of inspiration. It was before Google (September 4, 1998) — and even before their predecessor, Alta Vista (remember them? December 15, 1995). True came before Amazon (barely! July 5, 1994), before eBay (September 3, 1995), and before GeoCities (November 1, 1994).
But There's So Much More Work To Do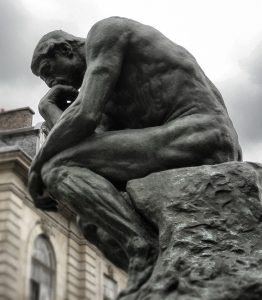 For 25 years, This is True has railed about obliviocy, using real people and their stories as examples. True's Uncommon Sense podcast covers the opposite: the cure for obliviocy …using real people and their stories as examples.
We must decide that learning how to think needs to be part of schooling for all children. It's not: the "Every Student Succeeds Act" administered by the U.S. Department of Education, which is an update to 1964 legislation, has no requirement that children be taught to think.
We Need Everyone to Know How to Think If…
We want advances in healthcare.
We want humanity to rise to a higher level.
We want to foster inventions and innovation.
We want to anticipate and avoid pressing problems.
We want adults to have a chance at better employment.
We want better interpersonal (and international) relationships.
We want everyone to be able to figure out the difference between right and wrong.
We want our country to be a leader in the world (and the U.S. is already falling behind).
We want freedom.
Let's be clear: obliviocy is the enemy, and it has declared war on intelligence, learning, science, and common sense. We didn't want this war, but the world suffers if we don't fight back.
How?
Step one is awareness, and that's a large part of True's mission. Sure, the second half of its mission is entertainment, but there's a reason for the word order in "Thought-Provoking Entertainment"!
The awareness is striking: that's why so many parents read the stories to their kids — or let them read them themselves. Yeah, even "those" stories, because they're real-life examples of what real people do when they don't think, and they see there are consequences. And they're willing to read the stories because they are entertaining. I'll include one parent's report about this below.
This is also why I give away so much of True for free: I want as many people as possible to read it. As I said at my presentation to Mensa's national convention last week:
We're all stupid sometimes because we all forget to think sometimes, reacting first or making mistakes in our assumptions, and that's what I'm talking about when I say we need more thinking in the world. Even us smart people need to think more, and react less. All of us have to work to ensure we don't get fooled by our own biases, that we don't rest on our laurels, that we don't get too smug about our test scores. And yes, I absolutely am one of the people that are stupid sometimes.
How Much Longer?
Which is to say, how much longer will True continue? There are two critical factors involved with that question.
Not being independently wealthy, unfortunately I can't give all of it away for free: the Premium subscribers provide the budget for operations, and in return get more than double the stories of the free edition every week, and without outside advertising. I am at once humbled and proud that they have been so willing to put their money where my mouth is, many times voluntarily paying extra so I can keep the cost of upgrades down so more readers can afford it.
Secondly, can I personally keep going? Well, I'm still having fun, still have things to say, and I'm young enough (and still quite healthy), so I'm planning for True to continue for some years.
Another 25 years? Probably not. I'll play it by ear. At year 20, I said "at least five more years." I'm still feeling just as good, so let's try for another five …and decide then whether there will be five more after that!
Kids Reading True
I love that this has been going on long enough that some of the children or grandchildren of readers are now subscribers themselves.
Susanne and her family have been Premium subscribers since 1997. She wrote that her three children are now grown up. I'll let her tell the rest:
Both my husband and I grew up in families with strong habits of dinner conversation, and we began introducing some of your stories, in summary form, at our own dinner table. This progressed over time to not just presenting the "funny" part, but some of the issues behind the stories. And it was natural to eventually read bits directly, as part of the sharing. By the time we were ready to homeschool, "funny stories" were an established part of their lives and it was a fairly direct path to pick & choose specific stories to talk about over breakfast or lunch as well as those we continued to discuss at dinner.

The longer we homeschooled, the more convinced I became that for our particular family, ensuring the broadest possible "exposure" to topics and viewpoints was the best. We went an amazing number of places and did an amazing number of things, but what astonished me most was the previously unrealized passions of those that lived in our immediate neighborhood. My oldest, before he was 12, could debate tiny little details about the Civil War with the grandparent-couple a few doors down, and they were delighted to have him try. There were 4 absolutely fabulous gardeners in the 3 houses closest to ours who would teach us everything they knew about the plant kingdom for as long as we would listen (I'm still listening!) The woman 2 doors up showed my kids how she used math all day long in her position crafting, running & doing data analysis on the results of market surveys. Her husband introduced me (and thus the kids) to the field of visual literacy and not only gave me copies of his 2 textbooks on the subject, he let me sit in on some of the graduate classes he taught in the field. People will share their passions with you at unbelievable levels, just because you were interested. And very little doesn't interest me and the kids were along for the ride. Our dinnertime conversation still tends to be lively at the dullest, and a lot hotter than the food when we really get going.

We aren't short on opinions; neither are the kids. I believe True has something to do with that — some topics come up over and over (ZT, anyone??), and others are just now and then. You have never restricted yourself to stories about just one age group either and that has a real appeal also — my kids dealt head on with people of every age and so does True. Difficult or touchy topics are a given when you have kids and they are likely to launch into the worst of them in public when the parent is on the edge of full scale madness already. From questions about what is done with dead bodies (from my oldest, at age 3, when he inquired casually at 6:58 am why we never saw dead bodies in the trash cans — my spluttering caused him to cheerfully conclude that we must put them out for recycle instead…), through the impossible questions dealing with digestion and reproduction. Politics I still cannot explain but I will take on pretty much any other topic. I have no need to be right, to know it all, or to preach my position. I have a really high need for them to think, preferably before they dig themselves into a pit, but after is ok too.
There's the Key: "I have no need to be right, to know it all, [but] I have a really high need for them to think."
To get there, they need to need to know how to think. If schools don't teach it, it's up to the parents, and clearly Susanne and her husband took that job on. Not enough do, but True is here to provide that encouragement with your support. Thank you.
- - -
This page is an example of Randy Cassingham's style of "Thought-Provoking Entertainment". His This is True is an email newsletter that uses "weird news" as a vehicle to explore the human condition in an entertaining way. If that sounds good, click here to open a subscribe form.
To really support This is True, you're invited to sign up for a subscription to the much-expanded "Premium" edition:
Q: Why would I want to pay more than the regular rate?
A: To support the publication to help it thrive and stay online: this kind of support means less future need for price increases (and smaller increases when they do happen), which enables more people to upgrade. This option was requested by existing Premium subscribers.