Another story that begs to be illustrated by the photo mentioned. From True's 13 September 2009 issue:

Gun Show, Texas Style
Police in Round Rock, Texas, were called to a restaurant on a report of a waitress out front — with an assault rifle. When officers arrived, they found that five sheriff's deputies from Midland, 350 miles away, who were in town for training, had given the rifle to the waitress, known as "Bambi", for photos of her sitting on their patrol car. "We take a lot of pictures here, you know what I'm saying," said Sam Baiocco, manager of the Twin Peaks, where waitresses wear halter tops and short-shorts. The county attorney declined to press charges against the officers, but one was fired, three were suspended without pay, and the other was reprimanded. "At no point at any time was anyone in any danger because we took proper precaution," said Vanda "Bambi" Purvis, 25. "Besides, I know how to use that gun." (Austin American Statesman) …And had the officers gone to the training class, maybe they would have known how too.
The Photo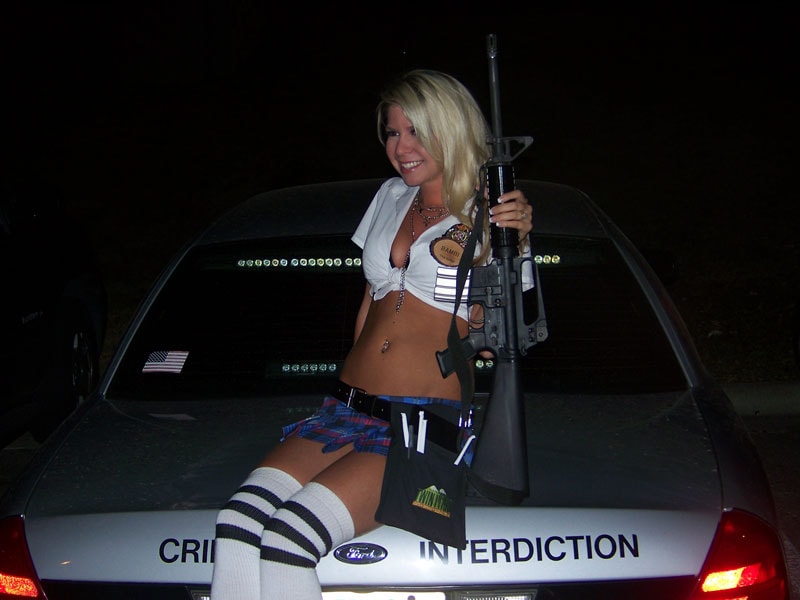 Why yes, in fact the back of that patrol car does read "CRIME INTERDICTION". You'll notice I didn't rise to that bait.
Story Update
I now have details on who was punished, and why the punishments differed. Deputy Daniel Subia, 30, was the officer who was fired — because he was the one who handed the waitress the weapon. Deputies Christopher Lee Evans, 34, Ronald Eugene Wright, 37, and Miguel Valdez Ramos, 31, were each suspended for three days without pay. Deputy Arturo Nunez Jr., 40, who said he remained inside the restaurant while the other officers went outside, was the one who was given a letter of reprimand.
"They violated my policy about being professional wherever they go," explained Midland County Sheriff Gary Painter.
A few more story details I really didn't have room for in my regular format: the reason "Bambi" knows "how to use that gun" is because she has one just like it, she told a reporter.
"I think it's funny that everyone made such a big deal about it," Purvis said, noting that she received an inquiry as to whether she would consider posing in Playboy — but she turned that down. Another wonderful tidbit: she grew up in Pflugerville.
– – –
Bad link? Broken image? Other problem on this page? Use the Help button lower right, and thanks.
This page is an example of my style of "Thought-Provoking Entertainment". This is True is an email newsletter that uses "weird news" as a vehicle to explore the human condition in an entertaining way. If that sounds good, click here to open a subscribe form.
To really support This is True, you're invited to sign up for a subscription to the much-expanded "Premium" edition:
Q: Why would I want to pay more than the minimum rate?
A: To support the publication to help it thrive and stay online: this kind of support means less future need for price increases (and smaller increases when they do happen), which enables more people to upgrade. This option was requested by existing Premium subscribers.