There is only one more thing I want to cover about the trip before I wrap up this section of my blog and move on to regular business. That is, the part that made this such a memorable trip, otherwise known as the answer to the question all my friends have been asking me since we got back: "What's the most outstanding memory, or biggest highlight, from the trip?"

The answer is not the scenery. It's not Tibet's Potala Palace in Lhasa. It's not the river cruise, the food, the can't-see-them-anywhere-else sights. It was the people — though probably not the people you think.
So Much to Choose From
Of all the indigenous populations, which can be loosely grouped by ethnicity or geography, the Tibetans bring back fantastic memories. When we got to our hotel in Tibet, for instance, we were greeted at the door by Tibetan women who had a great time greeting us, draping each one of us with a Buddhist prayer scarf, accompanied by several men playing indigenous music on local instruments.
The music wasn't a one-time thing, either: most of the time there was at least one musician playing local instruments in the gorgeous lobby. And virtually all the time, either there or in the streets, the Tibetans smiled — more than anyone else we saw. They're terribly oppressed by the Chinese government, but the peace of their religion shines through almost constantly. They struck me as a truly happy people: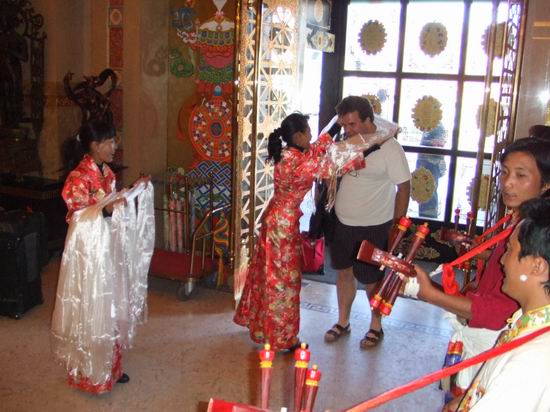 Tibet was also where we had one of our best guides, shown in the next photo, and where we added an unscheduled extra to our trip: we asked Lobsang if we could make a stop at a typical Tibetan home.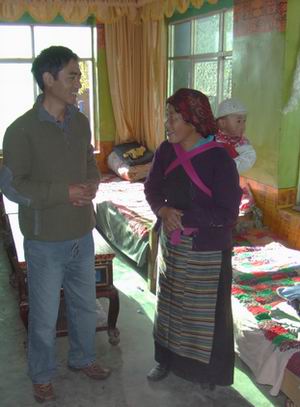 It took a bit to arrange that; on our last day, on the way to the airport to leave, and a good half-hour away from Lhasa, we got our wish: we stopped at this woman's house.
As far as we could tell without prying, this woman took care of her grandson during the day while everyone else was out working. She let us have the run of the house — the combination living room (complete with a TV and DVD player!) and bedroom (note the two beds behind her), the pantry stocked to the gills with sacks of grain and other dried foods, the Buddhist shrine, the tiny indoor and larger outdoor kitchens, and the shared outdoor space with other neighbors for a little livestock, stacks of hay, and more.
We wanted to see how "real people" live, and got just a brief glimpse. It was lovely that this lady had absolutely no problem with the 15 of us suddenly appearing, dashing around taking pictures like mad, and then rushing off again to catch our plane, all while Lobsang probably told her how crazy we were. But like a typical Tibetan, she smiled the entire time. Thank you, ma'am!

The house had a small upstairs patio, where foods were dried. This shot from
there into the yard below shows two things: the makeshift truck, and the solar
cooker, which we saw in use in many places to heat tea water.
Markets Everywhere
Outside of Tibet, the next shot, taken in a large, open market in Chongqing, shows two passions of the Chinese: the "Whac-A-Mole" game, which we saw in a lot of places (usually with someone playing it), and split-bottom pants, which we saw on lots and lots of babies: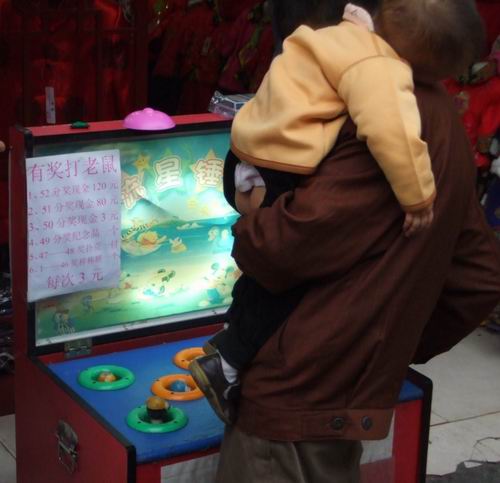 Indeed the markets, and the sellers there, were most interesting. Some markets were very tourist-centric, though others were clearly mainly for locals. Either way, the "shopkeepers" (usually someone in a tent who set up for the day) truly welcomed tourists, probably because most of us are not too savvy about prices.
It's a real game: the seller quotes a price, the buyer acts like it's outrageous and offers a counter, the seller acts like he's offended — but quickly offers a slight discount, and it goes back and forth for a bit until the buyer starts to walk away …and then the seller says "Wait!" and offers a much better price.
Only then do money and goods change hands. It was fairly typical to get goods for a quarter or third of the initial asking price, which were actually pretty reasonable in the first place. Here's one of my favorite items being made:

This young man is copying a classic painting on the inside of a crystal bottle; you can see some of them in the foreground. I bought several of these; they tended to go for US$5-10 for the smaller sizes — not bad for fun handmade pop art.
I especially liked the triangular bottles (look closely at the ones that look like tiny cylinders), which would catch the light in interesting ways, such as the one cut off at the lower left.
Cruise Staff
The cruise ship was spectacular too; a truly five-star experience, even if the cabins were the size of a closet. There were 140 staffers for the 158 passengers. Yeah, it was plush — wonderful service, great river guides, good food.
The surprise was our waiter. We had the same staff in the dining room each lunch and dinner, since we had assigned tables. Our most memorable waiter was "Tiger" (shown with me here; all take Western names so they're easier to remember).
Sure, he was a great waiter, but he also volunteered for "talent night," where he played an erhu, which westerners typically call a "Chinese violin." His combination of youth and raw talent made his erhu come alive in his hands — he was simply spectacular with it. The audience — passengers from around the world — stood and cheered when he played.
So What's the Most Memorable?
But we still haven't gotten to my most memorable aspect of the trip, which was actually a surprise to me. When I first told my entrepreneur networking group that I was thinking of starting a This is True reader travel group, I was told that it was a very bad idea: I wouldn't know what sort of people would sign up until it was too late — I could get a bunch of sycophantic whiners that would make travel miserable.
I went ahead with it anyway, and what they predicted was far from who really signed up:
What's With the Chair?
There's a story to be told about Lilly and that wheelchair that puts this group into perspective. Lilly was dancing with Jeff after they arrived in Hong Kong, and twisted her knee badly. They went to an orthopedist and got an MRI. The MRI showed damage — she needed surgery, and until she could get it, her knee was "locked" by the injury; she couldn't bend it, and the slightest movement was quite painful.
But she decided to soldier on, to continue on the trip with us and see what she could, because Jia, the National Guide who put this trip together for us, said she would phone ahead and have a wheelchair available to her at every stop. That was a lot of extra work for Jia, but it made it possible for Lilly to continue.
So how much did Lilly see in a country that pretty much has no accommodations for the disabled, and virtually no wheelchair ramps?
Everything! The men in the group decided that she wouldn't have to miss a thing because she was in the chair. When faced with stairs, we all simply picked up the chair and carried her. She was sometimes a bit afraid, but she never complained; instead, she said gracious thank-yous — every … single … time. Lilly-provided hugs and kisses abounded. If one of the men was a bit out of breath from the altitude in Tibet, or his own knee was getting sore thanks to his own knee problems, another man would simply take his place for awhile.
The women in the group didn't stand idly by. They held our stuff as we carried Lilly. They took the lead and cleared the way. They held the elevator doors, or went ahead in restaurants to find the best place for Lilly to sit.
The Biggest Challenge
When we got to the boat for our river cruise, the staff there watched as we took turns carrying Lilly in her chair — down about 85 stairs from the road to the boat. They were impressed, and said they would take over during the cruise. No, the group said, unanimous — she's part of our group, and our group will take care of her.
And the group did, every time and everywhere Lilly wanted to go. Several times Jeff was almost moved to tears over how we watched out for his wife. In truth, we all watched out for each other. No one was a prima donna; no one was a whiner. No one expected special treatment — not even Lilly; she never took us for granted.
What That Adds Up To
That is the sort of person a This is True reader is — at least the sort that is adventurous enough to sign up for the first tour I ever announced, and to an exotic destination like Hong Kong, Tibet, and China. I was extremely proud to be their leader, and that was the most memorable part of my trip to China: taking in once-in-a-lifetime experiences and sights with an incredibly wonderful group of people, and meeting amazing people we were visiting — especially the Tibetans.
If this has convinced you that a China trip is in your future, I cannot recommend Jia's Dream Tours more. Don't go to China without talking to her first!
I hope you've found these write-ups fun and interesting. It was certainly fun choosing just some of the highlights to write about here.
Thanks much for your comments and insights, and I hope you'll consider joining our next trip, to Alaska, when it's announced.