Chuck Shepherd started "News of the Weird" as a newspaper column in 1988, and was picked up by the Universal Press Syndicate in 1989. Similarly, a year after I started I was offered a contract by their biggest competitor, Creators Syndicate, almost certainly as way to compete with the very popular NotW, but I turned it down.

Similarly to True, Chuck wrote a capsule summary of various stories he found, usually with several under a single title, though no taglines. When I started my newsletter, he wrote to say he was not very techie, and could I subscribe him to True? When I started Premium, he was one of the first to sign up.
It's not shocking that he noticed weird news, considering he was a Florida Man, living on an upper floor of a high-rise condo building in Tampa. I was aware that he retired rather abruptly on July 7, 2017: "Weird News is forever," he wrote atop that last offering, "but this is my last 'News of the Weird' column, as I am now exhausted after almost 30 years in the racket. In this final edition, I remember a few of my favorites. My deep thanks to Andrews McMeel Syndication and to readers, who started me up and kept me going. Y'all take care of yourselves. —Chuck Shepherd"
So much so he wrote in his blog, "The reason for retiring is that I am simply exhausted, i.e., so many stories to process, slower-firing synapses with which to process them. In fact, my synapses don't so much 'fire' these days as they kinda 'lurch'."
Almost 30 years! He didn't give an exact start date, but said his last column was his 1,534th, which puts it at 29-1/2 years, implying a start date of around February 12, 1988. Even though Chuck read True, I decided to not read NotW since I didn't want to be influenced by it in any way.
About Chuck
A reporter asked Shepherd in 2010 if he was weird himself. "No," he replied, "but I know I'm going to die that way. Some arrow falling off a weather vane atop a building as I walk through town will strike me and get me, something like that. I lead a very boring life — and I always did."
He fought in the Vietnam war, got his law degree, and was a federal bureaucrat — including a "White House wonk" during the Carter administration. (That must've been weird!) After that he taught business at George Washington University, but gave that up in 1992 because NotW was doing so well.
And sure enough, when he worked for the feds, he pasted weird stories to his office door. I didn't have a door at JPL, but I had a bulletin board!
The reporter asked, is he sure he's not done anything weird enough to be in his own column? "I've done a lot of shit in my life," he admitted, but no. "That worries me from time to time, because that is one of the definitions of a life well lived, or at least things people remember you by."
Just
How

Weird?

One of his favorite stories, he said, was from February 1994 (months before True started), and involved a fellow Florida Man. In a pretrial motion, Donald Leroy Evans, 38, of Ft. Lauderdale asked for permission to wear a KKK robe during his trial on a murder charge, as well as be referred to in legal documents by "the honorable and respected name of Hi Hitler." No, really: the Associated Press reported that Evans thought Adolf Hitler's followers were saying "Hi Hitler" rather than "Heil, Hitler."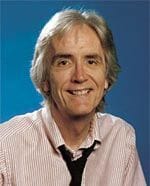 I'm pretty sure I clipped that same story for my bulletin board at JPL. Evans was not only convicted in that case, he was convicted in other murder cases, too, and ended up on death row at the Mississippi State Penitentiary. Apparently other inmates didn't like "Donny" much (really: that's the name he went by) — another death row inmate stabbed him to death in the shower in 1999. Bye, Hitler!
Anyway, back to Chuck: he revealed he got death threats too. (It's been awhile for me, at least.) And he also had an ever-growing list of things that he considered no longer weird. By 2010, as the newspaper business shrank, he was down to 200 newspapers; still a decent number, but the trend was clear.
Winding Down
"I don't know what Universal's plans are for the column," Chuck said at his retirement, "and I am not part of that discussion." That's the main reason why I turned down syndication: I wanted to be the owner of my own work, and have a say in what happens all along the way, and at the end.
What happened was, the NotW column continues, credited to "the Editors at Andrews McMeel Syndication" (the continuation of Universal, which was founded in 1970 by Jim Andrews and John McMeel).
Chuck's end, I found out this past week, came in September, with "The Editors" noting atop one of the columns:
EDITOR'S NOTE: It is with great sadness that we share the news of Chuck Shepherd's death on Thursday, Sept. 8[, 2022]. Chuck was the originator of News of the Weird in 1988; he stopped writing the column in 2017. His great wit and eye for the "weird" made the column a huge success and a favorite among newspaper readers. Andrews McMeel Syndication is proud to have worked with Chuck for so many years.
As I have acknowledged Herb Caen of the San Francisco Chronicle as my major influence, Chuck said that "News of the Weird's DNA was shaped and formed by the 1970s-era sage, Bob Maslow." I unfortunately don't know who he was.
As far as I know, Chuck's cause of death was not an arrow that fell off a weathervane. Sorry, Chuck. Shepherd was about 75.
P.S.: Yes, I do intend to beat the NotW record! I have already pledged to go to 30 years, and surely longer.
P.P.S.: True's 1,535th issue was written on 12 November 2023. In the time between this tribute and that day, Kit and I made a radical change in our lives in becoming full-time digital nomads, wandering the world while we continue in our professions. Onward!
– – –
Bad link? Broken image? Other problem on this page? Use the Help button lower right, and thanks.
This page is an example of my style of "Thought-Provoking Entertainment". This is True is an email newsletter that uses "weird news" as a vehicle to explore the human condition in an entertaining way. If that sounds good, click here to open a subscribe form.
To really support This is True, you're invited to sign up for a subscription to the much-expanded "Premium" edition:
Q: Why would I want to pay more than the minimum rate?
A: To support the publication to help it thrive and stay online: this kind of support means less future need for price increases (and smaller increases when they do happen), which enables more people to upgrade. This option was requested by existing Premium subscribers.