I've been working on an idea since last Fall, and it's finally just about ready. It would have been ready this evening, except this is a holiday weekend. But I can't wait to let you know about what it is:

I went to Denver last week to supervise early production of the next phase of This is True — video. Each episode will feature several stories from the weekly column.
But how am I going to fit this into my already crammed schedule? I'm not: I've tapped the incredibly clever and talented folks of CleverMedia to produce it, and I chose the lovely Katie Bevard to host — see photos below.
And it's not just that I don't have time to be the onscreen talent: Katie has more personality in her hair than I have in my whole body, so better her than me anyway. All in all, it seems like a good division of labor: I write the stories, they do the magic to make it a truly fun video presentation that you'll enjoy even if you've already read the issue the stories are from.
In addition to making sure the script and such worked out the way I want (you know me: I always insist on top quality) and ensuring the staff there (such as director Jay Shaffer) "get" This is True (and they most definitely did), I stepped in and did a few camera bits myself so that there can be a full dollop of Randy in every show. And it's all watched over by Executive Producer Gary Rosenzweig, who happens to be a good friend of mine.
Check back later (or watch in True) for the announcement of the series premiere!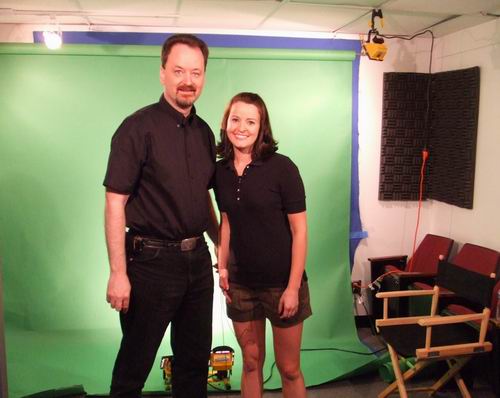 Update
This blog entry relates to the "old" (2007) series.
In 2008 we launched a new series.
– – –
Bad link? Broken image? Other problem on this page? Use the Help button lower right, and thanks.
This page is an example of my style of "Thought-Provoking Entertainment". This is True is an email newsletter that uses "weird news" as a vehicle to explore the human condition in an entertaining way. If that sounds good, click here to open a subscribe form.
To really support This is True, you're invited to sign up for a subscription to the much-expanded "Premium" edition:
Q: Why would I want to pay more than the minimum rate?
A: To support the publication to help it thrive and stay online: this kind of support means less future need for price increases (and smaller increases when they do happen), which enables more people to upgrade. This option was requested by existing Premium subscribers.