My writing time this week was interrupted: I only started in the late evening, because I had my satellite TV tuned in to the Jet Propulsion Laboratory, where they were monitoring the landing of the latest rover on Mars, Curiosity (the best-named science craft ever); the mission itself is called the Mars Science Laboratory — accurate, if not as inspiring.

Landing was a long sequence of near-impossible engineering feats; if one thing went wrong, it was all over.
Risky Business
Mars probes only have about a 40 percent success rate as it is, and this one was particularly complex. It went from 13,000 mph to a soft landing in 7 minutes; the Jet Propulsion Laboratory engineers called it "Seven Minutes of Terror". If you haven't seen the explanation of that, this 5-minute video is a must-see:
JPL, which is the NASA center responsible for robotic probes to the planets (and where I worked for 10 years), emphasized that it was quite possible that, due to expected radio blackouts as the spacecraft transitioned from one part of the landing sequence to another, they might not even know whether it landed safely for as long as three days.
Yet everything went beautifully last night: they had a solid data link most of the time, even when the Earth "sunsetted" from the lander's point of view, as flight controllers had rigged up one of the Mars-orbiting spacecraft to relay its signal (itself quite difficult, since that orbiter wasn't designed to do that).
They were able to monitor nearly every portion of the descent and successful soft landing right next to a mountain.
First Light
The audacious plan worked perfectly. So much so that they were able to get a picture of the surface within minutes after landing! Why, in my day, we had to print out the actual digits, 0-7 (8 bits!) and color them in with crayons! OK, that was actually before my day (by Mariner 4 in July 1965), but that really is how the first photo from Mars was created so scientists could see the surface as soon as possible.
I've seen the original at JPL. Here's a copy:
And while the Curiosity team was at it, someone at JPL had the bright idea of programming the other Mars orbiter to take a picture of where they expected the parachuting lander to be as it flew over! The High Resolution Imaging Science Experiment, aboard the Mars Reconnaissance Orbiter, got the photo.
"If HiRISE took the image one second before or one second after, we probably would be looking at an empty Martian landscape," said Sarah Milkovich, JPL's HiRISE investigation scientist. "When you consider that we have been working on this sequence since March and had to upload commands to the spacecraft about 72 hours prior to the image being taken, you begin to realize how challenging this picture was to obtain."
And here it is: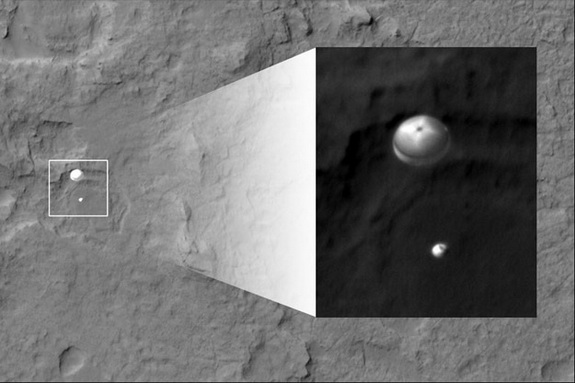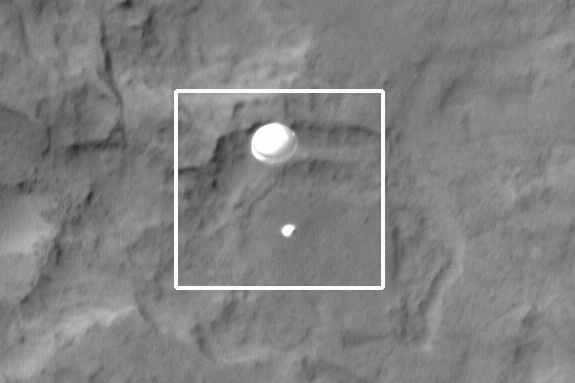 Brain Power!
Yep, I had the extreme privilege to work with men and women like that for ten years. It's what really cemented my appreciation for thinking. Helping others understand the value of thinking, and reminding them to do that (for instance, to consider the repercussions of their actions), has become my life mission. This is True is my vehicle for doing that; it's entertaining so that people will read it, but entertainment is a function, not the mission.
As for Curiosity's landing, reader Deborah in Washington, D.C., put it this way: "Events like this are the definition of the word 'awesome'." Yes. Yes they are. I'm so proud of my former colleagues at JPL for their awesome accomplishment.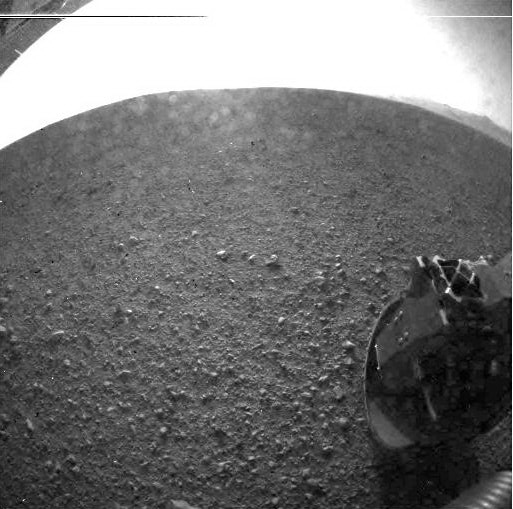 – – –
Bad link? Broken image? Other problem on this page? Use the Help button lower right, and thanks.
This page is an example of my style of "Thought-Provoking Entertainment". This is True is an email newsletter that uses "weird news" as a vehicle to explore the human condition in an entertaining way. If that sounds good, click here to open a subscribe form.
To really support This is True, you're invited to sign up for a subscription to the much-expanded "Premium" edition:
Q: Why would I want to pay more than the minimum rate?
A: To support the publication to help it thrive and stay online: this kind of support means less future need for price increases (and smaller increases when they do happen), which enables more people to upgrade. This option was requested by existing Premium subscribers.