Everyone talks about the weather, but I only write about it when it's really weird!

"That's just wrong," said a friend of mine today: it's raining in December here in Western Colorado. As I write this at about 7:00 p.m., the weather station at my house* notes it's 45 degrees out (F, or about 7C).
I don't really mind rain that much, but I hate wind. The big storm that whacked California is coming in with very high and sustained winds: for the first time, we have damage to the house from it. (Some torn-off siding, and a floodlight was torn from its mount!)
Shrill Bureaucrats
But the real point of this is how the National Weather Service announced this storm for this area: we were told to prepare for "HEAVY HEAVY SNOW OF EPIC PROPORTIONS". (The all caps is normal for them: they're still stuck in the teletype days. Hey guys? We're well into the 21st century. Can we try a little lower case now and then?)
I just love that — epic! They've been terribly wrong all season about how much snow we can expect, but they want us to really, REALLY know that we're about to be whacked! From the look of the satellite shot, we are. I'll let you know later if it turns out to be "epic."
Here's that satellite shot:
The yellow "X" just to the right of center marks where we are.
* When I moved here, there were no online weather stations in this county, so I put one up for public use. Be sure to scroll down to the "Average Wind Speed" panel. Yeesh! The barometer is finally coming up, so maybe we'll settle into a "normal" (epic?) snow storm soon. I'm ready for the wind to die down….
And if you didn't see this in time to catch that wind speed panel, here's a shot from this evening: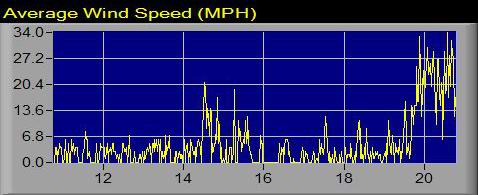 So Was It 'Epic'?
OK, it's Wednesday and we're in the middle of our EPIC snowstorm now.
Here's a shot out my office window (toward the other mountain range I can see from here, behind the nearby hill), so you can see how the local wildlife is suffering:
Um, yep: those are indeed blue skies you see there.
At least there's a little snow on the mountains …which has been there for a couple of months now….
Sorry for the reflections: I took this through the window. Hey: you don't expect me to go out there, do you? Heck, it's only 48 degrees out there!
Thursday, it started snowing! I checked, and sure enough, the NWS had reduced the chance of snow to 40%. Ah, no wonder! But we only got a minor dusting: just nature thumbing its nose at the forecasters; when the sun came up it was gone within minutes.
As of Friday, we never got any real snow, "epic" or otherwise. Yet another boy crying wolf again. Sheesh.
The Weather Report
For those of you who have asked to see the full report and warning from the National Weather Service, here it is in all its glory. I get these emailed to me whenever there's an alert included for my county (in this case, Ridgway) — one of the (ahem) "benefits" of being on the county's Emergency Management Team.
HEAVY HEAVY SNOW OF EPIC PROPORTIONS EXPECTED TO LAST INTO THURSDAY ABOVE 9000 FEET.
HEAVY SNOWFALL OF EPIC PROPORTIONS WILL CONTINUE & PROJECTIONS INDICATE THAT THE STORM WILL LAST THROUGH THURSDAY. VERY MOIST AND MILD SW TO WEST FLOW WILL BRING A PROLONGED PERIOD OF HEAVY SNOW TO THE HIGHER MTNS OF EASTERN UT & WESTERN CO.WITH PERIODS OF SNOW FOR COLD VALLEYS LIKE THE UINTA BASIN & GUNNISON VALLEY. HEAVY SNOW ACCUMULATIONS ARE EXPECTED ABOVE 9000 FEET WITH THE HIGHEST AMOUNTS ON SW TO WEST FACING SLOPES. SNOWFALL IS EXPECTED TO BE MORE INTENSE IN MANY MOUNTAIN AREAS LATE TONIGHT THROUGH MON NIGHT.
POTENTIAL IMPACTS INCLUDE EXTENDED PERIODS OF ROAD CLOSURES.INCLUDING PRIMARY & SECONDARY ROADS. CITIES OR TOWNS THAT MAY BE MOST VULNERABLE WHERE ACCESS BECOMES LIMITED INCLUDE SILVERTON.CRESTED BUTTE.& ON TOP OF THE GRAND MESA. THE HIGHEST SNOW TOTALS ARE EXPECTED OVER THE GRAND MESA.THE ELK & SAN JUAN MOUNTAINS. IF YOU RESIDE IN THESE AREAS.CONSIDER STOCKING UP ON NEEDED SUPPLIES FOR THE NEXT FEW DAYS. THESE AREAS HAVE THE POTENTIAL OF SEEING EPIC SNOW ACCUMULATIONS THAT MAY REACH AS HIGH AS 6 TO 8 FEET BY THUR AFTERNOON. EXPECTED SNOW AMOUNTS BY ELEVATION IS AS FOLLOWS:
ABOVE 9000 FEET.3 TO 6 FEET OF TOTAL SNOWFALL BY THUR AFTERNOON WITH SOME AREAS REACHING 8 FEET. THE HIGHEST AMOUNTS ARE EXPECTED OVER THE GRAND MESA & THE AREAS SURROUNDING & INCLUDING CRESTED BUTTE. THE AVALANCHE HAZARD IN UNDEVELOPED AREAS WILL BE ELEVATED THROUGH MUCH OF THE WEEK.
BETWEEN 8000 TO 9000 FEET.THIS RANGE WILL SEE A MIXTURE OF RAIN AND SNOW & SNOWFALL POTENTIAL WILL BE SOMEWHAT LIMITED. HOWEVER THE SNOW LEVEL IS EXPECTED TO LWR ON MONDAY. TOTAL SNOWFALL ACCUMULATIONS WILL RANGE FROM 1 TO 3 FEET BY THUR AFTERNOON.
FOR AREAS BETWEEN 7000 TO 8000 FEET.MOSTLY RAIN IS EXPECTED FOR TONIGHT.BUT SNOW LEVELS WILL LWR ON MONDAY.BUT THEN RISE AGAIN ON TUESDAY. TOTAL SNOW AMOUNTS WILL BE MODEST WITH TOTAL ACCUMULATIONS OF 6 TO 12 INCHES.BUT GREAT VARIABILITY WILL OCCUR DEPENDING ON LOCATION & SLOPE ASPECT & HOW THE SNOW LEVELS FLUCTUATE.
ONCE AGAIN.TRAVELING OVER THE MTN PASSES WILL BECOME NEARLY IMPOSSIBLE AT TIMES AS RELENTLESS HEAVY SNOW POUNDS THE MOUNTAINS ABOVE 9000 FEET. PLAN ON ROAD CLOSURES & HAVE ALTERNATIVE PLANS IF THE MTN PASSES DO NOT STAY OPEN.
COZ003-017-UTZ025-028-200600-
/O.CON.KGJT.WW.Y.0043.000000T0000Z-101222T0700Z/
ROAN & TAVAPUTS PLATEAUS-UNCOMPAHGRE PLATEAU & DALLAS DIVIDE-
TAVAPUTS PLATEAU-LA SAL & ABAJO MOUNTAINS-
INCLUDING THE CITIES OF.RIO BLANCO.RIDGWAY.GLADE PARK.
MONTICELLO & VICINITY
300 PM MST SUN DEC 19 2010
WINTER WEATHER ADVISORY REMAINS IN EFFECT UNTIL MIDNIGHT MST TUESDAY NIGHT.
A WINTER WEATHER ADVISORY REMAINS IN EFFECT UNTIL MIDNIGHT MST TUESDAY NIGHT.
* TIMING.PERIODS OF SNOW WILL CONTINUE THROUGH TUES EVENING.
* SNOW ACCUMULATION.STORM TOTAL AMOUNTS WILL RANGE FROM 6 TO 12 INCHES.BUT OCCASIONAL RAIN UP TO 8500 FEET WILL CAUSE SOME MELTING OF SNOW. FOR ISOLATED AREAS ABOVE 8500 FEET. LIKE THE LA SAL MTNS & COLUMBINE PASS OVER THE UNCOMPAHGRE PLATEAU.WILL RECEIVE AMOUNTS OF 1 TO 2 FEET OF NEW SNOW.
* SNOW LEVEL.SNOW LEVELS WILL RISE TO BETWEEN 8000 TO 9000 FEET THIS AFTERNOON & TONIGHT.BEFORE LWRING TO BELOW 8000 FEET ON MONDAY.
* WINDS.WINDS WILL INCREASE SUN EVENING & BECOME SW 10 TO 15 MPH WITH GUSTS TO 30 MPH.
* VISIBILITY.RESTRICTED TO LESS THAN 1 MILE IN SNOW AND BLOWING SNOW.
* IMPACTS.A RAIN SNOW MIX BETWEEN 7500 TO 8500 FEET WILL CREATE VERY SLICK ROADWAYS. ELEVATIONS ABOVE 8500 FEET WILL BE SNOWPACKED & ICY WITH AREAS OF BLOWING SNOW.
PRECAUTIONARY/PREPAREDNESS ACTIONS.
A WINTER WEATHER ADVISORY MEANS THAT PERIODS OF SNOW AND/OR BLOWING SNOW WILL CAUSE TRAVEL DIFFICULTIES. BE PREPARED FOR SLIPPERY ROADS & LIMITED VISIBILITIES.
(Soundtrack: Model 18 ASR Teletype, common in newsrooms for many years.)
– – –
Bad link? Broken image? Other problem on this page? Use the Help button lower right, and thanks.
This page is an example of my style of "Thought-Provoking Entertainment". This is True is an email newsletter that uses "weird news" as a vehicle to explore the human condition in an entertaining way. If that sounds good, click here to open a subscribe form.
To really support This is True, you're invited to sign up for a subscription to the much-expanded "Premium" edition:
Q: Why would I want to pay more than the minimum rate?
A: To support the publication to help it thrive and stay online: this kind of support means less future need for price increases (and smaller increases when they do happen), which enables more people to upgrade. This option was requested by existing Premium subscribers.